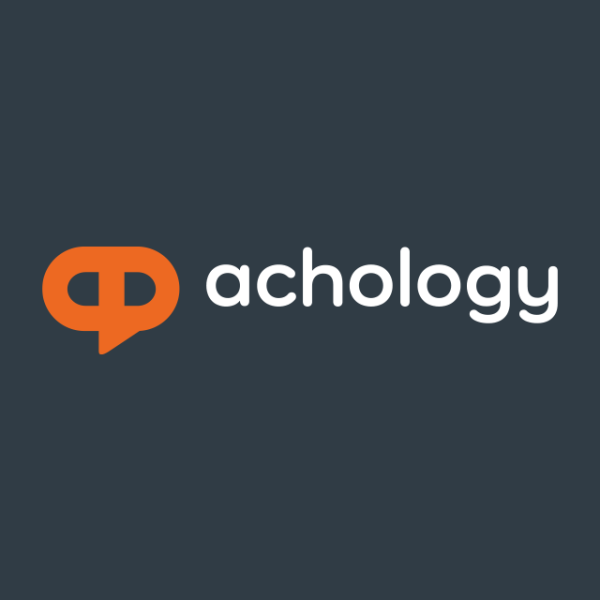 Achology: The Future of Psychology
$2,500
raised out of
$100,000
Concept
To educate and equip professional achologists with the system to build lucrative online enterprises.
Story
Achology is the future of psychology.
The field of psychology has long been imprisoned behind a wall of complicated academic jargon, irrelevant speculation, and high tuition costs. Achology's 17-course 'modern applied psychology' curriculum frees psychology from the confines of higher education and demonstrates how applying psychological knowledge improves people's lives in terms of quality, meaningfulness and efficiency.
Achology is a digital ecosystem and until 2022, over 650,000 mature learners have enrolled in our cutting-edge elearning courses. What sets Achology apart from traditional psychology-based education is our focus on equipping aspiring skilled professionals to develop expert skills, gain deep subject-matter insights and access all of the practical support they need to achieve their career goals.
Since the Covid-19 lockdowns, more people are looking online for an affordable opportunity to learn expert skills, and access the tools, resources, education and technology they need to successfully build a sustainable high-impact business. Our aim is to provide a system in which our members can create effective online businesses that are both lucrative and helpful to people all over the world.
The following graphic demonstrates exactly how we intend to achieve this: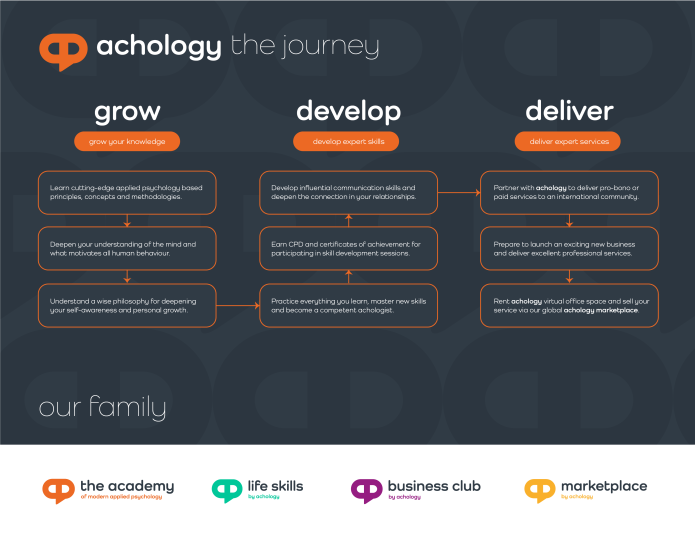 The potential impact of what contributors to this fundraising effort will assist us to achieve is enormous. Since 2018, our initiative has been entirely self-funded through monthly membership payments, allowing us to build the system we currently have. Our most pressing problem is seeing our members leave us to pursue building their own version of the ecosystem we are currently proposing.
Thousands of individuals study psychology and its associated disciplines each year in order to launch and sustain a lucrative freelancing business, only to be disappointed when they fail to do so. This comes at the cost of many people being denied access to the competent psychology-based assistance that they need. We have a solution for this issue that we hope to realize with this campaign.

What We Need and What Do You Get?
During the month of June 2022, we hope to raise £100,000 in financial support for this campaign.
Our aim for generating this money is to hire a secondary technician, a branding expert, and also expand our community support team. The money will contribute towards the team member, software and development costs that will be incurred before end 2022 as we develop the Achology Business Centre and Marketplace.
The Achology Business Centre
The objective of the achology business center is to aid our entrepreneurial achologists in today's competitive online market as they plan, launch, and scale up their innovative new businesses, or socially-motivated enterprises.
The achology business centre will provide resources and support on a variety of business sensitive topics, including marketing, sales, branding, finances, business strategy, and members access to exclusive expert-led training events, business incubators, and a plethora of international networking opportunities. In 2023, we will introduce the first of our business incubator programs for new startups.
The Achology Member Marketplace
We aim to support our certified achologists as they scale up the outreach of their expert services and build a sustainable online business. Achology marketplace will enable our expert members to achieve career and financial independence.
The achology marketplace will allow our achologists (who have have earned the required amount of CDP skill development hours) to productify their professional services, become freelancers, and meet the needs of our worldwide subscriber base. Achologists who enter the marketplace can offer paid coaching, mentoring, or counseling services as well as pro-bono consultations via our online platform.
So, what are the perks and bonuses?
When everyone in a community contributes, it flourishes. The only way Achology members could contribute into the community prior to May 2022 was through a monthly subscription charge. Since 2018, monthly subscriptions have generated the revenues that were required to build and launch the new Achology website.
We have 4 great perks for individuals who support our campaign:
Throughout the month of June, 2022, we would like to offer the following perks and bonuses to all individuals who are willing to financially support our campaign.
Perk 1) Twelve Months of Community-Only Access to the Academy of Modern Applied Psychology – $250 Early Bird Price – (MRSP $397/37% OFF).
Perk 2) LIFETIME Access to all Academy of Modern Applied Psychology courses, AND, all Life Skills personal growth courses. PLUS, 12 months of access to both learning communities – Early Bird Price $1000 – (MRSP $1999/50% OFF).
Perk 3) Five Day ONLINE Training Event with Kain Ramsay (Impact Coaching Training Course) – $1250.00
Perk 4) Seven Day ATTENDANCE Training Event with Kain Ramsay in Scotland* (Impact Coaching Training Course) – $2500.00
If we don't reach our entire crowdfunding goal, the Achology Business Centre and the Achology Marketplace will still be developed, and hopefully launched before the end of 2023. This funding initiative will simply allow us to fast-track our development in a significantly lesser amount of time.
* This includes 1 ticket to training event only, no travel, accommodation or expenses are included these will have to be covered by you.
The Social and International Impact
Wise individuals may have a tremendous impact on the world, and they do so by positively influencing society. The Academy of Modern Applied Psychology exists to help our members change the world by facilitating positive change within people online, and also within their immediate communities.
"Give a man a fish, and he will eat for today. Teach a man to fish, and he will eat for a lifetime. Teach a man to teach other how to fish, and we end world hunger."
Those who contribute to our crowdfunding campaign will profit twice. First, they will benefit from the value of our community and elearning programs. Second, as a result of the beneficial social impact that will be produced by our skilled members' ability to inject information, wisdom, and insights into individuals they will be able to eventually invest into through our worldwide Achology marketplace.
The Perpetual Risks and Challenges
One of the most serious threats we have faced in the past was that online education would not grow as popular as it has today. Prior to Covid-19, the founders of achology committed a significant amount of money and years of effort into developing online learning in a unique way that had never been done previously. In doing this, we have already succeeded.
We will continue to make progress and develop new concepts, including our online business center and the achology marketplace, with no assurance that either will be successful. However, we are confident in the leadership teams dedication to providing all of the technical advancements required for achology members to make a positive difference in their hometowns, organisations and communities.
Other Ways You Can Help Achology
Money enable purchases to me made and services to be funded, however, it is people who connect with people, and its relationships that transform peoples lives. We understand that some people just can't contribute money, but that doesn't stop anyone from being able to still offer valuable help.
If you're a member of achology, or, have been a member in the past, or, if you have already benefited from someone who has developed expert competencies with us, please help us to get the word out there and make some noise about our FIRST EVER achology crowd funding campaign. We have never done this before!!
To do this, please just use the Indiegogo share tools!
Finally, the goal of this crowdfunding effort is to raise the capital we require to expand our platform and allow our achology members to learn, develop expert skills, and offer their vital life changing services to people all around the world.
However, the foremost aim of achology is to assist YOU in changing YOUR world.
What happens if we surpass our target?
If we are able to surpass our target of £100,000, this will allow us to scale-up the size of our technology team and launch our business centre and marketplace before the end of 2022. If we are fortunate enough to surpass £250,000, these additional funds will be used to fund a separate team who are ready to develop and launch the Achology app, also before the end of 2022. The latter would be our 'dream come true' scenario.