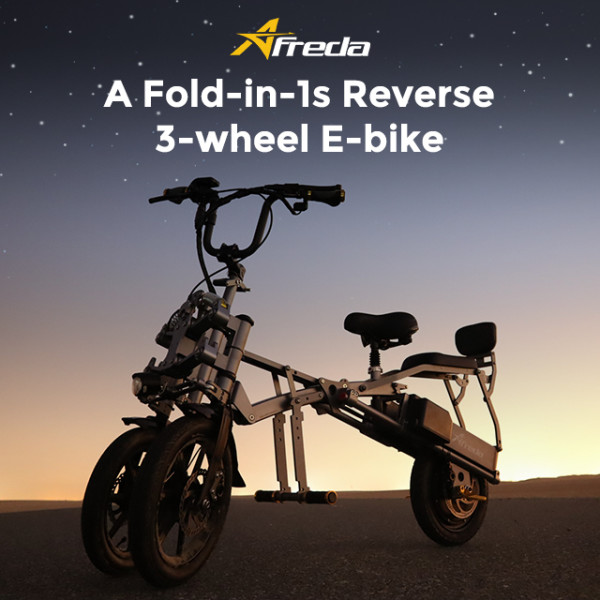 Afreda S6: A Fold-in-1s Reverse 3-wheel E-bike
$50,548
raised out of
$10,000
Concept
Folded by 1 step in 1 sec | Ultra safety | 11-in shock absorption| Perfect experience|Family outings
Story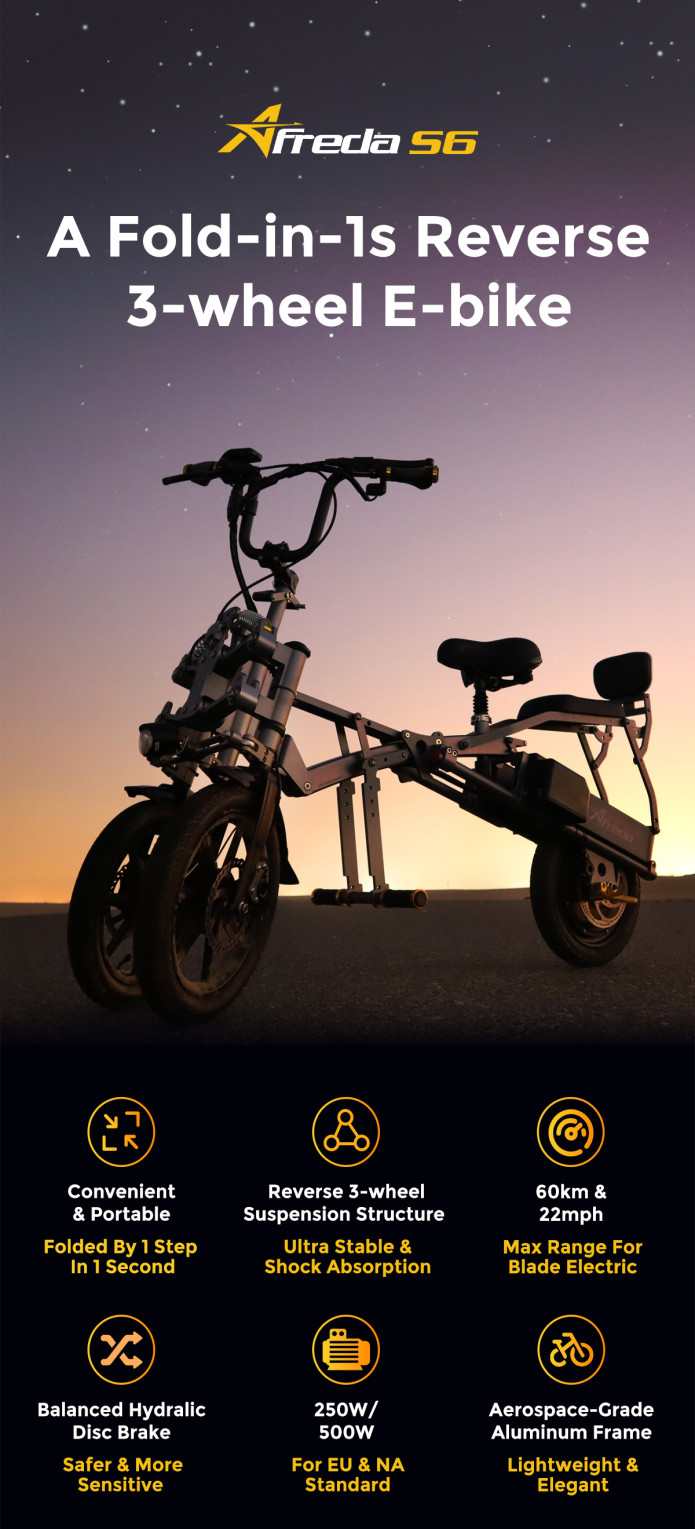 Maybe you have ridden a lot of E-bikes before, but trust me, Afreda S6 is so extraordinary that will bring you unprecedented riding experience beyond your imagination!  
Inspired by world's 1st reverse 3-wheel motorcycle– PIAGGIO MP3, Afreda S6 is one of the most convenient and safest folding 3-wheel E-bike. It's powerful, portable, conspicuous, and stable to ride. Notably, it can be folded up and unfolded in 1 step for just 1 second! It has 2 riding modes which is perfect for any riders (Even kids and elderly can ride it safely) in any given situation (commute, family outings, and off-road).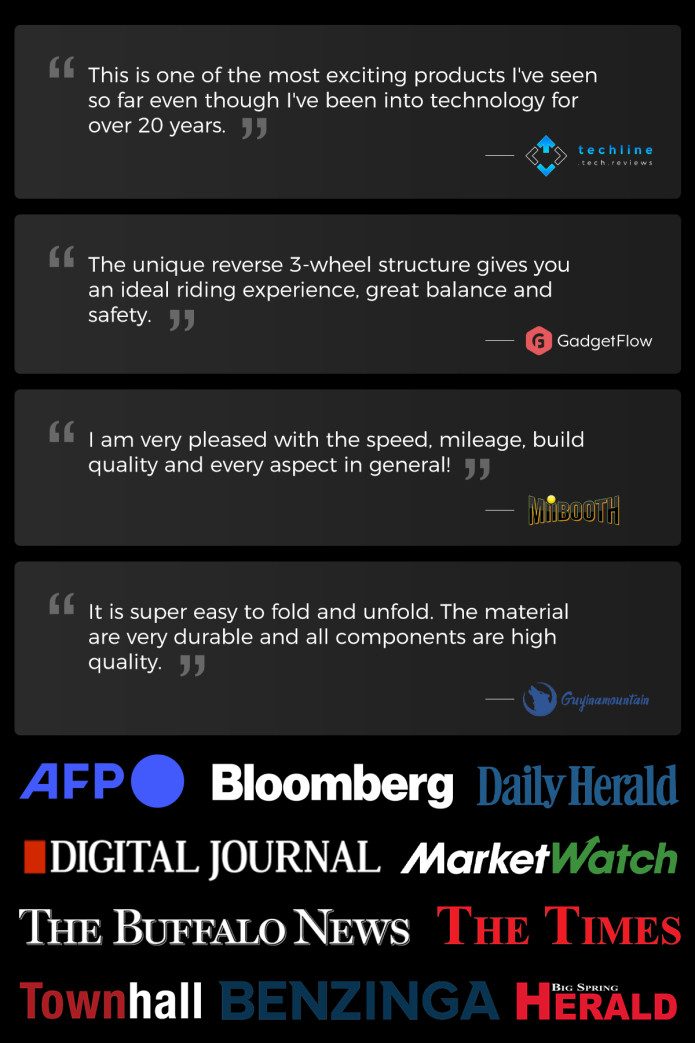 The suspension structure is combined with the Articulated Quadrilateral Suspension Structure(AQSS) and 2 front wheels. It can maintain a maximum 40-degree side deviation without falling, which ensures safety and stability even when cornering at high speed or in small turning radius situations. Besides, the 2 front wheels have a maximum vertical swing of more than 11 inches, so it has superior shock absorption and easily crosses obstacles. Therefore, Afreda S6 is adaptable to any road conditions with more stable body posture, greater grip, and shorter braking distances than any other 2-wheel E-bikes.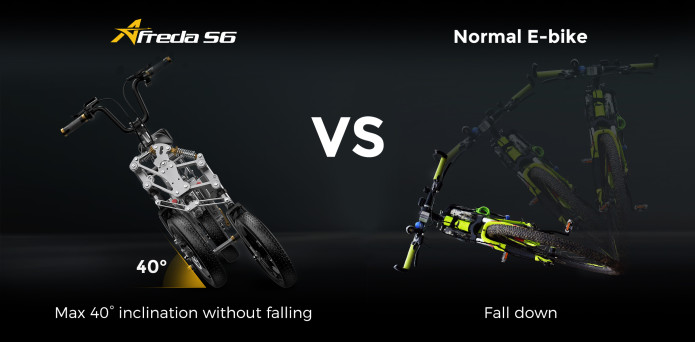 Afreda S6 corners without falling
Shock absorption of the wheel reaches 11 inches
Ride down the stairs with shock absorption

Usually, the folding process of ordinary folding E-bikes require complicated steps, and the folding structure is unstable and will loosen when used for a long time. Besides, the user's hands tend to get dirty when folding.
Afreda S6 does not have these troubles at all! JUST by 1 step in 1 second! Lifting the seat cushion lightly, it folds as magical as Transformer! It has a special tail wheel for keeping balance while folding. It can be placed pulled like a suitcase without taking up too much space. The size in the folding state is suitable for the trunk of the sedan. You can take it into the elevator, by subway, or anywhere!
Suitable for the trunk of a sedan.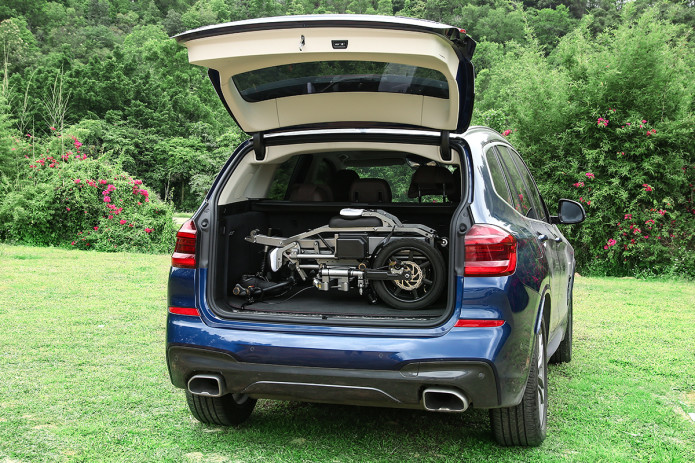 Imagine how wonderful it would be to have an E-bike compatible with riders for different levels—Even your kids can ride it safely while you can ride it in your style.
Afreda did it! The suspension lock can switch Afreda to Free Riding mode and Self-Balancing mode.

Supposed you're a good rider, you can unlocked the suspension lock and enjoy the freedom of riding. In free riding mode, the Articulated Quadrilateral Suspension Structure can move freely both horizontally and vertically.  The Afreda S6 fully shows its superior shock absorption and flexibility, especially on the off-road.

For beginners, the elderly, and kids, we recommend the Self-riding mode which the Suspension Structure is locked. In this mode, the AQSS cannot move horizontally and vertically, maintaining a stable position of the rectangular state so that Afreda's  2 front wheels are on stable balanced. It can turn and run like riding a normal tricycle. It is the safest way of riding and will not fall even it is stopped(without kickstand),  but in this mode Afreda will lose some damping effect and must drive at a low speed.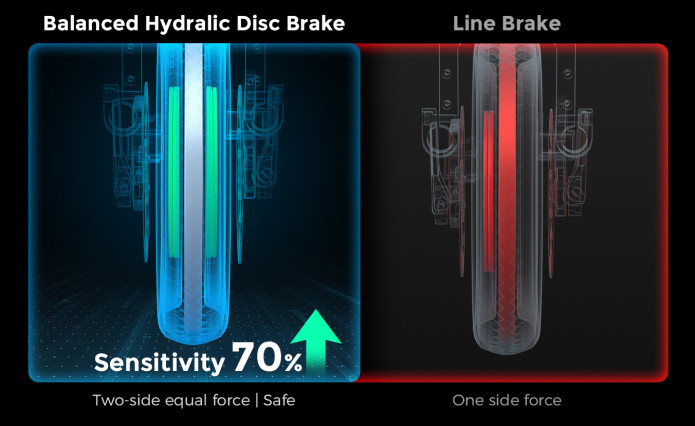 The Balanced Hydraulic Disc Brake(HDB) is specially invented for Afreda S6. Traditional brakes are not suitable for Afreda because they tend to give a biased force to the two front wheels when cornering, and may cause danger. Therefore, we designed the HDB which can apply balanced and equal force to the disc while braking. This patented technology ensures supreme safety while riding and works great both on-road and off-road.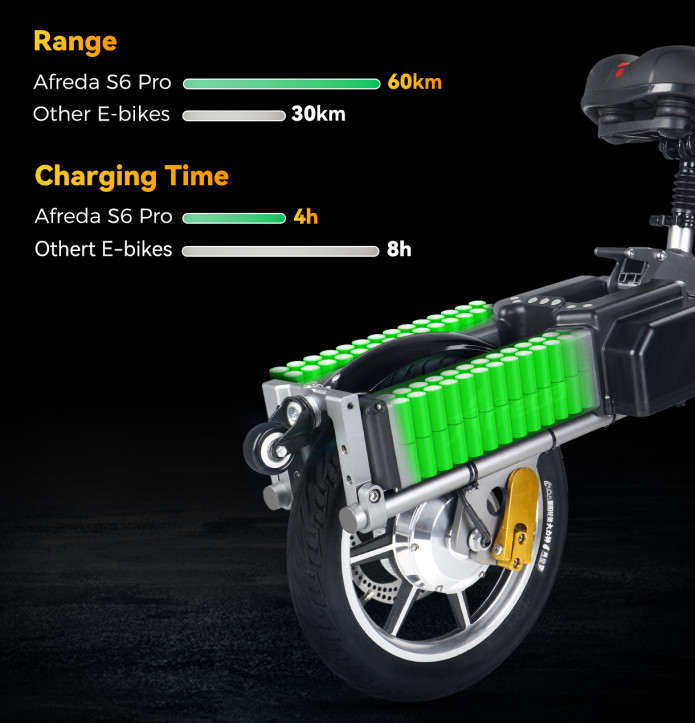 There is a common concern about running out of battery power or sudden breakdown while riding outdoor. No worry! Afreda S6 PRO has two exclusive batteries, which reduces the risk of being rendered due to the battery being damaged. The dual batteries can also be charged separately at the same time, which also shortens half of the time it takes to fully charge.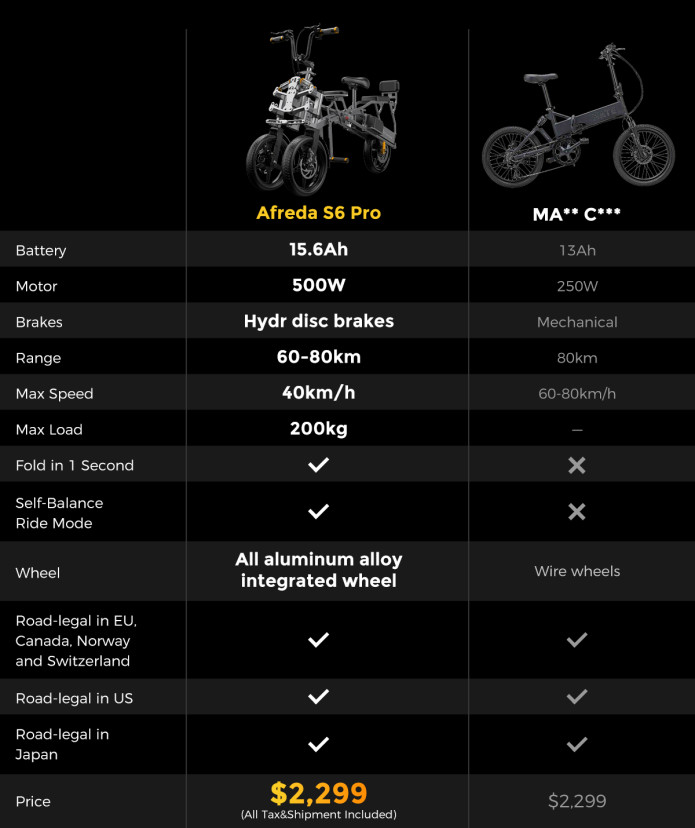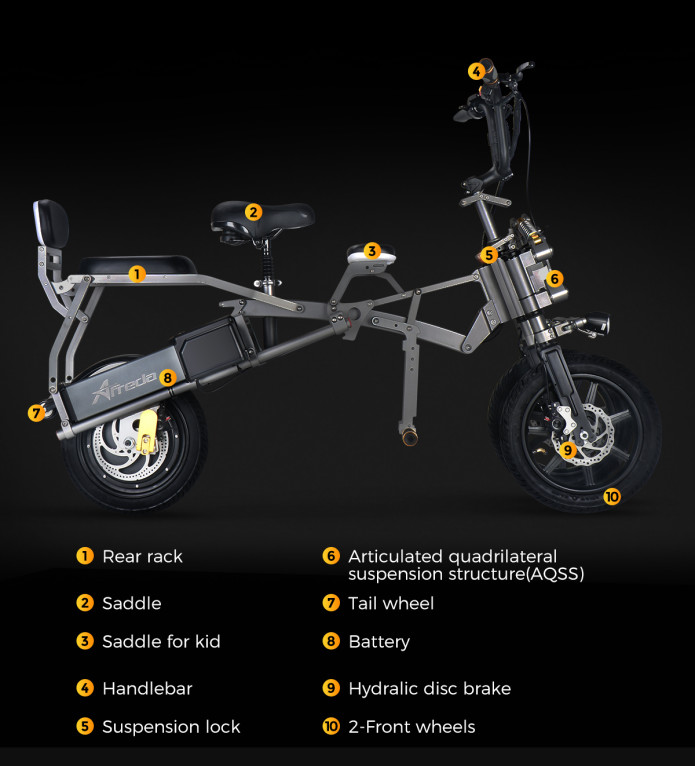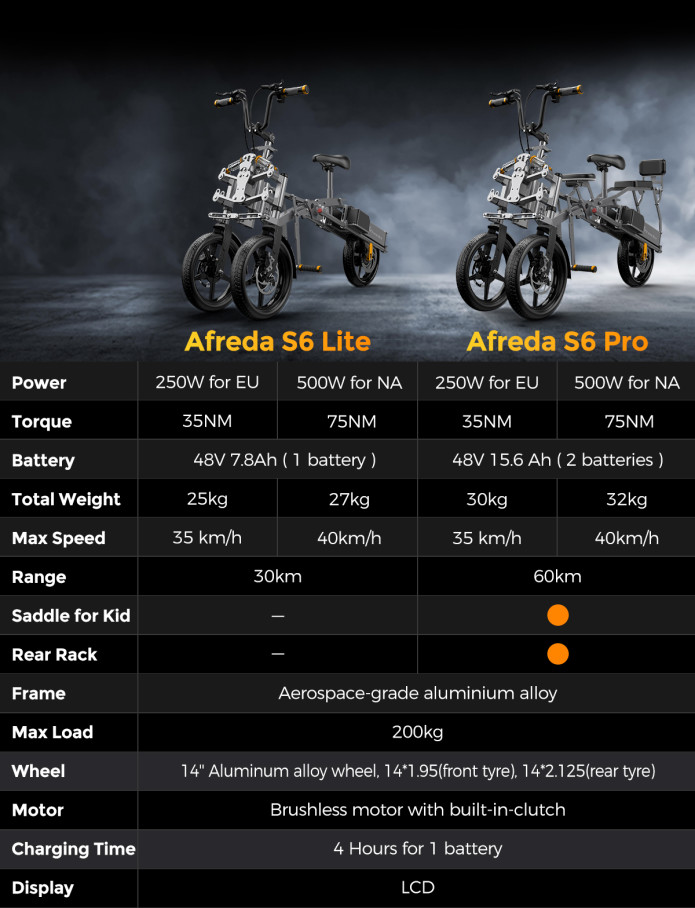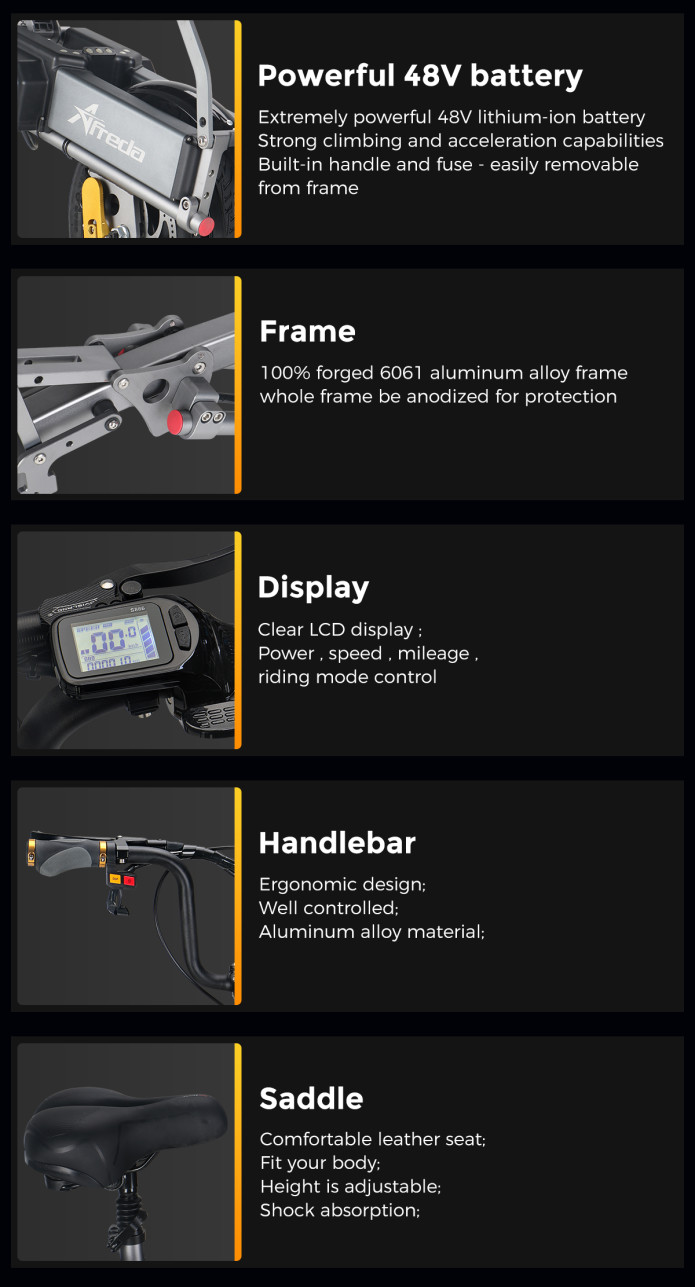 As the campaign hits certain funding goals, new stretch goals will be unlocked for you as giveaway. So share with your friends to keep the new releases coming!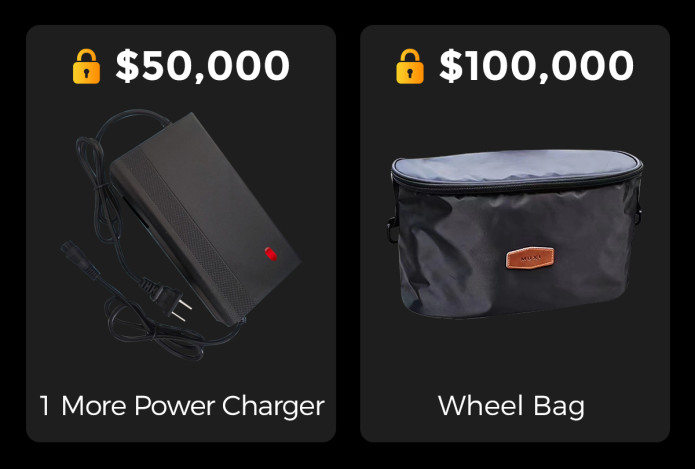 The most requested stretch goal so far! Two chargers can reduce half of the time it takes to fully charge. The wheel bag can carry some gadgets like a bottle of water, a cellphone, and keys.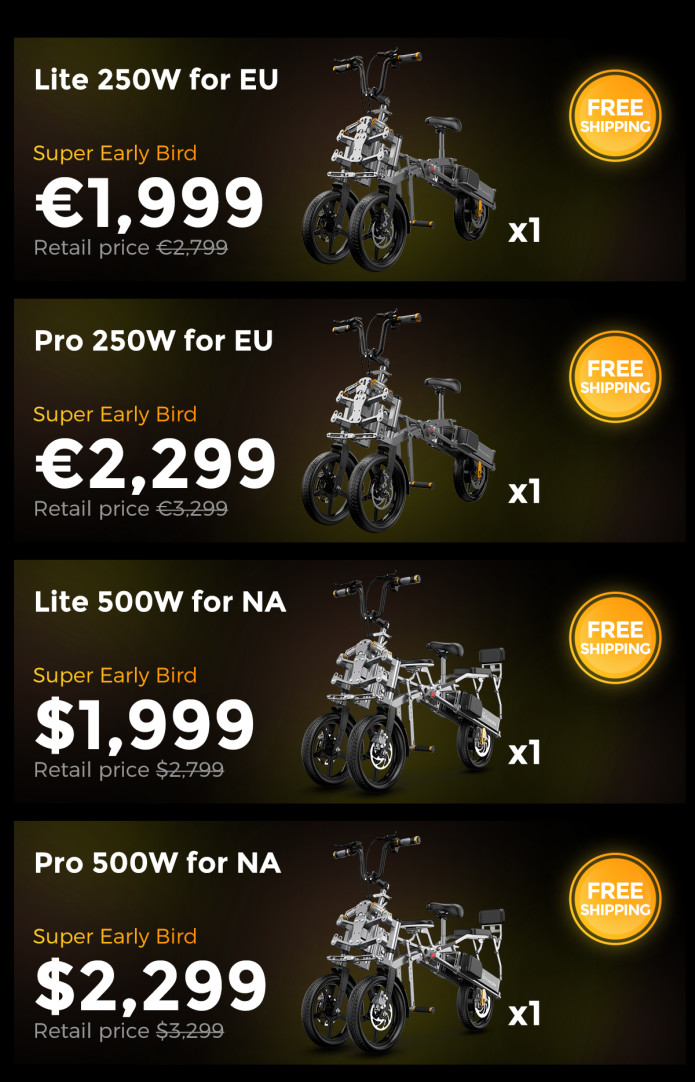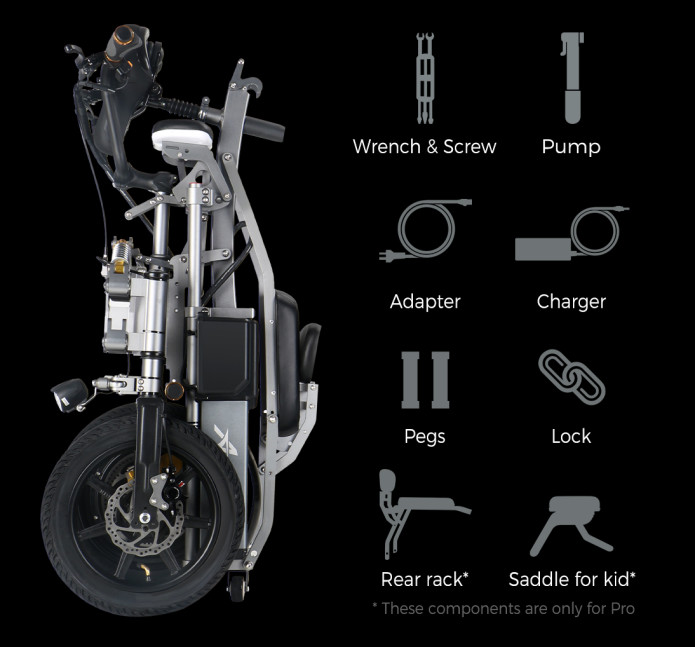 Driven by the great enthusiasm for riding, Afreda was founded in 2015. We are a group of engineers and industrial designers. When we stepped into this field, we were thinking about these two questions:
There are already many kinds of E-bikes on the market, what else can we do?
Can we create such a product that combines the shock absorption performance of an off-road e-bike with an excellent riding experience and is also foldable? 
We realized that we were trying to create a revolutionary product.  It is not easy but we worship innovation and believe that being different than being better. Therefore,  we studied and discussed day and night,  and finally, we got inspiration from the 3-Wheel motorcycle and composed Afreda S1 in 2017. 

Once it was born, it won the support and love of friends around us. But as a technology-oriented and product-oriented team, we hope to bring everyone a perfect product, so after that, we continued to upgrade Afreda for 3 generations but not sold to the public because we thought they were not good enough.
Until the Afreda S5 was released and sold out over 5,000 units that really encouraged us. However, we knew Afreda still had a long way to go. We worked harder and spent more than a year polishing and redesigning.
Now, we are ready to bring you Afreda S6 – the best product we have ever created. Hope you like it and be your perfect partner!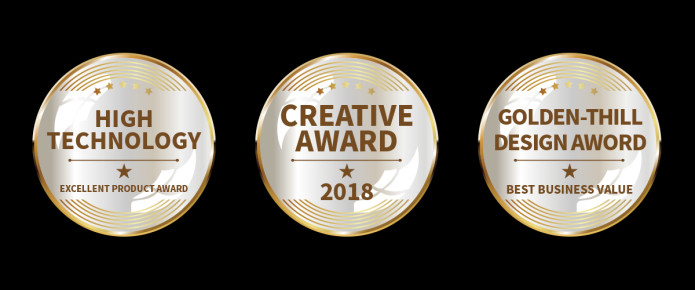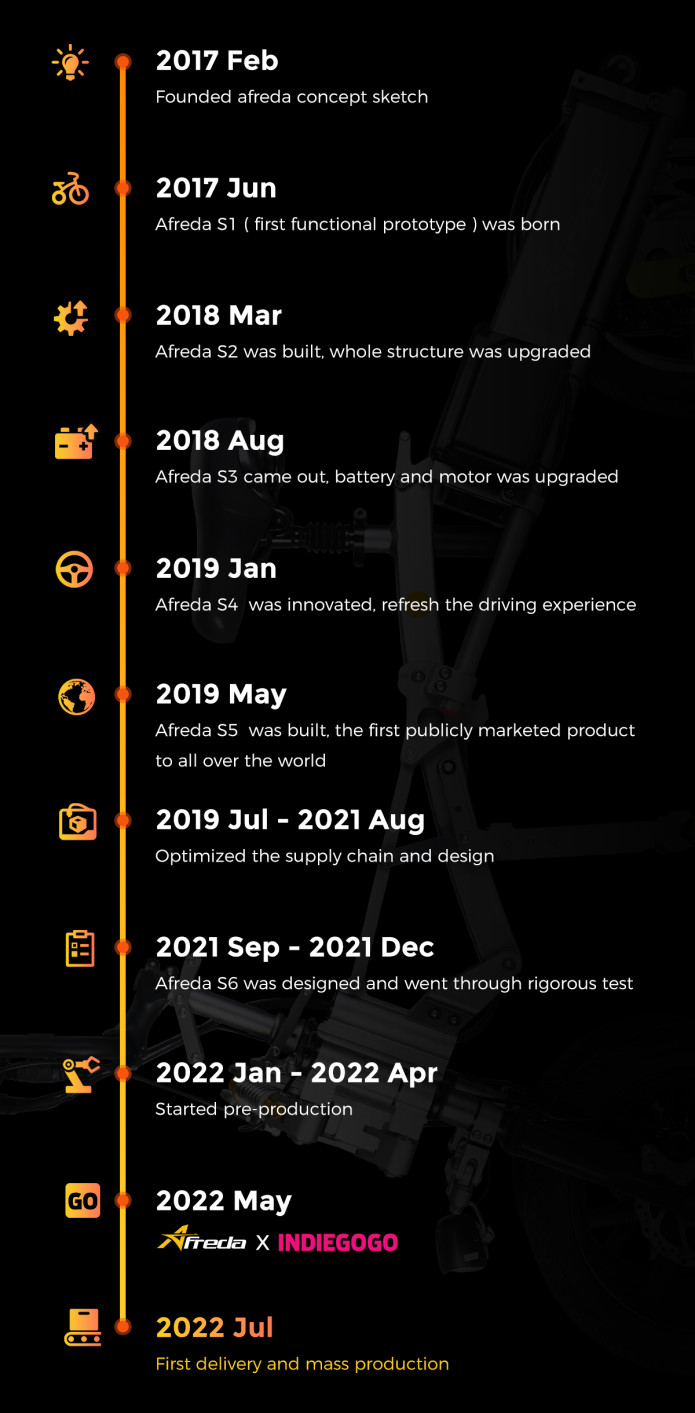 We all know that long waits can wear off the love for a product. After all, who wouldn't want to get their hands on a product sooner?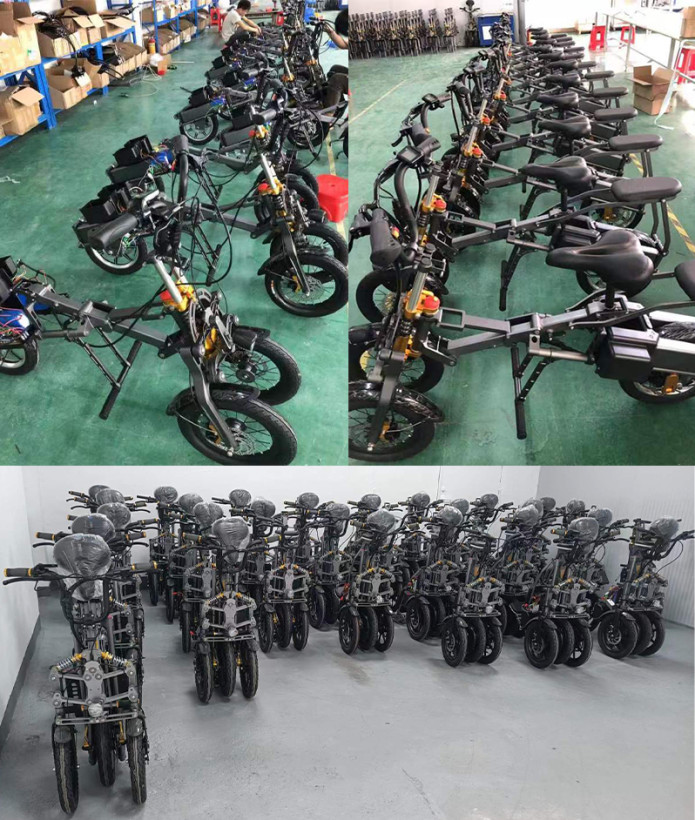 So we've already mass-produced Afreda. Now, the first batch of Afreda S6 is in our factory warehouse. As soon as we have received the crowdfunding payment, we will immediately arrange for the first shipment to ensure the timeline can be met.
To ensure the quality, we promise that every product you receive has been inspected by us carefully, and the whole inspection process has been filmed for each.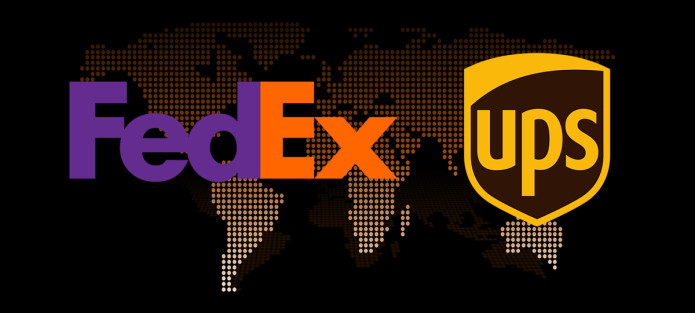 Although our team has accumulated some supply chain resources and mass production experience, this is our first Indiegogo campaign. We value the trust of you and your feedback and advice. We promise that we will be transparent, provide regular updates and respond to any concerns you might have. We want to thank all the backers for your confidence in advance. Thank you for embarking on this journey to make our dream come to life.