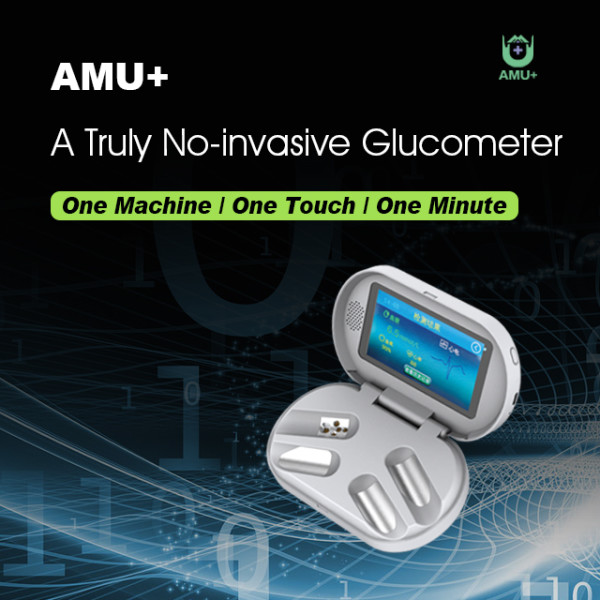 AMU PLUS: A Truly Non-invasive
$66,842
raised out of
$10,000
Concept
AMU: A Truly Non-invasive Glucometer Helps you get through the Covid-19
Story

I. What is AMU+
AMU+ is a truly non-invasive (NI) device for self-monitoring of blood glucose at home and home-alike environment, combining several core independent technologies. As a NI glucose monitor, AMU+ represents a utilizable alternative to the complex, costly and painful nature of conventional (invasive) glucose monitoring.
II. AMU+ is best for people who need to

III. One minute with Four fingers, One Touch with Four Tests and One device with One family
Scan your four fingers in just 1min daily

One touch with four bio-signs

One machine with all family members

IV. Key words of AMU+
ACCURATE:  NIR & BIA Spectroscopy
SAFE: CEFCCROHS Certification
QUICK: 1min Scan
CHARGED: 3 Months per Charge
ERGONOMIC: Comfortable to Use
CONSIDERATION: No consumables required
V. Awards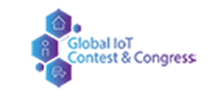 The Global IoT Black-tech Contest 2020: Top 10
VI. Diabetes Facts
1. Association of Blood Glucose Control and Outcomes in Patients with COVID-19 and Pre-existing Type 2 Diabetes
A cohort of 7,337 COVID-19 patients with or without diabetes was retrospectively studied
Diabetes status increased the need for medical interventions during COVID-19
Diabetes status increased the mortality risk of patients with COVID-19
Well-controlled blood glucose correlated with improved outcomes in infected patients
2. The COVID-19 virus can cause diabetes, new studies find
Initially when the pandemic started in 2020, doctors noticed that a high percentage of COVID-19 patients had diabetes, Mihail Zilbermint, MD, an associate professor of clinical medicine at the division of endocrinology, diabetes, and metabolism at the Johns Hopkins School of Medicine in Baltimore.
Originally, the thought was that diabetes would only increase the risk of getting or having a more severe case of COVID-19, but now it appears as though there may be some sort of bidirectional relationship between diabetes and COVID-19.
VII. The Science behind AMU+
NIR Spectroscopy
Bioelectrical Impedance Spectroscopy
Metabolic Heat Conformation Method
Biosensor techniques (PPG+ECG)
State-of-the-Art Calibration Algorithms
VIII. Certificates

IX. Summary
Diabetes is a chronic health condition that affects how your body regulates bold sugar levels.
Sugar is the main source of energy used at the cellular level. It is transported in the blood throughout the body.
In diabetic patients, the concentration of sugar in the blood needs to be monitored manually and corrected pharmaceutically.
This process involves puncturing the skin to gain access to the blood for measurement and then administering corrective medication.
This method is painful and costly. As a result, testing is infrequent and done only a few times a day.
By utilizing several core techniques, AMU+, non-invasive method for measuring blood glucose concentrations can theoretically be achieved.
With this change, testing can be done continuously at a fraction of the cost, allowing for better regulation of pharmaceutical administration.
With AMU+, the care regimen is simplified and quality of life of the patient is improved.
Note:
AMU+ is for self-health management and supplement accessory. It can't be relied on alone in the treatment.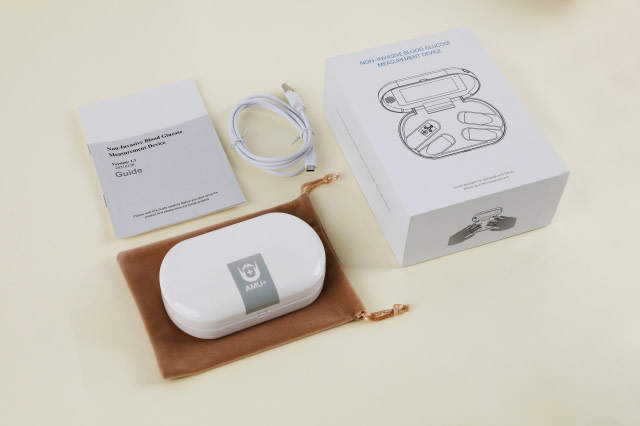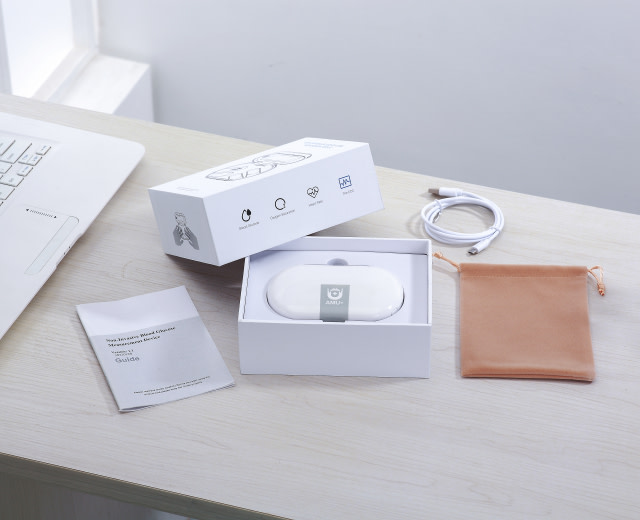 Find us