ATOM 2: World's 1st Auto-foldable Phone Gimbal
$422,224
raised out of
$80,000
Concept
A pocket-size 3-axis phone gimbal for aspiring videographers. Grab & go with intelligent control.
Story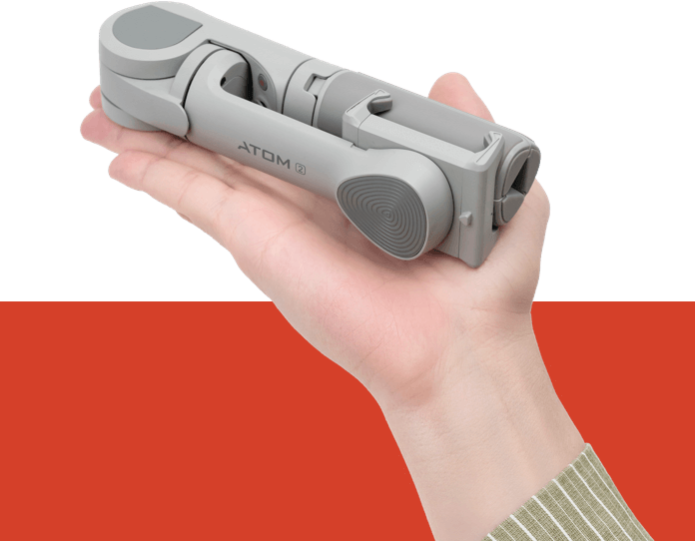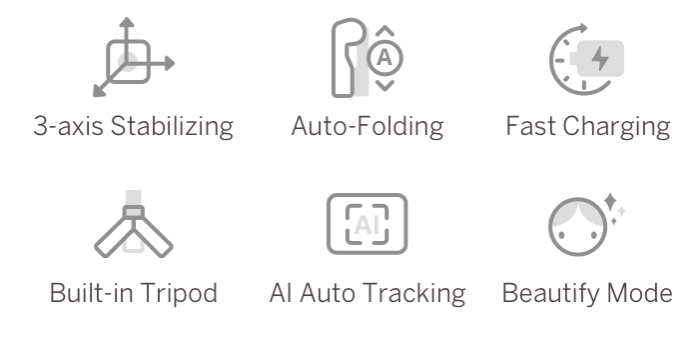 ATOM 2 is the world's first auto-foldable 3-axis phone gimbal. The revolutionary compact folding design with smart sensing makes it extremely portable and easy to use. Auto folding, fast setup, built-in tripod, extendable handle, fast charging, AI smart tracking, all these unique features make the ATOM 2 your best phone filming tool.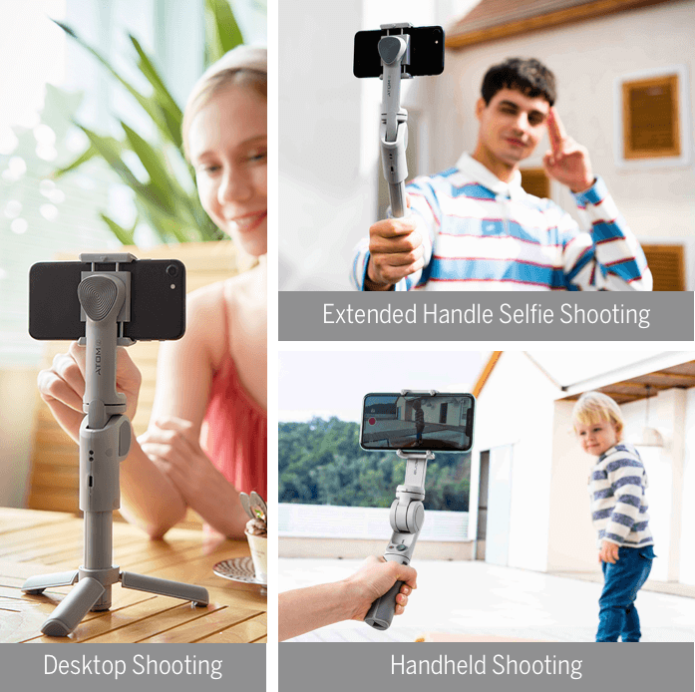 Hybrid-3-axis Anti-Shake Tech
The hybrid 3-axis structure is Snoppa's latest patented design, which is the soul of ATOM 2. The roll and pan axes both use direct-drive brushless motor while the tilt axis uses a special hybrid brushless motor developed by Snoppa itself. It has a much higher torsion, and an excellent stabilizing performance. This cannot be found in any other gimbals.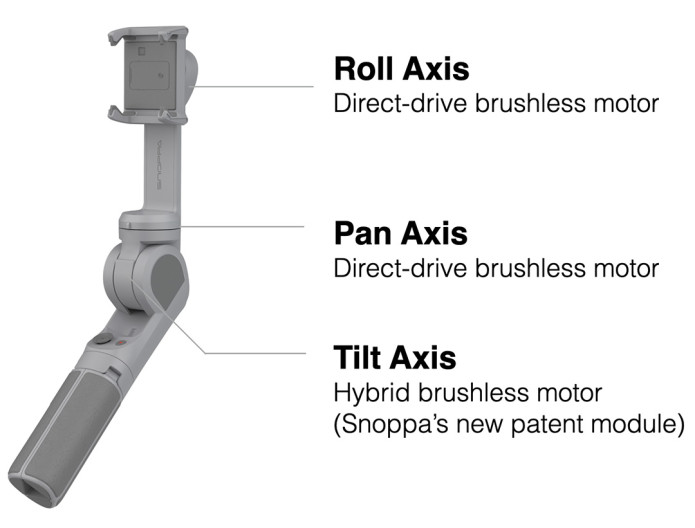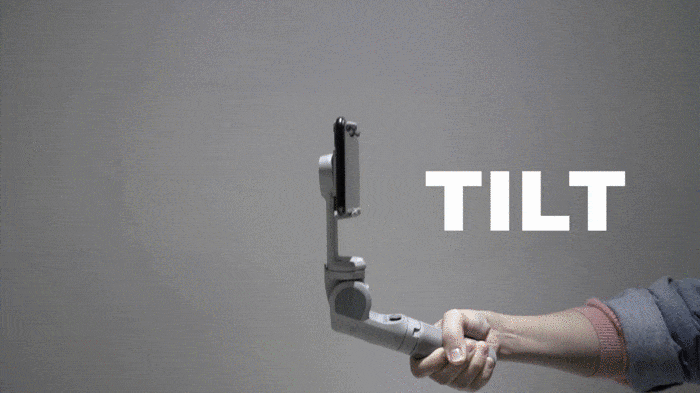 Grab your gear and go without missing the right moment!
ATOM 2 can sense your open & close actions to expand & fold its arm automatically, giving you a grab-and-shoot experience with great convenience.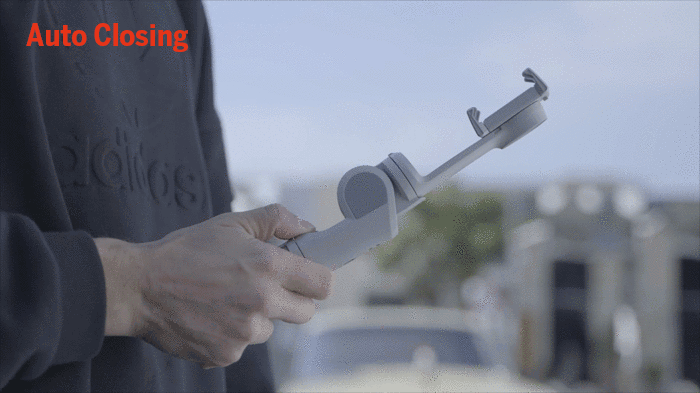 Manual Unfolding VS Auto Unfolding
(ATOM 2 VS ATOM)
All the 3-axis foldable gimbals on the market require manual operation which are a bit troublesome and put an extra step that takes time and might make you miss the shot.
ATOM 2 has successfully pushed the folding gimbal technology to the extreme with it's unique smart sensing and auto folding feature, which significantly make the gimbal setup process much easier and faster.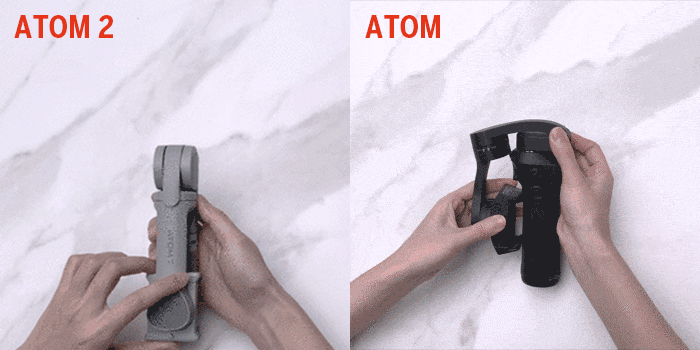 Carrying the ATOM 2 around is as easy as carrying any other carry-on items. Thanks to the ingenious structural design, ATOM 2 breaks through the conventional pattern and significantly reduces the gimbal size to an incredible degree.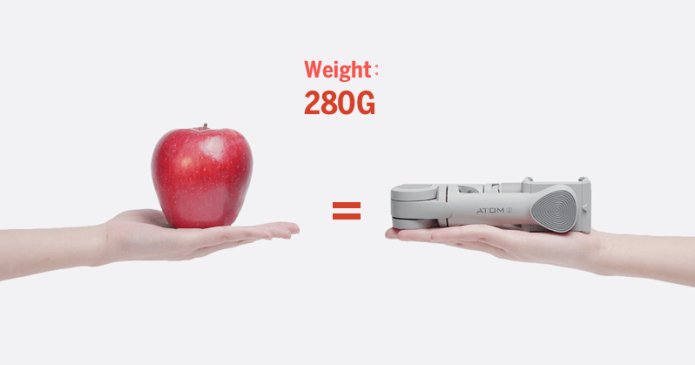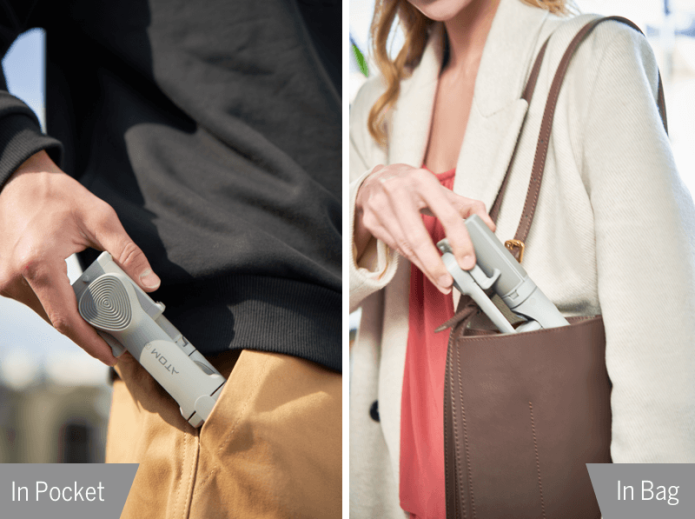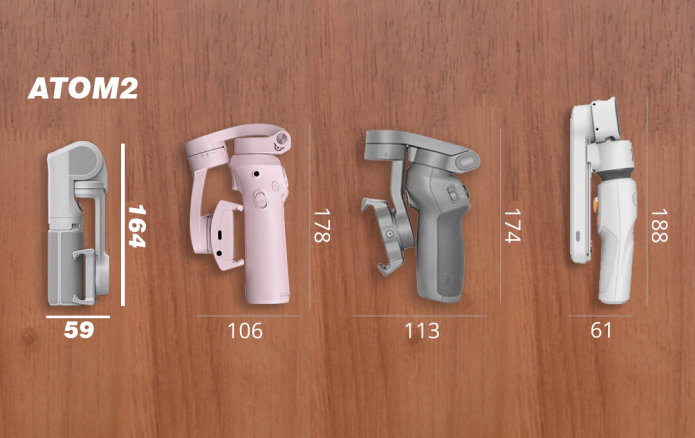 Carrying extra accessories is always cumbersome. The ATOM 2 directly integrates an extendable tripod in the handle, which allows you to increase the distance between you and your smartphone achieving a greater field of view while on selfie mode. Or directly stand it on a flat surface for an easy hands free experience, freely shooting  time-lapse, auto tracking, live-streaming, etc. anytime and anywhere.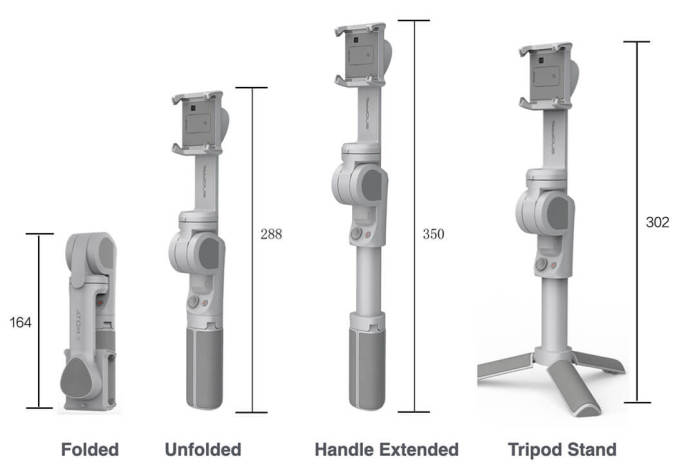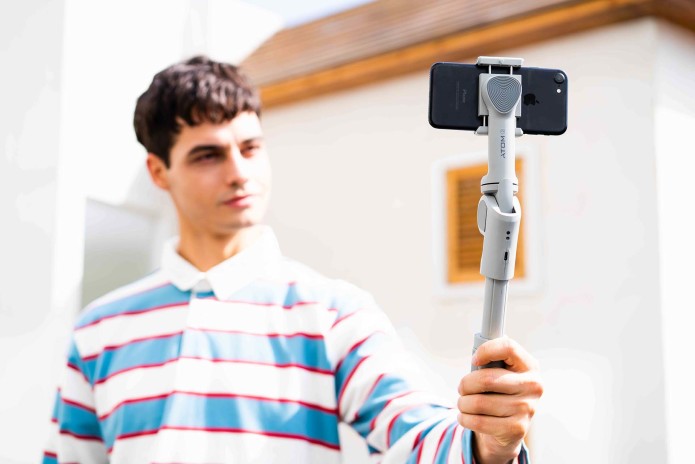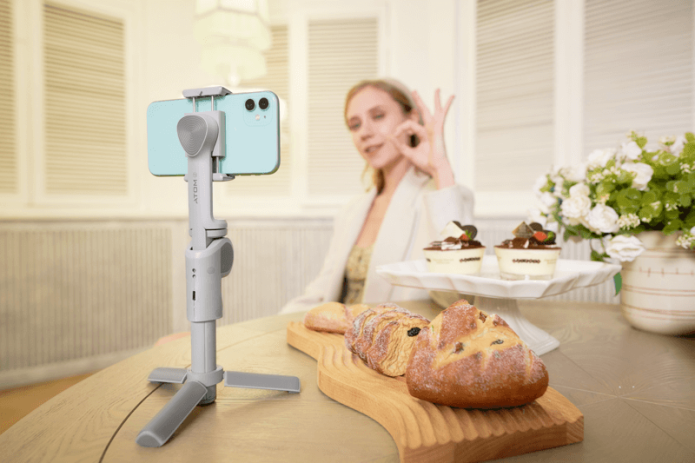 Fast Charging
ATOM 2 is currently the only gimbal that supports fast charging. It takes only 1 hour to charge from empty to the full, or 40 minutes charging 80%. Inside there's a built-in temperature sensor which can detect the battery status in real time to ensure safety.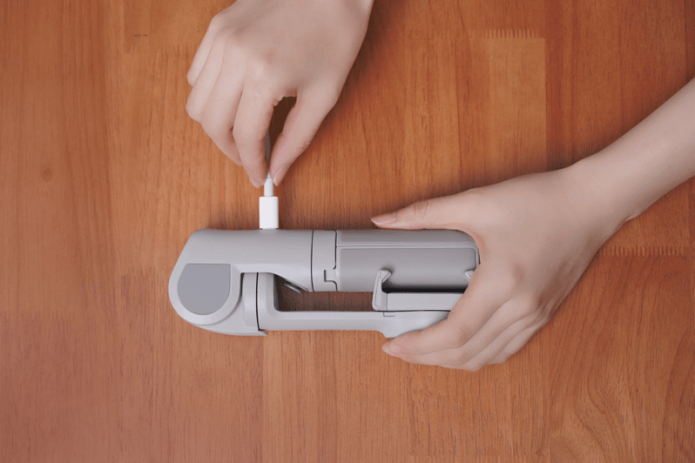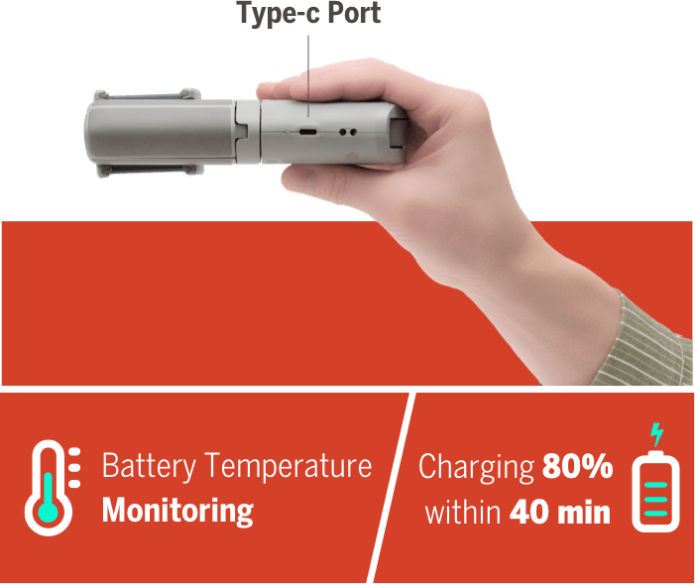 ATOM 2 has embedded an infrared sensor in the gimbal phone holder, which can actively sense the phone mounting status in case the motor starts and vibrates before the phone is mounted, and help to avoid motor damage.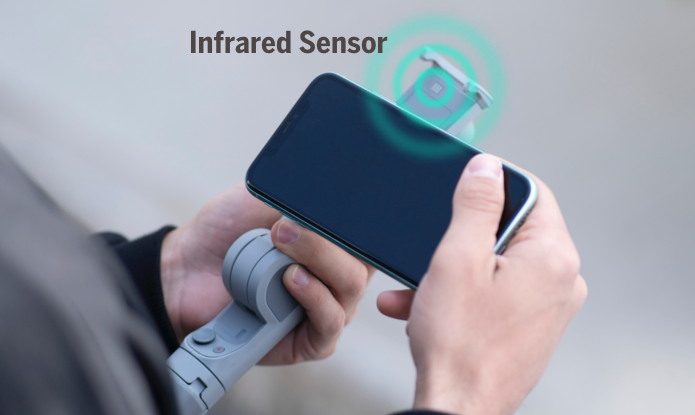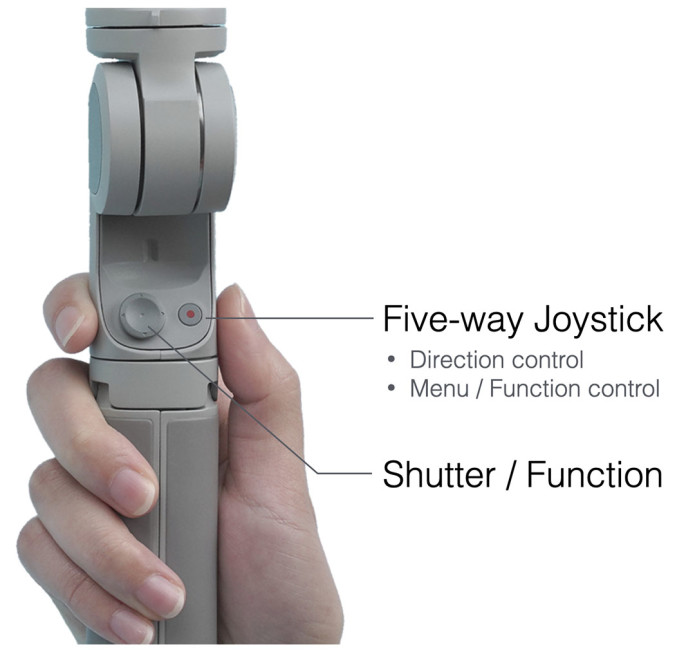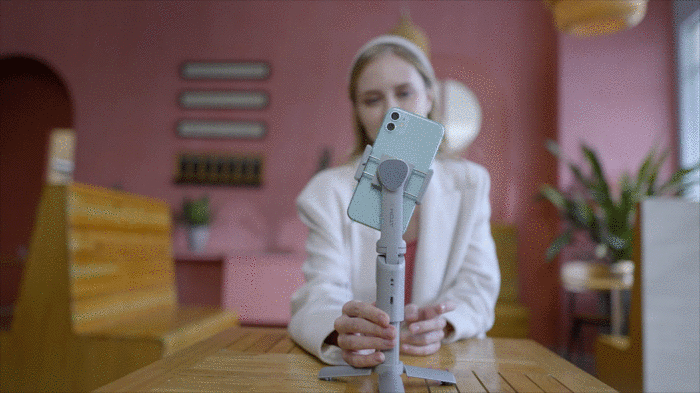 The ATOM 2 co-works with a dedicated filming app that offers powerful functions for users to enhance their shooting experience like AI recognition and tracking, time-lapse, slow motion, panorama, beauty mode, gesture control, etc.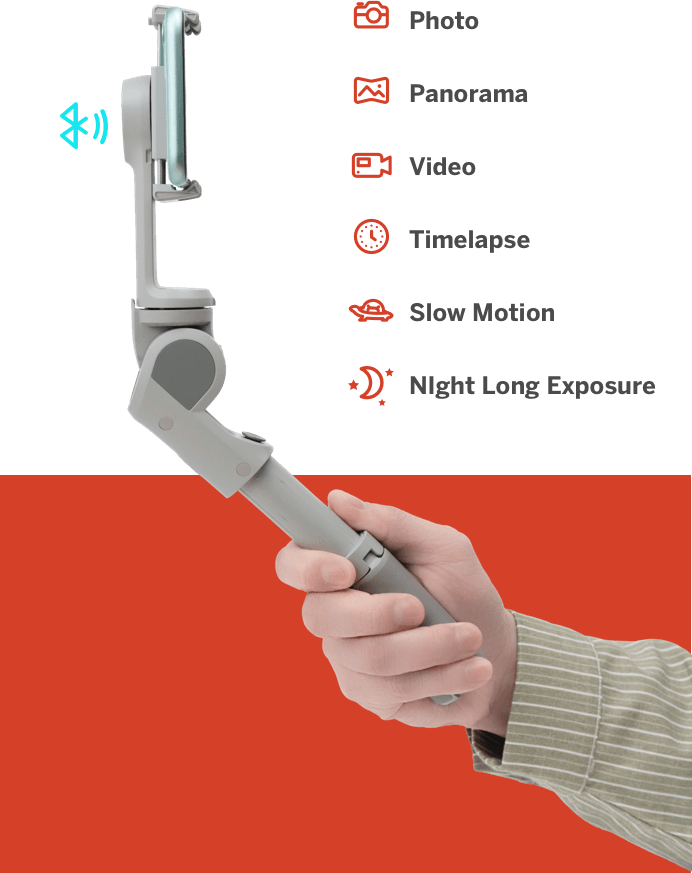 Not in your best condition? wanna add a little personality to your beauty? ATOM 2's beauty mode helps you edit and bring out your best features in both of your selfie pictures and vlogs.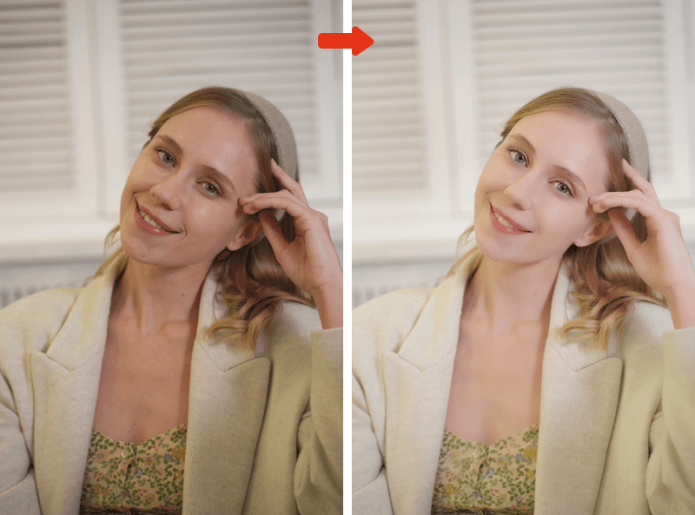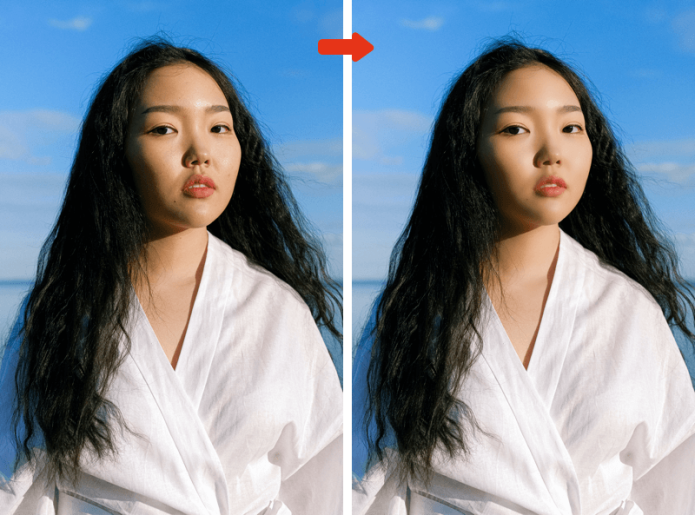 Through AI face detection, the Faceover Mode enables users to automatically cover their faces with either pixels or a selected cartoon sticker during face tracking.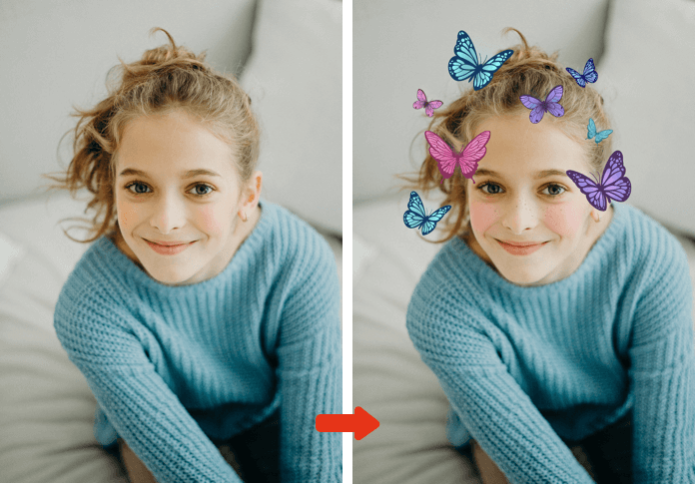 Control the gimbal hands free or remotely, that is all up to you! Now snap a photo or record a video can be as easy a simple gesture. And more customized gestures can be set for start/stop shooting, shot clock, inception mode, and more.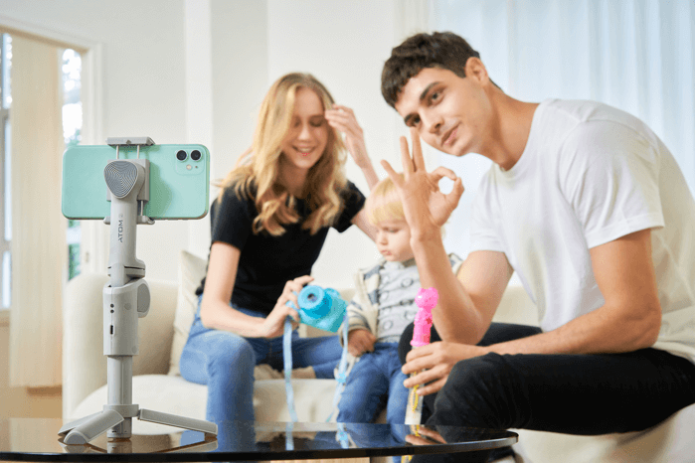 What's in the Box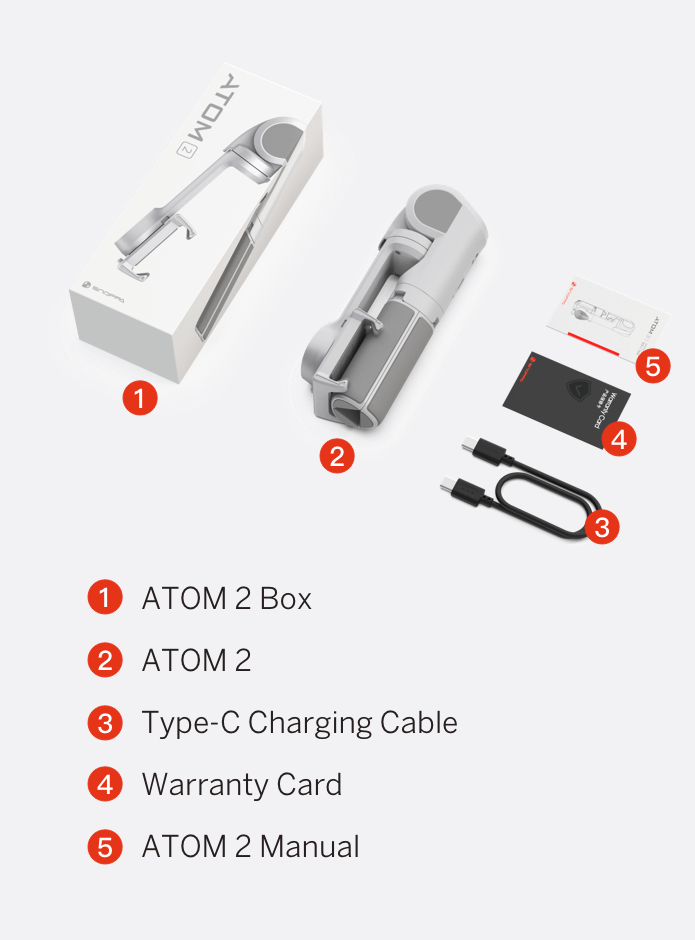 Specifications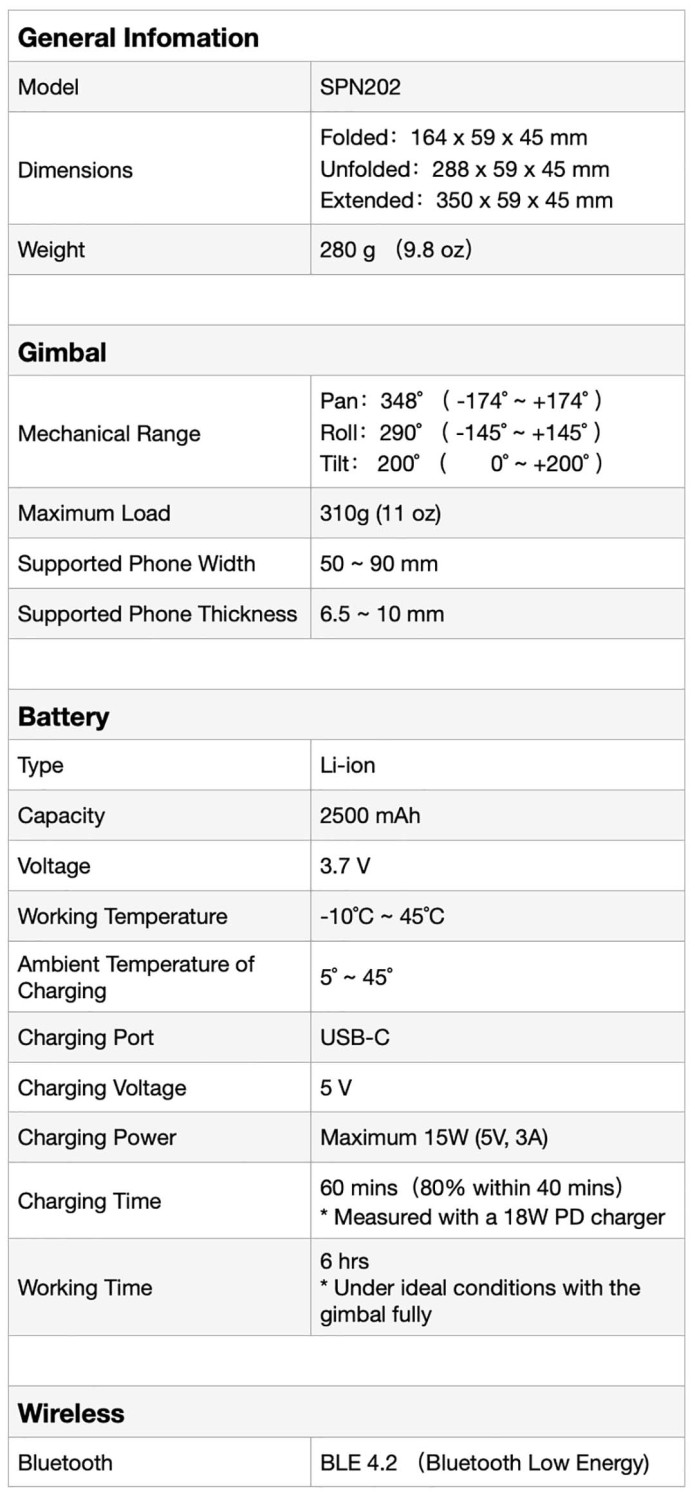 Rewards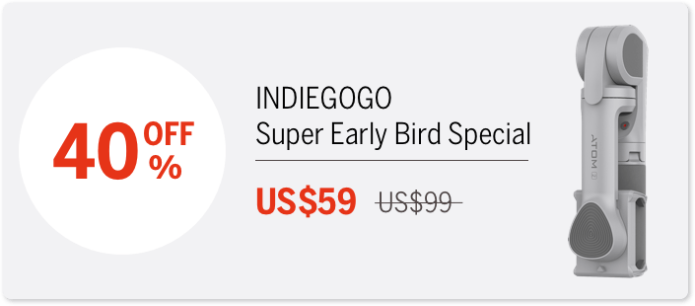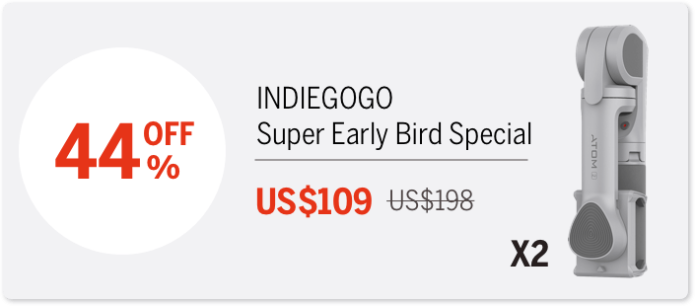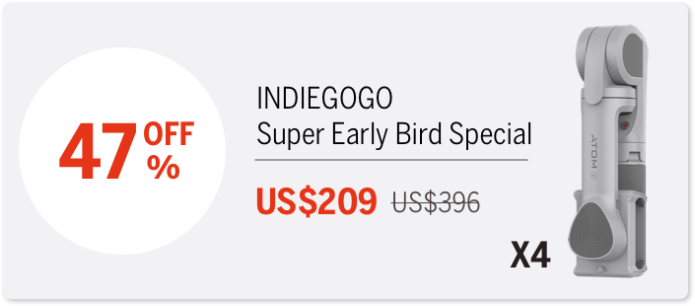 Take a sneak peek at our production lines

Timeline
About the Team
We are a team of experienced engineers, product designers, and video fans, we all share a common passion for what we do. Our team members have strong R&D background in automation control as well as extensive filming experience. Most importantly, we work hard to put imaginative innovation into the market of filming products, an innovation that dedicated to solving the existing filming problems and improve overall users' shooting experience.
As a team that aims for a revolution in the world of filming, we know that, unlike photos and selfies, videos help people to tell a better story, it captured and preserved our best memories, and allow us to playback over and over again.
Our mission is to create highly innovative and intelligent gimbals that simplify the way you stabilize your video recording, and further gives everyone across the world an opportunity to enjoy a comprehensive and robust filming experience.

In the past 5 years, we have successfully hosted 5 crowdfunding projects on IndieGoGo and each project was successfully fulfilled. Moreover, our special approach & innovative design have ultimately won us renowned global design awards and a widespread of acknowledgments.
Filming is our passion. And we never stop to bring innovations into the culture of filming!




Frequently Asked Questions
1. How long is the warranty?
The ATOM 2 comes with a one-year international warranty for Indiegogo backers. We also ensure that every unit is free from manufacturing defects and handled with the utmost care during shipment.
2. Is ATOM 2 easy-to-use for first-time gimbal users?
Yes, compared with most phone gimbals in the market, the advanced design and renovative features like auto-setup & one-key folding, no balance adjustment, auto phone mounting detection, etc. have further simplified gimbal operation and usage, which makes ATOM 2 the most beginner-friendly phone gimbal for first-time users.
3. How long does ATOM 2 take for a full charge?
Under normal environments, ATOM 2 can charge up to 80% in 40 minutes, only 1 hour for a full charge, and last for 6 hrs in use. Furthermore, Snoppa ATOM2 can monitor the battery temperature while fast charging, which guarantees worry-free power charging.
4. When could I receive my order?
The shipment of the first batch of ATOM 2 will begin from February 2021. Actual ship dates will vary depending on your country, your location, and when you've placed your order. We will keep you up to date on every step of the process. To deliver ATOM 2 safely and efficiently, the orders will be dispatched by different courier companies, depending on the destination regions. Consequently, we may ship out in a slightly different order from the initial buying sequence.
5. Is the delivery guaranteed?
Snoppa assures that Every Snoppa Backers will get his/her products. If you need more convincing, ATOM 2 is our 6th campaign on Indiegogo, and each campaign we have successfully delivered the product in a timely manner. Welcome to join the Snoppa ATOM 2 group where you can keep track of the production and shipping progress, and enjoy premium product support for your backing.
6. About your shipping details:
A confirmation email will be sent to you once your order has been placed smoothly. Please note to verify your shipping address in time before the shipment is ready. As international delivery is very strict about the recipient's delivery information, a typo in your delivery address or zip code, etc. may result in an extra handling fee or a delivery failure. Please keep in mind that Snoppa does not bear any extra expenses in the circumstance that inaccurate shipping details are provided.
7. Do I have to pay VAT/GST?
The recipient is the importer of record and must comply with all laws and regulations of their local government. The recipient of an international shipment may be subject to import taxes, customs duties and fees, which are levied once a shipment reaches the recipient's country. Additional charges for customs clearance must be fulfilled by the recipient. Snoppa has no control over these charges. However, most of the backers from our previous campaigns have been exempt from any duties and tax. Please check with the local authority for confirmation.
8. Why is there no option to ship to my country?
We are in the great will to provide shipping to most countries and regions worldwide. However, the global reduction of flights is expected to increase due to COVID-19 and strict customs control in certain countries may double the difficulty for products import. Therefore, we are sorry to announce that we cannot ship the product to the countries and regions that are not inlcuded in the ship-to list. We appreciate your understanding.
9. How do I update my shipping address?
You'll be able to change your shipping details directly on your Indiegogo Contribution page( please see:https://support.indiegogo.com/hc/en-us/articles…). If you don't see the 'Edit Shipping Address' button on your Contribution Details, this means your order is "Locked" or "Fulfilled." At that status, please contact our Support team: atom2@snoppa.com in the case of any changes to your shipping details. While Shipping details can no longer be changed if your order has shipped out.
Risks and challenges
With our team's years of experience with 3-axis gimbal R&D technology and the successful production of previous products, we have reliable suppliers and excellent manufacturing partners, making us confident in our production schedule for ATOM 2. However, we understand that challenges often occur with shipping and logistics.
To avoid potential delays, we have already confirmed with our suppliers that production is ready and shipping can begin on time. Our most important task is to satisfy the promises we make to our backers.
If any unexpected problems arise we will keep our backers updated and informed about how we are solving the issue. We are excited to bring ATOM 2 to the world and thank you for your support.