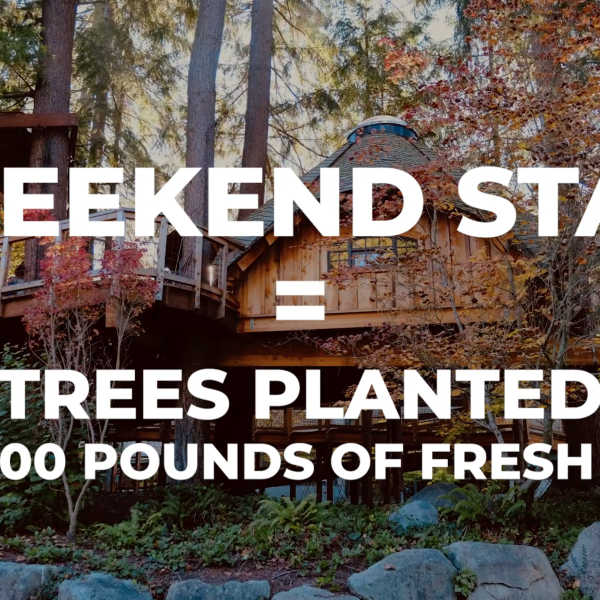 Azhen Eco Resort: Change The World While You Relax
$51,830
raised out of
$32,000
Concept
A nature resort that addresses world issues holistically, starting with your wellbeing.
Story
Help build Azhen! Email jaymie@azhenresort.com with questions or custom packages! Or text (604) 831-2485. Email is preferred. First please read:
How many people can come / what's the price? 
Stays fit 4 people comfortably, or up to 6 on a pull out mattress. Great for groups and families!
There is a $15 guest cost per person to help cover extra cleaning costs and power systems. If you have a big group your 5th and 6th person are free! Choose your # number of guests as you checkout with your perk. 
Prices are as low as $45 per person everything included! Regular $300/night after this campaign ends. 
For all inclusive retreats see the title of your perk for # of people included in the price. 
When can I book my stay? 
You can book your stay on December 3rd when the campaign ends. Your perk never expires, you can use it anytime you want. The resort opens in January in phases. Luxury wall tents, geodomes, and tiny homes will be available first. Hobbit homes and treehouses will be open in the spring.
Where is it located? 
About 1 hour south of Kelowna and 35 minutes east of Osoyoos, near Rock Creek, BC.
Is it a holiday gift?
We can send you a physical package to show your friend or family, explore all Azhen has to offer, and choose your stay and dates! You will get an email when the campaign ends on Dec 3rd asking for your mailing address, and we'll send it to you 🙂 
Is food included?
Food is not included in the regular stay options. Food is only included in the all inclusive retreats. It is all organic wholefoods and we can accommodate any dietary needs.
Are pets and children welcome? 
Yes! Of course! We are family and pet friendly. There are units reserved for those with no pets and who may be allergic. We've got you covered!
Can I get a refund? 
Yes, you can process a refund in your Indiegogo dashboard after you purchase. 
What kind of activities are there?
Untouched snowboarding, sledding  & pond hockey in the winter
Every unit has a private spa (hot tub, sauna, cold plunge pool)
Swimming pond, beach volleyball, river floats, hiking & biking in the summer
Bike and tube rentals will be available
Top star gazing location in North America
No plastic, all zero waste amenities
Food, yoga, meditation, cooking and nutrition classes, breathwork, and more available at retreats!
What is Azhen Eco Resort?
An innovative nature resort that donates to life preserving initiatives around the globe, and educates about conscious living.
Providing incredible experiences, health & wellness retreats & courses, and resources so you can live a healthy, inspired and impactful life!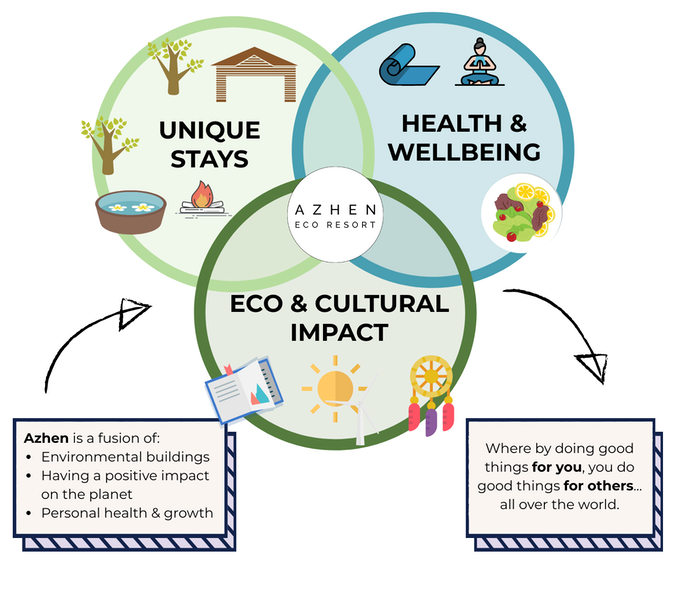 COVID friendly & location friendly rewards:
Your rewards last FOREVER and can be used at any location, or exchanged for another package based on its value. It will only get better and better with time and these are the best deals that will ever be available;
All retreats and courses are available online as well;
If coming in person, these are spacious nature-based options with plenty of room for social distancing, with the highest cleaning procedures.
What Unique Stays Are We Building Here?
Discover that living sustainably is fun and exciting! We have partnered with Free Spirit Spheres, Nelson Treehouses, and Green Magic Homes for hobbit homes. Or try glamping with one of our wall tents or tiny homes. Or bring your own!
Treehouse Spheres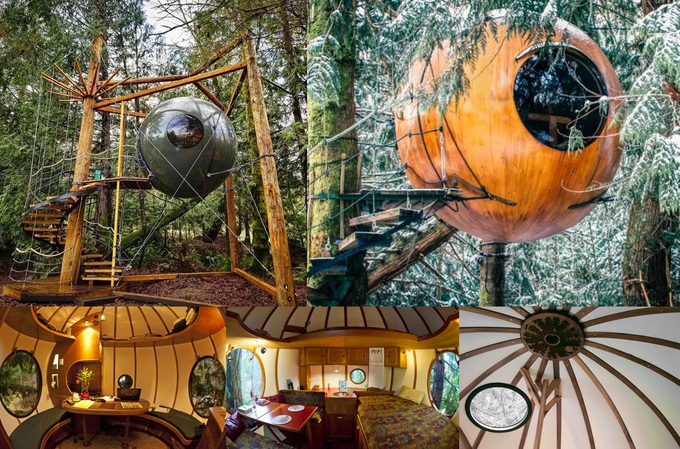 Building Partner & Photo Credit: Free Spirit Spheres. Est. Completion Date: August 2021.
Eco friendly living option that does no harm to the environment around it;
Being suspended from the trees creates an incredibly relaxing sleeping experience, like a giant hammock;
The interior of the sphere offers an amazing sound experience as the vibrations reflect off the curved walls.
Hobbit Homes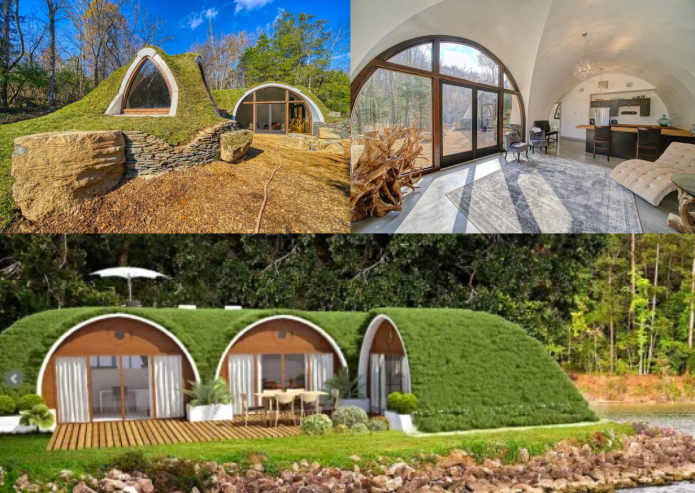 Building Partner & Photo Credit: Green Magic Homes. Est. Completion Date: June 2021.
One of the most sustainable types of dwellings, the "hobbit" home is fully insulated by the earth and the vegetation around and on top of it;
The roof acts as a rain water catchment system and is filtered for drinking, showers, cooking and growing food;
This is made with an eco friendly biopolymer/fibre mix, and comes in lightweight panels that are assembled on site, reducing the carbon footprint of delivery and construction by over 85% compared to a traditional home.
Traditional Treehouses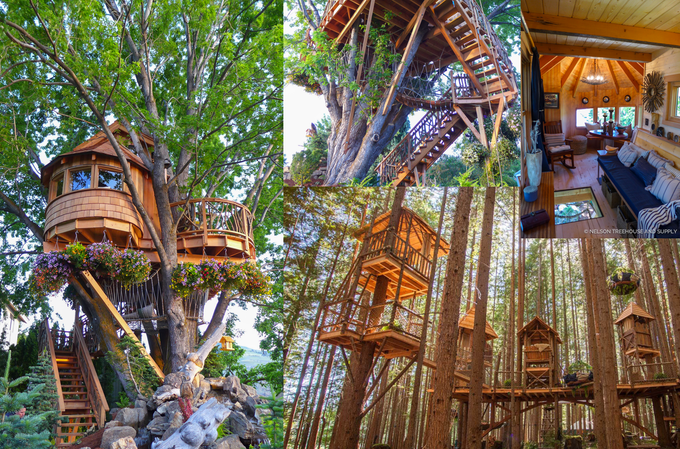 Building Plans & Photo Credit: Nelson Treehouse (can buy plans of your own here!). Est. Completion Date: June 2021.
Traditional treehouses showcase conscious building using the same wood that is already existing on the land, fully sustainable, and nothing imported (most buildings import up to 50% of their materials).
Yurts, Wall Tents, Tipis & GeoDomes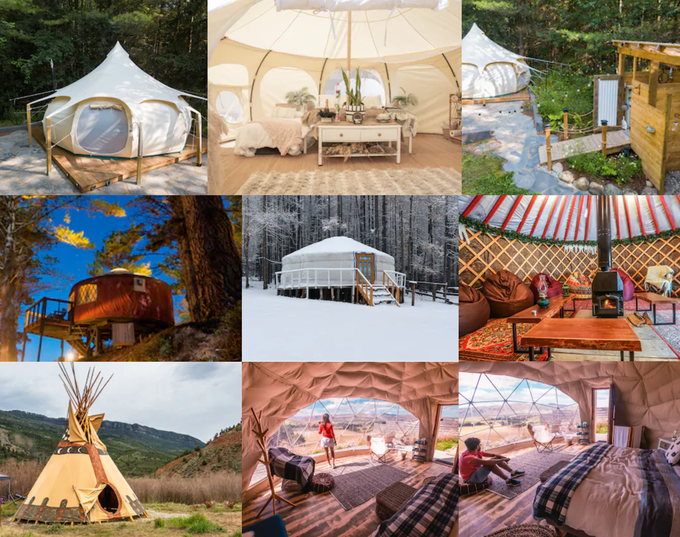 Est. Completion Date: Completed, ready to stay.
Our ancestors, from many cultures, travelled often for food, with seasons, and to attend gatherings. They lived in "mobile" housing that they could take down and easily resurrect. When you stay in these, you can learn how they were used, built, and even help build one yourself!
Here we combine ancient culture with more modern yet still traditional-inspired furnishings and finishings;
Each unit has a spacious outdoor entertaining area with wood burning fire places and comfy spaces to feel at home in nature year round.
Tiny Homes, Converted Busses & Vans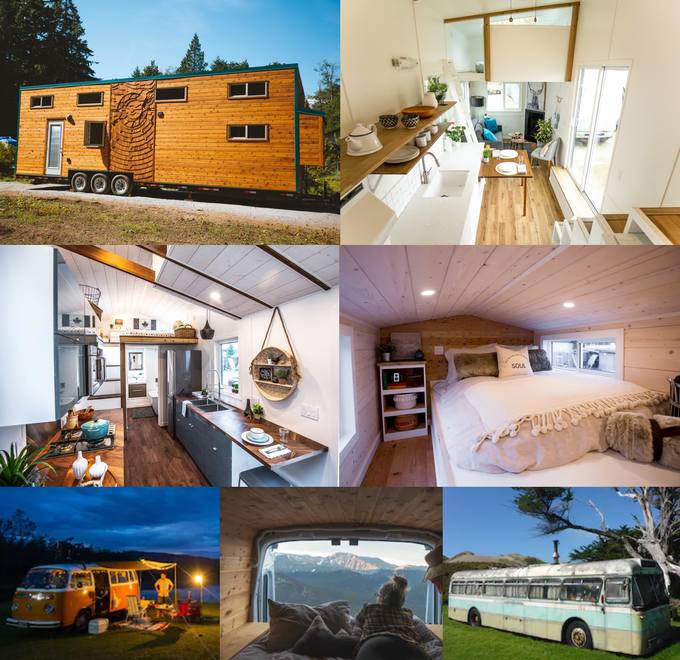 Building Partner & Photo Credit: Sunshine Tiny Homes. Est. Completion Date: Completed, ready to stay.
It's our goal to let you experience the greatest sustainable ways of living, and tiny homes, converted busses and converted vans are a must! Many people have dreamt of living in one, or maybe you just want to experience it first? Try it here with renovated vans and busses and learn what it's all about.
These options are widely known for their freedom, mobility, and affordability;
Tiny homes are a fraction of the cost and material compared to other types of homes, and we reuse and repurpose up to 70% of materials.
The Key To This Project
We're building the stays, but the last key to opening Azhen Resort is the spa… That's where we need your help.
We want to build the most effective, natural, eco conscious hydrotherapy spa!
Here's where we're at now:

This is a unique design because it is:
100% off-grid using solar power and wood fire
100% mobile designs that don't harm the environment beneath it and can be picked up and moved; and, 
Uses only fresh spring water with no chemical additives, using an ionization filtering process.
Here's what we want to turn it into:
We want to bring our functional designs to a new level of beauty and create a full hydrotherapy spa.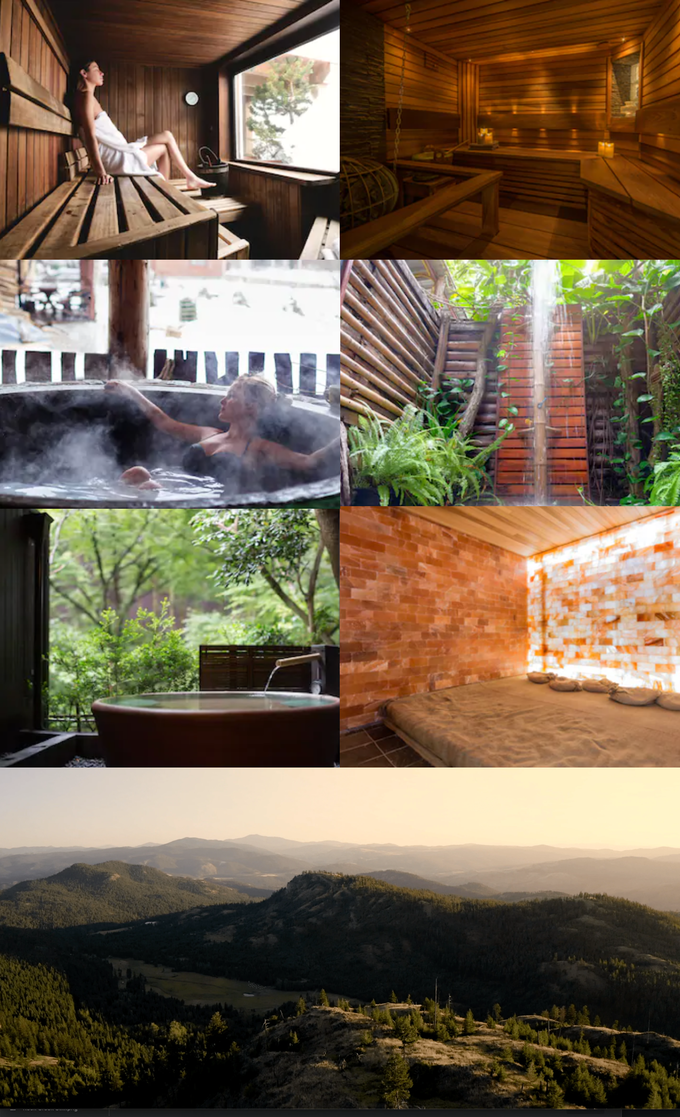 Hydrotherapy Spa Immersed in Nature with an Incredible View
So what the heck is hydrotherapy? Honestly… probably one of the best things you'll ever experience.
It's a "circuit spa" meaning you make your way through a stunningly designed landscape of a variety of spa features.
Specifically you're supposed to go Hot > Cold > & Relax 
Hangout in wood fire saunas, cedar hot tubs or the steam room;
Then go for a super quick cold plunge in a tub or outdoor shower;
Then read a book in a relaxing solarium with a view, or maybe have a nap or ponder your thoughts in a hammock, and finish it off in a glowing warm salt room;
And repeat! All day long if you want…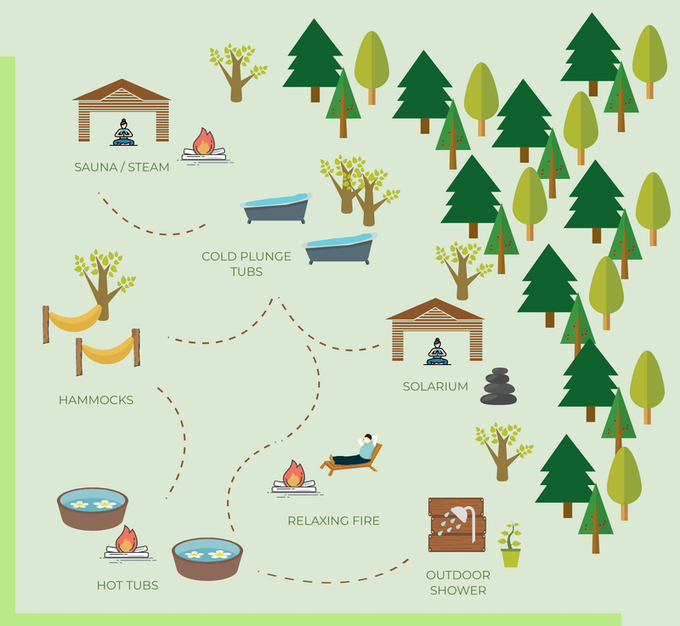 Proposed Azhen Hydrotherapy Spa: In a Prime Location For The Best View
You're Giving Back in a BIG Way
You can learn what conscious living is all about, all while giving back…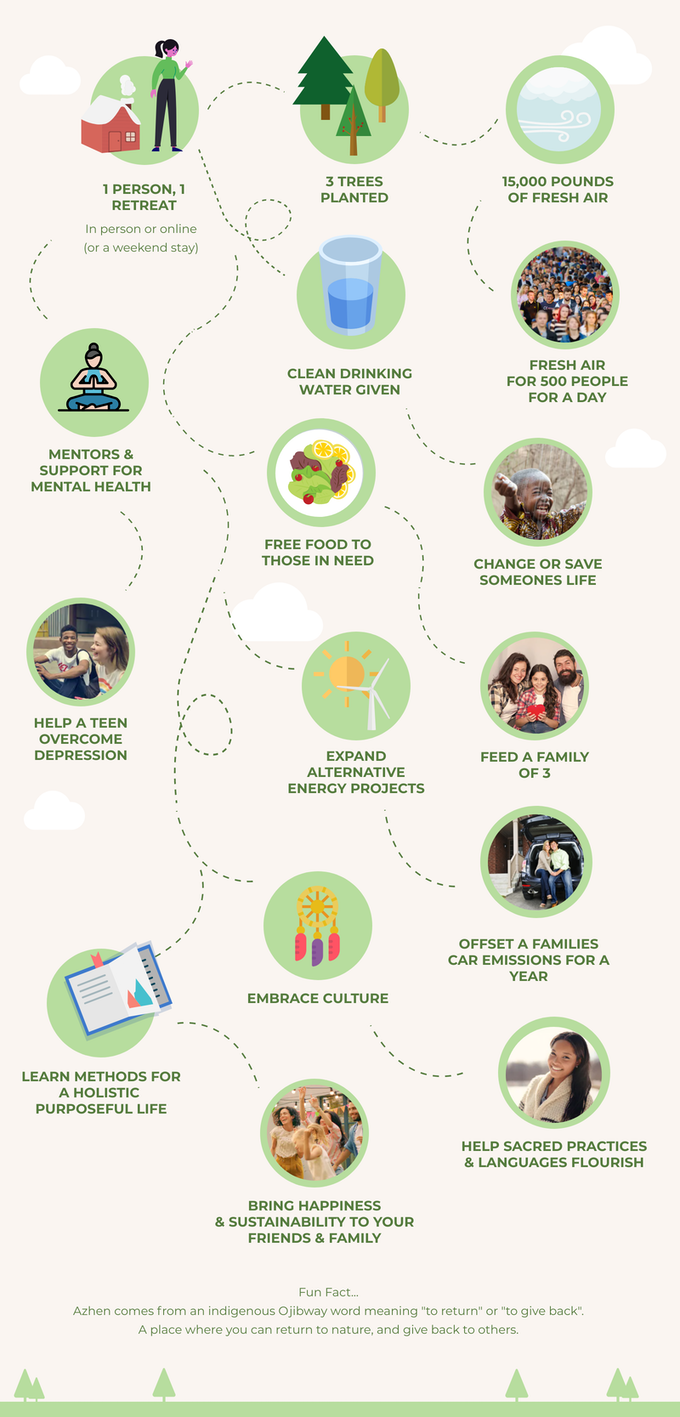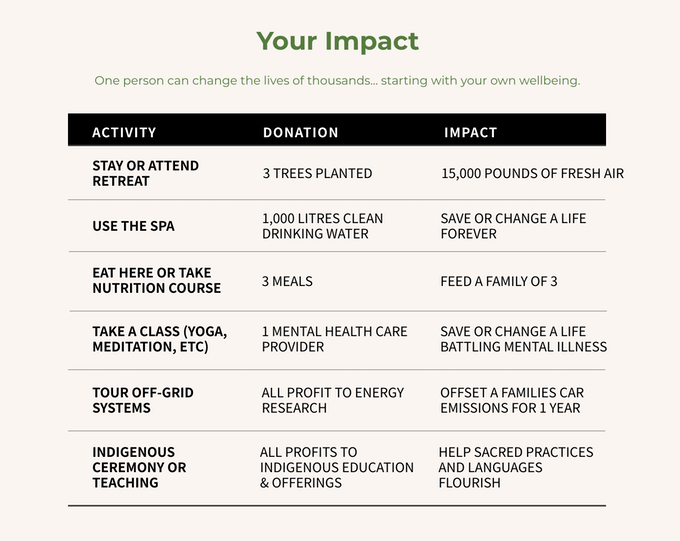 *Stay or retreat actually plants 10 trees, not 3!
Everything you do and learn while you stay with us will reflect all over the world, like a ripple effect… but you're not just dropping one stone in the pond, you're dropping dozens.
Everything is sourced from meaningful suppliers, from the furniture and decor to the soap and shampoo.
Our partners for making this impact are Charity Water, One Tree Planted, The Foundry (mental health care providers), Central Okanagan Food Bank, Muller Motors (renewable energy research) and a variety of alternative energy labs startups, and multiple local Indian bands and Elders in the local area. Indigenous education and offerings will take place on the land.
Some initiatives are worldwide and others are local, depending on what makes sense. So of course at each new Azhen location, we'll be partnering with new partners local to that area.
Location & Map
This the first location of many is in the Okanagan, BC, Canada
But don't worry! If this isn't near you, we are already scouting for a second location and will be expanding around the world. 
Back us today to get your vote in on the next location.
Map of The First Location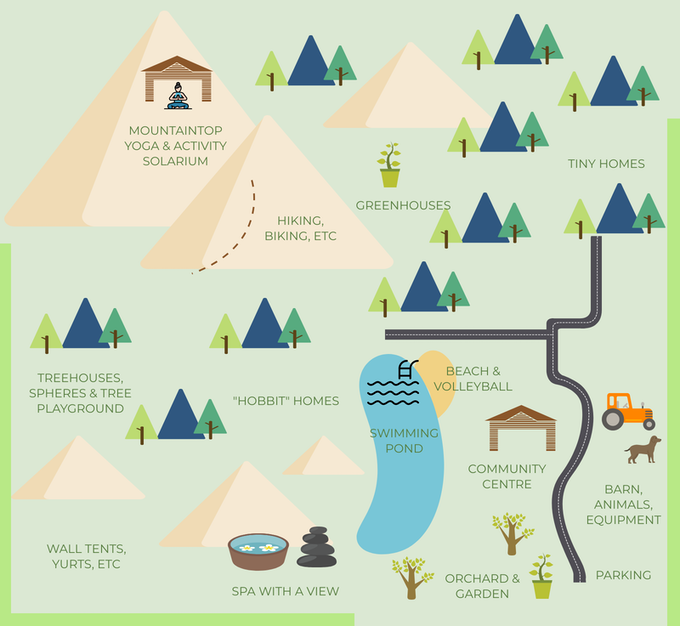 Azhen Resort Map: This Land Is Purchased, The Same Land In The Video & Has 2 Structures Already, We've Been Working On This For 3 Years
Green borders indicate the best views. Stays are located in areas that offer views of the surrounding mountains, valleys, sunrises and sunsets;
We are located in Rock Creek, 35 minutes from Osoyoos, 90 minutes from Kelowna & Kelowna International Airport;
Only 35-60 minutes away from some of the best wineries, ski resorts, and tourism destinations in North America.
About The Founders
Jaymie Friesen
Jaymie has been planning to create this space since he was a teenager. His journey has taken him on side tracks through 20 jobs, 5 businesses, inventions, mental health battles, travelling to over 15 countries, joining the army, electrical and physics programs in university, seeing over 40 different styles of health and wellness practitioners, taking years off for meditation and study of the mind, and ultimately finding what it means to live a healthy, conscious, happy life. All that time, this dream lived in his mind – a place to foster awareness, open-mindedness, healing, and living with nature… where we all belong. Now the search is over, and it's coming to life.
Shelby Friesen
Shelby was living an exciting life as an entrepreneur and metal fabricator with lack of sleep, poor nutrition, and high stress… he eventually woke up one day and found himself bedridden from severe anxiety and depression. After 6 months of his ongoing illness doctors and traditional practitioners were still unable to figure out what was wrong with him. He desperately tried anything and everything and discovered powerful healing through nutrition, mindset and physical activity… leading him down a path of conscious living and personal growth. Shelby sold his business RYD Motorsports, a successful brand of custom engineered automotive parts, to pursue Azhen and create personal development courses to help others live incredible, healthy lives, and find their passion. 
Your Perks / Rewards For Backing Us
$15 – The Soundtrack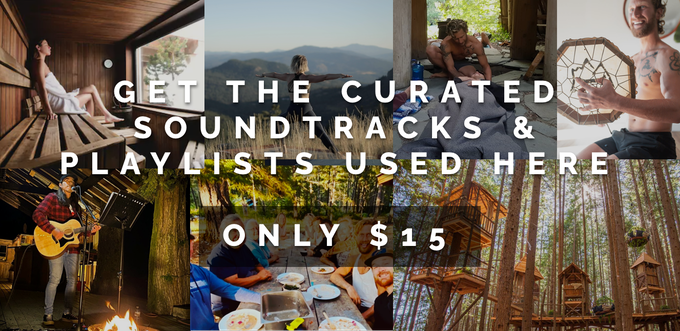 Experience Azhen through the soundtracks used in the spa, for events and dance parties, special guest performances, yoga, meditation and breathwork, relaxation, and fun and adventures… bring the fun, dancing, special guests, and ambiance of Azhen home with you.
$25 – Engraving & Founders Wall + Tour + Voting Rights (The Base Package)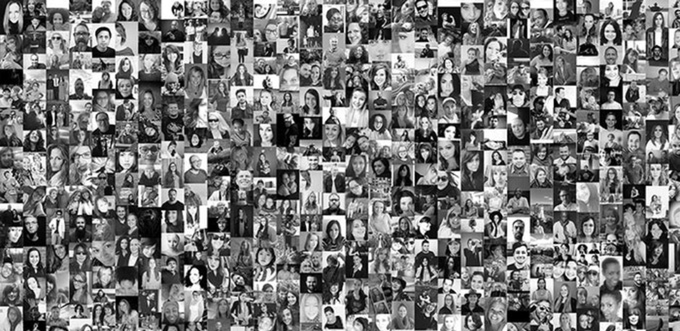 Your name and favourite quote will be engraved into the walls or surroundings and your photo will be put in a collage on the founders wall so you'll live forever at all Azhen locations. You'll get a photo mailed to you, a virtual tour, and voting rights for where the next location will be. Voting rights and tour is included in all rewards above this.
$55 – Everything Above + Online Course + Resource Book [70% off, regular $150]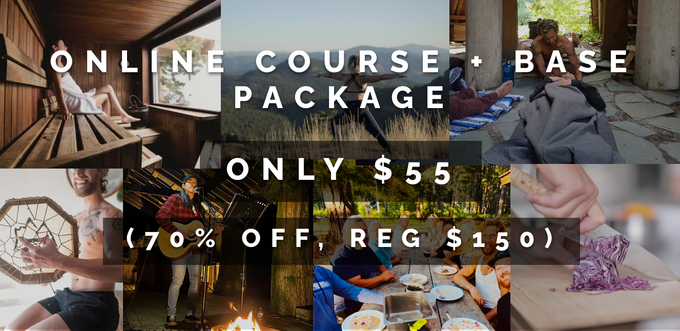 Get everything in the reward above PLUS an online course of your choice and a resource book to use at home. Choose from courses in environmental building and growing: Sauna Building Kit, Hot Tub Building Kit, Setting Up Solar & Wind Power, Permaculture Gardening, and more. These come with where to find the best suppliers, introductions to them, material list and resources. Or courses in wellbeing: Basics of Meditation Course, Yoga Classes, Fundamentals of Nutrition (And Easy Cooking), Daily Healthy Habits Training, Building Your Personal Holistic Health Team, Self Discovery & Awareness, Relationship Discovery & Alignment (for couples), The Essence of Spirituality, and more.
$60 – Two Day Camping + Spa & Amenity Access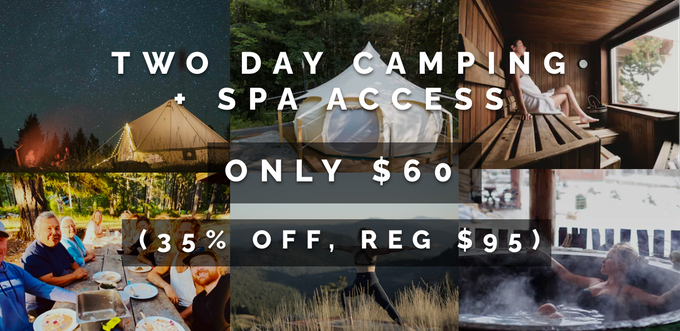 Two days, one night camping at Azhen Resort. Enjoy a relaxing getaway while you rekindle with a breathtaking view in the spa, use all the amenities and activities.. explore the gardens, do yoga on the mountaintop, look up at the stars, connect with like-minded people, and so much more. Your camp site will fit 4 people comfortably, more if you need it, with a fire pit and picnic table. Bring your own tent (or rent one of ours) or RV's welcome. This includes the Base Package (founders wall, tours, and voting)!
$95 – 5 Courses + Video Call + The Base Package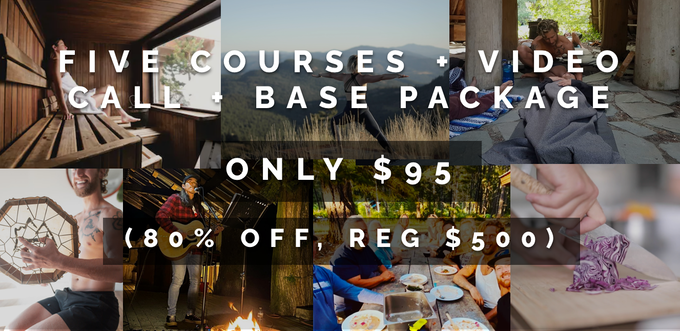 Choose any 5 of our online courses (explained in the $55 reward) + get a personal video call with your coach/guide, and everything offered in the $25 reward. We offer all our educational retreat courses in digital format. Actually… there's even more options than in person. All of them are explained on the $55 reward.
$100 – Two Day Treehouse, Hobbit Home, Wall Tent, etc + Private Spa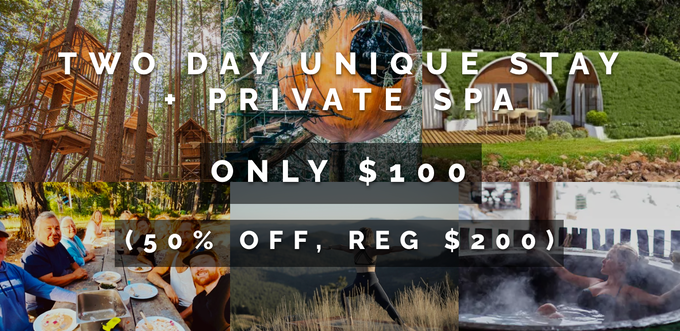 Two days, one night in a unique stay… choose from a hobbit home, treehouse, or luxury wall tent, with breathtaking views in your personal spa, do yoga on the mountaintop, walk through the gardens, and so much more. Your unique stay will sleep 4 comfortably. This includes the Base Package (founders wall, tours, and voting) and full access to everything at the resort!
$175 – Three Day Treehouse, Hobbit Home, Wall Tent, etc + Private Spa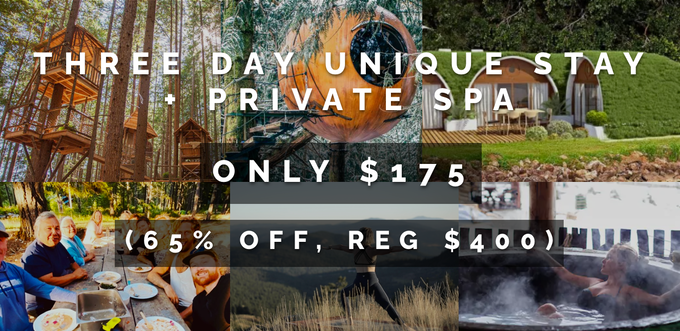 Fully immersive THREE days, two nights in a unique stay. You choose from a hobbit home, treehouse, or luxury wall tent, with breathtaking views in your personal spa, do yoga on the mountaintop, walk through the gardens, and so much more. Your unique stay will sleep 4 comfortably. This includes the Base Package (founders wall, tours, and voting) and full access to everything at the resort!
$495 – All Inclusive Retreat + The Base Package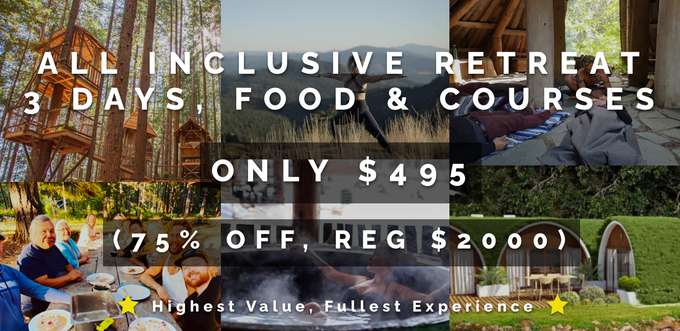 Three days, two nights in a unique stay (treehouse, hobbit home, luxury wall tent, etc  meals included with optional Nutrition & Cooking, Yoga and Meditation classes, life coaching and guided tours for a special rate (regular $2000). Your small private group will have complete private access to enjoy everything we have to offer, release stress and spark your inspiration for an incredible life! Choose your stay with a private spa, learn, laugh, grow, be supported and meet like-minded people you'll stay in touch with forever. Take class on the mountaintop with incredible views, cook together, and so much more.
Food, stay, and courses all included. 3 optional activities/courses per day: Cooking & nutrition, yoga, meditation, mindset development, and more. This includes the Base Package (founders wall, tours, and voting) with private access to the resort. *Highest Value, Fullest Experience*
Want to come with a group? Back this reward separately and request to be together OR pledge all at once: Pledge $950 for 2 people, $1400 for 3 people, or $1800 for 4 people. More spots available if you want more! Regular group size is 8-10 people.
$2900 – The Entire Place is Yours For One Night + The Base Package [Reg. $15,000]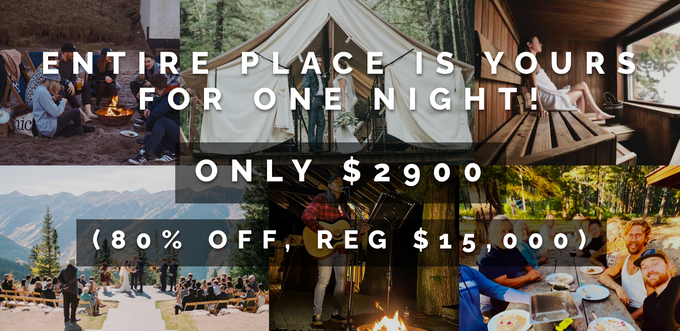 THE ENTIRE PLACE IS ALL YOURS for one night of your choosing. Invite your friends, family, office or wedding party out to the beach. It's like renting a summer house but with multiple unique stays, a private Scandivian-style spa, camp grounds, community areas, activities, and a breathtaking view. For a special rate (85% off) available only to Indiegogo backers. *Limit 30 persons or within reason (negotiable). Sleeps ~30 in unique stays and cabins, and many more camping or in RVs.
$4700 – The Entire Place is Yours For TWO Nights + The Base Package [Reg. $30,000]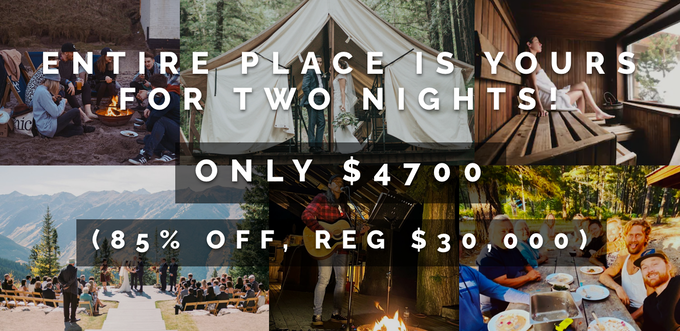 THE ENTIRE PLACE IS ALL YOURS for two nights of your choosing. Invite your friends, family, office or wedding party out to the beach. It's like renting a summer house but with multiple unique stays, a private Scandivian-style spa, camp grounds, community areas, activities, and a breathtaking view. For a special rate (85% off) available only to Indiegogo backers. *Limit 30 persons or within reason (negotiable). Sleeps ~30 in unique stays and cabins, and many more camping or in RVs.
Goals, Timeline & Budget
$32,000 raised = Hydrotherapy Spa [launch date: February 2021]
This Kickstarter project is to raise $32,000 to build 3 four person hot tubs, 1 eight person sauna, a 9 person change room/shower room, a 3 person cold plunge tub, and a fire pit, including furnishings. 100% off grid, 100% pure spring water, and 100% environmentally friendly.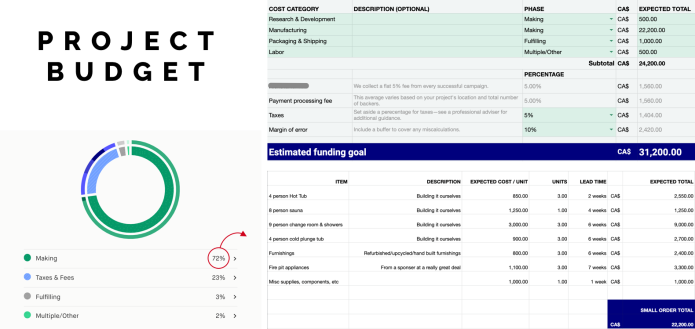 Bottom right screenshot is the "Manufacturing" category breakdown. Top right screenshot is the overall project goal. Bottom left screenshot is a graph and % breakdown.
If we go way above this goal, 100% of it will be put toward to what YOU vote for! A new location anywhere in the world, more programs, a new unique house you want to stay in, or a community centre… whatever it is, back us today so you can vote on it!
Risks & Challenges
Safe Budgeting
While we have a budget sheet and business plan detailed with costs and suppliers, budgeting is always a risk. We have identified the risks and setup backup plans for each of them. Some of these include a general 10% markup on everything for room for error, backup investors that are kept up to date on the project, buying things used and refurbishing, stockpiling of materials when we find good deals, optional backup financing for things, and more. At the end of the day… This is a passion project that we have dedicated our lives to, and it will be happening one way or another, and we have planned for this.
Staying On Time & Stopping Delays
To shorten timelines we have partnered with experienced skilled builders for the dwellings that require it, and will be pre-fabricating many of the dwellings and spa features at an on-grid location so that they are quicker and easier to build and after the Indiegogo campaign is complete we can transport them and set them up. We are a family of contractors with over 100 years of combined experience building everything from barns to high end homes and custom equipment. The main risks with timelines is going to be manufacturing, shipping and logistics of necessary materials, and seasonality. We have acquired timelines from our suppliers and partners, extended them for extra room, and set reasonable timelines for ourselves, keeping the state of worldwide logistics in mind (due to COVID). We have mitigated seasonality (winter and weather conditions) by finding an on-grid heated location to pre-fabricate our stays. 
Professional Cleaners & COVID Safety
We have partnered with professional cleaners that will be for free on the land as caretakers, that own a cleaning business specializing in airbnb and resort management. Everyone will be consulted about COVID prior to their stay, and every stay and amenity will be sanitized, and free masks and sanitizer will be available for everyone. This is 160 acres, with dwellings well spaced out so that you can easily stay distanced from others and enjoy all the amenities. All hot tubs will be equipped with a brand new ionization filtration system. 
Preventing Forest Fires
Forest fires are not uncommon in the area, luckily the government is logging the crown land around us so we will have a 1 mile fire break on all sides of us. We have worked with local fire fighters and fire prevention consultants and have a fire prevention plan in place, including an industrial emergency sprinkler system and the majority of the housing is mobile or component style housing that can be removed from the property in a short amount of time (hours). All of the housing, spa and community buildings are built with fire mobility and fire prevention in mind. The mile wide fire break around us will be replanted with gardens and used for permaculture farming.
Bylaws & Building Permits: Best Zoning In The Country
Our first location is in Rock Creek (35 minutes from Osoyoos, 1 hour from Big White Ski Resort, 1.5 hours from Kelowna International Airport) in "Electoral Area E" which is zoned as a "no zone" area. This rare land zoning means that there is no limit to the amount or type of structures that we can build, only that they have to meet BC builders code. This means, for example, that we could build a skyscraper, a roller coaster, or anything we want, so long as it meets the builders code. This makes it incredibly easy because we don't have any bylaws, and it's easy to get permits and insurance for unique dwellings. You can find this on this interactive government map: https://rdkb.sgrc.selkirk.ca/default_HTML5.htm (Regional District of Kootney Boundary) by opening the map, and selecting the "Layers" option, scrolling down the zoning, and you'll find "Electoral Area E – no zoning" and can see the area.
Our Qualifications
We are a family of trades. Jaymie is an electrician by trade, but has a passion for wood working and has built homes from the ground up. Shelby is a metal fabricator and erector, experienced with building larger scale projects and machine operating. We are surrounded by qualified family members and contractors in every trade specializing in high end custom homes, and have partnered with specialized builders when needed. 
Jaymie is an environmental entrepreneur, and Shelby is a natural health and nutrition entrepreneur, with combined 7 businesses under their belt with 20+ years experience.
Azhen is their full-time focus and lifelong passion.
The Resort Ecosystem & More Amenities
A Regenerative Economy
A Linear Economy is when items are used and thrown away.
A Recycling Economy is when items are recycled into new things.
The world operates mainly on a linear economy right now. Although we do have recycling programs… 97% of plastic, for example, may NOT be recycled in North America. Even when it's picked up at your curb. I've worked in the environmental sector for years, diving deep into these issues to find a solution.
Everything that is produces goes back to the earth eventually.
We believe in an economy where things come from the earth, and can go back to the earth the same way.
This means we eliminate waste all together, refurbish or up-cycle materials to keep them in use, and use regenerating natural systems like compostable materials.
All the products you use here from the plastic-free toiletries to the furniture and power systems, are a part of a carbon-positive Regenerative Economy.
Power Systems
Everything is entirely off-grid, running completely off the land with solar and wind power. In the future we would like to experiment with additional forms of alternative energy including geothermal, magnetic motors, and more, to demonstrate their use the public.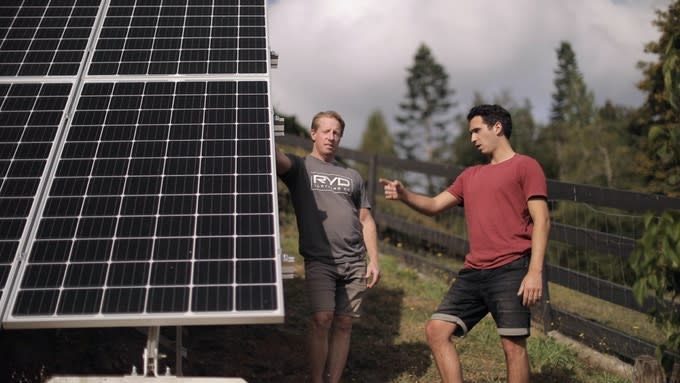 Bathrooms & Showers
All toilets are state of the art compost toilets. You wouldn't know the difference between a regular toilet (no smelly outhouses around here!). This technology is odourless, clean, and can be turned into compost.
Showers at the spa will be Nebia showers, which use 50-65% less water than a traditional shower head, with 40% more water coverage, offering a unique spa-like shower experience.
We're big on bathrooms! This will be no ordinary "camp" bathroom experience. This will be individual private bathrooms overlooking an outdoor garden with indoor and outdoor shower options.
More Info About The Spa
It will face two directions with the most gorgeous views on the property to enjoy at any of the stations (the green borders on the map);
We want it to be stunningly landscaped with gardens for an immersive nature experience, and feature stone walkways;
We want it to operate year-round from 7am-10pm, enjoy it for as long as you want.
Every backer gets a copy of all the Do It Yourself (DIY) information for this project so you can see how it's been built and could even build it yourself.
The resort will be equipped with Nebia shower systems, using 50% less water and providing you with a one-of-a-kind spa shower experience.

Product & Photo Credit: Nebia by MOEN
More Activities
River float down the nearby Kettle Valley river (15 minute bike ride)
Natural swimming pond
Beach volleyball court
Mountain bike and downhill biking
Hiking (three nearby mountain peak lookouts)
Adventure the treetop adult playground, with hammocks and nets
Group meals and cooking
Tours and learning about permaculture farming, sustainable building, compostable products, and more
Other Ways You Can Help
Want to help in other ways, aside from backing a reward?
Here's some options:
Are you a business owner, health & wellness practitioner, influencer, have an email list or connections to marketing to help get the word out? Partner with us for a collab!
Are you a health & wellness practitioner or events planner that wants to host or co-host a retreat or event? 
Do you love what we're doing and have expertise in an area that would help us? Reach out to us, we'd love that!
Get the word out and make some noise about our campaign! Share on social media, in groups, and to friends and family. 
We love meeting new people, please reach out.