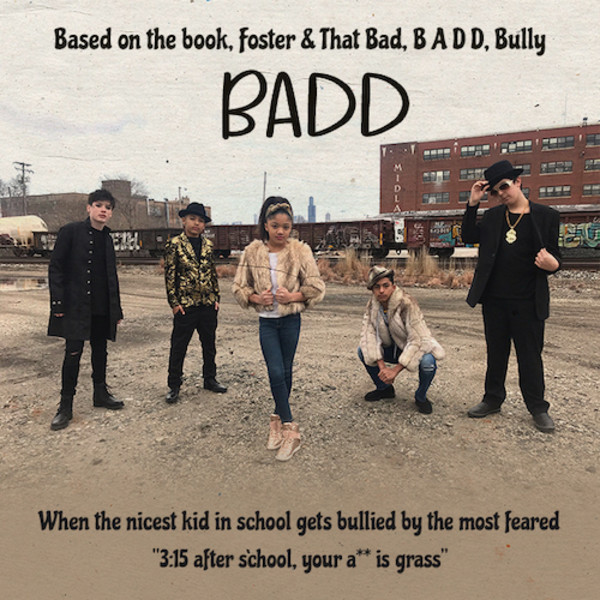 B.A.D.D.
$10,000
raised out of
$50,000
Concept
When the nicest kid in school gets bullied by the most feared.
Story
Short Summary
Hi, I'm Jil Ross, a writer and consummate storyteller. I have been fascinated with stories since childhood. Whether I was creating a serial drama with my Barbie Dolls, trying to interpret lyrics of music my parents listened to, or trying to rewrite the WIZ, storytelling has been intriguing.  
Often, I was that annoying kid who constantly asked, why? Adults and peers considered me nosey; Yep, that was me. I now understand now that I was simply trying to unpeel the layers and get to the story.  
Foster and that Bad, B.A.D.D. Bully was inspired by a period in my son's life when he was bullied. It was a crucial time, stressful, daunting, and concerning for the entire family.
I have a cousin who was born deaf. It annoyed me that I didn't know how to sign to communicate with him. And it saddened me that he was often ostracized from our cousins and me. As a result, I intentionally chose to add American Sign Language over the episodes of the CHI-nanigans web series. I worked with students and staff at Columbia College in Chicago to achieve this goal. I hope to also incorporate it into the film. So far we've won eight awards!
B.A.D.D. tells the story of Foster Blake and how his life is turned upside down when a bully transfers into his school and begins wreaking havoc. Foster is determined to save his school, but first, he must learn to fight… which is when things get crazy.
This film stars and is written for tweens and preteens, and families. Think of Home Alone meets Matilda meets Diary of a Wimpy Kid. B.A.D.D.  is all that and a bag of chips!
Allocations of Funds:
US$50,000 Goal: fund allocation breakdown
US$5,000: meals for cast and crew
US$2,500: payment of motion graphic vendor
US$5,500: camera rental equipment
US$20,000: color correction, sound design, and audio mix
US$8,000: payment of composer (for the film's beautiful live instrument score)
US$6,000: payment of branding agency, key art, and website design vendors
US$3,000:  festivals, screenings, and miscellaneous marketing fees
Why Support:
This film is vital for many reasons:
•    It fosters kindness and strong friendships
•    It takes an honest look at bullying, and its consequences
•    It's a diverse film that reflects people who look like this beautiful world that we share
•    It's filled with action and drama
•    It's funny, and let's face it, we really need to laugh
Your monetary gift will allow us to feed our cast and crew, rent cameras, lights, and sound equipment, pay for permits, costumes, make-up, and editing.   
Know that We can't do it without you!
Risks & Challenges
Without your support, we will not be able to complete making this solid quality film that is envisioned without your help. Our goal is to use the best film equipment and deliver the highest quality footage. Using the best cameras, hiring the best crew, and having all the support we need before filming ensure that we'll deliver the best product. And we cannot do it without you and your financial support. 
You may want to help, but financially may not be an option. There are other ways to help, if you have connections to eating spots that may be able to provide meals or snacks for the cast and crew, donate water or drinks, or access to fun locations that we may consider filming at. All these resources are needed and welcomed.