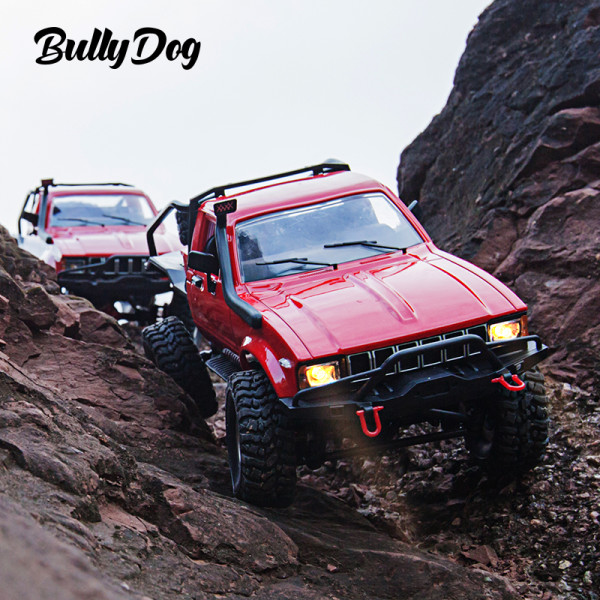 BullyDog: Best-in-class RC Car with Sync VR Tech
$65,626
raised out of
$40,000
Concept
Redefines the thrill and fun of PRO-level RC crawlers with a whole system available in-n-out!
Story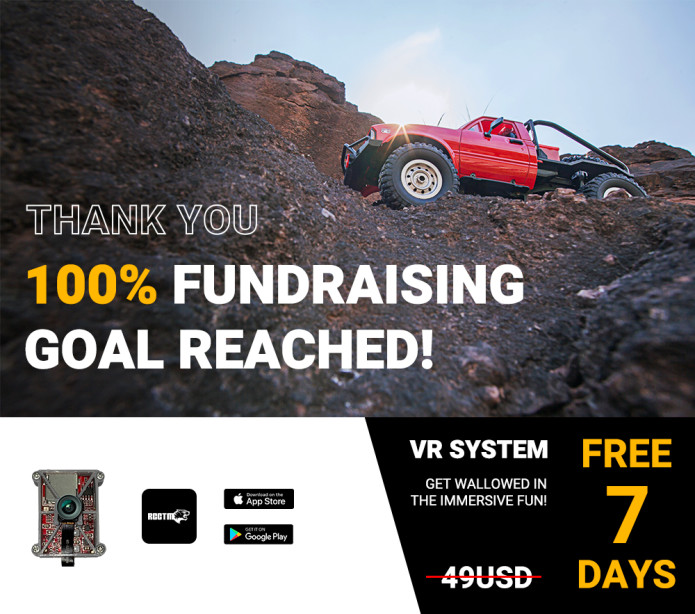 Thanks to all of your support and efforts. BullyDog has reached 100% of the fundraising goal during the first day. We can't express our thankfulness more but only offer you what we can do best.
Every backer who claims a BullyDog perk during the first 7 days will be having the VR system add-on for free . And backers who have already placed your contribution, no worries. We'll add this add-on to your contributions manually for free.
Still, the free customized widened sand wheel set for the first three days will be keeping going on!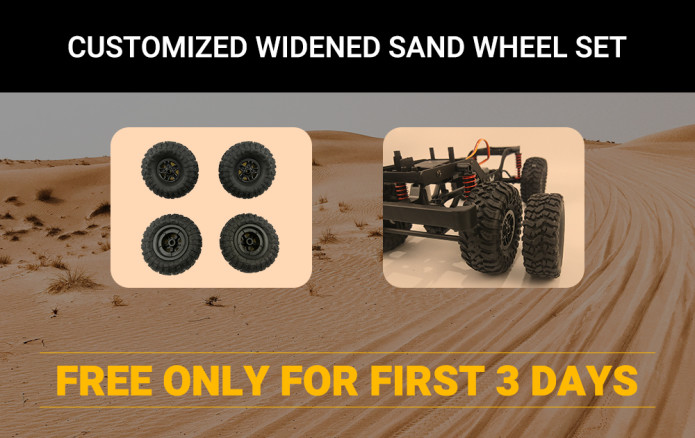 We have dreams of crossovers, the jungles, the deserts, the hills, but not everyone can make it true due to actual conditions. However, we believe that everyone should have at least one chance to go off-road! Thanks to RC cars for giving us these fun, thrill, and confidence.
Because of love, we've been immersed in the world of RC car for many years, from beginners to enthusiasts, and developers, we encountered tons of problems. The high budget, the cumbersome assembly, modifications, replacements, and other debugging issues could be frustrated. We put a lot of money to modify them, in pursuit of the perfect car in mind. For us, RC cars are more than toys.
Every BullyDog will be fully assembled and debugged by experienced engineers, so we ensure the joy of crossovers with the most affordable cost and the user-friendly operation. What's more, we designed an exclusive racing track system and the first-view VR camera for to provide a great immersive experience. Just unbox it, let's cross over reality!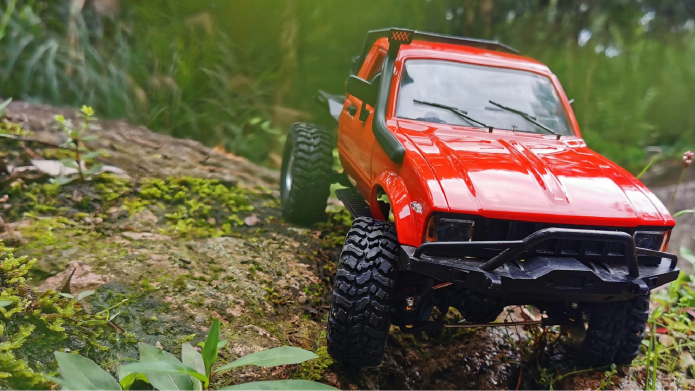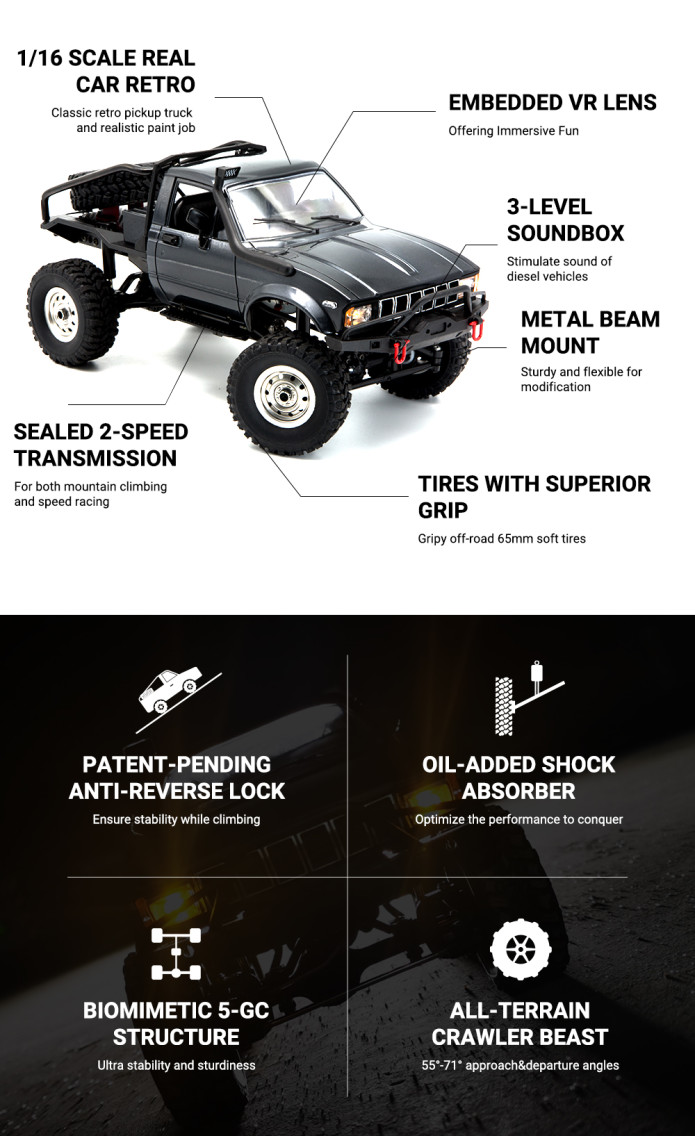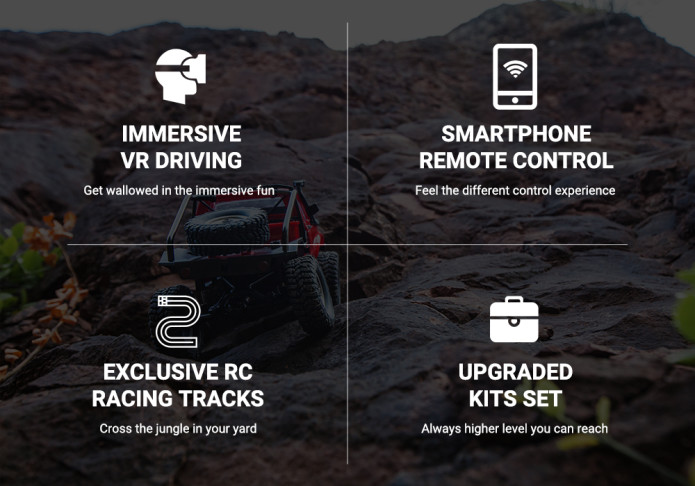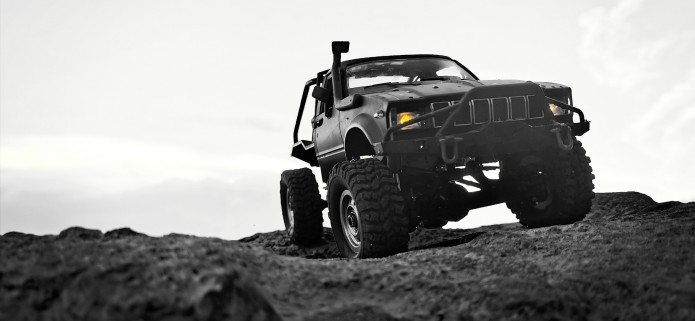 Pickup is one of the sturdiest vehicle models for off-road driving. With a legacy car model: Hilux which can't be broken, BullyDog is able to conquer all terrains and offer the best racing experiences.  The overwhelming performance crushes most current models at a double budget. 1/16 scale can not just run at full swing outdoors but have great maneuverability indoors.

The cab of the Bullydog RC car comes with a first-view VR camera (optional) which will detailedly record all the scenes that can be seen through the windshield and slightly rotate as the vehicle turns into different directions. Images and videos will be synced to your phone via Wifi. With the headset, the player will have an immersive experience of driving the car to ride the wind and waves. It can be tough on the stomach but the adrenaline that comes from the adventure is unparalleled.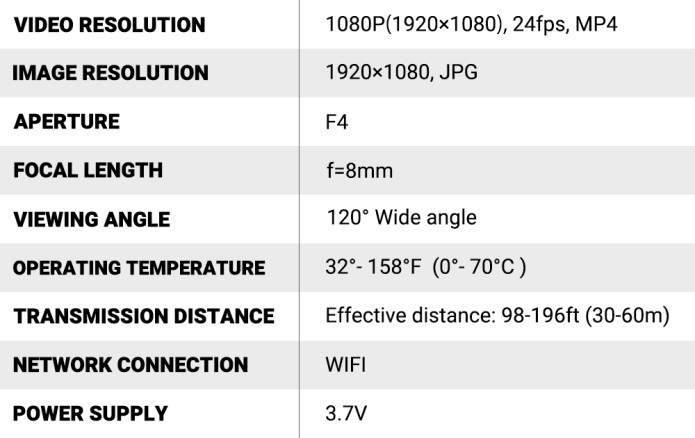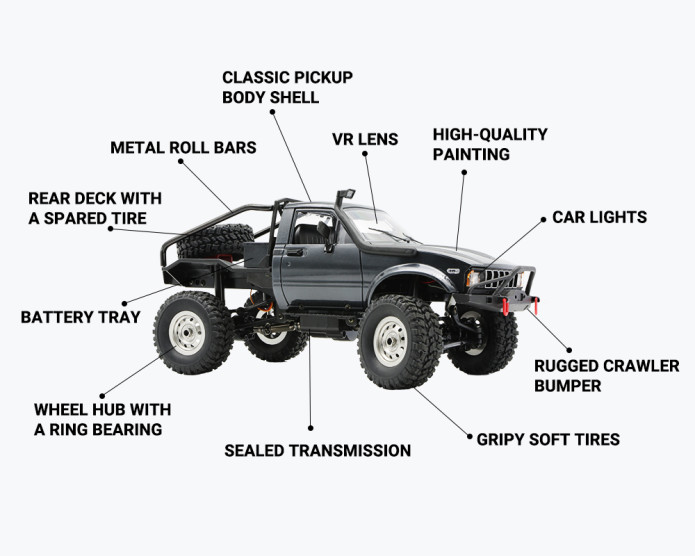 BullyDog can be your wilderness guide with legendary performance to match the way you imagine the experience outdoors. Each detail expertly gets you out there – to the mountain ranges, the woodland trails, and the scenic shores to meet wherever the wildness calls.

The oil-added shock absorbers optimize the damping ability while keeping the lightest weight. The availability of oil-adding could meet the need of higher level professional players and violent drivers. BullyDog also provides shock absorber replacements (additional 3 standard shocks) to ensure that the passion won't be cooled down.

Each wheel hub of BullyDog is equipped with a metal ring bearing, which made the weight 333% of the original one and increased the proportion of the wheeling system weight on BullyDog from 13.1% to 33.5%. Along with the gravity center in the middle of the chassis, they form a unique biomimetic 5-GC structure to ensure absolute stability and grip no matter going uphill or downhill. What's more, it won't cause extra compress of the suspension travel. We introduce the best ratio out of a dozen ones with hundreds of field testing.

The unique design of the anti-reverse lock is actually a device inside the transmission. It can help BullyDog to stay on any slope steadily when motor stops providing power. Without this, the car will reverse sharply if loosing power during climbing. BullyDog is engineered to take on the toughest territory with your finest control.

BullyDog is driven by a standard 370 motor with best-in-class power. If you're looking for even more muscle, look no further than it. Adopted normally by most 1/10 scale RC car, the power is undoubtedly strong to take on terrains that would stop other trucks dead in their tracks.

There's a whole world out there just waiting to be discovered. To find it you have to break rules, push boundaries and climb over the barriers in your way. With BullyDog's 51° approach angle and 71° departure angle, the large-angle slope is completely trivial. The rugged crawler bumper makes it even stronger for tough terrains.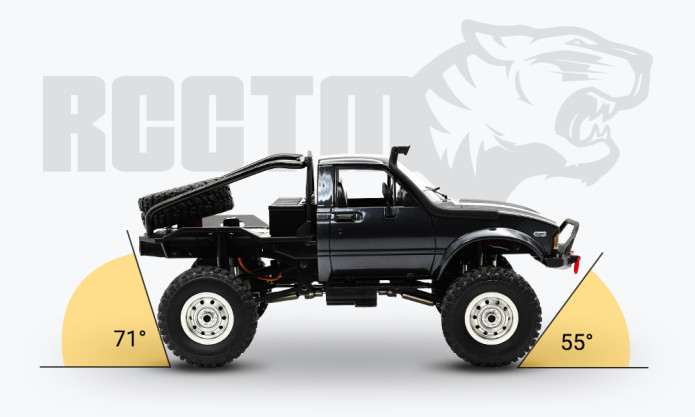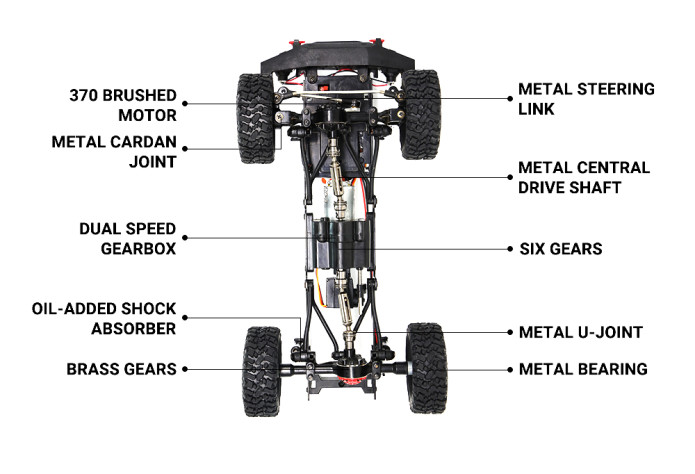 To keep the simulation of the classic model as much as possible, BullyDog is upgraded by the car paint, grippy soft tires, metal beam mount and an exclusive metal roll bar. We threw away useless superposition to keep it that way but only made every detailed parts, including brass gears in axles, 370 motor, exclusive metal hub bearings, metal steering links, and metal cardan joints, on the pursuit of balance to achieve the extreme crossover performance.
All the finely designed details make BullyDog not just a performance beast for outdoor crossovers but still be capable of performing sophisticated techniques. Control is the soul of RC car, practice makes perfect.

The exclusive customized cardboard racing track allows you to conquer the jungles and go off the beaten path just in your yard or living room. Reinforced environmentally-friendly cardboard racing track with screwless joint structure is not only sturdy and durable but also easy to assemble. It's open to being modified by any proper-sized obstacles you can imagine, which makes it extremely diverse. Players can polish the driving skill and enjoy the pleasure of competition with friends and families without getting out or expensive equipments.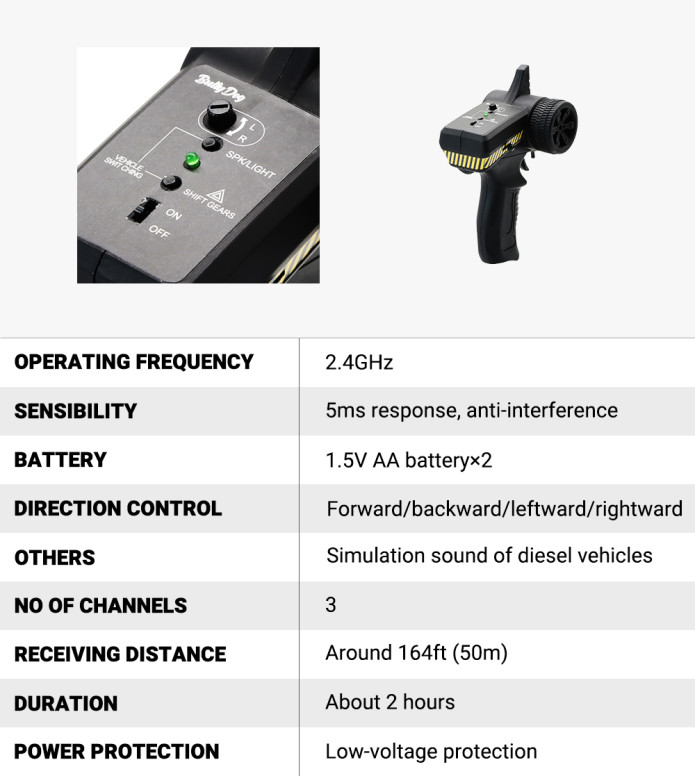 The equipped radio control system is having a 3-channel transmitter to control BullyDog going into different directions. The circuit board has been upgraded to a professional level to make sure that BullyDog will accurately react to your slightest operation. The embedded sound system could stimulate the sound of a diesel vehicle engine, enhencing live feeling while crossing the jungles.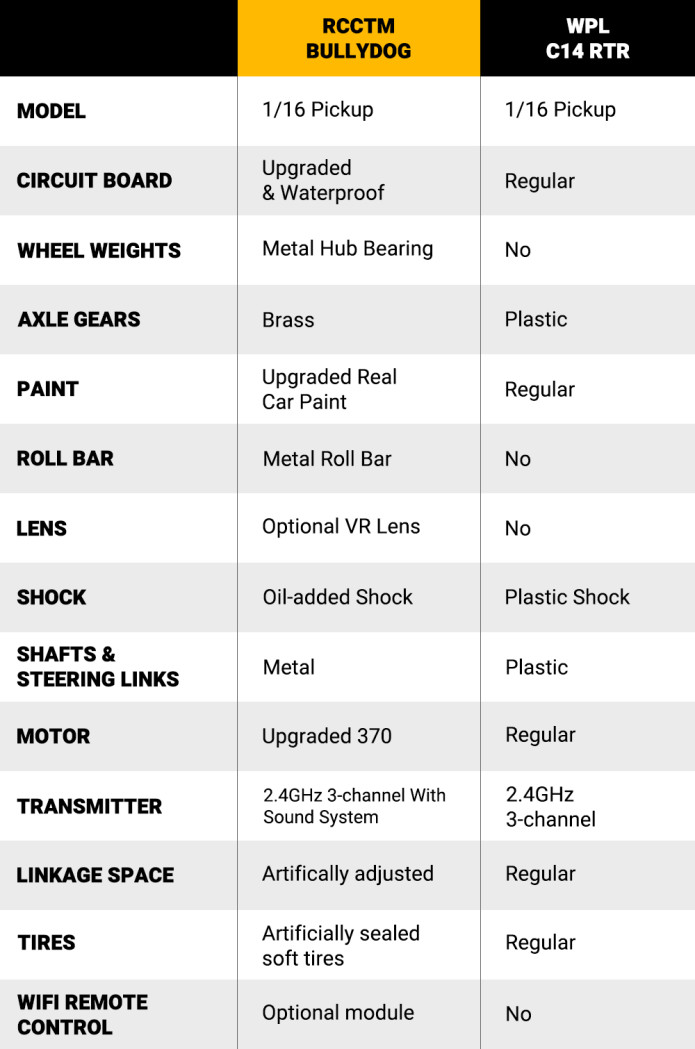 To avoid the possible damage of self-assembly, we spent tons of time assembling, debugging and testing. We want to let every own feel the craftsmanship we've placed in BullyDog. Before delivery, our professional engineers will adjust every details in person including the space between each linkage, the glued tires, the angle of steering links, etc.  All the efforts are worthwhile if BullyDog could truly make you feel the joy of exploring the world.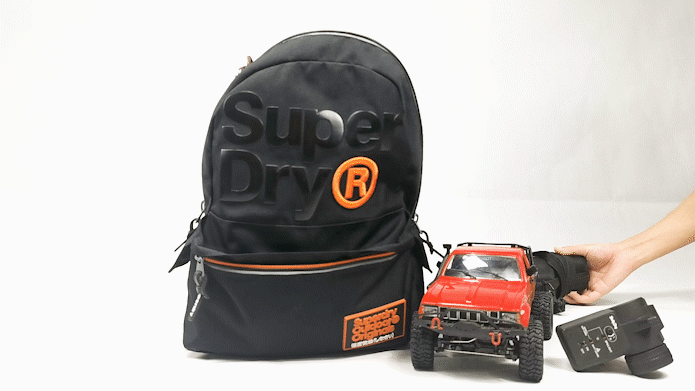 Recommend to: Violent Players
Keywords: Violence, Fierce, Performance, Extreme
 

Recommend to: Real RC Retro Chaser
Keywords: Real Car Retro, Metal, Differential
 

Recommend to:  Unique Thrill Pursuer
Keywords: Immersive, VR Lens, First-view Driving
 

Recommend to: Mobile Geek
Keywords: On-the-go, Different control experience

Recommend to: Addicted Player.
Keywords: Family, Obstacle Track, Indoors Off-road, Environmental-friendly Cardboard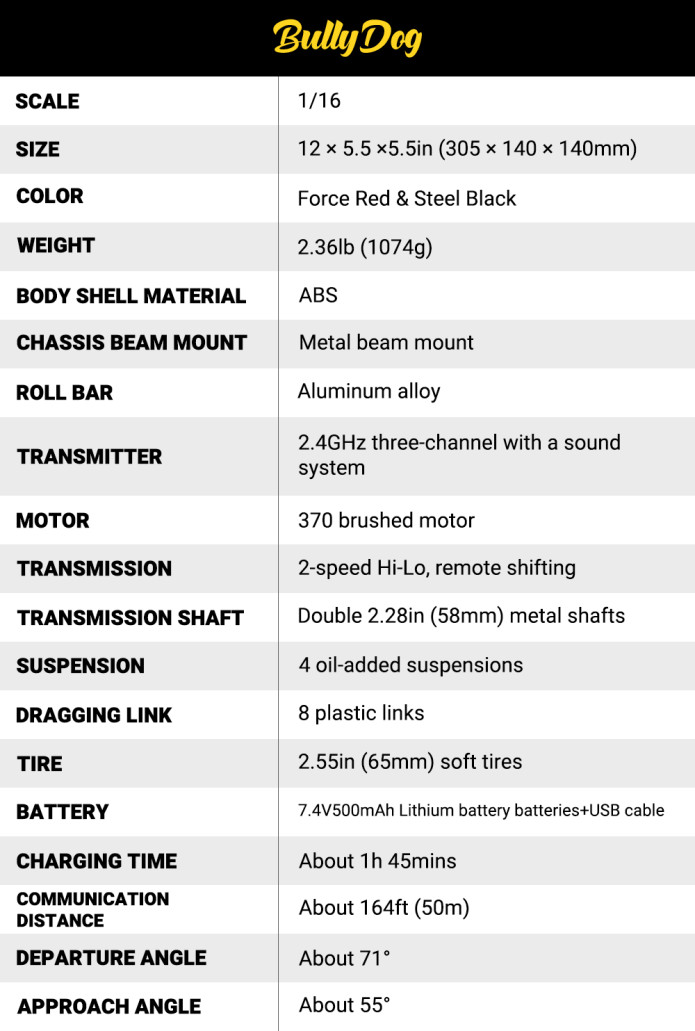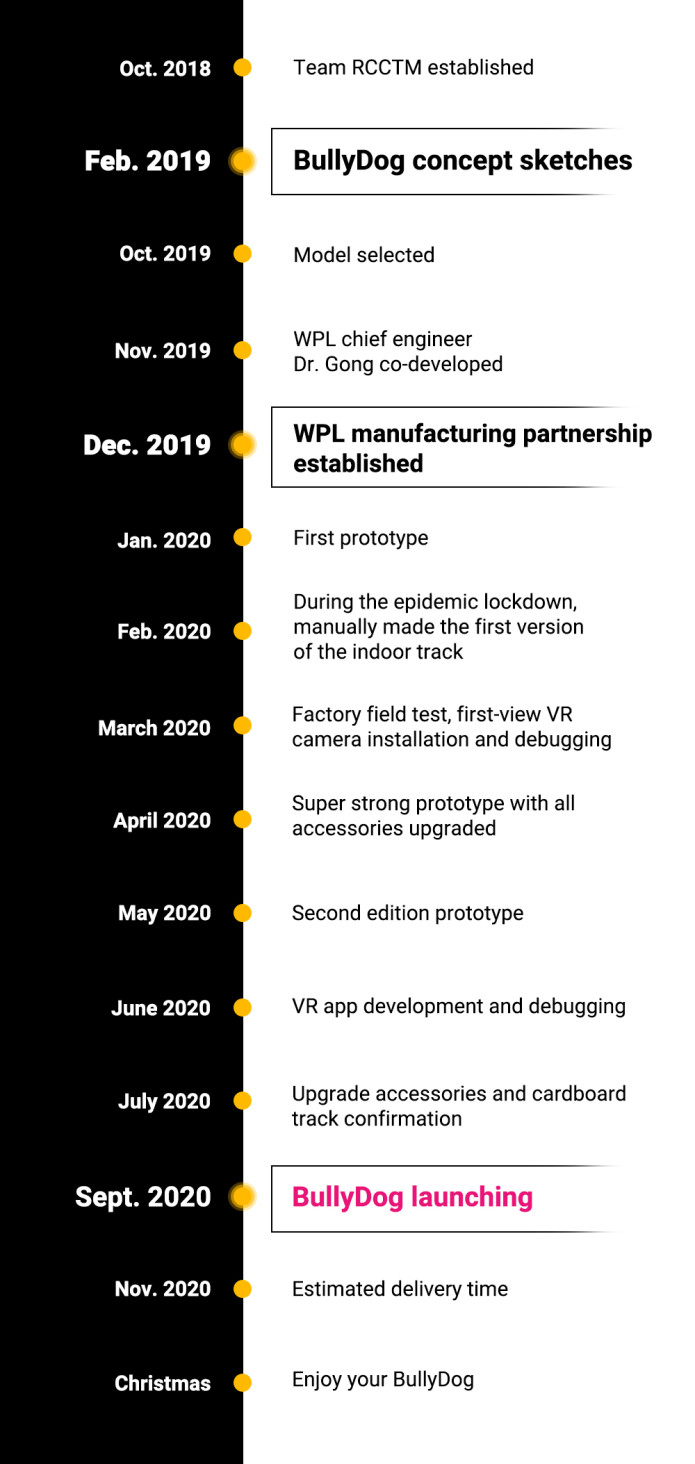 RCCTM is short for Radio Control Car Tiger Mountain. We are a team composed of a group of RC players from all over the world. Our enthusiasm for RC culture and paranoia about car performance impressed many friends who support us.  Create an RC car cost-effective, professional enough and for both in-n-out with suitable ratio is always we wanted to do. We want to make more people fall in love with this sport, throw away the mobile phone, and go cross-country. Help more people feel this breath-taking experience of exploring the beauty of the world.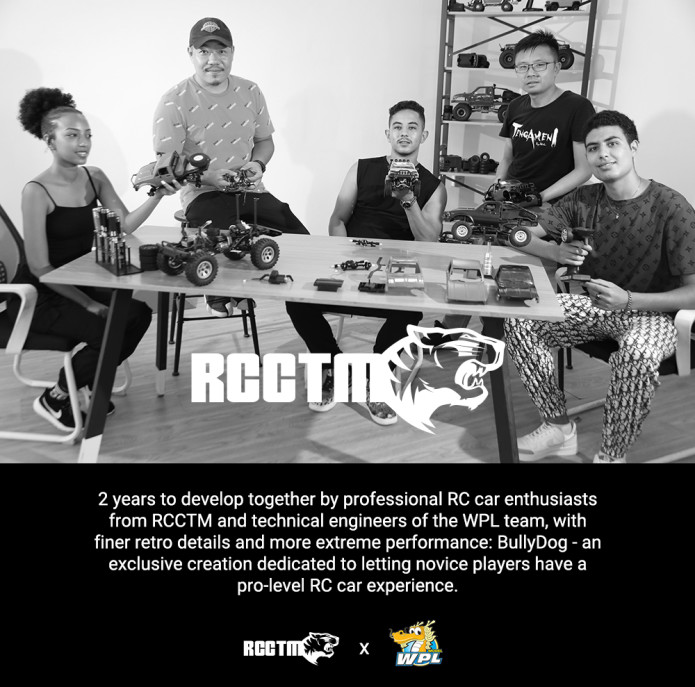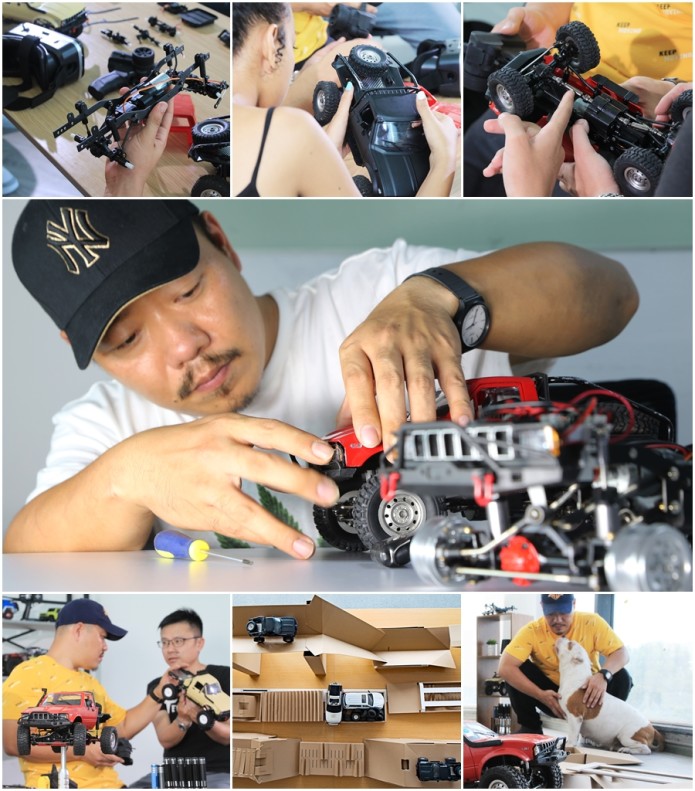 Contact Us: If you have any question. Just Feel free to shoot us an email: support@rcctm.com.