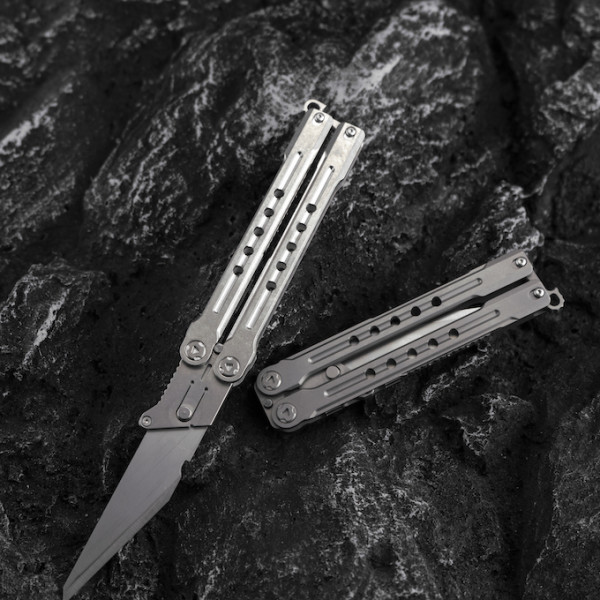 Butterfly Knife Compatible for Utility Blade
$27,999
raised out of
$60,000
Concept
A titanium Balisong trainer, a unique plaything, cutting tool, a great fidget toy, all in one unit.
Story
Proudly introducing the brand new Titanium Butterfly Trainer. You've been waiting for something new, too, right? Sorry for keeping you wait, but we try very hard to make the wait worth.
Meet the B-max !!! 

No need for extra introduction, you see with half an eye, it's clearly a Butterfly knife, well a Butterfly trainer, to be more accurate. (For easier shipment, a comb will be installed, rather than the blade, and the spare blades will be packed safe, included in the package). That's what you can see easily, and we are going to show you something more, something you may not notice.

So where does the idea come from, to make a Butterfly Knife?
As a group of knife addicts, designer and engineers, we are attracted by many fancy knives, among which Butterfly knife is absolutely a very unique type, just like automatic knives. We love the great knives and admire people with great tricks and skills. Watched a lot of videos and cut ourselves hundreds of times, imagining ourselves becoming advanced skilled players, too.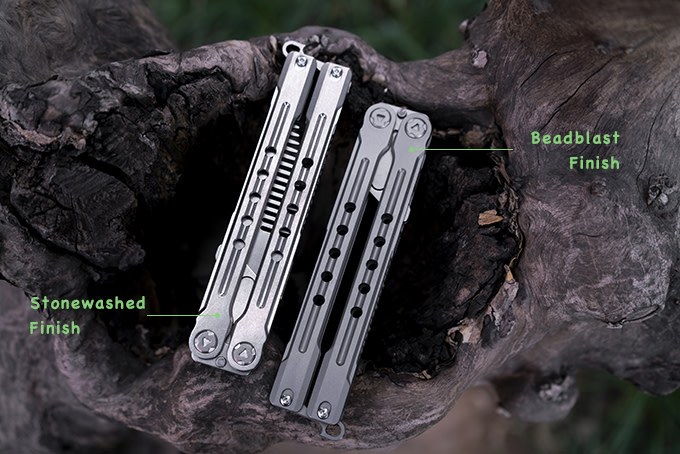 The point of creating one by our own is to make it superb, in every aspects we can think of, from design, material, texture, to smooth operation and wider range of use, etc. With all these criteria set and met, the knife would be high quality and definitely an eye catcher.
Thinking of a pricy product, we always knew that making a luxury toy is not all we want. We want it to be super cool and something that can be used for everyday life, too. Pleasure and utility, both are indispensable, so we started without delay.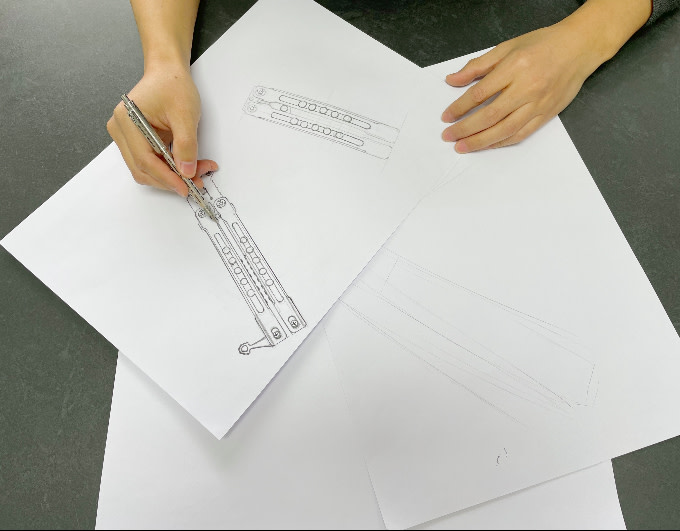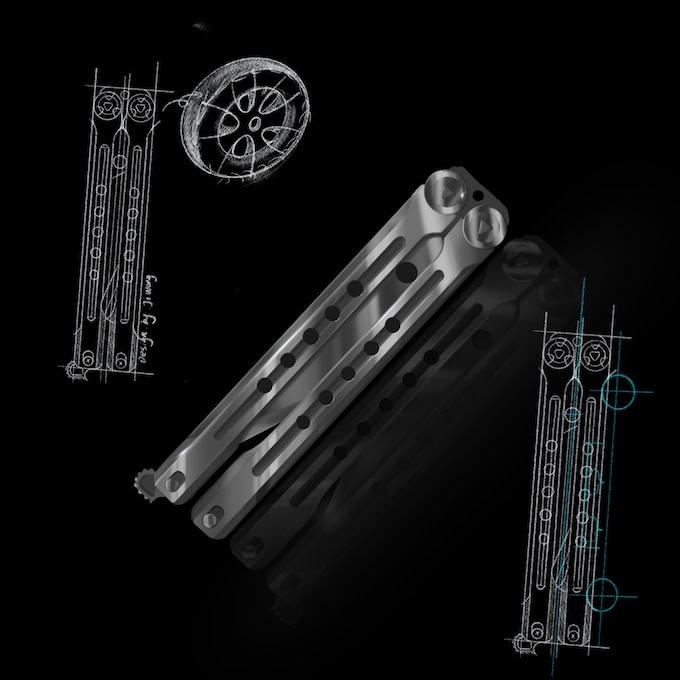 You may feel that all Balisong are just pretty much the same. They differ from each other, but not too much and you can't really see much distinctive features between them.
What we want to create is something unique and very different from any existing model.
The sketch comes out even earlier than our first Kickstarter project, but we've been modifying and improving, so many times that it took much longer before we finalised the design. 
What makes it different?
Grade 5 Titanium Handle
Stainless steel training comb
Accepts OLFA CKB-2 blade
Quick release system for changing blade, comb and maybe fork and bottle opener.
Having considered the properties of common materials used for a knife handle, we finally set our mind to Titanium (Ti) .
Titanium (Ti) has been considered as an inert element. It has been proven over time to be one of the most biocompatible implanted materials available. This high biocompatibility and its resistance to corrosion is related, in large part, to the properties of its surface oxide.
It's stable and durable, making it ideal for the long lasting quality.


High precision CNC machining
From the smallest washer to the main frame,  each part, no matter how small, is machined by high precision CNC (Computer Numerical Control). That makes all parts match perfectly with each other, so the B-max works perfectly and smoothly.
For training, we want a safe and useful trainer, so we think a stainless steel comb a good idea. 
It won't hurt you and you can use it either for your hair or beard. Even if not replaced by a knife, it's still a great toy and a useful EDC tool for a gentleman. 
The shape of the comb is also sleek and tactical and makes the whole unit still good looking enough.

The B-max is designed to accept the OLFA CKB-2 blade, which is a reliable and accessible. It's made of stainless steel. It's sharp, afforable and replaceable. Plus the titanium handle, it's literally the knife that you can use and play for a life time.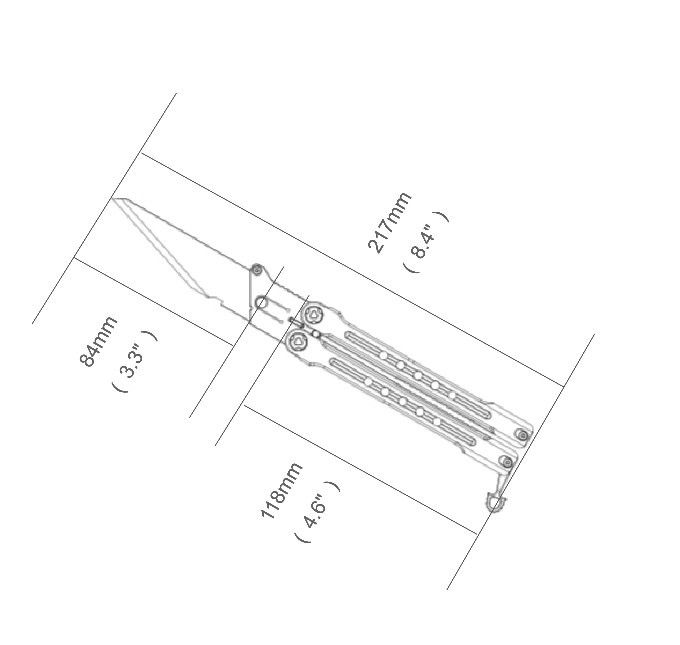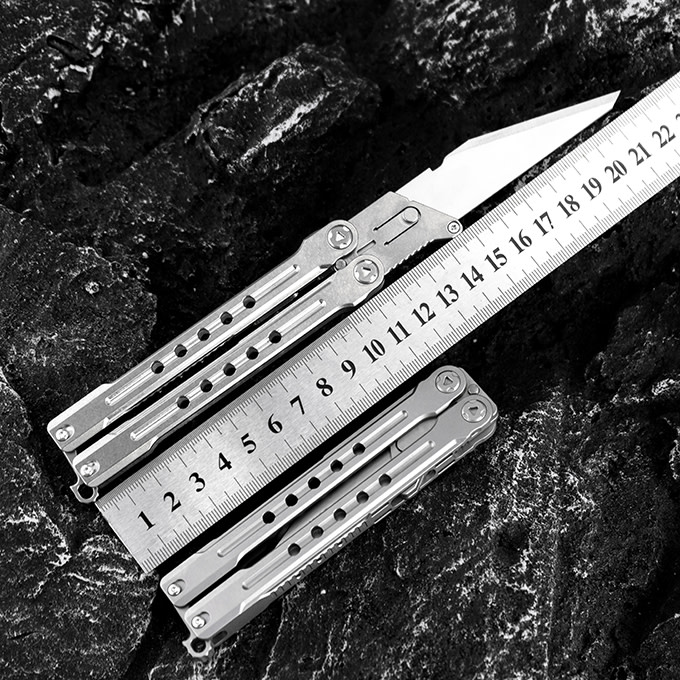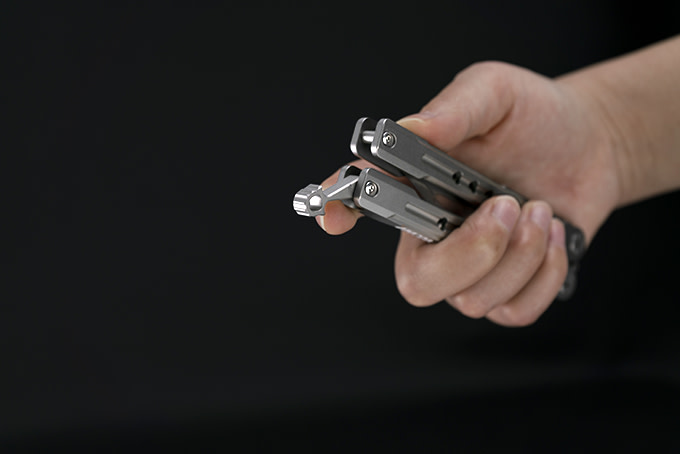 We may fail, but it won't cut. It saves some band-aids, antiseptic swabs and give you more freedom to practice all of your favourite tricks without the risk of losing a digit. It's a great excise for both your body and brain, to improve our agility and concentration. 
The handle is one-unit design, instead of the sandwich structure. It's more high end and elegant. To give a better balance for the handle and the blade/ tool part, the handle is hollow and sunken. Because it's designed to accept the utility blade, the weight may be much lighter than other Balisong blade or trainers, so we tried to adjust the weight of the handle by adding hollow on the handle, to keep a perfect balance for it.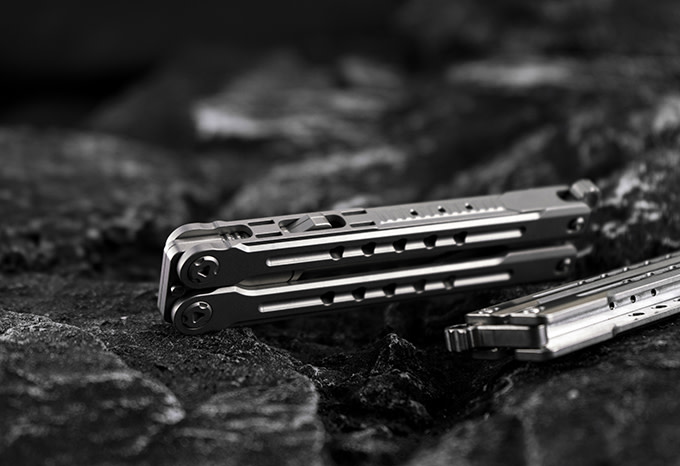 The thin grooves feel smooth and comfortable to grip after bead blasting and stonewashed. With the grooves, the lines and the hollow sections, the handle also looks more tactical, or we should say beautiful for this thing.
The pivot screw nut used the anti-backlash structure. So when the blade is revolving, it won't get loose. The only way for the screws to get loose is to unscrew it with a 3.5mm trianglular screw driver.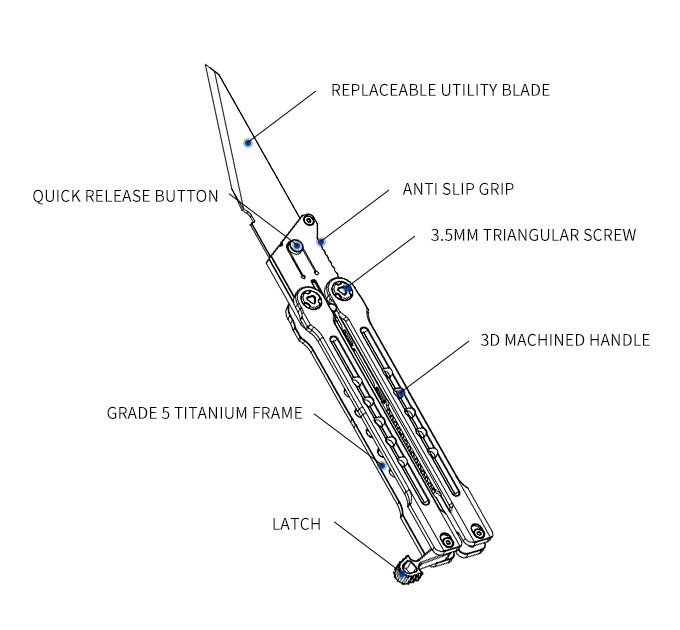 The most important character we have to emphasise is the Quick Release design for switching the blades and comb.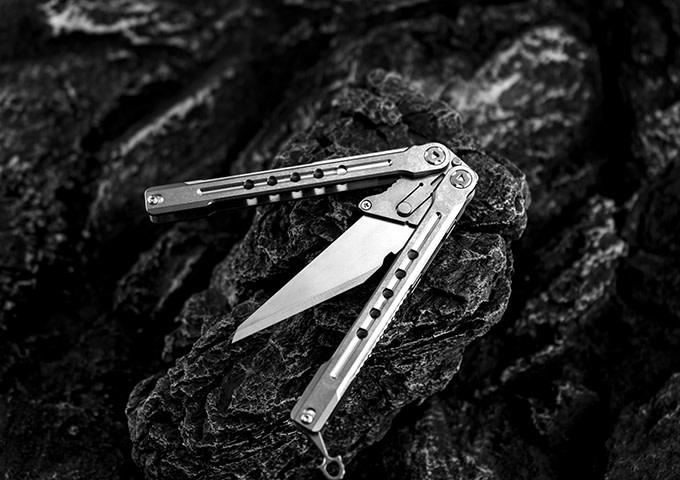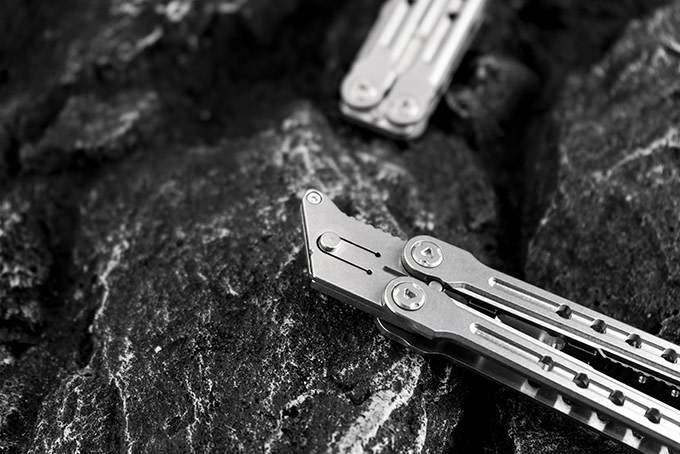 Many backers mentioned that our first Raven knife was a creative one with the replaceable blade design, but also pointed out that it takes too many steps and time to change the blade. We take that into serious consideration and made some improvement for the new butterfly trainer and now you can change the blades and comb in seconds.
The elasticity comes from the natural elastic feature of titanium material and the structural force by precise electrode cutting. To take out the blade, all you need to do is press and pull. It's the same for installing the blade. Press the button and insert the blade, then loose the button. It's just that easy.
The design to accept the utility blade makes the knife a super EDC friendly knife. With a common CKB-2 blade installed, it can meet most of your daily needs for cutting, piercing, carving and scraping, no matter if it is used for office or outdoor activity, it does the job perfectly, leaving you no worries about a blunt, stained blade. Just change a new blade, whenever you want.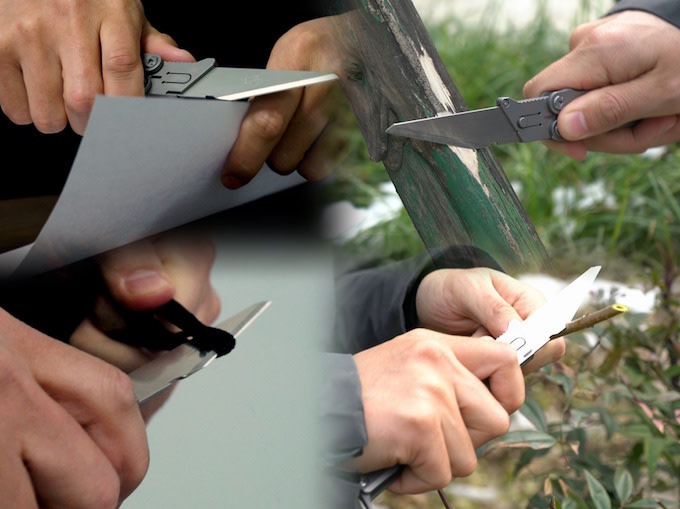 The only screws outsourced are the stainless steel that does not bear much stress at all. Even though, they are not bearing much stress, we learnt lessons from our experience and checked many samples from different screw suppliers. After we finally selected the supplier, we purchased in large quantity a head of time, so we can check carefully, even the project is no funded, yet. Please do help us by backing the project. Details are as important as the design philosophy. Anything that affect the experience of backers is key point that need to be focused on.
TSA- friendly  
If you are taking your B-max with you to a flight, no worries about the security check. You can simply pull the blade out and through it away. You can install a new blade easily, anyway. No hard feelings nor hard time.
Detailed Specifications
Detailed Specifications
Weight: 88 grams (3.1 oz.)
Length Open : 217mm (8.4")
Length Closed: 118mm (4.6")
Blade Length: 84mm (3.3")
Cutting Edge: 53mm (2.1")
Blade Width: 20mm (0.8")
Blade Thickness: 1.2mm (0.05")
Blade Material: Stainless steel
Blade Style: Utility cutter, Comb
Handle Length: 118mm (4.6")
Handle Width: 26mm (1.0")
Handle Material: Grade 5 Titanium
Color: Gray
Finish: Stonewashed/ Beadblast
User: Right Hand, Left Hand
Knife Type: Butterfly
Pivot Type: Bearings
Lock Type: Latch
Model: Raven 2.0
Best Use: Recreation
Back this projec
Risks and challenges
Many backers are now familiar with us and our team. As we've launched several successful Indiegogo projects. We are so grateful for all support and understanding from all our backers. We've learnt the process of crowdfunding on Indiegogo. We've also maintained stable and good cooperation with the whole supply chain from raw material, production, to global shipping. These all assure us the ability to prepare and fulfil orders for all our backers once the project succeed. We've been learning so much and we know there's still so much more to do, but we are also very confident that we have the strong will and ability to live up to backers expectations.
A main difficulty we've been facing was shipping knives worldwide. We'll be all good because this time, it's a trainer, it should be much easier.
If you are interested in getting one or more blade, we'll try to contact the blade distributors or check with our local suppliers to arrange for easier purchasing way for you to get the blade more convenient and cheaper.
There might be unpredictable delay, but it would be a matter of time, we appreciate your patience and support all through the way.
Long-lasting design
From the superb titanium material, to the classic design and the high precision CNC machining techniques, everything devoted into this product synergistically makes the craft a long-lasting and durable one that can last for a long time.
Reusability and recyclability
The titanium metal is a eco-friendly material and can be recycled into new raw material. The leftover material came out from the production can also be reused and the whole production cause no burden to the environment.
Environmentally friendly factories
The cutting liquid we use are all only used once and is carefully treated before discharge.
Get your Unique Butterfly Knife now by supporting us.