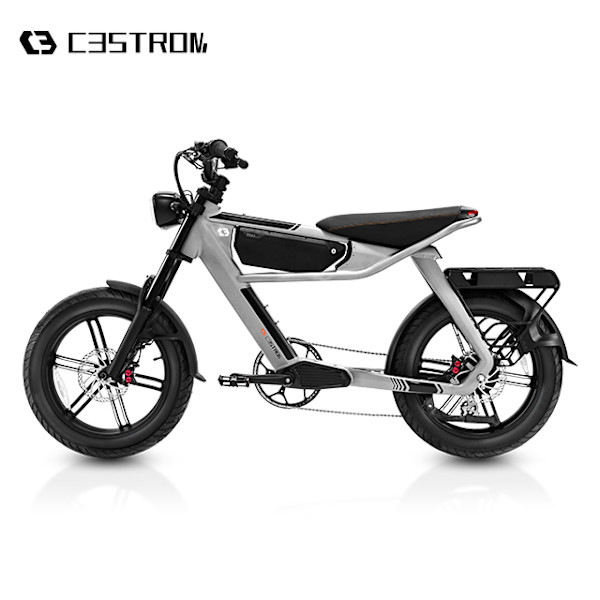 C3STROM ASTRO: Class 3 Cyber Electric Bike
$165,957
raised out of
$30,000
Concept
No License Required E-bike| 32mph Top Speed | 78miles Range | 1 Year Warranty
Story
ELECTRIC BIKE
CLASS 3 / OFF-ROAD OPTIONAL
NO LICENSE REQUIRED
A unique class 3 e-bike, forged at the cusp of greatness. With a motorcycle spirit and stellar road performance, we revolutionize speed and comfort through cutting-edge innovation. Careful attention to detail, and elite, hi-tech design – there are the principles that guide us.
*The specs featured here are achieved with the ASTRO PRO.
Hit the ground running with ASTRO's 750W motor pushing
28mph
, or unlock the
OFF-ROAD
mode to hit
32mph
. Switchable riding modes, fitting switchable needs.
The latest SAMSUNG 21700 cell brings a large battery capacity that beats all e-bikes in its class, providing big mileage support at a sane price. Our test riding distance in eco mode is 70 miles.
Effective power system, plenty of drive, and a strong 30° climbing ability.
On the go? Charge wherever you want with a fully removable battery. Equipped with an industry-leading 52V 4A fast charger, about 4-5 hrs to a full charge. (Our test charging time is about 5 hours, and the battery is ASTRO PRO 1040Wh.)
The human-centered, ergonomically designed shape fits good rider posture for maximum comfort and fatigue prevention.
The soft, comfort-enhancing silicone saddle allows stable, rider-centered handling.
The C3STROM custom-developed APP provides a user-friendly interface for direct control over the ASTRO, going above and beyond mere status display.
The digital LCD display (TRIP/ODO) and 5-speed level adjustability keep you at the helm. Plus, Strom up your smart devices anytime you like with the USB charging port.
The dual spring shock-absorbing front forks, and high-power air pressure cushioning greatly reduce bumps and jolts and can be freely adjusted and locked in.
The ASTRO's custom-made frame features high-strength 6061 aluminum alloy, as the double triangle design creates a sleek diamond shape. The one multi-fit size is crafted to easily fit a wide variety of body types. Available in two colors: Future silver&Dark grey.
ASTRO PRO comes safety-complete with 4 piston hydraulic disc brakes, crucial for effective stopping at faster speeds on all terrains.
The independently designed front headlight with turn signals and integrated horn offer superior night driving capability and safety. The saddle integrated tail light is powered by 18 LEDs.
IPX6 waterproof connectors and harnesses for safety and convenience. Ultimate waterproofing technology combined with durable materials. Roads, beaches, snow, etc., enjoy life freely!
You can hardly find other flat welded e-bike frames on the market under $5000, and yet here's just resulting in a stable, aluminum alloy structure of balanced symmetry and a smooth finish.
Complete with 5 extra screws to mount a range of optional accessories and plug-ins, so possibilities abound. Imagination's the only limit to DIY your own unique customized setup.
C3STROM started with cycling and motorcycle enthusiasts who also happened to be working in the technology sector. We are a Hong Kong startup founded by ex-pats and locals who shared a common belief that active and healthy lifestyle choices can lead to a green, sustainable future.
Our founders are engineers, designers, green activists, and most importantly passionate riders. Our goal, when we set out 2 years ago was to bring revolutionary e-bikes to the world market and unchain people from the traditional, unsustainable modes of transportation leading to a life-changing ride.
ABOUT SHIPPING
EXCLUDING ANY RELEVANT TAXES. 
Available only to the 48 Contiguous States of the US. Except for Alaska, Hawaii, Puerto Rico and PO-box. Also delivery within Canada, a shipping fee is required at the time of payment.
Please contact us for more details on the shipping cost that applies to you.
Are you an electric bike enthusiast? Curious? Or just want to know more about the C3STROM ASTRO? You are more than welcome to drop us an email,  strike up a conversation, and share your ideas.
FAQ
What regions can you ship to in the US and Canada?

Hello there, we ship to the US except for Alaska, Hawaii, Puerto Rico, and PO-box addresses. About Canada, because Canada is relatively large across regions, although it can be across all the country, it may be difficult to transport in some areas, for guarantee so this needs to be charged a certain freight.
When can it be shipped? When will I receive it?

After you back us, our delivery time is expected to be shipped from Los Angeles(US) and Montreal(CA) in September, and you can receive the goods very soon.
Why is an electric bike with such a configuration so cheap?

What you're seeing so far are the crowdfunded super early bird prices: $1699 and $1899. Original prices: $2499 and $2699. Limited time, limited offer! Don't miss it and C3STROM won't let you down.
Wondering why the brand name is C3STROM?

"C3" is the abbreviation of class 3 electric bikes, "Strom" is a hurricane, ASTRO is an innovative product that blurs the boundaries between e-bike and moped, we hope to set off a wave of product innovation like a hurricane, open A new era.
What is the difference between ASTRO and ASTRO PRO?

ASTRO is equipped with a battery pack rated at 52V 780Wh, and the maximum distance that can be reached is about 50miles; The ASTRO PRO with an upgraded battery with a rated power of 52V 1040Wh, max range of about 78miles. If you need to ride long distances, we recommend the upgraded ASTRO PRO.
Are there any special features of C3STROM's electric bikes?

C3STROM, its multi-terrain, precision designed, class 3 bike. Package of snazzy looks, purposeful design and functional road tech: the removable lithium-ion battery offers a maximum range of 78 miles and a quick charging turnaround of 4-5 hours. The off-road capable ASTRO underlines safety with 4 piston hydraulic brakes, high lumen LED 130 Lux headlights and signaling integrated tail lights. Despite its enviable top speeds of 28 mph in C3 and 32 mph in off-road mode, comfort was clearly prioritized here. The silicone saddle, pedal-assist features, 5 riding mode levels, and adjustable front forks combined with an asymmetrical human-centered aluminum frame for a cozy riding experience. It is also decked out with convenience through its APP-controlled functions and dazzling range of optional accessories.
Is there a limit on the weight and height of people who can use this e-bike?

The ASTRO and ASTRO PRO both weigh in at a lean 92 to 94 lbs and handily support an average load of 300 lbs. About the height, we suggest 5″3~6″3.
Do I need insurance and license plates for this e-bike?

Our ASTRO and ASTRO PRO is a legal Class 3 e-bikes, therefore it won't require a license or insurance to ride. Currently, 36 states across the U.S. utilize the three-class system for electric bikes. States may alter some details within their three-tier systems, but most are very similar.
Can I have one geared low and also tough enough to climb mountain trails?

Our ASTRO and ASTRO PRO have a Shimano 7-speed derailleur, The max power of the motor can reach 2000W. When climbing a slope, we recommend adjusting the Level 5 pedal-assist to assist the climbing. At the same time, it can be adjusted to a suitable gear according to the slope and weight, which can easily climb the slope.
Can I do a test ride?

C3STROM Los Angles Support Center:

Address: 18247 Parthenia St., Northridge, CA 91325

Opening time: 11:00 am-17:00 pm

Tel: (747) 202-3162
How much time to speed up?

Acceleration to 20mph takes only 6.5 seconds for the throttle and 7.3 seconds for the peddling.