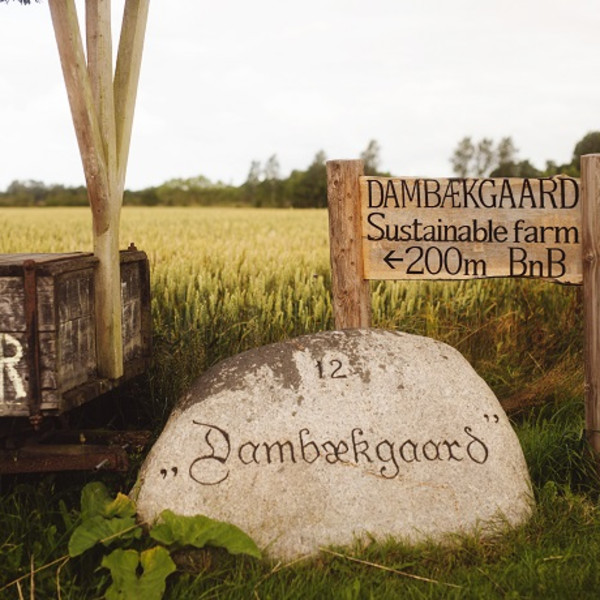 Center for sustainable living
$28,041
raised out of
$250,000
Concept
Helping more people make their daily lives more sustainable and climate friendly
Story
Danish version below
Who, what, why and how?
Who will benefint:
We are Jan and Kirstine, owners of Dambækgaard a small-scale family farm in Stevns, Denmark where we for the past three years have run a small farmstay and bnb. By supporting our project, we will benefit by being able to fulfill our dream to inspire visitors to live a more sustainable lives. The support will also benefit our holiday guests who would like to live more sustainable and climate friendly, because the support will provide better facilities to teach, accommodate and serve food to more people.
What:
Our intention is to transform the farm's old stables into a centre for sustainable life. We have recently received funding from the EU to cover 30% of the project costs and now hope to use this crowdfunding campaign to help raise the remaining 70% of funding. You can read more about how the donations will be spent below in "What We Need & How we Use the Funds
Why:
Making your daily life climate friendly can be quite a challenge, especially if you are unfamiliar with what it entails.  Living sustainably does not have to be all about abstinence. It also involves creativity and intention. The challenge comes in finding alternatives to your current lifestyle and avoiding old bad habits along the way.
What we are offering is for people to join us at our living lab – either as students for masterclasses or simply visiting guests – to provide them the inspiration and knowledge required to make small or large changes in their lives.  Efforts like this are needed if we want to make a positive impact on climate change for our own household and for future generations
How:                                                 
We believe in setting a positive example. Therefore, we aim to motivate visitors and teach students rather than give lectures.
During their stay, guests are surrounded by
sustainable building
sustainable family life
sustainable food
sustainable farm life
They will see how animals live in their natural habitat and have informative conversations with the family, farm volunteers and other guests. Our home will encourage guests to be more aware and open to sustainable lifestyle changes and, hopefully, inspire them to learn and do more.
Additionally, we will provide masterclasses for students or families who stay at the farm for a week/weekend as part of a the traditional Danish "Højskole" programme (a vocation-based school available for anyone with the desire to expand their knowledge and abilities). These longer and more intensive opportunities will give a more thorough insight into our sustainable living approaches.
Our story:
Ten years ago, we took the bold decision and moved from Copenhagen to the farm with an ambition of fulfilling a life-long dream and becoming a self-sufficient family. After five years, we almost gave up the project. We could not maintain the farm while also being a functional family of five, raising livestock, and organically growing our produce. However, as parents we still felt an obligation to show our children the best possible example and inspire them to protect and live in respect with nature. Not knowing where to turn, we were suggested by a friend to become WWOOFing (World Wide Opportunities on Organic Farms) hosts, a programme that matches volunteers and organic farm owners together. In exchange for free food accommodation provided by the hosts, volunteers work 25-30 hours per week.
Opening our home to (mostly) young people searching for knowledge about sustainability and ecology – and sometimes, also searching for more purpose in their lives – has changed everything for us. The extra help meant we could begin to think about developing the farm further. Our children also became English-speaking world citizens with knowledge of cultures from all seven continents. And we  gained a constant, meaningful reminder of just how important it is to pass on knowledge to the next generation.
For the past five years, we have hosted more than 100 volunteers from all over the world, and for the past two and a half years, we have accommodated more than 500 paying guests in a rent-out caravan, a self-made flat, and at a campsite space on our farm. Many of them have left the farm expressing how inspired they have been to sustainably improve their own habits and knowledge.
We were already living a life which focused on self-sufficiency, minimizing food waste, and, in general, the values of our grandmothers, so we were surprised by the impact we had on so many people, of all ages, from across the globe. Seeing that impact is what inspired us to extend our vision and expand our facilities and, accordingly, to be able to host even more people and offer more educational courses in all aspects of sustainability.
Our confidence  in this idea grew alongside the encouragement we received from different volunteers. Some had experience in marketing for BnBs in France. Others could share their knowledge about crowdfunding campaigns, help film the campaign video, or simply give testimonials about the environment we have been cultivating at Dambækgaard for the last half decade. They gave us the confidence we needed to realize our ambitions and succeed in creating real, lasting impact. Sustainability is, after all, not just something we value, but it is a way of life others are searching for as well.
What We Need & How we Use the Funds
We need 250.000 DKK for seven different parts of the building project: 
Building advisors
A professional kitchen
Dinning and teaching room
Accommodation
Water solutions
Insulation materials
Building materials
All of the above focus on the United Nations Sustainable Development Goals (SDG). 
If we do not reach our entire goal, funds given will be used to pay for the water solutions. Ensure clean water is becoming more and more urgent and having a good water solution is crucial if we are to continue building ourselves without further funding.
Building advisors
Paying for expert advice  to ensure we utilize the right sustainable solutions during the building project
WHY? Although we have been living a sustainable life for many years now and have gathered experience on how to build sustainably, we are not experts and our skills have their limitations. Therefore, we have arranged for professional building advisors to make sure we choose the right method and materials in our building projects. For security and insurance reasons, authorized personnel must make some of the solutions, such as electricity and sewerage, which is part of the expenditure.
SDG 7 (7.2), SDG 9 (9.2 and 9.5), SDG 9.B (9.B.1)
A professional kitchen
Upcycling materials from demolished buildings
WHY? Today most of the inventory and materials in development construction projects goes into the dumpster. However, much of it is suitable for recycling toward new construction work – it just requires additional time and the right kind of treatment. It is our philosophy that we should stop acting as if this planet has unlimited resources and a shortage of working hands. We believe it is reverse; there are so many people on this planet but only a limited reservoir of resources. For us, taking the time to clean bricks and carefully remove tiles from an old industrial abattoir rather than produce new ones seems to be an obvious solution to lowering our carbon footprint. SDG 12 (12.2.2 and 12.5)
Laying clay and linoleum flooring
WHY? Making floors out of clay reduces the need for concrete, which is responsible for about 8% of the world's carbon dioxide emissions. Clay is a natural and recyclable resource, which is also more durable and less expensive than wood. However, kitchens need a washable surface be approved for professional cooking purposes. Therefore, we have decided use linoleum in the kitchen, a natural, sustainable product that biodegrades once it no longer serves as flooring.
SDG 12 (12.2.2 and 12.4)
Purchasing appliances and inventory approved for professional cooking
WHY? If we want to upscale the number of people we can host, feed, and accommodate, we also need to upscale our cooking facilities to comply with Danish food law. However, most professional kitchen appliances are made to be extremely durable, so we will be able to buy of our kitchen appliances second hand.
SDG 12 (12.5)
Installing removable windows
WHY? We would like to show that sustainable construction work does not necessarily require that you have to make aesthetic compromises. The stable dates back to the 1920'es and the existing windows are typical for that time. They add a charming look, but they unfortunately do not comply with Danish building regulations and will require either changing or further insulation. By using removable windows inside of the building, we can maintain the original windows of the stable so it still matches the rest of the farm buildings.
SDG 12 (12.5),
Dining and teaching room
WHY? Making floors out of clay reduces the need for concrete, which is responsible for about 8% of the world's carbon dioxide emissions. Clay is a natural and recyclable resource,  which is more durable and cheaper than wood.
SDG 12 (12.2.2 and 12.4)
Building a masonry heater from recycled bricks
WHY? The rooms of the restored building will have heated floors drawn from a central heating system. However, a masonry heater will also be needed to reduce the use of wood pellets and to serve as a baking and pizza oven for the kitchen.
SDG 12 (12.2.2 and 12.5)
Constructing chairs and tables from removed floor separation
WHY? The former floor separation was too worn down to keep as floor separation, but it is still suitable for use as furniture with the right kind of treatment. Making furniture out of the recycled wood will reduce the need to cut down trees and minimize our costs by avoiding purchasing new furniture.
SDG 12 (12.2.2 and 12.5)
Purchasing and installing panorama windows
WHY? Being in touch with nature is a unique stress reducing activity and is one that allows us to recharge our batteries. Having a panoramic view over the fields and animals in their natural habitat will help inspire guests and students to re-evaluate how they regard animal life.
SDG 3 (3.D.1)
Purchasing AV-equipment for educational lectures
WHY? Being able to teach sustainable living, cooking, growing, and building is one of the essential reasons why we are crowdfunding. It is one thing to inspire visitors to a more sustainable lifestyle by setting an example, but we would also like to be able to teach those that are interested in getting the deeper knowledge by giving lectures. Of course, there is much to learn by doing, but sometimes you also need to engage with more specific information, something especially valuable since visitors and students will not see the farm's full annual cycle first hand.
SDG 4 (4.7), 13 (13.3)
2 bedrooms, 4 bathrooms and 5 toilets
Purchasing new beds and mattresses
WHY? Most of the inventory for the rooms are made from re- or upcycled materials. Beds, however, will either need to be bought new or have their mattresses replaced so guests can sleep comfortably. We of course aim for the option of finding old beds and replace the mattresses.
SDG 12 (12.2.2 and 12.5)
Acquiring sinks and toilets from demolished building or home renovations
WHY? Sanitary inventory rarely wears down and, provided they can function well, it is a waste to dispose of them rather than making the required adjustments to make them more eco-friendly. We could also make compost toilets – but, unfortunately, they are time consuming to maintain and empty, which is why we are opting for a grey water flush solution instead (see under biological wastewater cleaning system for more information).
SDG 12 (12.2.2 and 12.5)
Acquiring removed tiles from demolished buildings
WHY? As we wrote in the paragraph about a professional kitchen, we believe producing new things is unnecessary when recycled materials are available. Therefore, we aim to build as much of the bathrooms from materials obtained from demolished buildings.
SDG 12 (12.2.2 and 12.5)
Water solutions
Establishing rainwater collection in the former manure tank and putting up a sand filter
WHY? Rainwater drawn from the roofs can be stored and used for animal water and for watering the garden in dry seasons. Additionally, we can use cleaned rainwater to do the laundry. This way we avoid using tap water, which is drinkable, unnecessarily. At the same time, we are able to keep the washing machines longer, because the tap water in our local area is so full of limestone that it wears the machine out quicker than average.
SDG 6 (6.4)
Building a grey water collection tank
WHY? We would have loved to use the collected and cleaned rainwater for use in the showers, but unfortunately, that does not comply with Danish environmental regulations. Therefore, we had to come up with some other way of minimizing our use of tap water, as clean drinking water is a worldwide sparse resource. Instead, we will dig out a water tank to collect all the grey water from the washing machines as well as showers to use for flushing toilets.
SDG 6 (6.3 and 6.4)
Designing and installing a biological wastewater cleaning system
WHY? Situated in open land, the farm is not connected to any public sewer system, so we have various options when choosing a system for cleaning the wastewater going out of the building. The most widely known solution would be to use a  'willow' cleaning system, which requires a lot of space. Another option would be to use a chemical cleaning system, which is not compatible with our no chemistry beliefs. We've chosen to use a biocleaning system
SDG 6 (6.3 and 6.4)
The difference your donation makes
Your donations will help us:
choose the most sustainable solutions
inspire even more people to live sustainably and climate friendly
make travelling more sustainable and reduce the waste usually associate with travelling
offer you the facilities to travel and learn sustainably
 
Is there a risk and how do you handle it? 
If we don't reach our target, we will have to build more ourselves and less by hired help. Building on your own is always a risk, because there are no guarantees that you have the required skills.
To make sure we choose the right solutions we have established a teamwork with local craftsmen and constructors to provide advice and guidance for free and give us a paid hand when we have the means to pay them.
I don't have any money, but I'd really like to help
We can use all the help we can get, so if you don't have the means to contribute financially there are other ways:
a helping hand in exchange for plenty accommodation and plenty of good food is always welcome.
spread the word out and make some noise about our campaign in your own network and encourage them to donate and share using the Indiegogo share tools!
Hvem, hvad, hvorfor og hvordan.
Hvem får glæde af donationen?
Vi er Jan og Kirstine ejere af Dambækgaard, et lille familie landbrug på Stevns, hvor vi de sidste tre år har haft bondegårdsferie og bnb. Din støtte vil give os mulighed for at udleve vores drøm om at inspirere gæster til at leve mere bæredygtigt. Støtten vil også være til gavn for vores gæster, der vil leve mere bæredygtigt og klimavenligt, fordi støtten vil gøre det muligt at forbedre overnatnings- og undervisningsfaciliteter samt bedre muligheden for at servere måltider for flere gæster.
Hvad:
Vores intention er at omdanne gårdens gamle stalde til et center for bæredygtigt liv. Vi har for nylig modtaget LAG-midler, EU-midler til landdistriktsudvikling, til at dække 30% af projektets omkostninger og nu håber vi, at denne kampagne kan hjælpe med at rejse nogle af de resterende 70% af projektets finansiering. Du kan læse mere om, hvordan de rejste midler bliver brugt i afsnitten "Hvad har vi brug for, og hvordan bruger vi pengene" nedenfor. 
Hvorfor:
At få vores hverdag til at være mere klimavenlig kan være en udfordring, især hvis du ikke helt er klar over, hvad det betyder. At leve bæredygtigt behøver ikke udelukkende at handle om afholdenhed.  Det handler også om kreativitet og intention. Udfordringen er at finde alternativer til din eksisterende livsstil og at undgå at falde tilbage i gamle dårlige vaner.
Det vil tilbyder er, at besøgende ken besøge os på vores living lab – enten som studerende i masterclasses eller ganske almindelige feriegæster og besøgende – for at kunne give dem den inspiration og viden de har brug for for at kunne lave små eller store ændringer i deres livsstil. Tiltag som disse er nødvendige, hvis vi skal påvirke klimaforandringerne positivt for vores egen såvel som for fremtidige generations skyld.
Hvordan:                                                  
Vi tror på at vise det gode eksempel. Derfor tilstræber vi at motivere og inspirere vores og studerende fremfor at give foredrag. I løbet af deres ophold vil vores gæster være omgivet af:
bæredygtige byggeløsninger
bæredygtigt familie liv
bæredygtig mad
bæredygtig bondegårdsliv
De får at se, hvordan dyr lever i naturlige omgivelser og føre informative samtaler med familien, gårdens frivillige og andre gæster. Vores hjem opfordrer gæster til at have en større bevidst-  og åbenhed overfor at lave bæredygtig livsstilsændringer og – forhåbentlig – inpirere dem til at lære og gøre mere.
Derudover vil vi tilbyde en slags højskoleophold for studenter eller familier, der bor på gården i en uge eller en weekend. Disse længere og mere intensive ophold vil give mulighed for en mere dybdegående indsigt og tilgang til bæredygtig livsstil. 
Vores historie:
For ti år siden tog vi den dristige beslutning at flytte fra København til gården med en ambition om at udleve en vedvarende drøm om  at blive en selvforsynende familie. efter fem år, var vi meget tæt på at give op. Vi kunne ikke selv vedligeholde gården, hvis vi samtidig skulle være en velfungerende familie på fem, opdrætte dyr og dyrke økologiske grøntsager. Men som forældre følte vi stadig en forpligtelse til at være det bedste eksempel for vores børn og inspirere dem til at beskytte og leve i respekt for naturen. Vi vidste ikke, hvor vi skulle søge hjælp, da en god ven foreslog vi blev WWOOF (World Wide Opportunities on Organic Farms) værter, et udvekslingsprogram der matcher frivillige og økologiske, bæredygtige producenter. Mod fri kost og logi fra værternes side arbejder de frivliige 25-30 timer pr. uge.
at åbne vores hjem for – overvejende – unge mennesker på jagt efter viden om bæredygtighed og økologi – og nogle gange også søgende på mere indhold i deres eget liv – har forandret alt for os. Den ekstra hjælp har gjort, at vi begyndte at tænke på at udvikle gården endnu mere.Vores børn blev engelsk talende verdensborgere med viden om kulturer fra alle verdensdele, og vi fik en vedvarende og meningsfuld påmindelse om vigtigheden af at videregive viden til den næste generation.
Gennem de sidste fem år har vi været værter for mere end 100 frivillige fra hele verden og igennem de sidste tre år, har vi huset mere end 500 betalende gæster i en campingvogn, en lejlighed, vi selv har bygget og en campingplads på gården. Mange af dem har givet udtryk for, hvor inspireret de er blevet til at forbedre deres egne vaner og viden på en mere bæredygtig måde
Vi levede allerede et liv, der fokuserede på selvforsyning, minimere madspild og – generelt – værdierne fra vores bedstemødre, så vi blev overraskede over, hvor meget vi indvirkede så mange forskellige mennesker i alle aldre fra hele verden. At få øje på en indvirkning inspirerede os til at udvide vores vision og udvide vores faciliteter og dermed få mulighed for at være værter for endnu flere mennesker og tilbyde kurser i alle aspekter af bæredygtighed.
Vores tro på ideen blev forstærket af den opmuntring, vi fik fra forskellige frivillige. Nogle havde erfaring med marketing for BnBs i Frankrig. Andre kunne dele deres erfaringer om crowdfunding, hjælpe med at filme og redigere videoen eller ganske enkelte bidrage med anbefalinger omkring stemningen, vi har skabt på Dambækgaard igennem det sidste halve årti. De gav os den selvtillid, vi behøvede for at realisere vores ambition og fortsætte med at skabe, en reel vedvarende indvirkning. Bæredygtighed er trods alt ikke bare noget, vi værdsætter, men en livsstil andre også søger.
Hvad har vi brug for, og hvordan bruger vi pengene
Vi har brug for 250.000,- til syv forskellige dele af byggeprojektet: 
Buyggerådgivning
Industrikøkken
Spise- og undervisningslokale
Værelser
Spildevands og gråtvandsløsninger  
Isoleringsmateriale
Byggemateriale
Alle ovenstående dele fokuserer på FNs verdensmål (SDG). 
Hvis vi ikke når vores mål, vil de givne donationer, blive brugt til at betale for bæredygtige spildevands- og gråtvandsløsninger. At sikre rent drikkevand bliver mere og mere presserende og især sikring af en god spildevandsløsning  er afgørende for, at vi selv kan færdiggøre byggeriet uden yderligere finansiering.
Byggerådgivere
at betaler for ekspert rådgivning for at siker, at vi anvender de rette bæredygtige løsninger i løbet af byggeprojektet
Hvorfor? Selvom vi har har levet bæredygtigt i mange år og har fået erfaring med, hvordan man bygger bæredygtigt, er vi ikke eksperter og vores evner har deres begrænsninger. Derfor har vi entreret med professionelle byggerådgivere for at sikre, vi vælger de rette metoder og materialer. Af hensyn til sikkerheden og forsikringen skal der naturligvis også autoriserede håndværksmester til at tilslutte elektricitet og kloak, hvilket er en del af udgiften til byggerådgivere. SDG 7 (7.2), SDG 9 (9.2 og 9.5), SDG 9.B (9.B.1)
Industrikøkken
Genanvendte materialer fra nedrevne bygninger
Hvorfor? I dag bliver størstedelen af det inventar og materialer fra nedrevne ejendomme smidt i containeren. Men meget af det er stadig egnet til at blive genanvendt i nyt byggeri  – det kræver bare ekstra tid og den rette behandling. Det er vores filosofi, at vi bør stoppe med at opføre os, som om planeten har uanede ressourcer og mangler hænder. Vi mener, det er omvendt; der er så mange mennesker på planeten, men kun begrænsede ressourcer. For os er det oplagte løsninger at bruge tid på at rense mursten eller forsigtigt fjerne klinker fra nedlagte slagterier fremfor at producere nye, hvis vi vil mindske vores CO2 aftryk. SDG 12 (12.2.2 and 12.5)
Lægge ler- og linoleumsgulve 
Hvorfor? At lave lergulve reducerer bruget af beton, som er ansvarlig for ca. 8% af verdens CO2 udledning. Ler er et naturligt og genanvendeligt, og det er mere holdbart og mindre dyrt end fx træ. Industrikøkkener kræver dog en vaksbar overflade, hvis de skal godkendes. Derfor påtænker vi at lægge linoleumsgulve i køkkenet, da det er et naturligt bæredygtigt produkt, der kan nedbrydes i naturen, når det ikke længere skal fungere som gulv.SDG 12 (12.2.2 and 12.4)
Indkøb af godkendte køkkenmaskiner og inventar 
Hvorfor? Hvis vi gerne vil øge antallet af personer, der kan bo og spise på gården er vi også nødt til at opskalere vores madlavningsfaciliteter til et godkendt køkken. De fleste godkendte køkkenmaskiner er som regel meget langtidsholdbare, så vi satser på, at vi kan købe størstedelen af dem brugt. SDG 12 (12.5)
Hvorfor? Vi vil gerne vise, at bæredygtigt byggeri ikke behøver at betyde, der skal indgås for mange æstetiske kompromiser. Stalden, der skal ombygges, stammer fra 1920'erne og vinduerne er typiske for den tid. De giver stalden et charmerende og autentisk udseende, men de overholder ikke ligefrem bygningsreglementet og vil enten kræve udskiftning eller efterisolering. Ved at sætte forsatsruder inden for i bygningen, kan vi bevare de originale vinduer, så udseendet stadig passer til resten af gårdens bygninger. SDG 12 (12.5),
Spise- og undervisningslokale 
Hvorfor? At lave lergulve reducerer bruget af beton, som er ansvarlig for ca. 8% af verdens CO2 udledning. Ler er et naturligt og genanvendeligt, og det er mere holdbart og mindre dyrt end fx træ. SDG 12 (12.2.2 and 12.4)
Masseovn af brugte mursten
Hvorfor? Værelserne får gulvvarme fra et centralvarmesystem, men en masseovn vil også blive anvendt for at mindske behovet for øvrig opvarmning og så den kan bruges som pizza- og bageovn for køkkenet. SDG 12 (12.2.2 and 12.5)
Lave stole og borde af den gamle etageadskillelse
Hvorfor? Den tidligere etageadskillelse var for slidt til at kunne holde, men er med den rette behandling stadig anvendelig til møbler. At lave møbler af genanvendt træ mindsker behovet for at fælde træer og minimerer udgifterne til at købe nyt. SDG 12 (12.2.2 and 12.5)
Skaffe og installere panoramavindue
Hvorfor? At være tæt på naturen er en enestående måde at reducere stress, som tillader dig at genoplade batterierne. Ved at indsætte et panoramavindue med udsigt over markerne og dyrene i deres naturlige omgivelser, inspirerer vi desuden gæster og frivillige til at genoverveje deres tilgang til dyreliv og dyrevelfærd. SDG 3 (3.D.1)
Skaffe AV-udstyr til foredrag
Hvorfor? At få muligheden for at undervise i bæredygtig livsstil, madlavning, dyrkning og byggeri er en af de væsentligste grunde til at vi kører denne kampagne. Det er en ting at inspirere besøgende til en mere bæredygtig livsstil ved at vise det gode eksempel, men vi vil også gerne kunne underviser dem, der er interesseret i at få et dybere kendskab ved at kunne give foredrag. Selvfølgelig kan man nå langt med erfaringsbaseret læring, men nogle gange er man nødt til at beskæftige sig med mere specifik viden, noget der især er vigtigt, fordi besøgende og frivillige ikke på første hånd vil komme til at se gårdens fulde årlige cyklus. SDG 4 (4.7), 13 (13.3)
2 værelser, 4 badeværelser og 5 toiletter
Skaffe nye senge og madrasser
Hvorfor? Det meste inventar i værelserne er lavet af genanvendte materialer, men senge vil enten skulle købes nye eller som minimum få deres madras udskiftet, så gæster kan sove komfortabelt. Vi tilstræber selvfølgelig at finde gamle senge, hvor vi udskifter madrasserne. SDG 12 (12.2.2 and 12.5)
Skaffe håndvakse og toiletter fra nedrivningsbygninger eller renoveringer
Hvorfor? Sanitetsinventar bliver sjældent slidt helt ned og forudsat, de stadig er velfungerende, er det et spild at bortskaffe dem fremfor at lave de fornødne ændringer, så de bliver mere miljøvenlige. Vi kunne selvfølgelig lave komposttoiletter, men desværre er det ret tidskrævende at vedligeholde og tømme dem, hvorfor vi i stedet satser på en gråtsvandløsning, hvor vi genanvende badevandet til toiletskyl. (se under biologisk spildevandsanlæg for mere information). SDG 12 (12.2.2 and 12.5)
Skaffe gamle klinker fra nedrivningsfirmaer
Hvorfor? Som vi skrev under industrikøkken, mener vi, det er unødvendigt at købe nyt, når der er genbrugelige materiale til rådighed. Derfor tilstræber vi at bygge mest muligt af materialer, vi har skaffet fra nedrivningsfirmaer. SDG 12 (12.2.2 and 12.5)
Vandløsninger
Establering af regnvandopsamling i den gamle ajlebeholder og opsætning af sandfilter
Hvorfor? Regnvand fra tagene kan opbevares og anvendes til at vande dyr og planter i tørre perioder. derudover kan vi bruge renset regnvand i vaskemaskinerne. På den måde undgår vi at bruge drikkevand unødigt. Samtidig mindsker det slitagen på vaksemaskinerne, da vandet på Stenvs er meget hårdt, og kalkindholdet slider maskinerne hurtigere op end gennemsnittet. SDG 6 (6.4)
Hvorfor? Vi ville rigtig gerne bruge opsamlet, renset regnvand til badevand, men desværre er det ikke tilladt i Danmark. Derfor har vi været nødt til at finde andre måder at mindske brugen af drikkevand, da rent drikkevand på verdensplan er en mangelvare.  Vi graver i stedet en rvandtank ned til opsamling af det grå vand fra bade og vaksemaskiner, som vi kan bruge til toiletskyl. SDG 6 (6.3 and 6.4)
Designe og installere et biologisk rensningsanlæg til håndtering af spildevand
Hvorfor? Da gården ligger i det åbne land og er derfor ikke tilknyttet den offentlige kloakering, har vi flere andre muligheder for håndtering af spildevandet. En populær løsning er et pilerensningsanlæg,  som er temmelig pladskrævende – især hvis det skal håndtere spildevand fra 30 mennesker, der kan bo på gården. En anden løsning er et kemisk rensningsanlæg, som ikke rigtig passer med vores værdier om ingen kemikalier. Vi har derfor besluttet at benytte et biologisk rensningsanlæg. SDG 6 (6.3 and 6.4)
Hvilken forskel gør dit bidrag?
Dit bidrag vil hjælpe os med at:
vælge de mest bæredygtigt løsninger
inspirere endnu flere mennesker til at leve mere bæredygtigt og klimavenligt
gøre rejsende mere bevidste om bæredygtighed og reducere den CO2 udledning, der normalt er forbundet med overnatninger 
give dig faciliteterne til at overnatte og lære bæredygtigt 
Er der en risiko, og hvordan håndterer I den? 
Hvis vi ikke når vores mål, er vi nødsaget til at bygge alting selv med mindre hjælp fra håndværkere. At bygge selv er altid en risiko, fordi der ikke er nogen garanti for, du har evnerne.
For at sikre vi træffer de rigtige valg har vi etableret et samarbejde med lokale håndværkere, der har tilbudt at vejlede og rådgive os gratis og få betaling efterhånden, som vi oparbejder kapital til at betale dem.
Jeg har ikke nogen penge, men vil stadig rigtig gerne hjælpe
Vi kan bruge al den hjælp, vi kan få, så hvis du gerne vil hjælpe, men ikke lige har råd til et kontant bidrag, er der også andre muligheder:
en hjælpende hånd i bytte for overnatning og rigelig mad er altid velkomment
Del budskabet og skab noget larm omkring vores kampagne i dit netværk og opfordre dem til at dele og donere gennem Indiegogos delingsværktøjer!