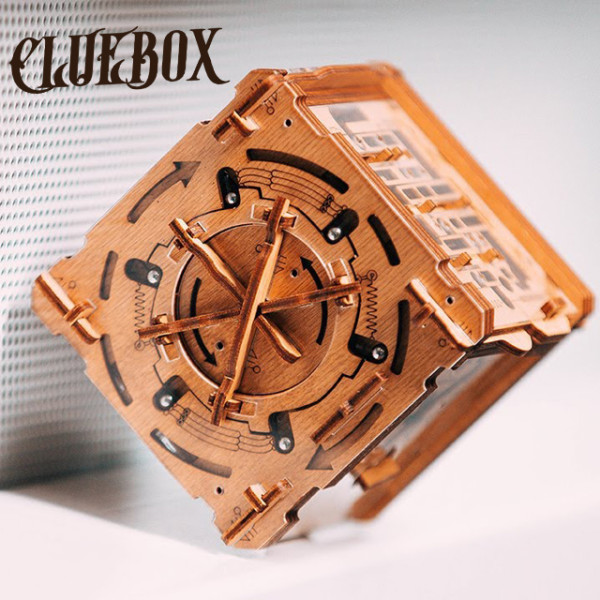 CLUEBOX – Magic vs. Science
$368,314
raised out of
$10,000
Concept
Two captivating CLUEBOXES for all puzzle fans. Magic and Science – which one are you better at?
Story

The CLUEBOX is an interactive, manually pre-assembled wooden box with various puzzles, which have to be solved one after the other to open the box. Very much like an Escape Room in a handy format! The solution to each puzzle is based not on randomness, but only on logical decisions.
The CLUEBOX is an intriguing challenge. It's difficult to solve, satisfying to hold, and beautiful to display.
MAGIC vs SCIENCE
Human beings are rational creatures, and yet we are tempted to believe in extraordinary things like magic and rely on intuition. Which of the two sides is stronger in you? Well, now it is the perfect moment to find out!
For this Indiegogo campaign, we designed and developed not one but TWO CLUEBOX PUZZLES:
The Trial of Camelot (with a little help from the famous magician Merlin)
Cambridge Labyrinth (with a little help from the great scientist William Whewell)
Will you be better at solving the box created by magic or by science? Explore the deepest corners of your soul by solving the two Cluebox mysteries!
The two new Cluebox puzzles are completely different in terms of engineering, mechanics, riddles and materials used, yet both are equally fascinating and thrilling to solve!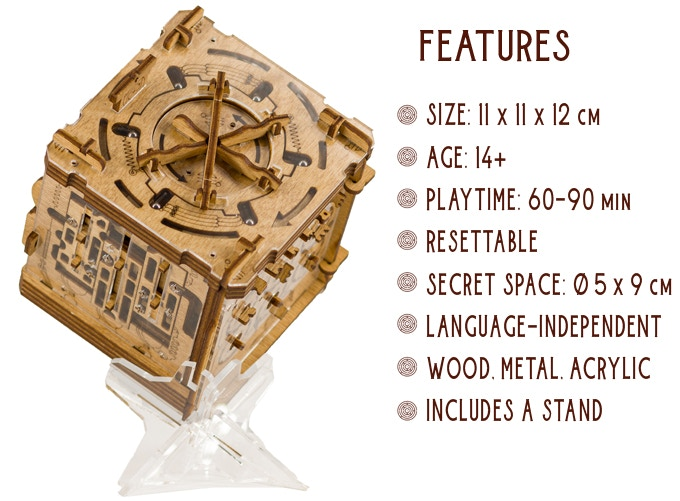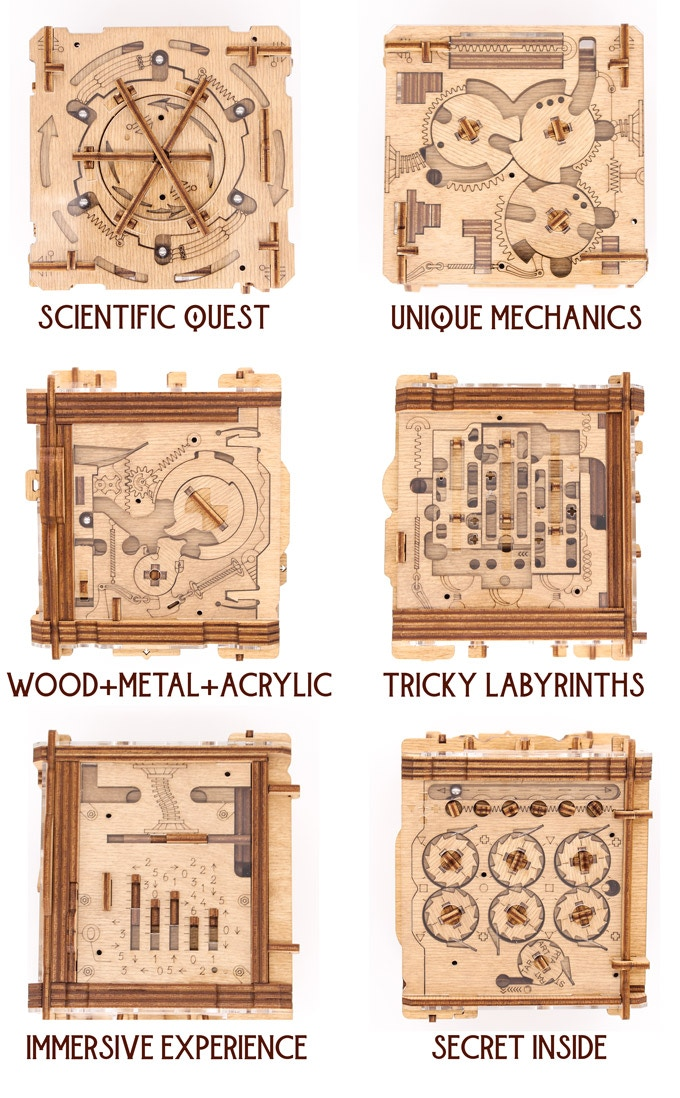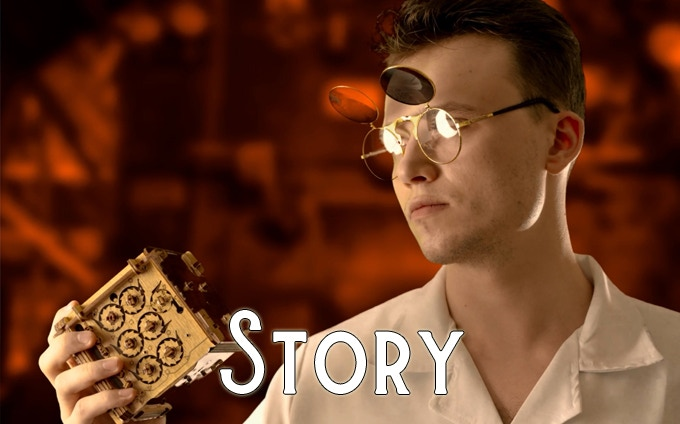 In the early 19th century the situation around the scientific developments in the UK was raising strong concerns. "Science is all but dead in England… perhaps deadest of all at our Universities," – English journalists wrote.
And then it changed – provincial Philosophical Societies started blossoming across the United Kingdom. They offered an opportunity for people to meet and listen to talks on the latest discoveries and inventions.
William Whewell, a Cambridge University historian and philosopher, became one of the founders of Cambridge Philosophical Society in 1819. This Society ultimately transformed major English universities into the world-leading centers of scientific research we know today. The term "scientist" had not even existed until William Whewell coined it in 1833.
According to several reliable sources, there was only one condition to become a member of the Philosophical Society – applicants had to pass the entrance challenge by opening the mechanical box "Cambridge Labyrinth" invented by scientist William Whewell.
Now you have an opportunity to face the challenge which used to be the first step for many inventors into the world of science and engineering!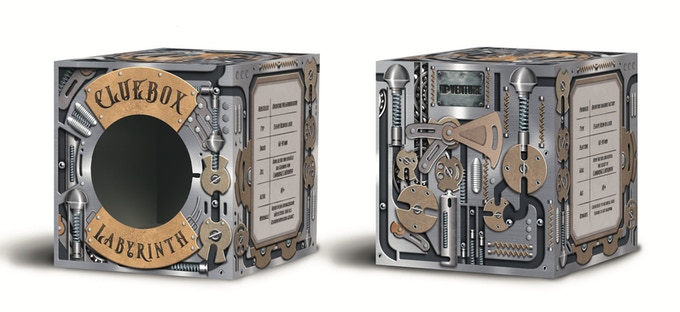 Package design Federico Meloni/Chris Lattner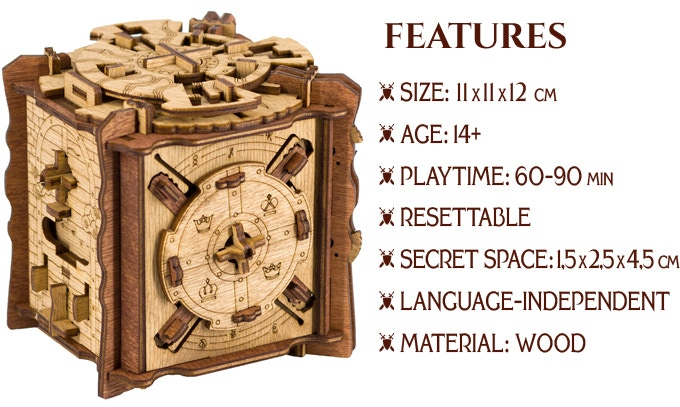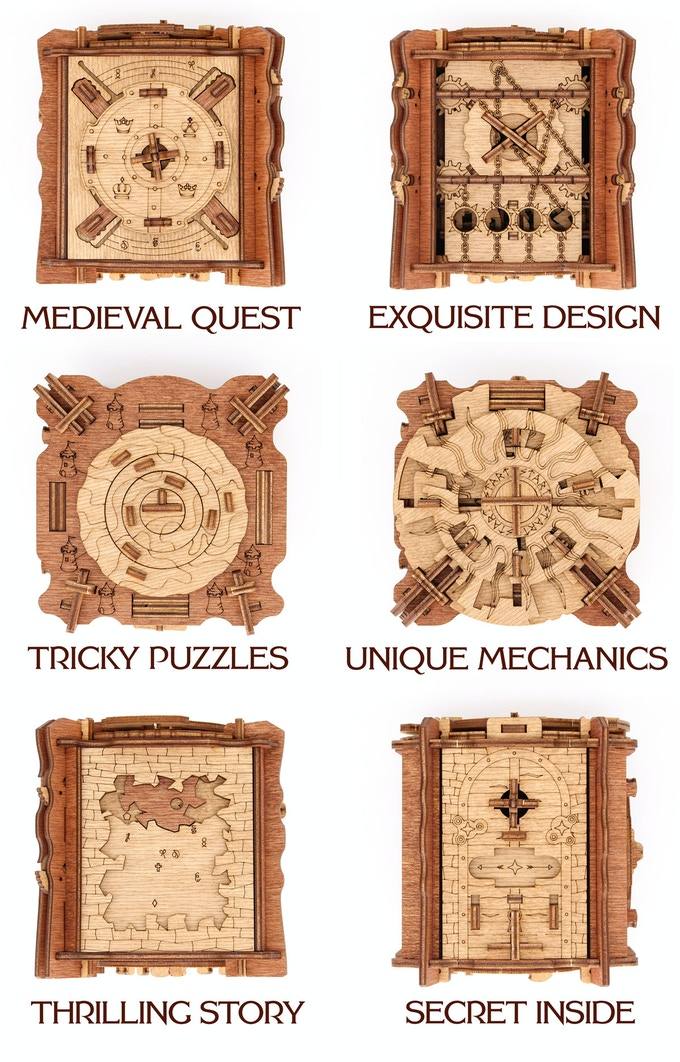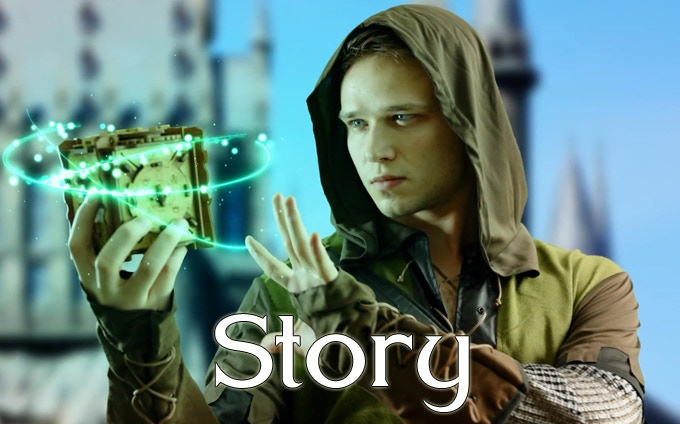 The Kingdom of Logres, early 6th century. The aging King Arthur asks for the help of his mentor, mage Merlin, to find a worthy knight who can take part in the quest for the Holy Grail. Later on Merlin finds a way to identify the worthy – the one who can pass the trail and "pull out the king's sword."
Many knights gifted with strength and valor came to Merlin, but none of them could cope with the trial. Until Galahad, son of Lancelot, came along. A short time later King Arthur proclaims him the greatest knight ever.
Many deeds of Galahad are described in detail in medieval literature, except for one – the trial of Merlin, which remained a secret of Galahad. Until quite recently, in West Yorkshire, a mound with the tomb of an unknown knight was excavated. All indications pointed that it was the tomb of the knight Galahad, and in his hands there was the trial of Merlin, which accompanied Galahad until the end of his days.
Now we suggest that you pass the Trial of Camelot and equal yourself with the greatest of the Knights of the Round Table!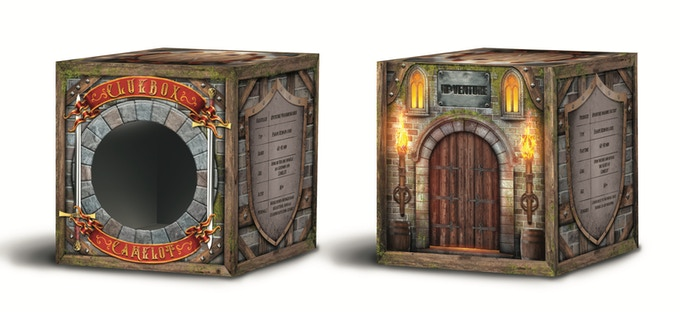 Package design Federico Meloni/Chris Lattner
Megabox: The Trial of Camelot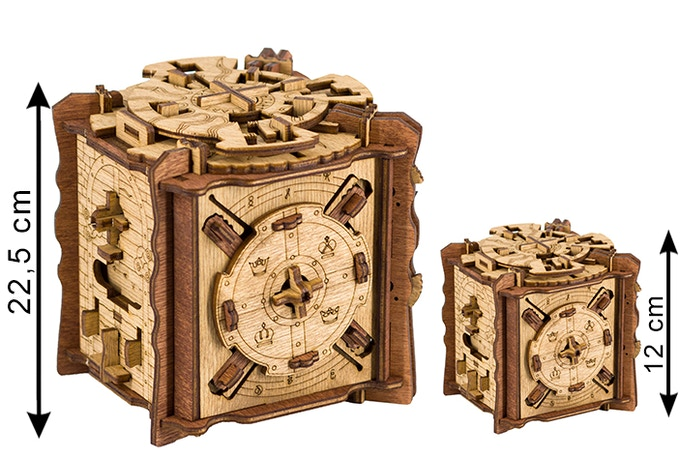 For the Indiegogo campaign, we will also produce Camelot Megabox. The Box size is 21,5 x 21,5 x 22,5 cm, which makes it ideal for escape rooms, corporate events, and other occasions with a larger amount of people. In your Megabox perk, 2 boxes are included: 1 x Camelot Megabox + 1 x Camelot Standard size.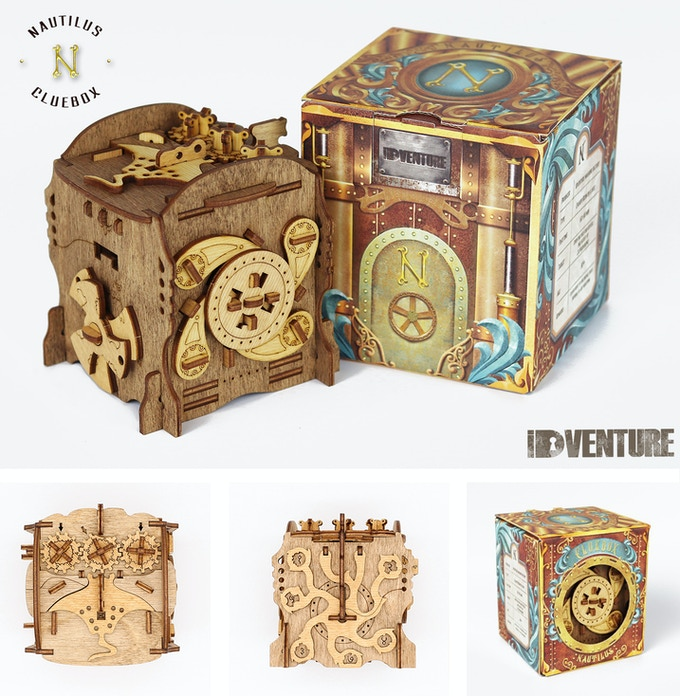 Captain Nemo's Nautilus
This beautiful Cluebox puzzle appeared on Indiegogo last year. 4459 backers supported us, so Captain Nemo's Nautilus found its home in more than 75 countries.
Captain Nemo, a famous character of Jules Verne's books, put his secrets inside a box in his legendary submarine Nautilus.  Reveal the mysteries of Captain Nemo and find the lost traces of his scientific findings!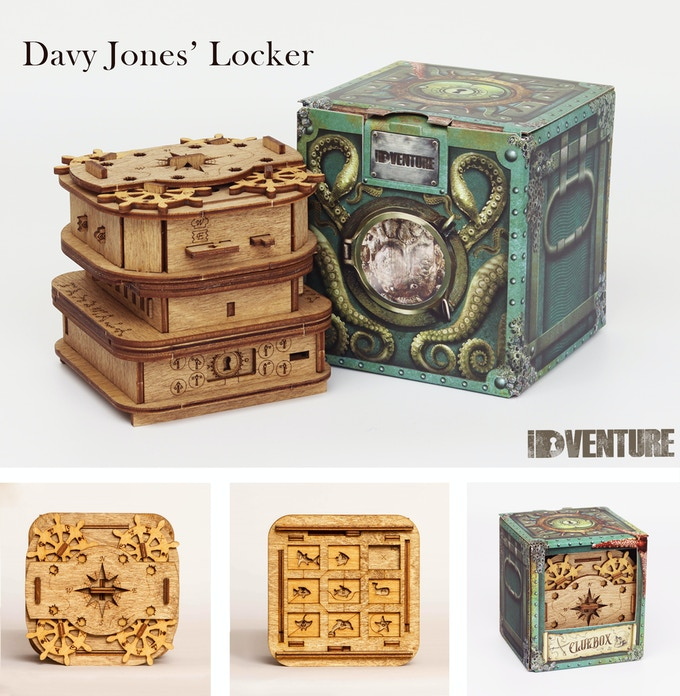 Davy Jones' Locker
This Cluebox came to life thanks to more than 4000 Indiegogo backers from our first campaign! Thanks to everyone who supported us!
Davy Jones is the sea devil who locks away the wandering souls of all sailors who lose their lives at the sea.  You can become the one, who will finally be able to open the locker, release the souls and defeat Davy Jones.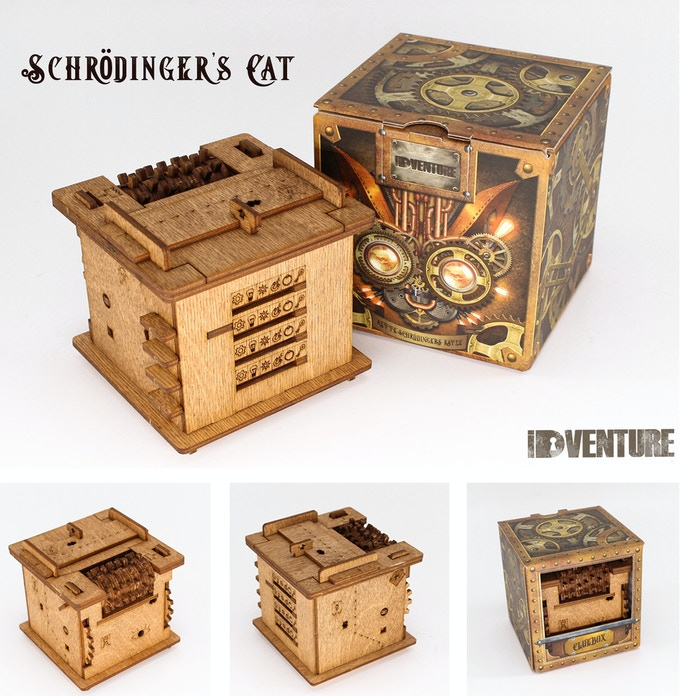 Schrödinger's Cat
Professor Schrödinger – a famous Austrian physicist – forgot his cat in a box, while studying the problems of quantum mechanics. We are sure that the cat is still alive, and you must save it!
You can get any Cluebox as an add-on! All the three Clueboxes are available in a standard size (11 x 11 x 12 cm) or as a Megabox (21,5 x 21,5 x 22,5 cm):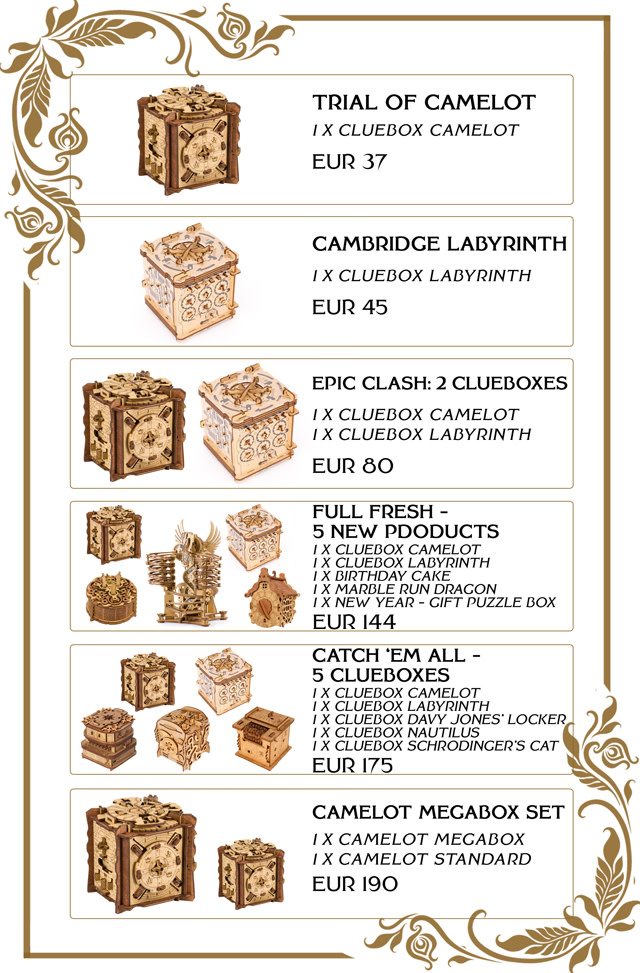 Additionally to the rewards, you can add any quantity of the following products to your perks.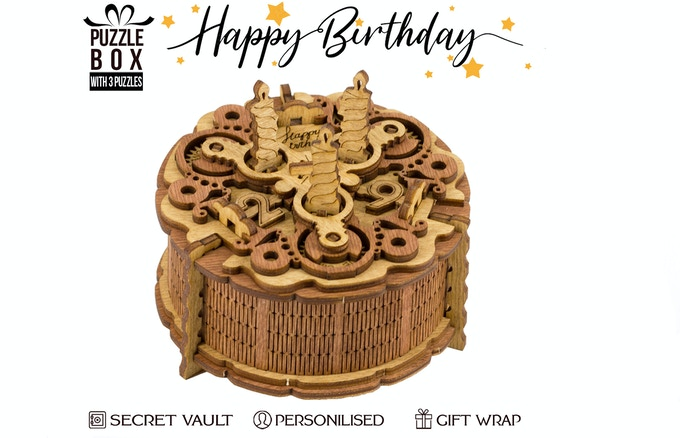 Birthday Cake Puzzle Box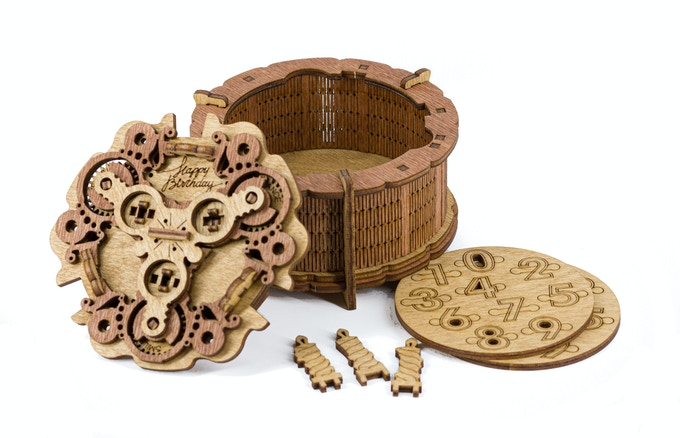 The inside look. Note: the product comes already pre-assembled.
The Birthday Cake Puzzle Box is a mechanical wooden box with a secret vault inside which will serve as a unique gift box. You have to solve 3 puzzles to open the box. The cake is personalized so that you can set age of the gift recipient.
3 sequential puzzles
Age is customizable
Size: Ø 10,5 cm x 6,5 cm
Secret space size: Ø 9,5 x 3,5 cm
Marble Run Dragon
Marble Run Dragon is a wooden construction kit. It's a fantastic mechanical creature and an amusing marble run maze combined in one!
It's our first creation of this kind and we're very excited to offer it for the first time in our KS campaign!
Wooden construction kit
260 parts and numerous marbles
Size: 18,2 x 21,5 x 12 cm
Happy New Year Puzzle Box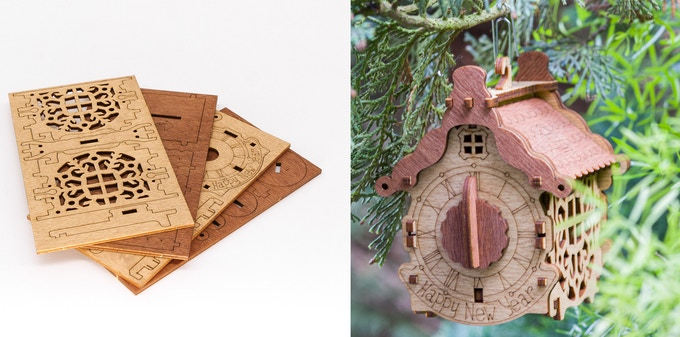 "Happy New Year" Puzzle Box is a portable vault used to wrap gifts and aimed for the New Year celebration. You have to solve a puzzle to open the box. A creative way to hide something for the event.
Wooden construction kit
A gift box and a puzzle to solve
Size: 8,0 x 8,0 x 10,3 cm
Secret space size: 7,2 x 5,0 x 6.0 cm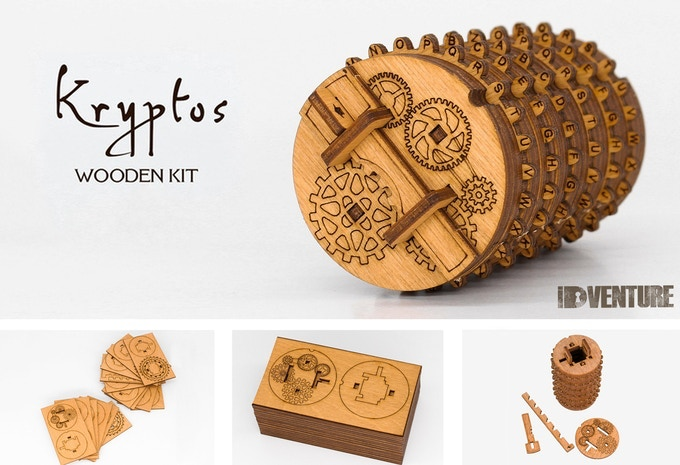 Kryptos
Kryptos is a portable vault used to hide secret messages. We have produced it as a wooden kit, giving you the opportunity to build it on your own, get insights into its mechanics, and of course hide a secret message as a present or as part of a game.
Wooden construction kit
The secret word can be reset to any word up to 6 letters.
Size: Ø 10,5 x 6 cm
Secret space size: 2 x 2 x 8 cm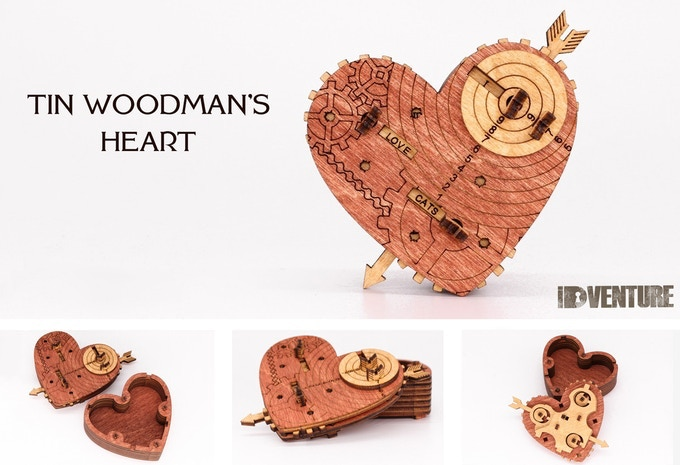 Tin Woodman's Heart – t​he inside look. Note: the product comes already pre-assembled.
Tin Woodman's Heart is a mechanical box with a changeable code lock out of 3 words. You can hide a present inside and set a romantic code such as "I love you" or make a funny message, e.g. "I love beer". There are more than 50 possible combinations, so that you can set the key sentence which suits you best.
Size: 7,8 x 7,6 x 3,8 cm
Secret space size: 7 x 4 x 1,3 cm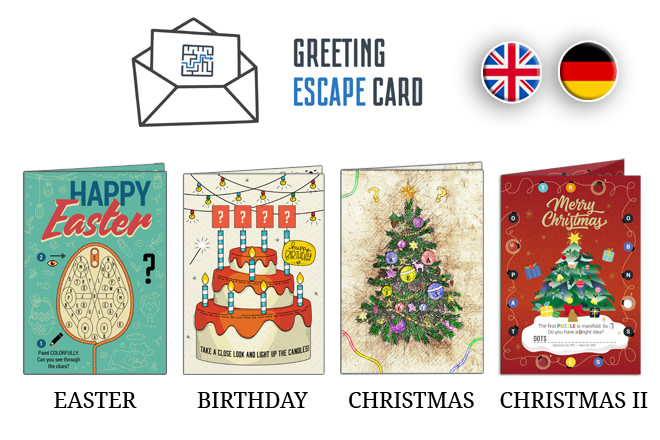 Greeting Escape Card is a concept where a greeting card meets an escape game. Each card has several riddles that need to be solved in order to read the hidden message. There is also space where you can write your personal greetings. Four types of cards above are available as an add-on, English and German editions.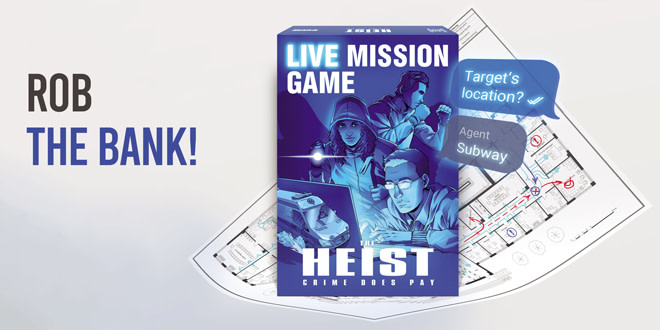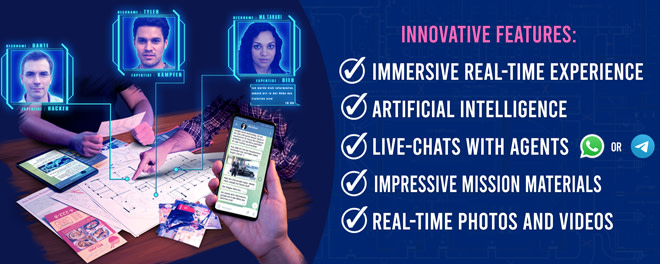 In "The Heist" you'll act as a team that orchestrates field agents in carrying out a bank robbery.
Live Mission Game is a new exciting game concept that simulates a mission in real time. As the mission leader, you are responsible for the smooth running of this operation. The game cleverly combines elements of both escape and detective games and is suitable for anyone who wants to live through a captivating mission. The game is available in English and German.
Here is a short overview of the products available as add-ons: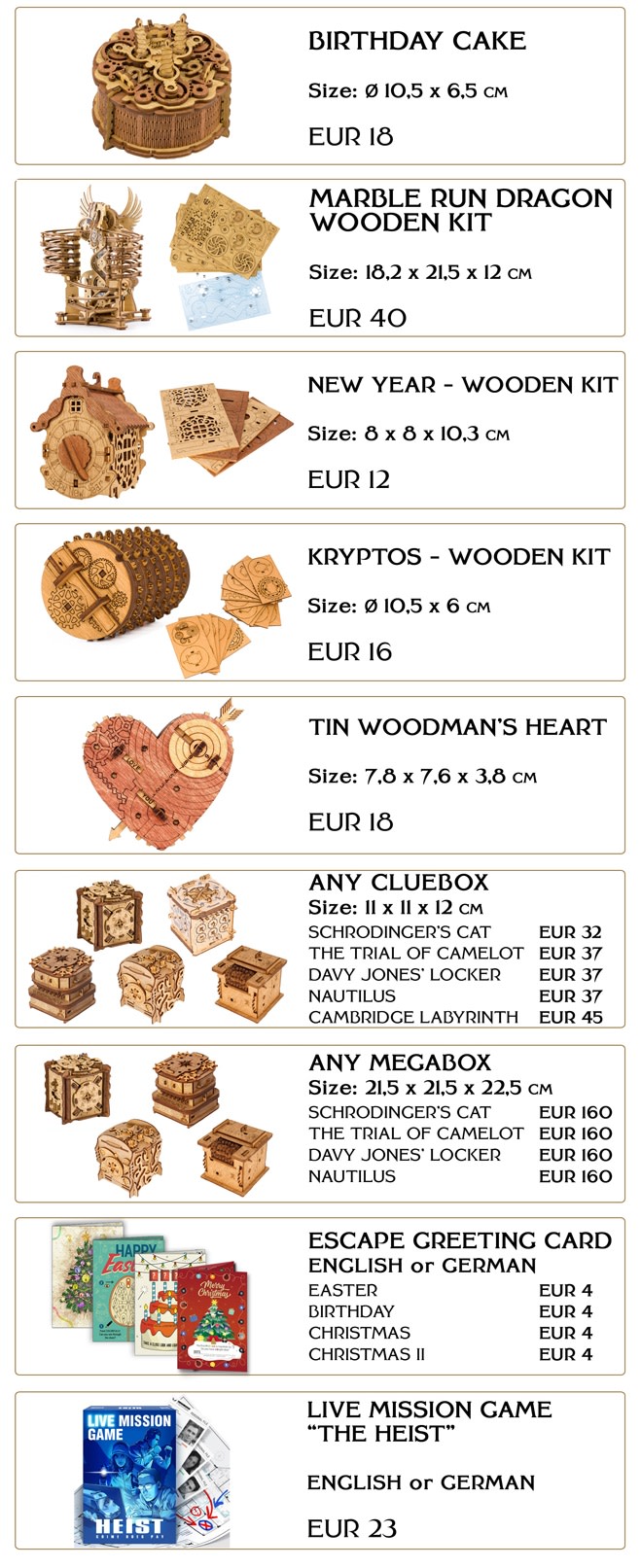 We are an international team of game and puzzle enthusiasts, mainly based in Germany. In 2016 we established a company to develop innovative board games and puzzles focusing on the escape games niche.  After the successful release of Davy Jones' Locker and Captain Nemo's Nautilus, we're very excited to present our 3rd Indiegogo campaign and will appreciate your support to bring our next Сlueboxes to life!

Every backer is important to us, regardless of location. The reality is that shipping and sales taxes are expensive. To offset this we worked with our shipping partners to get the best conditions for our backers on Indiegogo. Here are the conditions that we can offer to different regions.
Please note that shipping is not included in the fee for the perks and will be charged after the end of the campaign for your perks and any additional copies added on.
The shipping is duty-free to the European Union,  the USA, Australia and Canada.

All other countries
We cannot guarantee customs-friendly shipping in areas outside of the EU, US, Australia and Canada. There may be additional duties and/or fees charged by your country's governmental agencies and/or shipping partners. Those fees are solely your responsibility, and we can neither cancel a shipped nor will we pay those fees. In case that a package is returned or destroyed due to the non-payment of such fees, your perks will be considered fulfilled.
Approximate shipping prices are listed in the table below, but subject to change based on the perk size*.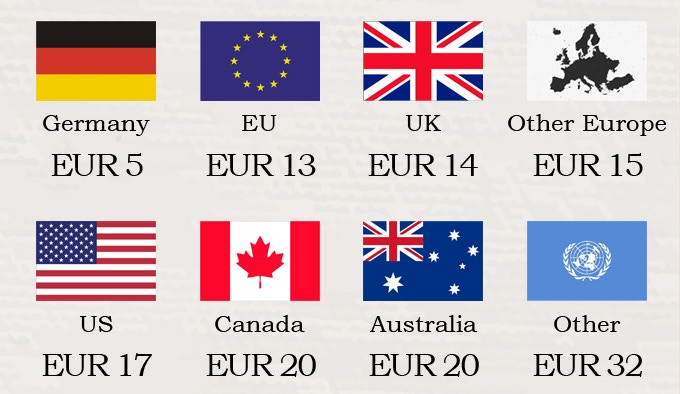 (*) We will add 1 EUR for each add-on, except for Escape Greeting Cards.
The delivery in Germany is free of charge for all perks containing more than 1 Cluebox.
Risks and challenges
General information
This is our third Indiegogo campaign as iDventure Team and the fourth and fifth Clueboxes that we will produce. Our first Indiegogo Campaign – Cluebox Davy Jones' Locker – was supported by more than 4065 backers with thousands of boxes shipped to over 30 countries. Our second project Cluebox Captain Nemo's Nautilus, supported by 4459 backers, was even more successful and we managed to ship the pledges in time to our backers all over the world. Having gained valuable experience during the last two years we are confident to start the shipping in time. In case of unexpected delays, we will maintain clear and open communication with our supporters to keep them informed.