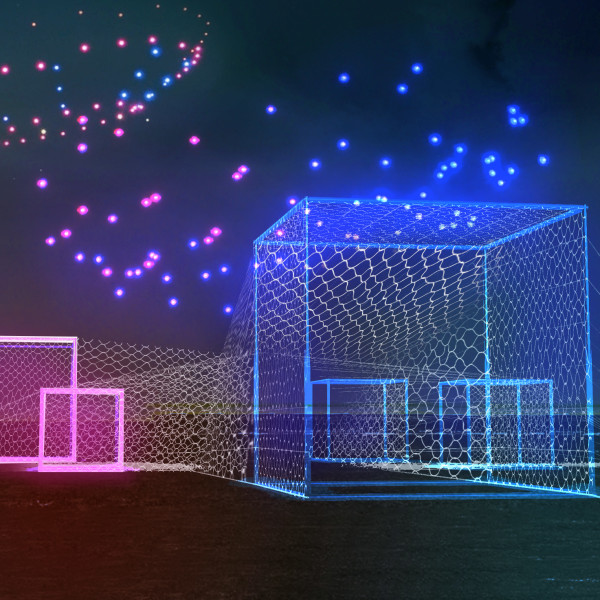 Convergence
$1,130
raised out of
$75,000
Overview
https://youtube.com/watch?v=731870018
Concept
An immersive drone experience. Be part of an entirely new art form!
Story
Drone shows are an incredible new art form with limitless creative potential. This year at Burning Man we're taking it to the next level with Convergence. Burners will literally be inside the drone show for a mind-blowing, immersive visual experience featuring cutting-edge lighting technologies and a beautiful net structure. 
The playa provides the perfect setting for experimentation and innovation. Cutting-edge lighting technologies—on the ground and in the air—will be deployed in concert with a beautiful net structure to allow unique viewing experiences. Even better, the drones will be powered by a solar panel array installed on the playa, which afterwards will be donated to Burning Man for future use elsewhere.
We are the Convergence Collective and have been contemplating flying drones on the playa for years. After COVID cancelled our 2020 plans, Nils and Mason flew a series of impromptu shows with Studio Drift last year at the Renegade Burn. This year we're excited to further broaden our creative horizons with an amazing team of artists. 
Nils Thorjussen  Experienced drone and entertainment technology entrepreneur
Mason Hayes  Pilot of the Renegade Burn drone shows
Cory Fitzgerald  Concert designer and creative director for artists like Bruno Mars and Beyonce
Daniel Zeese and Cameron Chateauneauf  Net designers (structure)
Greg Pliska  Composer
Tom Kramer  Long-time burner and Camp Random Pants cofounder
To get an idea of where we're headed, watch the video below from this America's Got Talent. Here you can see Nils put Terry Crews in a cage to give him the best seat in the house. We'd like to build on this experience and share it with the Burning Man community.
Your participation in this fundraiser is instrumental to making this innovative—and environmentally friendly—art form a reality. Imagine being part of start of fireworks and helping create something for generations to enjoy around the world.
We are fundraising to cover the costs of delivering a full experience and take things to the next level. To be clear, we wish to operate the true spirit of Burning Man; no one on the team is being compensated and the drones are supplied free of charge. Likewise, the structure is being produced for a fraction of what it would have cost otherwise.
Regardless, significant resources are needed for:
The structure & netting
Solar panels
LED lighting on the structure
Rental of search and wash lights
Audio systems
Cutting edge lasers mounted above eye level
Generator to power lighting
Transportation of equipment on and off the playa
And to make things even better, we will be working with the Burning Man community to design the world's first crowd-sourced drone show: radically inclusive, communal participation and self-expression with drones! The community will be able to submit and discuss content ideas online over the summer, view them through rendered previsualization videos, decide on the best ones, and see them come to life on the playa!
Come join us as we help create a new art form!