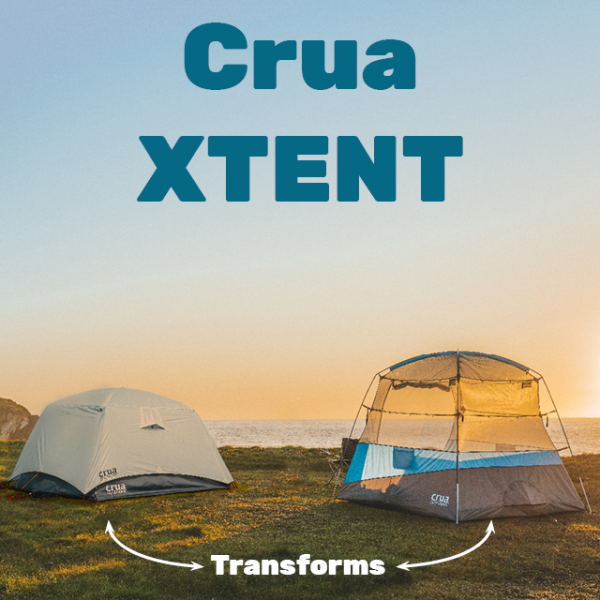 Crua XTENT – Transformable, All-in-One Tent
$303,261
raised out of
$15,000
Concept
Versatile, Lightweight and Easy-to-Use 2 & 3 Person Tents. Warm in Winter and Cool in Summer.
Story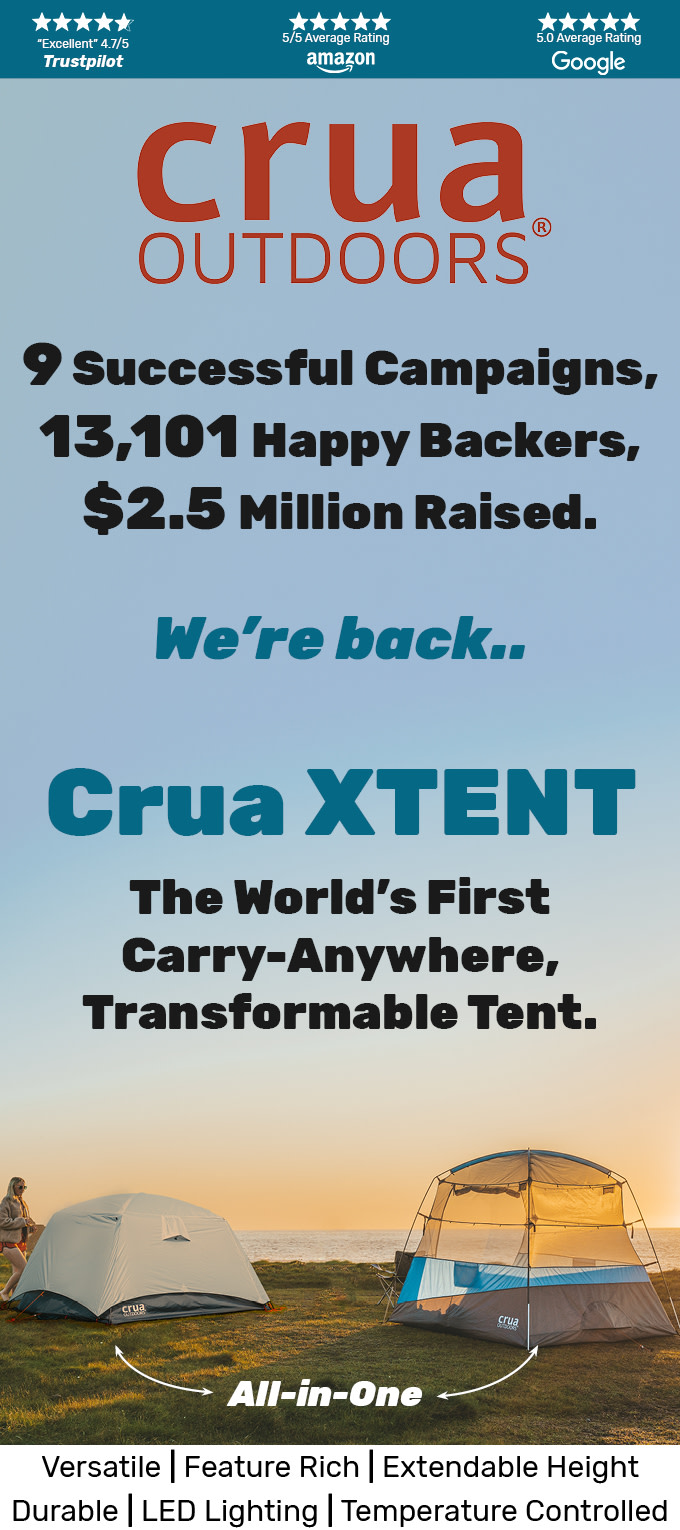 Our Founder Derek Answers Your Q's!
You've had a few design-related questions, so we created a quick explainer vid.
(We'd love to tell you that we planned on getting stuck under that rain).
You wanted a tent that
could do everything

..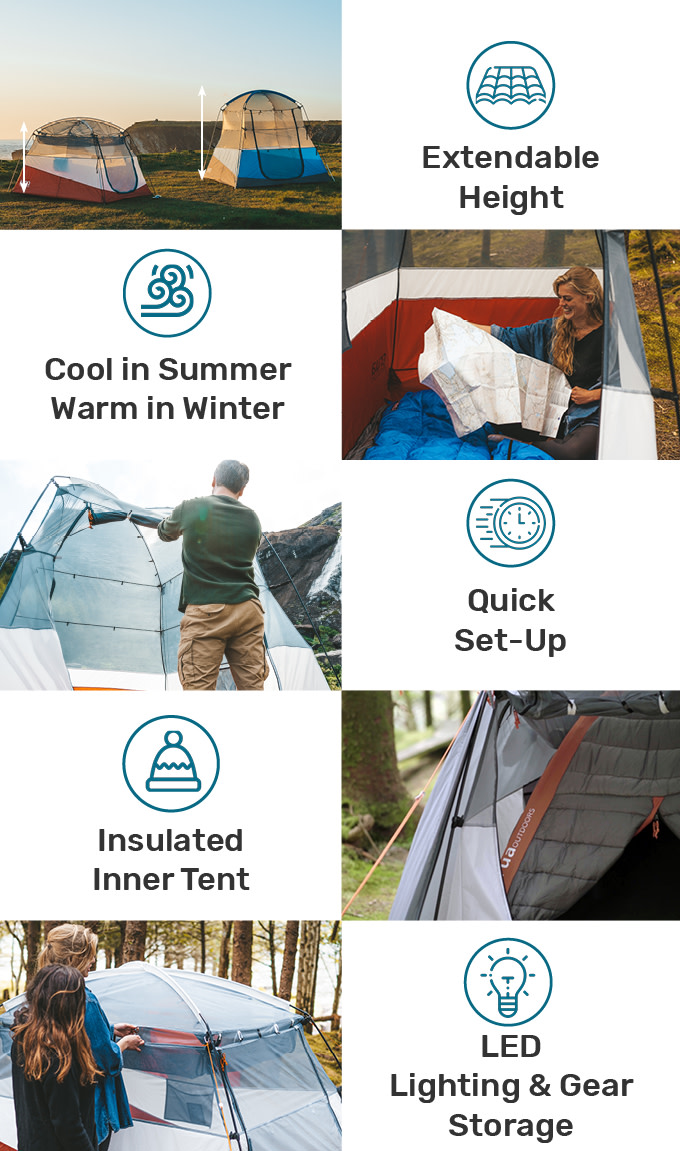 ..You wanted to be well-rested.
To be warm in winter, cool in summer. 
You wanted space. 
Space to stand up and no longer feel cramped and awful.
And you wanted weather protection. How do you get both?
– It EXTENDS VERTICALLY.  
In a matter of seconds, you can pop-up the XTENT to an extremely roomy, standing tent.
We'd like to see another 2-3 person tent do that.
Why a Standing Tent?
No longer will you be hunched over all day if there's an unexpected downpour.
Today is the day you can put on your pants like a regular person.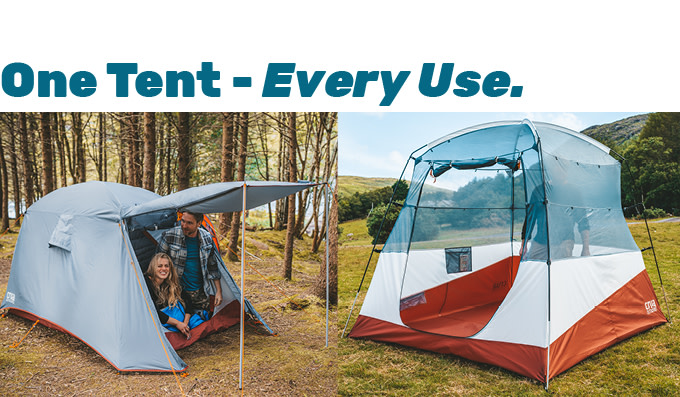 But when the weather gets rough, lower the tent and have a secured night sleep.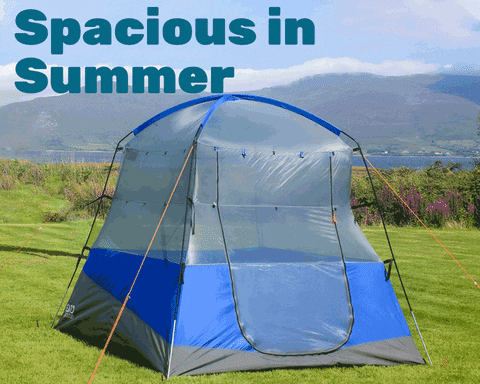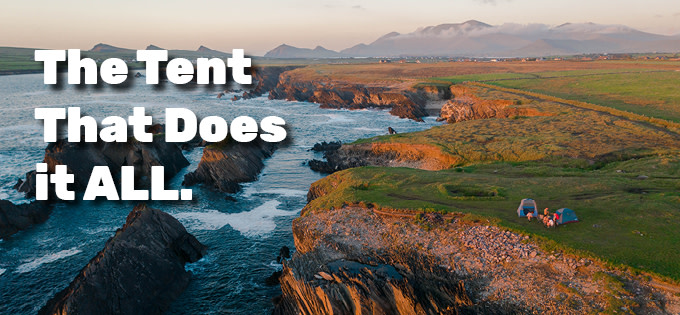 We spent the last two years developing the XTENT. 
We worked tirelessly to create an easy-to-use, all-round tent.
The only strings attached are our awesome guy ropes.
Quick and Easy Setup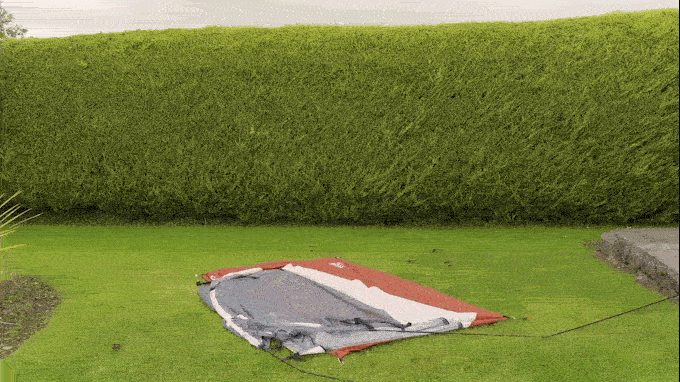 With two main poles connected together, you'll have the XTENT up and ready in no time.
Packed with Features.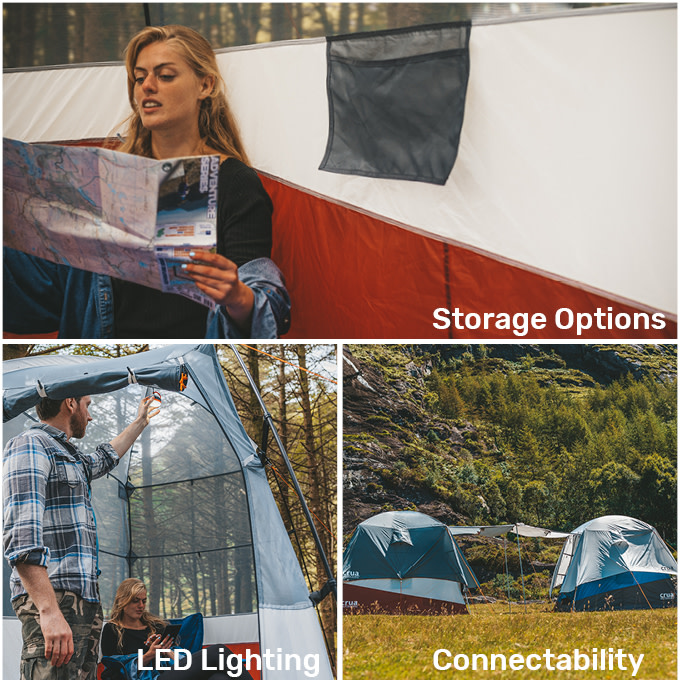 It's your perfect-for-any-situation tent.
Yeah. You've found the only all-rounder.
Perfect for Any Situation.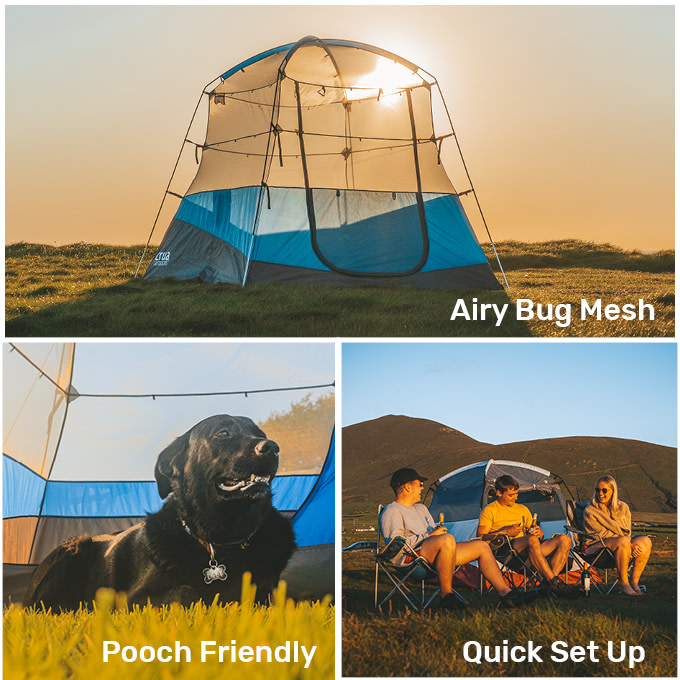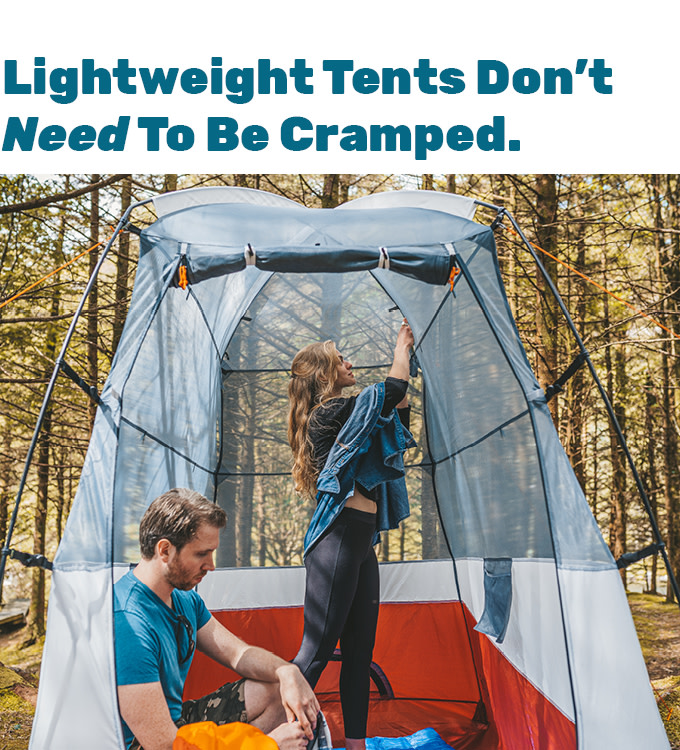 They simply don't. You can have a big, roomy tent that fits on your backpack.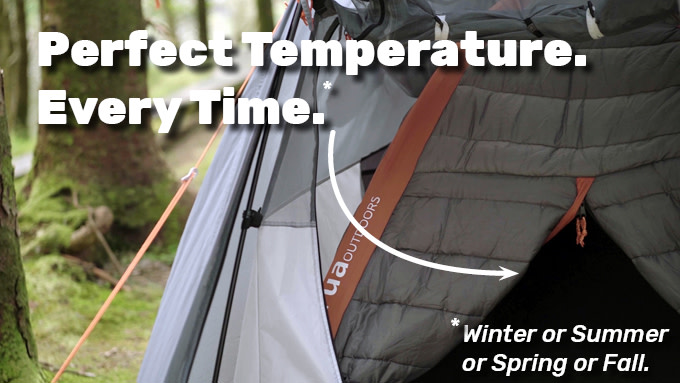 Our new-and-improved Crua Cocoon V2 dampens sound, blocks out light AND is temperature-controlled.
The result? You'll sleep in the wilderness just like you would in a cosy bed at home. Bliss.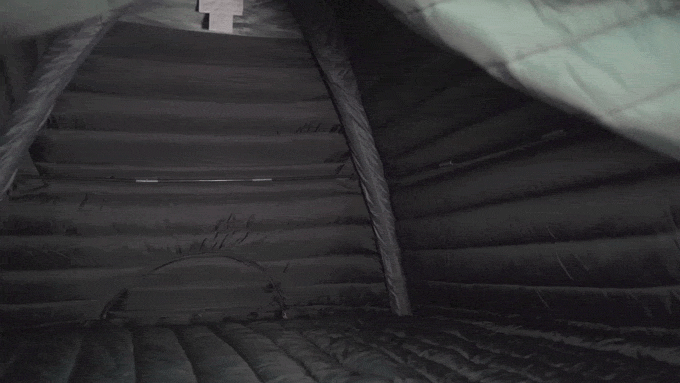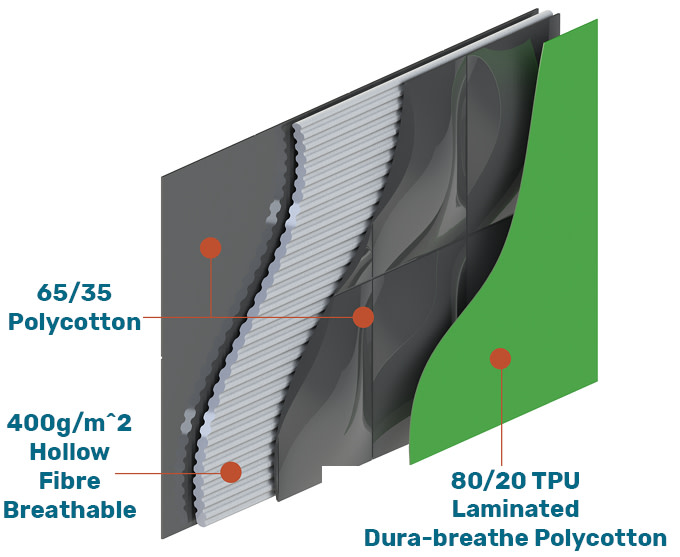 The Crua Cocoon V2 is used as an inner tent. Simply place inside your XTENT and inflate the two air beams. 
It takes less than 2 minutes to set up.
(And about as much effort as opening 2 bananas).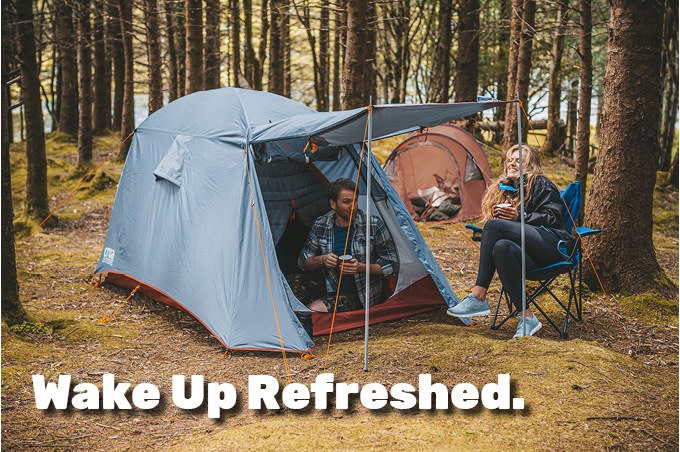 Quick-and-Easy Air Frame Technology.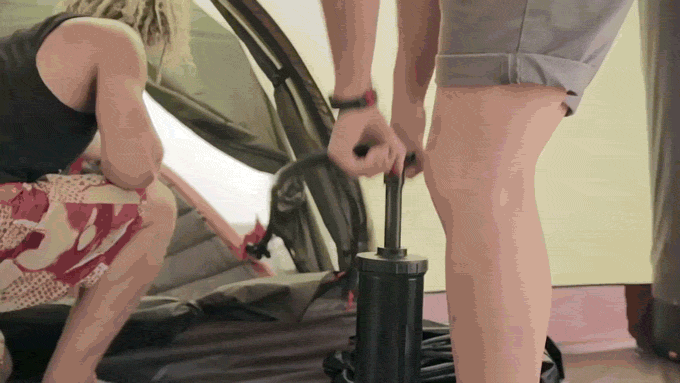 The XTENT is perfect for:
 

Hiking

adventures
 

Bike

packing
 

Kayak

Touring

Festivals

A day at the

beach 

 
 

Car camping

trips
The

backyard

to keep bugs at bay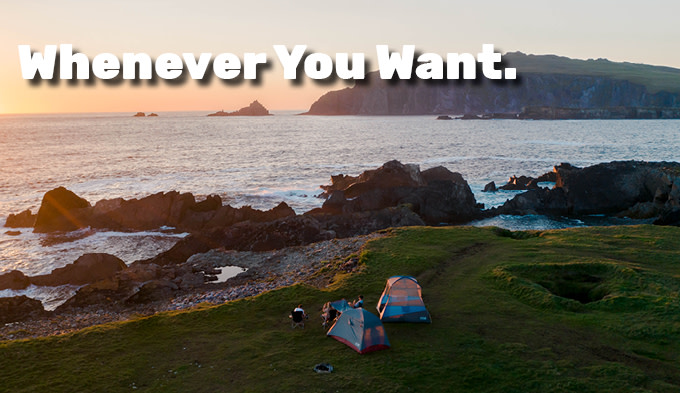 ​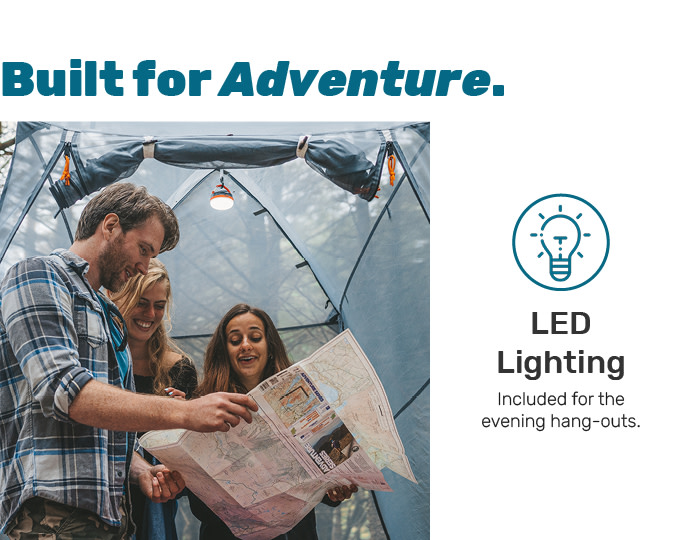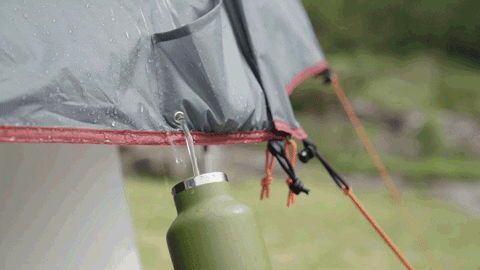 Always check

local laws

regarding the collection of rainwater. We would never endorse the collection of rainwater where it is not legal. 
Rainwater Collection should be used primarily for tasks like

washing clothes

or

hiking boots

.
Please ensure your flysheet is

clean

and free from debris before using.
Rainwater Collection must be used along with

a

secondary filtration device.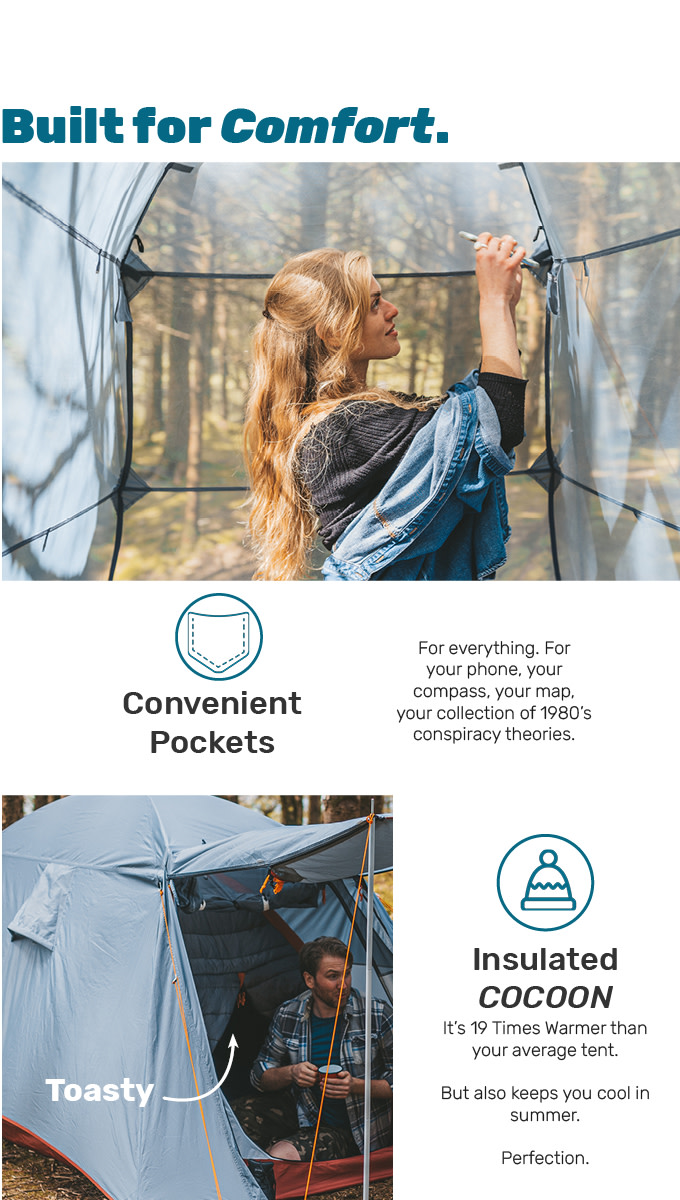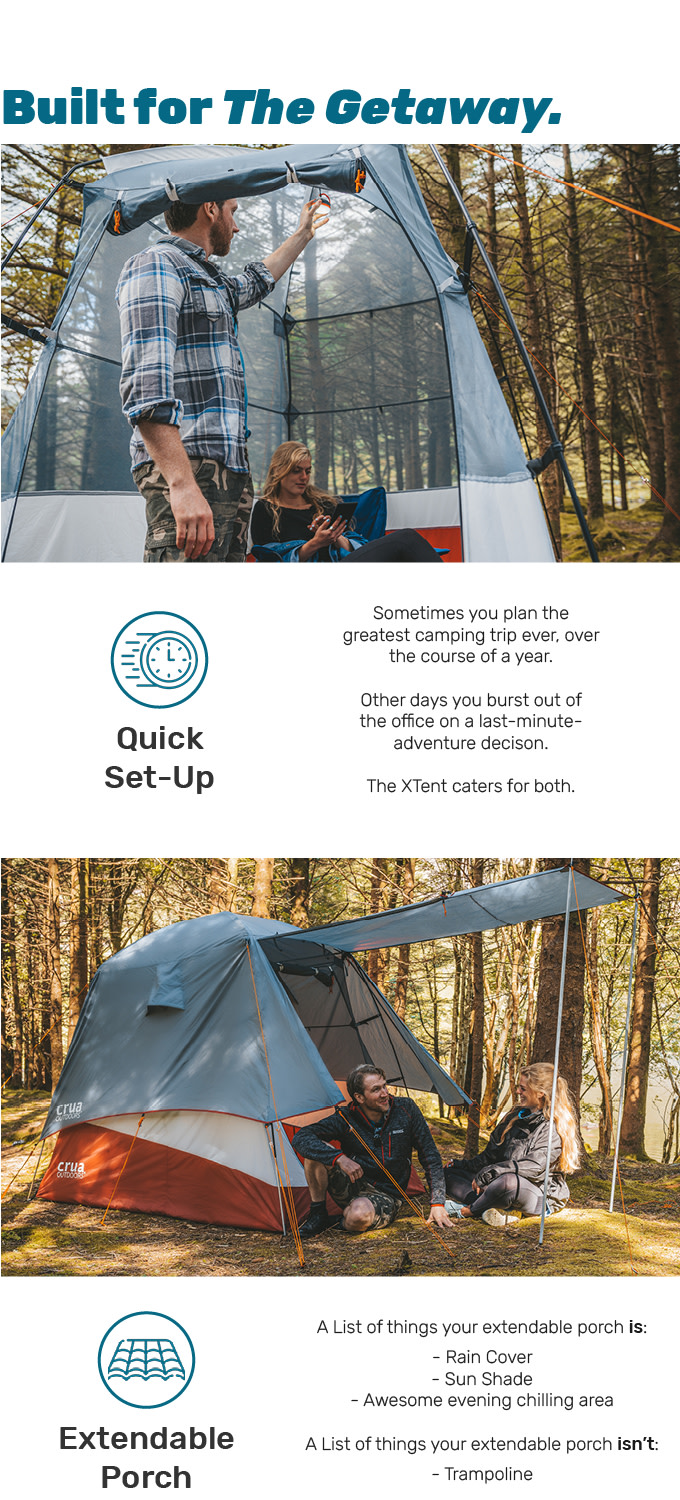 One XTENT is great. But the real magic is when two come together.
Join forces with your camping buddies and connect the porches for an ultimate outdoors experience.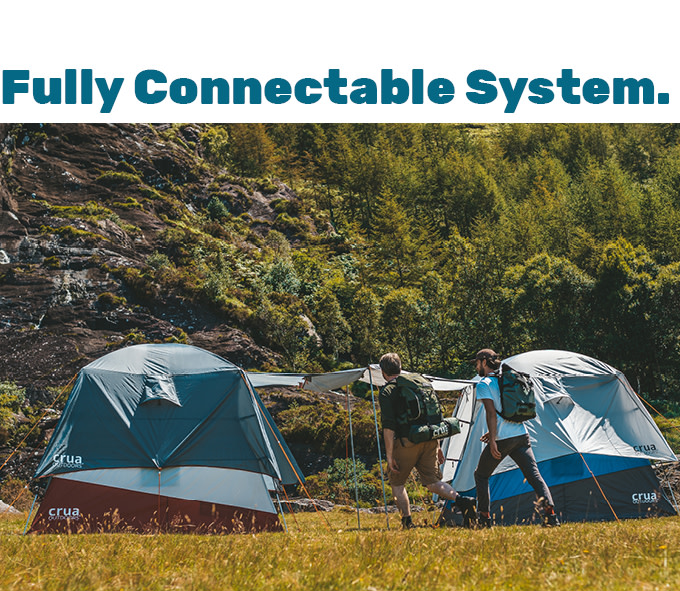 Wet gear is awful. So to soothe your worries, get a Crua Storage Hammock with any full kit. It attaches to each corner of the tent, with the height at your discretion. 
Inside Dry Storage: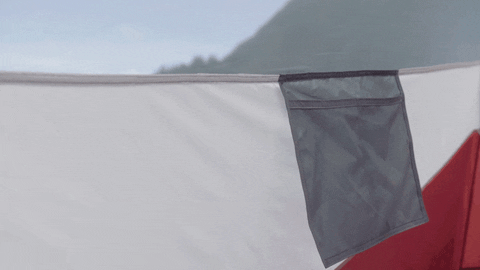 There are also tonnes of handy pockets inside. Perfect for your phones, wallets, secret diaries. Whatever. 
Transforming Pocket Awesomeness.
Here's a bit we love. When the XTENT is lowered, the excess material forms another storage area. We've used this for wet gear before- but only if you're using our Cocoon Inner Tent.
 

PREMIUM

Grade Materials.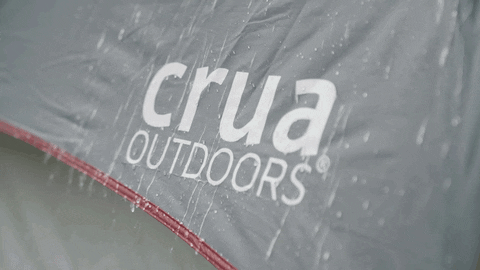 We use only the highest grade materials on Crua products. Polyester 185T, Oxford Polyester 150D (both HH 5,000) and aluminum (or aluminium in Ireland!) poles.
 Tested, Tested, Tested.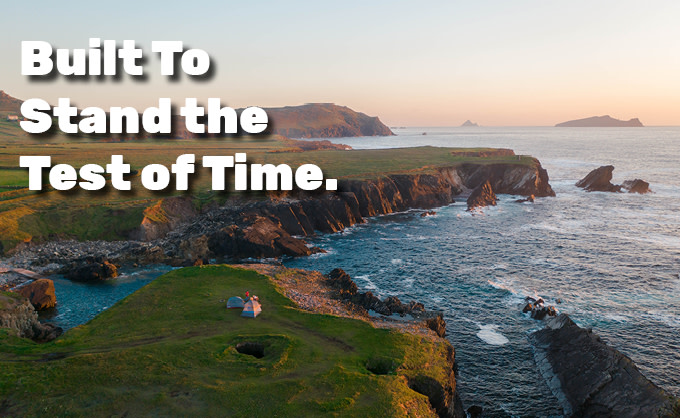 We spent a lot of time testing out the XTENT on the rugged, unforgiving west coast of Ireland.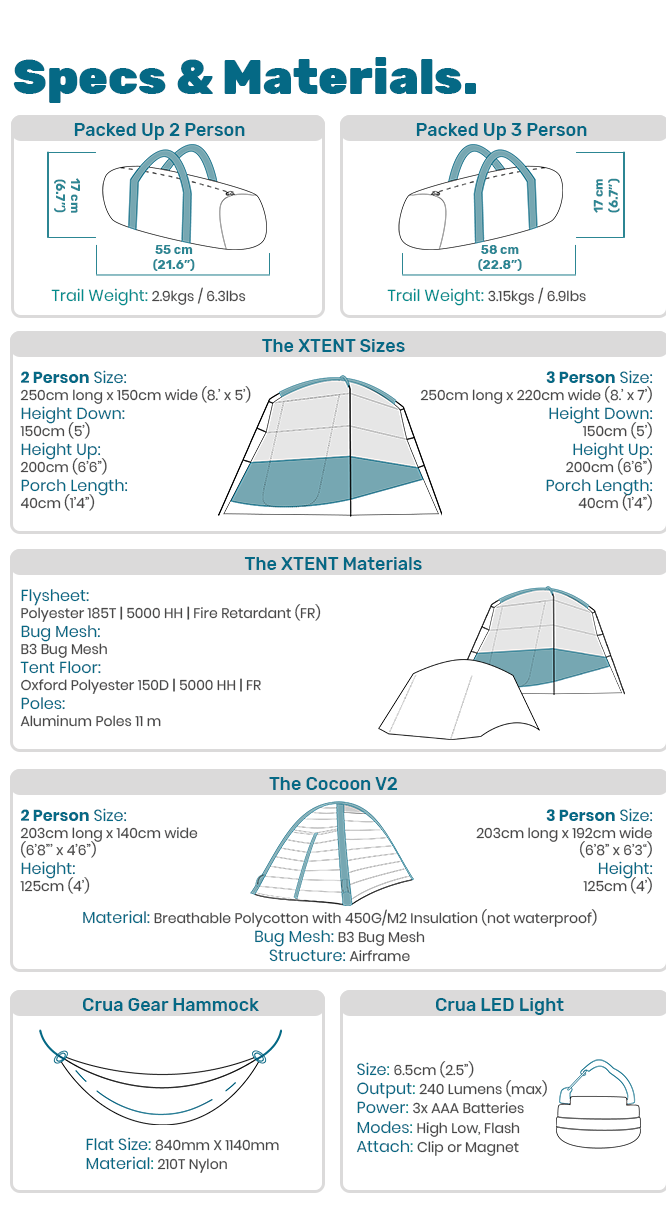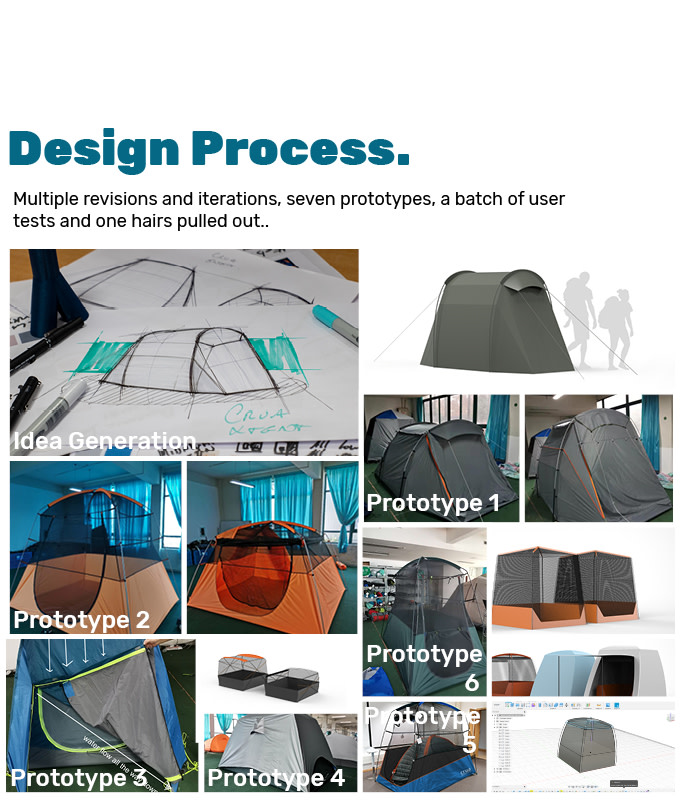 Setup Video
It's a breeze!
Thank You!
We are overwhelmed by the early support for the XTENT. Here at Crua, we take immense pride in being built from the crowd. Right from the very beginning, you've helped us with design and development. Now, you're bringing the project to life.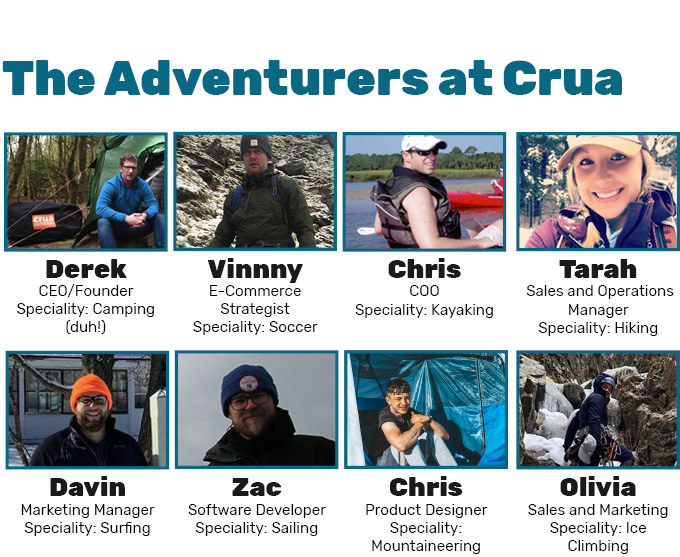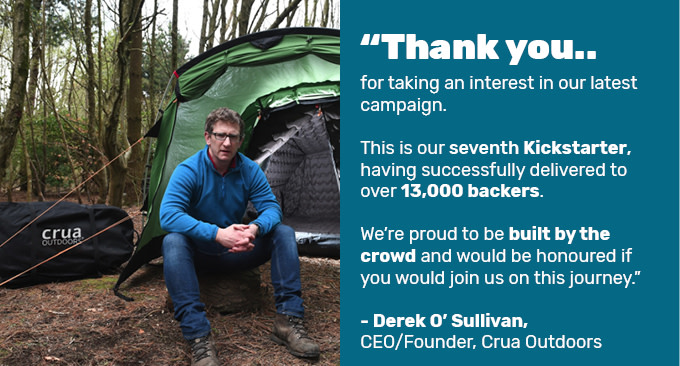 Who are we? 
At Crua, we're a team of outdoor enthusiasts and adventure lovers. With one office in Co. Kerry, Ireland and another in Adirondacks, NY, USA, we're perfectly situated to design and develop great gear. We take immense pride in creating the best possible outdoor experience for you. We make the world's toughest tents. You can trust our experienced craft.