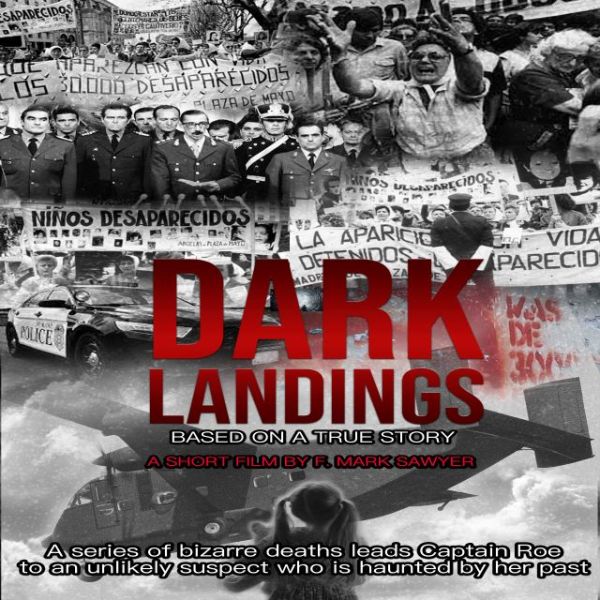 DARK LANDINGS – A Short Film
$2,452
raised out of
$75,000
Overview
https://youtube.com/watch?v=734235992
Concept
Thousands died in Argentine "death flights" in the 70's. Will it happen again here in the US?
Story
A series of bizarre deaths leads Captain Roe to an unlikely suspect who is haunted by her past  — Skye Tanner.
Skye is a young daughter of a US diplomat who lives in Buenos Aires in the 1970s. She has nightmares about the secret "death flights" the military junta uses to kill "dissidents." She encounters Witness, a creature in what is later known as The Dreamscape. She has an innate trust of Witness, who grants Skye the choice to have a fully normal life until age fifty before deciding how to handle violent radicals who want to send their enemies on death flights.
Even as she has mostly forgotten Witness and her dreams, Skye's life proceeds as promised. Eventually, Skye remembers them on her 50th birthday in 2017. She's horrified to see extreme radicals in the USA wearing "Pinochet Did It Right" T-shirts. Pinochet of Chile used helicopters for death flights around the same time as planes were used in Argentina.
After realizing this, Skye experiences utter horror. When Witness emerges, Skye decides to stop death flights from occurring in the USA by using her own abilities in The Dreamscape — a result of which is to come under the scrutiny of Captain Roe and her team of homicide detectives.
*  *  *
Dark Landings is based on a True Story.  Sandra Scragg was the diplomat's daughter in Buenos Aires. She was (unknowingly) driven past the torture center on her way to school, the death flights took off in darkness only kilometers from her upper floor home.
Dark Landings Short stands on its own and we are thrilled to welcome Nike Imoru, in her directorial debut. It will also serve as a proof of concept for an already-written episodic (two seasons of ten episodes each) with the same name.
Dark Landings reveals Argentinian and US history and brings it to the present!
Your donation will make the short film Dark Landings a reality, and will bring us the interest and financing that will make the whole two season episodic happen!
Thanks for any support you can give — and may you enjoy many of our Perks!
——————–
LINKS:
Website: http://fmsawyerproductions.com/ http://darklandings.com
Instagram: https://www.instagram.com/darklandingsofficial/
Facebook: https://www.facebook.com/DarkLandingsOfficialPage
Twitter: https://twitter.com/DarkLandings