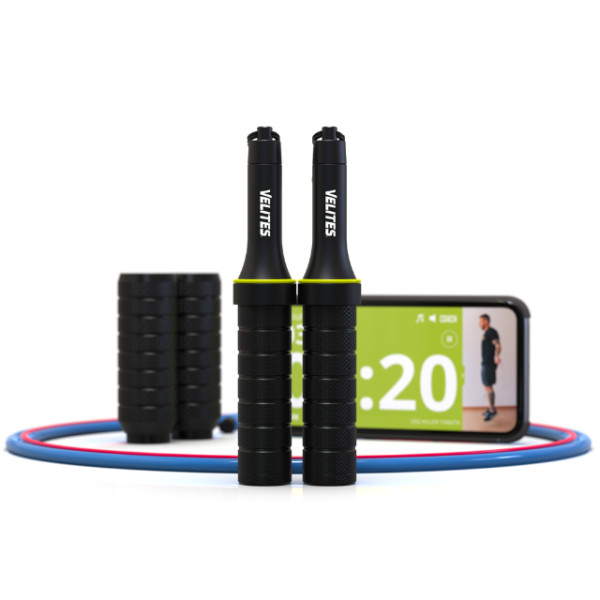 Earth 2.0 Jump Rope Fitness System By Velites
$476,252
raised out of
$8,000
Concept
Just a Jump Rope? No way! Velites Earth 2.0 is a complete fitness system to get you fit in no time!
Story

Time-Tested Training 
Jump roping is not new. Some of the earliest versions of our modern jump rope date back to Egypt in 1600 A.D.! Since then, jump roping has been the training method of choice for elite athletes seeking to improve balance, endurance, coordination and muscular response. But… Why has nobody improved such a practical and effective piece of equipment over the centuries?
Fun Fitness For All
Well… we just did! The Earth 2.0 Jump Rope is a completely redesigned and reimaged version of the jump rope that you've known and loved. Optimized for accessibility, ease of use and enjoyment – this is the jump rope you've been looking for! Remember your childhood when physical activity felt like play? Velites brings the fun back to fitness with the Earth 2.0 Jump Rope.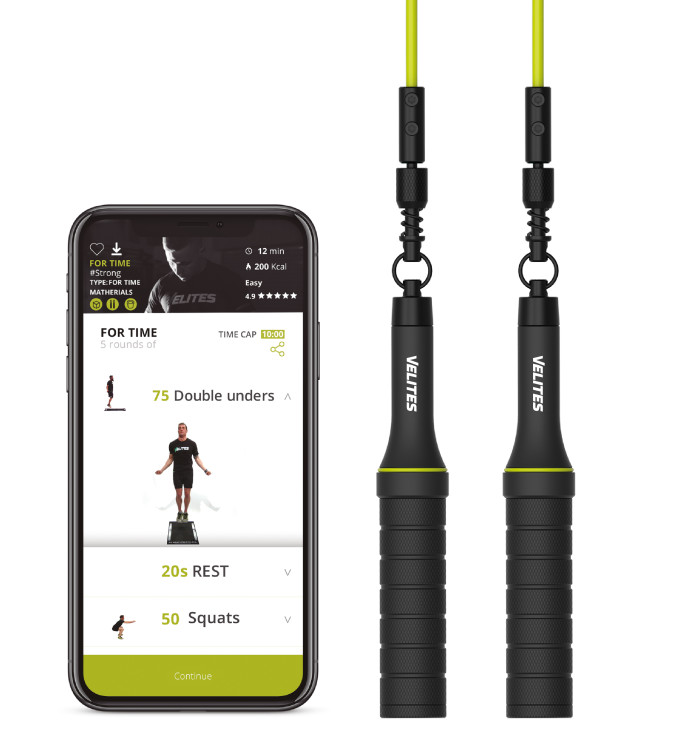 Maximum Calorie Burning
Not only is jump roping one of the simplest activities, but it's also, by far, one of the most effective and efficient ways to burn calories! Jump roping burns more calories than cycling or jogging – all without leaving the comfort of your home.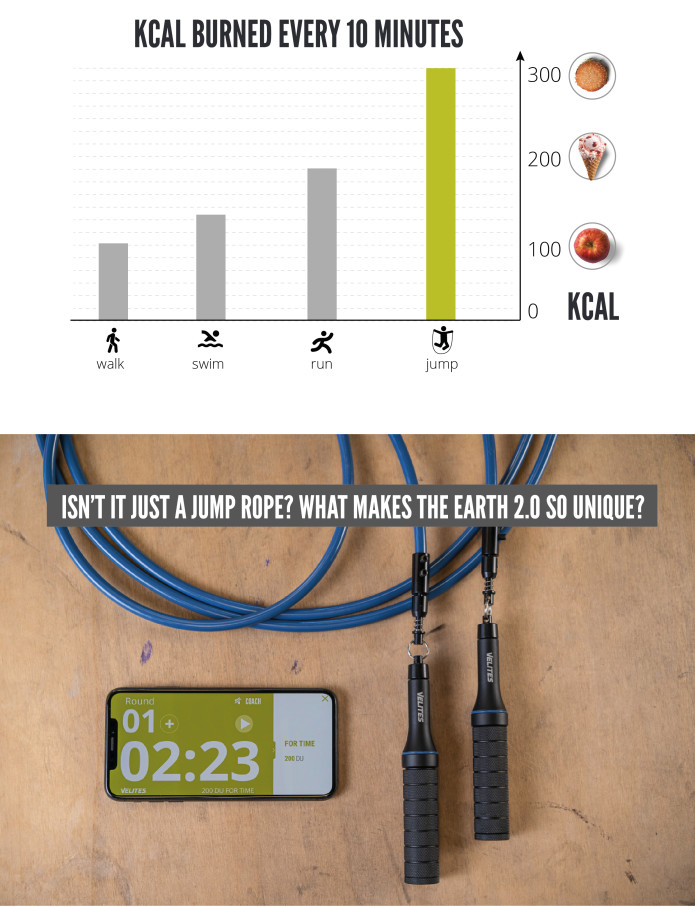 Albert Einstein once said: "Insanity is doing the same thing over and over again and expecting different results." And the path to fitness is no different! In order to continue progressing toward the stronger, leaner you that you want to be, you need to mix things up! Muscle confusion is the name of the game, and we've designed the Earth 2.0 Jump Rope to make it easy. 
With three different cables to choose from and our unique fast switching system, you can go from crushing double unders to extreme muscle building at the drop of a hat. 
* This image is a render to showcase how the product works. If this message does not appear under the photo you are looking at the actual product photographed. 
Achieve maximum speed and agility to conquer the elusive triple under with our 2.5 mm Speed Cable. It's your best friend when you want to go fast and furious.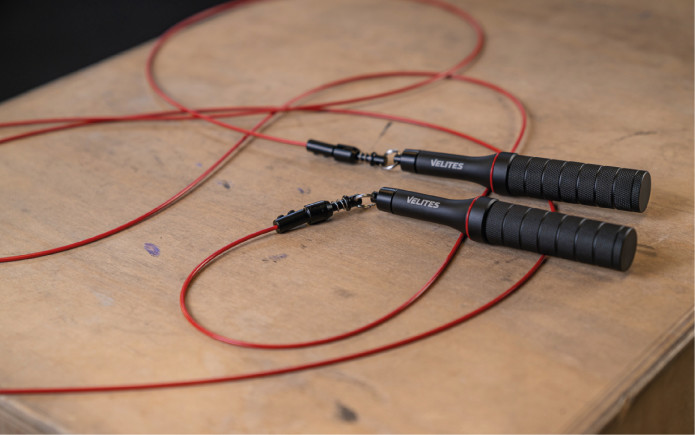 The perfect middle ground – our Standard 4 mm cable is the do-everything champion. Ideal for beginners, the added weight increases feedback and has the perfect speed for getting in the "swing" of jumping. For more advanced athletes looking to increase the difficulty level, the Standard Cable provides additional weight to make high-intensity workouts even more effective.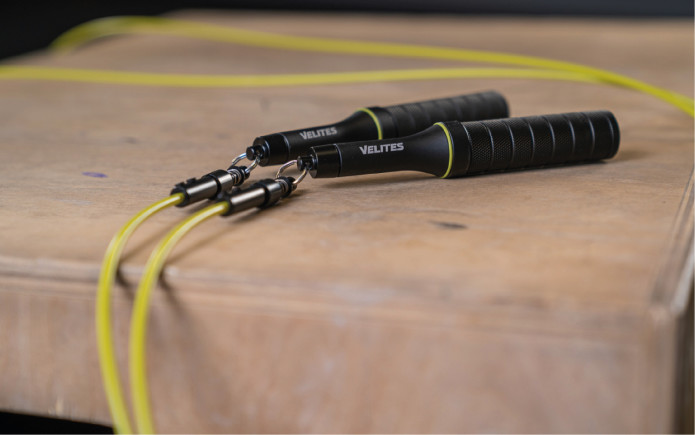 Want to go beast mode? Our 8 mm Monster Cable will bring the fire! A true heavy cable for developing muscle and pushing your body to the limits!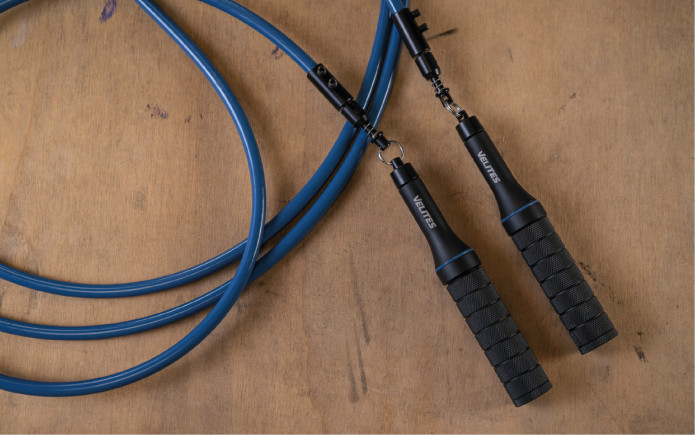 Heavy cable not hard enough? You haven't seen anything yet! If you want to level up the weight, we added another option that allows you to tailor the Earth 2.0 Jump Rope to your goals – handle weights!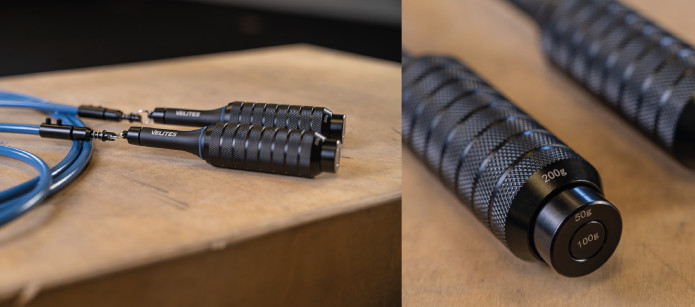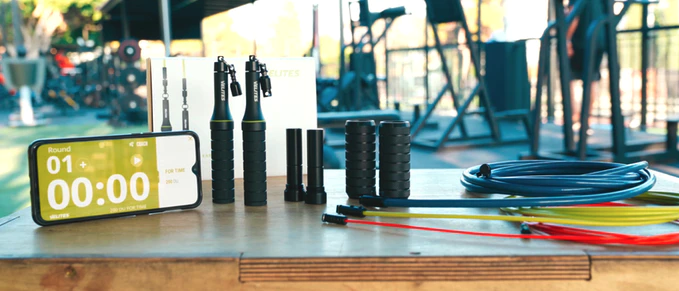 Increase the total weight up to 5X in seconds! Just swap the cable and add the weights.
Take it from 200 grams up to 1 kg! Can your jump rope do that?
* This image is a render to showcase how the product works. If this message does not appear under the photo you are looking at the actual product photographed.
Handle weights provide 9 different combinations to dial-in the perfect amount of resistance. Start with 50 grams and work up to 350 grams extra weight per handle! Can you "handle" it?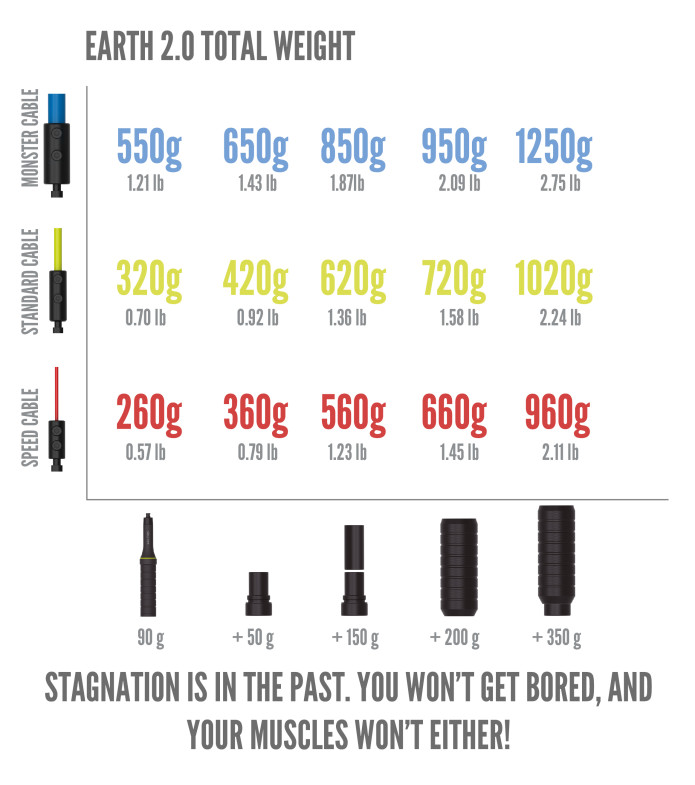 Tired of jump ropes that can't take the punishment and fall apart within months? The Earth 2.0 Jump Rope is not your average plastic jump rope. We use rocket-grade aluminum and stainless steel to build our handles, weights, connectors and cable interiors. We're so confident in our construction that we offer a 2-year guarantee for all handles and weights!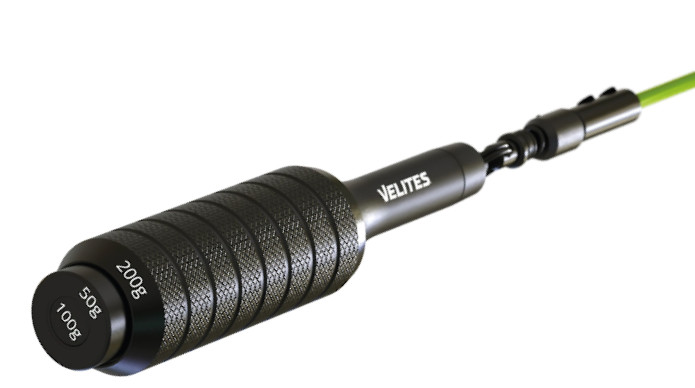 * This image is a render to showcase how the product works. If this message does not appear under the photo you are looking at the actual product photographed.

Extra Durable PVC Cover
Weak cables are a common flaw with jump ropes and often become the first part to wear out or fray. Worn cables reduce performance and put you at risk for injury. The Earth 2.0 Jump Rope cable is engineered for maximum durability with a flexible but wear-resistant PVC cover that has been field-tested to hold up against multiple surfaces.

* This image is a render to showcase how the product works. If this message does not appear under the photo you are looking at the actual product photographed.
* FOR OPTIMUM PERFORMANCE AND LONGEVITY WE RECOMMEND USING THE VELITES JUMP ROPE MAT.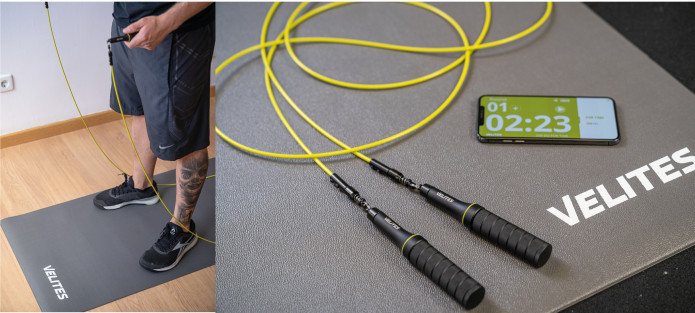 Ferraris are fast, right? So we included an automotive double ball bearing system to ensure the fastest, smoothest rotations possible. You'll have to feel it to believe it!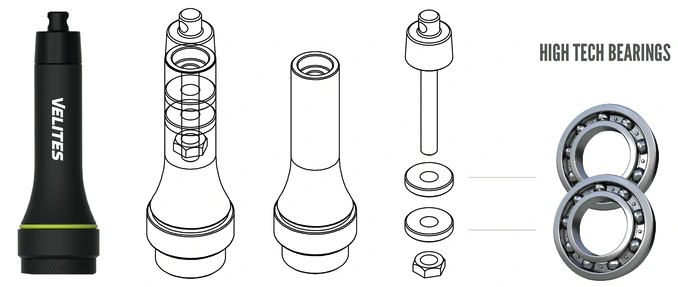 Months of engineering and testing went into building a high-tech ball bearing system that's like no other jump rope on the market. And our hard work paid off! Don't let clanky connections ruin your workout!

The Earth 2.0 Jump Rope is super easy to adjust. Follow these easy steps, and you will be training in no time.
All cables are 3,5 m long so they adapt even to NBA players and are easy to cut with regular pliers (even the monster 8 mm cable).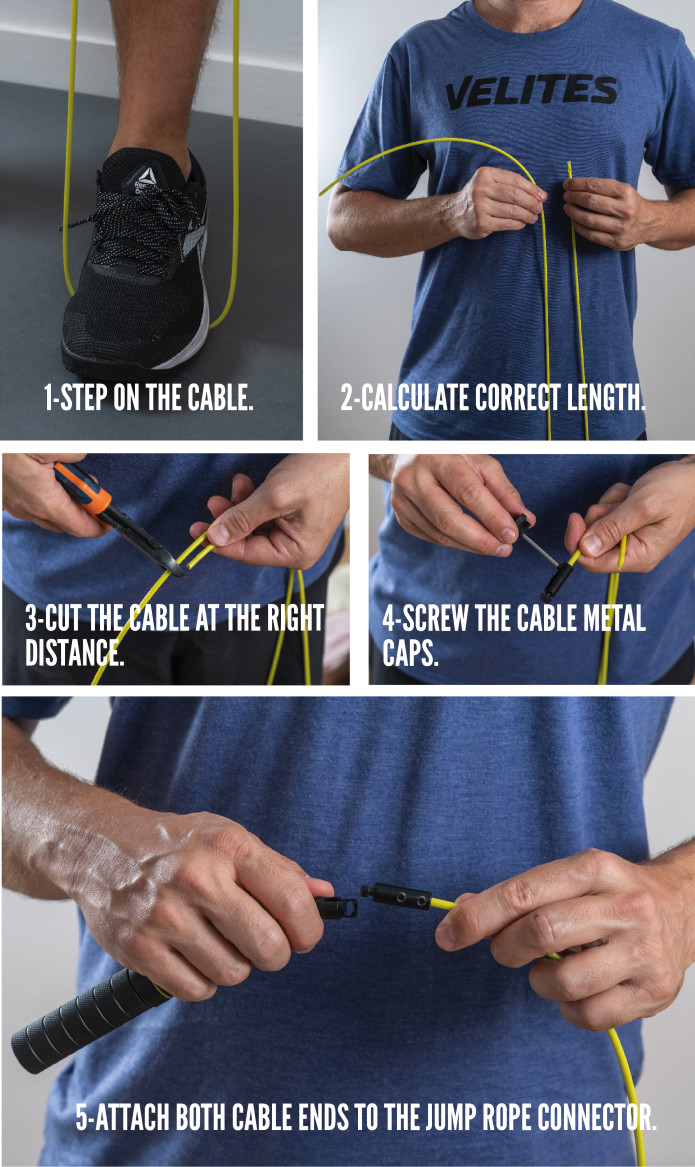 We are not kidding – the Earth 2.0 Jump Rope includes an iOS/Android training app. It's the portable trainer who fits in your pocket! You're not left on your own trying to figure things out – we're giving you the tools to stay motivated and excited about your new routine.
Check out the video with the App Prototype and demo workout. Understand the difference between working out alone or with the Velites Training app: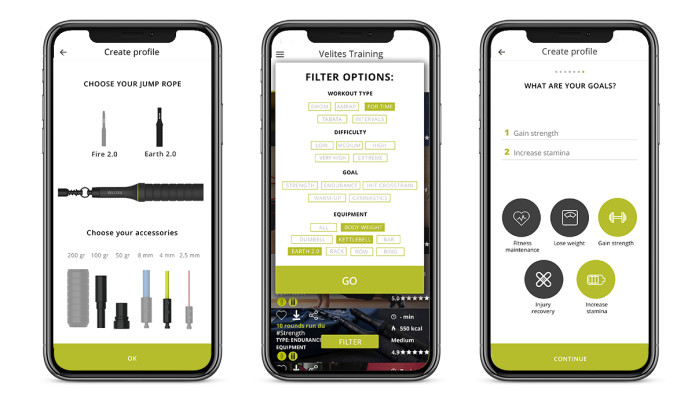 On-demand training programs mean that YOU set the schedule. No more excuses! Morning? Noon? Night? No problem. Your next workout is just a few clicks away.
Our backers will have access to these exciting new features:
Coach Mode! When you need that extra motivation, our proprietary Coach Mode is the voice in your ear (or headphones) that will provide that extra boost of encouragement when you need it most. 
1000+ workouts! No matter what your experience or fitness level, we have a workout for you! And with over 1000 to choose from, you'll never get bored of doing the same thing over-and-over again. A complete database with movement explanations to help you understand how to perform each exercise with perfect technique at your fingertips.
Complete personalization! Add your fitness goals and what equipment you have on hand, and you'll receive customized workout recommendations tailored to your preferences and goals. Use the filter option or configure you profile with the equipment you would like to train with.
Track your progress – Add your results after each workout and get statistics directly from your training sessions.  Your fitness goals will be much closer every day when your performance is tracked.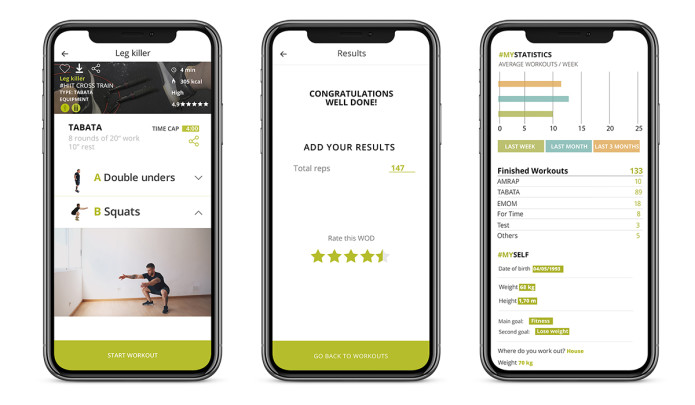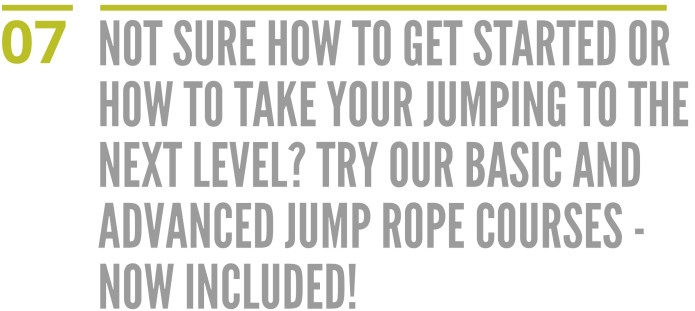 Regardless of whether you've ever picked up a jump rope before or if you've been jumping for years, our NEW Velites Step-By-Step Jump Rope Course designed by World Champion Jump Roper Adrienn Banhegyi will guide you to training success!
Go from zero experience to double unders in 14 days! Earn points for completing each chapter and see consistent progress through daily exercises.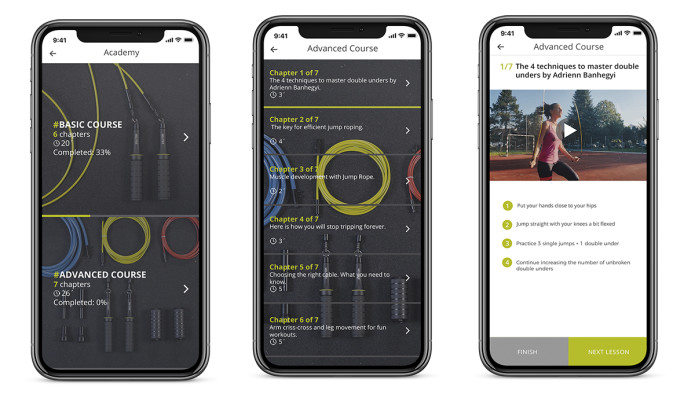 Learn from the expert to achieve perfect technique, avoid injury and progress faster than you ever thought possible. With this training course, you can master jump roping regardless of your current level of experience.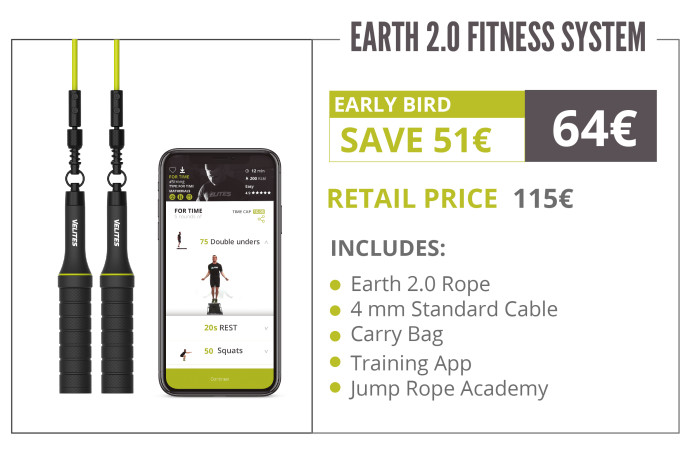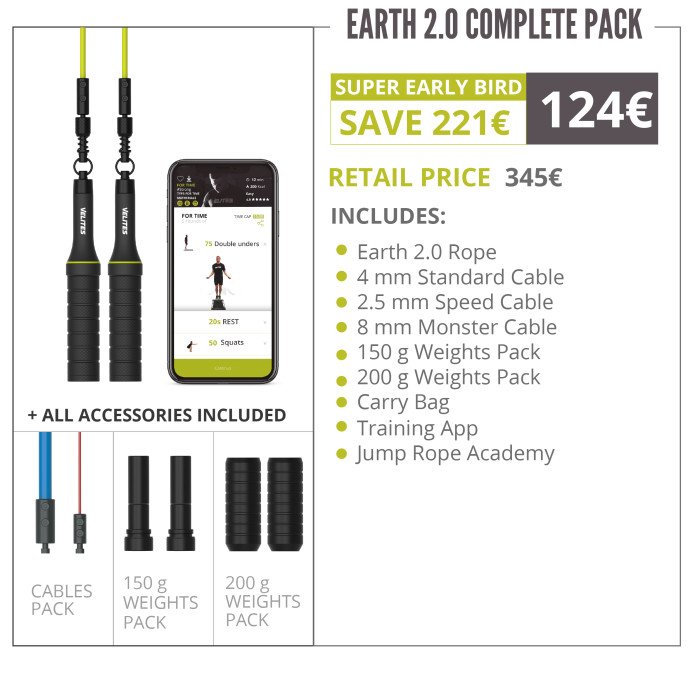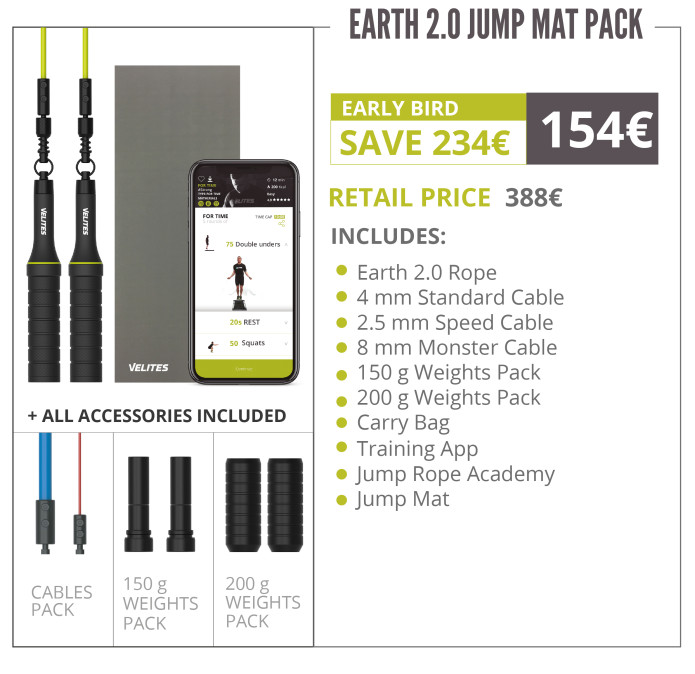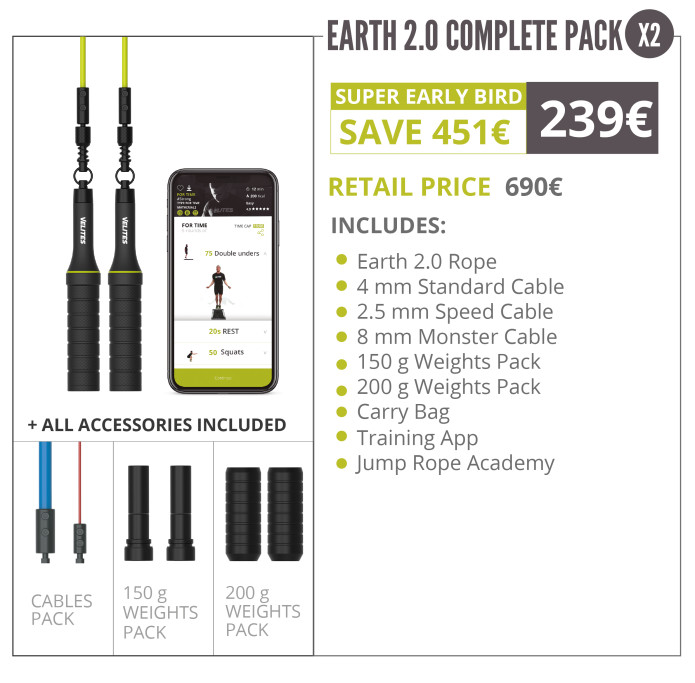 Don't worry; we are pros! This is not our first product launch as a company. 
We tested the Earth 2.0 Jump Rope prototype with athletes in a session and this is the result:
Check out what people say about our brand and the products we have produced in the past. Please note these reviews are not for the Earth 2.0 Jump Rope training system but our  best selling Fire 2.0 Competition Jump Rope. We add them here to illustrate our capacities as a brand that has been on the market for over 5 years.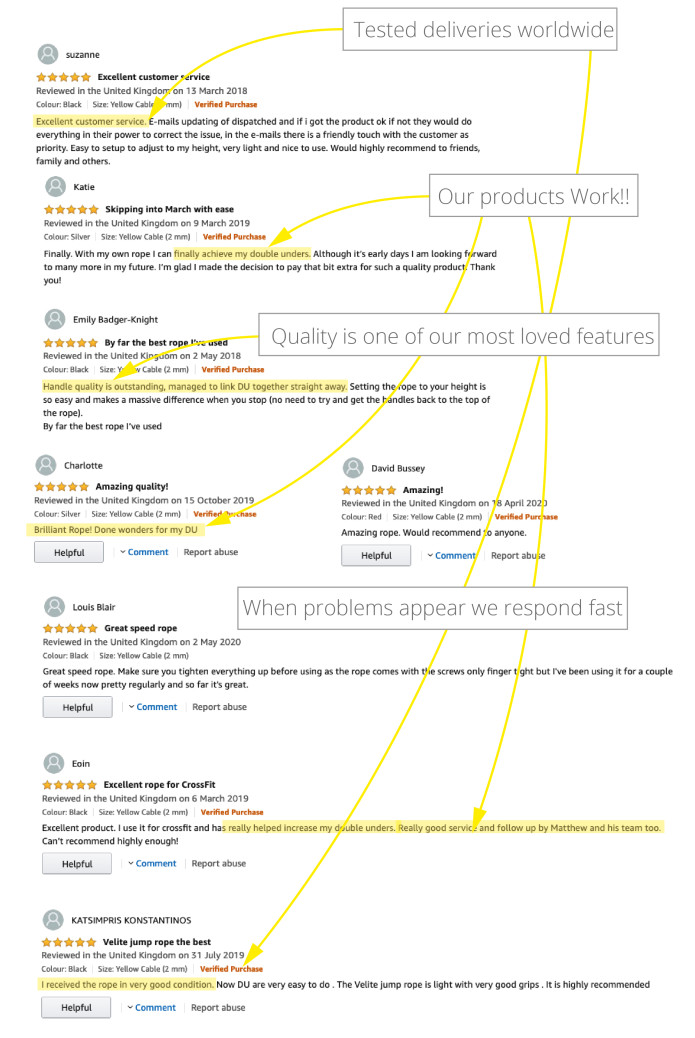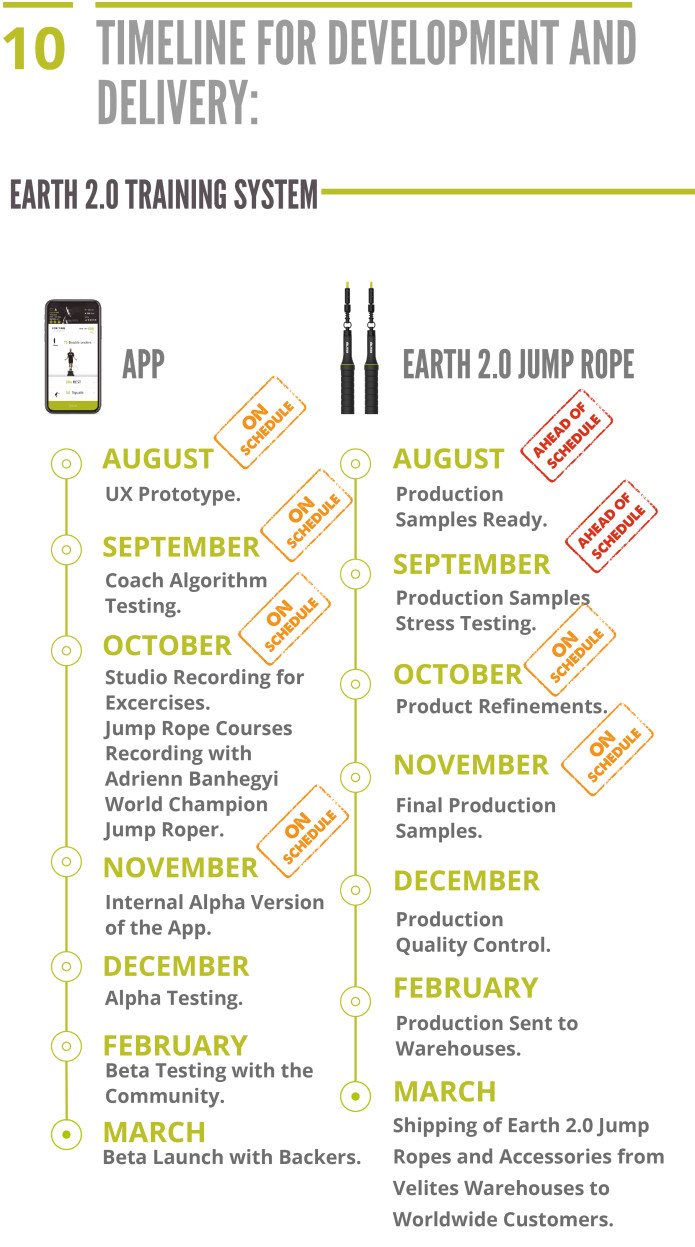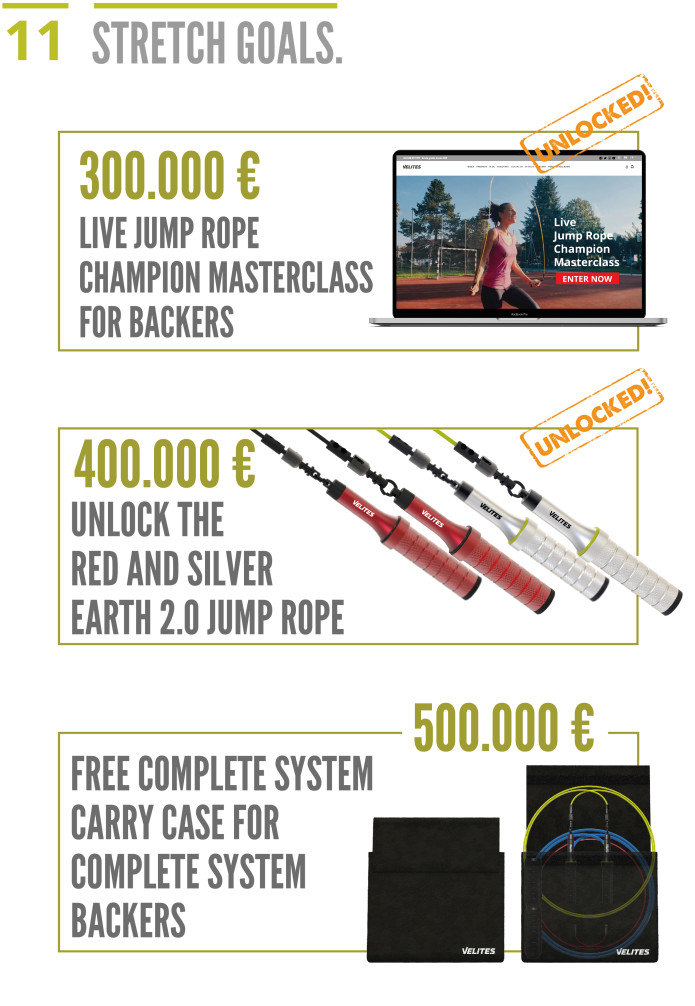 * These images are renders to showcase how the product will look when changing colors. If this message does not appear under the photo you are looking at the actual product photographed.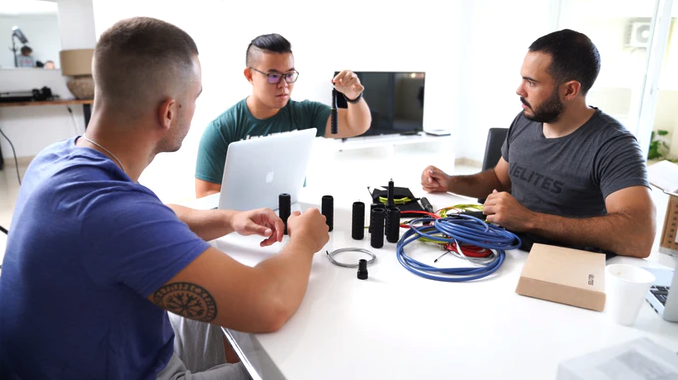 Our objective is your health and fitness. We are a team of engineers, athletes, designers and lovers of products for fitness enthusiasts.
Real problems are our starting point. We observed that athletes were surrounded by products formulated with chemicals, products of bad quality or with a horrible design which couldn't possibly make them feel healthier at the end of their training.
Athletes are our inspiration. Our starting point is the box: we observe what athletes do and what they need to reach their objectives.
Design Thinking is our tool. We design concepts and create prototypes until we find the best solution to help you achieve your goals.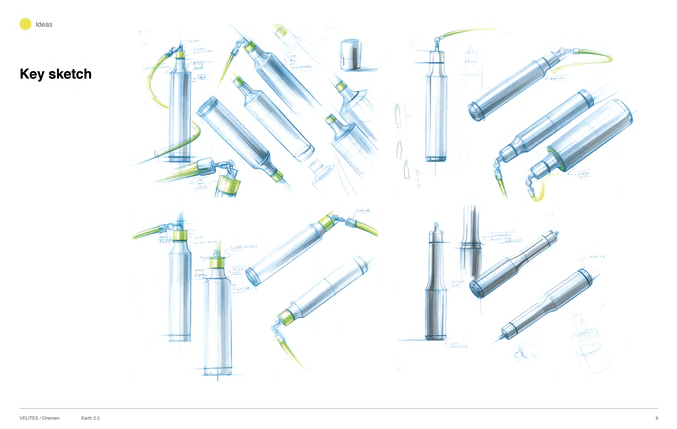 Relentless testing. All our products have been tested in CrossFit boxes, gyms, competitions and tried out by world champions of different disciplines before launching them onto the market.
Continuous learning is what defines us. We enjoy the process, not only the final outcome. We know it's important not to be naive about what we can achieve and are willing to learn from our mistakes (we too make mistakes!) And, above all, we are never afraid to overcome new challenges!
Quality is our priority. From day one, quality has been one of our main concerns. Velites is an ISO certified company to make sure that all the products you acquire conform to the highest quality standards right from the development and the production phases.
Special thanks to our Investors and partners on the product design and launch process:
Award winning product designers – Dhemen Design.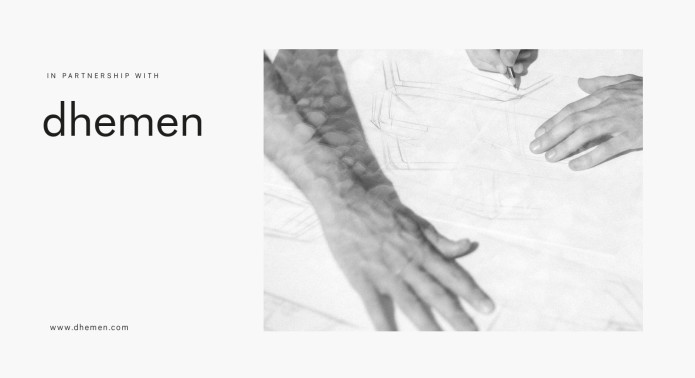 App and web design : bov design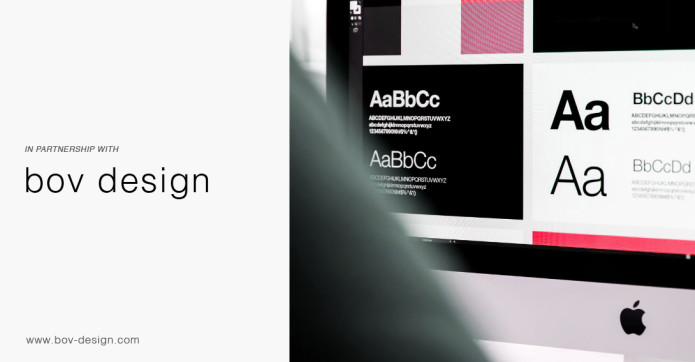 Marketing Partners :




We have already plenty of experience sending products worldwide even during Covid-19 times we managed to do a very good job and have always remainded responsible for shipping with our partners.
That is why we know a transparent shipping cost makes the difference.
In an effort for you, the backers, we are just charging for shipping costs exactly the rates we get without counting any extra packaging nor preparation fees. That is on us 🙂 !!
These are the current approximate rates for different locations :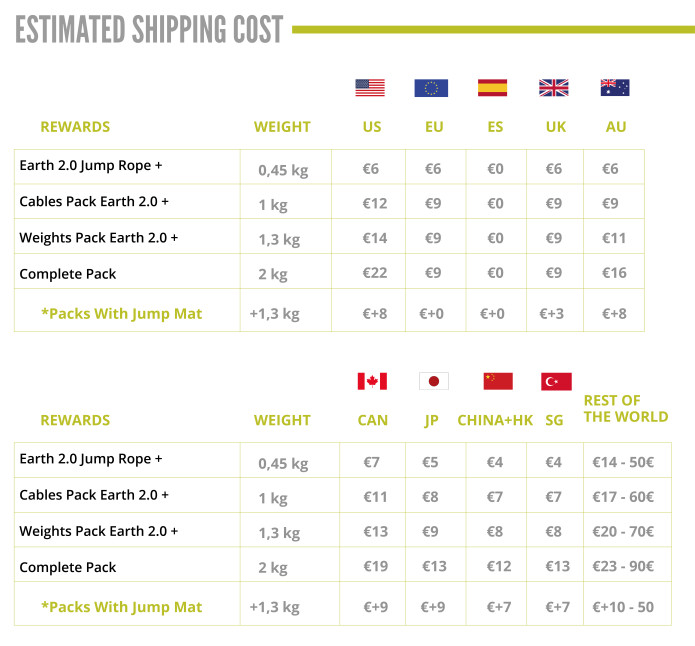 *We ship from within the US, EU  (including UK + Ireland) , and Australia, so we cover the customs duties for you!
*Shipping to the US, EU (UK + Ireland included), Australia, China and Hong Kong INCLUDES all sales tax, GST, and VAT (no extra charges).
*Shipping to Singapore (SG) and "Rest of world" regions may be charged import duties upon arrival, dependent on your country's import policies.
*Shipping will be charged after the campaign in the post-campaign survey.
*Shipping charges above are estimates, final shipping charges will appear on the post-campaign survey and may vary slightly from these estimates.
*US estimates apply to the lower 48 contiguous states only.
*Alaska/Hawaii shipping is charged at the "Rest of World" level.
*"Rest of world" prices depend on proximity to our US, EU and AU fulfillment centers.