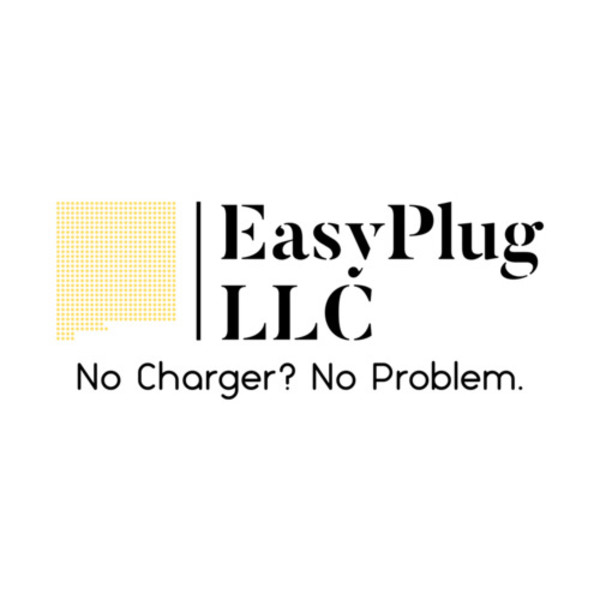 EasyPlug Wireless Charging
$700
raised out of
$60,000
Concept
EasyPlug simplifies the office space by providing wireless charging to reduce cord clutter.
Story
Cast-E-O
EasyPlug is a revolutionary way to save your office space. With interchangeable tiles that can declutter your mass of cables to wirelessly charge your smartphone, EasyPlug's model is your silver bullet.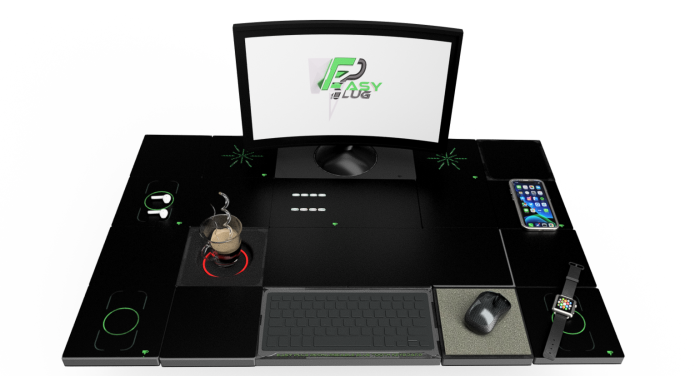 The "Cast-E-O" consists of four interchangeable and customizable tiles that cover your workspace. You can write on it as easily as you do your normal desk, charge your wireless device, control your mouse on the perfect surface, and charge any of your plug-in devices simultaneously, without the hassle of cables. Each tile utilizes a mesh electrical system that distributes energy throughout the mat. Did we also mention it's waterproof? 
*Note: The monitor is not included with the sale of this product.
Different Versions
We have three versions of the Cast-E-O: Entry, Intermediate and Advanced.
The Entry-Level Cast-E-O is designed for everyday use and not necessarily directed to the office space. It includes two Qi Wireless Charging tiles and a USB port.
The Intermediate-Level offers two Qi Wireless Charging tiles, a USB port, as well as a keyboard and mousepad tile.
The Advanced-Level is the all-encompassing version including four Qi Wireless Charging tiles, a  USB port, the keyboard and mousepad tile, as well as a drink warming tile for your coffee cup to ensure it does not become cold. Lastly, you can personally customize the skin of the Advanced-Level EasyCharge to a logo or design of your choice.
All three levels include your choice of a variety of base and trim colors.
Designed For Your Desk
Each tile is six inches long and wide, with limitless customization to fit your desk. Whether you have multiple devices, multiple screens, or a simple set-up, EasyPlug will simplify your workplace. If you're tired of the cable clutter underneath your desk or you are worried about the hidden fire hazard, EasyPlug has a solution for you.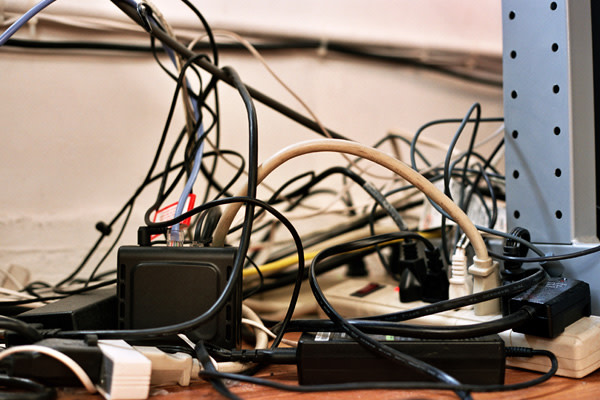 Design and Production
EasyPlug is the result of an entrepreneurial class in college. The CEO, Francis Castillo de Mulert, developed EasyPlug as a final project that morphed into the product now. The prototype is currently being built by SWYM, an engineering firm based out of Boise, Idaho. Please find their work at this link: https://swym.consulting/. Once the product undergoes FCC testing, EasyPlug will transition to the production and mass manufacturing phase with Hong Kong-based Morpho MFG. Please check out their latest updates at this link: https://www.morphomfg.com/. In the "What We Need & What You Get" paragraph, we discuss the significance of partnering with Morpho MFG.
About Us
Founder and Owner, Francis Castillo de Mulert recently graduated with a Bachelor's of Science degree from the United States Military Academy at West Point and is currently serving as an Armor Officer. As a Psychology Major,  he was fortunate to take an entrepreneurship course offered by the Business Management Department at USMA. Although Francis had always dreamt of creating his own company, he did not necessarily have the tools to begin. The idea of incorporating wireless charging technology into the everyday office space went from a mere school project to reality. Francis has partnered with Jason Brodeur who is currently serving as our Chief Financial Officer. Jason also plays a huge role in evaluating our concepts and prototypes, ensuring that the device is meeting our goal of increasing workspace efficiency.  Lastly, Hannah Stith serves as our Social Media Marketing Specialist, assisting EasyPlug to better reach our consumers via the internet.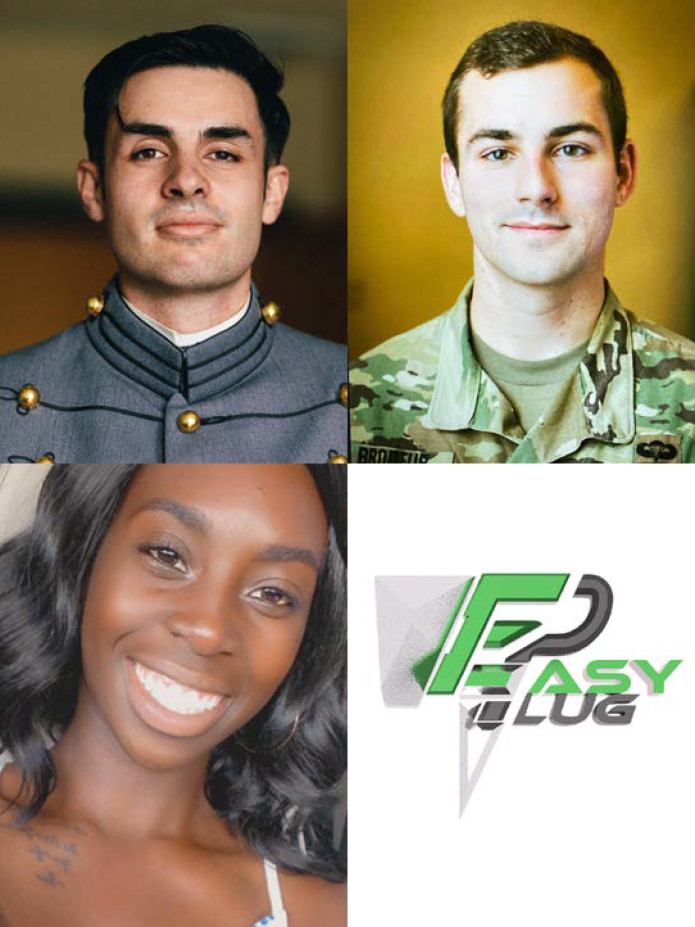 What We Need & What You Get
In total, we are asking for $60,000 USD to accomplish tasks that are necessary to put EasyPlug devices on the market for office cubicles or home offices. To be specific, we will need $6,000 to complete our prototyping milestone 2 as well as an additional $6,000 for FCC testing and certification. Depending on the costs of materials, it will roughly cost between $15,000 and $20,000 to conduct mass manufacturing. As of now, we will be partnering with Morpho Manufacturing out of Hong Kong. They offer a unique three-phase system of manufacturing that will benefit EasyPlug by allowing Morpho to act as a third party to find the best materials and manufacturing processes for our product. We estimate a cost of $10,000 to ship our first set of devices from Hong Kong. Lastly, we anticipate a $10,000 fee to create and receive approval of a patent. We are including an additional $13,000 USD for unanticipated expenses to include contingencies for issues we may run into with prototyping, manufacturing and shipping.
The Impact
If you decide to back our campaign, you are helping our dream become a reality. As of now in our early stages, we have decided as a team that we would prefer not to approach angel investors in order to keep our team organic in nature. Our organization is comprised of some of the youngest leaders in the nation, quite literally. Hence, it is in our best interest to not stray away from our original path which will allow us to maintain our vision of reducing cord clutter in your workspace.
By donating to our campaign, not only you will have a stake in the charge to pioneer wireless charging, but you will be able to receive first access to our devices as they roll onto the market.
Risks & Challenges
The challenges and risks  of this venture go hand in hand. The risk for the EasyPlug team is that to get to this point, we have spent considerable hours and money with the possibility that we will lose all of our investment. Our team is composed of recent college graduates who are all working full-time jobs, as well as pursuing higher educations. Our biggest challenge is we lack the funds to move forward with our concept. Currently, SWYM and EasyPlug have researched the proper methods to create the device. However, our second (and more expensive) phase, to actually begin prototyping, is what is holding us up due to limited monetary resources.  
Even though we are busy with our young adult lives, we have determined a course of action that allows us to balance our day job along with this entrepreneurial venture.
Timeline
March 2020: The idea of EasyPlug came to fruition.
June 2020: SWYM and EasyPlug conduct milestones 1 of researching prototype. 
July-November 2020: Establishing Online Presence; Marketing via IG, working on IGG draft, developing a company website.
December 2020: EasyPlug IGG campaign launched.
February 2021: IGG campaign complete, tentatively have funds to complete milestone 2 and to develop a working prototype.
Spring 2021 begin manufacturing journey with Morpho MFG. 
Late Spring/Early Summer 2021 begin shipping and selling product
Other Ways You Can Help
If you cannot financially donate to our campaign, we completely understand. However, we'd appreciate it if you could follow our Instagram @easyplug_llc and give us a shoutout. Additionally, we would be extremely grateful if you would spread our name by word of mouth to your friends and families.