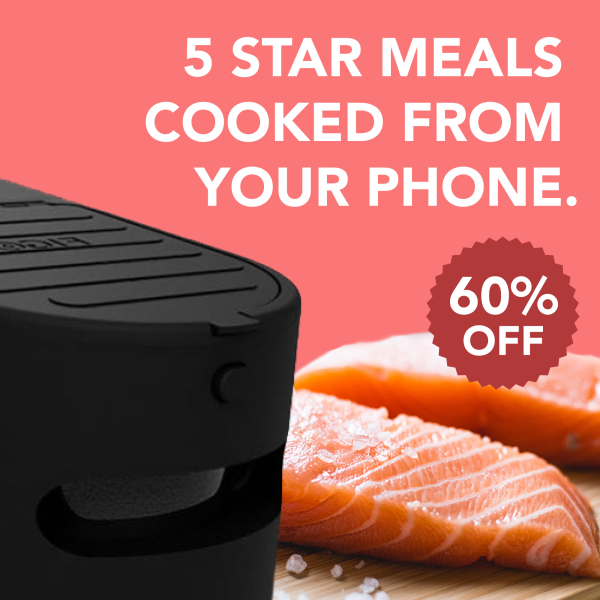 EatFigo Autonomous Sous Vide Cooks With Your Phone
$50,804
raised out of
$20,000
Concept
Restaurant quality meals at home. The 1st sous vide w/ vacuum sealer attachment & refrigeration.
Story

All-in-one smart sous vide appliance 
Cook restaurant-quality meals from your phone during your busy day. With Figo, vacuum seal, cold store, and precisely cook food automatically.
See how easy Figo works in under a minute
Get better results with sous vide cooking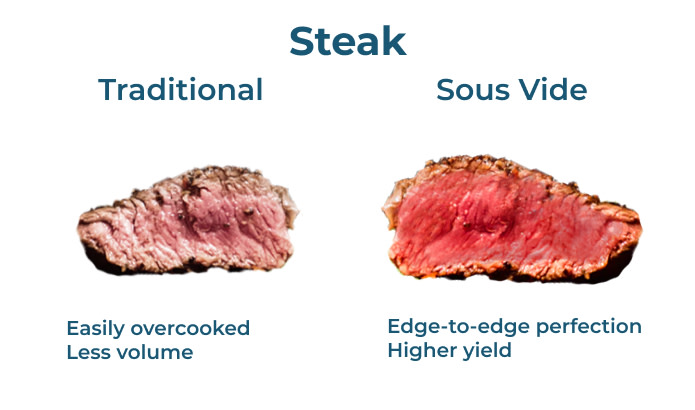 Steak cooked with Figo is perfect, from edge-to-edge with a tasty light crust. Unlike traditional cooking methods like on the left, sous vide cooking yields larger results as meat isn't dried out.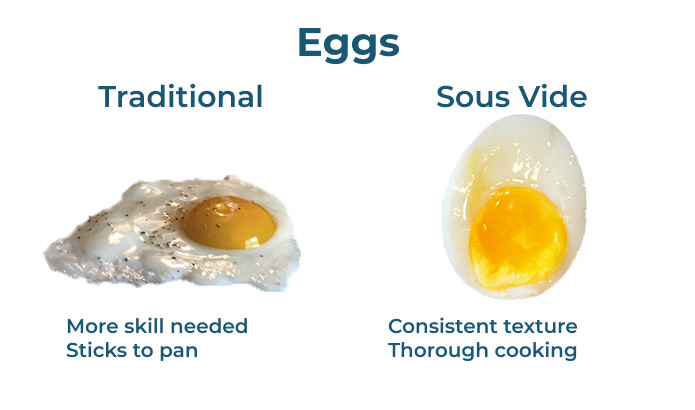 Perfectly cooked eggs are a challenge for chefs at any level. Figo allows you to control exactly how the eggs turn out. Traditional cooking tends to create overcooked edges.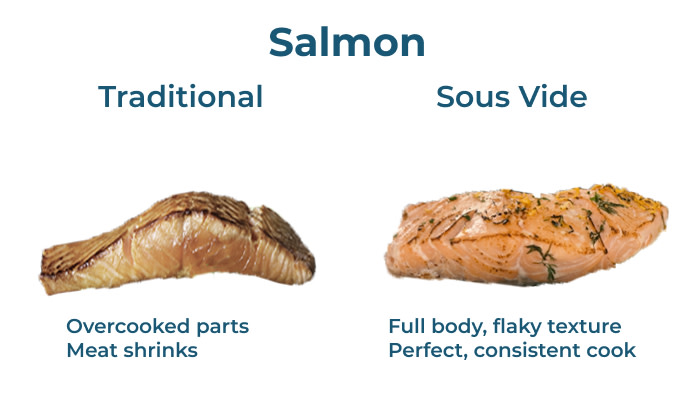 Like steaks, salmon made with Figo is perfectly cooked from edge-to-edge whereas traditional pan-searing or oven methods tend to shrink the meat and overcook the edge. 
Figo in the news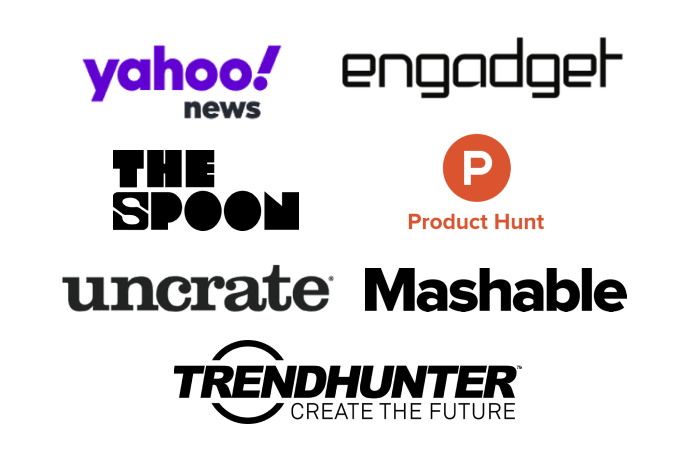 Sous vide makes cooking easy
Once limited to the pros, sous vide cooking gets you consistent and tasty results every time, even if you've never cooked before.
Sous vide is an easy, hands-free way to cook great food that will wow your guests. It's all about bringing your food to an exact temperature and holding it until you get a perfect result. Sous vide style cooking means:
Healthier and Tastier Cooking  — Use fewer oils by letting food cook in its own juices and retain more nutrients with low temperature cooking.
Consistent Results — Food is always cooked to a precise temperature, for a specific amount of time that can be easily repeated.
Never Overcook Again — By slowly reaching the temperatures you set, your food won't ever overcook. 
Easy Cleanup — Simply wash your reusable bag and jars or recycle plastic bags after cooking. 
Practical Meal Prep — Save time by leaving food cooking for hours, and use tougher cuts of meat that will be left incredibly tender.
Figo perfects the sous vide experience
More than a precision cooker, Figo is built to save time in the kitchen ensuring your food is ready when you schedule it.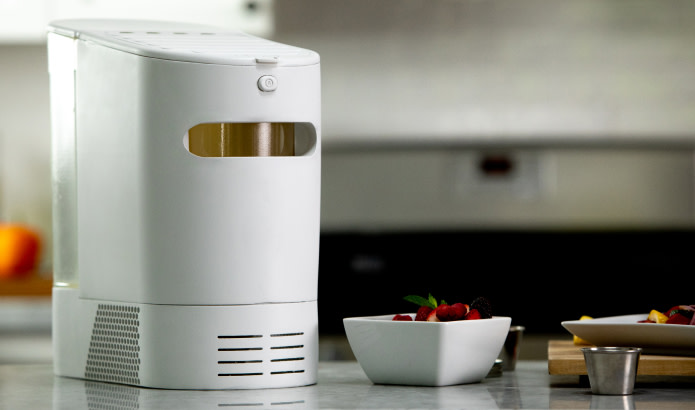 Even if you're just starting out in the kitchen, or have years of experience, Figo empowers you to become a better cook:
Hands-Free Cooking — Whether you're busy with work or entertaining guests, Figo lets you focus on the other busy parts of life. 
Vacuum Sealer Attachment — Seal your food with your favorite herbs and spices while also helping to retain nutrients and cook food in its natural juices for better results. 
Perfect, Consistent Results — Eliminate the margin of error and cook your meals like a pro every time with exact temperature control.
Keeps Food Fresh — Figo safely chills the main compartment before and after cooking down to FDA Recommended 37° F with our patented Dry Sous Vide System. 
App-Assisted Perfection — Cook from 20+ chef-made recipes or choose your adventure with temperature control and cook times.
Cook From Anywhere — Figo connects to the world via WiFi allowing you to control your meals and schedule no matter where you are.
No More Mush — Removes water from the main compartment after cooking, so food isn't crushed by pressure resulting in flakier salmon, tender meats, and crisp vegetables.
Flawless Meals in 3 Easy Steps
---

ALWAYS PRECISELY
COOKED TO PERFECTION
Restaurant quality results, every time
Get consistent in the kitchen. Don't worry about overcooking or watching an open flame – Figo handles the rest.

Sous vide is used by many high-end restaurants and even in chain establishments to ensure consistent results. With Figo cook with the same level of precision while also exploring new flavor combinations or recipes to get:
Consistent results when you cook means less anxiety about over/undercooking.
Healthier dishes that use few fats and oils while keeping natural moisture.
More nutrients that don't get burned away from hot temperatures.
Vacuum sealer attachment
Figo is the only sous vide machine with the extra convenience of having a vacuum sealer directly on the device.
Take even less time preparing your meals with our vacuum sealer attachment available on the Figo Deluxe model which works with popular vacuum seal bag varieties so that you don't have to spend extra money on separate parts or machines. 
Flavors and moisture are locked in making it easy to get delicious and consistent results without heavy seasoning. Combined with precise temperature control, your food will have a higher yield (less food wasted), better texture, and more tender over traditional methods.
Simply add your ingredients to the bag and start the pump using the Figo app. 
Spend less time in the kitchen 
Save up to 6 hours each week when you cook with Figo, saving you time from dirty dishes and messy prep work.
Figo makes mealtime practical. Load and vacuum seal your food in as little as 30 seconds. Our Dry Sous Vide system keeps food chilled until it's time to cook. Leave frozen and prepared dishes inside Figo for when you're on the go. With a large 1.25-gallon storage tank, fit up to 4 servings. 
Precise temperature control 
Sous vide relies on keeping a consistent temperature to perfectly cook food. Figo's sensors maintain that accuracy.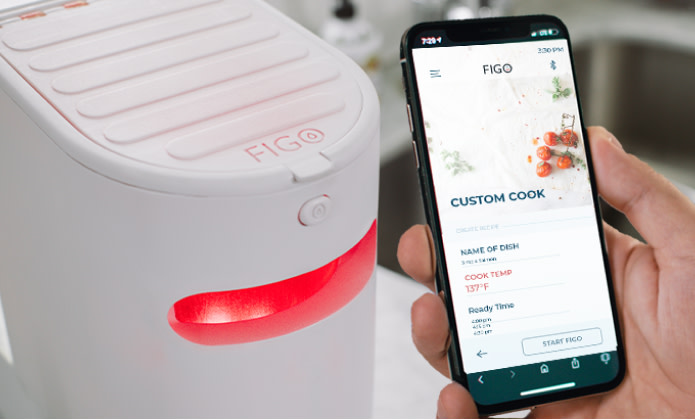 Cook to a +/- 1° temperature difference up 190° F for a perfect medium-rare steak, flaky salmon, or crisp vegetables that are still full of nutrients. Figo's high-quality temperature sensors to regulate the heat within the main cooking compartment. The propeller circulator keeps water moving around so that the temperature is the same everywhere.
The app makes it easy to set a custom temperature cook while giving you accurate times for when your meal will be ready based on weight and ingredients.
Safely store food until cooking
Like a small fridge, Figo's Dry Sous Vide System helps keep food chilled to temperatures as low as 37° F.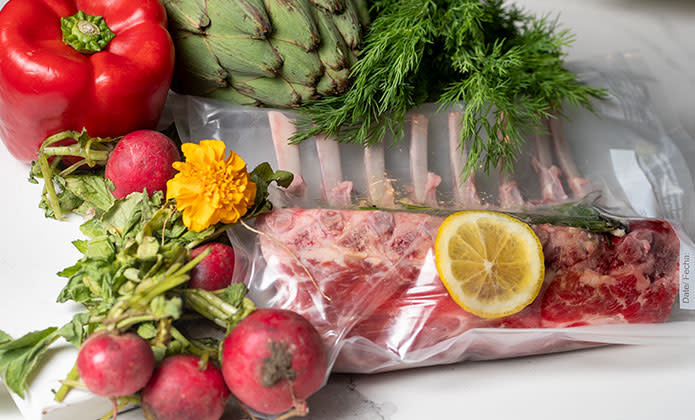 Vacuum sealing is not enough to stop foodborne illness! They can develop with foods left at room temperature or if food isn't cooled down quickly. With our Dry Sous Vide System, Figo safely cools your food down, surpassing FDA guidelines (below 40° F within 2 hours).  
As an added bonus, it's kept cold in a dry environment that saves food texture from water pressure.
---

FIGO'S REVOLUTIONARY
DRY SOUS VIDE SYSTEM
Chill food to as low as 37°F
Figo uses a dry Peltier system to keep food stored in safe temperatures that prevent spoilage and foodborne illness before and after cooking.
Unlike common fridges, the Peltier system has no moving parts but transfers heat away from your food safely chilling it down to FDA recommended guidelines (37° F in less than 2 hours). Incredibly power-efficient, it's like having a mini-fridge to hold onto food until it's time to cook.
Heated water surrounds food inside
Set the schedule and have water move in and heat up to the exact temperature desired when it's time to start cooking. 
Thanks to a propeller circulator, water heats up and distributes evenly throughout the cook. This helps flavors meld together while slowly preparing your food. With high-quality temperature sensors, we keep your food cooking at the exact temperature you set  (+/- 1° F variable).
Preserve texture and flavor
No one wants mushy meats and vegetables. By removing water after cooking, food maintains maximum texture and flavor.
After cooking, water is moved away from your food to help preserve the texture. Without the extra water pressure, salmon remains flaky, steaks stay tender and vegetables don't turn to mush!
*Did You Know? — The cooling after cooking helps bring flavor back into the food by absorbing volatile aromas and flavor while chilling. It's an advanced technique by sous vide creator and chef, Bruno Goussault that Figo users can take advantage of automatically!
---

CONTROL FIGO
ANYTIME, ANYWHERE
Delicious meals on your time
Put down the cold takeout and come home to a warm, delicious meal that you cooked with your phone.
With a hectic schedule, mealtime can be a challenge every day. You deserve to come home to a healthy meal, that's ready right when you arrive. Schedule Figo when you expect to arrive for a warm and healthy meal. With the iOS/Android compatible app, cooking times and schedules can be adjusted. Even mid-cook, Figo adjusts its program to chill food when finished within FDA-recommended guidelines.
Choose from over chef-curated 20+ recipes
We worked with renowned Executive Chef Johnny Vernaglia to create great recipes to cook with Figo machine.
Our recipes are meant to give you the best sous vide experience possible! Choose from protein-based, vegetable-based, and dessert recipes in three levels of difficulty:
Advanced — Executive Chef
Intermediate — Sous Chef/Pastry Chef
Normal — Link Cook/Baker
For those wanting to try new cuisines, Figo's custom cook option gives full control.  Or tell Figo what food is loaded and what temperature it needs to be cooked to and let Figo figure out the cooking time for you.
Flexible WiFi Connectivity
Schedule or change scheduled cook no matter where you are thanks to
Figo's wireless connection.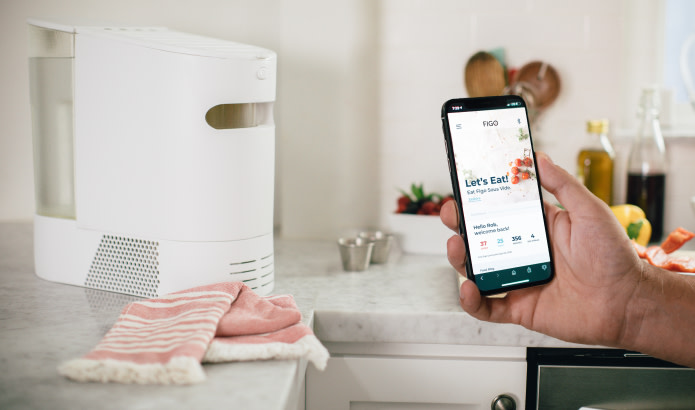 Unlike other countertop cooking appliances limited by short-range Bluetooth connections, connect to Figo even when outside of the home. Adjust cooking times if you're running late from the office or running errands, letting you control your meal from anywhere!
If you're having internet issues, Figo can also be controlled via Bluetooth.
---

UP CLOSE LOOK
AT FIGO'S SPECIFICATIONS

Free ebook with every Figo Deluxe
Get "Next Level Sous Vide" by Jason Veselak, a $35 value for free.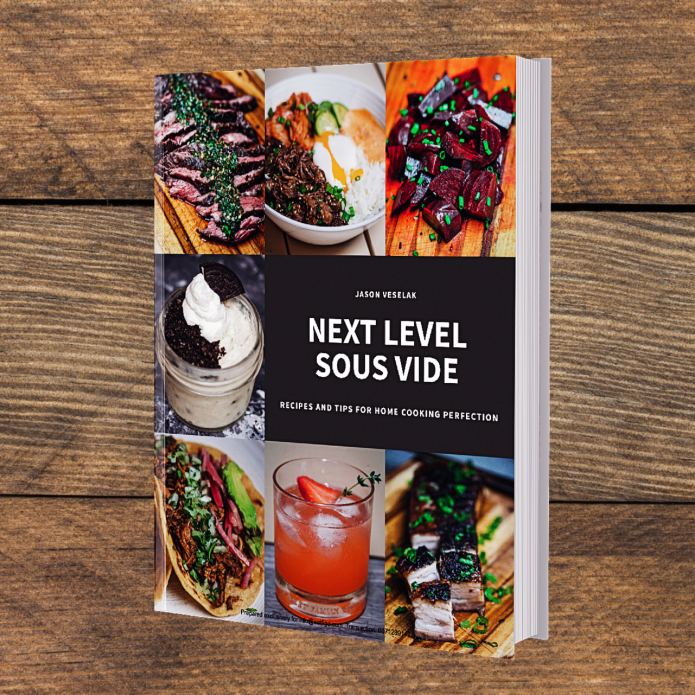 Jason Veselak, a fan of Figo started Sous Vide Ways after falling in love with how easy it is for gourmet meals at home with so much ease and consistency. Next Level Sous Vide was born from his passion and research as a way to share the art of sous vide. 
Everyone who orders the Figo Deluxe (with vacuum sealer attachment) will receive Jason's ebook within a few days of pledging. It's a small way for us to be able to share with you the excitement and passion we have for sous vide before you receive your Figo machine!
The team behind Figo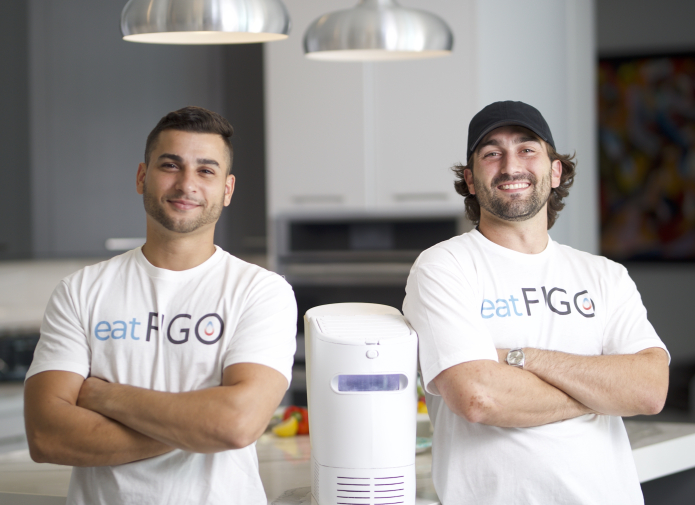 Rob Nappi and Ray Mazzie became friends while attending MBA school. Wide-eyed and full of ambition, the two of them gravitated toward each other on day one and have been close friends ever since. As a network and electrical engineer, Rob was constantly being asked to systemize time-consuming or difficult tasks. This systemized approach carried over into Rob's personal life, which in part is why he recognized the kitchen is in dire need of automated systems. Once introduced to sous vide, most people love everything except the process itself. We all care about what we put in our bodies, but we don't have time to prepare, let alone cook, the meals we know our bodies deserve. 
The Making of Figo
Our first prototype, made over 3 years ago showed us that we could empower cooks of any level to make better food! 
Coming to your kitchen soon!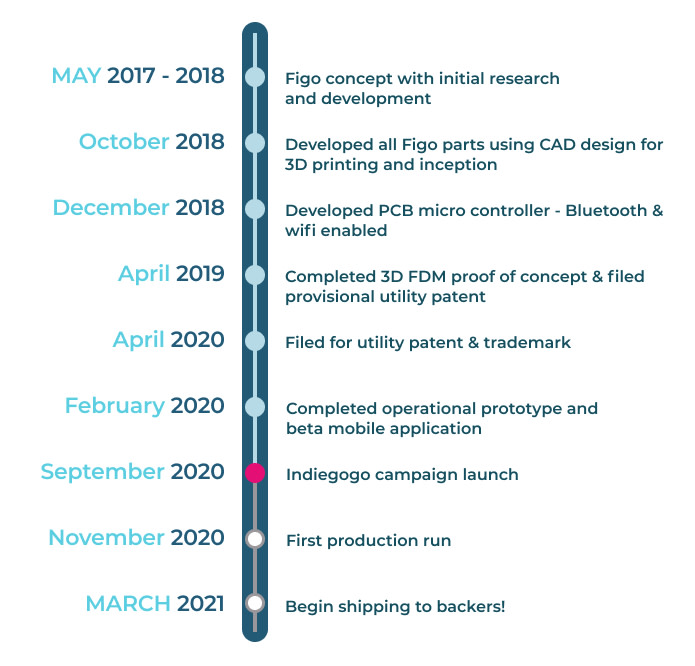 With FREE Shipping to the US