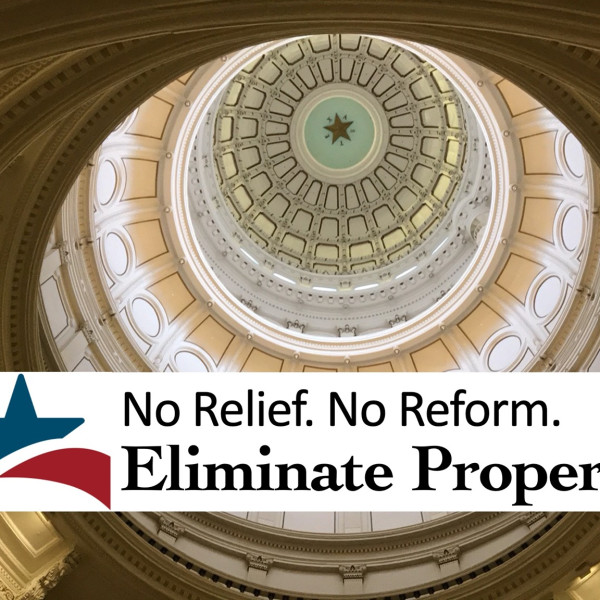 Eliminate Property Tax
$1,300
raised out of
$125,000
Story
The Eliminate Property Tax effort is growing in Texas but we must prove that our solution will work.  We've engaged the premier economic firm in the state, the Perryman Group to conduct an impact analysis documenting the effects on the economy when the property tax is eliminated.
We must raise $125,000 to pay for the study, printing and related costs
There's no bling here.  We know you work hard for your money so we're asking for what we need to pay for the study and nothing more.
We expect the study to provide proof that the property tax can and must be eliminated.  The Texas Tax Reform Act of 2013, a proposal to eliminate property tax has languished on the shelf for nearly a decade.  Legislators have been unwilling to move the bill without objective evidence that local governments and schools can be supported with a sales tax.  This study will document the effect that eliminating the property tax, as we have proposed, will have on tax revenue but also the effect that it will have on the Texas economy.
A just, equitable and predictable tax structure is key to a prosperous society.  Texas tax structure, including in excess of 60 different taxes, is complex, arbitrary and punitive.
We intend to fix that.  This study is key to providing the data needed to advance our efforts to eliminate property tax in Texas.  We've seen enough reform and relief to know that only means more tax.  We will settle for nothing less than ELIMINATION!  
Without this study, it is highly unlikely that the bill will get a hearing much less a vote.  Contribute today to help us raise the necessary funds to provide proof that we can eliminate the property tax in Texas!
You can help by spreading the message.  
We are committed to eliminating the property tax in Texas!  Donate what you can and ask 5 of your friends to do the same.