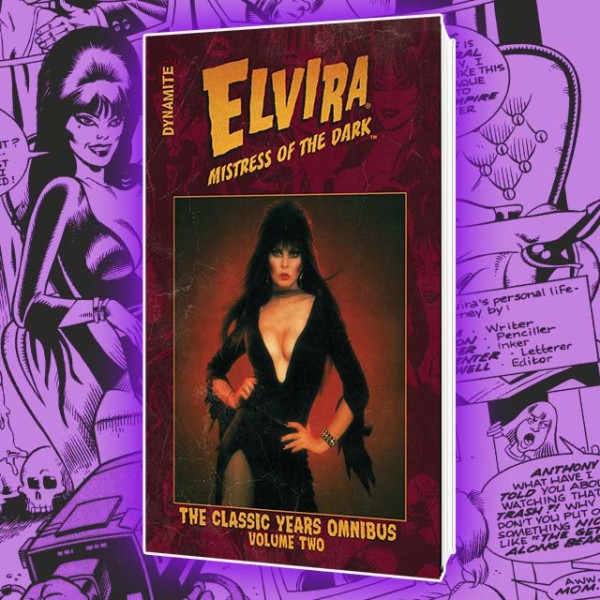 ELVIRA CLASSICS OMNIBUS
$51,490
raised out of
$6,666
Concept
The Highly Anticipated Second Volume of Classic Elvira Comics & Ghoulish Goodies is Finally Here!
Story
FREE ELVIRA MISTRESS OF THE DARK #1 DIGITAL COMIC FOR VISITING THE ELVIRA CLASSIC ADVENTURES VOL 2 PAGE!
We LOVE all of Elvira's fans!  You've been so supportive of her many fun-filled comic book adventures that we wanted to find a way to say THANK YOU to each and every one of you.  We decided the best way to do that is to share some of these whacky tales with you for stopping by this page.  That's right – just for stopping by you can download the first historic Dynamite comic book issue of Elvira Mistress of the Dark #1 to read on your favorite devices!  No purchase is necessary – everyone who loves Elvira can get this just for checking out the new project right here.  This is how you can redeem the comic:
 FREE COMIC CODE:  elvira2022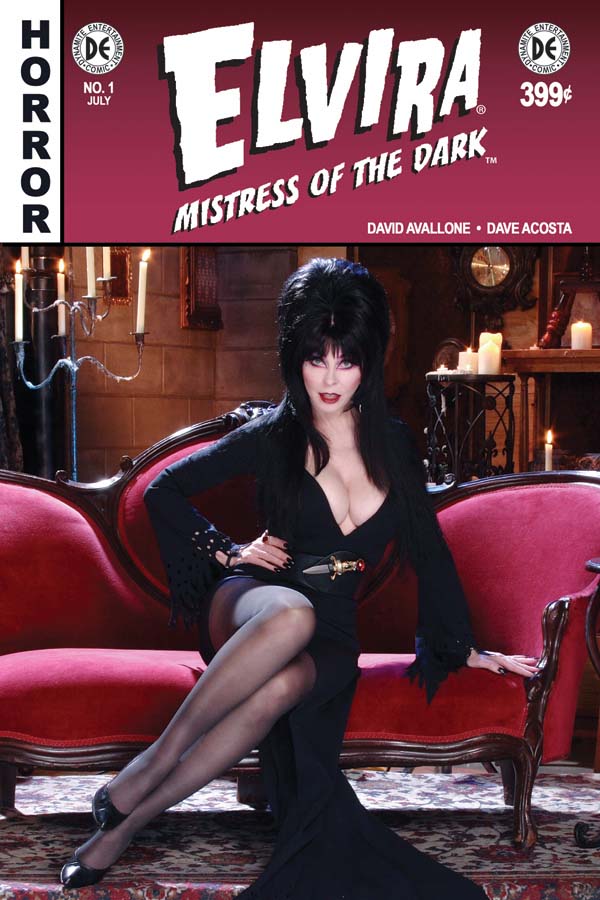 Elvira Digital PDF Download Instructions:
    1. Visit dynamite.com/digital to register a new Dynamite account or login with an existing one.
  2. Click on "Cart" at the top of the page.
  3. Enter your Download Code in the "Enter Coupon / Promo / Redemption Code" field.  This will automatically add your product to your "My Books" section.
  4. Your files are now ready to download.  Be sure to visit our Help section if you have any questions.
HERE'S A PEEK INSIDE THE COMIC!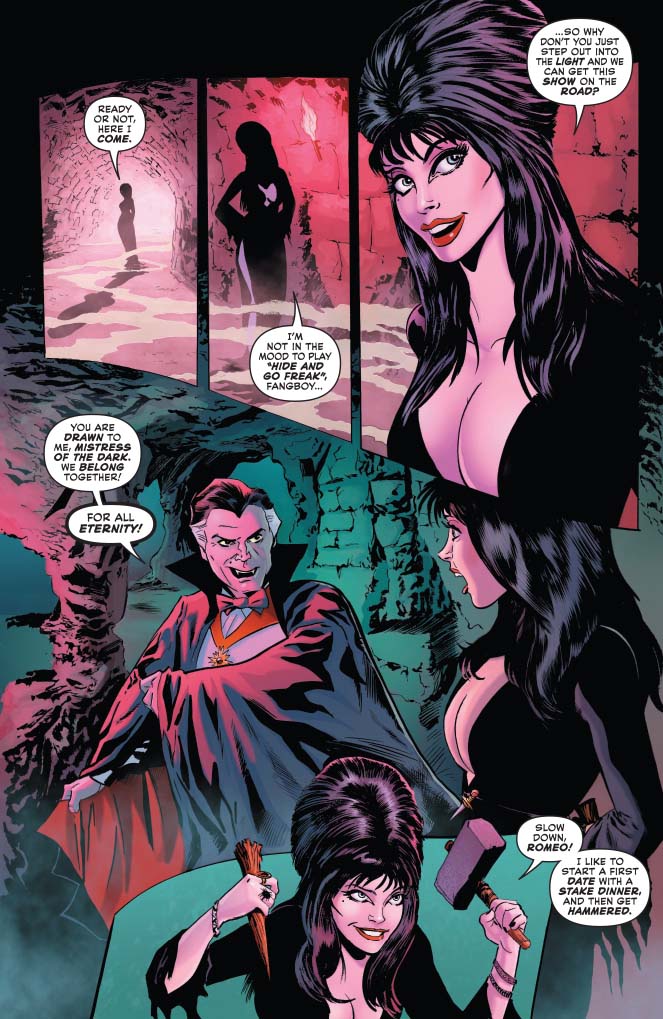 A CLOSE-UP LOOK AT ELVIRA CLASSICS TRADE PAPERBACKS & HARDCOVERS!

WELCOME BACK, DARLING,
TO ELVIRA'S CLASSIC ADVENTURES VOL 2!
They say the best things in life come in pairs…we know you agree!  That's why we have dug up these classic Elvira comic book stories for a brand new volume of murder, mayhem, and monkey business.  These wonderful gichy stories date as far back as the 1990s when Michael Jordan un-retired, Grunge was the music flavor on the radio, and a gallon of gas was $1.15.  Holy smokes, I want to go back just for the gas prices!  But since we can't jump in a time machine or butterfly effect ourselves back to the 90s, the next best thing is right here!  Travel back in time with these bodacious comic book tales of Elvira's wackiest adventures!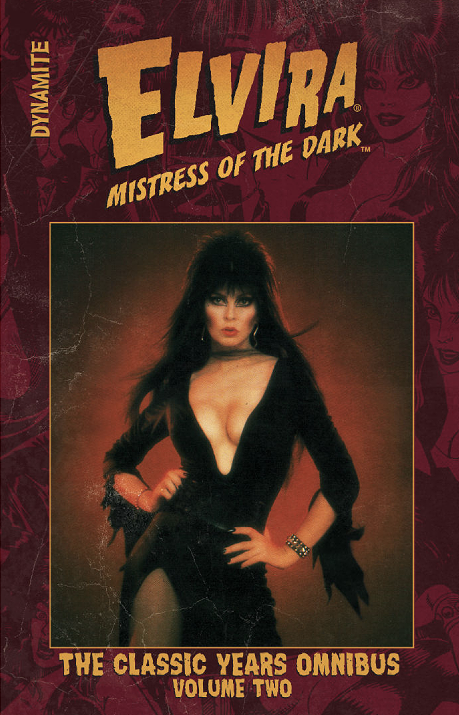 It's your lucky day because the fiends at Dynamite are digging up the grave of these lost adventures and delivering them to Elvira's fans with a beautiful custom Elvira Mistress of the Dark "The Classic Comic Collection" Volume 2 Omnibus!  This awesome tome of darkness is packed with Elvira awesomeness and is available in softcover, a deluxe hardcover, and an ultimate darkness edition signed by yours cruelly, Elvira Mistress of the Dark!
This is the second volume reprinting the highly sought-after tales originally published by Claypool Comics. In these beloved adventures, Elvira must contend with vampires, werewolves, mummies, gorillas, politicians, and worst of all…telemarketers! Ahhhhhhh!  Spooky!  The book is available in paperback or hardcover and covers 25+ issues, rounding out to a massive 600-page tome.
CREEPY CREATORS AND COLLABORATORS IN ELVIRA VOLUME 2!
The horrifying artist and creepy writers of Elvira Classic Years Volume 1 were a regular who's who of classic comics.  This new batch of monsters is even more frightening!  Contributors include:
Dave Cockrum
Jim Mooney
Neil Vokes
Tom Simonton
Louis LaChance
Frank Strom 
Richard Howell
Lou Mougin
David Day
Dan Day
Bruce Patterson
Tom Simonton
James Fry
Anna-Maria Cool
John Heebink
Peter Sanderson
Yvonne Mojica
Tom Smith
Al Vey
AND SO MANY MORE!!!!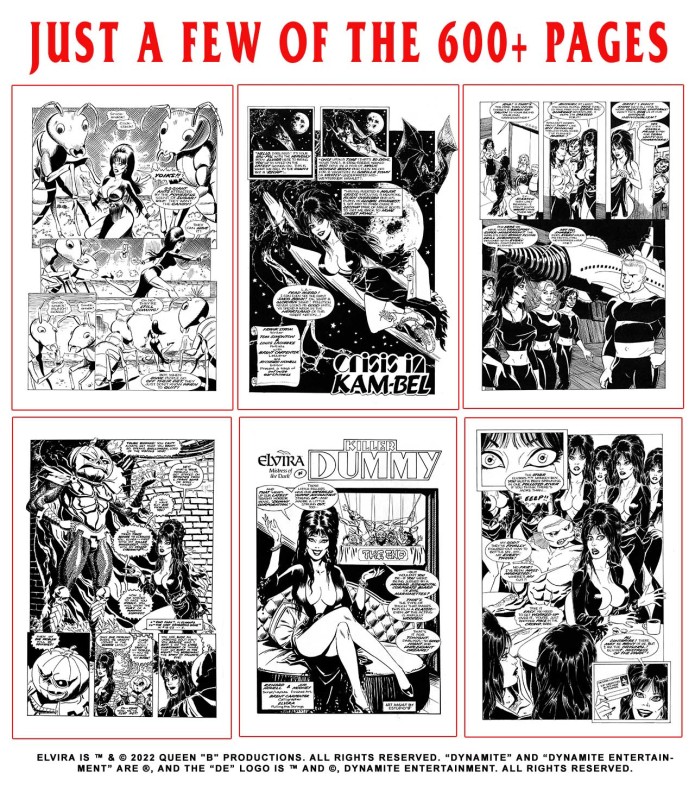 DID YOU MISS ELVIRA'S ORIGINAL VOLUME 1 COLLECTION? JOIN US FOR A GHOSTLY SECOND CHANCE!
Fear not, my lovelies – you don't have to compete with eBay trolls bidding you up to an insane amount to get the Elvira goodies of the past.  There are a limited number of the first volume of Elvira Classic Years Omnibus and some of her creepy comics right here!  Open the collections crypt and find out what skeletons we have in our closet!

Spread a little joy by sharing a massive pack of Elvira goodies with your friends!  Giving is always in season and this awesome pledge level lets you stock your shelves with your favorite Elvira items and lets you look like a hero to family and friends with cool comics and graphic novels to gift to the groovy ghouls in your life.  The Elvira Wicked Library Pack has everything you need!
Elvira Volume 2 Softcover Edition
Elvira Volume 2 Hardcover Edition
Elvira Volume 2 Signed Edition 
Elvira Volume 2 Digital Edition
Elvira In Horrorland #1 Comic Book Signed by Elvira!
Elvira in Horrorland #1 Monster Metal Cover (printed on real metal!)
Elvira Exclusive Signed Trading Card
Elvira Mistress of the Dark #1 Comic Book Limited Linsner Chrome Edition
Elvira Mistress of the Dark #1 Special Edition Signed by Elvira!
Holy cow, that's a ton of impossible-to-find exclusives, autographed goodies, and variant editions!  Share with a friend or keep it all in your mausoleum of collecting!  We won't tell either way…
SHIPPING BY HALLOWEEN!
It's a scary world out there.  And right now no one knows what challenges will pop up like an unexpected zit and ruin your day.  From paper shortages to press time, it's been worse than surviving a horror movie trying to get things made.  But we have already secured a printer in North America and have requested paper supplies and press time.  The plan is to begin the printing of these books right after the IndieGoGo ends and to have them shipping out to you by Halloween.  We're going to do our best to achieve those dates (don't tell anyone but we're actually trying to get them out even earlier…but we're superstitious so we're keeping it on the down-low).  So do us a favor – don't cross paths with a black cat, walk under a ladder, or step on a crack…we need all the good luck we can get.   With any luck, you'll have all these ghastly goodies in your trick-or-treat bag this year!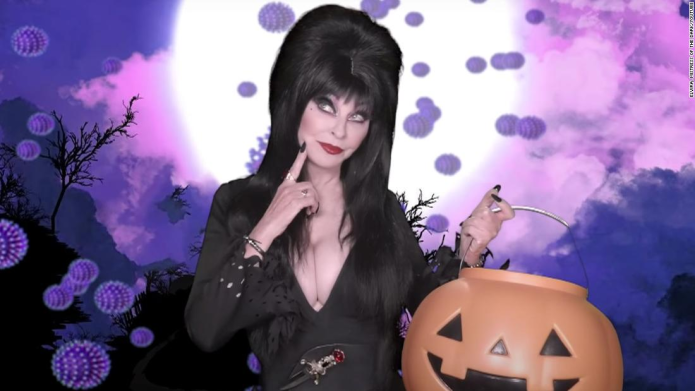 SPOOKTACULAR STRETCH GOALS!
You love em and we got em!  Elvira's spooktacular stretch goals are coming!  Stay tuned for more news!