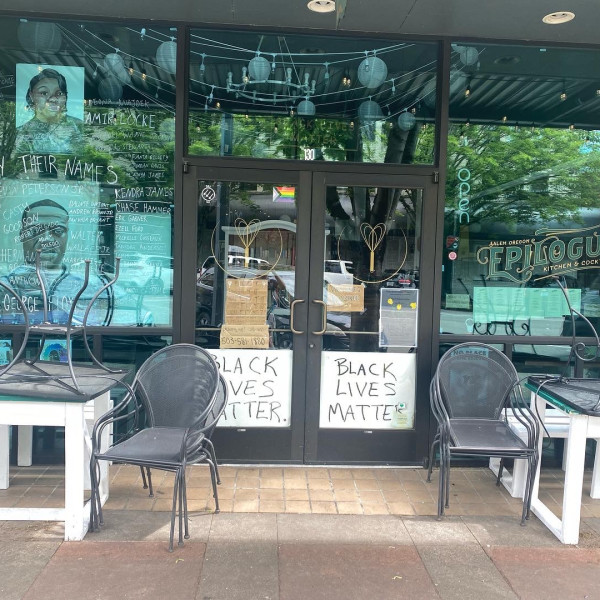 Epilogue and Anthology and Icarus…Oh my!
$12,610
raised out of
$50,000
Concept
Growing Epilogue, Growing Community (plus killer wings)!
Story
What have we been up to?
Epilogue Kitchen and Cocktails has enjoyed 3 amazing, fulfilling, (at times trying) years at our current cozy space. We have shown that operating a socially conscious restaurant, owned and operated by black folks and women, is not only possible but needed in downtown Salem. We have made so many new friends, and fed so many wonderful people, making magic from this tiny kitchen. We have had the honor of being a part of a growing community of caring humans, who gather to dine and laugh and learn, but also to provide support for those who need it, to rally for justice, to march for equality. 
We, the Epilogue crew, have had the privilege of being a small part of the groundwork for that progress, and we are so very excited to announce that we are expanding our ability to nourish you. 
Epilogue at 130 High Street is ending. Epilogue at 508 State Street (plus entirely new adventures) is just about to begin! 
What do we need?
Our little sliver of downtown Salem is a cozy, intimate space that we poured a ton of love into, and we are so proud of what we have done with it, but we have always wanted more space. More seats, more outdoor tables, more room for readings and events and really, just more of you. Here is what we need to make this move happen.
dining room tables and chairs
outdoor tables, chairs, umbrellas, decorations
paint
bookshelves
light fixtures
some light construction
televisions (more on this later)
fryers (more on this later)
flooring
kitchen equipment
What are we getting up to?
The move of Epilogue to a larger, more open space is just the beginning. With the move, you'll see some expanded programming. Oh yeah, and some entirely new stuff.
Chapter-A-Day will be returning.
We will be launching "That's Lit!", a book-it style reading encouragement program for kids and adults, that will reward you with meals for continually using our library.
Expanded hours! We'll be adding, at a minimum, Wednesday dinner service.
Late Night Happy Hour returns!
Cheap Date Night will return as a dine-in, vegetarian, 3 course meal on a regular basis.
Reservations will no longer be required! With all the room for activities, you won't have to plan your dinner days in advance!
Now, the new things :).
We are thrilled to announce the beginning of Anthology. Anthology is a partnership between the folks behind Epilogue (Jon and Maura) and our friends Aaron and Kelli Gilliland. When we started Epilogue, years ago, it was part of our vision to try and use our platform and abilities to enable others, and to generate the community we wanted to live in by helping build it. Anthology is the vessel for every new and exciting thing that this community can imagine! It is a collective, a dreamspace. In our lofty vision, Anthology creates self-sufficiency for folks who want it, nurturing individualism while focusing on strengthening the bonds between neighbors. The first projects under Anthology are pretty dang exciting! 

Cultureless, a podcast focused on cross-cultural education and expansion of understanding, using food as a medium.
Icarus, a chicken wing pop-up in the current Epilogue space! This is what the televisions and fryers are for. Chicken Wings from a James Beard semifinalist, killer beer, and Womens sports? Yes please!
Anthology Secret Society, a members only club where the cost of membership is community service. This club will host quarterly park cleanups, BBQs, bakesales, etc. There will be members-only food and drink specials at Epilogue, Icarus, and other participating businesses. There will be add-ons to the club that you can purchase, such as a monthly Wine Club, a monthly Preserve Club, and many more exciting surprises to come. The magic, though, is that the community service will be self driven. We wanted to create something fun, "exclusive", but totally inclusive. All you have to do is Do Good*.
Why Us?
Epilogue Kitchen has thrived in Downtown Salem. As a Black owned restaurant in Oregon, we have navigated ingrained prejudices and risen above all of that noise by consistently being excellent. By consistently putting the growth of the community we have chosen as a home at the front of our decisions. We have shown, over and over, that there is nothing that we cannot or will not overcome. It helps that our food, drinks, and hospitality are unmatched! We are excellent at what we do, and work hard every single day to maintain that excellence. As this collective grows, we are confident that the benefit to the community will grow as well, and by contributing you will be able to say you were a part of the change you wanted to see. We want to inspire, and be inspired, and expand what we all thought was possible to exist in Salem. Let's make magic together.
Can't help financially?
That's perfectly okay, and there are other ways you can pitch in. Also, membership to Anthology Secret Society has no monetary cost, so no one is excluded from this thing we're building. If you'd like to help, you can always:
Share this campaign widely & often across your social media platforms, & via word of mouth.
Live your life well, stay healthy, and do good
Come hang out with us whenever you are able!
*Access to Footnote with every Anthology Secret Society membership.