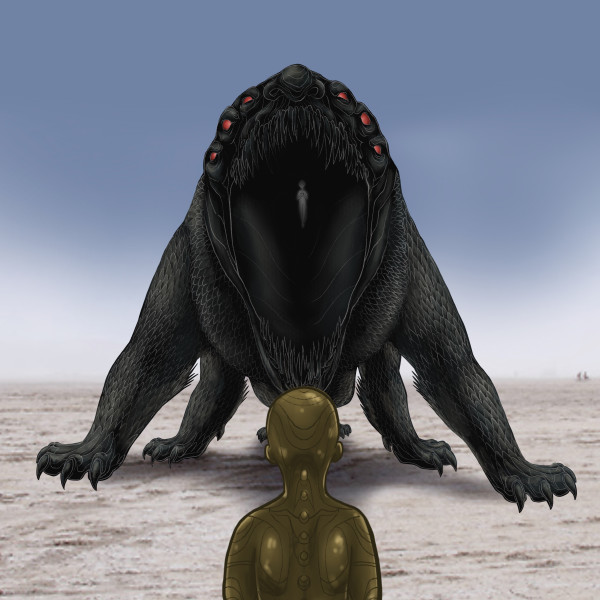 Facing the Fearbeast
$2,900
raised out of
$50,000
Concept
A mythic, interactive sculpture debuting at Burning Man 2022
Story
 Created by artist Tigre Mashaal-Lively with Make Love Visible & Stark Raven Fabrication, Facing the Fearbeast is a dramatic meditation on the human struggle with fear, doubt, and trauma.
The work depicts a small, brave child facing up against a hulking nightmare known as the Fearbeast. Thirty-five feet long and sixteen feet high, the Fearbeast is a chimeric monster full of teeth and claws and spines. The Child that faces this beast stands with courage, compassion, and dignity – seeing past the monster to the Inner Child trapped within, representing the wounds and traumas that often manifest through our most destructive and harmful behaviors.
The creative team behind this project comprises a rich and diverse collection of visionary creatives with decades of experience innovating in their fields. This core team is further supported by a passionate community of artists, designers, makers, healers, and activists.
>>Launch Day Special: Donate in the first 24 hours to get a bonus perk: A signed limited-edition art print, hand printed by the artists! Select the *Add-On Perk* when you make your donation!!<<
.:.
The Nuts & Bolts…
The Beast
The Fearbeast will be constructed with a robust steel tube structure supporting the form. The surface will be sculpted with a combination of recycled and scrap steel, up-cycled rubber tires, and other mixed materials. The body of the beast will be covered in blackened steel scales, and the translucent eyes will glow with fury.
The Children
For the child sculptures, we are experimenting with cast reishi mycelium. This exciting new process is at the forefront of new sustainable materials development and we are conducting experiments to push this medium even further, creating an organic-based form in contrast with the industrial materials that make up the Fearbeast.
Alternative material explorations for these figures include cold-cast bronze and laminated bio-resins.
Interactivity
An important aspect of this project is its interactivity – the way that participants can affect the work and trigger a shift in scene that illustrates the importance of solidarity and community support. 
Using motion tracking technology, these effects will be expressed through dynamic light and sound design. While the shifting lighting will help direct the participants' focus to different parts of the narrative, the soundscape will be an especially evocative element of the work. Designed by world-renowned musician Raashan Ahmad, different scores will convey the emotional range of the work from dark and fearful to harmonious and empowered.
These soundscapes will incorporate vocal contributions from our global community, and YOU are invited to share a voice recording to be mixed into the soundscapes.
Visit our website to learn more about contributing your voice!
.:.
What We Need to Make This Happen
Facing the Fearbeast will cost $80K. 
We are grateful to the Burning Man Project for a $30K grant to get this project started.
We are seeking an additional $50K from our community  (that's You) to fully realize Facing the Fearbeast and share it with the world.
Where Do the Funds Go?
$35k –  Materials/Fabrication :
                steel, specialty tools, resin, hardware, clay, silicone, shop rent, etc.
$9k –  Tech/Power :
                sound system, lighting, interactive tech, solar panels, fuel, etc.
$20k – Transportation/Installation :
                shipping, heavy equipment, hardware,  installation crew camp, etc.
$16k – Fundraising Costs/Operations :
                perks, platform fees, legal fees, web hosting, insurance, etc.
What You Get for Your Support
We have created a menagerie of exclusive merch, unique artworks, and special experiences as a Thank You for your support of this project! Check out the various tiers to find the right perk for you!
>>Launch Day Special: Donate in the first 24 hours to get a bonus perk: A signed limited-edition art print, hand printed by the artists! Select the *Add-On Perk* when you make your donation!!<<
What If We Don't Meet Our Goal?
While every dollar raised is needed to bring our vision to life, we are also committed to creating this project no matter what. Thanks to our initial grant funding from Burning Man, we are confident that we can gather the resources and support needed to share this important work with the world.
Through the vast experience of our creative team, we are well-versed in the immense challenges of creating big, complex, innovative projects. When faced with unexpected hurdles and roadblocks, we find solutions and figure it out. We also know that we have a local and global community supporting us. We are actively seeking partnerships for in-kind donations and exploring ways to up-cycle materials out of the waste-stream.
.:.
Meet the Team
Tigre Mashaal-Lively | Lead Artist | 
Tigre is a professional installation artist creating evocative and immersive experiences around the world for 10+ years. Manifested through a broad range of materials including steel, wood, resin, ceramics, bamboo, textiles, sound design, and more, Tigre's work is aimed towards personal & collective liberation – seeking to awaken people's humanity by remixing the ancient motifs of ritual & myth with the complexities of contemporary existence.
Tigre's previous community-supported Burning Man projects include The Solacii (2017), and Lobo Madre (2013).
Calli Beck | Project Manager / Design Support | 
Calli is a professional artist, designer, and project/operations manager  who works with other artists to turn their dreams into reality. Calli believes in building a better world through community and utilizing art as a mechanism for social change.
Lucas Reshi | Director of Fabrication | 
Lucas is an artist, welder, finish carpenter and fabricator who specializes in working with artists. His sense of materials and structural fabrication techniques turns the most complex forms into an approachable possibility.
Calli and Lucas operate Stark Raven Fabrication, a studio in Santa Fe, NM focused on realizing innovative and cutting-edge immersive art experiences while fostering community and teaching the next generation of dreamers and makers.
Raashan Ahmad | Sound Designer |
Raashan is an emcee, producer, DJ, label owner and internationally touring musician who combines his story and stance on social, political and cultural issues via the spoken word (in all its forms) with various rhythms and music from across the globe. Raashan is also a cultural worker who is rooted in racial/social justice and community and cultural work.
Jerome Morrison | Interactivity Designer |
Jerome is an interactive experience designer working for a world where we are using technology to foster human-to-human connections. Jerome's work is dedicated to attracting a wide variety of people, and finding ways to keep them engaged with each other and with the experiences we create together, with a bit of technological magic sprinkled in.
Nikesha Breeze | R.I.D.E. Lead/Sculpting Support |
Nikesha is a multidisciplinary artist working from a Global African Diasporic, Afro-Centric and Afro-Futurist perspective, reimagining the possibility of healing inter-generational traumatic inheritance through the intersection of art and ritual. Black, Brown, Indigenous, Queer and Earth bodies, material and immaterial, are seen as undeniably sacred and inviolable.
Will Putnam | Engineering Designer |
Will Putnam is an industrial artist, fabricator, and mechanical designer with a background in systems engineering. He helped generate the 3D models for the project. Will uses his background in manufacturing and design to help bring artistic vision into the real world.
Other Ways You Can Get Involved
We know not everyone can donate to campaigns like this. Luckily, there so many ways to help Facing the Fearbeast become a reality!
As always, sharing this campaign with your friends, family, and networks is immensely helpful. 
We are also seeking in-kind donations for some of our fabrication materials, technologies, and power systems. If you are interested in partnering in this way, please reach out at: info@fearbeast.com
Contribute your voice to the project! We invite you to contribute a voice memo of Statements of Self-Affirmation and/or Self-Denigration to be incorporated into our dynamic soundscape. Recordings can also be sent to: info@fearbeast.com
And finally, if you are in the Santa Fe, NM area and want to pitch in on the build, we will be having community work parties through the summer. Reach out directly via email: info@fearbeast.com or check out our page on Facebook to learn more!
Thank you for your support of this work.
We are infinitely grateful to our community in joining us on this journey!
.:.
Food for Thought… 
"Kindness eases change. Love quiets fear. And a sweet and powerful Positive Obsession blunts pain, diverts rage, and engages each of us in the greatest, the most intense of our chosen struggles." – Octavia Butler
.:.
"Where you stumble, there lies your treasure. The very cave you are afraid to enter turns out to be the source of what you are looking for. The damned thing in the cave that was so dreaded has become the center." – Joseph Campbell