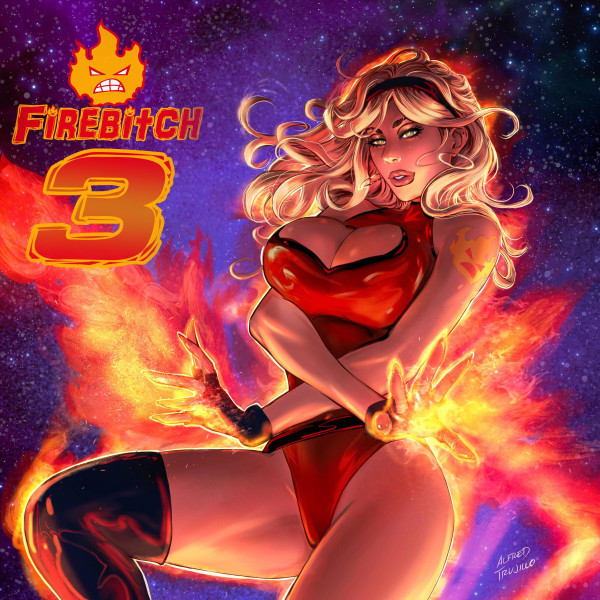 Firebitch 3
$50,333
raised out of
$2,000
Concept
A hilariously raunchy social media DIVA battles for the survival of an alien species in Firebitch 3.
Story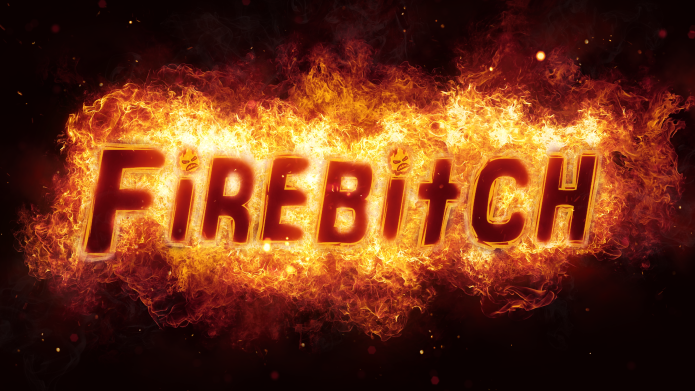 Welcome to Firebitch 3! 
Firebitch is the comic love child of Cara Nicole and Alfred Trujillo with two previous campaigns ultra funded and shipped to completion in a timely manner.  We deal with FUN CHARACTERS, exciting stories, and in-depth exploring themes of war, and friendship juxtaposed with a hilariously raunchy social media influencer just wanting to share some selfies~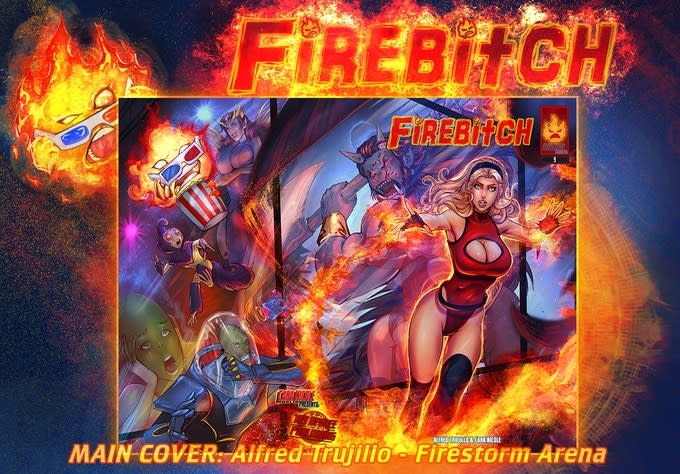 Our saga continues with this climactic entry of our social media diva's fiery tale. Witness as Chastity Chase harnesses a power bigger than herself to face down dire odds to help new friends halfway across the universe. You will gasp, cry, scream and jump for joy as our social media savvy HEROINE, now trapped on a hostile alien species' ship, must do what is necessary to not only survive a hulking galactic overlord but save an entire civilization so they can send her home to earth and back to her online followers.                       
REWARD TIERS 
Thank you all in advance for backing our campaign! We appreciate that your time is valuable and we tried to make it easy for you to get what you want. We have cut down on tiers this time around and we're happy to bring you a new way to pledge with the BUILD YOUR OWN tier! It's super easy, pledge on the $10 BYO and choose from any of the items available in the Add-On Section (excluding VIP and Producer), and BOOM you are set.  Essentially you pay for postage and you have your choice to mix and match. 
*Build Your Own Customized Tier*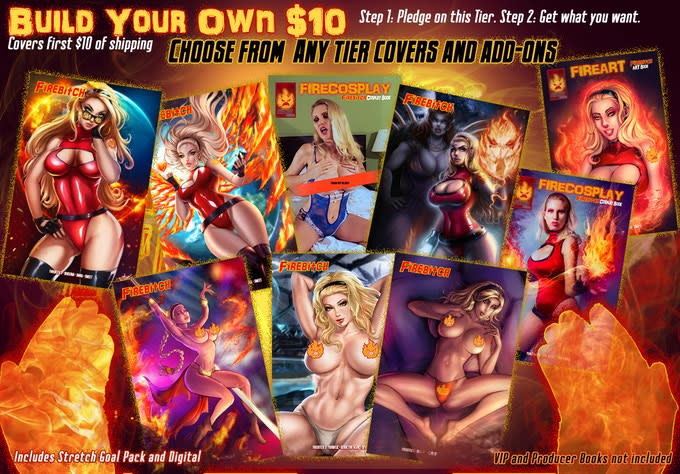 *Catch up on all the Issues*
Main Covers of Issue 1, 2 and 3.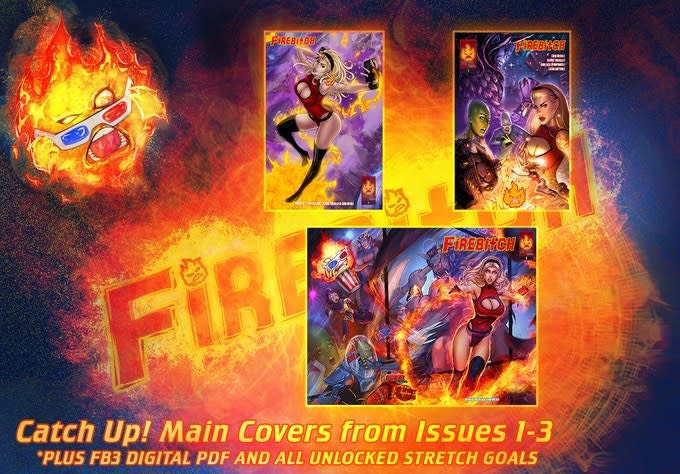 *Cosplay Cover*
Cara Nicole AKA AzPowergirl is on fire in her super suit as the illustrious Firebitch!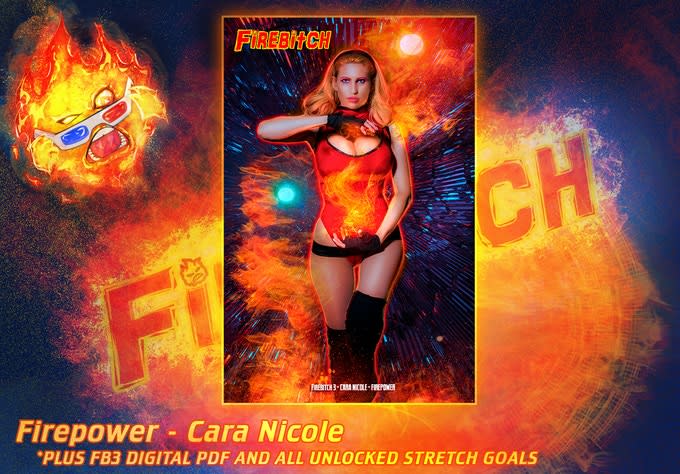 *Majestic Deal*  
Tevan brings our super siren to life in this majestic painting that brings out the Queen in her.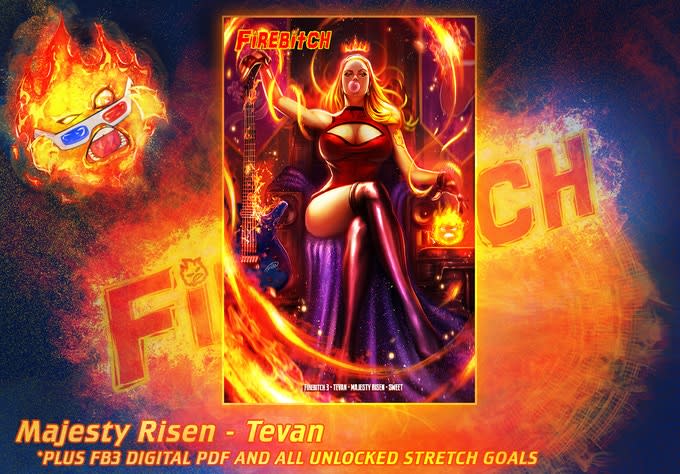 *Powergirl Homage*
This Adam Hughes homage cover is a must-have for any PG lover or homage variant collector.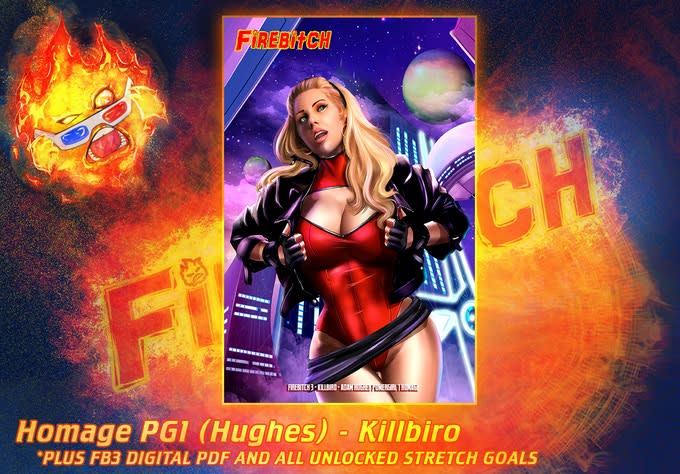 *Bath Time*
Leo Matos brings some cleanliness to this social media diva and Cara not only modeled but also laid down some sweet colors on this piece! This is the ONLY piece colored by Co-Creator Cara Nicole.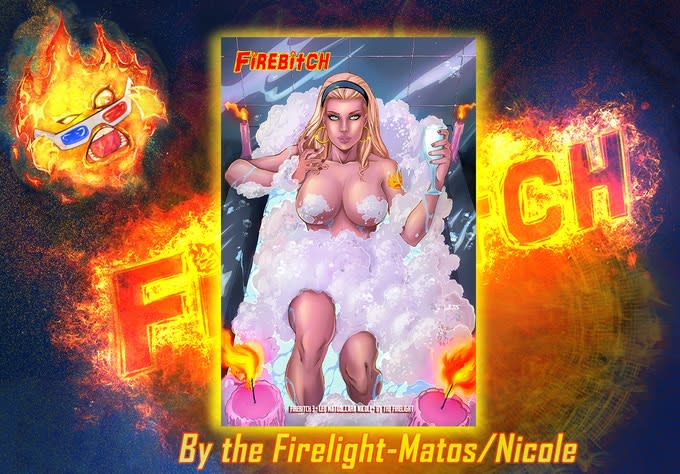 *I Choose YOU! *
In issue 1 she asked for a Pikachu onesie, issue 2 she was wearing it in the book, and now get Cara Nicole cosplaying in this booty shakin cover!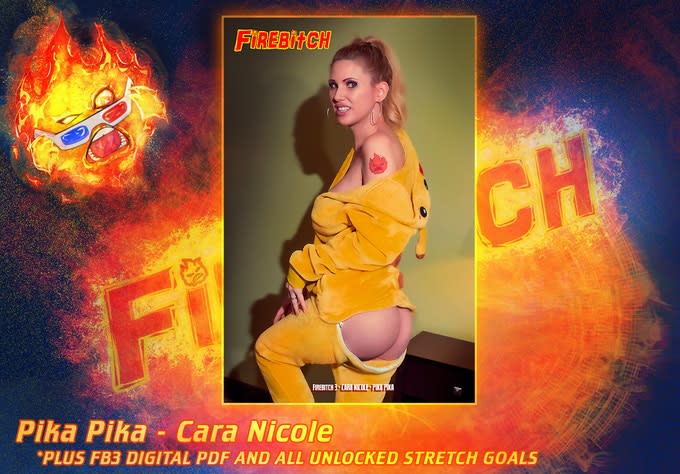 *Sexy*                 
Feeling Blue? Lay back and take a moment to read a good book 😉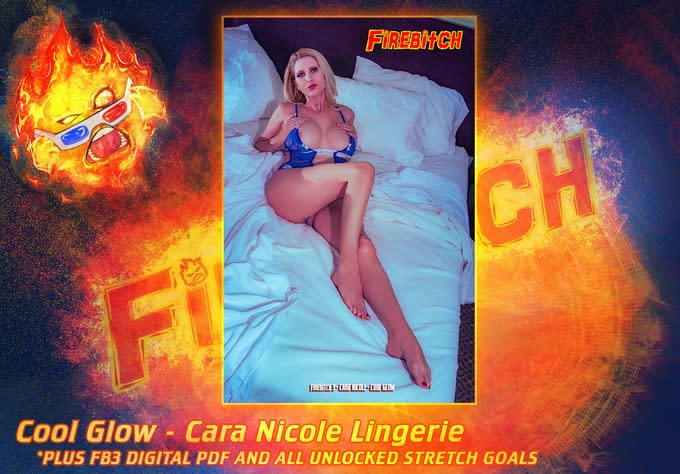 *Scandalous*
It's on and off with her! Can't a woman make up her mind?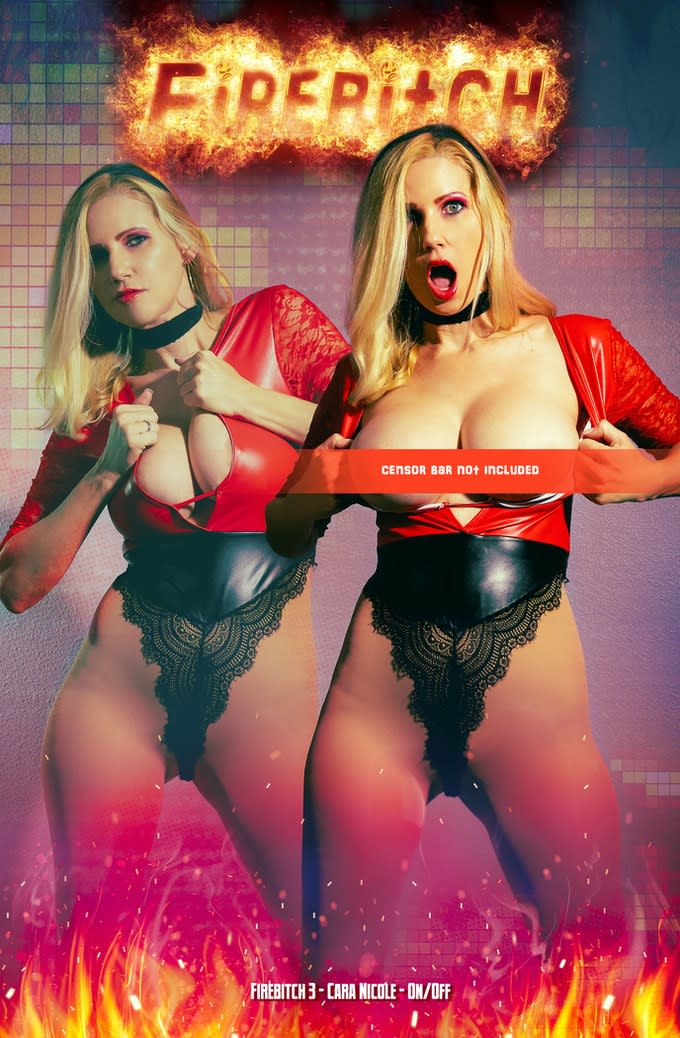 *Art Book*
Can't read? Don't want to? That's ok. Enjoy the firey goodness . Get the art of Firebitch in this art book. (Does not contain the covers from issue 3)
Want it with a topless cover? Scroll on down, check out those options, and add it to your pack.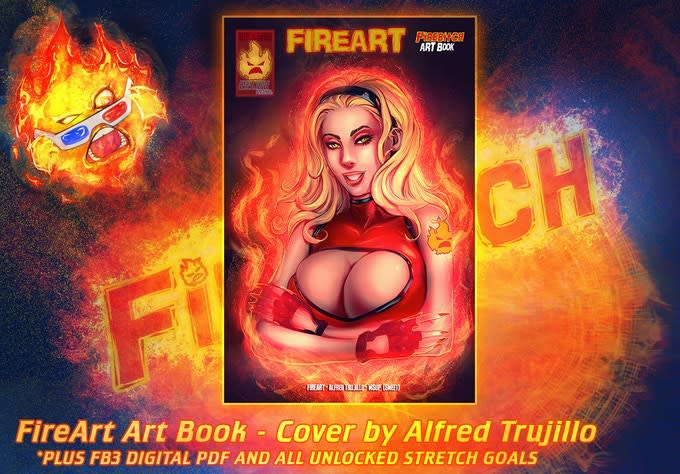 *Bootylicious*
This Grace/Zaldivar team-up is so sexy, sassy, and cool 😉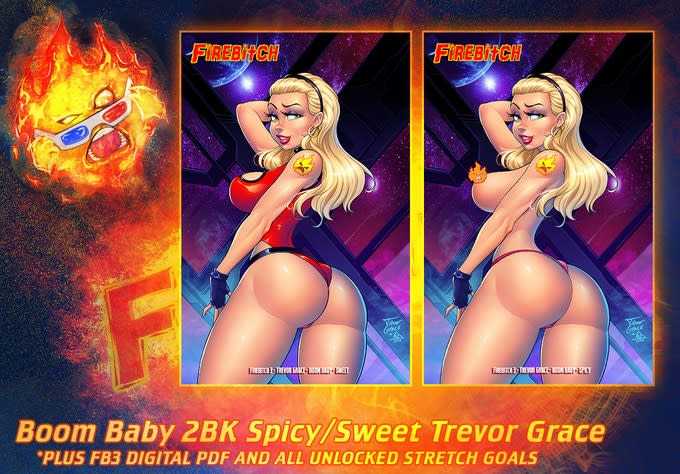 *Leia Luxury*
This Star Wars inspired set from creator Alfred Trujillo is out of this world!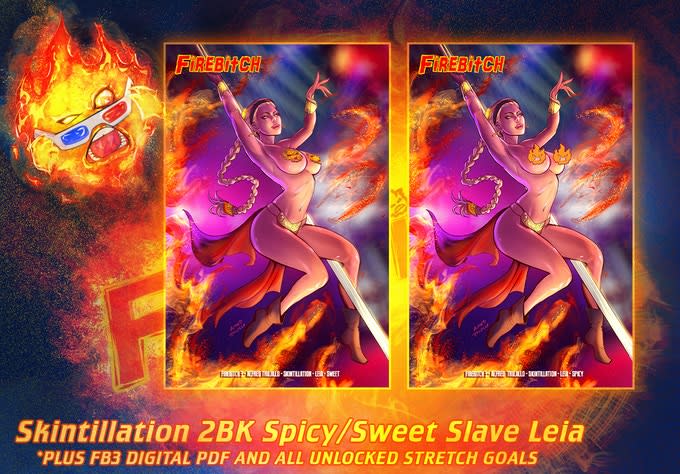 *Tantalizing Temptress*
Alf squared! Alfret Le and Alfred Trujillo tag team this  Queen temptress.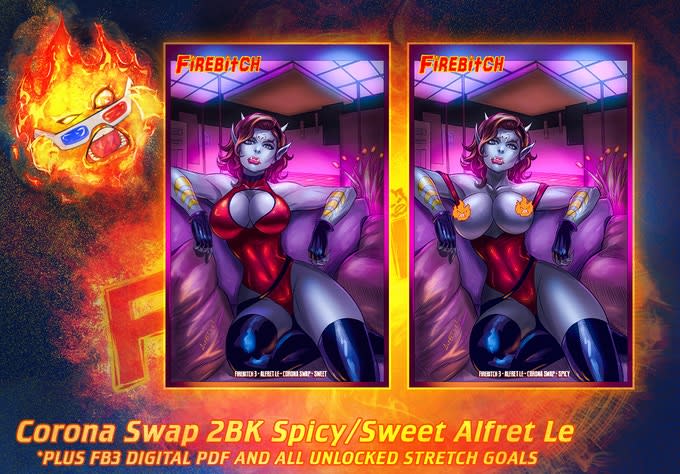 *Soft and Seductive*
New to the team this sexy set is "Yurriific"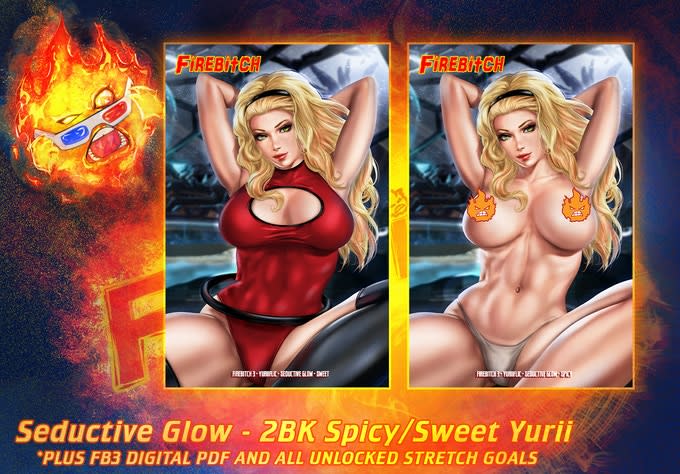 *Issue 1 add-on Special Edition*
 This Mike Debalfo cover from issue 1 has been remastered and is now available in virgin and 3D! 3D cover comes with its very own pair of 3D glasses! Add these special variants to your collection.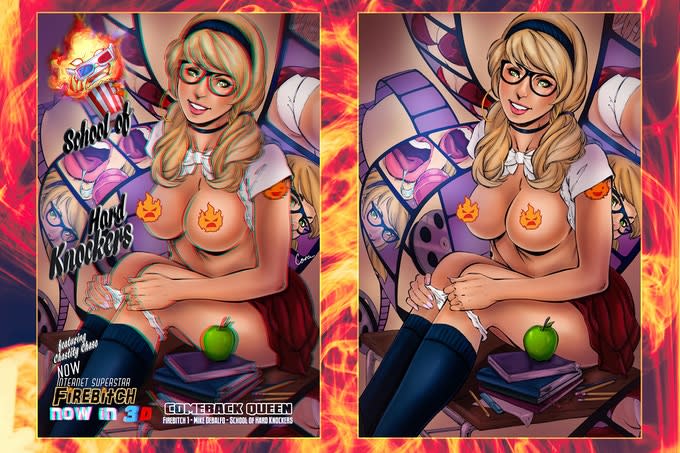 Add On a trucker hat and T-shirt! T-shirt is available in its own tier while the hat comes with all VIP orders.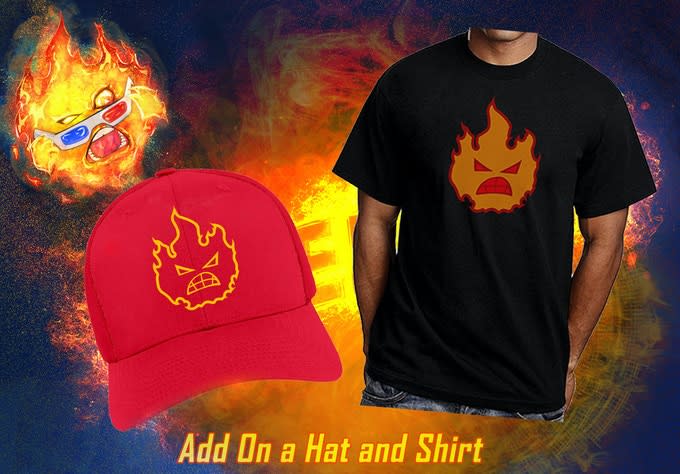 *Brat Pack*
Stef Wilson and Wendy Shaner?? You're definitely gonna want this set to compliment your Stef/Naughty Faeries collections 😉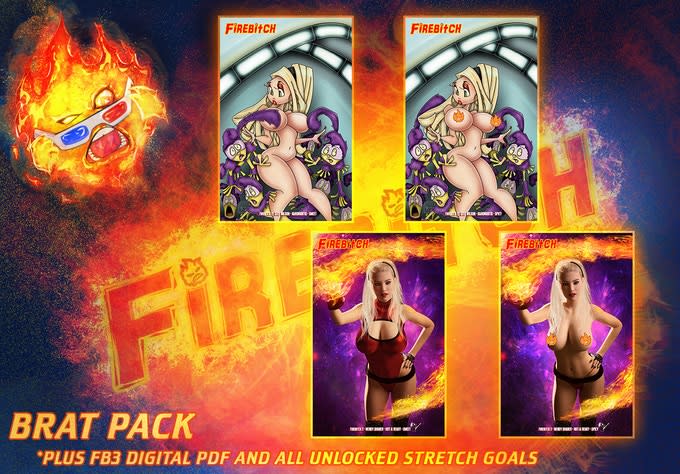 *Sweet and Sensitive*
For those of you who like risque but not too risky, this set is for you! With some truly adorable concepts and versions of some sexy covers on this campaign.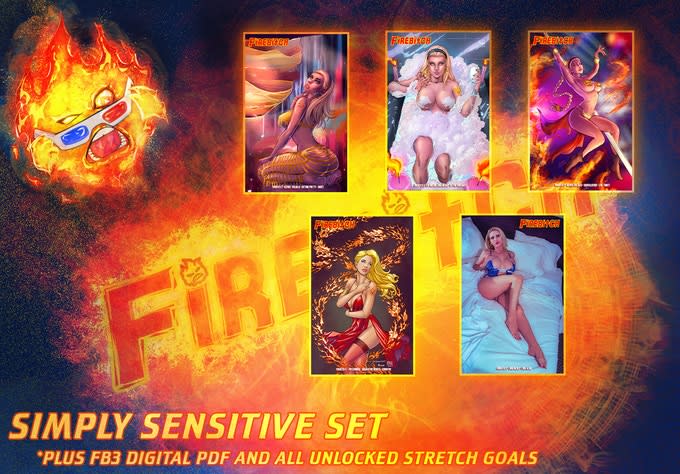 *Cosplay Overload*
Cosplay fans: Rejoice!! This cosplay pack is chocked full of your favorite cosplayer Cara Nicole who is not only co-creator, co-artist, and co-writer, but also cosplays with  FURY! Get her issue 3 covers and her FireCosplay (cosplay book) with all covers! Not enough?? How about a set of 11×17 prints!?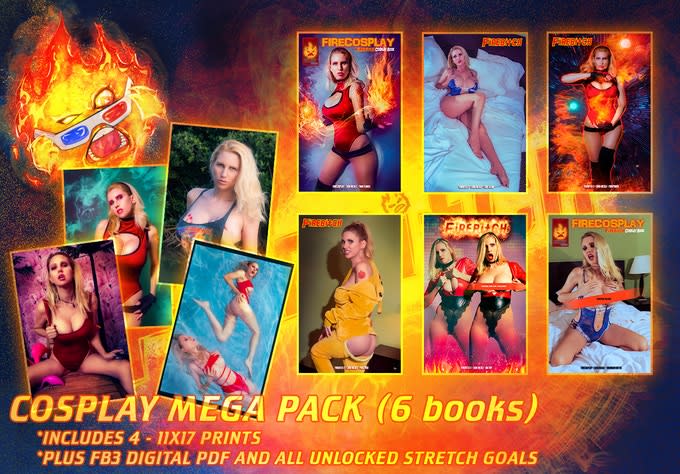 *Super Spicy*
For those of you who came for the spicy art, we made this just for you! 10 books with some high-caliber topless art. I mean, just take a look :-O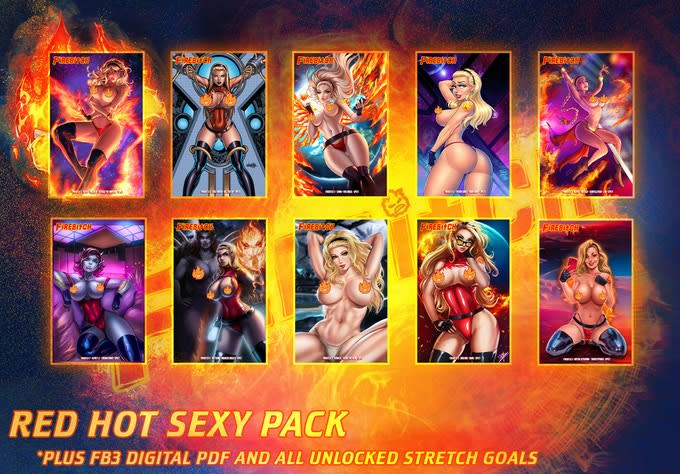 VIP *Over 30 Covers*
 Okay okay, VIP get SUPER hooked up. You get a VIP foil exclusive and a really choice selection of books that we know you're gonna go crazy over! Believe you me! And see that hat?? We're gonna do a hat! 😀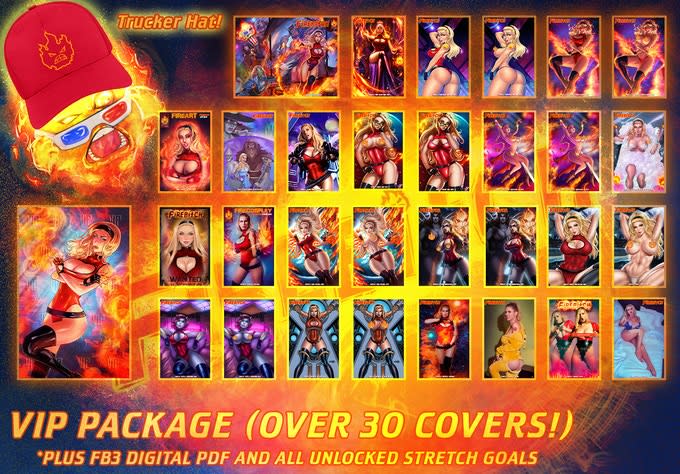 ADD-ONS:
Every individual cover for FB3 is in the Add-On section!! This allows our Build Your Own Tier to really shine. Select your Limited items from the main tier and select your non-limited items from the Add-On section.
*Smokin Deal Add On*
Dacilio Costa Specialty Virgin Foil!!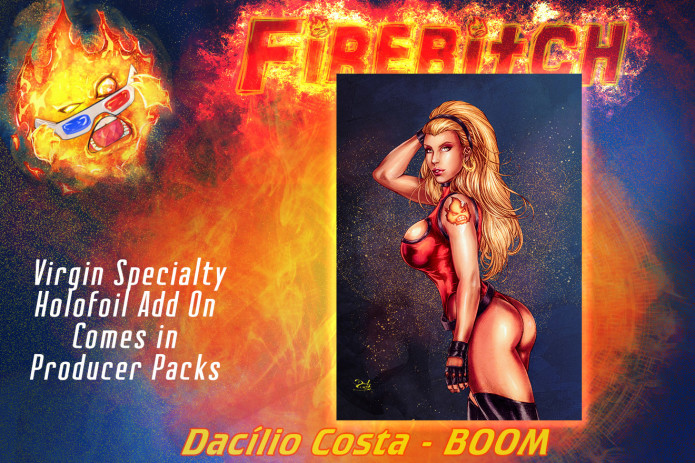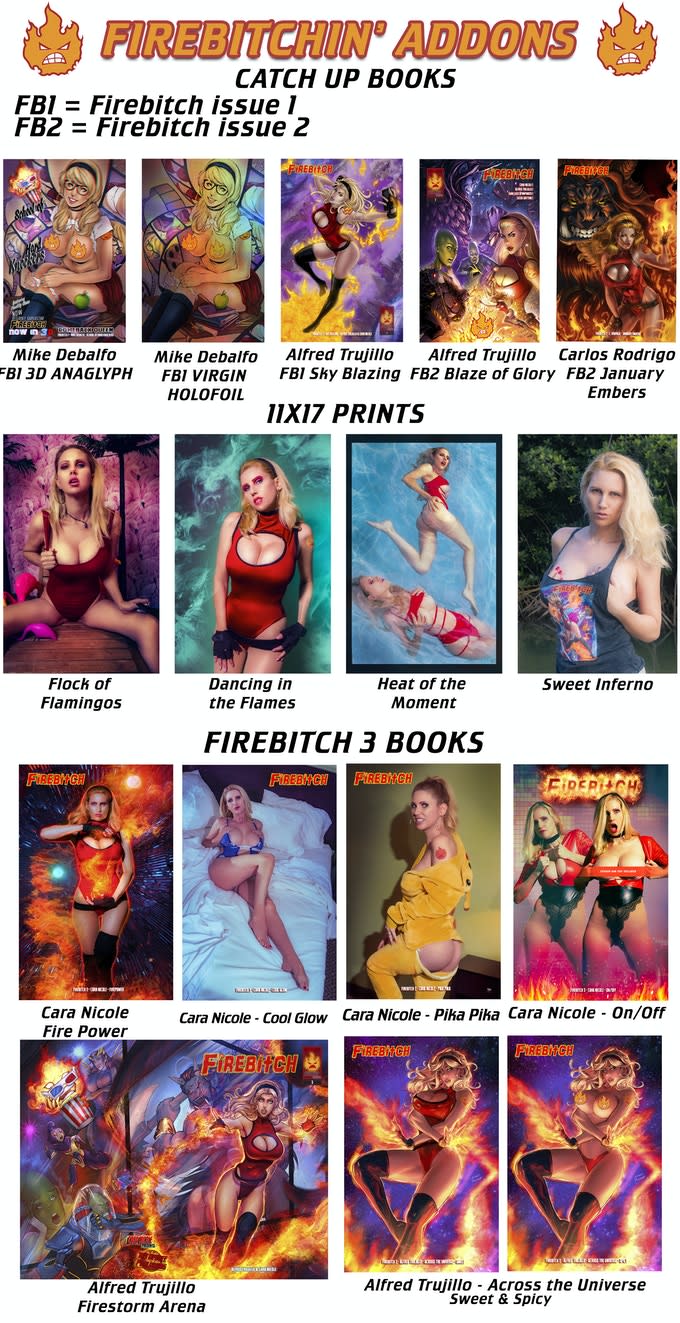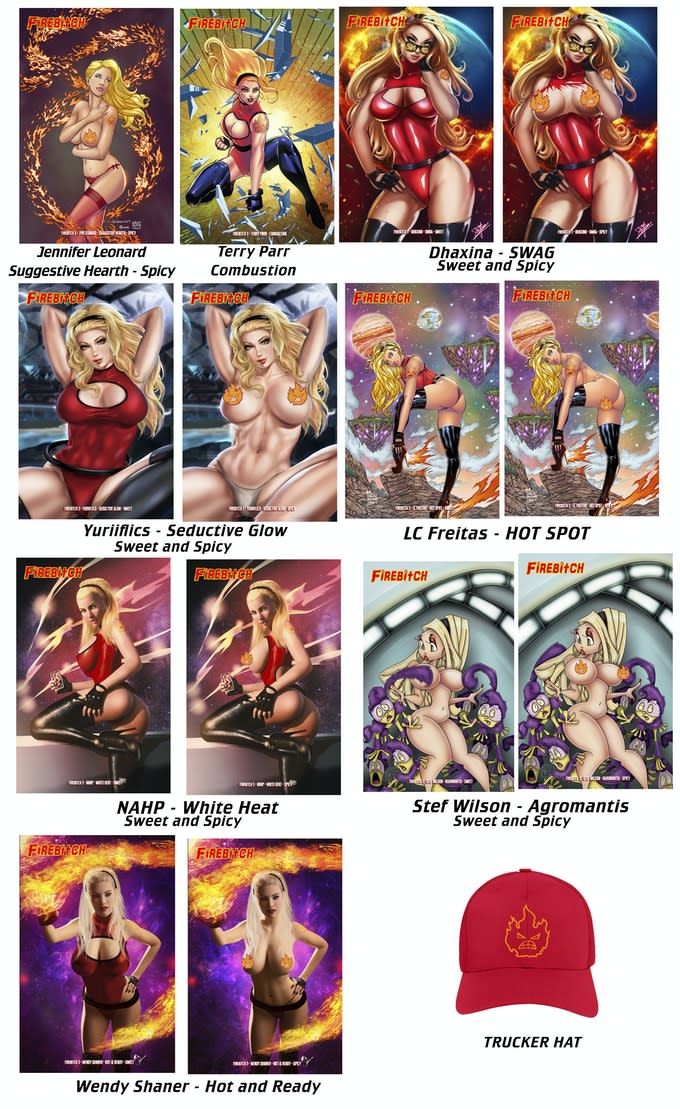 This time around we are bringing you a couple of really cool add-ons that we hadn't done in our last two campaigns, behold: FIRECOSPLAY and FIREART! Both will be 22 pages and will feature some of our favorite cosplay and art pieces from our vast wealth of Firebitch creations. 
FireCosplay has a main cover and a spicy variant available as add-ons!
Fireart has a main cover and a MYSTERY pack with 4 possible spicy virgin (no trade dress) limited covers. Also, 2 of each will be randomly upgraded to GOLD! Limited to 50