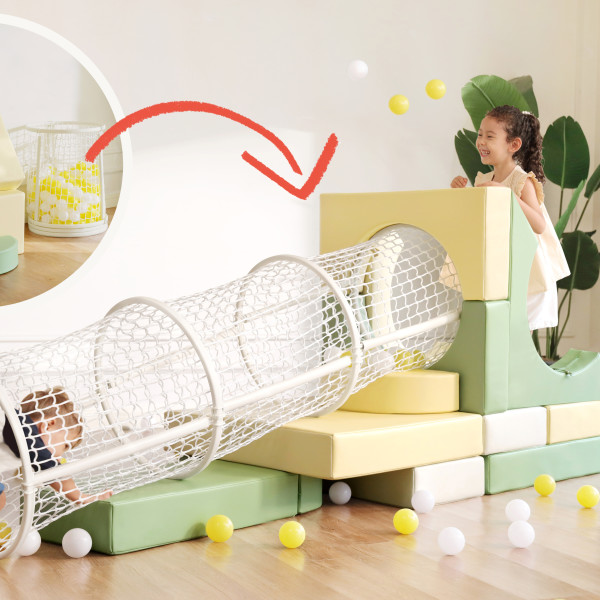 Funland – The Magnetic Play Space for Kids
$562,020
raised out of
$5,000
Concept
Bring the playground home & grow with your kids.
Story
Less Screen Time & More Play✨
The World Health Organization (WHO) report in 2019 recommended that children play more, sit less, and get the right amount of sleep to promote better physical health and reduce childhood obesity and associated diseases later in life.
The report states:
"Play is defined as being for its own sake (without a specific goal), voluntary, enjoyed by participants and imaginative."
WHO experts endorse the types of open-ended play that allow children to explore freely.
Children love to have fun, be creative and enjoy their time in a variety of ways. But with our busy lifestyles, taking them out to the playground becomes difficult. They then opt for less healthy activities such as playing video games or having screen time the whole day.
To solve this issue, why not create an at-home indoor playground to give your child a better way to stay active and entertained?
Introducing Funland – the magnetic play space designed for both children and parents.
Create a world to encourage your kids' imagination with the perfect play couch made of twelve cushions in various fun shapes and one game accessory pack. The cushions are covered in luxurious fabric covers.
What Makes Funland Special?
Funland is redefining the play couch. Most play couches on the market focus on saving parents time by trying to burn kids' energy off at home. But at Urban Toy Lab, we strive to build stronger connections between parents and kids. Parents who play with their children form stronger bonds with them. These interactions provide positive life experiences that stimulate children's brain development.
To accomplish this, we created a play couch that is not only a magnetic play couch, but also a play space where parents and kids can play bucket ball, kerplunk, and many more games — indoor and outdoor.  Get your kids moving!
It's Time to Save Your Couch Cushions
Kids need a space to run and play on, but you definitely don't want them running on your couch!
Tired of your living room looking like the photo above? Life is so much better with Funland!
Magnet + Imagination = ✨MAGIC✨
Cushions are magnetic and automatically connect in any direction. There is no wrong way to use Funland. It feels like ✨MAGIC! No matter how they are oriented, the magnets rotate inside the pockets to always attach to the one nearby.
Our magnets are STRONG enough to build super stable structures but still allow your kids to easily pull them apart!
More than Just the Life-sized Magnetic Play Couch For Your Kids! ❤️
Funland is much more than a magnetic couch! It's a fort, a rope tunnel, or even a playground! With our game accessory pack, you can play bucket ball, kerplunk, and many more games your kids can imagine it to be!
Magnetic bottom, convenient storage, fresh corner.
To Build Is to Grow!
Funland encourages children's imagination and nurtures growth, all whilst having fun. Children can build whatever they want without help from adults. Open-ended play teaches leadership, consolidates decision-making skills, and encourages experimenting with new ideas and learning new concepts.
Sturdy, Durable & Light Weight
Our foam is sturdy, durable, and lightweight. It's comfortable as a couch, and lightweight enough to reconfigure or move around when kids want to turn it into a playground. This enables creative, imagination and open-ended play without screens involved?️.
Easy to Clean✨
The Funland play couch is made from commercial-grade sofa fabric and is completely waterproof and wipeable. The fabric feels amazingly soft to the touch while still being very durable.
The fabric is easy to clean, but just in case, the covers are removable!
When aesthetic meets functionality ✨
Funland play couches or segmented and can be used to create whatever your kids want. It could be a chair or a fort. Sometimes kids like to make tunnels or play "the floor is lava" with the couch cushions.  But once playtime is done, it can quickly go back to being a couch, daybed, armchair or ottoman. It looks so good in your home, people won't realize it's actually a toy!
It's Safe for Kids. ❤️
Foam
We only use non-toxic CertiPURTM Certified Foam. CertiPUR-US is the foam industry's most rigorous certification program. Our foams are low-VOC, and made without ozone depleters, PBDEs, TDCPP or TCEP ("Tris") flame retardant, mercury, lead, and other heavy metals, formaldehyde and phthalates. CertiPUR-US® Technical Guidelines reflect the latest science and new health, environmental, and safety regulations. To learn more, go to https://certipur.us/
Fabric
Our luxurious commercial-grade sofa fabric doesn't just look amazing; they perform too. The fabric not only feels amazingly soft, but it also creates just the right amount of friction to ensure a firm grip while children build their creations.
It is also tight so you won't have to worry about magnets coming out! Our fabric has been tested by a third party to verify it's safe for use with children under the CSPC and is compliant with ASTM-F963 standards. Each piece will feature removable covers with locking zippers so they stay on until you're ready to switch them out!
Specs
Colors Options
Kids love bright and vibrant colors. The study of colors and how they affect moods has determined that children may actually identify feelings with colors early on in their lives. As their brains grow and develop, they start associating and preferring certain colors over others. Choosing a couch with a variable color scheme and colors that are both vibrant and fun for your kids will help them associate fun with those colors. Ultimately, it's beneficial for their health and helps to foster further creativity in their lives.
We will send you a survey via Backerkit after the campaign, so you will select the colors for your Funland  – One color for your 12-piece kit, or three colors to mix up.
Comparison
Fulfillment
Our team has successfully sent out over 3000 orders to our backers in our first Kickstarter campaign! We're going to continue to keep our promise as well in the second campaign!
Return Policy & Warranty
All unopened products are eligible for return within 15 days of delivery. This means that the Funland must still be wrapped up in its burrito in the box to be eligible for return.
The warranty only applies to products purchased directly from Kickstarter or urbantoylab.com, within a year of purchase, and will only be honored for the individual who made the purchase.
About Us
We're Urban Toy Lab. We're the guys enthused to find simple, non-invasive solutions to many adults' and children's everyday problems. Creating stylish, practical items is our aim, cutting-edge design is our game.