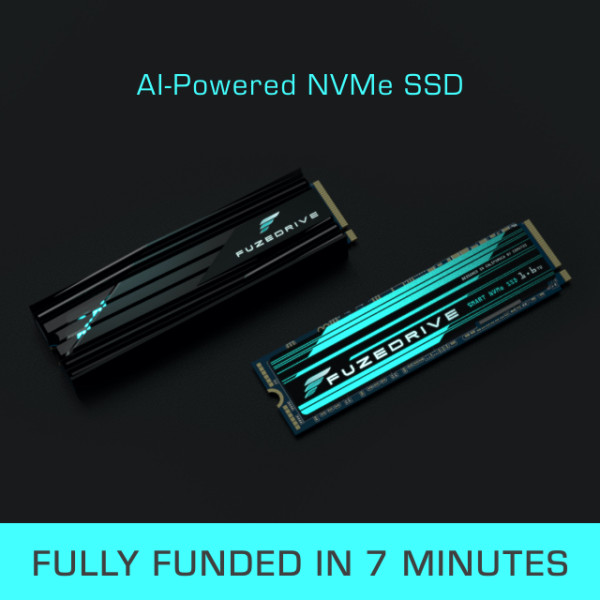 FuzeDrive SSD – The First AI-Powered NVMe SSD
$106,983
raised out of
$10,000
Concept
The first AI-Powered NVMe SSD that combines SLC and QLC to maximize performance and endurance.
Story

FuzeDrive Smart NVMe SSD is ideal for replacing your boot drive, so you can enjoy maximum performance, capacity and endurance using Artificial Intelligence.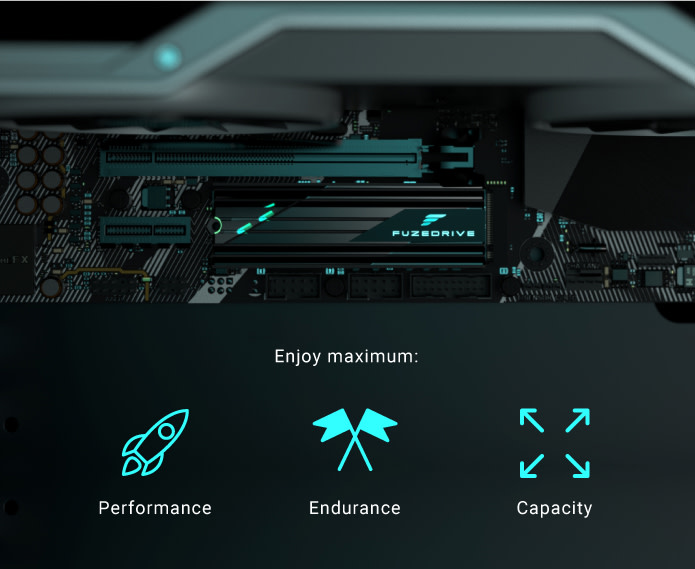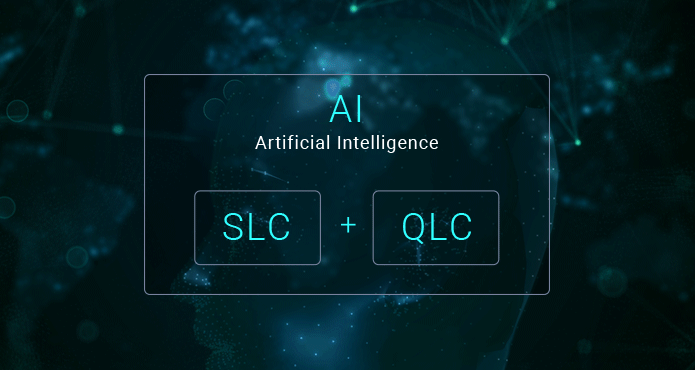 FuzeDrive SSD solves the capacity + performance problem with AI that utilizes SLC and QLC—2 SSDs in one.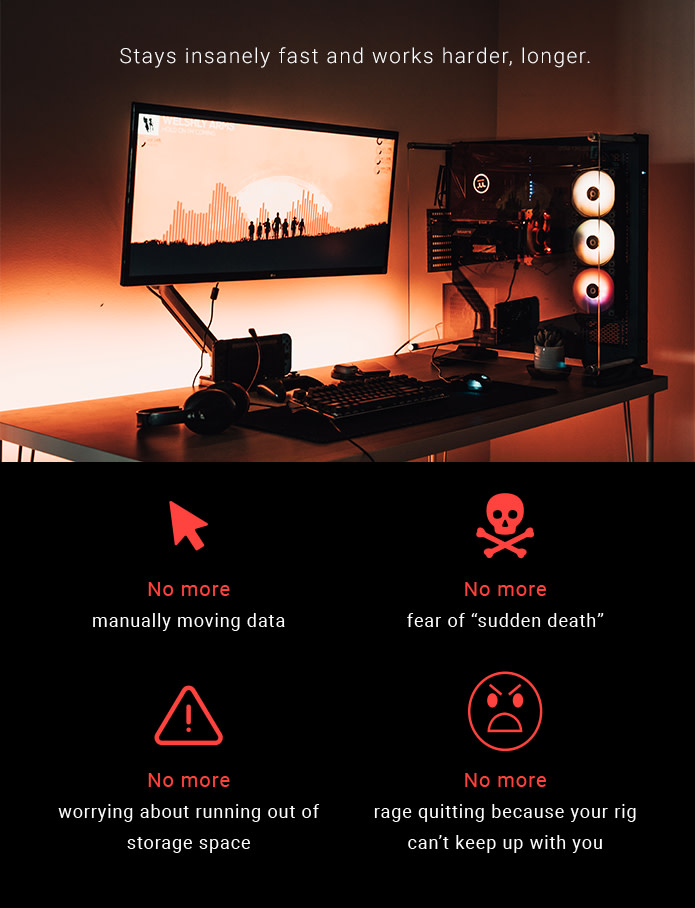 By utilizing SLC for true primary storage (not as a Cache), you take advantage of premium NAND technology and QLC capacity to store large volumes of games and applications.

Yes, we're certain.
FuzeDrive SSD combines SLC and QLC on a single physical board, but unlike any other consumer-grade SSD, the SLC is actually used as permanent primary storage, which has 20x the endurance of QLC.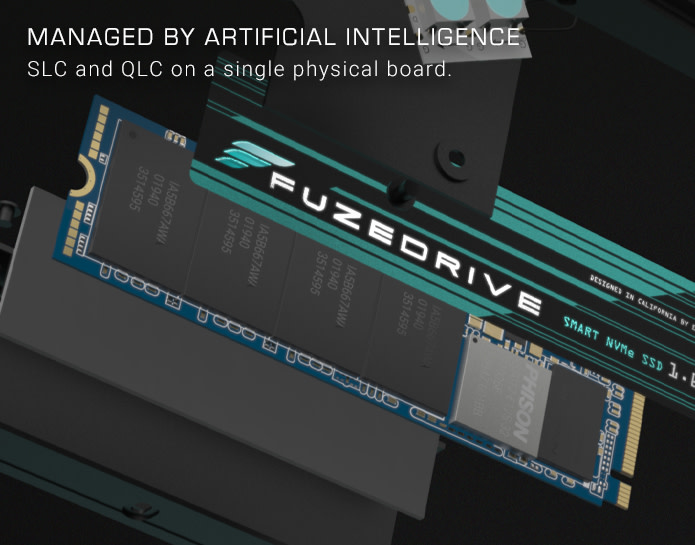 Your active and write intensive data is move to the SLC, where you need it most.

For data drives, add another SSD or even a 18TB HDD, for example, to expand your storage to 32TB or higher without having to reinstall anything.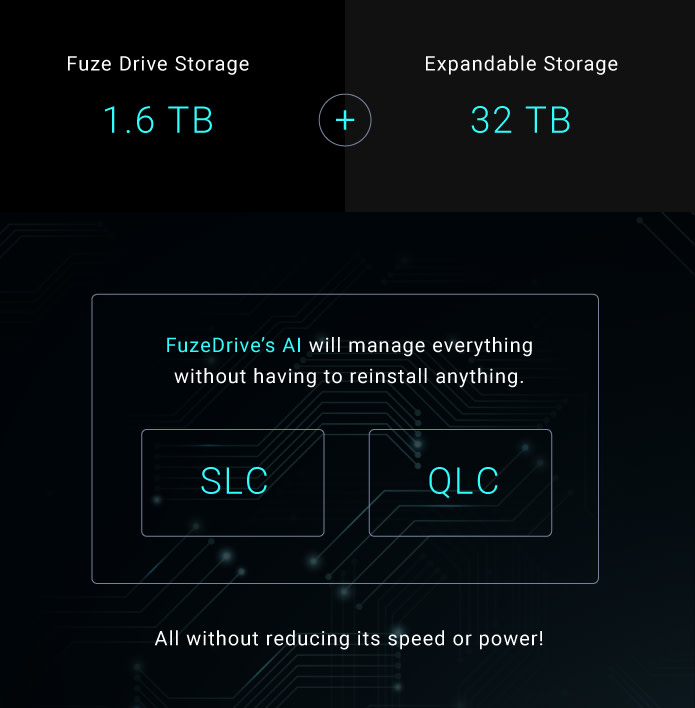 FuzeDrive's AI will manage everything from the 'hot' data in the SLC, 'warm' data in the QLC and 'cold' data on the hard drive—all without reducing its speed or power!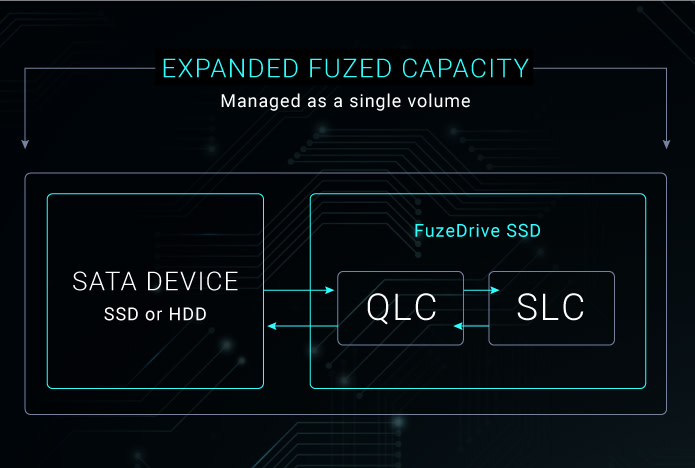 Every FuzeDrive SSD ships with FuzionX expansion software, so expanding your build is painless!

We all know QLC drives wear out fast, but not this one.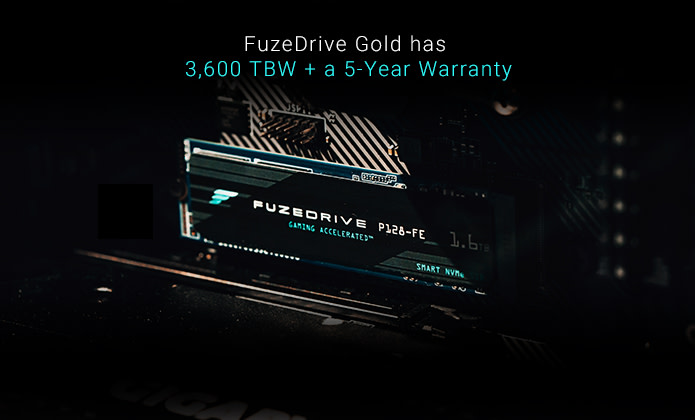 FuzeDrive Gold has 3,600 TBW and a 5-year warranty. It's built to withstand video editing, 3D-rendering tasks and high-performance computing.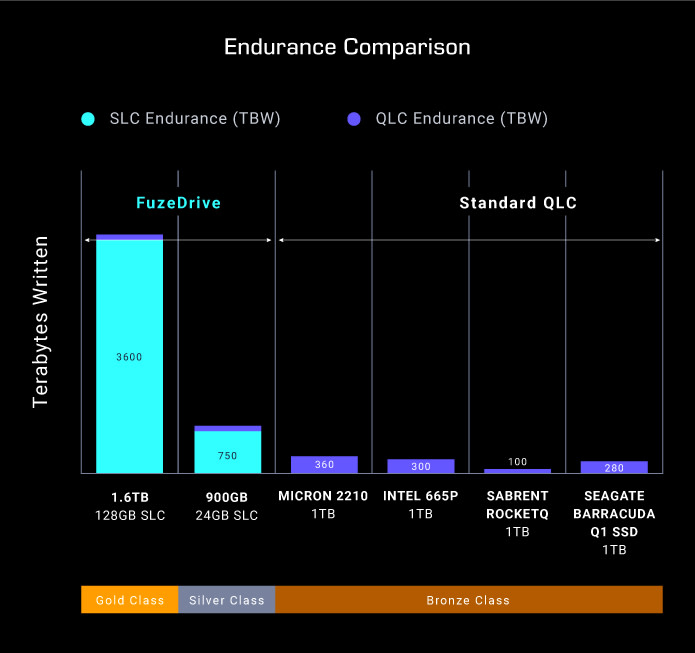 Artificial Intelligence maintains performance and endurance over the life of the product by keeping writes off the QLC, rather than degrading like other SSDs do after prolonged use.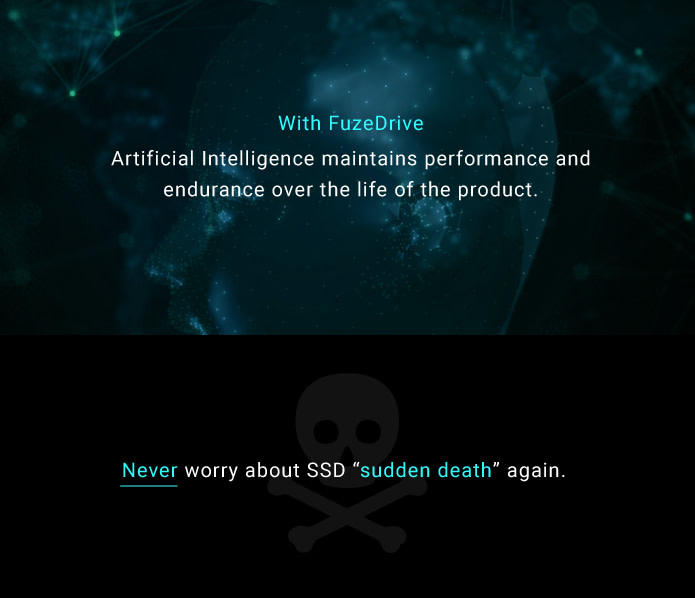 Never worry about SSD "sudden death" again.

FuzeDrive delivers this unrivaled gaming experience with faster booting, shorter game load times and seamless shifting from one game to another using Artificial Intelligence (AI) software.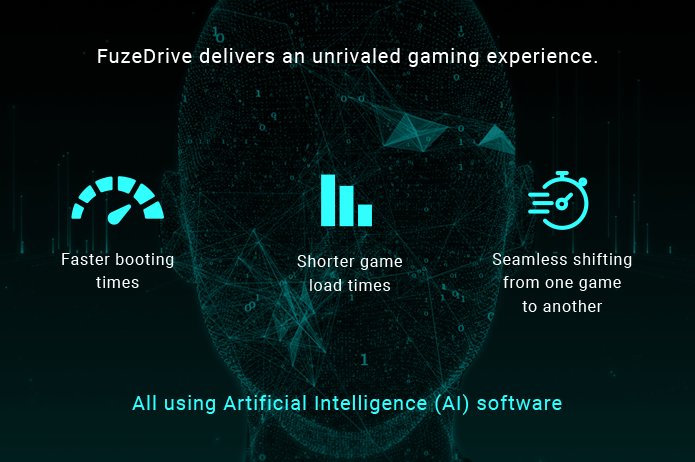 AI learns how you use your system and automatically optimizes the SSD by moving your frequently accessed data to 128GB of SLC. It uses the high capacity QLC to store infrequently accessed data (like all those Steam Summer Sale games you bought and never played).

FuzeDrive SSD stays cool under pressure and maintains optimal operating temperatures using a 3M Heat Dissipating label so your performance never suffers (at least not from lack of cooling).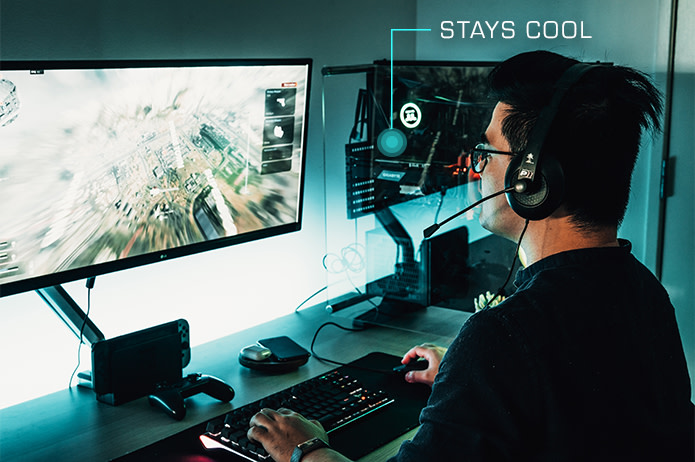 Spice up your desktop with an optional heatsink that has an LED light. If you have a clear case on your system, even better!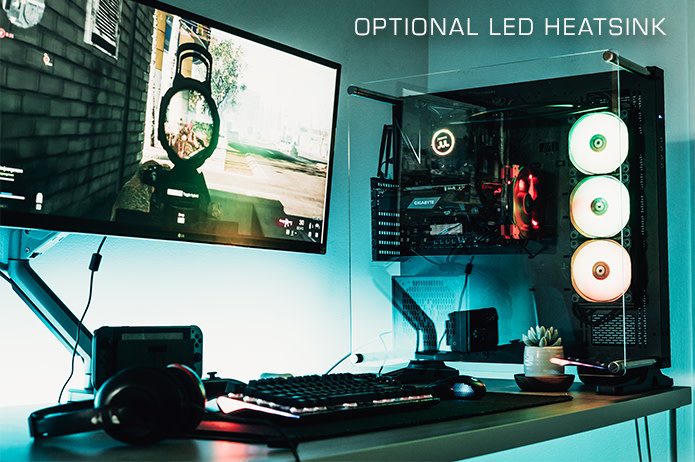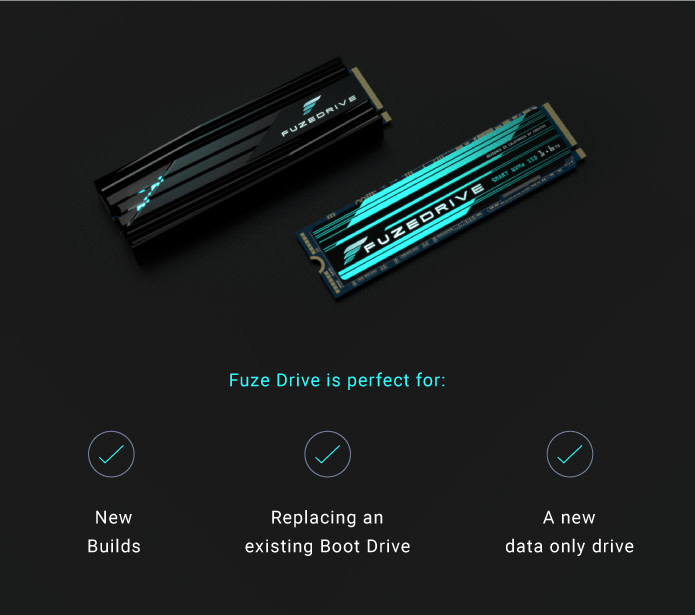 FuzeDrive was created with heavy users and hardcore gamers in mind. Its low latency at low-queue depths gives users instantaneous response. Plus, it's an easy integration on any PC or notebook and it can handle the biggest, baddest files that cause most heavy users fear when they try to launch.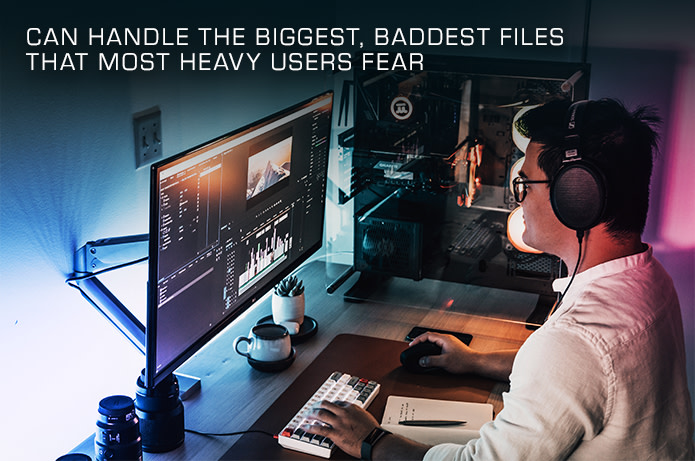 128GB of SLC and 3,470 MB/s read and 3,000 MB/s write give you slick video/sequential performance while 3,600 TBW delivers solid reliability. Bandwidth is nice, but performance really comes down to latency and FuzeDrive SSD delivers like no other drive.


There's no other NVMe SSD on the market that has this perfect balance of performance, endurance and price.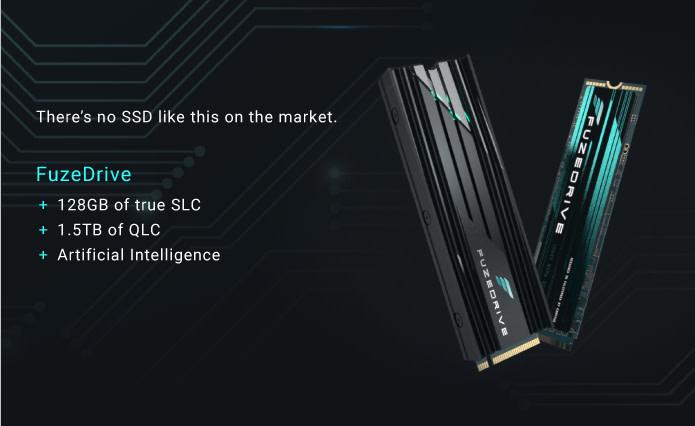 A pure SLC drive of this capacity could cost upwards of $2,000 but the QLC enables affordable high capacity and SLC enables uncompromised performance and drive endurance. The only negative? You can't blame lag every time you lose now!

FuzeDrive SSD was created with the goal of being a more reliable SSD that can survive everyday use, while taking advantage of modern, higher-density SSD chip technology. FuzeDrive's breakthrough technology enables a profound change in how SSDs work, ditching drive-managed SLC caching in favor of host-managed tiered storage.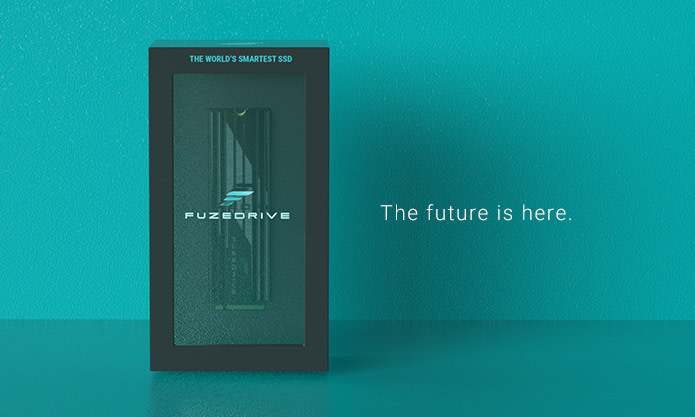 FuzeDrive is the first Smart NVMe SSD that enables SLC performance along with the large capacity demanded by gamers at an affordable price.



1. Turn off your computer and remove case

2. Insert FuzeDrive SSD into an available M.2 slot and power up your PC/notebook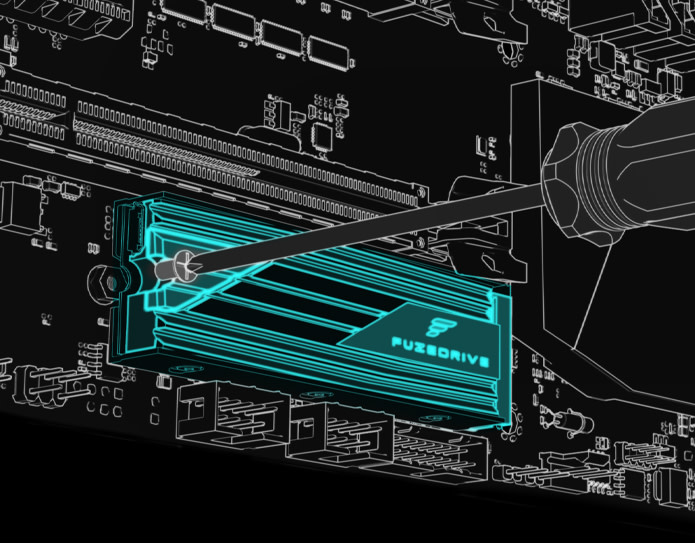 3. A new disk drive appears in your PC which you can either install a new operating system to or start using as a new, fast and reliable storage device for games, data libraries, etc.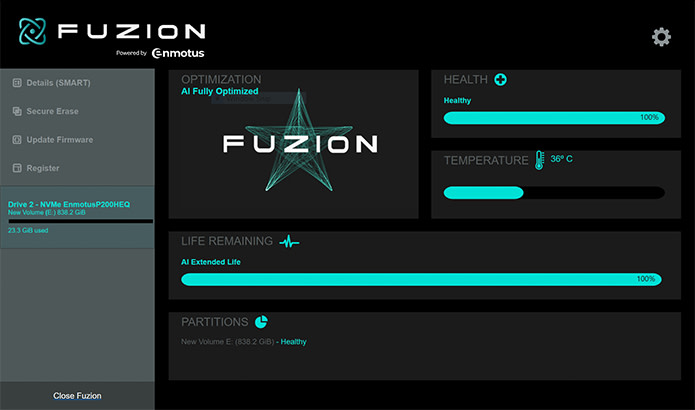 4. Install the AI software or let Windows do it for you via Microsoft update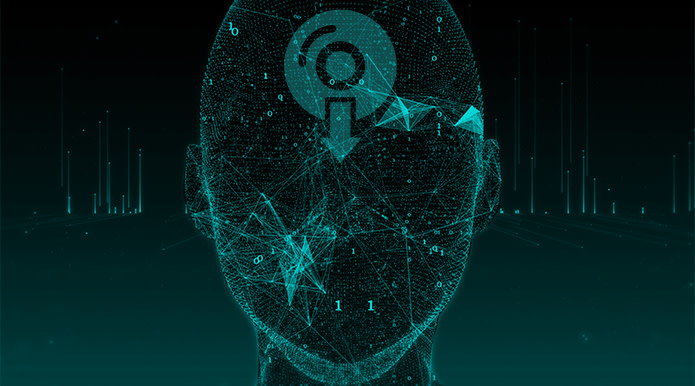 *Want to install as a boot drive to convert your existing system over to FuzeDrive? Instructions and extra migration software are included!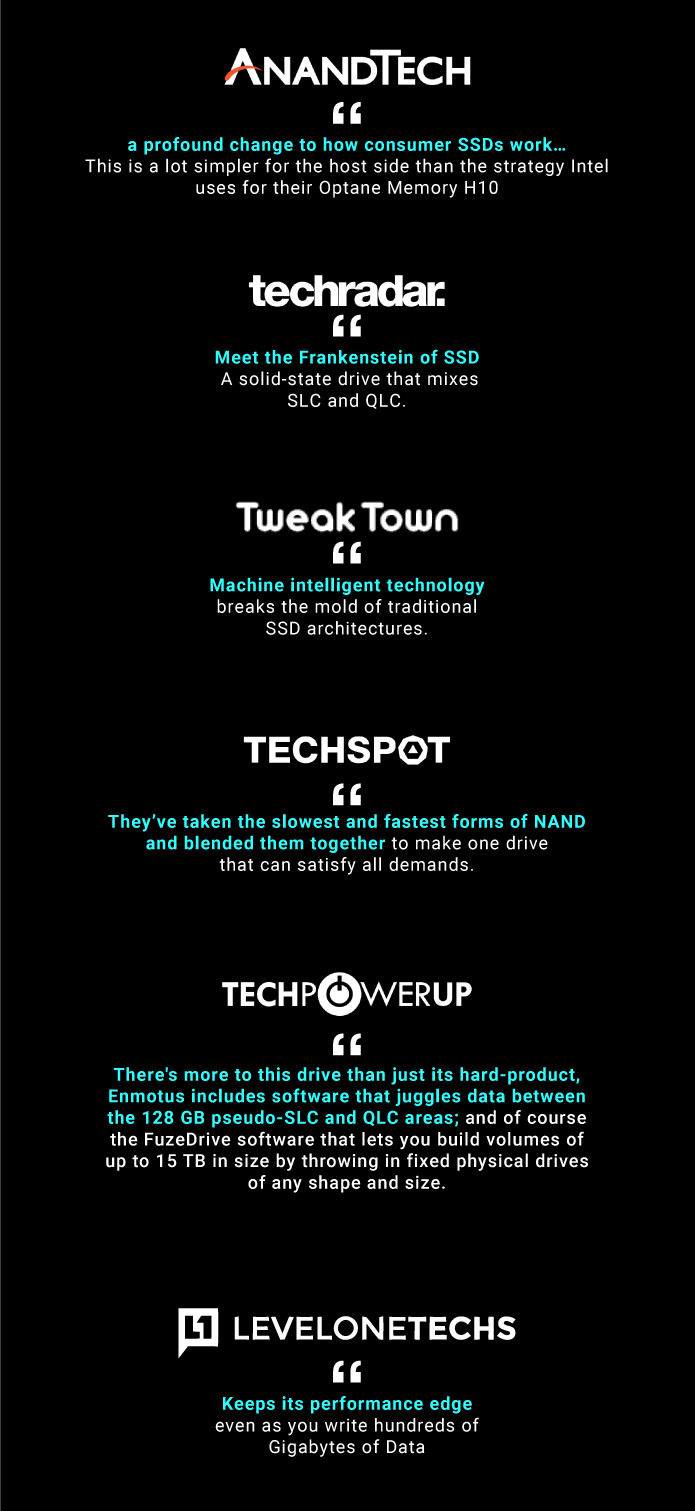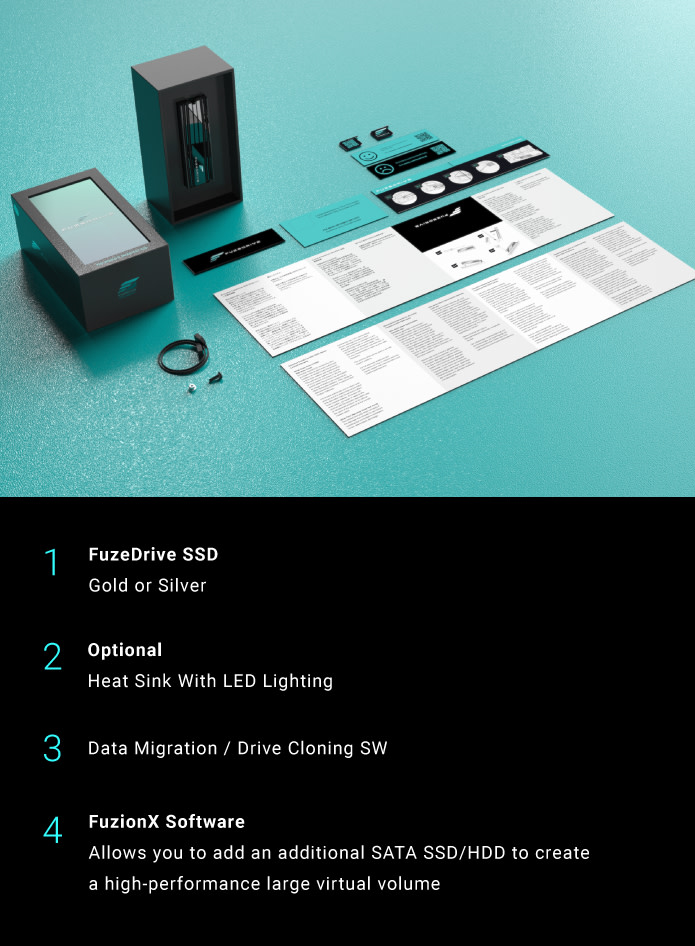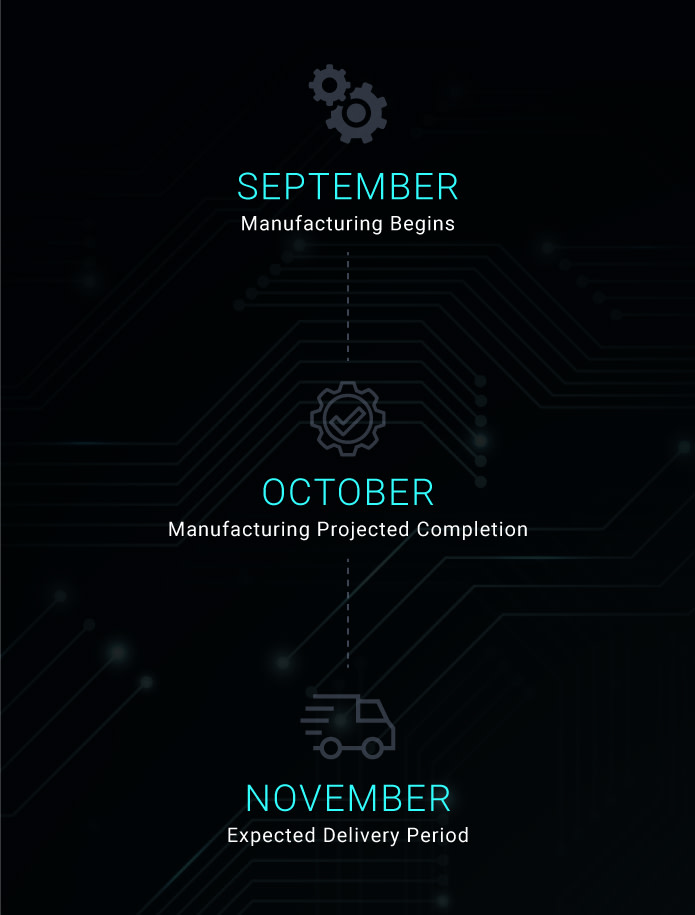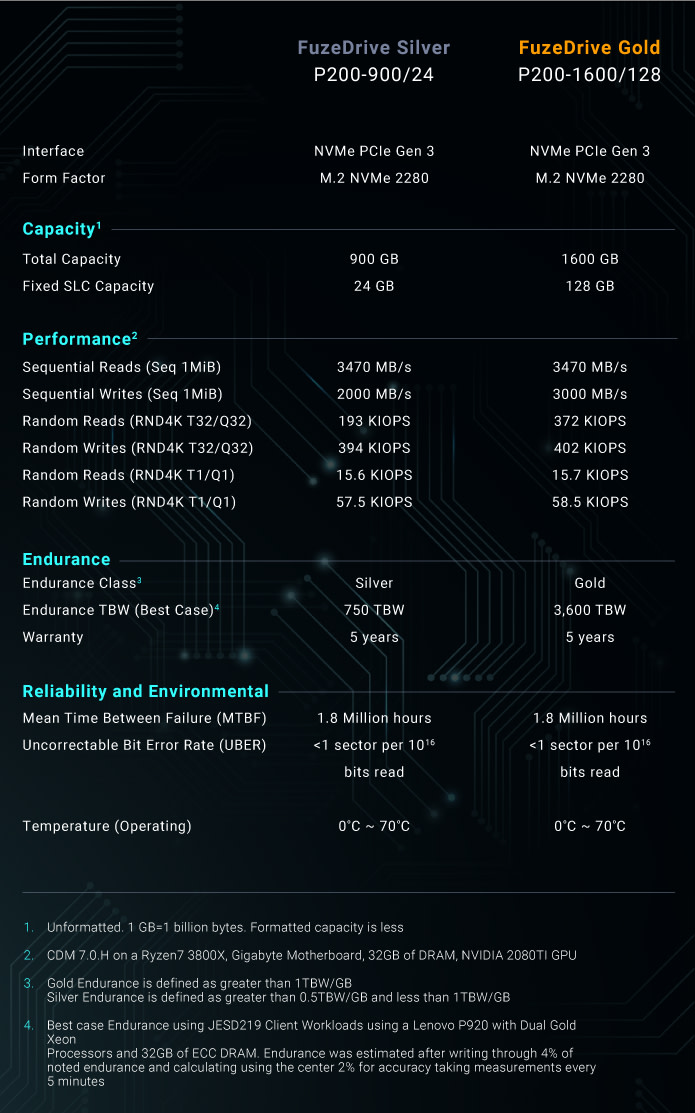 We are Storage Rebels that don't settle for the Status Quo.  Our mission is to solve key technological challenges around PC storage using our patented Artificial Intelligent algorithms that overcome the physical challenges associated with an increase in capacity demands while still providing optimal performance.  We want to enable consumers with affordable no compromise products that dramatically improve the end user experience.