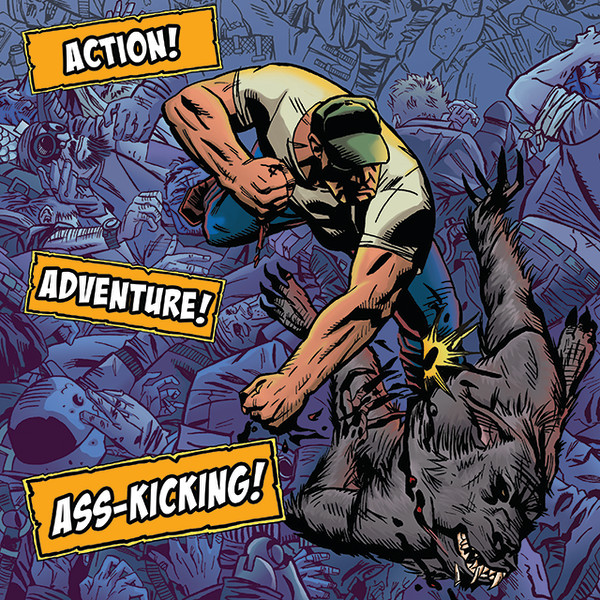 GIANT-SIZE TWO-FISTED MANLY TALES
$51,746
raised out of
$500
Concept
Testosterone tales of men in action by the greatest action/adventure writers and artists in comics!
Story
COMPASS COMICS PRESENTS:
GIANT-SIZE TWO-FISTED MANLY TALES #1
Over 100 FULL COLOR pages of acton and adventure!
If you've ever held a Compass Comics comic in your hands (and I hope you have!) you know the quality of our products. They feel like no other comics on the market. Matte coated cover card stock with spot varnish to make images pop.  We upgrade the paper to a matte/satin finish interior so you don't get all that glare when reading these manly tales! If we hit the $150,000 stretch goal, the book will be upgraded to a HARDCOVER!
STORIES BY: Chuck Dixon, Mike Baron, Beau Smith & Tim Rozon, Kevin Greviouix, Graham Nolan
ARTWORK BY: Michael Golden, Butch Guice, David Williams, Andrew Paquette, Larry Stroman, Roberto Castro and more!
COVER BY THE LEGENDARY MICHAEL GOLDEN!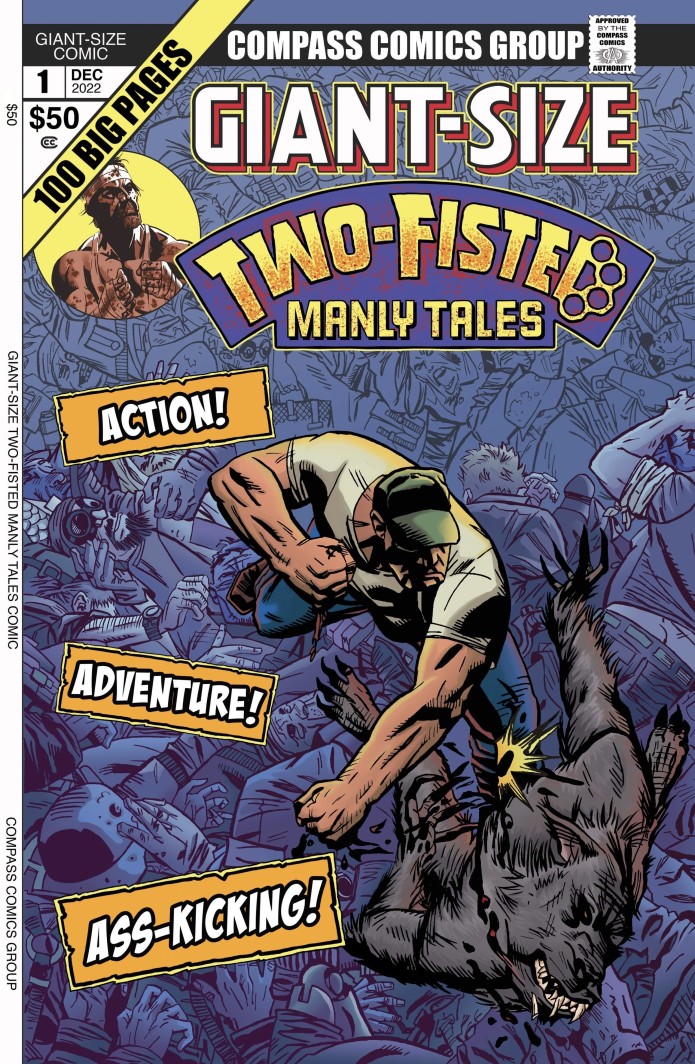 GIANT-SIZE TWO-FISTED MANLY TALES is a collection of knuckle-busting, lip-splitting, teeth spitting tales of action and adventure that celebrates what has become known as "toxic masculinity"!
These are stories of men as protectors, warriors, adventurers, and soldiers having to rise up and do the right thing, sometimes at great personal sacrifice. This book is the reaction to the demonizing of masculinity in the current soy based world.
FLAUNT YOUR MASCULINITY and make your enemies quake in fear by displaying this collectible trophy! No man-cave should be without one!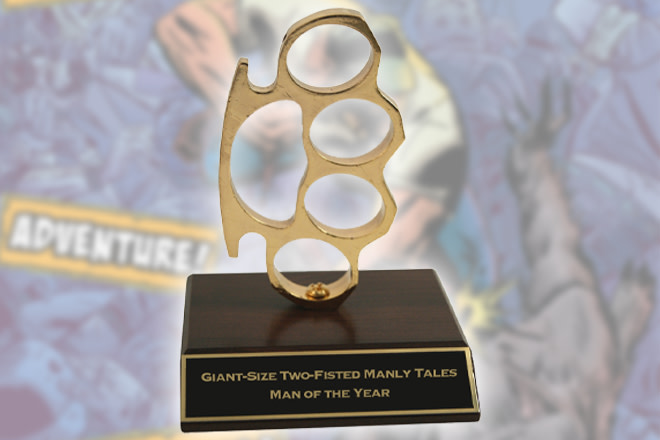 TEAM TESTOSTERONE:
CHUCK DIXON/DAVID WILLIAMS- "VOLSUNG", Iceland was a hard land settled by hard men where even murder was forgiven if the proper price was paid in gold or goods. But a murder done without compensation must be paid for in blood! When men come seeking Einar, son to Hakon, he swears an oath to see them all in Hel before he parts with a single coin!
MIKE BARON/BUTCH GUICE- "GURKHA ON A TRAIN" is the true story of a soldier returning home whose peaceful ride is interrupted by a gang of thugs.
BEAU SMITH & TIM ROZON/ANDREW PAQUETTE- "TRUE NORTH", a destination and definition of one man's character and courage as he battles the elements, enraged wildlife, and Communist land pirates in the 1955 Alaskan Territory.
GRAHAM NOLAN/MICHAEL GOLDEN- "CROSSING THE RUBICON"- A trucker pulls into his favorite rest stop for a slice of pie and discovers it's been taken over by a biker gang.
KEVIN GREVIOUX/ROBERTO CASTRO-"I, LYCAN" is a horrifying tale where a werewolf/private detective keeps things in check as he takes on supernatural cases in a city where monsters dwell in secret.
These are the first 5 stories commissioned. More stories and teams will be announced during the campaign.
FUNDING
The first 5 stories are paid for. Your contributions will help to fund the second wave of five 10pg stories bringing this book to the 100 page giant size book you deserve! My team are all A-list creators and I'd like to pay them what they are worth and with your help we can get this done!
STRETCH GOALS
•UNLOCKED: $25,000- All backers of the book will receive a Two-Fisted bookmark!

•LOCKED: $50,000-All backers of the book will receive the official  Two-Fisted MAN CARD!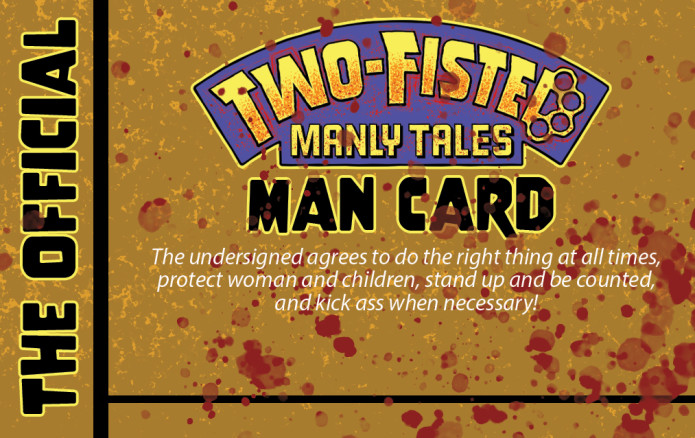 •LOCKED: $75,000 All backers of the book will receive a Giant-Size Two-Fisted Manly Tales logo sticker!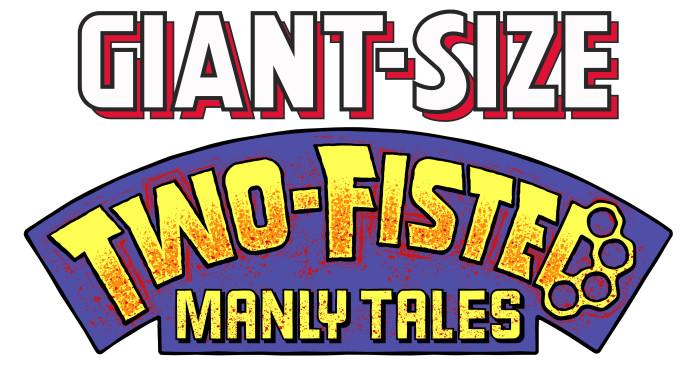 •LOCKED: $100,000– All backers of the book will receive a Two-Fisted collectible trading card!
•LOCKED: $125,000– All backers of the book will receive a manly mini-print!
•LOCKED: $150,000– Upgrade to HARDCOVER!
ARTWORK:
This area will be updated as more of the artwork comes in, but here are some teaser images.
A page from "TRUE NORTH". Story by Beau Smith & Tim Rozon. Art by Andrew Pacquette.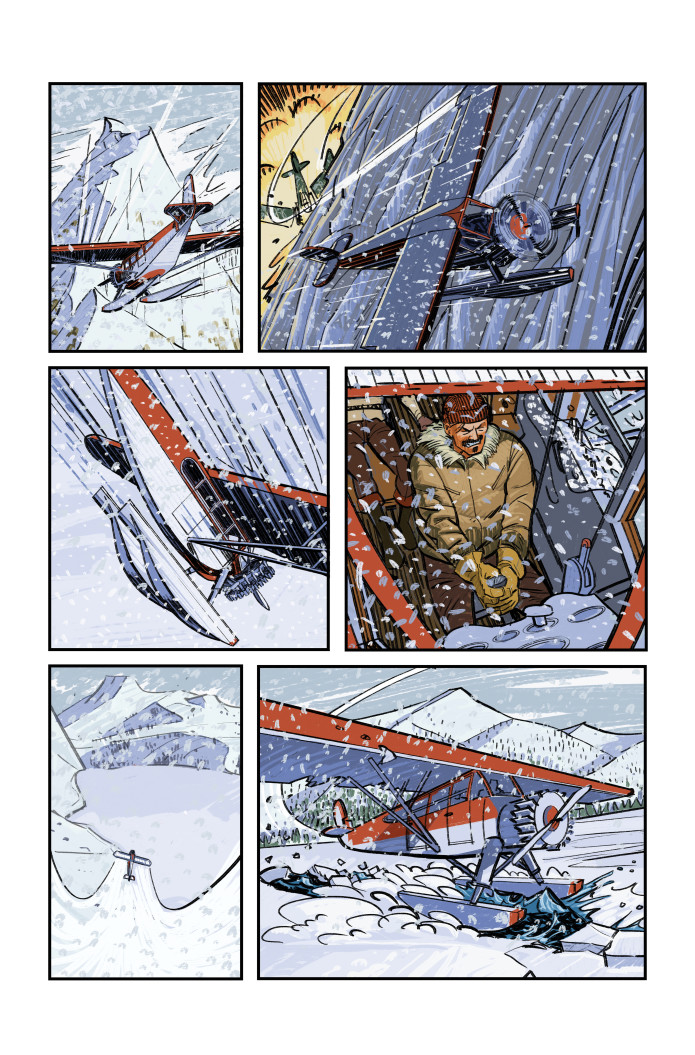 A page from "I, LYCAN". Story by Kevin Grevioux. Art by Roberto Castro.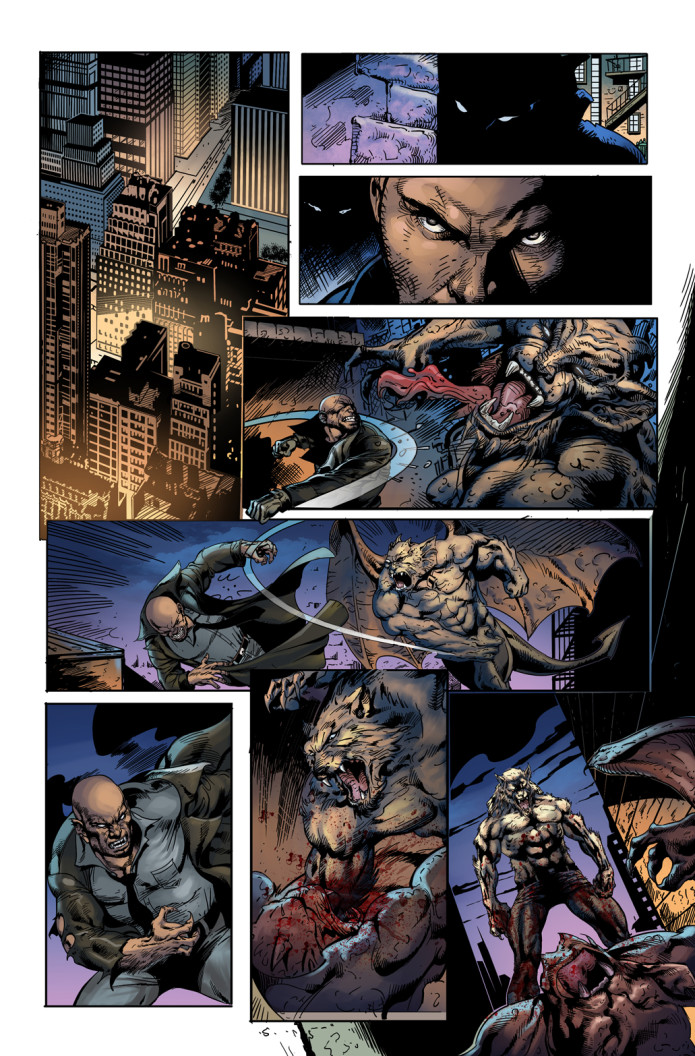 Panel from "GUHRKA ON A TRAIN". Story by Mike Baron. Art by Butch Guice.