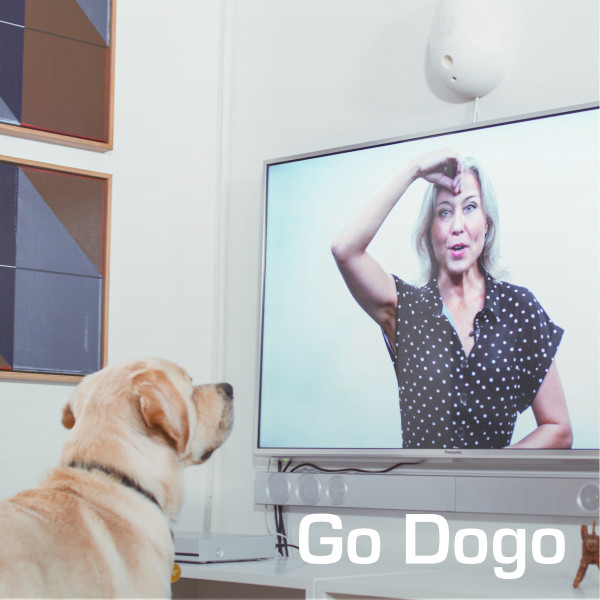 Go Dogo – Mental Workout for Dogs
$27,132
raised out of
$50,000
Concept
The AI-based activity toy designed to help keep dogs mentally fit and happy!
Story
Go Dogo is an Artificially Intelligent (AI) interactive activity toy that will help you exercise your dog's mind – using treats as motivation.
Dogs enjoy and build self-confidence by earning their food. Go Dogo will allow them to solve stimulating challenges in exchange for food rewards. The game revolves around positive reinforcement-based training – mental enrichment and treats.
Go Dogo will help you keep your dog mentally healthy – and happy!
Awake but motionless
Most modern dogs do not get enough mental stimulation. Yes, it's bad. And the worst is not as you may think, chewed up furniture or excessive barking and whining. These are of course bad, but no, the worst part is that the majority of dogs don't manifest at all. They simply give up. They become passive, bored and depressed – awake but motionless. The condition has been coined by scientists as learned helplessness, and it leads to poor life quality, obesity and premature death. What makes this particularly bad is that we – the otherwise good and loving dog owners – are pretty much unaware that our dogs are in fact unhappy. We may even be saying: "I am so proud, my dog is so obedient and calm – he/she's relaxing all day long and can stay home alone for hours without any problems". And truth be told, he/she is more likely to be slowly but literally dying from boredom and stress from being alone. Ouch.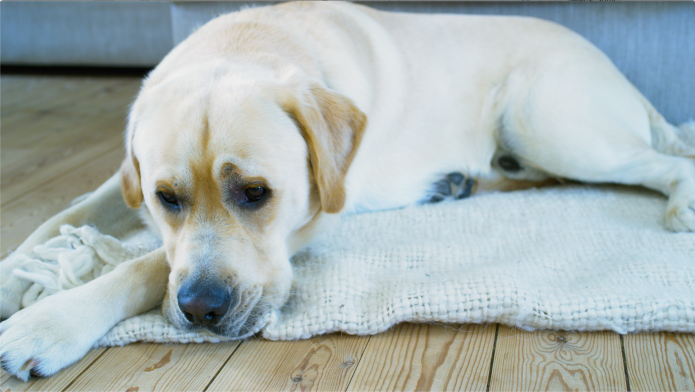 This is what keeps us up at night, this is why we work so hard and this is why we have created Go Dogo!
Why you will want it
The best thing you can do to mentally stimulate your dog is positive-reinforcement training, which means: Teach your dog tricks for positive rewards. Activity toys such as the Kong and brain-games made out of wood or plastic or cloth are also good – and you should use them as much as you can too. They are good because your dog can work for treats independently of you, which as mentioned above builds a solid self-confidence. They may also be used to help teach your dog that being alone can be nice.
Unfortunately, the existing solutions give no feedback and they have only limited (if any) progression – they are either too easy or too hard. On top of that they all have physical parts that must be pushed, pulled, licked or chewed, which potentially can become hazardous – such as splinters in the belly or mouth. So, it is usually not recommended to allow your dog to interact with them during home-alone time.
Go Dogo is all about the right level of difficulty, feedback and no-touch gaming! Our secret is: Computer vision! The game constantly registers what your dog is doing, and in combination with the intelligent play-logic this enables your dog to learn how to "trick" the system to deliver a treat. In the beginning it is extremely easy – the sweet AI instructor simply says "Dogo" and out comes a treat. Slowly it becomes harder, and in the end your dog will know a lot of different tricks and combinations. On top of this, new levels will be added remotely via the system updates – so Go Dogo will continue to be interesting and stimulating.
Will it work for your dog?
If your dog likes treats: YES! Go Dogo will work for all dogs – young or old, big or small, fluffy or not. It adapts to your dog's learning pace and preferences. But, the game can only be used by one dog at a time. If you have more than one dog, you will have to create a profile for each of them and make sure that only one dog at a time is playing Go Dogo. Otherwise the non-playing dog(s) may be in the way and perhaps even steal a treat that was earned by the playing dog. Believe us, we have seen it happen more than once!
How to use Go Dogo
Go Dogo will be connected via HDMI to your home TV – in this way the AI instructor can give your dog visual and audible cues and feedback. The front and the side-camera in combination will make sure that your dog is "seen" in the game zone.
As mentioned above the majority of dogs get a lot out of performing tricks for treats, and this is why Go Dogo uses treats or food as the motivational factor. Every time your dog completes an exercise, the main unit will release a treat, while the AI instructor praises your dog. Many dogs will, like Cooper in the movie above, gradually begin to like the game so much, that they are gladly playing for their normal food. And while the game becomes harder your dog will have to work a bit more to earn a reward.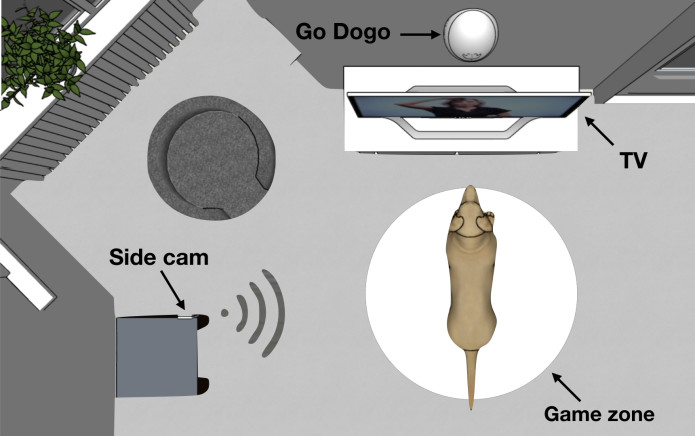 According to experts in dog training the need for mental stimulation is highly individual, but each time you want to teach your dog something brand new, you should not over do it. Playing Go Dogo around 10-20 minutes a couple of times a day is fine for most dogs.
The game can become frustrating – but that is normal during learning. Your dog is anticipating a treat – and will spend a lot of mental energy trying to figure out how to get. It is important that you, the owner, allows this. Also, do not worry – the game is designed in collaboration with experts, so frustration is guaranteed to be short-lived. The game always ends on a high – which is your dog doing an exercise that it knows. Your dog will first learn to wait (a few minutes), and gradually – or in some cases all of a sudden – he/she figures out what to do to get the treats to come out faster.
How we got to Go Dogo
In the summer of 2016, CEO Hanne Jarmer, realized that she was finding it increasingly difficult to keep coming up with new ways to entertain her two whippets, Leo and Louis. This motivated her to create a solution – and after some simulations, research and searching for suited co-founders. Go Dogo was officially founded in the summer 2017. Less than 5 months later the first prototype was ready.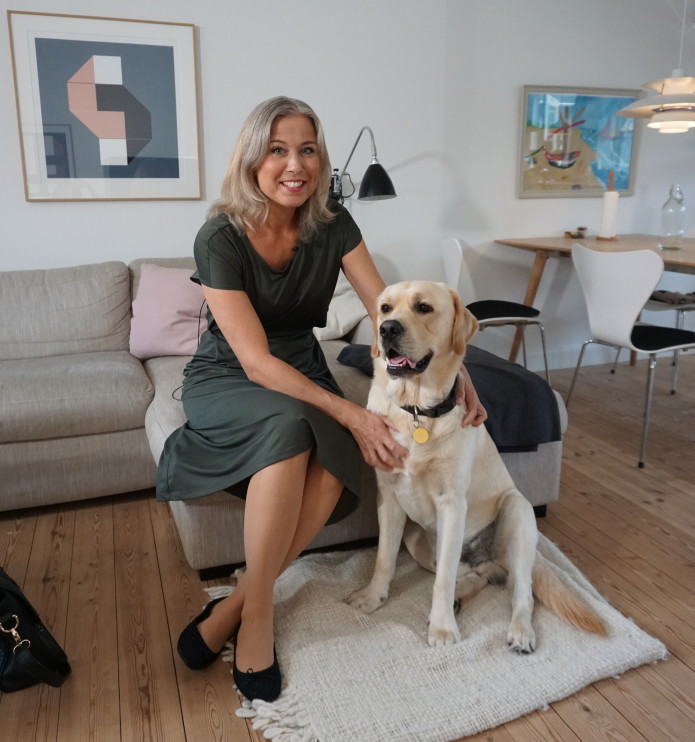 "Working and teaching as a professor at the Technical University of Denmark, I could not stop thinking about a possible technical solution – and after a while I got it: Clever computer vision in combination with treats! I soon hereafter performed a series of tests and simulations, and concluded that the idea was not just good, it was possible and had huge potential to give joy to dogs and their owners all over the world. During the next year I did a lot of research and found my three exceptionally talented co-founders, Henrik, Ole and Troels, to help me build it"
-Hanne Jarmer, CEO & Founder
In the Fall of 2018 Go Dogo participated in the most ambitious Danish deep-tech accelerator, the Danish Tech Challenge. We were very proud to make it to the finals. The most important outcome from this was the metamorphism of our company – we went from a pretty cool fast-moving living-room project to a fully fledged small company with a good business plan, a well-defined product, company structure and a group of incredibly wise and experienced advisors, investors and board members.
Having our office in FutureBox on campus at the Technical University of Denmark has given us access to relevant technologies such as 3D printers. This makes prototyping a lot easier. We have printed and tested several versions of the system to get ready for production. If you want to see an example on how that goes, here's a 2 days and 22-hour printing process of one device, summed up in this 1-minute video:
In the Spring of 2019, we had more than 20 systems set up with our awesome beta testers, and we've used their valuable feedback in the final steps of our product development.
Stay Connected
With your phone you will always be able to entertain your dog, even on the go. In the app you can schedule play time, and manual control is also available if needed.
In the app you can follow the progress of your dog, monitor treats left, and release treats!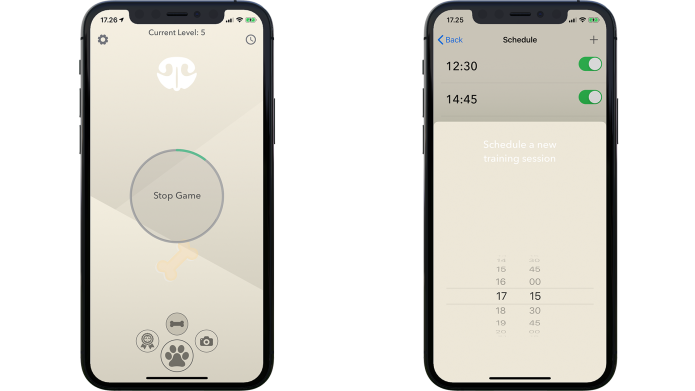 Future Proof
The Go Dogo system is connected to the internet, and updates will be released regularly, to ensure the system is up to date.
New game levels and app features will be added over time, thus making the game future proof for your dog, by ensuring that the game keeps being interesting for your dog through new and fun challenges.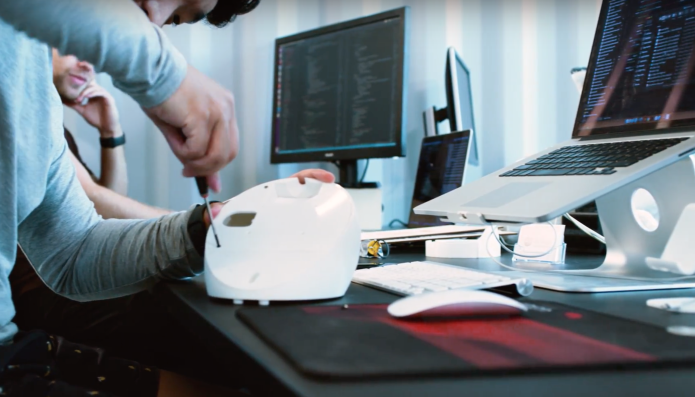 Easy Setup
Setup the system in the Go Dogo App using the instructions when using the app for the first time. It only takes a few minutes.

Specifications
Not much needs to be said about the Go Dogo system. The sleek design fits into most homes, and it only requires power, Wi-Fi and a smartphone to provide your dog with home entertainment!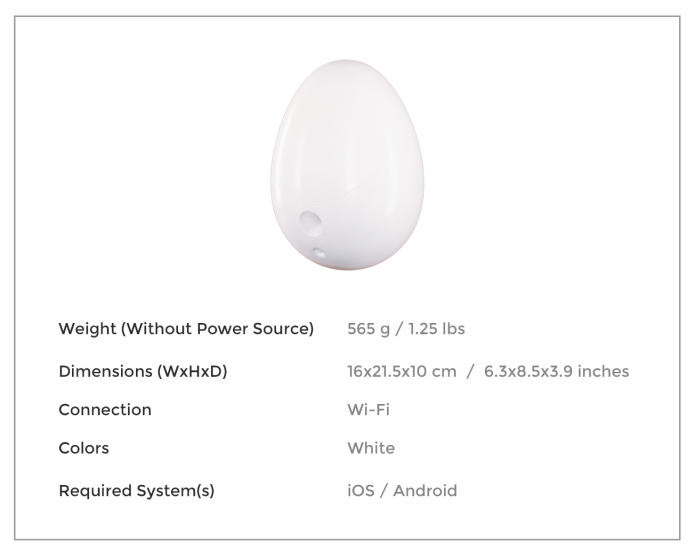 Timeline
We intend to keep all our customers up to date with our progress. Hardware is challenging to perfect, therefore communication to our backers is important to us in case of delays or unforeseen circumstances.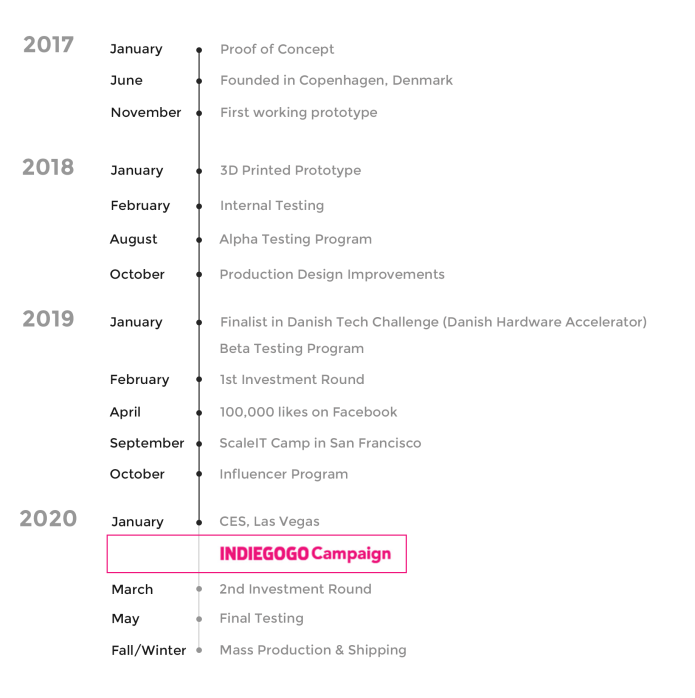 Help us improve dog lives!
Go Dogo is supported by fabulous partners, an amazing advisory board, several angel investors with relevant competencies, some of the best dog scientists and dog-behaviour experts in the world and of course the most dedicated, hard-working, dog-loving team imaginable. We need to raise enough money to start our first production, and we need to get to know our customers – you can help us do both!
In our on-going investment round we are securing enough funding to initiate the production. So, we are not asking for a lot of money in this campaign – our main objective is to get you on board. Our product is complex, and though we have tested it on more than 50 dogs, we are confident that input from you will enable us to develop even better games for you and your dog to enjoy. We need you to help us by becoming one of our first customers – a vital part of the first steps towards what we hope will become an eye-opening dog-live-saving journey.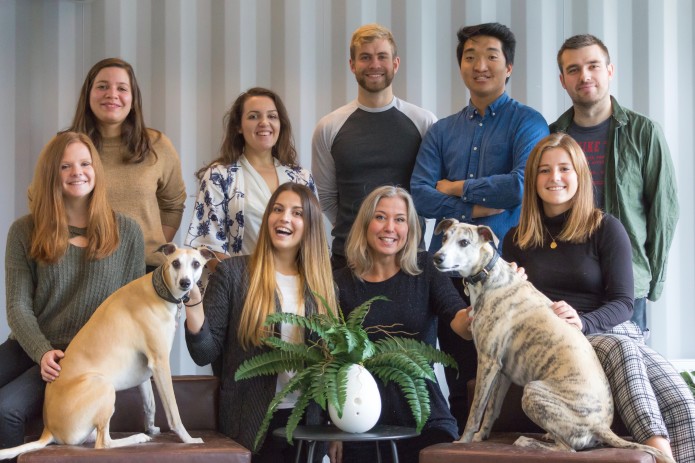 Please, tell a fellow dog owner!
Risks & Challenges
Hardware is hard – and this is why our estimated delivery time is conservative. Many previous projects have shown that it is always harder to make it on time than expected. And though we truly believe that we will be able to deliver on time or even before – we would be fools not to mention production challenges causing time delay as one of the major risks.