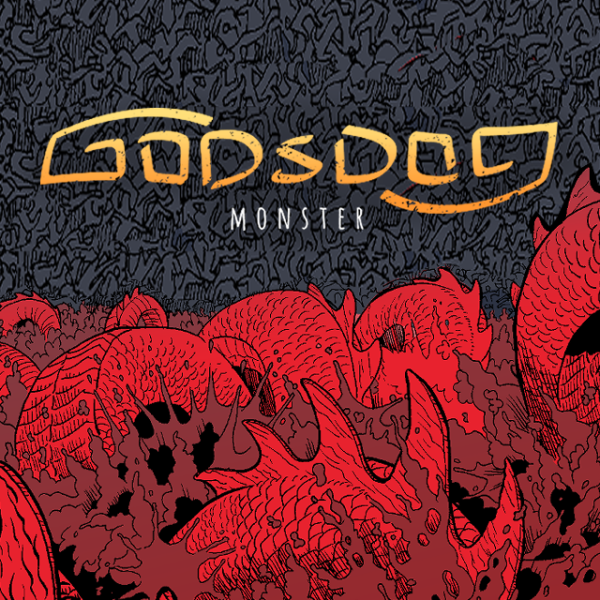 God's'Dog Graphic Novel
$64,729
raised out of
$30,000
Concept
The epic legend of the dog-headed Saint Christopher
Story
Summary
God's'Dog: Monster is the first volume in a graphic novel series. It begins the legendary retelling of the story of the dog-headed Saint Christopher woven into a mythological version of the Biblical cosmos, where angels, giants, dragons as well as warrior saints and mysterious monks deal with the consequences of the world's very first relic.
The story is fully written, the ideas and imagery already developed, now all we need to do is finish up some inking and coloring to deliver it to you.
The purpose of this campaign is not only to fund the first book, but to financially assure that our artist can do this full time and deliver the oncoming books at rapid and regular intervals.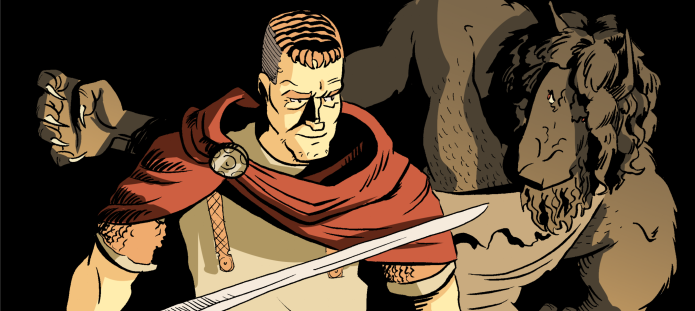 Who are we?
The Pageau Brothers, Jonathan and Matthieu created the epic story of God's'Dog ten years ago as a screenplay.  Although it garnered some attention and was requested by some Hollywood studios, the story was far too surprising and strange for Hollywood.
Since then, Matthieu Pageau came to publish the Amazon bestseller, The Language of Creation and Jonathan developed his own international art practice and a YouTube following of 130k discussing symbolism in all its forms.
Knowing the huge potential of the story they developed, they involved an amazing artist, Cord Nielson, to adapt the screenplay into a series of graphic novels of which this is the first.  The rich and moody colors are done by professional artist Felipe Cartin.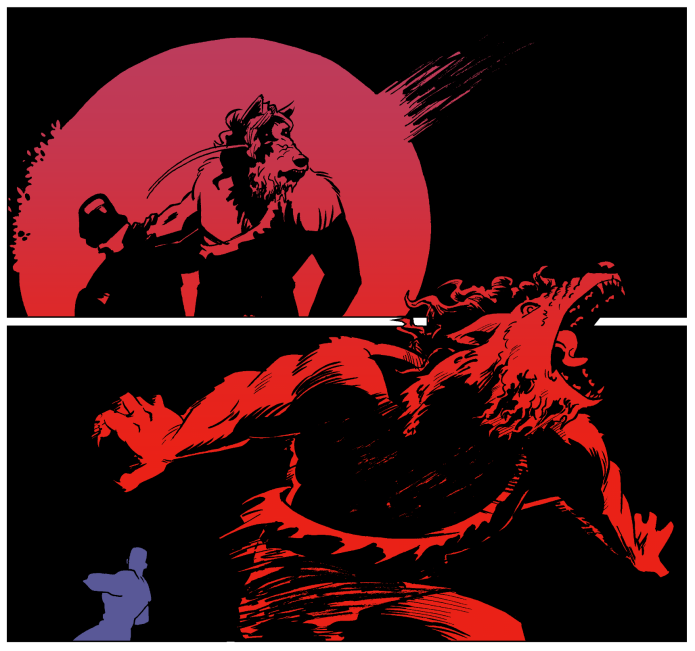 Early praise for God's'Dog – Monster:
"An artistic rendering of the legend of St. Christopher, God's'Dog brings the oft-forgotten giant dog-headed warrior saint to life in thoughtful and terrifying fashion."
– Gregg Hurwitz – Writer for Batman and New York Times Bestseller of the Orphan X series.
"God's Dog is a striking, beautiful and intriguing piece of work: the kind of story we need more of in the world."
– Paul Kingsnorth,  Award winning author of The Wake and Beast.
"A roaring start to a new adventure and a gorgeous retelling of a myth exploring the borders of what it means to be human."
– Christopher Ruocchio, Author of The Sun Eater.
The Book
The book will be 115 pages in full color, with quality hardcover binding.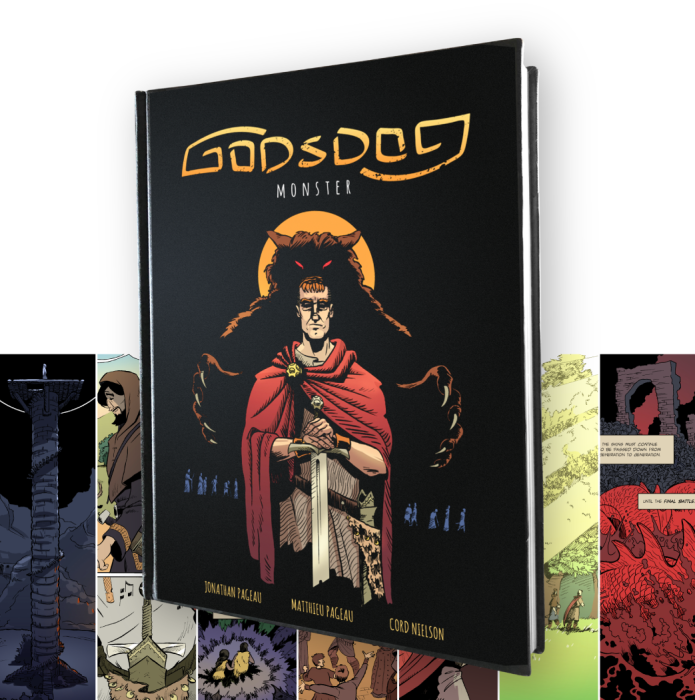 Funding Goals
We have estimated the minimum we need to proceed with the project.  We are looking at a minimum goal of 30,000$ to print out the first run with all the logistics, fees and taxes.
Of course $30,000 is the bare minimum.  We are hoping to reach more than $100,000 with the purpose of freeing our artist, Cord Nielson, to do this full time and extra funds to add artists if needed.  Jonathan has agreed to postpone his own share of profit until further books so that as much of the money can go to ensuring we can create the entire series.  The more we accomplish, the easier it will be to produce the books in a rapid and efficient manner. In order to do this, we have developed a series of perks, additions and stretch goals to bolster our capacity to make it all happen.
After we reach $50,000 we will also be producing another book as an add-on, The Secrets of God's'Dog, which will contain hints to the hidden symbolism in the graphic novel. It will also reveal Jonathan's original designs for this world and Cord's process drawings. But the biggest gem in this add-on will be an exclusive article by Matthieu Pageau on the symbolism of the Biblical Samson, the first text Matthieu has published since his ground-breaking book, The Language of Creation.
Tiers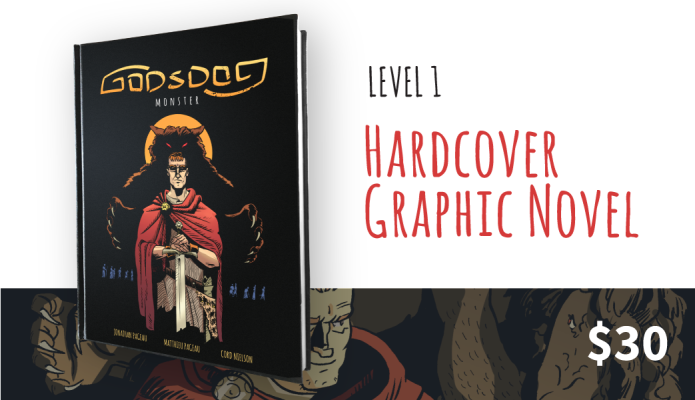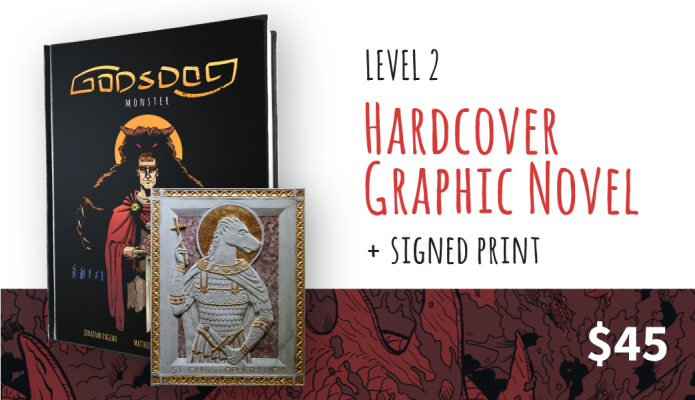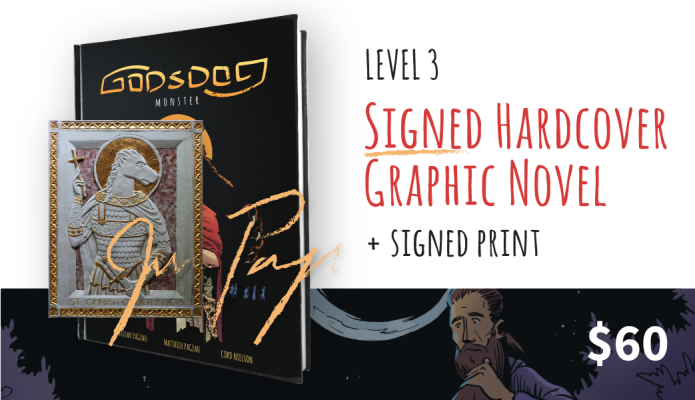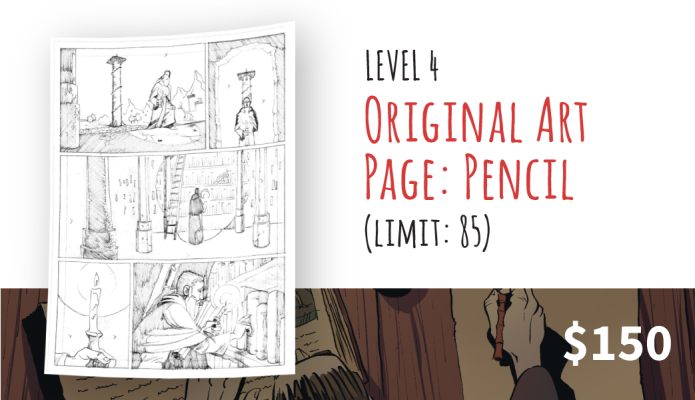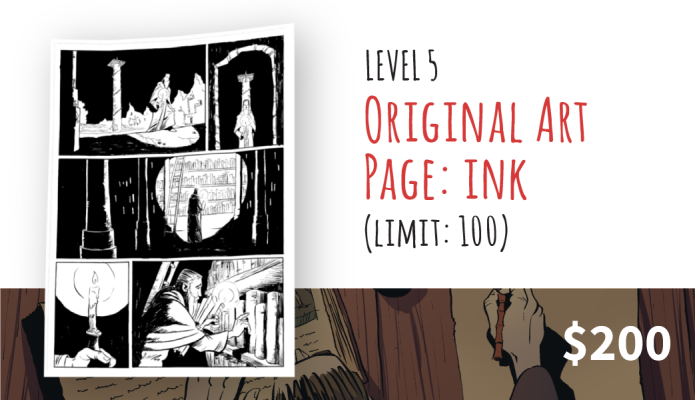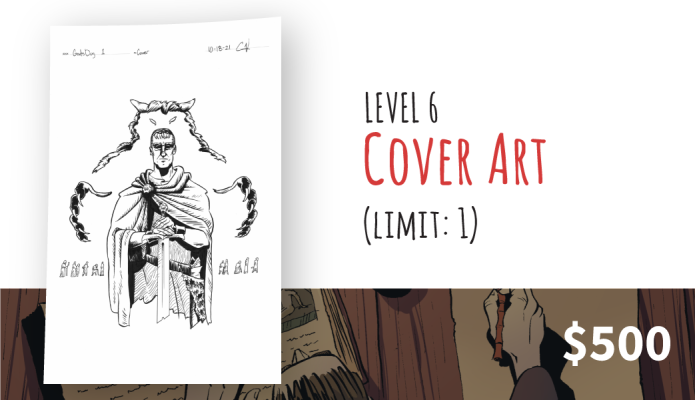 1. Hardcover graphic novel – $30
2. Hardcover graphic novel, and an exclusive signed print by Jonathan – $45
3. Signed hardcover graphic novel, and an exclusive signed print by Jonathan – $60
4. Original God's'Dog art by Cord Nielson – 150$ to 200$
Get a piece of this new epic story with an original penciled and inked pages that make up God's'Dog.  (also available as add-on.)
Original penciled page – $150 (limit 85)
Original inked page – $200 (limit 100)
Original drawing of the cover – $500 (limit 1)
Add-ons
1. Jonathan's St Christopher print (not signed) – $15
Get an exclusive color print of the dog-headed St-Christopher icon, carved by Jonathan Pageau.  The original of this carving participated in a New York gallery showing.  This print will be only be available through this campaign.
Limited signed versions of the print will be available with the second and third tier.
2. Digital PDF of graphic novel – $10 (available after full-funding, stretch goal A)
3. The Secrets of God's'Dog – $15 (available after stretch goal B)
Stretch Goals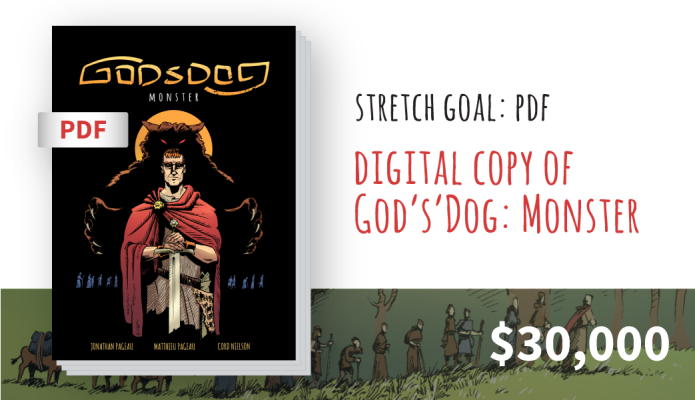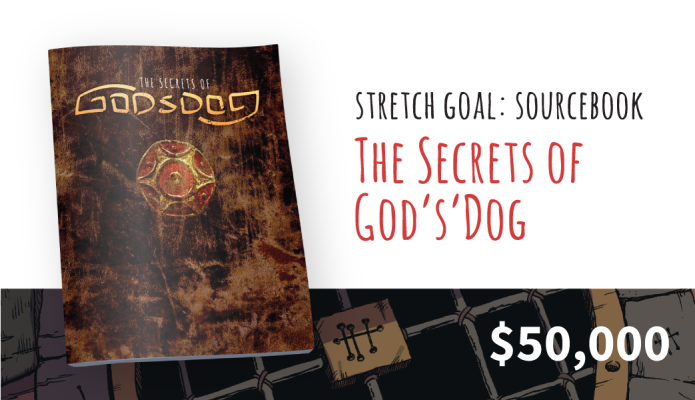 A – $30,000: Digital PDF of graphic novel available as Add-On
B – $50,000: Book – "Secrets of God's'Dog" available as Add-On
We might put in extra stretch goals as the project develops.
The Impact
The situation of storytelling is in crisis.  Stories for children and adults have become ideologically driven, politically slanted and lacking in mythic depth.  By releasing God's'Dog, we are hoping not only to tell a good story, but also to explore what is possible in reviving a mythical embodiment of our own tradition.  Our story dives into ancient Christian and Jewish traditions surrounding the Genesis accounts, treating them as world building and mythical backdrop for a panoply of saints like St-George, St-Mercurius, St-Symeon Stylite but also including Biblical characters such as Adam, Eve, Cain, Nimrod, Elijah and also alluding to historical characters from Alexander to Nero.  Within this epic scope, of course the main thrust surrounds Saint Christopher, the mysterious dog-headed saint who's Pinocchio story of becoming human will tug at your heartstrings and connect this story to our current cosmic situation of being lost in the margins.
The first book was long in the making, setting the tone, the style and the pace.  But we are now ready to unfold this series with all its epic proportions.   With Matthieu's successful self-publishing of The Language of Creation, Jonathan's constant delivery of quality videos, trainings and writings as well as with Cord and Felipe's years of professional work as artists, we have all the skills and tools we need to turn this project into a successful series.  Ultimately though, we hope to expand this venture into other quality stories, publications and storytelling in other media with the help of other quality creators.
Other Ways to Participate
God's'Dog tees are available at  www.godsdog.store

This project is only possible if all of you spread the word.  Please share to all who are interested in Tolkien, in comics, in ancient stories and legends and how these are relevant to us today.
Risks and Challenges
The biggest risk in this venture is that we publish the first book, but do not have enough funding to quickly finish the following volumes because Cord will have to continue working full time in another job.  If this happens, we will spread the work of creating the next book to several artists, maximising strengths and efficiency in the hopes that the future books will continue to increase the interest of readers as the richness and complexity of the story begins to unfold.