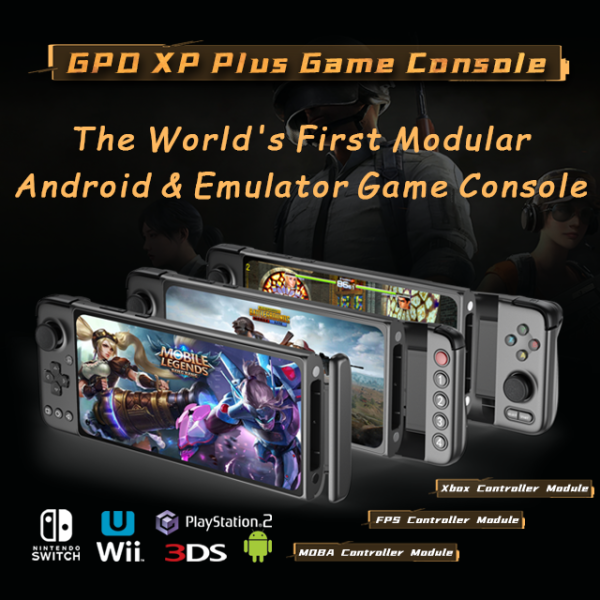 GPD XP Plus: World's First Modular Game Console
$64,730
raised out of
$200,000
Concept
Dimensity 1200,Modular controller. Cover mobile & emulator games. Active cooling, 4G access. 7000mAh
Story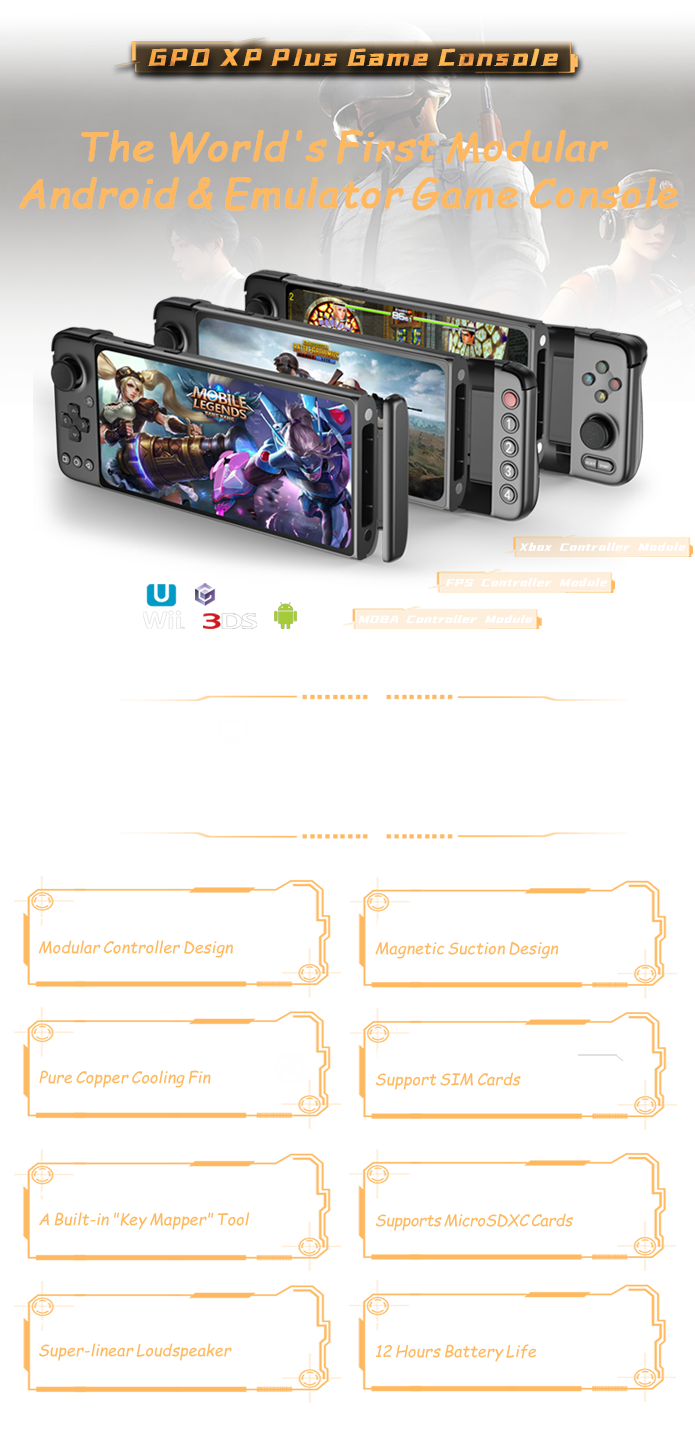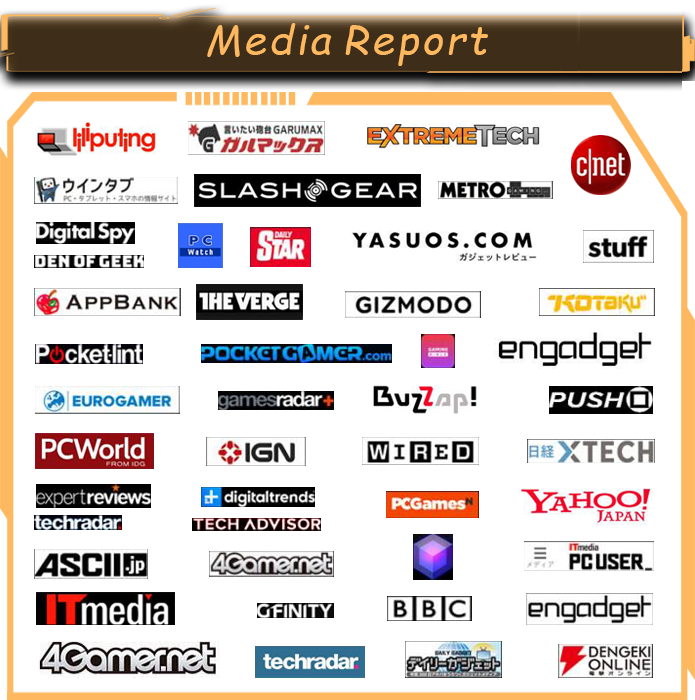 There are 1.8 billion people playing FPS and MOBA mobile games, such as PUBG Mobile, Mobile Legends, etc.
This type of game requires fast pace and precise movements, subtle vision control, quick attacks in order to survive and to be able to deal damages to enemies. Traditionally, people playing these games on a touch-screen have a lack of fine tune which usually cause their fingers to slip, leading to an inaccurate experience, especially when adjusting the camera and moving are required at the same time. After considering those elements we decided to design a gaming console that have built-in controller in order to enjoy mobile games.
We noticed that a lot of hardware companies had similar ideas and products, however, most if not all, achieved it through Bluetooth connection which causes signal delay and fluctuant connection. In addition, it is a difficult task to have a Bluetooth gamepad that complies with every mobile game software control. Regarding bluetooth gamepad, If its size is too large, it will be uncomfortable to carry along; If the size is too small, it can only be used on specific phones.
More importantly, when playing an FPS mobile game (such as Game for Peace), the Bluetooth controller will be recognized by the game as a peripheral not compatible with touch-screen control. Special mouse and keyboards are very popular and can be used on the mobile phone, connected to an external display device, the user will benefit several advantages over touch-screen players in the game, which is unfair for touch-screen users. To be fair, game designers didn't  bothered much and simply stick with the rule of having only touch support for a lot of games on android platform. An other example of limitation, users who play with Android emulator can either compete with user playing through Android emulator, either with people using android device. Of such "cheating" behaviour would even be banned by the game official moderator.
In order to allievate this problem, we spent three years in research and development, rejected more than 10 different designs, and finally released this game console. We called it XP Plus, which is a continuation of GPD XD Plus, but more than a simple upgrade of the processor, it's a new level of gaming featuring customisation and three unique technologies:
The Android version has been modified in order to integrate ;in the lowest level; the function of "Controller Mapping" to simulate touch-screen control, so the controller won't be recognized as a peripheral but as an extension of the touchscreen in order to allow users to compete against touch-screen users;
The world's only Android handheld game console that uses magnetic interchangeable module to achieve the physical connection function thanks to a modular gamepad controller that can be swapped anytime. With this game console, players will have an excellent gaming experience for Android RPG/FPS/MOBA mobile games, emulators, cloud gaming, and streaming games;
The world's only Android handheld game console with a built-in active fan for heat dissipation which can be activated at will by a key press.
The GPD XP Plus adopts a modular controller to simulate touch-screen controls in order to break the limitations bounded to Android games which can only be played with a touch-screen: challenging the habit of using touch-screen controls to play mobile games. Let's rewrite the history of mobile gaming together.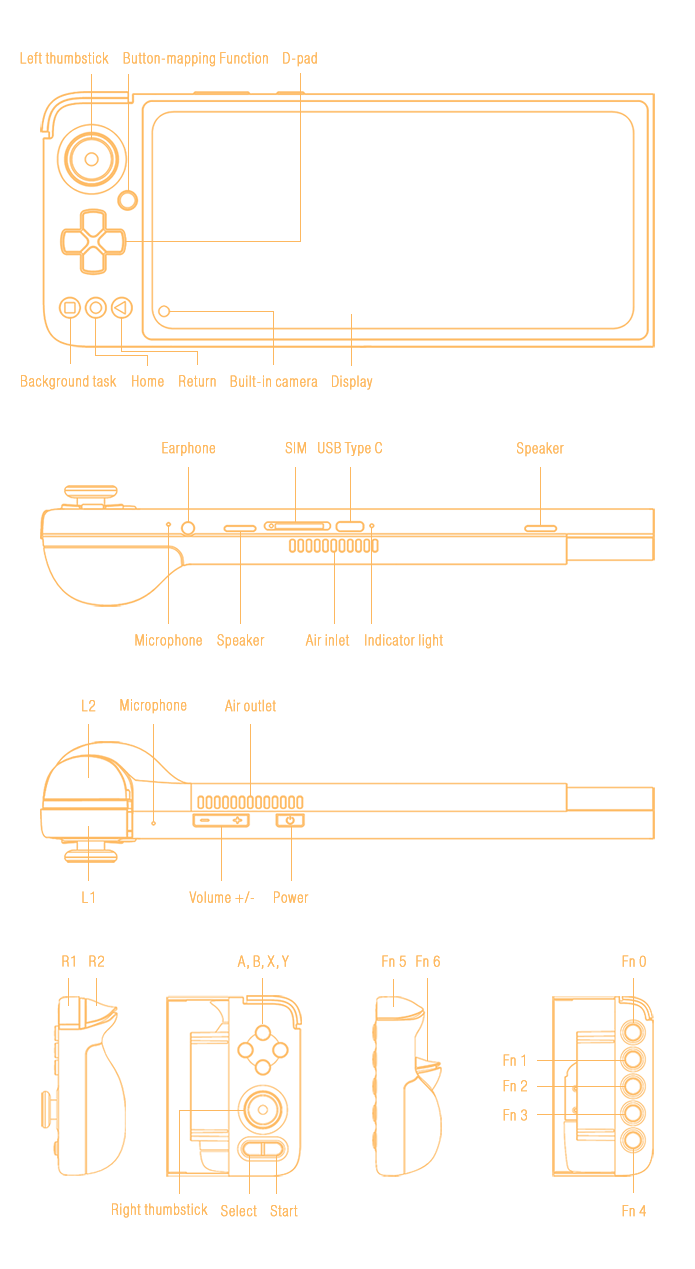 A modular gamepad controller that can be swapped anytime offering an excellent and customized gaming experience;
The world's only Android handheld game console using magnetic interchangeable module to achieve a physical connection function . Plug and play, no need to charge, stable and reliable, zero delay, zero disconnection;
A built-in "Key Mapper" tool offering a customisable experience, achieving a simulation of touch-screen controls;
The world's only Android handheld game console with a built-in active fan for heat dissipation. It has a pure copper cooling fin and a special key to freely switch the fan on or off, so users can control the heat dissipation level in order to make the game framerate as stable as possible.
Support SIM cards and 4G high-speed Internet access, allowing users to continue to play online games outside;
Its instant messaging tool allows players to communicate with each other anytime and anywhere via text and voice;
6.81-inch screen, small in size, easy to carry out. Play games wherever you go;
AAC top-class stereo super-linear loudspeaker provides dual speaker surround sound and double amplitude enhancement, giving players super loud sound;
Support microSDXC card to extend the capacity, up to 2TB ;
Built-in 7000mAh super-large battery capacity, 30W PD quick charge, no need to worry about battery life. Players can play games for around 12 hours continuously.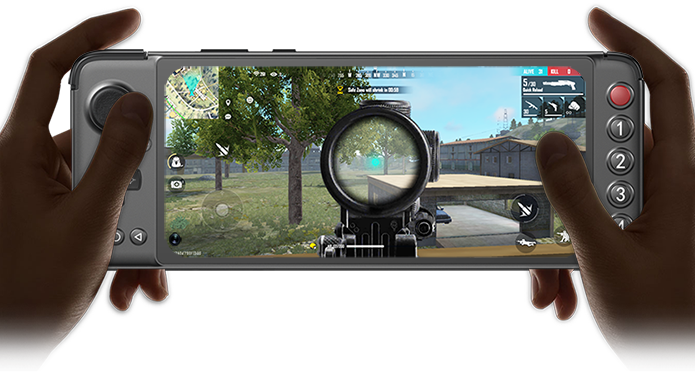 XP Plus can be used to play games of multiple kind because of its special modular controller design:
FPS Controller Module
MOBA Controller Module
Xbox Controller Module

Equipped with the octa-core (4×A78 + 4×A55) MediaTek Dimensity 1200, up to 3.0GHz, combined with Arm Mali-G77 MC9 GPU and 4266Mbps LPDDR4x memory, it powers both large mobile games and emulator games. MediaTek HyperEngine 3.0 enhances the gaming experience with finely tuned connectivity reliability features. Go beyond Snapdragon 870, 2.5x the performance of Snapdragon 845.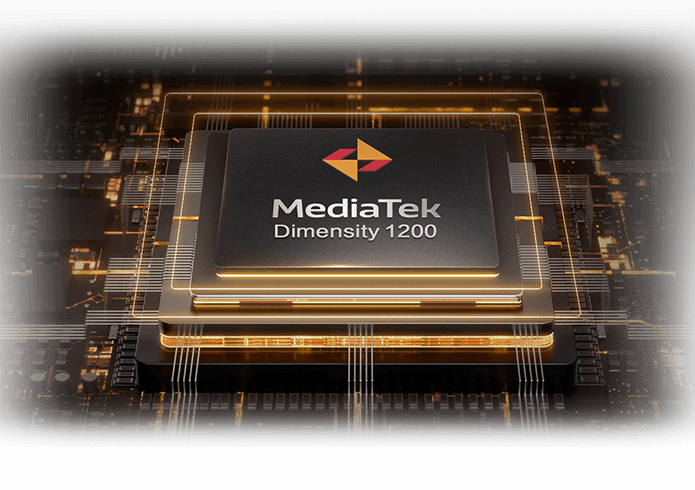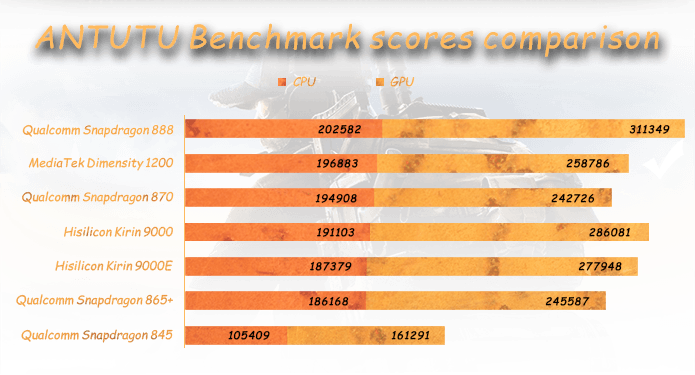 It scores higher than Snapdragon 888 in Geekbench 5 Android benchmark test, OpenCL, and Vulkan. Its unique Hexa-core AI processor, MediaTek APU 3.0, and the deep learning accelerator (MDLA) boast a power consumption 10 times lower than that of GPU when processing half-precision floating-point operations (FP16). When it works with GPU for mixed-precision operations, the power consumption is reduced by 5 times compared with processing with GPU alone.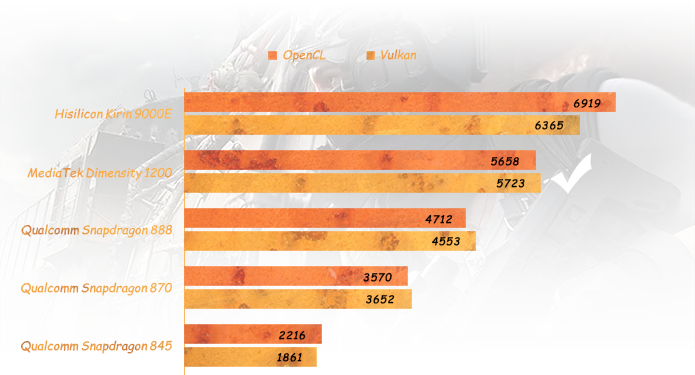 XP Plus is upgraded in memory, with ultra-fast UFS 3.1 flash memory, reaching a read speed up to 1800MB/s and a write speed up to 780MB/s, nearly 3.5x faster than UFS 2.1.


FPS controller module mainly fits for games such as "Game For Peace" and other FPS games. It can easily realize the operations including adjusting the camera angle, using the scope, and shooting precisely even with two guns.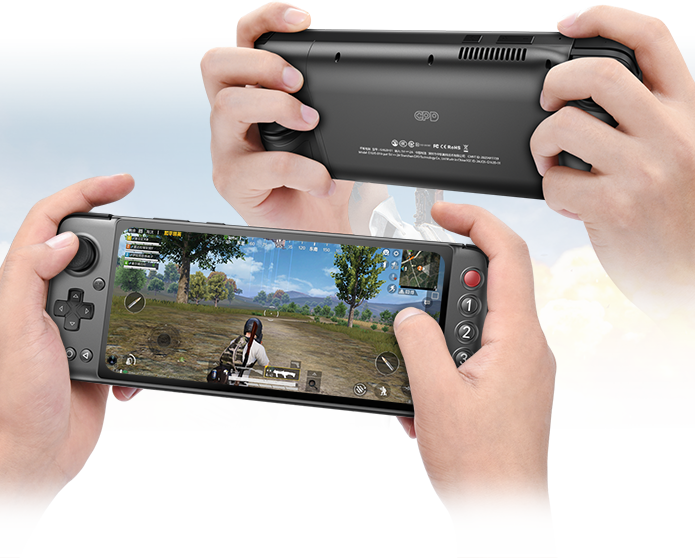 FPS controller module has 7 built-in function buttons: 5 front buttons, 2 shoulder buttons. If you like to use dual weapons in your competition, you may usually control it like this: Use the left thumb to control the joystick to move accurately; use the left index finger to control the shoulder trigger button; use the right thumb to touch the screen to adjust the shooting angle, use the right index finger to control the 1st shoulder button to fire, use the right middle finger to control the 2nd shoulder button to open the scope.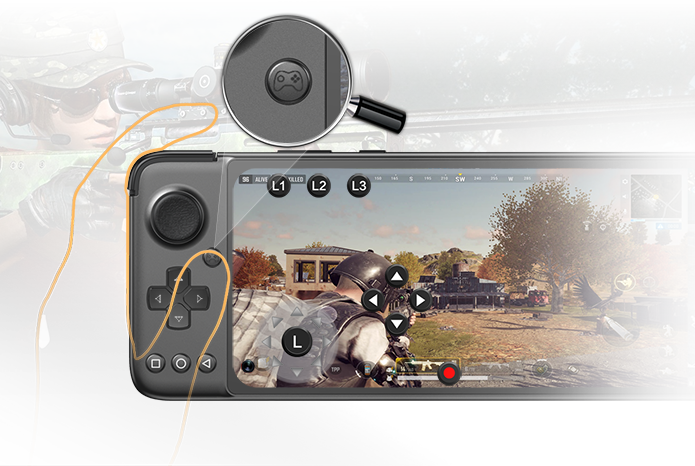 The main reason why users can play Android games with the built-in controller on the XP Plus is because it has a built-in "key mapping" tool. Compared with third-party Bluetooth controller, the XP Plus controller is physically connected, ensuring zero delay and zero disconnection. We also worked hard on a "controller mapping" software. By modifying some low level code of the system, the XP Plus enables the controller to simulate touch-screen operations. Users can compete   against touch-screen users without having to worry about having their accounts being banned, victory with a gamepad is now possible.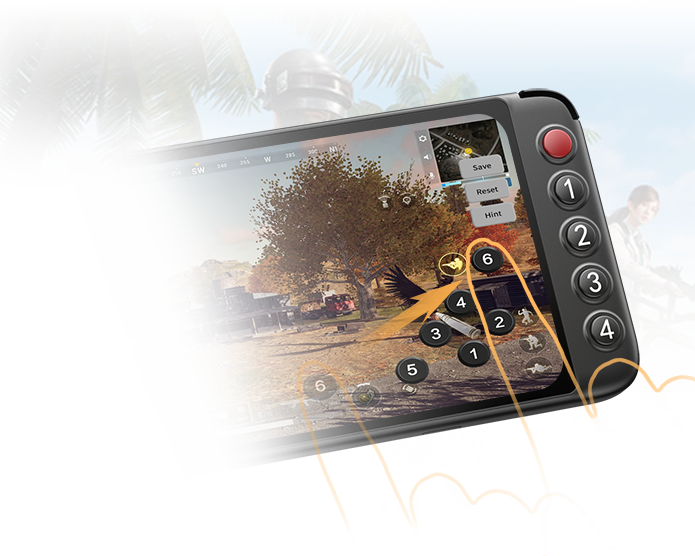 The "key mapping" icon corresponds to the function keys of the controller. The setup process is very simple. According to your preferences, please slide the "key mapping" icons on the screen to the virtual function keys of the game, and then save. The key mapping of the controller will take effect.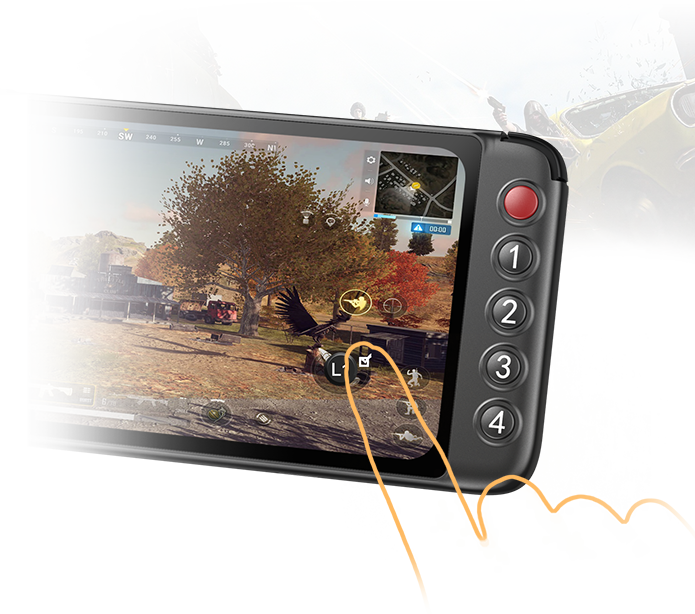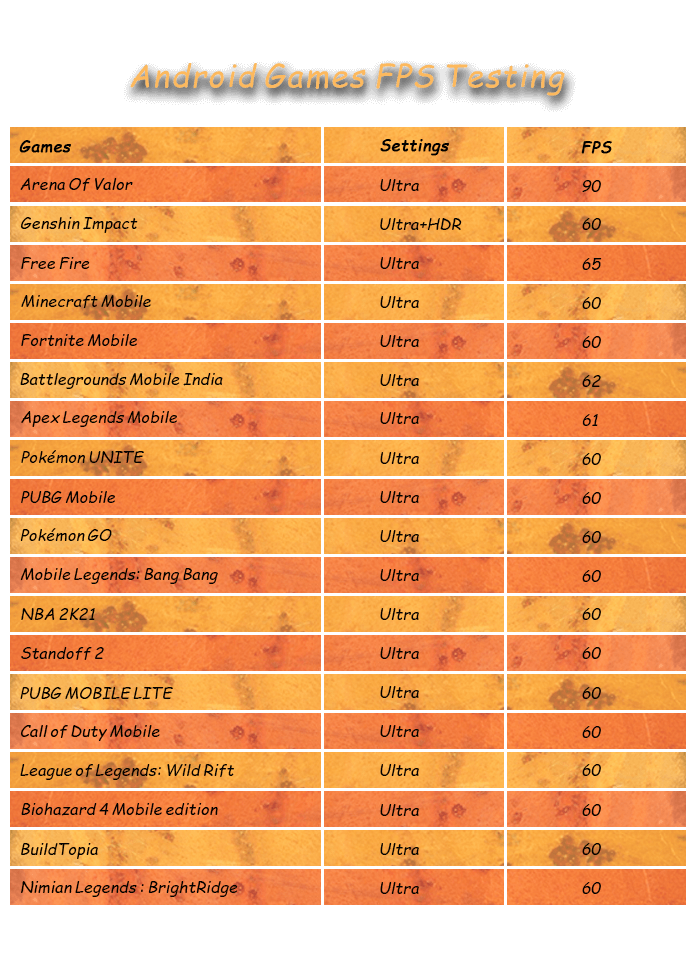 MOBA controller module is made for games such as "Honor of Kings" and other MOBA mobile games. In order to avoid damage and to deal attack to enemies, the left joystick maps the movement key on the screen to control the movement of the character; the right thumb touch-screen operation can be flexible and changeable, avoiding the limitation of controller operation.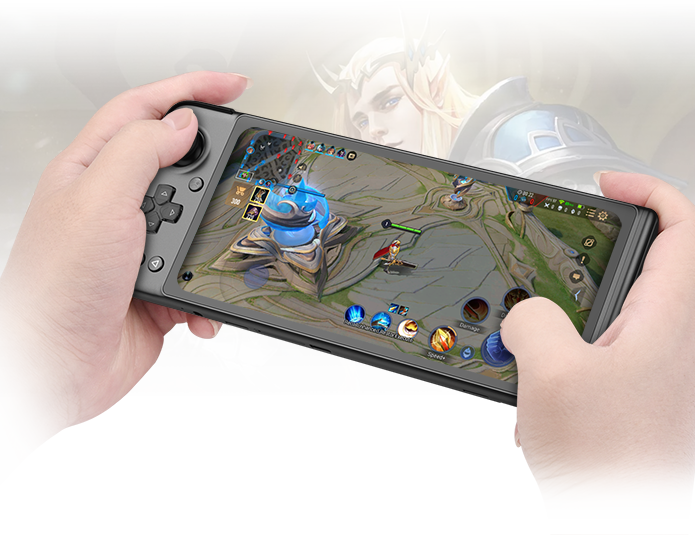 In the "MOBA controller" mode, players only need to map the 8 function keys on the left. Because there is no controller attached on the right side, it's more comfortable to reach the touch-screen and to make us of it to ply games. Players can in example select the mapping icon "L2" to press one key to change weapons, switch other items, or skills.

There are many cloud gaming platforms, such as Microsoft's Project xCloud, Google's Stadia, Sony's PS Now, etc. The nature of cloud gaming is a streaming game service. For example, users who want to play Xbox Series X or PS5 games on a handheld device but don't want to sit in front of the console can take advantage of the streaming technologies. This technology is called LAN streaming, while cloud gaming is based on WAN remote streaming.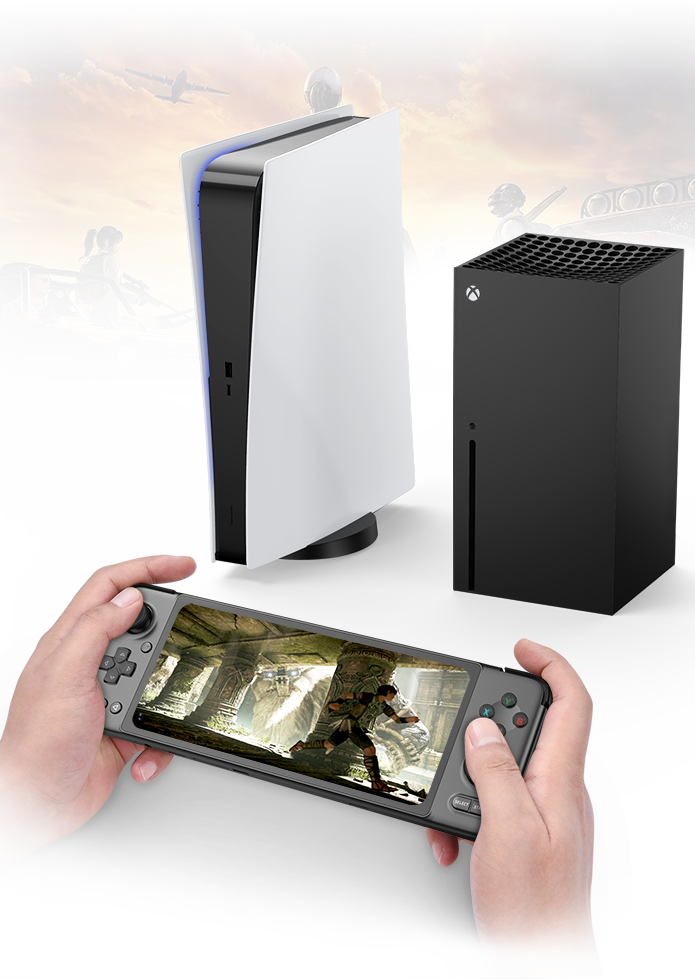 WAN streaming requires to download a cloud gaming client provided by the platform, while LAN streaming usually uses Moonlight/Steamlink. If you're streaming PS4 games, you'll need to use PS4 Remote Play for Android. The computing ressource requirement for cloud gaming isn't important as the service provider is the one who is handling all the gaming aspect which is power taxing. Meanwhile the LAN streaming for gaming console or PC gaming requires the user to have a powerfull machine and a good internet connection in order to have a good experience, LAN streaming can be achieved via Moonlight/Steamlink on a desktop with an NVIDIA graphics card and GeForce Experience. If streaming to play PS5 games, need use Chiaki, Chiaki streaming PS5 can realize 1080P/60fps/50Mbps.
Nintendo, Sega, and Sony's initial and iterative products have exclusive games that could be played on a mobile phone with an emulator. As a result, users habits refer to them as emulator games. These games are listed below, but are not limited to: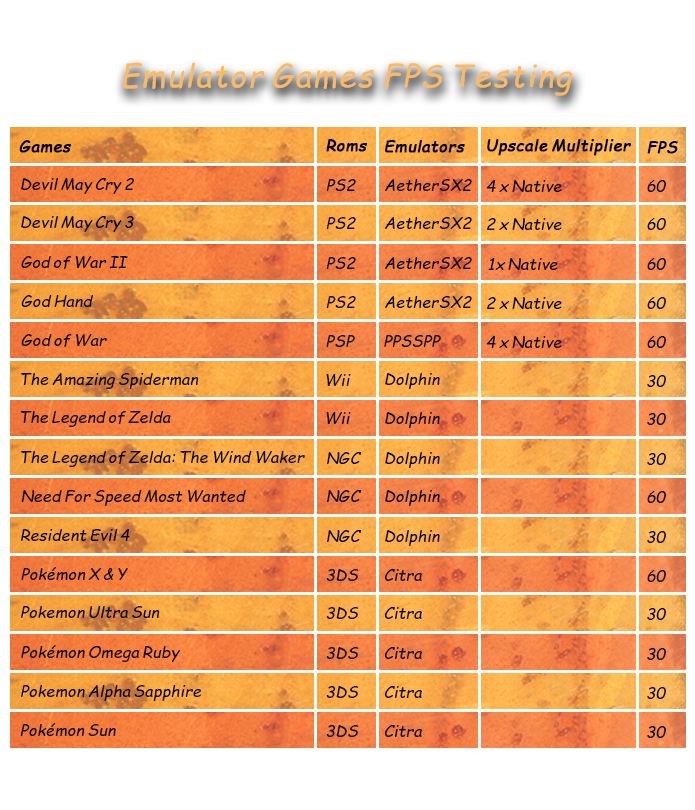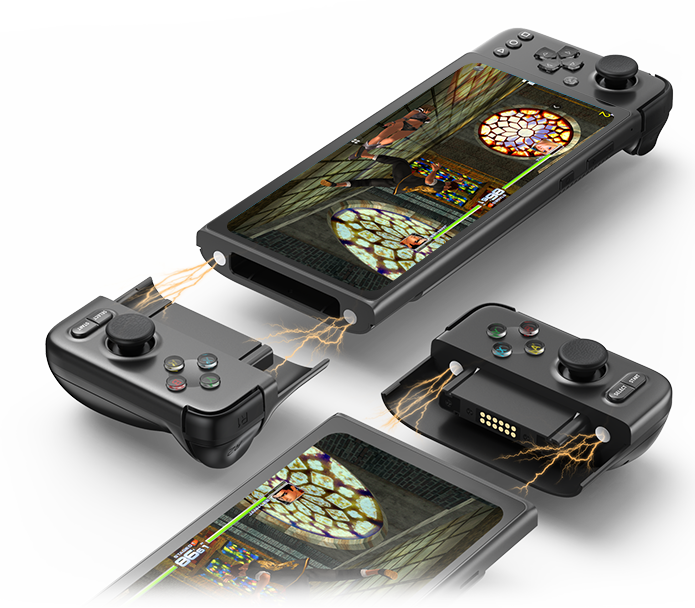 GPD creative modular controller adopts magnetic suction design to achieve the physical connection. Plug and play, no need to charge, stable and reliable. The built-in 5mm NdFeB permanent magnet closely interlocked 12 pins and 12 contacts together, and it needs about 1.1kg tensile force to pull them apart. So it is very stable, and it's not going to break without an important external force.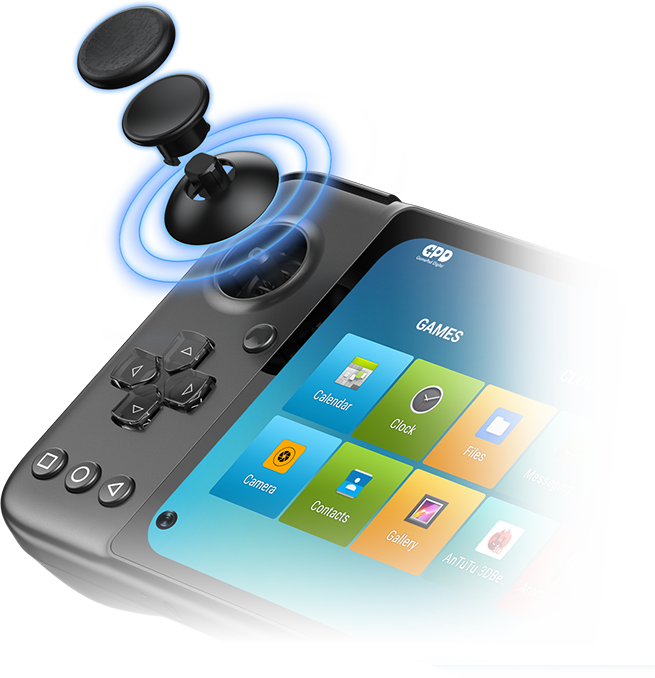 XP Plus upgraded controller adopts the innovatively designed Hall joystick, stepless, superlinear, and no dead zone. It is equipped with a gravity sensing gyroscope, 3-axis gravity sensor, 3-axis gyroscope, and 3-axis compass.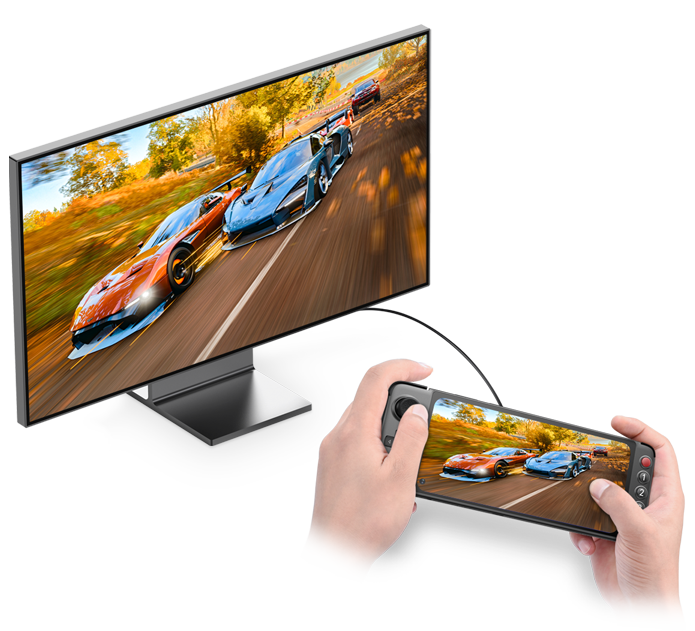 The upgraded USB Type-C of XP Plus does more than charging but supports DisplayPort 1.2 standards. Connect to an external monitor to enjoy Android games on a big screen!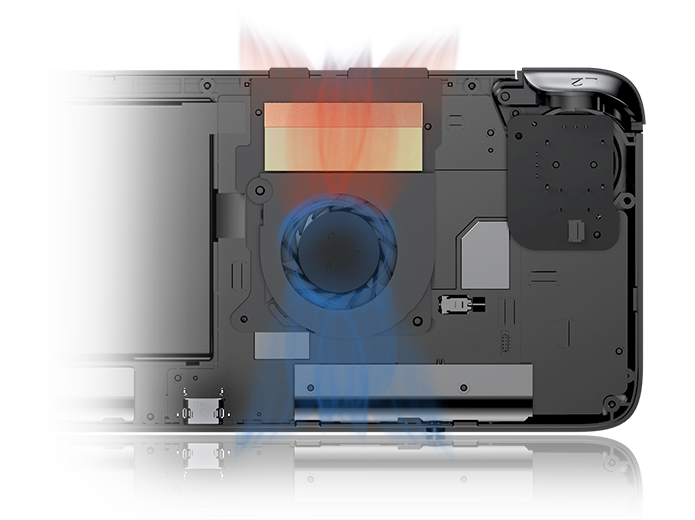 The XP Plus is the world's only Android handheld game console that supports an active cooling design. It uses a 47×58mm pure copper cooling fin and a 40×37mm large air volume turbine cooling fan. The button on the top of the device is dedicated to turn on/off the fan and is easily reachable during gaming session so the user can flexibly control the heat dissipation of the device. The fan will automatically turn on once the core temperature will be above 60℃ to prevent the device to throttle.


The AAC top-class stereo super-linear dual loudspeaker is built in the console body. When the sound cavity is equipped with BASS material, it is equivalent to the large cavity design of 0.9cc. Double coils drive the vibrating core, balancing the force on the latter, and doubling the amplitude. The sound then becomes quite loud!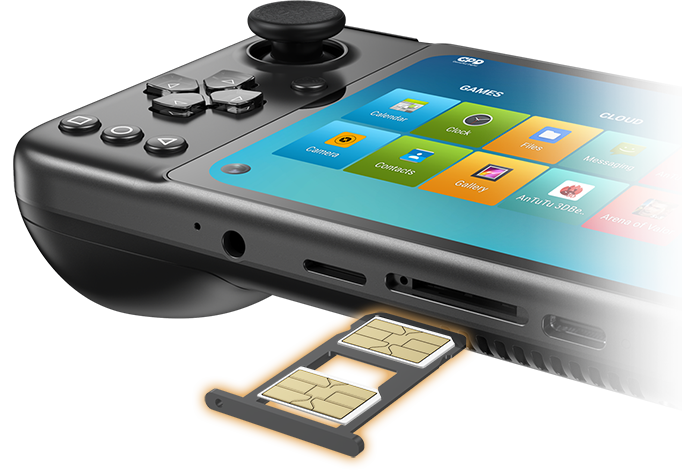 To allow users to play games anytime anywhere, XP Plus supports mobile networks and allows users to make and receive phone calls. Triple SIM & Dual Standby with 2 Nano-SIM cards or Nano-SIM + microSDXC. It supports full 4G bands (TD-LTE (China Mobile), FDD-LTE (China Unicom and China Telecom)).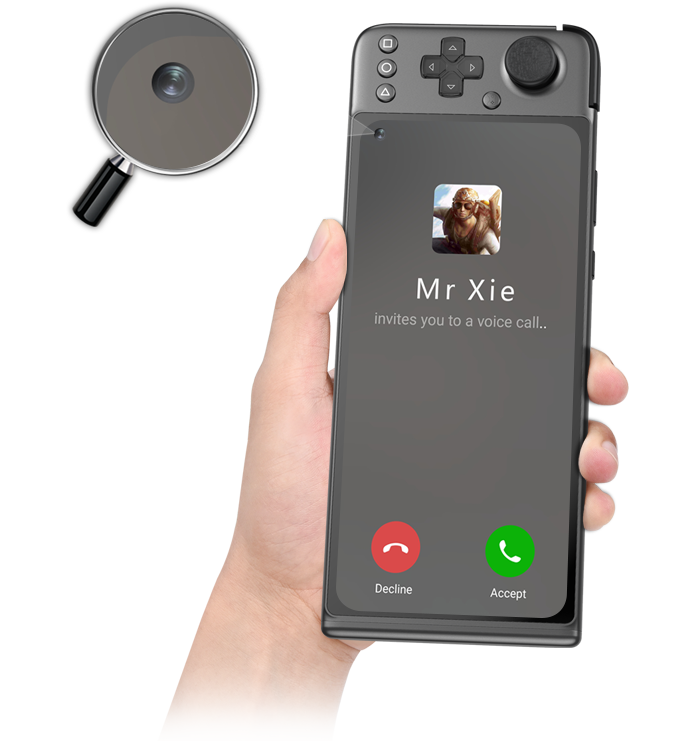 You can still communicate with them by text and voice anytime and anywhere through instant messaging apps (WhatsApp, Skype, Facebook Messenger, WeChat).You can also use other APP (such as TikTok, Likee, and Triller) to watch short videos, or turn on your camera to record your own short videos and upload them.

GPD XP Plus supports MicroSDXC cards up to 2TB of storage capacity, which means you can store up to 2TB of emulator games or apps on a MicroSDXC card, making it your true portable database.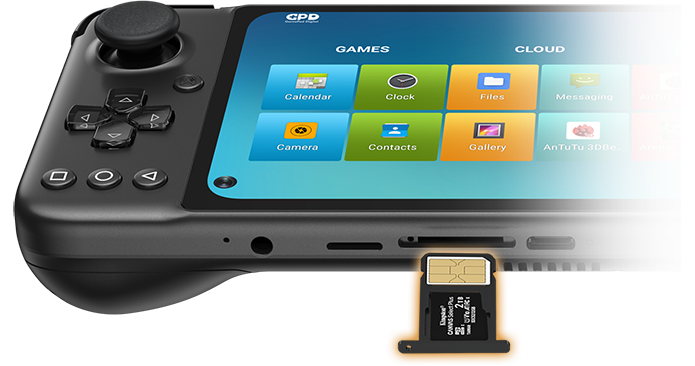 The XP Plus has a 7000mAh super-large polymer lithium battery. It is powered with a 30W PD quick charging technology, which only takes 2.3 hours to fully charge. Since XP Plus has a GPD Metro UI interface based on the Android 11 native system, there is no irrelevant APP, ads or useless programs. Regarding the  battery life allows you use the device continuously for around 12 hours.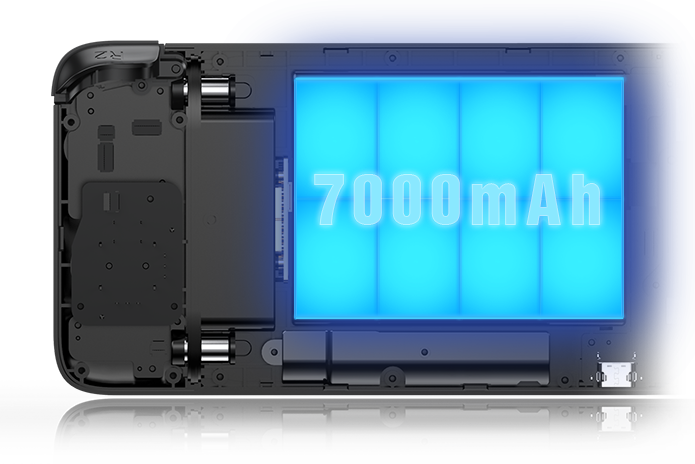 The GPD XP Plus features a curved 6.81 inches bright screen with rounded corners, made of Corning 5th Generation Gorilla glass, with a resolution of 1080:2400, a ratio of 87.1% and a scale of 9:20. 
It's brightness spike is 500nits; with a NTSC color rate of 84%(typ) which provides an amazing view and can be carried out as a cell phone.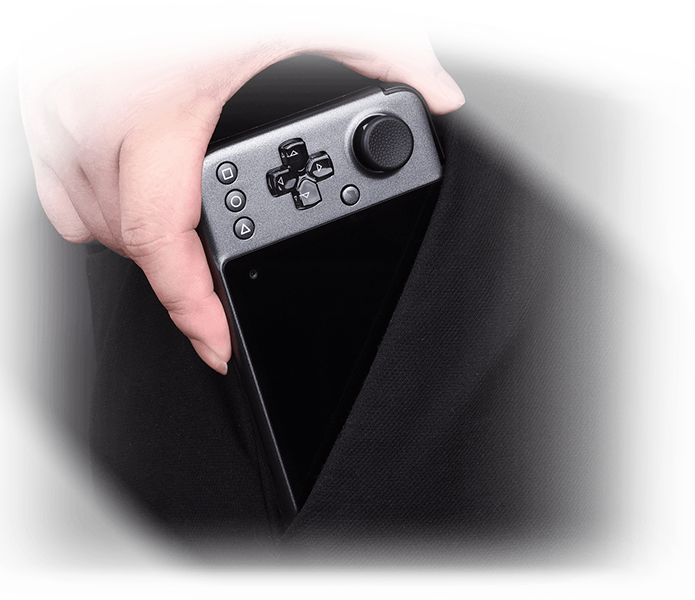 Before the release of the GPD XP Plus, many users knew that we had developed the GPD XD, a flip-open Android console, and its upgraded version the GPD XD Plus, which was aimed at emulator users. The main reason we didn't release an iteration product is that we spent three years working on how to play MOBA and FPS mobile games with a controller. The GPD XP Plus can be regarded as the crystallization of GPD company's 3-year research and development. It makes up for the GPD XD's downsides in both performance and functions, and challenges the traditional mobile game playing usually through touch-screen control, and even changes the history of mobile gaming control.
The main reason for releasing the crowdfunding on Indiegogo is that the research and development of GPD XP Plus and the purchase cost of moulds and materials are extremely high. All the money we raise will be used for the mass production of this handheld console. We believe it will touch the hearts of all players who love Android handheld consoles. We hope you can support this project. For the sake of the gaming, let's work together!

We are a company based in Shenzhen, China, focusing on handheld gaming devices and office equipment. GPD is our brand, and its full name is GamePad Digital, which comes from the founder's idea of making gaming products. GPD is committed in providing users with personalized products and services.

First of all, we would like to thank the users who participated in all our different crowdfunding campaigns. It is your continuous support and commitment that help us to make products and improve them. At the same time, We would also like to thanks all the gamers who participated in this large-scale crowdfunding for the first time. Without your trust and support, this product won't be mass-produced neither launched.

1. Does the funds raised this time include the tariffs generated when the products arrive in the destination country?
The funds raised include international express freight and remote area freight surcharges, but don't include tariffs incurred when entering the destination country. Generally speaking, there is a tariff of 21% when the product arrives in EU countries; there will be a tariff of around 10% when the product arrives in Japan; products priced over $800 will have tariffs in the USA; tariffs in some other countries might be higher.
2. What kind of after-sale services do the users who participate in crowdfunding benefit of?
Users who participate in crowdfunding benefit of the same warranty rights and protections as users who purchase the products after the official release. If you aren't satisfied with the product, you can return it within one week after receiving it, and the freight incurred when the product is shipped to users will be deducted from the refund.
Please note that you will bear all the postage and packing charges incurred in returning the goods. When you return it, please use local express mail services. Other international shipments will incur tariffs equivalent to 20%~30% of the value of the product when transported and entering China. GPD will not bear these charges.
3. What if the crowdfunding fails to reach the targeted amount?
If the crowdfunding doesn't reach the targeted amount, we will still send the product to you. Meanwhile, we will seek other financing channels to ensure smooth development and mass production. I hope that users who love this Android gaming console will still track the progress of the project.
4. What should I do if I don't get a quick reply to my question?
If your question doesn't receive as answer after few days, please refer to the following contact information:
If you have any technical questions about the product during the crowdfunding process, please send an email to: Kendyz@gpd.hk
If you have any questions about the delivery schedule after the crowdfunding, please send an email to: Kendyz@gpd.hk
If you have any questions about the quality or would like to return the device after receiving it, please send an email to: Kendyz@gpd.hk
If you'd like to consult about distribution or agency, please send an email to: Sales02@gpd.hk
When you send an email to us, please ensure to use the email address reserved in the crowdfunding order. The personnel concerned will answer your questions.

Indiegogo supporters will be the first to be rewarded.
Product specifications may change during the process of crowdfunding to ensure that the product is perfect. If the specification is changed, we will inform you immediately in the "Updated" section of the crowdfunding page.
This product will provide CE-RoHS, FCC, CCC, JATE, MIC and other international certifications.
We will try our best to deliver the products at the agreed time. However, due to the current worldwide shortage, potential mass production issues, or quality control, delays could happen, we thanks you for your understanding.