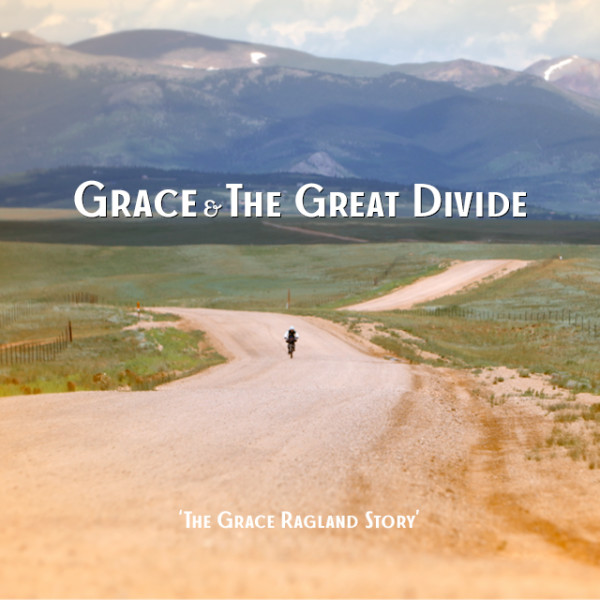 Grace & The Great Divide
$8,643
raised out of
$50,000
Overview
https://youtube.com/watch?v=700885166
Concept
Racing time and disease, Grace Ragland sets out on a seemingly impossible quest to fix the past.
Story
Grace & The Great Divide
"Riding a bike… had become the thing through which I measured the value of my life. It was my essence."  — Grace Ragland, from Divide By One: A Memoir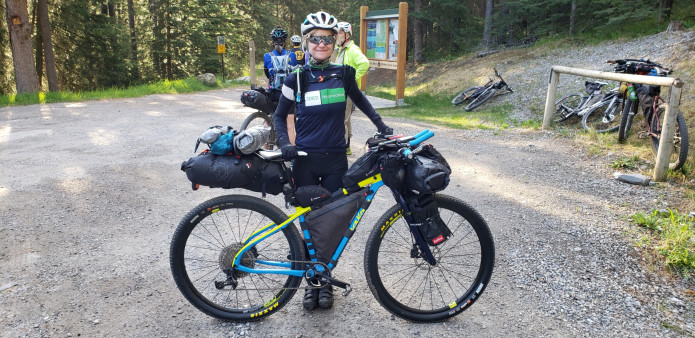 (Grace Ragland, Tour Divide, Day 1)
BANFF, Canada – June 7, 2018 — On this brisk morning, Grace Ragland, 57, stands astride a 60-pound mountain bike overloaded and weighted down with more supplies than her own thinning, 98-pound frame should reasonably be able to support. 
But it's the weight pressing on Grace's heart that has led to this moment — heavier than the bloated bike her disease-wrecked body will attempt to propel over the grueling 2,745-mile race from Canada to Mexico.
Grace has entered the world's longest mountain bike race. Her secret reason for doing so isn't something she's talking about… at least not publicly. She's lost the most important thing in her life, and the Tour Divide may give her one final chance to save it. 
"My destiny lay somewhere south of me on a dusty road. And I had to find it…. Sick, or not,"  — Grace 
But there's more than one secret on this ride. The other one is insidiously dark… and standing in her way. She just doesn't know it yet.
Adapted in part from Divide By One: A Memoir,  Grace & The Great Divide is a hybrid documentary feature that tells the true story of Grace Ragland, an unlikely indomitable force on a mountain bike who spent a lifetime defying odds and outrunning personal demons while becoming a source of joyous inspiration for all who knew her. At a time of great division, Grace's battle against the diseases that attacked her body, her rejection of social norms, and her unrelenting will in the face of overwhelming odds can unite us all in a celebration of life.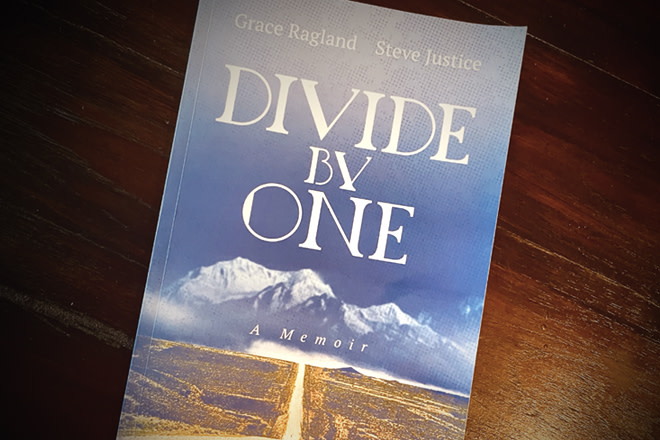 (Divide By One: A Memoir was co-written by Grace and Steve Justice).
If you knew Grace Ragland, you know her story deserves to be told. If you didn't know Grace … Well, you're the reason we're making a film about her life.
As I write these words, I can't help but recall the fall night I first met Grace… back in 2009 at Mulberry Gap mountain biking retreat in North Georgia. On this particular evening, I had joined a group of riders from Alabama who were huddled around a fire at their campsite. I'd met a few of them earlier that day. Stories were being swapped about the day's earlier mountain-biking adventures, when one of the guys gestured to a petite, middle-aged woman standing nearby and said to me:
"You should do a film about Grace."
Grace Ragland flashed a quirky smile and introduced herself.  Over the next several hours, logs fueled the fire and beverages fueled the conversation. I listened as Grace unspooled her story. It was fascinating. She was gaining some media attention at the time, having just made a brief appearance in the film, Race Across The Sky. (She was recast in the sequel the following year in 2010).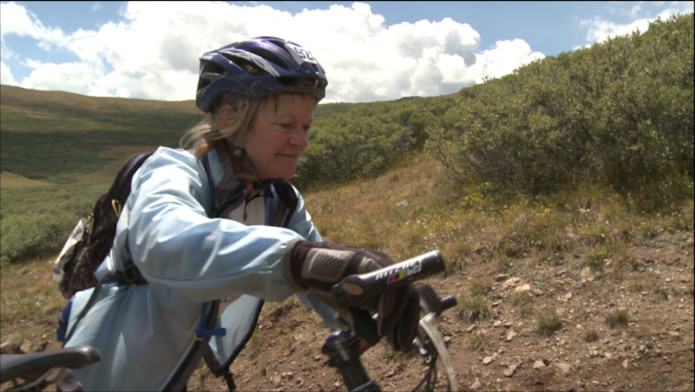 (Grace appeared in the film, Race Across The Sky in 2009, and again in the film's sequel the following year).
But almost a decade would pass before Grace would again cross my path. The circumstances and events that transpired during that time, and ultimately led to this film project, are a part of this story… and the film. I'll resist the temptation to reveal more, other than to say it seems the Universe ordained more than a decade ago I would one day do a film about Grace.
PROJECT STATUS:
If you've watched the film teaser at the top of this page, we hope you see something special in the making. While we have a jumpstart on production, we're really just getting started. At this point, we're currently putting the finishing touches on revisions to pitch materials, including a traditional film trailer and a half-hour sample reel. The pitch materials will be used to shop the film for a pre-sale/distribution deal.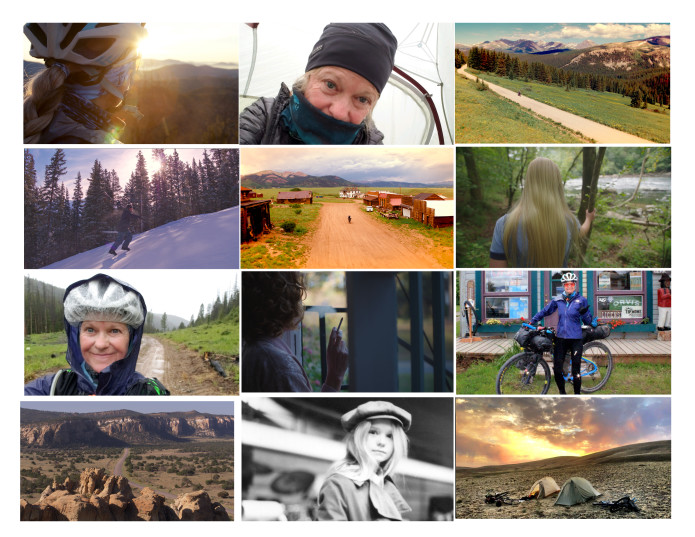 (A few screen grabs from the film)
WE WOULD LOVE TO HAVE YOUR SUPPORT
The process of securing a film sale most always moves at a snail's pace. In the meantime, we have no intention of putting the brakes on production. Time waits for no one, right? To date, we've been self-funding the project. However, during that time, we've received an outpouring of encouragement and interest in the project… namely from Grace's friends and fans, asking how they can help support the project.
This is where you can become part of Grace's story.
With folks reaching out to help, we would be foolish not to accept the kindness. Offering a crowdfunding campaign made the most sense … allowing anyone who wishes to have a hand in bringing the project to fruition. We're grateful for all of you who want to be a part of sharing Grace's story with the world.
WHAT YOU GET
As you may have already noticed, we've come up with some fun "Perks" to give away in return for your contribution to the project. All contributors from the $100 and above will be listed in the film credits as "Crowdfunding Backers." If you're not interested in receiving a Perk, you also have the option to simply click the Perk button at the top of the page and contribute any amount you wish, without selecting a Perk.
HOW WILL WE USE THE MONEY?
Everyone knows it's expensive to make a feature-length film. And cutting corners is the biggest mistake you can make. So we don't.
This isn't our first rodeo. It's not a side gig, or hobby. Filmmaking is what we do. Your contribution will be used to help with expenses including, but not limited to: travel, talent fees, music licensing, production and post-production. The funds will be entrusted to a team of award-winning filmmakers, producers and cinematographers. Our work includes on-demand films/series (currently streaming on Amazon), including Ride To Extraordinary, and Revival: The Sam Bush Story … which earned four "Best" documentary awards on the indie film circuit and was an Amazon Top 10 Best Seller following its commercial release… As well as official Sundance Film Festival winners such as Always in Season and Gideon's Army.
CHALL­ENGES
As mentioned earlier, bringing a feature-length film to fruition is no easy task. Fortunately, we're off to a solid start. But the bulk of work still remains. Much of that will be location shoots on the Tour Divide route, which traverses the length of the Continental Divide, from Canada to Mexico. We will need to be back on the route and filming this summer to finish the work we started last year.
Currently, there's no hard deadline on finishing primary production, but the goal is to be wrapped within the next 12 months. To stay up to date, please follow the project online:
Facebook: https://www.facebook.com/GraceGreatDivide
OTHER WAYS YOU CAN HELP
We understand that life has been turned upside down for so many of us in the past couple of years. If you're not in a position to make a financial contribution, there are other ways to help. Please consider sharing a link to our Indiegogo campaign with your friends on Facebook and other social media platforms. However you choose to get the word out and make some noise about our campaign, know that we are grateful! Thank you! — Kris Wheeler