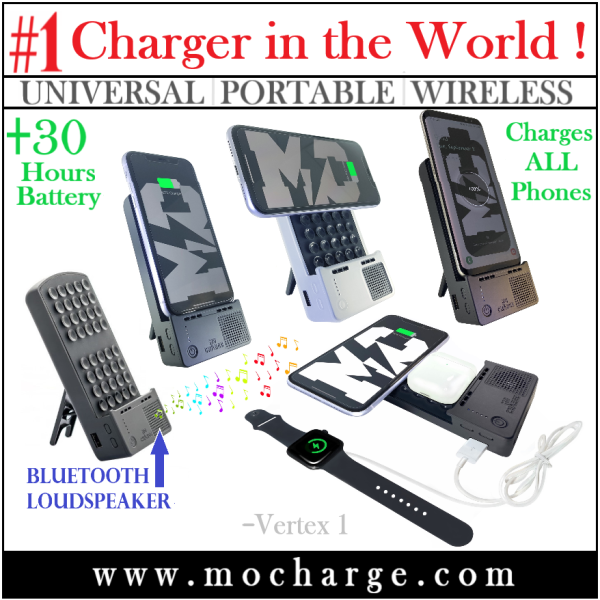 Greatest Charger Ever
$1,000
raised out of
$75,000
Concept
Number 1 Charger in the World
Story
Hello World, my name is Micah Miller. I'm the owner and inventor of the Mo Charge Vertex 1. From as long as I can remember, I have been extremely good with my hands and always had an exceptional innovative mind. I was so advanced but didn't realize until I got older. My parents enrolled me in a hands-on vocational school on weekends whiles I was still a full time high school teenager. Surprisingly, I excelled and came first in the class where I was the only child among adults. As I got older, I always thought of great ideas and wondered why someone has created it or how cool it would be to have such an amazing product if it was available. Then I decided to make that product available. 
My inventor career started in 2016 when I committed to pursue the idea of creating this amazing charger that I was extremely happy to gift the World. Months later after creating my first fully functional prototype, I realized that it would be too costly for me to create that specific charger for all the top phones in the World. I would have had to make more than 30 different chargers to accommodate the wide variety of phones on the market. I went back to the drawing board, thinking of ways of how I can make a universal charger that can charge all the top phones. As time passed and passed, prototype after prototype I finally created the perfect charger. Not only did I make a charger that can charge all the 'top' phones, I created a charger that can charge every single phone on the planet. I created the MOST Versatile Universal Portable Wireless Charger ever made.
I am extremely satisfied with this accomplishment, but I know the work has just started. I've been committed to bringing my dreams to life. My four-year journey consisted of three different prototypes, and now, we have the best charger in the World. This journey had many financial difficulties. Having no investors, I borrowed money from family members and close friends and pumped all my salary into this venture. This is my love, this what keeps me passionate and going, despite this long journey, I am so happy to have this opportunity to finally make my state-of-the-art device available for the World to obtain and benefit from its many features and capabilities.
I want to thank all my contributors/backers and all my customers in advance. Without your support this journey means nothing. Your support will help me to reach my goal of successfully starting my business and supplying the World with my industry changing device. Your support will help me to provide a better life for my family and most importantly to persons who are less fortunate. My company Mo Charge Inc has a lifetime partnership with a brand-new Non-Profit Organization to continuously assist persons who are less fortunate. Yes, a lifetime partnership. This Charger will not be the only product that my company Mo Charge invents. We have more great products to bring to life that do not exist. Every time one of our products are sold, we will contribute a significant percentage to assist others. Not only do you get an amazing device that will bring you many personal benefits, but you will also get to help persons all around the World. We thank you in advance.
Your 'greatly appreciated' funding will be used for a variety of things. We are currently in a position for mass production and distribution of our chargers. All the necessary stages in starting a company and preparing for mass manufacturing has already been accomplished. In the business of selling a product, advertisement is key. It is nearly impossible to sell an item to a customer if the customer doesn't know that it exists. Some Funding will be used in marketing/promoting our brand and product. By doing this, we get the word out, we get to educate people on our brand and what we do. We educate persons on our product and all its unique features and capabilities. Some Funding will be used to mass produce our products in advance prior to a customer's purchase. Some Funding will be used for research and development (R&D) to start the process of creating our next state-of-the-art device. Some Funding will be used on our overhead expense and monthly bills. Some funding will be kept aside for unseen events. To summarize, your Funding will be used to advance Mo Charge Inc and put us in a position to move in a positive trajectory to have ultimate success.  There are many valuable unique perks such as, express free shipping, free colored skins, key chains, discounted chargers in bundle deals, coupons/gift cards to use on our website and becoming the first set of customers to have access to our new amazing products prior to their official launch date (Year 2021).
At Mo Charge Inc, we specialize in the art of versatility, bringing many important valuable users' needs together and assembling into one, industry changing, state of the art device, the Vertex 1. Our project provides each contributor with the most versatile universal charger ever made. The Vertex 1 is a combination of all charging devices available worldwide and other devices such as a speaker and phone stand all in one. We provide our customers with more options than our competitors at nearly half the price. Purchasing the Vertex 1 is the best long-term investment. When you think of charging cases, they are only designed to charge one specific phone because they were only made to that specific dimension. On the other hand, the Vertex 1 is a universal charger that can charge every single phone on the planet and it can also charge phones that has not been made yet! (Great Long-Term Investment with an abundance of features and benefits)
In 2017 we made a charger that we were excited to make available for all mobile device owners. Shortly after that development we were back at the drawing board to make a more dynamic version and that is exactly what we did. We are extremely excited to offer the world a product that every mobile device owner deserve & truly need.
This Journey started in 2016 and we encountered challenges along the way. We overcame all those challenges in dominant and impressive fashion. We rose to the occasion time and time again and always came out victorious.  We have an amazing team of individuals who always stayed composed and prepared to continue a positive trajectory of our company and its advancement. We are greatly appreciated for each contributor/backer and we assure you, that you are contributing to a group of winners and investing in the best charger ever made. We are very confident that there is no major risk ahead in providing our chargers to the contributor/backer.  We have worked hard on this journey to get to this point. Unlike most campaigns, contributors and backers DO NOT have to wait through a research & development stage (R&D) which includes trials and errors and can be a lengthy period. All the groundwork is completed, and we are ready for mass production! The only foreseeable challenge that may arise, is possibly shipping, due to the worldwide effects of the present pandemic. With that being said, shipping or arrival date may be slightly off, nothing to unbearable. 
Being a contributor/backer does not only involve money. You can also 'contribute or back' our project by sharing our campaign or product and help to get the word out.  We welcome you with open arms, to join us on our journey as a new and rising company and help us educate the masses and show that a product like ours is available with its many capabilities and features. It is nearly impossible to sell a product if nobody knows that it exists. Purchasing a charger or any of our perks available for donating and sharing the word about our product is the ultimate support. However, if you're unable to contribute financially, you can share our campaign or product in any way you can. Whether that is by sending around informative text messages and/or utilizing your social media platforms. You are free to use any of our pictures, videos and/or wording content found on our website (www.mocharge.com) or on our official social media platforms as apart of the content you will used in helping us get the word out. Your support is greatly appreciated and goes a long way. You will always have a hand in helping us build a strong foundation to deliver world class products to people all around the world. Thank you in advance.