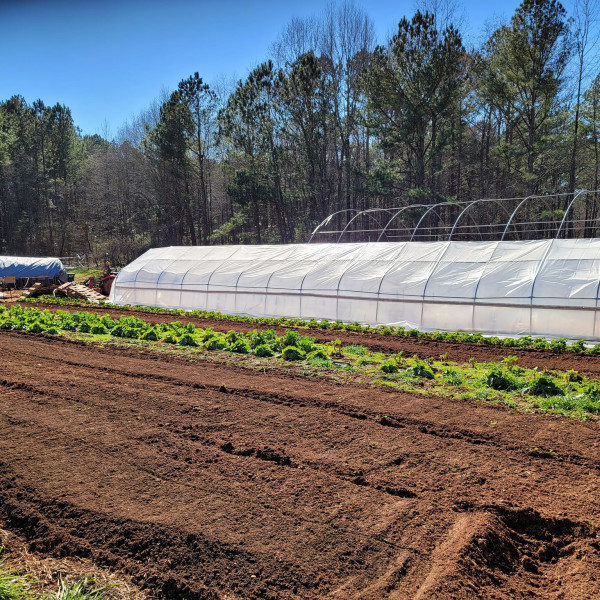 Help us continue the legacy of Elm Street Gardens
$610
raised out of
$50,000
Concept
Reclaiming the heritage of the antebellum south in Sparta, GA
Story
Growing has always been interwoven into the fabric of our upbringings. Our families taught us from a young age that the most important thing you can do is put good homegrown chemical free food into your body and share that bounty with others. Bread and Butter Farms began in Tuskegee, AL while we attended the illustrious Tuskegee University, which is known for agriculture and animal husbandry, among other things. I had a porch garden, and my partner was perfecting his skills in animal science. Neither of us were on a path to becoming farmers. It wasn't until we became parents and couldn't afford the quality of produce that we grew up on and yearned to expose our children to, that we returned to our roots as farmers.
While working full-time jobs and raising four kids, we farmed part-time on family land from 2012 to 2018, when we left those jobs in research to farm full time. It has been the best decision, but a trying one as well. Farming is hard! Being a minority farmer has its own added challenges and barriers as well. During this time, we have been financing the majority of our expenses out of pocket without loans. It has taken a community of individuals and organizations over the years who have supported us, believed in us, and watched us grow to a successful small family farm.
Our goal is to encourage everyone to grow something in any way they can, not just profit from farmers' markets and other outlets. Another one of our passions is educating the next generation about the importance of knowing where their food comes from by collaborating with schools and encouraging our youth to implement sustainable practices that benefit our planet.
We have been presented with the opportunity to take over an retiring farmer's certified organic no-till farm operation. This is so exciting because rarely is this opportunity available in this capacity. With this space, we can teach, grow, and provide jobs in one of the poorest counties in GA. The owners are extremely passionate about serving the community, and we look forward to continuing their legacy and merging our own environmental plights as well. Although the farm has many operational systems in place, we still need help with taking over and ensuring that we can hit the ground running.
We think big. Our future is farming—in making a difference, in receiving and providing for the land, in teaching others the trade and about food accessibility. We wish to continue Elm Street Gardens donations to the food banks, offer free or sliding scale CSA shares to families in need, and host workshops to teach our community about growing their own food in ways that benefit the soil.
With that being said, we need your help! Sparta, GA is about 2 hours from Atlanta, so we desperately need refrigerated trucks. We also need funds to secure the 7 high tunnels and the other items that the owners are including with the business. Some of those items include 2 walk in coolers, harvesting equipment, seeds, a booming mushroom operation, and so much more. We have raised over half of the asking amount, which in today's market is more than fair! BUT we still need help finalizing everything to meet our goal.
We fully understand that some of you just can't contribute, but that doesn't mean you can't support our efforts. If you want to celebrate Bread and Butter Farms in its transition to Elm Street Gardens, here's how you can help:
1. Tell your friends. We want you to spread the word about our project. Tell your pals, your family, anyone you can reach. "Make some noise!"
2. Subscribe to our email list. This season is going to be full of new projects, dreams, ideas, and big time goals. Keep up with us this year.
3. Purchase some produce from our online store.
4. Support your local farmers. This one is huge. Thank your farmers and buy their vegetables, meat, fish, flowers, etc. They'll surely appreciate it, and we appreciate you!