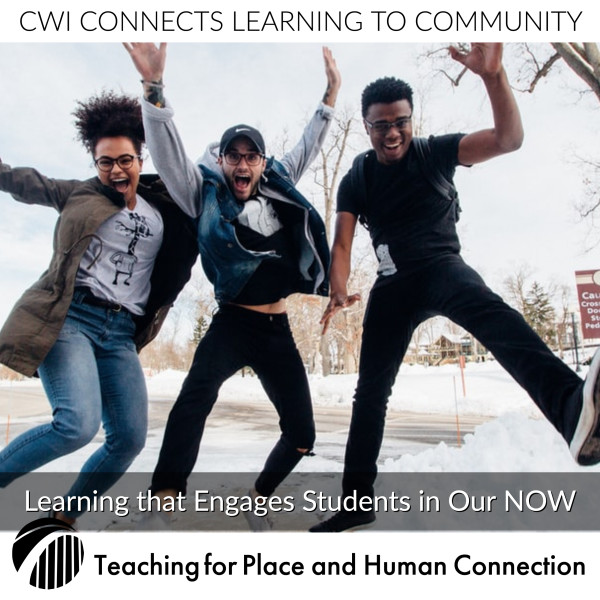 Help Us Support Educators in These Times
$200
raised out of
$65,000
Concept
Join us in helping educators engage and connect their students to the community.
Story
Overview
Community Works Institute (CWI) is supporting educators in connecting their students to their community through real and impactful projects. Now is the time to create human connection through community focused student learning projects. And, we need your help!
In these COVID times, our educators and students need real connection and community.
Since 1995 CWI has provided educators with crucial training, resources, and connection opportunities, across the U.S. and internationally.
We work with educators to create student centered, community focused projects, for both virtual and in person applications.
By making a tax deductible donation you are directly supporting our work with educators, schools, and community organizations. CWI is a 501(c)(3) Tax ID: 85-095624 contact us
Meeting the Challenges of 2020 and 2021
As you can imagine, 2020, and going into 2021, has proven to be extremely challenging for both educators and the non profits like CWI that support their work. Your support now is more important than ever before to help us meet the challenge.
We've quickly shifted our offerings to cutting edge virtual events that provide training to educators and give them access to inspired strategies and new thinking.
Since COVID struck in March 2020, we've supported more educators than ever before while bringing together exciting resource partner organizations.
Help us support and expand the connective training and resource events that we're able to offer educators at reduced or no cost.
Our Resource Partners Now Include: The Smithsonian; Local Learning; Kunhardt Film Foundation; Arizona State Museum; Project Green Schools; and others
What We Need & What You Get
Your support will make it possible for CWI to train, connect and inspire like minded educators right now, design engaging learning that builds community for students.
We'll keep you updated on the exciting work being done by our inspiring network of innovating educators!
Feel the satisfaction in knowing you're making a great difference for our teachers and students in these challenging times.
The Impact of Your Support
Now is the time to amplify human connection through community focused learning projects. During the challenging time of COVID our teachers and students need real inspiration and connection more than ever, and that's exactly what we support!
CWI Virtual Institutes for Educators, and our Spotlight series, seminars, and conferences

Community Works Journal: Digital Magazine for Educators

Our flagship publication featuring reflective essays, curriculum and project exemplars

CWI Online Platform provides opportunities for educators to share their work while accessing a wealth of resources, including our video archive of webinars and workshops.
Other Ways You Can Help
Even if you can't make a financial contribution at the moment there are important ways you can join and help us:
Share our fundraising campaign with your networks and on social media.
As you'll see, IndieGoGo has excellent easy to use sharing tools!
contact us if you'd like to know more.
Join us today in making a contribution to our shared efforts to support teachers and students!