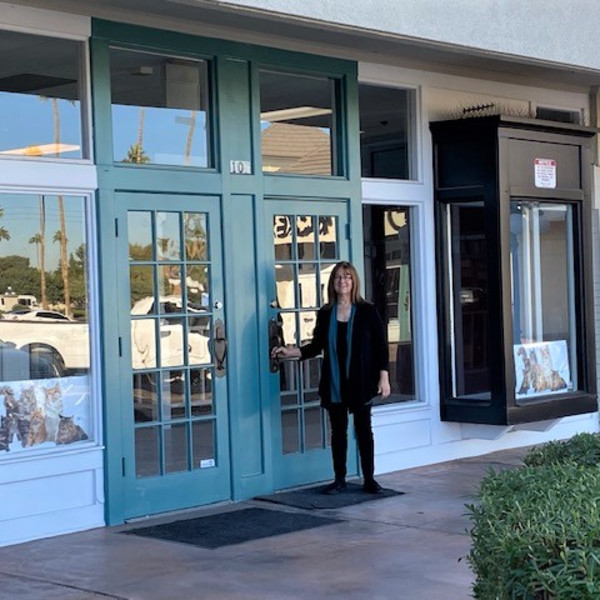 Here Comes Kitty Pause Kitty Café!
$2,350
raised out of
$50,000
Overview
https://youtube.com/watch?v=490478963
Concept
The Place to Pause & Play with Feline Friends who are looking for fur-ever homes!
Story
Cat Lady & Proud of it!!
I have had a long-term loving relationship with rescue cats.  I adopted my first rescue cat, Hannibal, not long after I moved to Phoenix in 1990.  Over the years since then, I have provided a loving home to a total of 11 cats.  I now have a kitty family of seven cats including one special needs kitty, Harley.
In 2017 I was gifted with a visit to Kit Tea Cat Café in San Francisco.  I came away thinking, "I could do that!  What a wonderful way to bring people and adoptable cats together!"
In 2019, I retired from my fulltime position to develop and launch Kitty Pause Kitty Café. 
What is Kitty Pause Kitty Café?
Kitty Pause will be a hub for cat-centered activities designed to create a sense of joyfulness for both the visitors and the cats.  It is planned as a cat and people friendly space where you can meet, play, and cuddle with the cats who reside at Kitty Pause while looking for their fur-ever homes.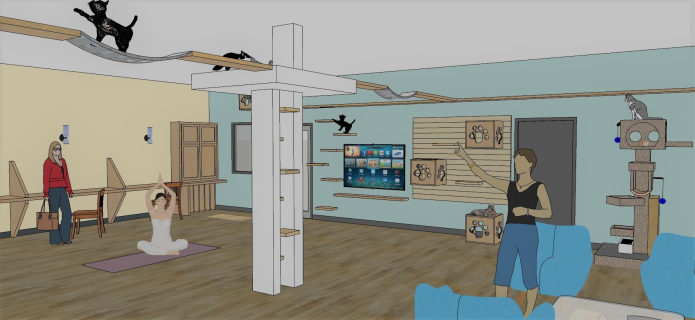 Kitty Pause will be an adoption center for Saving One Life, our rescue partner.  You can get to know a potential new kitty member for your family in a great open setting. You also can engage in activities such as Yoga with Cats, Bingo with Cats and many more.
Come join the Kitty Pause family!  Let's make it happen together!
COVID Created Circumstances. . .
Due to the COVID situation and the newness of cat cafes in the U.S. in general, it has been a challenge to obtain the funds needed to renovate and build out the space that I leased back in February for Kitty Pause in the Pavilions Shopping Center in Mesa, AZ. 
Where things stand. . .
I have obtained a commitment for a $75,000 SBA loan to help cover a portion of the renovation expenses that include construction of a needed wall to separate the cat lounge space from the welcome entry and boutique, furnishings for the lounge to include cat and people furniture, and outside signage for the suite.  The total estimated expenses to open Kitty Pause are $150,000. 
The SBA is requiring that I have the additional needed $75,000 to cover the balance of the renovations.  To date I have already invested $30,000 in startup expenses since February.  I plan to invest an additional $25,000 from my retirement funds to make Kitty Pause happen. 
My goal is to open in March 2021. For that to happen, I need to raise the additional $50,000.
That's where you can help to make Kitty Pause a reality!
Join the Kitty Pause Kitty Krew by donating to the renovation fund!  Kitty Pause will be a great community resource and a hub for feline fun and activity.
Please share the campaign with friends and family who are also cat lovers.  Let's grow a ground swell of support for Kitty Pause Kitty Café and raise the needed funds so we are ready to welcome you and your friends when you come to visit!
Check out the list of perks I am offering to thank you for your donation as you decide the amount of your donation.  A number of the items are from my personal art collection that I thought you might enjoy.
Thank you for sharing my vision for Kitty Pause Kitty Café, for spreading the word about the campaign and for helping to create of a wonderful space where you and your friends can come visit and play with friendly felines looking for fur-ever homes!
Check out the Kitty Pause Kitty Café website or join us on Facebook.
I am very grateful for your support as are the kitties who will make Kitty Pause their home while they await adoption.
Thank you!
Marsha