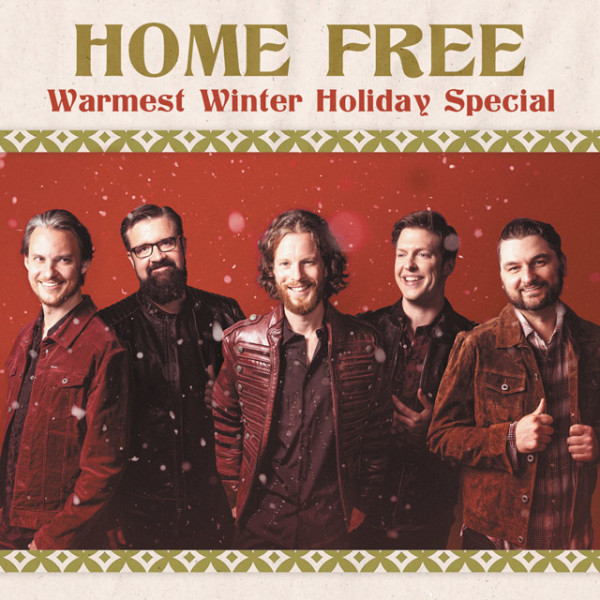 Home Free: Warmest Winter Holiday Special
$81,200
raised out of
$75,000
Concept
Home Free is making their first-ever holiday special extravaganza! Help bring it to life.
Story
It feels so odd to be coming into the holiday season with no shows to look forward to. The past few weeks have had us really thinking about how much we miss seeing you all on road, especially around the holidays.  We've spent a lot of time trying to plan the perfect way to bring us all together this holiday season and here is what we came up with: 
A Christmas Special… this December!
We have never attempted anything like this, despite getting so many requests from our fans over the years. Now we have the time to finally do so, but we need your help to make it happen.
We are planning to make this Special and a bunch of exclusive content, behind-the-scenes footage, and family-fun holiday spirit for you all. It will be filled with comedy, guests, never-before-seen performances, interviews and more. We have already begun organizing all of the awesome ideas that we want to bring to life.
THIS IS WHERE WE NEED YOU!
With high expectations we know that executing this Christmas Special will come with extra costs for things such as production, venue space, lighting, camera crew, directing, choreography, marketing, guest artists and more.  We are absolutely prepared to invest some of our money in this amazing project, but we also need some EXTRA help to pull this off in the best way possible. 
We are anticipating six-figure expenses in production and licensing costs, and so we are setting a goal to raise $75,000 to help bring this special to life.  We have a hard deadline of November to raise those funds we must go into production by then in order to make the holiday deadline.
To spread the cheer of giving this Christmas season, we have some AWESOME perks lined up for our supporters.  First and foremost: this will be the only place where the IndieGogo supporter-only extended cut will be available to download and own forever. We plan to host a livestream concert event, but that will not have everything we make just for you. In addition, here's a list of some of the perks we have available for our supporters:
– Invitations to attend the rehearsal and taping
– Virtual Meet and Greets with all of us
– Exclusive merchandise: t-shirts, mugs, and slippers
– Supporter-only campaign updates
– An exclusive behind-the-scenes video
… and hopefully much more! 
As a closing thought, each holiday season we can't possibly bring our show to everyone in every town all over the world.  So what we are creating here together will hopefully cross borders to bring warm and cheer to everyone in a year where many desperately need it.
We've called on our fans many times before, and we hope that this new, one-time way of interacting us will be a fun time together this holiday season. We are thankful to have the opportunity to create a fun and contributive project that will allow everyone in the world the opportunity to see our Christmas show.
We cannot wait to share this music and especially the songs from our upcoming new Christmas album, Warmest Winter.  We can't wait to connect with you during this campaign.
Let's have the Warmest Winter together!