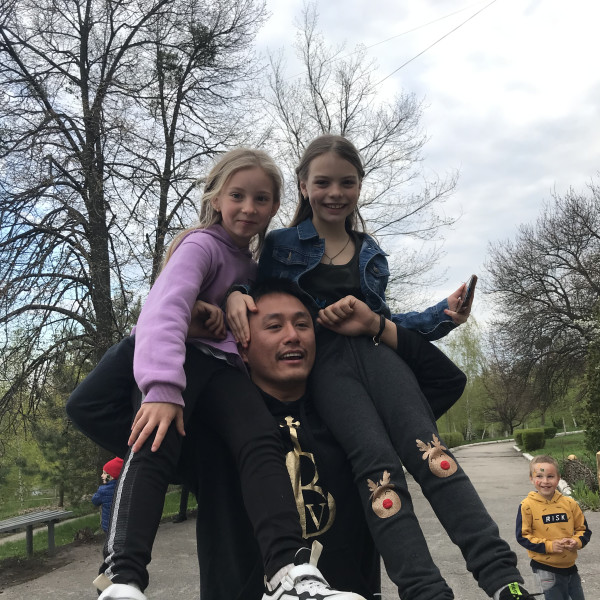 Humanitarian Aids to Ukraine
$300
raised out of
$300,000
Concept
Tri Lam's effort to help the locals impacted by the war in Ukraine
Story
Short Summary
Hi everyone,
I've been in Ukraine for almost two months volunteering with humanitarian missions related to the war in Ukraine. My commitment to the mission is demonstrated on my personal Facebook page   So far, my work here involves:
Transporting refugees and displaced people in active war zones to a safe area
Delivering humanitarian aid across the country to both Ukrainian military and civilians, including occupied territories
Search and rescue people in hot areas
Purchasing emergency supplies, including food, diapers, feminines products, and defensive military aids
Etc…
In the past few months, I've met more amazing people than I've in my entire life. There are families with all members volunteering to join the frontline. There are many civilians rejected by the military but consistently raise their hands to help in any way they can – such as drone operators, and medical and tactical training. Foreigners come from all corners of the world, including Iraq, the USA, Georgia, Belgium, Japan, Korea, etc… A lot of them came knowingly that participation in the war may cost them their citizenship in their home countries, if not their lives. Ukraine right now is more united than its entire history. Other NATO countries are coming to Ukraine's aid.
But it's not enough. 
People are still dying. The Russian military is still firing artilleries at anybody they see in the war zone – including ambulances, volunteers, and civilians. Most of the refugees who have the opportunity to leave the country are already gone, leaving behind the elders, disabled or poor population, women and children who are too afraid to restart their lives, etc… Strayed dogs and cats are roaming the streets.
As the war drags on and Russia looks to further escalate the situation, there is so much to be done 
I'm asking for assistance in any way you can provide. Here are some ways to support my humanitarian missions. 
This Indiegogo Campaign
Cryptocurrency:

Bitcoin: bc1q947l9ftsf3dc5sdylxhas5fd94jfuckfzlstmq
Etherium: 0x618a5361F4e16706a32B0864A69d5e914B53553f
USDC: 0x618a5361F4e16706a32B0864A69d5e914B53553f

Humanitarian donations in Poland/Ukraine

Food, medicines, feminine products, baby supplies
Military supplies – helmet, vests, elbow and knee pads
Transportation between Ukraine and other countries in Europe
Sponsoring Ukrainian refugees, adoptions
Contact me directly – tri@maydow.com
Note: I do not look to purchase weapons of any capacity, my line draws at defensive military supplies. Please donate directly to other fundraising efforts if that is a cause close to your heart (here or here) 
For video updates and activities in Ukraine, visit my TikTok or Instagram: @themaydow