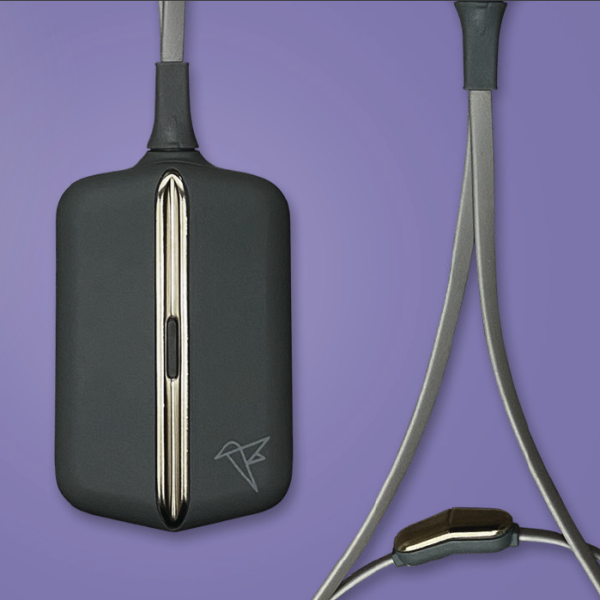 Hummingbird – Vocal Cord Vibration Switch
$2,070
raised out of
$180,000
Concept
An innovative access switch that enables communication and interaction like never before.
Story
People with poor vocal and fine-motor abilities need an effective and financially accessible assistive input device to enable them to communicate and become a productive part of the digital economy and society.
Introducing The Hummingbird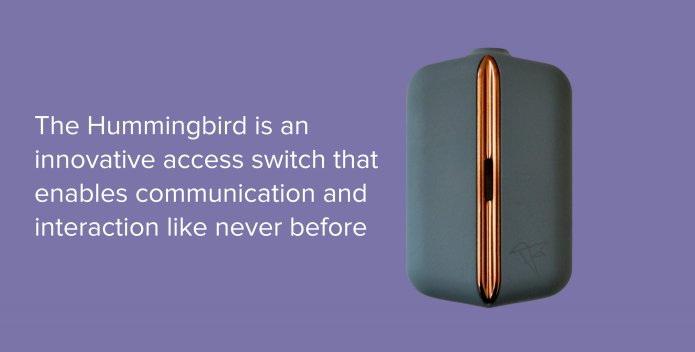 For more information about access switches and Augmentative and Alternative Communication (AAC), please read this article and watch this video.
How does the Hummingbird work?
A sensor containing a dual-axis accelerometer is held on the user's throat by a wearable neckband. The sensor is connected to the Hummingbird power pack which detects periodic vibrations associated with vocalizations. The Hummingbird also filters out sounds caused by bodily functions, like coughing and swallowing, as well as extraneous head movement. When a vocalization is detected, the Hummingbird power pack translates it into a usable output signal that can be connected to a USB, Bluetooth, or Switch-enabled user interfaces, such as an AAC device or a computer. Individuals can then control a variety of activitieson the connected device—such as turning on music, playing a game, or typing messages on a keyboard — opening up a world of choice and communication.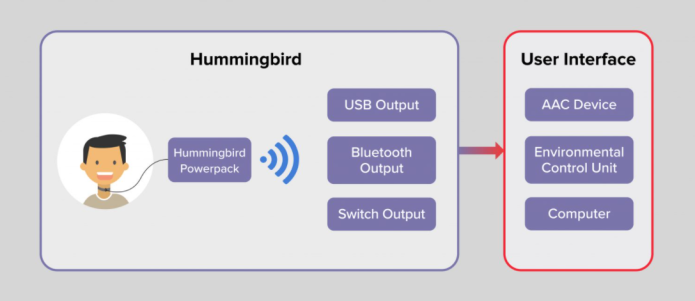 Who would benefit from the Hummingbird?

It is well suited for individuals who are unable to form words but can still produce vocalizations. The Hummingbird is designed to be used by individuals who have limited control of their limbs and have difficulty accessing technology and toys. Users must only be able to vibrate their vocal cords (it doesn't even have to be an audible hum sound!). The Hummingbird has the ability to control up to two outputs which can be used for step-scanning or controlling two completely separate devices.

How can I use the Hummingbird?
The Hummingbird converts vocal cord vibrations into multiple outputs for easy use with:
Computers
Smartphones
Tablets
Bluetooth-enabled digital devices
Environmental control units
Augmentative and Alternative Communication (AAC)
Device Specifications
Activation Type: Vocal cord vibration (hum)
Input Modes:
Direct – control single output
Long/Short Mode – control two outputs
Output Capabilities:
Emulate keyboard key strokes
Switch adapted toys and devices – 3.5 mm (1/8 inch) jack
Battery Type: 2 AA batteries
Connectivity: Bluetooth, USB, Switch Output Cables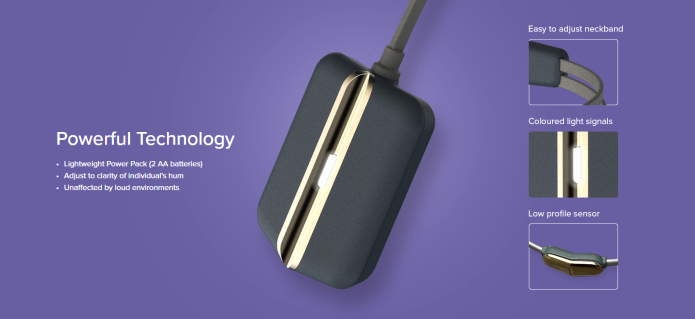 Kit Contents
What's in the Box:
a) Power pack
b) Silicon neckband with magnetic clasp closure
c) Magnetic clasp extension cable
d) Power pack extension cable
e) 2 switch output cables – 3.5 mm (1/8 inch)
f) Manual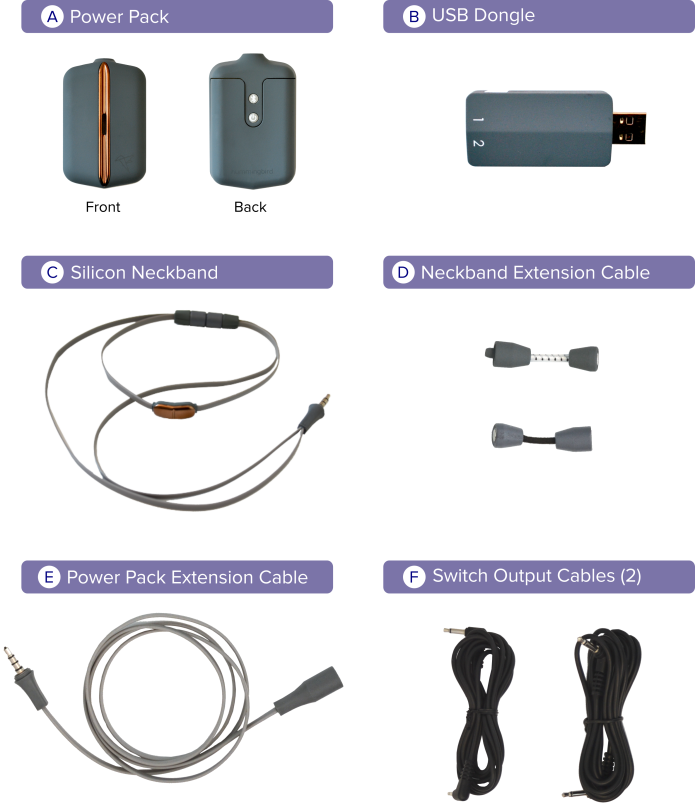 Please note: We are currently making enhancement to the Hummingbird based on our recent usability study. The images shown above may not fully reflect the product that will be delivered. 
Timeline
Through pre-sales, our goal is to raise enough capital within 3 months to allow us to start the manufacturing process (6-8 months). If you purchase a Hummingbird device through this pre-sale, fulfilment is estimated to occur in Summer 2023. If changes to the timeline occur, we will notify all purchasers.
Our Story
The Science and Research team behind the Hummingbird is the PRISM Lab (Paediatric Rehabilitation Intelligent Systems Multidisciplinary) at Holland Bloorview Kids Rehabilitation Hospital.
PRISM Lab is led by Tom Chau, Ph.D., PEng. Dr. Chau is the Vice President of Research and Director, Bloorview Research Institute, Raymond Chang Foundation Chair in Access Innovations.
Dr. Chau and his PRISM Lab have focused on access innovations in recent years. Access innovations include the discovery, design, and evaluation of novel pathways by which children and youth can communicate or interact with their environment in the absence of functional speech and gestures.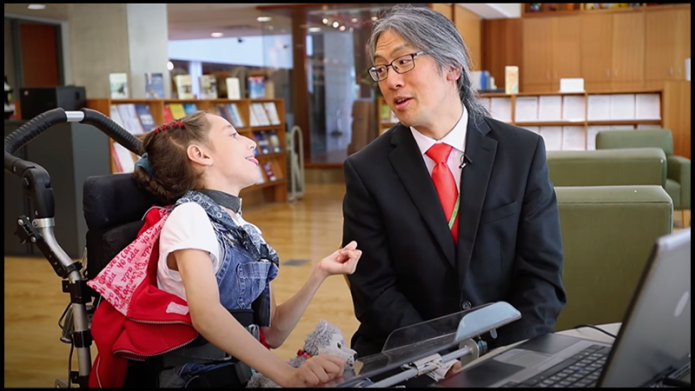 Dr. Tom Chau with an early adopter of the Hummingbird.
About Holland Bloorview Kids Rehabilitation Hospital
Holland Bloorview Kids Rehabilitation Hospital (Holland Bloorview) is Canada's largest children's rehabilitation hospital focused on improving the lives of kids with disabilities. We are a global leader in applied research, teaching, and learning, and client and family-centered care. Our vision is to create a world of possibility for kids with disabilities.
We are dedicated to knowledge generation and sharing innovative treatments, therapies, and technologies that give children with disabilities the tools to participate fully in life. Located onsite, the Bloorview Research Institute conducts transformational research in pediatric rehabilitation.
Holland Bloorview is an internationally recognized teaching hospital fully affiliated with the University of Toronto. Our Teaching and Learning Institute embraces best practice models to train and develop the next generation of experts in childhood disability.
We are a provincial resource transforming care for children with cerebral palsy, acquired brain injury including concussion, muscular dystrophy, amputation, epilepsy, spina bifida, arthritis, cleft-lip and palate, autism, and other physical and developmental disabilities.
Learn more about Holland Bloorview Kids Rehabilitation Hospital. Visit hollandbloorview.ca
Sign up to receive email updates about the Hummingbird.
Other Interviews and Media: