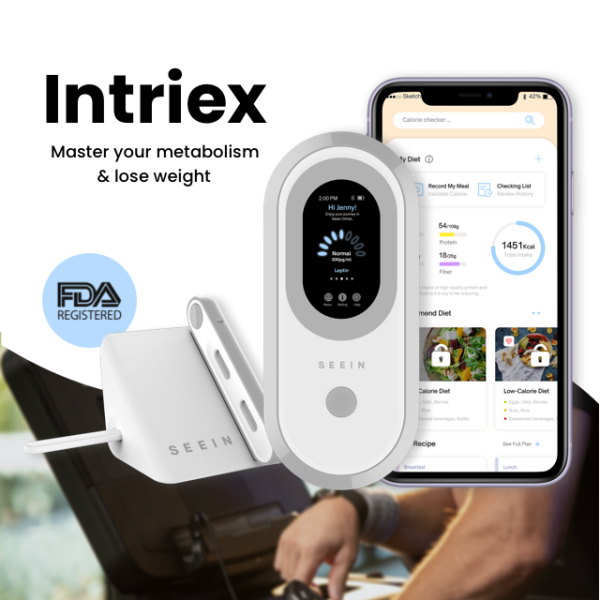 Intriex Metabolism Monitoring Device & Health App
$118,575
raised out of
$70,000
Concept
Hack your metabolism, monitor your health, and manage your weight loss—all in the palm of your hand.
Story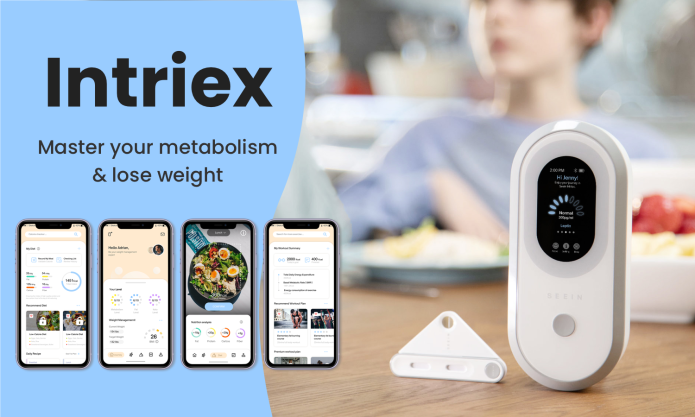 A simple saliva test unlocks your metabolism. Get meal & workout plans based on your body's needs.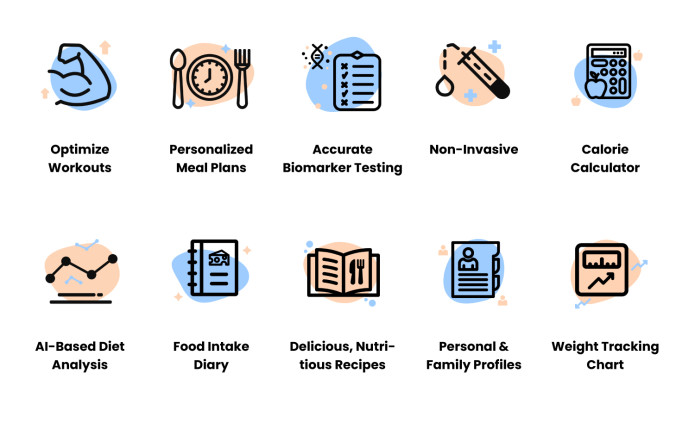 Overview
Whether you're looking to lose weight, get fit, or improve performance, Intriex will help you reach your health goals without the guesswork.  
Adequately Lose Weight
Healthy Meal Plans
Optimized Workouts
Delicious Recipes
Nutrition Tracker
AI-Based Diet Analysis
Backed by Science & FDA-Registered
What is metabolism?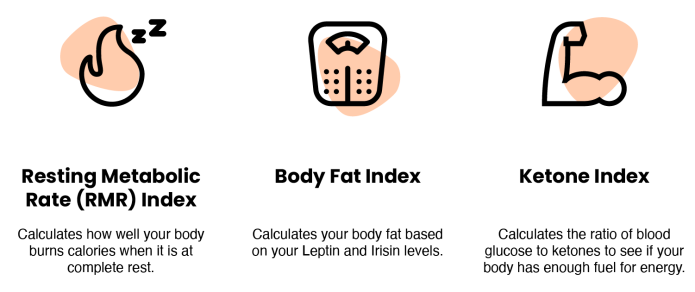 Metabolism is a natural process that's both unique and complex. It's how well your body turns the nutrients of a tasty sandwich into energy, allowing your body to function. In order to have enough energy for exercise and lose weight, it's valuable to understand your unique caloric needs. 
Your path to better health starts with Intriex
Intriex is a valuable tool and app that makes it easier to lose weight and keep it off. Intriex gives a clear understanding of your metabolism, so you'll know exactly how to shed pounds and get in shape. All it takes is a simple saliva or urine sample. With Intriex, you'll make more healthful choices and feel good about managing your weight.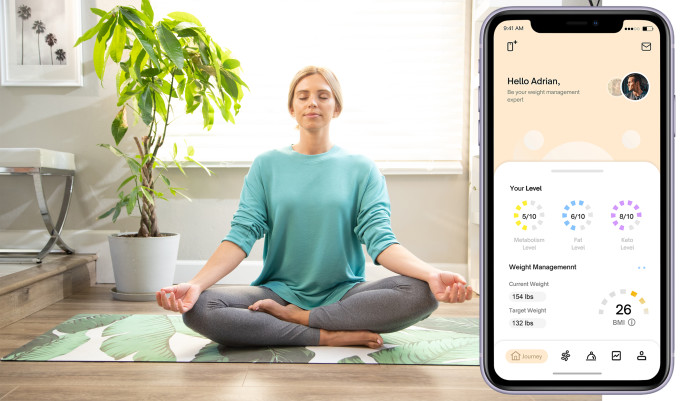 Break unhealthy daily habits
Intriex provides complete guidance for your weight loss journey. Using all three indexes and hormone analysis, Intriex creates your diet plan, workout routine, and long-term map for smarter weight management. With the Seein Intriex app, you can access easy-to-understand results, share data, and acquire actionable insights anytime.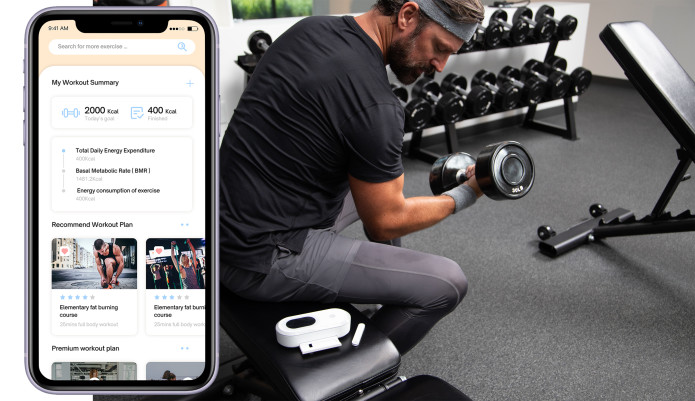 Improve performance & transform your body
Intriex's professional workouts will put you on the fast track to success. Get feedback on your physical performance based on your resting metabolic rate and body fat levels. Know how to optimize your routine so you can build muscles and burn fat effectively.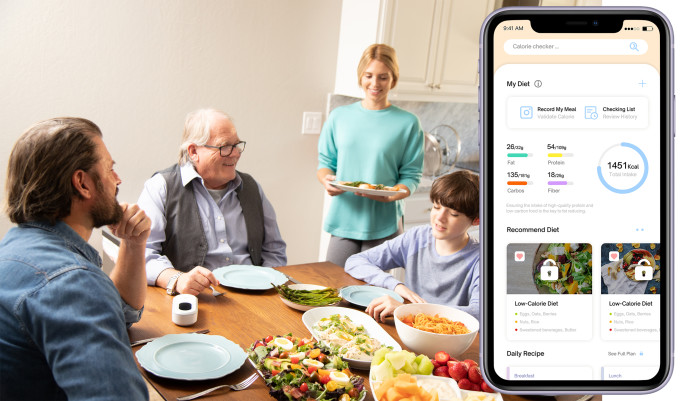 No more stressing about food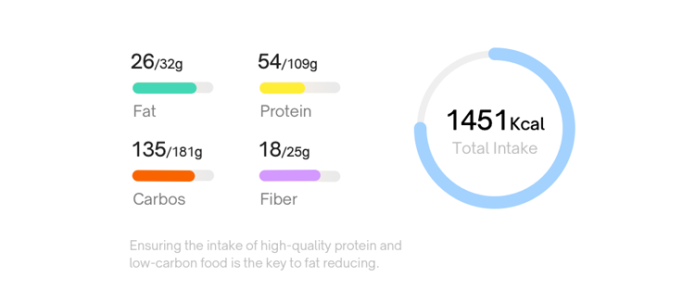 Wondering how many calories you need to lose weight? Or what carbs to consume for a workout? The Seein Intriex app will coach your lifestyle, letting you know exactly what to eat.
Enjoy personalized meal plans and tasty recipes based on your resting metabolic rate and ketone levels. Discover the best foods that work for your metabolism, and see what's keeping you from reaching your health goals.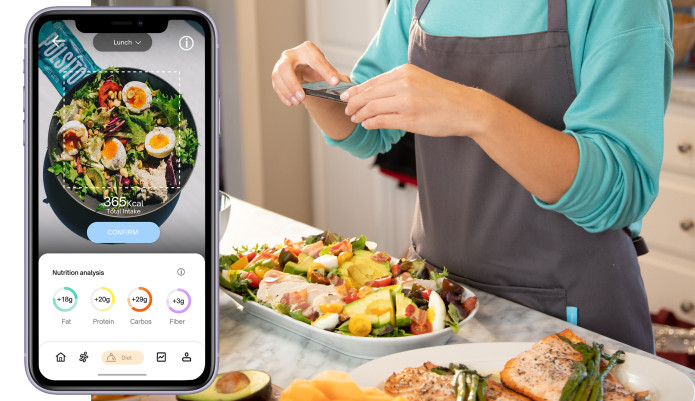 Snap a picture to track nutritional needs 
Easily track your meal's nutrition by taking a photo of your food. Check if you have enough carbs, protein, and fat for a balanced diet.The Body Fat Index will also provide feedback on your meal plans, giving you a full view of how your choices impact your life.
Set healthy family goals 
Share Intriex with loved ones and reach your health goals together! Intriex makes it easy to keep everyone motivated and on track. Create profiles for each family member. You'll unlock fun fitness plans and delicious, nutritious recipes the whole family can enjoy. The Seein Intriex app keeps health reports organized, secure, and always accessible.

Vitro Diagnostic Technology
Hormones are key players in mastering metabolism. That's why we use Vitro Diagnostic Technology to detect hormones present in your saliva and urine (biomarkers) within minutes. Since saliva and urine are reliable biological fluids, you'll get the most accurate assessment of your hormones in relation to your metabolism.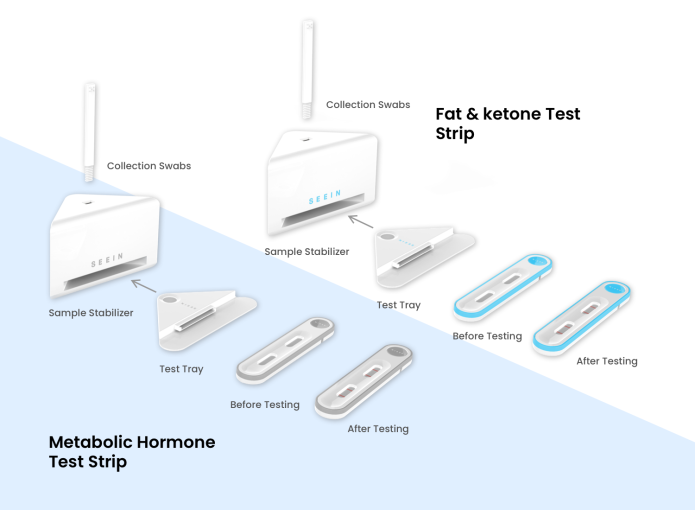 Vitro Diagnostic Technology works by inserting your collected sample and test strip into the Seein stabilizer, where it will process and analyze your fluid. Intriex then measures three indexes and evaluates your hormone levels, giving a clear picture of your metabolic health. 
Metabolic Hormone Test 
See how thyroid hormones, cortisol, testosterone, and insulin affect overall weight gain.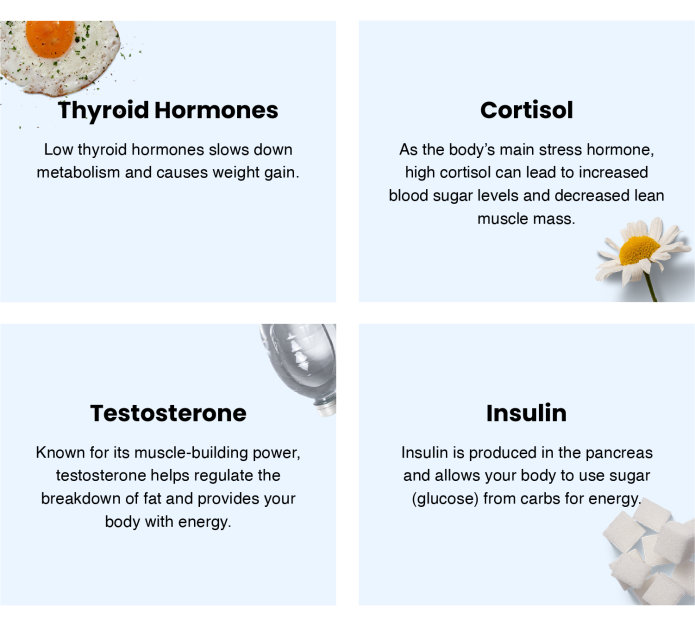 Who should take the Metabolic Hormone Test?
Consider taking this test if you're concerned about your metabolism, energy levels, or are experiencing changes in your weight, appetite, or physical performance. You may find this test beneficial if you're interested in losing weight, building muscles, or boosting your fitness performance. 
What will I get with my results?
You'll get detailed information about your hormone levels and how they affect everything from muscle building to calorie burning. Intriex will also provide guidance and suggestions for lifestyle changes, including meal plans and exercise routines based on your results. Additionally, you can use your results to discuss further steps with your doctor. 

Fat & Ketone Test
See how leptin, irisin, and ketones affect body fat, appetite, and energy.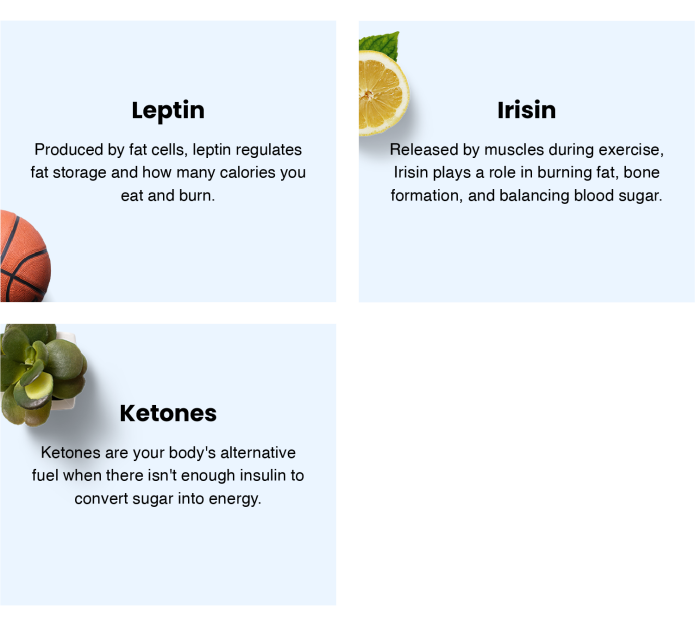 Who should take the Fat & Ketone Test?
Consider taking this test if you're interested in following the keto diet, want to know if you're in ketosis, or want to know more about your body fat levels.
What will I get with my results?
Intriex will suggest meal plans and exercises that help you sustain energy, burn extra calories, and reduce body fat. You'll also discover which foods have the most impact on your ketone and blood glucose levels, so you'll know exactly what to eat to lose weight.

No need to send samples to a lab or spend time at the doctor's. Intriex is a seamless experience you'll look forward to — anytime, anywhere.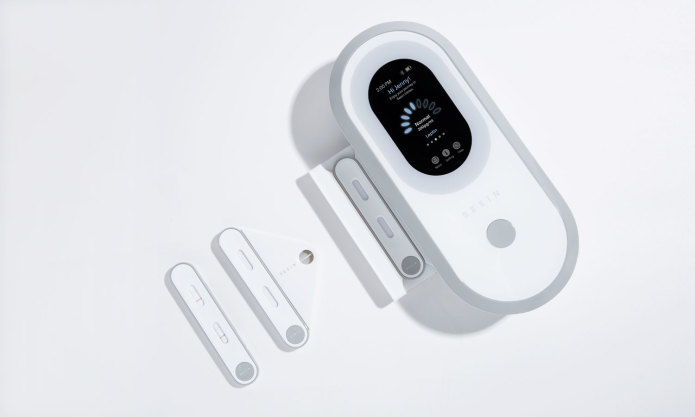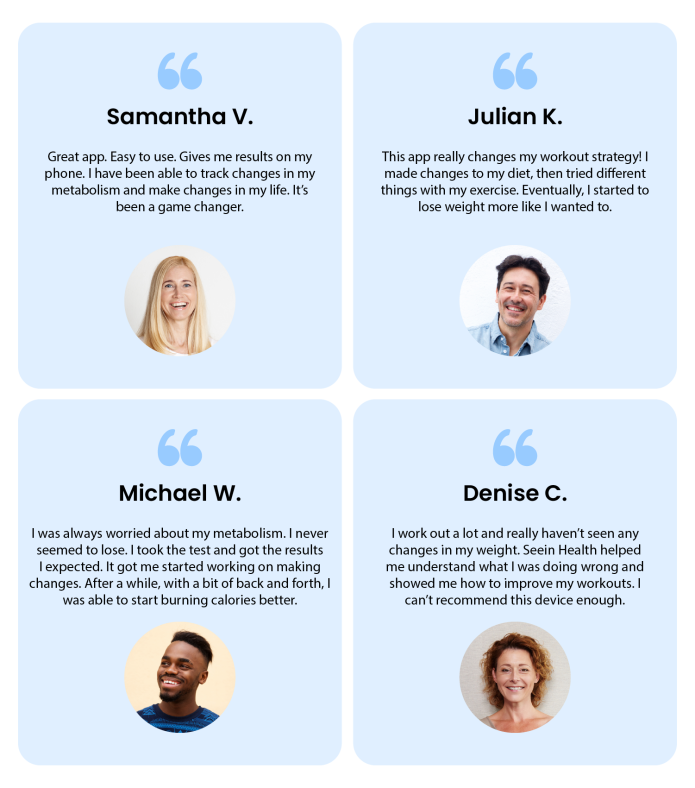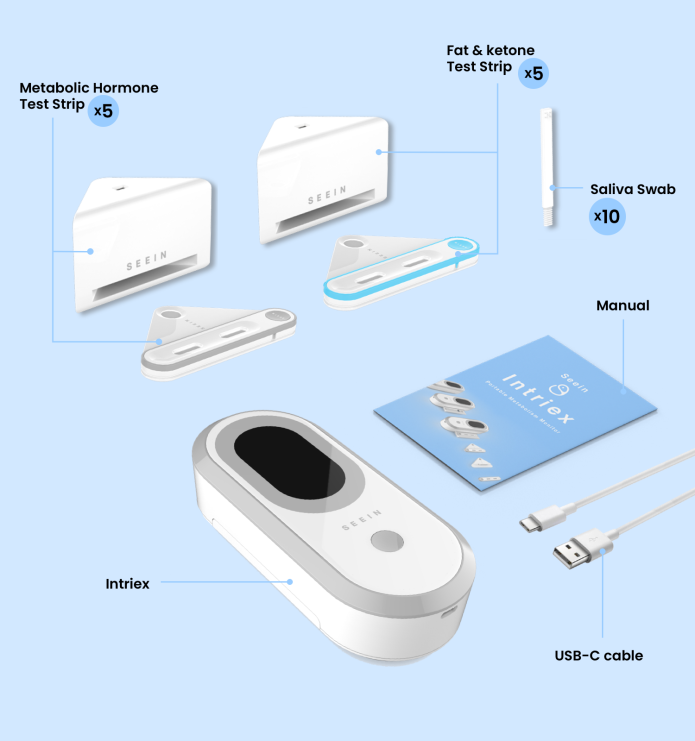 Earn 10% CashBack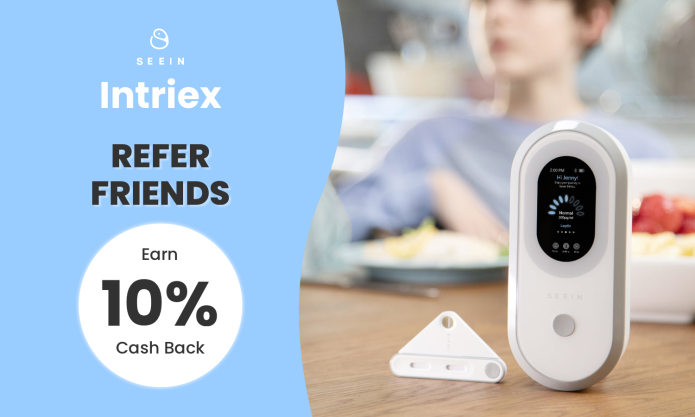 Be rewarded with 10% commission of every dollar you help raise for our campaign! All you have to do is:
1. Click HERE and register as a Booster.
2. Share your unique Booster link on your Facebook, Twitter, Blog, Website, or wherever you'd like!
3. Refer to your Kickbooster dashboard and watch your commissions roll in!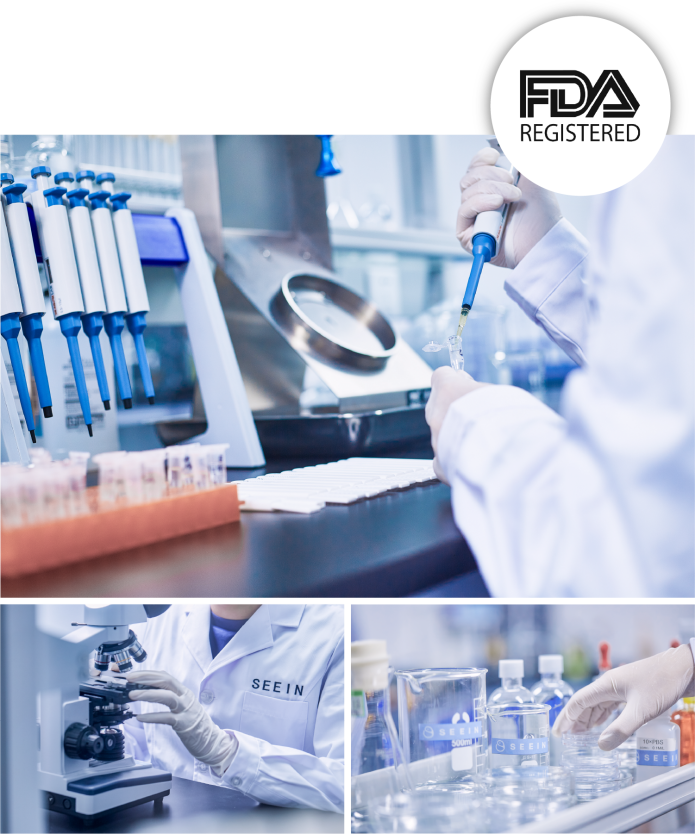 See Intriex in Action
Our qualified team of scientists and doctors have spent countless hours testing Intriex to ensure reliability and accuracy.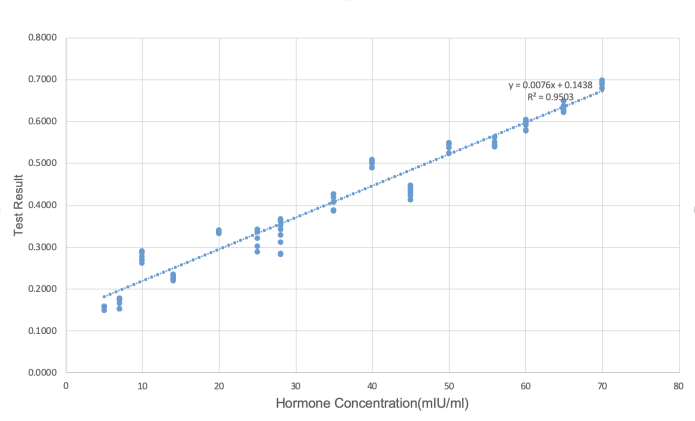 We have conducted multiple external and internal validation studies on the Intreix device and test how metabolic biomarkers are related to weight loss, physical exercise, and fat loss. Our lab test results show that our measurement is highly correlative with Elisa and CLIA method.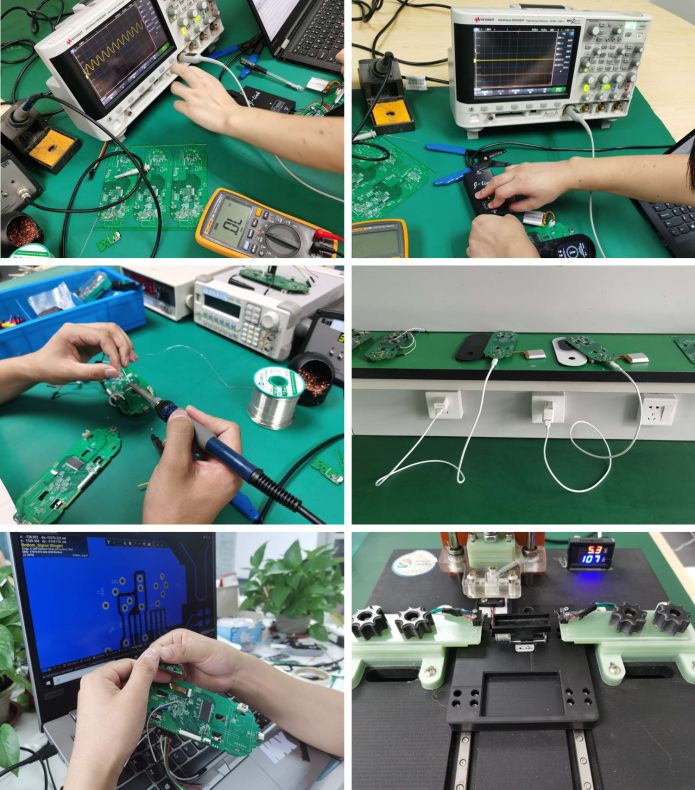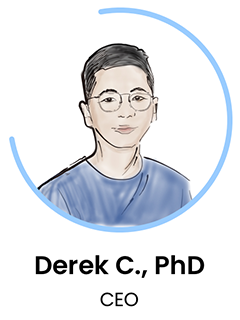 With over ten years of experience in research and development of health wearable devices, Derek is responsible for production and project management. Derek believes that at-home tests should revolve around what he calls the "3 Es" (Easy, Efficient, Effective). His passion for better health enabled him to design a smarter and more convenient method for weight loss.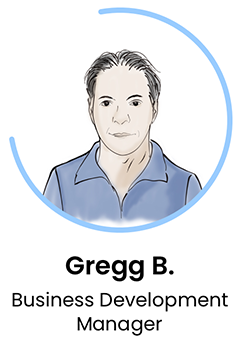 Gregg graduated from the University of Phoenix in Arizona, majoring in business management. Gregg has extensive experience in marketing and sales management. He has served as a sales director and other important positions in many well-known companies.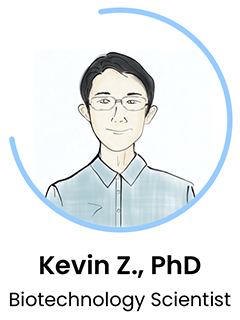 Kevin plays a key role in test kit development and optimization. Moreover, he performs technical laboratory processes, such as molecular cloning, biomarker expression, protein purification, crystallization, and analysis.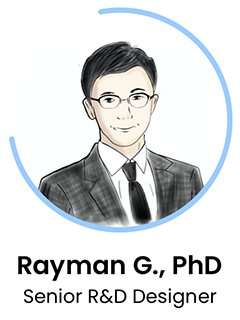 With multidisciplinary R & D experiences, Dr. Gong contributes to designing and synthesizing polymeric materials, ambient energy harvesting, and management in our group.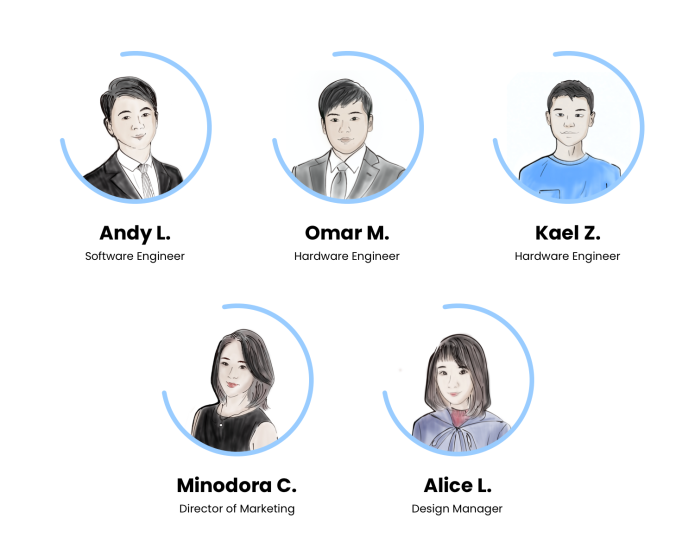 With ten years of research and development experience in wearable health devices, Dr. Chen Song, Ph.D., started Seein Health to accelerate the health evaluation process and develop technology that improves people's lives.
Growing up, Dr. Song saw firsthand how his parents struggled with their health providers and how so many others grappled with doctors and time-consuming lab tests.
Dr. Song formed a team of researchers and physicians and developed a way to make lab testing more accessible and affordable for all. Years of hard work and beta testing led to a new device that can track and measure one's metabolic health in the comfort of their home while providing a comprehensive plan for maintaining a healthy weight.
Our mission
At Seein Health, our mission is to enhance the health and quality of life of every person. We believe that knowing your metabolism is the key to understanding your body better. Using science and advanced technology, we're focused on providing access to accurate and easy-to-understand lab results for anyone looking to transform their health.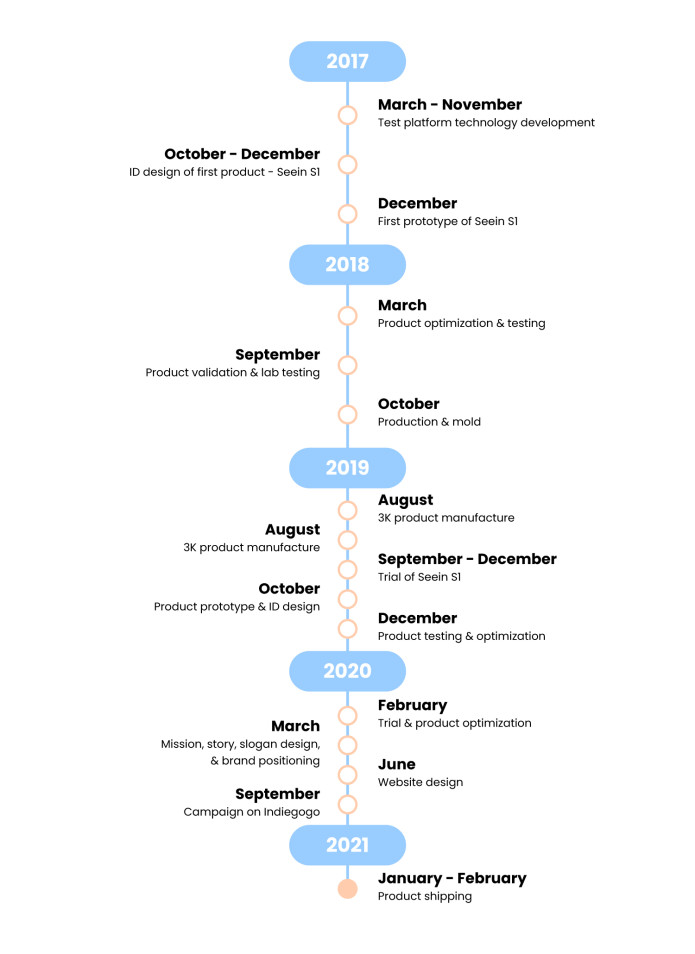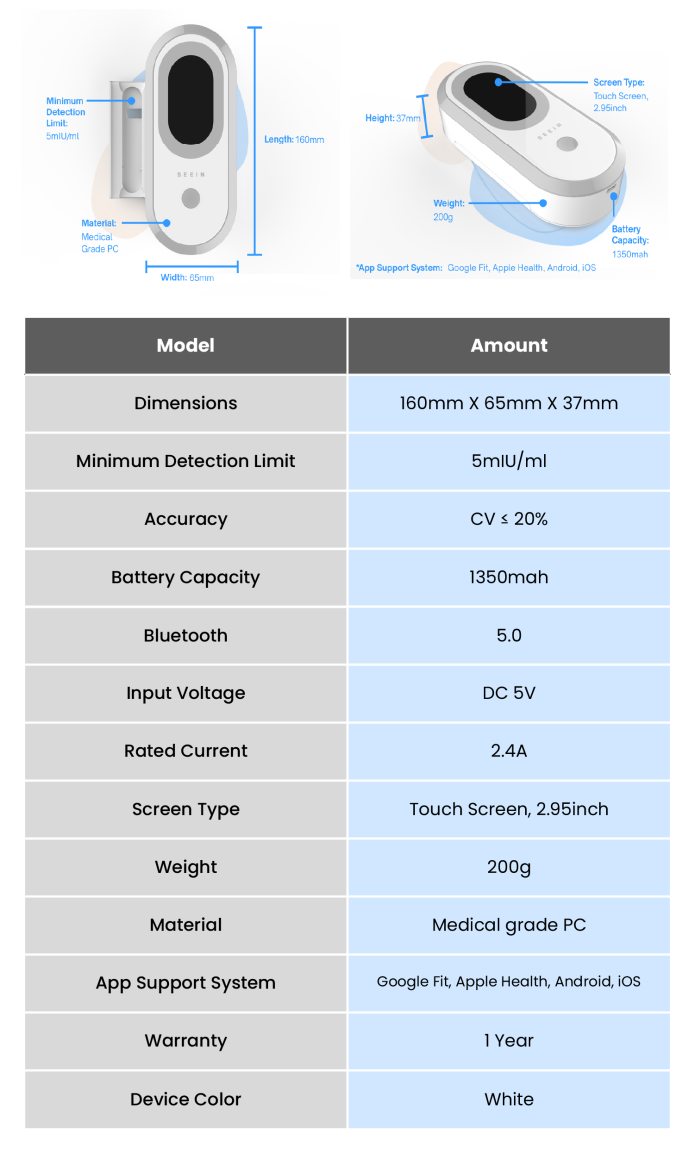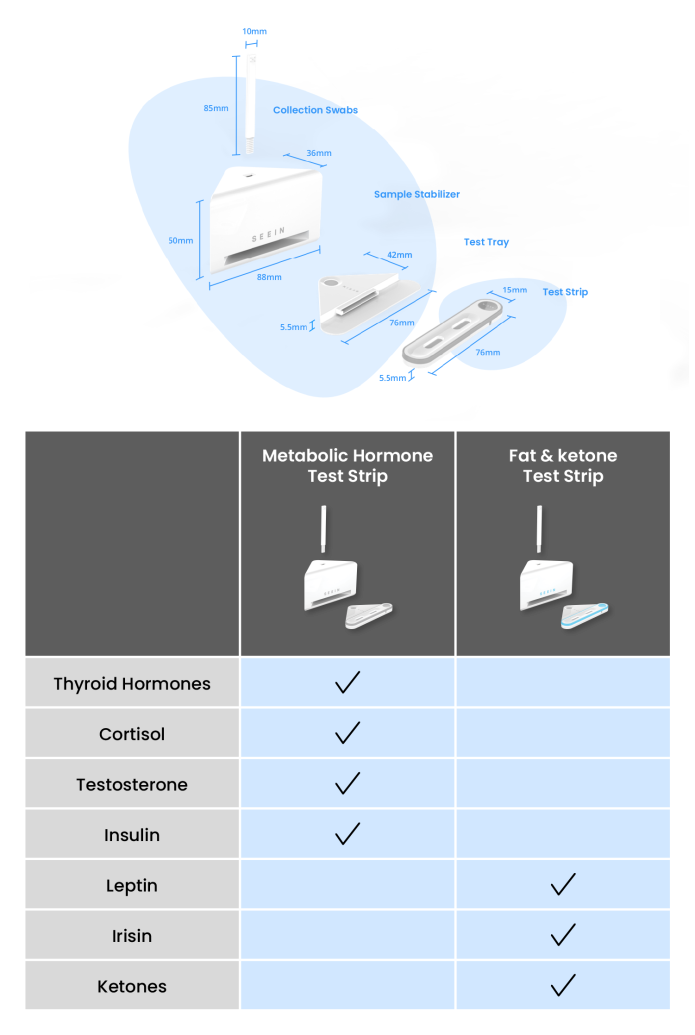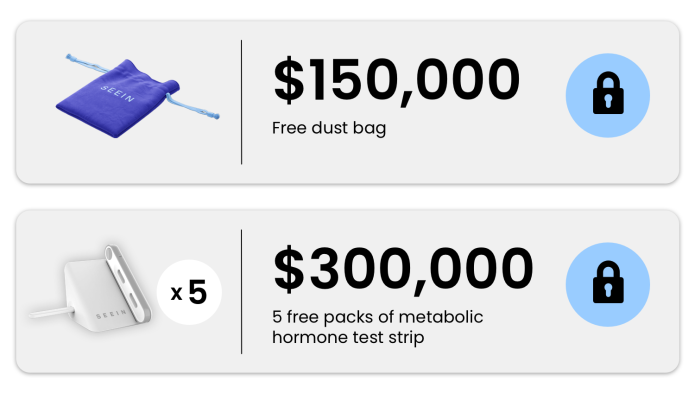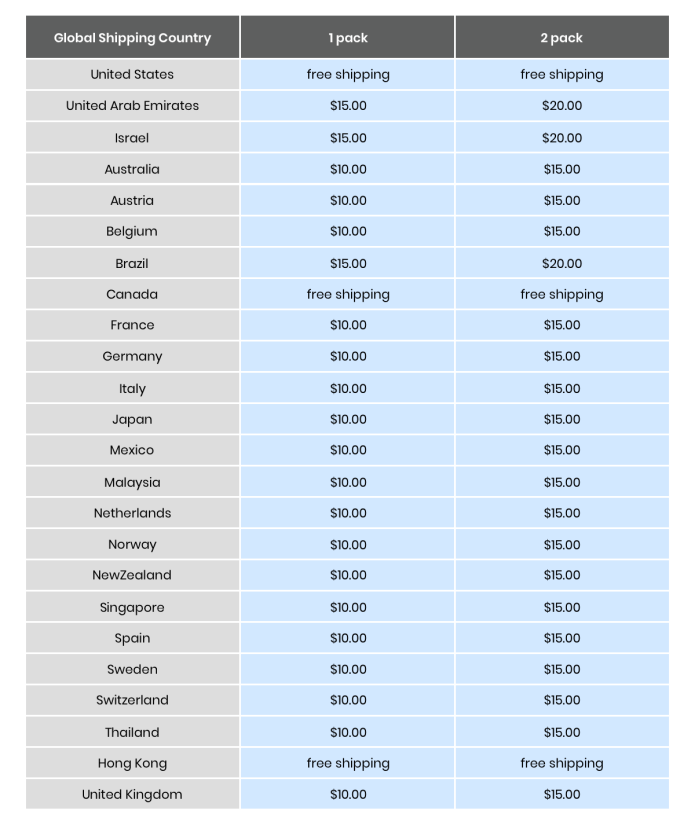 Shipping to United States (excluding Hawaii, Alaska, and minor outlying islands), Canada and Hong Kong is free. We charge an additional $10 shipping fees for orders in Australia, Austria, Belgium, France, Germany, Italy, Japan, Mexico, Malaysia, Netherlands, Norway, New Zealand, Singapore, Spain, Sweden, Switzerland, Thailand, and United Kingdom. Shipping fees to United Arab Emirates, Israel, Brazil is $15.
When we start shipping?
We expect to ship the product to backers in January-February 2021. We will keep you up to date on our progress and the expected delivery date of your order. 

This crowdfunding project is marketed by Red Cube. Since 2015, Red Cube has helped companies of all sizes bring their ideas into fruition, raising over $100MM through crowdfunding.


This device is used for weight management. It can't be used in the diagnosis of a disease or as a determination of the state of health to cure, treat, prevent, or mitigate a disease.
Safety steps for a safe delivery
We're fully committed to delivering your products on time. We're also taking the necessary steps to protect our incredible fulfillment team's health and safety during this COVID reality. 
Steps we're taking:
Distribution centers taking extensive precautions to ensure the safety of its workers. 
Providing team members with high-quality face masks and gloves to wear at work. 
Encouraging healthy hygiene habits as guided by the CDC.
We're on track for safe delivery 
COVID-19 has had zero effect on our production, thanks to proper planning and safety measures. With an expanded team of great people to support the launch, we're confident we can address any complications that come up. We've already started the manufacturing and production process, and we plan to ship Intriex beginning December 2020. We don't foresee any issues currently with this timeline. However, if by chance anything unexpected happens, we promise to keep you informed, both during the campaign and afterward.