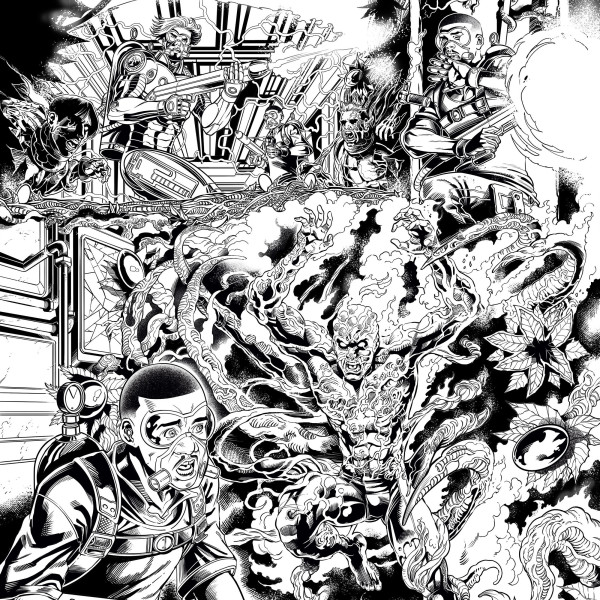 IRON SIGHTS 3 & IMPOSSIBLE STARS 2 Combo Campaign
$3,355
raised out of
$50,000
Concept
The latest IRON SIGHTS & IMPOSSIBLE STARS sequels as well as ALL previous books for each franchise!
Story
"OK…I'M CONFUSED…"
"Why are you releasing a new IRON SIGHTS graphic novel AND a new IMPOSSIBLE STARS graphic novel in the SAME Indiegogo campaign?"
Because BOTH of these franchises take place in the SAME timeline and IRON SIGHTS is essentially a prequel to IMPOSSIBLE STARS.
"But IRON SIGHTS is a border shoot'em up and IMPOSSIBLE STARS is about an alien empire quarantining humanity to our solar system! What could they possibly have in common?"
One Word: MEXICANS.
Both franchises have Mexican-Americans and/or Mexican nationals as lead characters. 
And one of the characters from the IRON SIGHTS franchise will go to space in a future IMPOSSIBLE STARS book.
So basically…we need everyone on the same page if you want to get the MAXIMUM impact from future books in each franchise.
Both books are well into production. IRON SIGHTS 3 is about 80% complete. IMPOSSIBLE STARS 2 is about 60% complete.
IRON SIGHTS 3
Harm's partner Mel has been kidnapped by the cartels. Unable to raise the ransom money, Harm contacts Cogburn, a goofball from his old unit, and invites him down Mexico to hang out together. Harm tricks Cogburn into fighting in a highly-publicized MMA exhibition bout as a ringer against a local champion. But Cogburn ends up winning the fight that he was supposed to lose. Harm bet against Cogburn and now is severely in debt to a violent loan shark. Harm & Cogburn have to go on the run from everyone that Harm owes money…which is basically EVERYONE. Harm convinces Cogburn to help him assault the cartel stronghold where Mel is being held.
Meanwhile, Esme has remade herself and is trying to go legit in the tech field. But her criminal past ruins every deal for her ground-breaking predictive algorithm. So she attempts to sell it to the cartels to help them avoid police raids and roadblocks. But Anna, her business partner & only friend is kidnapped by the same cartel holding Mel.
Without realizing it, Harm and Esme both launch an attack on the cartel stronghold at the same time. But there is one prisoner in the same building who is worth BILLIONS and a squad of corrupt DEA agents have a plan to break him out…and kill all the witnesses!
IRON SIGHTS 3 Creative Team
Story & Lettering by Richard C. Meyer
Line Art & Greytones by Ibai Canales
Cover/Poster by Kelsey Shannon
Esme poster by Sasha Perdigao
IRON SIGHTS logo by Bob Stone
IMPOSSIBLE STARS 2
100 years have passed since astronaut Aaron Cruz defied the quarantine imposed on Earth under threat of planet-wide obliteration and traveled beyond the borders of our solar system. Nothing has been heard from him OR the alien empire who had threatened Earth since. But then he reappears, having not aged a day. Earth is unsure what to do with him. Is he hero, spy or messiah? Aaron is invited as a guest on a civilian cruise ship taking sightseers to the edge of our solar system. But sabotage leads the ship to drift toward enemy space…which would be an act of war. Can Aaron stop this? Whose side is he on?
IMPOSSIBLE STARS 2 Creative Team
Story by Richard C. Meyer and Chuck Dixon
Script by Chuck Dixon
Line Art & Greytones by Renzo Rodriguez
Colors by Gabriel Eltaeb
If you missed out on the first two IRON SIGHTS graphic novels OR the first IMPOSSIBLE STARS graphic novel, you have a chance to get them as Add-Ons!
GALLERY