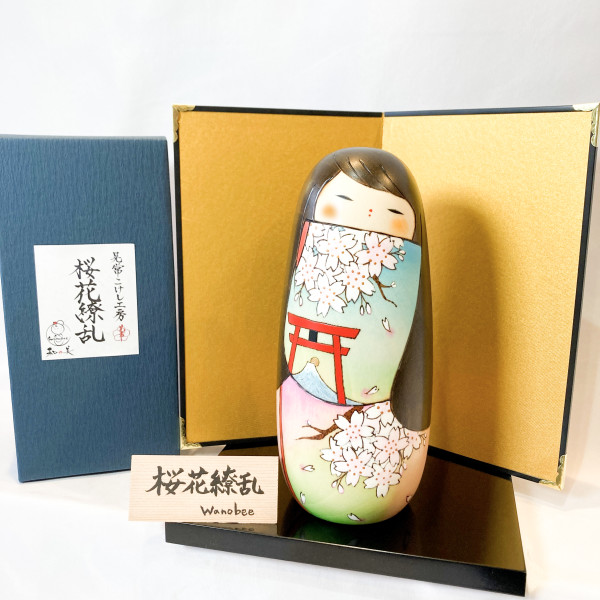 JAPANESE TRADITIONAL KOKESHI DOLLS
$162,295
raised out of
$600,000
Concept
Limited model of Modern style Japanese Traditional kokeshi doll by Shigemi Tanaka from Kojo Kokeshi
Story
Who loves these adorable Japanese traditional artworks?
Now we have launched this crowdfunding project to share wonderful Japanese culture with you and support the distinguished artist.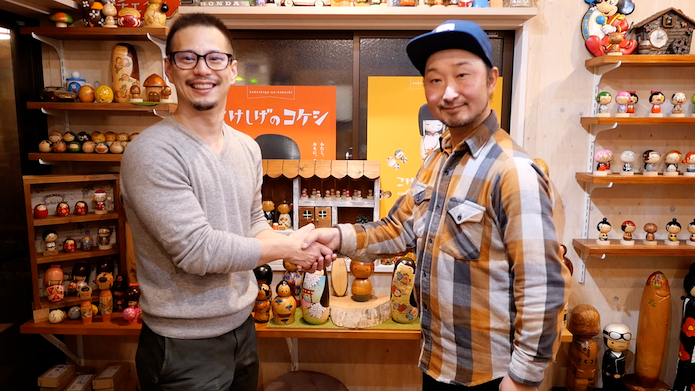 Introduction
Hello there, my name is Yuya Matsuzaki, the founder of Wanobee 和の美 kokeshi online shop/ YouTuber (Yuya Nipponess).
Have you ever seen them or heard of this word "kokeshi doll" before?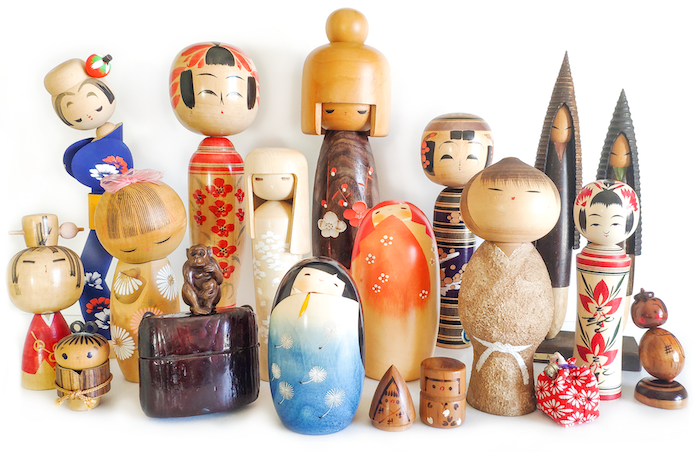 Kokeshi means Japanese traditional wooden dolls which are loved by many people from all over the world today. There are a large number of collectors who are willing to spend over $500 for one kokeshi doll. These lovely faces also attracted and dragged me into this kokeshi industry. Since then, I have been in touch with some great Kokeshi artists in Japan.
They all said that before the COVID pandemic, many foreign visitors came to Japan and they purchased the dolls, but during the pandemic, the sales figures dropped dramatically. As a result, some studios had to lay off some or all of their employees (artists).
Kokeshi artist – Shigemi Tanaka
One of my close artists Shigemi Tanaka 田中重巳 (aka Kokeshige), the owner of Kojo Kokeshi Studio, he also told me the same story.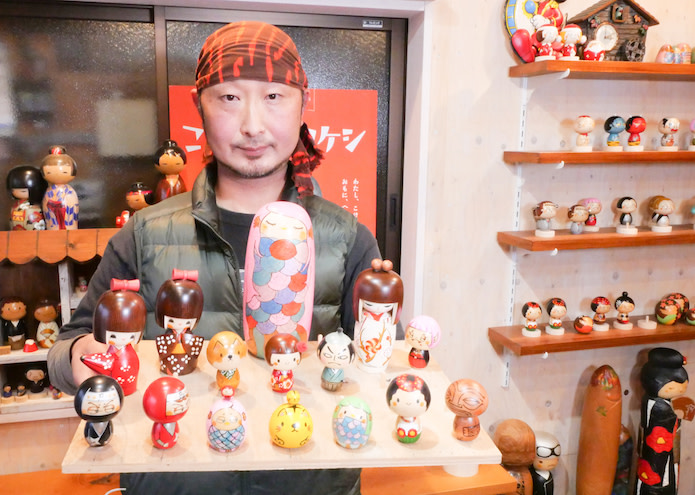 He took over this kokeshi studio from his parents who have created the best-selling models such as "The dream of spring" and grew the studio's name famous in Japan. He used to work with some of the members from his parent's time, but due to the pandemic, he also had to tell them that he had to cut their working shift, furthermore some even had to leave because of their financial status.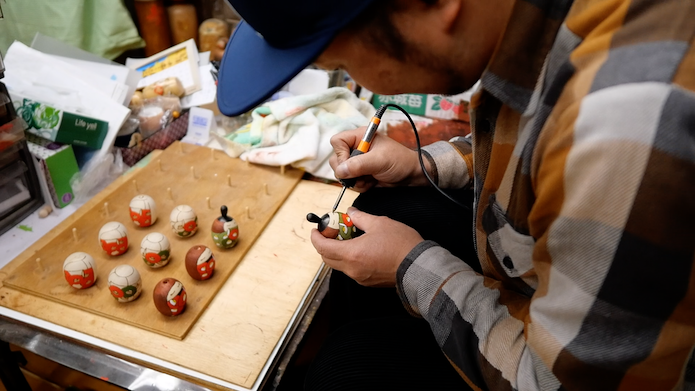 Since I have been exporting Kojo Studio's kokeshi dolls, I wanted to do something helpful to bring them back to his studio. So I decided to launch this collaboration project with Shigemi Tanaka.
These are my goals
Bring his previous co-workers (artists) back to the studio
Offer limited and valuable kokeshi items to kokeshi doll fans
Contribute to kokeshi industry by raising popularity of kokeshi dolls by this project
What We can offer

After several researches from my shop's customers, we found out what kokeshi lovers want and what can attract prospective customers.
Here is what we can offer to you
A: Mini kokeshi dolls – 5 kokeshi Set

Daruma: A Daruma doll is a round Japanese traditional doll modeled after Bodhidharma, the founder of the Zen tradition of Buddhism.
Shiba-inu: One of the most popular Japanese dogs in the world. You can often find Shiba-inu in many Anime and Japanese dramas. They are regarded as smart and loyal animals.
Tiger: There are twelve animal signs used as symbols for each year, and 2022 is the Year of the Tiger. This zodiac system is called "eto" or "junishi" in Japanese.
Ojizo-san: Ojizo-san is usually depicted as a Buddhist monk. He is often regarded as the bodhisattva of hell-beings, as well as the guardian of children and patron deity of deceased children in Japanese culture
Owl: Owls can be found all over Japan. Since they are very peaceful and lovely animals, they are always popular in Japan.
Size:
mini kokeshi: 15×15×28mm/15g
* Since the mini kokeshis can be smaller than shown in the picture. Please be noted that the size is "15×15×28mm".
B: Kojo Studio & Wanobee COLLAB Limited Edition Model Kokeshi
華美 Kabi 
Beautifully opened peony flowers.
This model won "Kanto-shinrin-kanrikyokucho award" in the prestigious kokeshi competition The 62nd All Gunma Modern Kokeshi Concours in Feb 2022.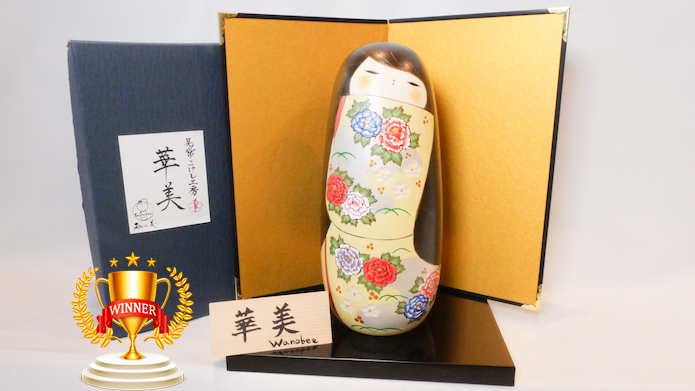 桜花繚乱 Ouka-ryouran 
Fully bloomed Sakura (cherry)blossoms express the beauty of Japan.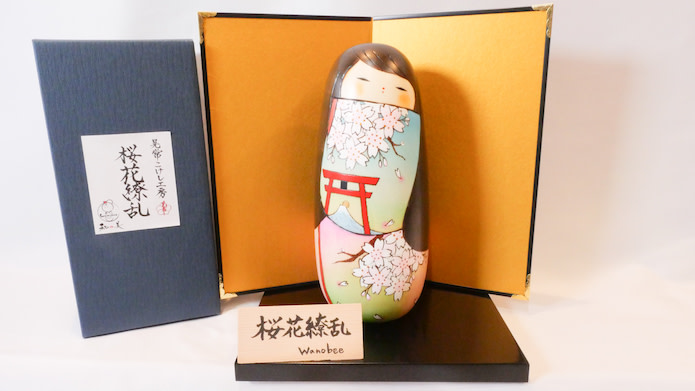 1. One limited edition model kokeshi (Select one model)
2. Special box (Exclusively designed box with a Japanese traditional Washi paper label.)
3. Wooden nameplate (Your name will be written on it.) *Maximum 6 alphabet letters
4. Black display base/ stand
5. Byobu (Japanese traditional golden folding screen)
Size:
Kokeshi: 95×95×230mm/950g
Base: 210×150×15mm/300g
C: FULL SET of Kojo Studio & Wanobee COLLAB Items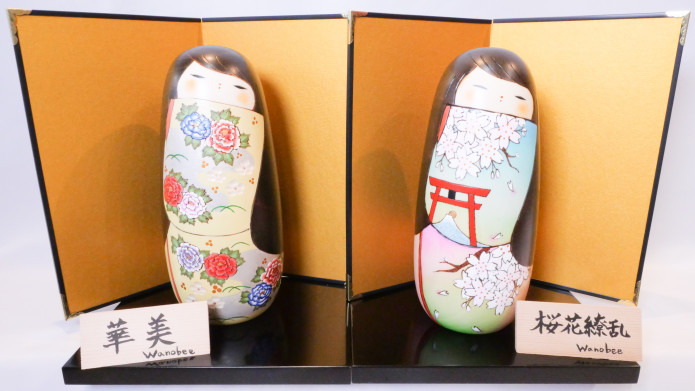 Set 1: Two limited model kokeshi dolls (Kabi &Ouka-ryouran)
         Special box*2
          Black display base *2
         Byobu paper wall *2
         Wooden nameplate
Set 2: Five mini-kokeshi dolls
Size:
Kokeshi: 95×95×230mm/950g *2
Base: 210×150×15mm/300g *2
D: Surfing! (Shigemi's original design kokeshi) only 1 item ever made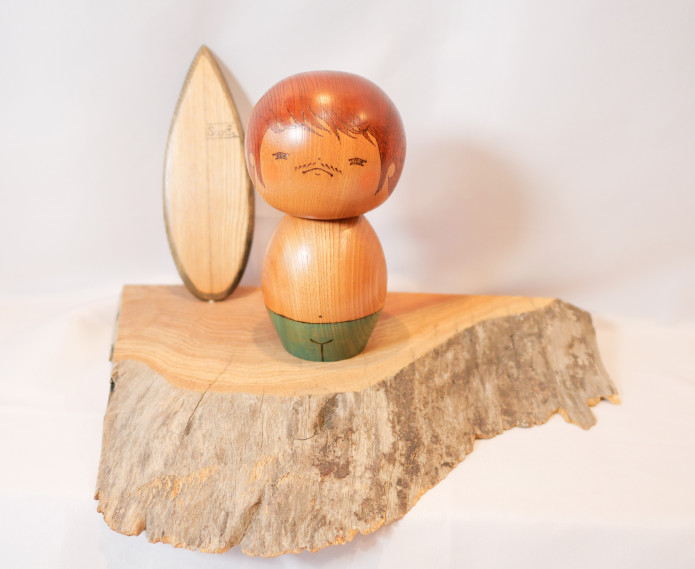 This kokeshi was created to express respect for surfers. *Shigemi himself cannot surf.
1. Limited model kokeshi; Surfing!
2. Wooden nameplate (Your name will be written on it.) *Maximum to 6 alphabet letters
Size:
kokeshi; 90×90×170mm/530g
Base; 250×350×40mm/1000g(including surfboard)
E: Ainumoshiri アイヌモシリ(Shigemi's original design kokeshi) only 1 item ever made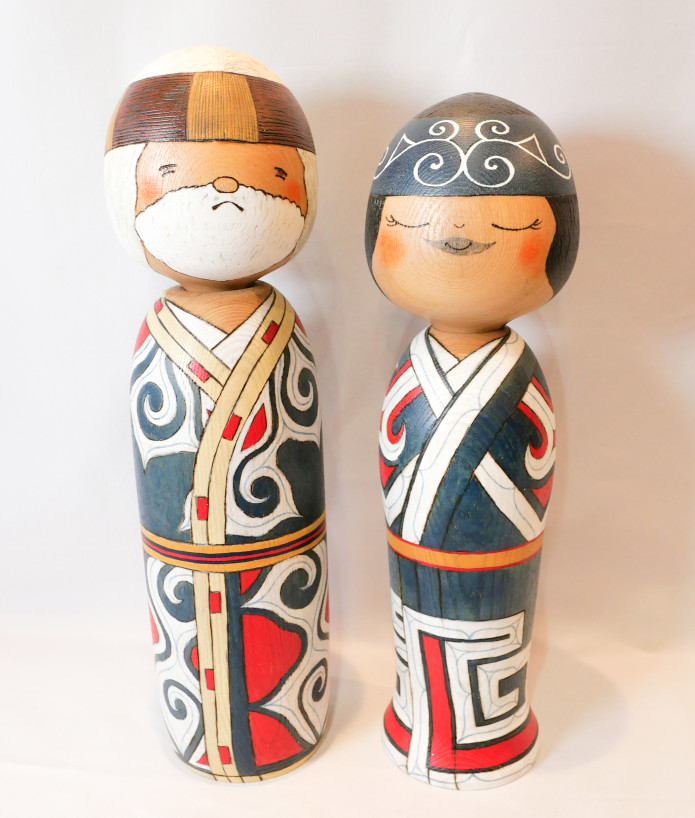 This kokeshi is created to appreciate the magnificent the Ainu's culture. *The Ainu is Japanese ethnic minority who live mostly in Hokkaido.

1. Limited model kokeshi; Ainumoshiri (Two kokeshi dolls)
2. Wooden nameplate (Your name will be written on it.) *Maximum to 6 alphabet letters
Size:
Male kokeshi; 120×120×440mm/1800g
Female kokeshi; 120×120×410mm/1400g
F: Kunpu 薫風 (Shigemi's original design kokeshi) only 1 item ever made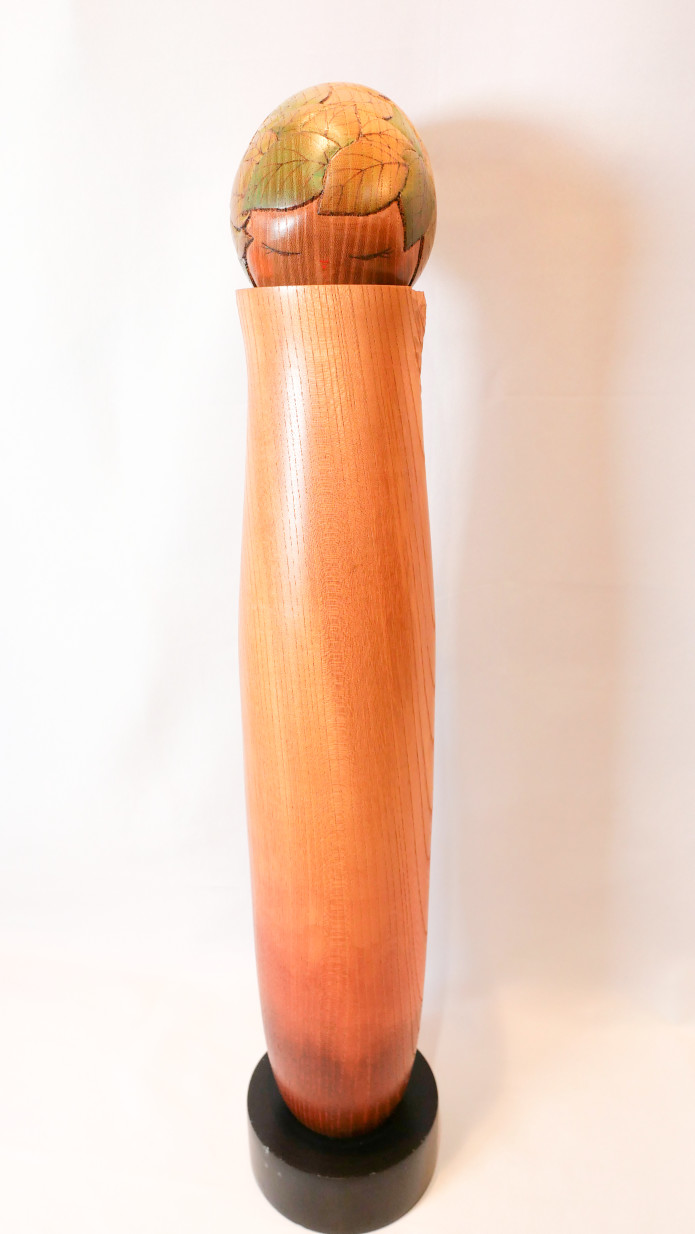 This kokeshi depicts the refreshing wind passing through leaves in early summer.
1. Limited model kokeshi; Ainumoshiri
2. Wooden nameplate (Your name will be written on it.) *Maximum to 6 alphabet letters
Size:
Kokeshi; 140×90×580mm/2500g(Including the black base)
 
About me (Yuya Nipponess)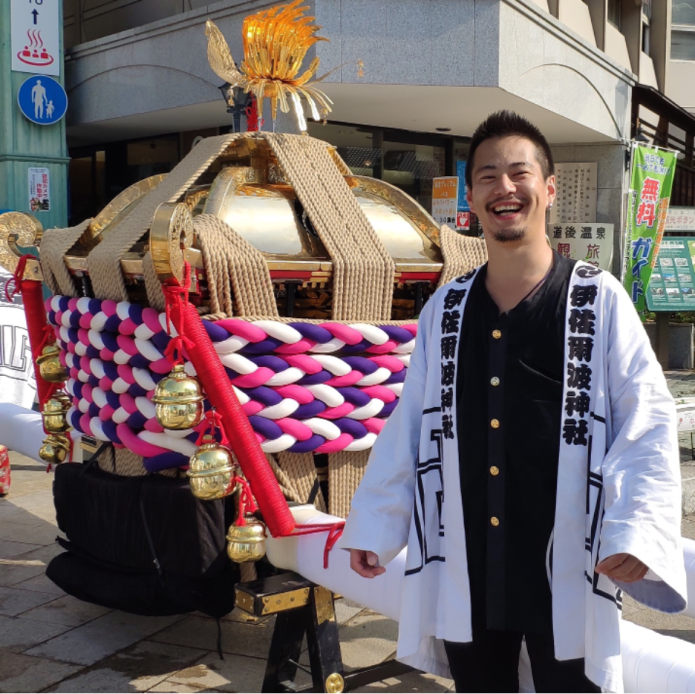 I am the founder of the online kokeshi shop "Wanobee 和の美"  which means "The beauty of Japan" in Japanese. After having lived in Taiwan and China for a couple of years, I wanted to start something new related to Japanese culture. Fortunately, at that time I was fascinated by kokeshi dolls. And immediately start this kokeshi online shop business.
I also upload videos about Japanese culture and life on my YouTube channel "Yuya Nipponess". Now my channel has grown up to 114k subscribers. Since I love cooking, I often cook Japanese food on my channel. I am also very happy to share Japanese culture in English.
RISKS & CHALLENGES
DESIGN
Since the items above are all hand-made products, the details and colors of the images might be slightly different from the final product.
Shipping
(Depending on your country) Import duties, taxes and charges are not included in the item price or shipping fee. These charges are the buyer's responsibility. These charges are normally collected by the shipping company. Please do not confuse them with the additional shipping fee.
DELAYS
Due to the COVID pandemic and current diplomatic instability, there may be delays during shipping that is out of my control.
All delays will be communicated to backers via updates. 
Links
Kokeshige's online shop
URL: https://kokeshige.handcrafted.jp/
Instagram: https://www.instagram.com/kokeshi_ge/
Wanobee's online kokeshi shop
URL: https://shop.wanobee.com