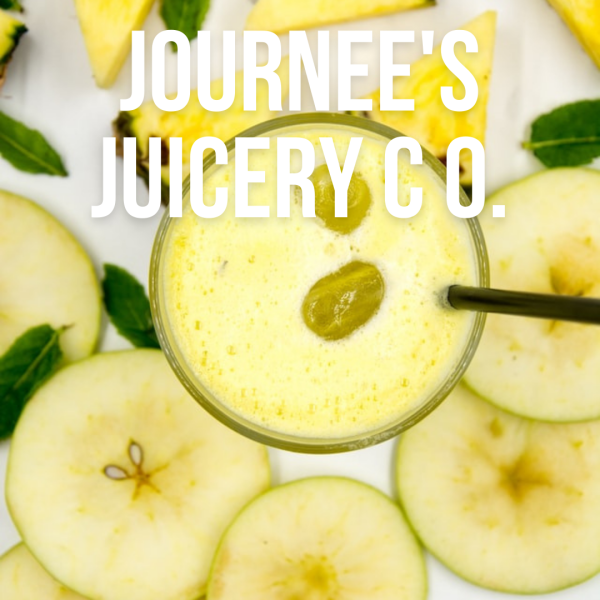 Journee's Juicery Company
$244
raised out of
$250,000
Concept
A Juice and Smoothie Bar in the South Atlanta community to provide access to fresh produce.
Story
Who We Are – Creating A Healthier Environment in A Food Desert
Tambria Banks is a professional counselor who has had a passion for holistic health and
wellness from a young age. After dealing with hormonal acne, fibroids, and depression for over a decade, Tambria decided to try juicing and consuming smoothies. Once she realized that she needed organic produce to start her true healing, her mindset shifted and she became driven for a better and healthier lifestyle.
This led her to give up alcohol and highly processed foods and transition to a vegan diet. She made this transition to a vegan diet 3 months after giving birth to her first child. Tambria no longer suffered from uncomfortable monthly cycles, acne scarring, or high levels of depression. She was able to find a balance in her life from just switching over to a vegan diet that focused on whole foods, juices, and smoothies. At one point, Tambria was only eating raw foods to train her body to drink her teas without sugar or honey.
Now WE NEED Your Help!
Tambria is excited to introduce Journee's Juicery Company LLC to her community as a resource that can be utilized by those who desire to make healthier choices and increase overall vitality.
Journee's Juicery Company will create a connection with the local community, whether that's heads of households who are looking to prioritize their family's health, millennials looking to join the latest trends, or health enthusiasts who are looking for the best place to purchase their favorite products.
Our Goal:
The founder is seeking to raise $250,000 in start-up capital.

Build-Out Costs $100,000
Equipment $65,000 (including high production Juicer)
Licensing/Permits/Architects $9000
Reserve Capital $25,000
Consulting/Staff Training $22,750
Marketing/Inventory/Signage $14,000
Legal Fees $2,000
Rent $3,000
Miscellaneous $9,250
​According to Technomic's 2018 Healthy Eating Consumer Trend Report, 40% of older millennials in the U.S.consider health very important in their decision of which restaurant to visit. The report also revealed that 40% of consumers shared that their definition of health has changed over the last two years.
Rewards for Helping Us
$1,000 Donation – Yearly Detox Membership – 12 months of our Juice Detox subscription + Exclusive Discounts and Custom Journee's Juicery Company Tumbler.
$250 Donation – 2 months of our Juice Detox subscription + variety thank you box with stickers, founders choice of Journee's Juicery Company merch!
$100 Donation – $125 Virtual Gift Card that will be valid for 6 months
$50 Donation – $75 Virtual Gift Card that will be valid for 6 months
$25 Donation – We will send you a thank you card for supporting our campaign!
If you would rather donate instead of receiving a perk just hit the BACK IT button and you can put the monetary amount of your choosing! 
Impact
Journee's Juicery Company will become the premier destination for wellness. The business will generate curiosity and intrigue customers as they discover that such a delicious flavor profile has been crafted from an all-natural and mainly plant-based menu. This unique experience will establish the business as a go-to destination for cultivating a healthy lifestyle.
As an independently owned juice bar, management has the freedom and capacity to serve in direct response to community preferences. This gives Journee's Juicery Company the potential to become a resource within the community by actively prioritizing the wellbeing of all customers. This business is results-driven and everything about the methods of operation reflects this. All menu items have natural nutritional benefits, which are made clear to the customer, and the brand itself motivates and supports all customers to remain consistent in their pursuit of a healthier lifestyle.
Risks & Challenges
We are new brand wanting to establish ourselves in the Metro Atlanta region. 
Seasonality – If the price of fresh produce, dry goods, and superfoods would rise, that could
potentially be a threat to the business' profit margins.
Changes in consumer spending
Other Ways You Can Help
$250,000 is our goal and we need your help! Please spread the word and share on your social media channels and personally ask people you know to help contribute to our campaign. We are hoping our community of fans will take us to the top. We thank you for being on this journey with us!