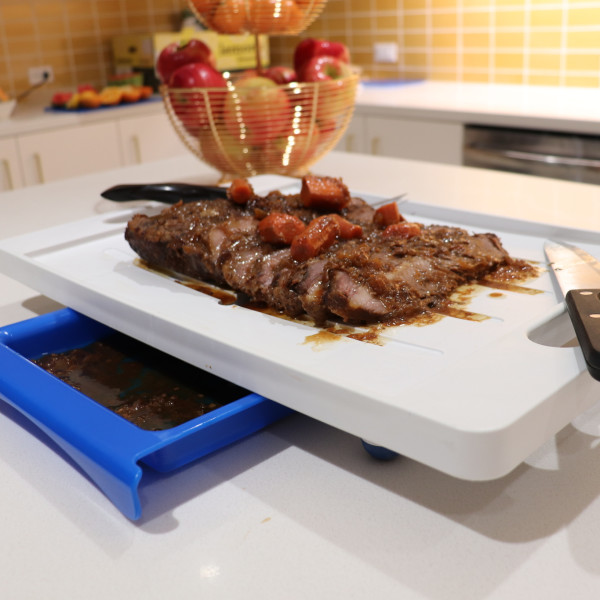 Karving King
$500
raised out of
$250,000
Concept
Karving King is a patented 2 in 1 dripless cutting board that eliminates messy cleanup after carving
Story
Karving King was founded by Kenneth King, a successful business executive, inventor and entrepreneur.  Having had to clean the mess created on his counters and floors every time he used other cutting boards he wanted to develop a product to eliminate the mess and reduce the stress for anyone who cooks.
He spent two years developing numerous prototypes until he was satisfied that the Karving King met all of his criteria for a truly innovative cutting board.  He then applied and was granted a patent on its unique design and functionality.  The Karving King has several unique features combined into one board:
Gripping spikes hold your food in place
Rubber feet keep the board from shifting while carving
Angled surface and drainage slots enable you to collect delicious juices in the removable drip tray
Dishwasher safe and BPA free
Made in America
With its unique combination of features, the Karving King provides the following benefits:
Eliminates the mess on countertops
No more grease on your clothes
Easier to perfectly carve the meat as it doesn't slip
Year-round use when carving large meats, such as ribs, turkey, roasts and more
Easy to make tasty gravy by using the juices collected in the drip tray
We have been successfully promoting the Karving King on television through a direct response campaign as well as on Amazon.  The brand awareness has been building through the advertising and we have sold multiple thousands of units.  We are looking to significantly broaden our distribution by expanding into traditional brick and mortar retail as well as expanding our online marketing.
We have strategically developed a cost-effective US source for manufacturing all of the components.  Additionally, we own all of the tooling.  This has enabled us to fulfill all of our orders within 24 hours, yet not requiring a significant build-up of inventory levels.
We are looking to raise $250,000 to help drive this significant increase in Retail distribution and help fund additional product development, ensuring on-going growth.  We understand the challenges of expanding into Retail, yet are not deterred given the success we have had to date, the huge retail market opportunity for a truly innovative cutting board, and our past success at developing a unique and patented product.