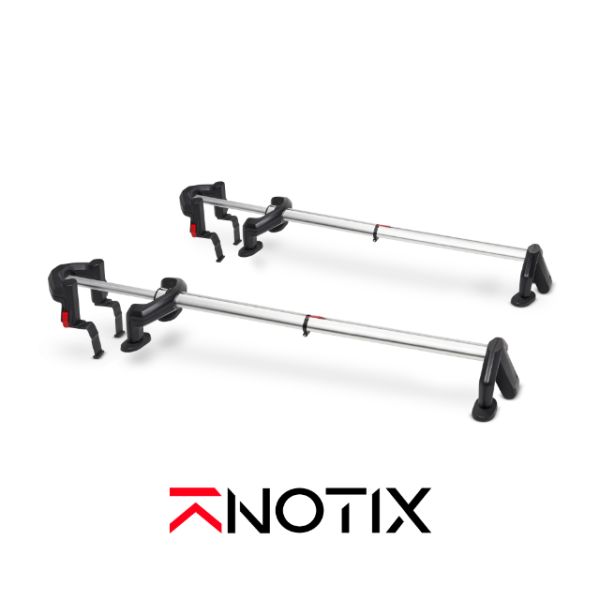 Knotix – The Universal Adventure Roof Rack
$88,524
raised out of
$15,000
Concept
Patented & Magnetic | 330 lb Limit | Install in Seconds | Extends up to 50 in | Fits Any 4-Door Car
Story

The Knotix is more than a roof rack – it's every adventurers must-have tool. With an innovative design made with incredibly strong magnetic locking systems, it turns virtually any standard 4-door vehicle into an adventure machine. When the adventure is over, the sleek roof rack comes off easily for compact and convenient storage in the trunk or garage.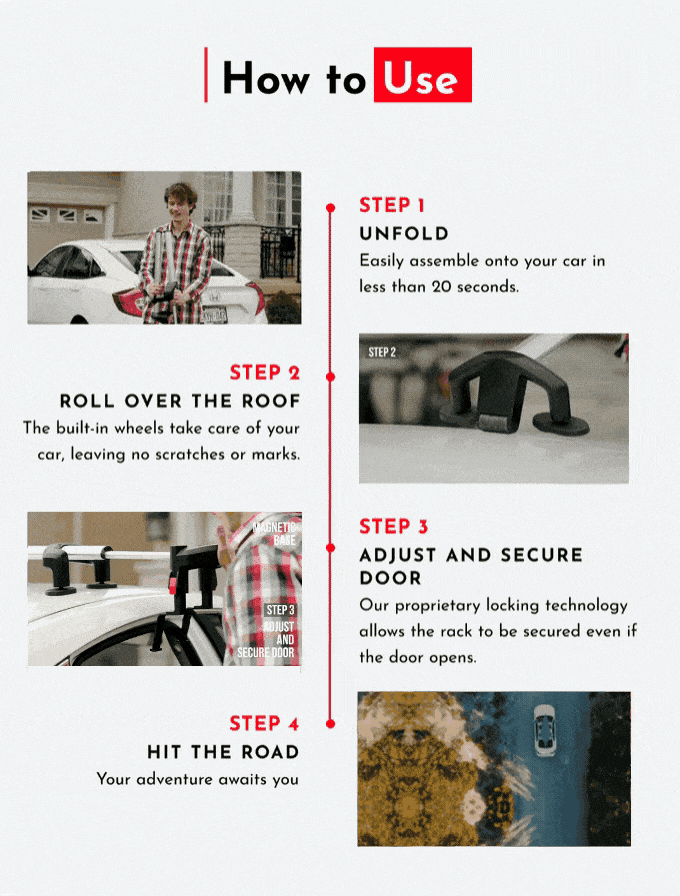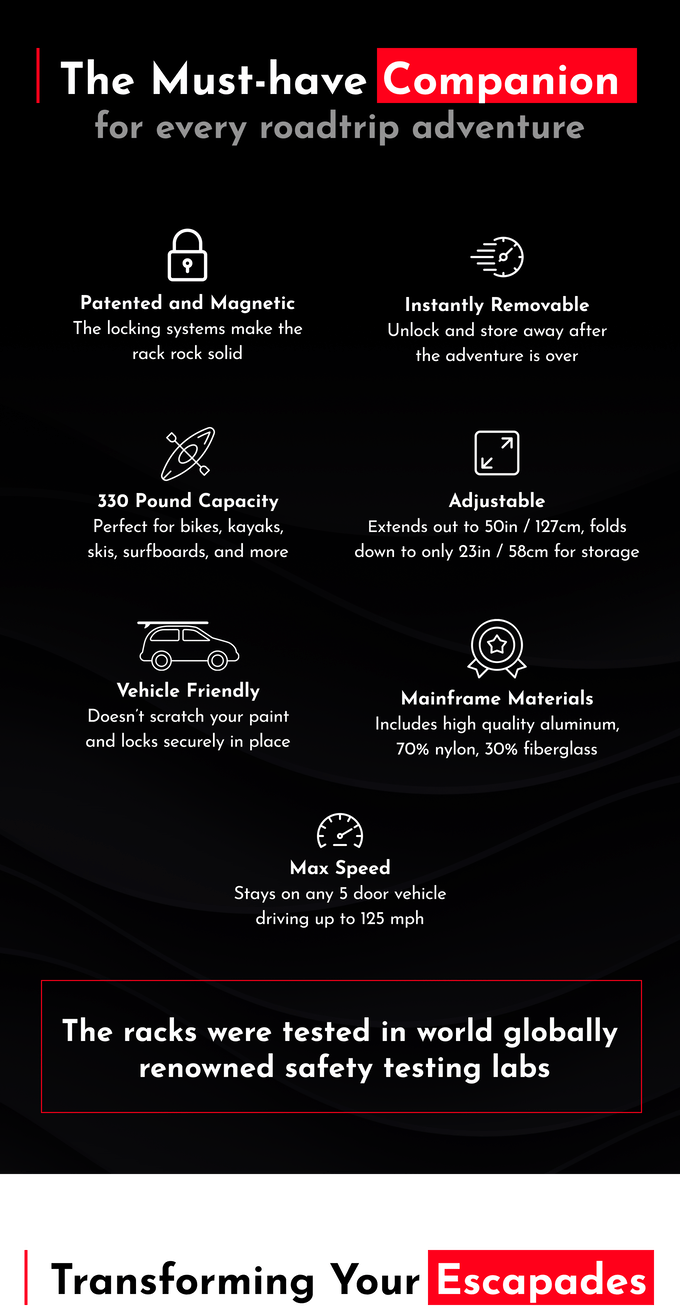 Be prepared for every adventure with Knotix – the patented magnetic, universal roof rack that transforms virtually any standard 4-door vehicle into a road trip machine. Designed for compact storage and effortless installation, the Knotix comes with a built-in clicker mechanism that allows for limitless add-on features for current and future attachments. Whether you like to snowboard, mountain bike, surf, or camp, no outdoor adventure is out of reach when you travel with the Knotix roof rack.
 
Extends up to 50in / 127cm
Expands up to 50in / 127cm to fit all of your adventure needs.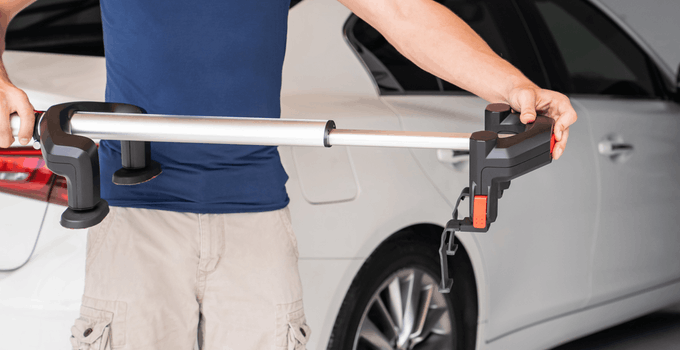 Your Adventure Gear Is Safe With The Knotix
Cruise up to 125 mph knowing that your gear is safely secured by the Knotix.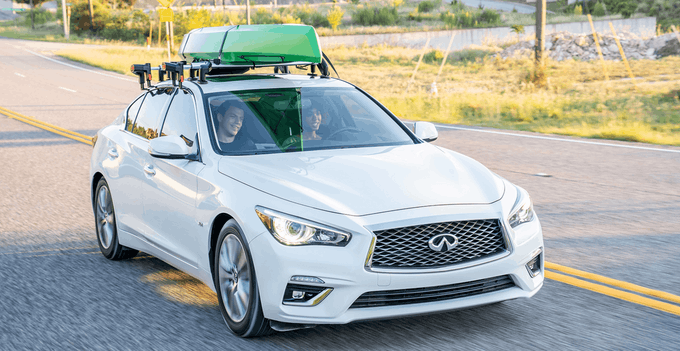 Folds to 23in / 58cm
Fold your Knotix and store it anywhere–compact enough to fit comfortably in your car trunk.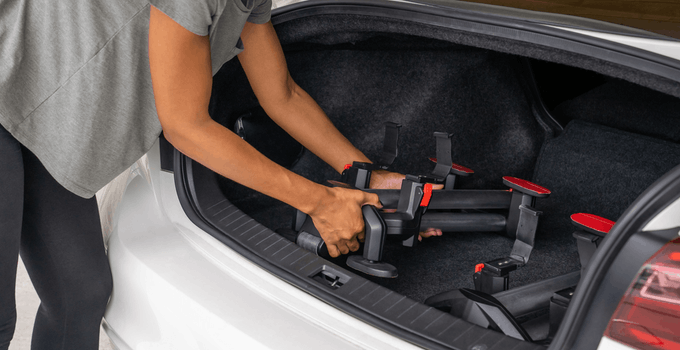 330 pounds load capacity 
Whether you are transporting a kayak or a heavy-duty bike, the Knotix securely holds up to 330 pounds.
3-Year Warranty
Knotix has you covered with our 3-year warranty.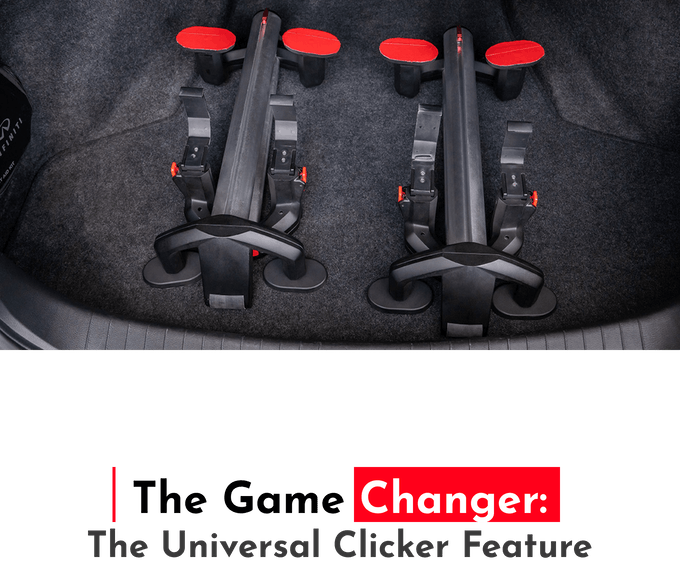 Introducing the one-of-a-kind Knotix clicker mechanism. Specially designed to attach to compatible accessories, the clickers connect every add-on to the roof rack's rail in the middle of the mount, making Knotix extremely versatile. Secure accessories such as the Knotix Ratchets, Projector Lights, and Outdoor Activity mounts. It'll also be compatible with future releases, such as the Surfboard Holder and Tent Attachments. New features and accessories are constantly in production, so the possibilities are truly endless.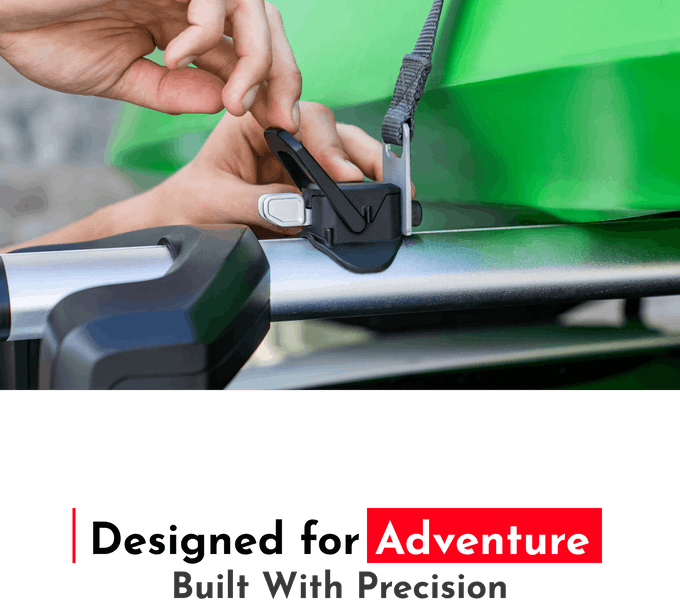 ** Please note, the shipping cost for Perks and Add-ons will be calculated and charged at the end of the campaign.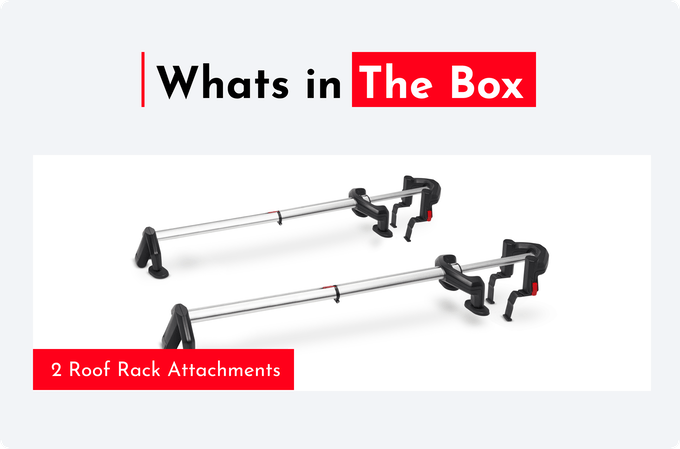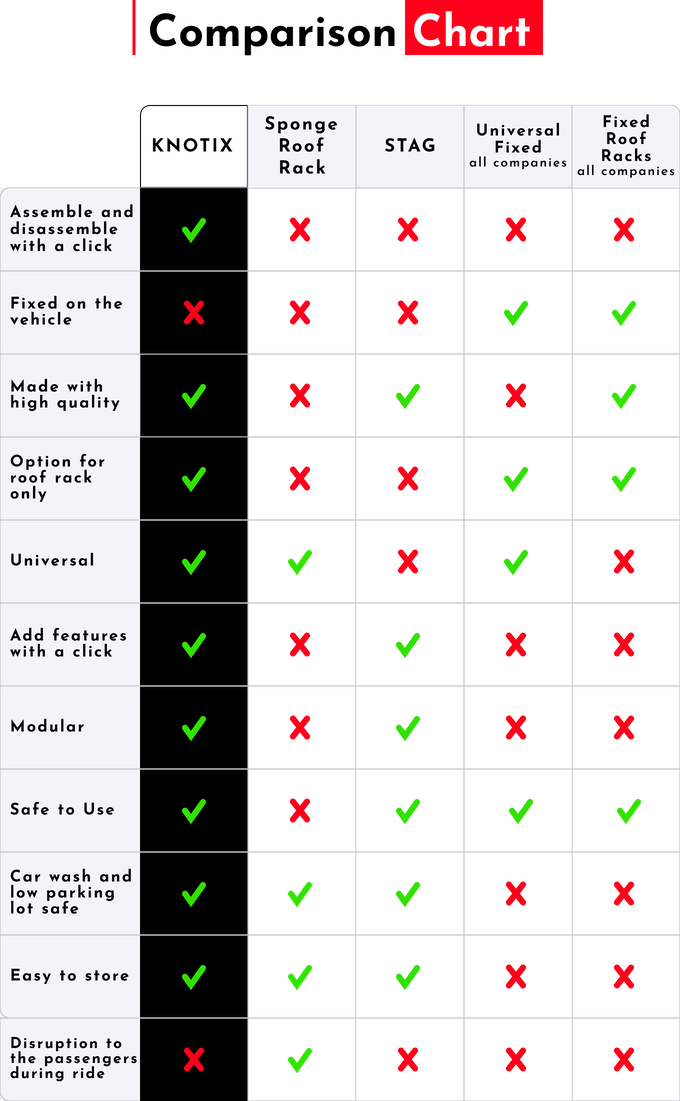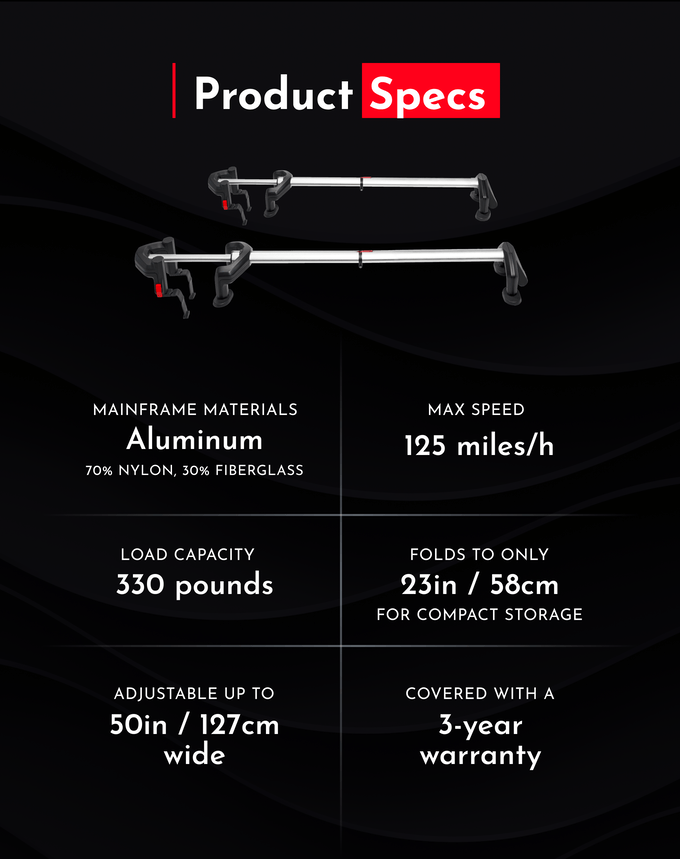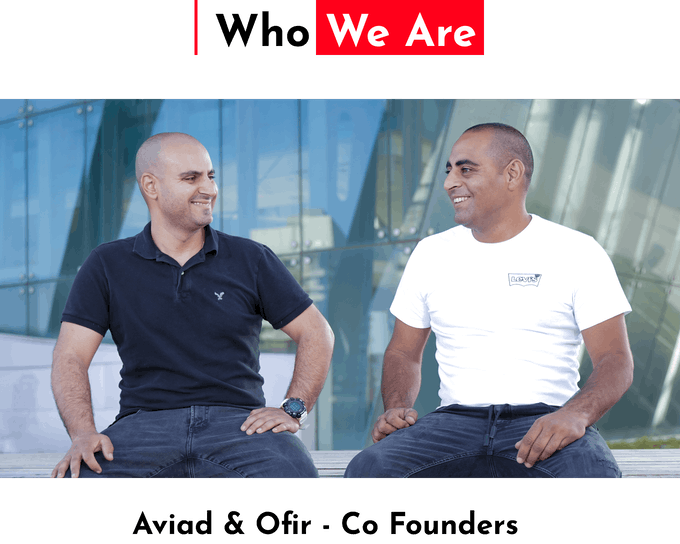 All our lives, we've been adventure-seeking enthusiasts. Camping, hiking, surfing, kayaking – you name it, we can almost guarantee we've loved and lived it. Throughout our escapades, we noticed transporting our gear always caused a headache, and we couldn't find a roof rack that was easily removable. That's why we spent years – yes, years – and all the money we could get our hands on to create this first-of-its-kind roof rack. It takes only 20 seconds to install, fits any car, and it's easy to store in your trunk when not in use.  
We named this revolutionary roof rack The Knotix to pay homage to all the knots we had to tie trying to transport our gear during our adventures all those years ago – and also, because it just sounds good.
We hope you enjoy it as much as we do.
Sincerely,
Aviad & Ofir
As the most trusted product launch company in the world, Enventys Partners has helped launch over 2,000 innovations with global sales of over $1 Billion dollars for our clients.
By utilizing 20 years of experience in product development, prototyping, engineering, manufacturing, lead generation, crowdfunding campaign management, public relations, email marketing, and paid media marketing.
Got an idea? We would love to help you launch it.