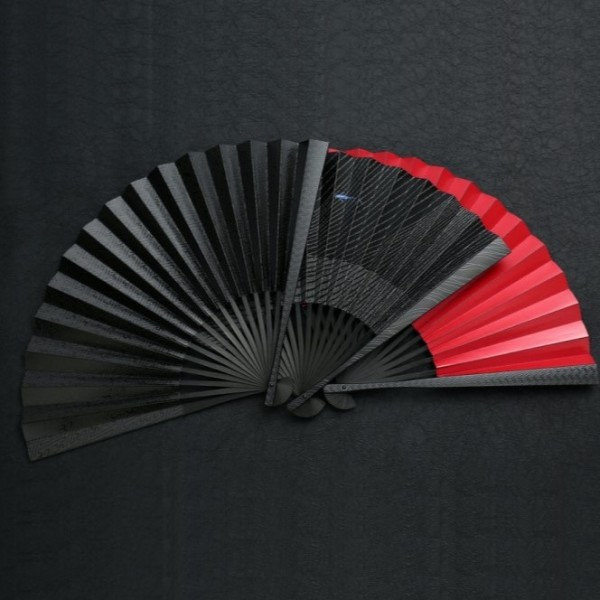 KOKUSEN Sensu: Traditional Japanese Fans
$120,417
raised out of
$100,000
Concept
Fans using special traditional crafting techniques and dyeing methods
Story

We are Suehirodo, a sensu (traditional Japanese Fan) making company that is based in Nagoya, and are looking to create a new style of fan for a new era! We are working with a traditionally dyeing company that uses special traditional methods to create Nagoyan crested items that are dyed black. Kazuya Takeda from Takeda Senkou Co. will create the fabric, a black dyed silk, which we will then use to make the KOKUSEN series. As well as this we want to bring to you the KOKUSEN Bamboo, which incorporates washi (Japanese paper) and bamboo. We want to bring this traditional craftsmanship to the rest of the world!
Sensu are said to be a good luck charm and make wonderful presents
It is said that because of the way sensu fans out and spreads out, it is a symbol of longevity, which is seen as good luck. For celebrations of old age it is often seen as great present, and in a business situation, company employers are often seen giving large fans to the president in order to link to the company growing and expanding. They are also given as gifts from trips, for anniversaries, and just in general as gifts of appreciation!
A stylish aluminium framed Japanese Sensu. Cool to the touch, a beautiful matte colour adds to the lightness and durability of the fan. The KOKUSEN series is our high end line. 
Silk that has been dyed black by Mr. Takeda using the traditional Nagoya kuromontsukezome dyeing methods are made into a beautiful sensu. A sayagata pattern can also be found on the fans fabric, a pattern that has a deep association with Japanese Buddhist Temples. The guards themselves are made from aluminium that hasn't been cast in a die but have been shaved down to make the guard. 
Three new styles of guards!
For those that like to have all things black, this uses only black for the guards which matches the dyed black fabric.
Using a silver colour to create a two tone sensu. When closed this cool two tone pattern is still visible.
A rather flashy gold colour contrasts well with the black dyed silk. It exudes a special high quality look that other fans don't.

With this beautiful fan, it is a culmination of traditional Japanese crafts, using traditionally made Japanese paper (Washi) and specially made Bamboo ribs and guard to make an ultimate Japanese Sensu. The Washi paper has been made to contain the special sayagata pattern, the same with the guard and ribs to make a really luxurious fan. We hope that you can enjoy the sense of Japanese culture and art with this fan.
Both sides are available in black, with the choice of having the backside of the fan available in either black or red. 
On the edges where the paper stands up (the oriyama in Japanese), black lacquer has been applied, which when the back face of the fan is red makes the edges stand out even more. 
When it comes to why lacquer isn't applied to the indenting parts, as the lacquer is rather hard and splits rather easily, meaning that you would be able to see the paper beneath. This obviously harms the look of the fan, so we apply the lacquer after the paper has been folded which helps to keep the lacquer from breaking.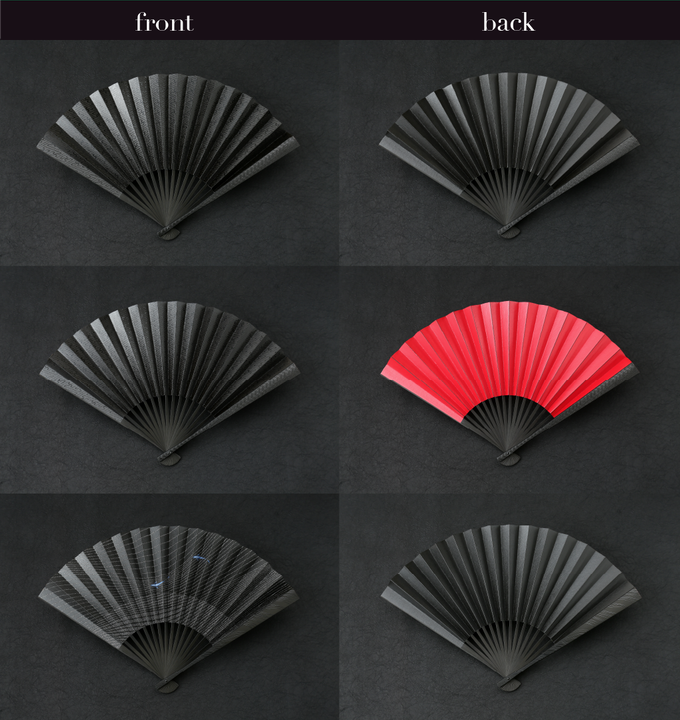 A variety of designs and patterns that make you want to own them all!
A multitude of traditional crafting methods
All the Japanese fans made at Suehirodo are made by extremely skilled craftsmen. When it comes to making a sensu, the starting point is the ribs of the fan, from there creating the special paper used for the fans, folding them perfectly, adding the paper to the fan ribs and so on, each process is divided among the appropriate craftsmen, with each craftsman using a special traditional technique to bring the fan to complete. We have some craftsmen that have been creating fans for 60 years. We are lucky to have some amazingly skilled craftsmen that grace us with their techniques.
When it comes to the creation of sensu, there are two main cities that are the focus of the production efforts, Kyoto and Nagoya. We have our roots in Nagoya. Fans made in Kyoto are made more for females, for performances, or high end items that would go on display. Nagoyan made fans are more focused on fans given as gifts of celebrations, and for normal use by men. 
Over 100 years ago, Japanese made fans took off, with requests from China and other countries in Asia coming in, and today, each year there are over 10 million fans made.
A fork in the road for the traditional Japanese fan industry
After the end of the Second World War, exports to the US, Europe, Australia, and other Western aligned countries increased. But due to fluctuation in the exchange rates, as well as changes to the global economy, the exports dropped. As well as this, the pace of change from Japanese style clothes to Western clothes was carrying on, combined with the availability of cooling facilities in downtown shops, and just the overall necessity and demand for fans decreased due to the time. The demand for fans decreasing meant less demand for newer manufacturers, leaving behind a dramatically ageing craftsman population, as well as items could be cheaply manufactured (at a loss of quality), which eventually meant that the industry faced an extremely tough time. 
Now there are increased efforts to teach the younger generations about various parts of traditional Japanese culture, which includes the use of sensu. This includes using them in ceremonies, giving as gifts, and for different dances. We hope to revive sensu and have it carry on as being part of traditional Japanese culture for many more years to come. It's with this mind that we created this project! 
A traditional dyeing method that is the only way to create such a beautiful black dye.
Nagoya Kuromontsukezome is a traditional technique that is certified by the Japanese government, which was said to have been created in 1610. Kuromontsuke is an item like a Kimono or Haori (Japanese Traditional Jacket) that has been dyed which also includes the family crest.
In order to make the family crest appear on the fabric, first a pattern paper is pressed onto both sides and then the preliminary dye is applied. From there, a special black dye is then applied. This is a basic outline of the dyeing method. This dyeing method is specific to Nagoya Kuromontsukezome and allows for the garment to be left in water for a long time, with the colour being resistant to fading and running unlike other black dyed items.
[KOKUSEN]
Length of the fan:225mm
Fan face: Silk, sayagata pattern
Fan ribs: 20 ribs (Guard: Aluminium with laser cut sayagata pattern, Black dyed Bamboo ribs)
Weight: 50g
1. Chrome x Black
2. Silver x Black
3. Gold x Black
Packaging: Comes with a Nagoya Kuromontsukesome Black dyed bag made for fan. It will be sent in a paulownia wood box.
[KOKUSEN bamboo]
Length of the fan:255mm
Fan face: Tosa Washi Paper, Painted face with lacquering design
Fan ribs: 16 ribs Guard: Bamboo with pattern matching fan face (sayagata pattern or wave pattern), Ribs: Black dyed Bamboo
Weight: 40g
Pattern on the face
1. Black x Black – Sayagata Pattern (Lacquer paint)
2. Black x Red – Sayagata Pattern
3 Black x Black – Sweetfish Pattern ( Lamé painted thread)
Packaging: Comes with a Nagoya Kuromontsukesome Black dyed bag made for fan. It will be sent in a protective cardboard About the different sections of the fanbox.
How to make sure you can keep your fan usable for years to come
Open the fan with the guards slowly. Don't try to force the fan open in the wrong direction.
Don't use the fan roughly as it could cause damage to the ribs.
When walking with the fan, use the special bag that the fan comes with, keeping the fan safer.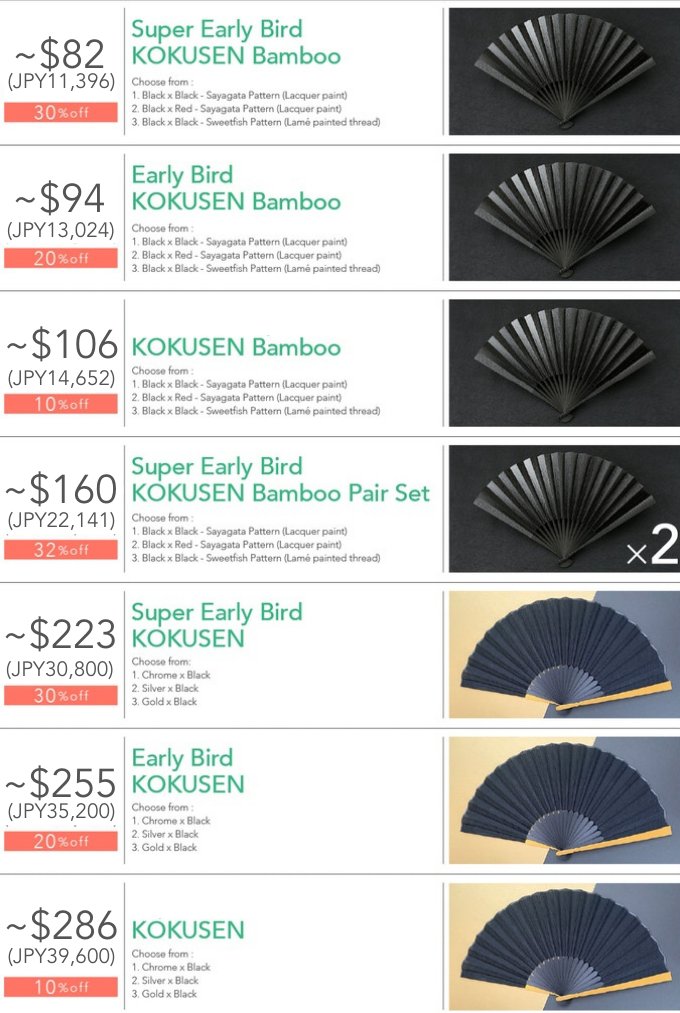 Project Ends: September 5th 
Rewards Prepared: October-November 2022
Rewards Shipped: December 2022
Rewards Arrive to Backers:  Mar-April 2023