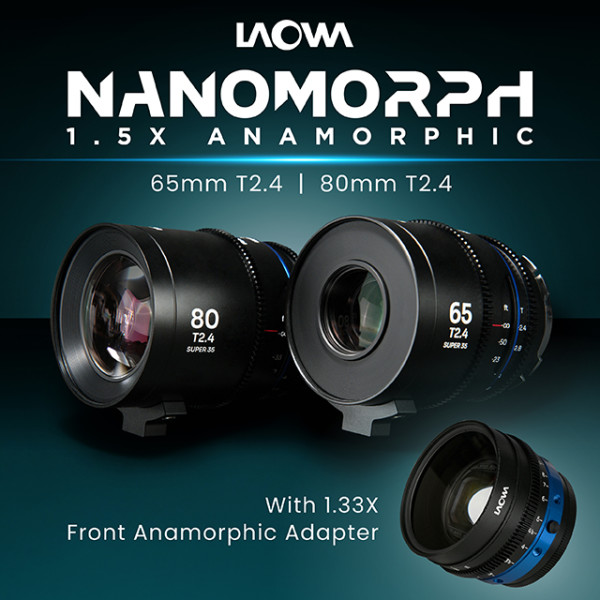 Laowa Tiniest Anamorphic Lens Return: 65mm & 80mm
$1,364,192
raised out of
$100,000
Concept
Telephoto Expansion | 1.5X Constant Squeeze | Amber/Blue/Silver Flare | Oval Bokeh | 9 Mounts
Story
TINIEST Anamorphic Series is BACK!!!!
The most compact anamorphic series, Nanomorph, is back with new focal lengths: 65mm & 80mm T2.4. Your support made the previous Nanomorph 27mm, 35mm, and 50mm a success, surpassing a funding milestone of over 750K USD!!
Now, we're expanding our lineup to provide a comprehensive range for professional cinematography and commercial work. Order your set with CRAZY discounts and get ready for your epic cinematic journey!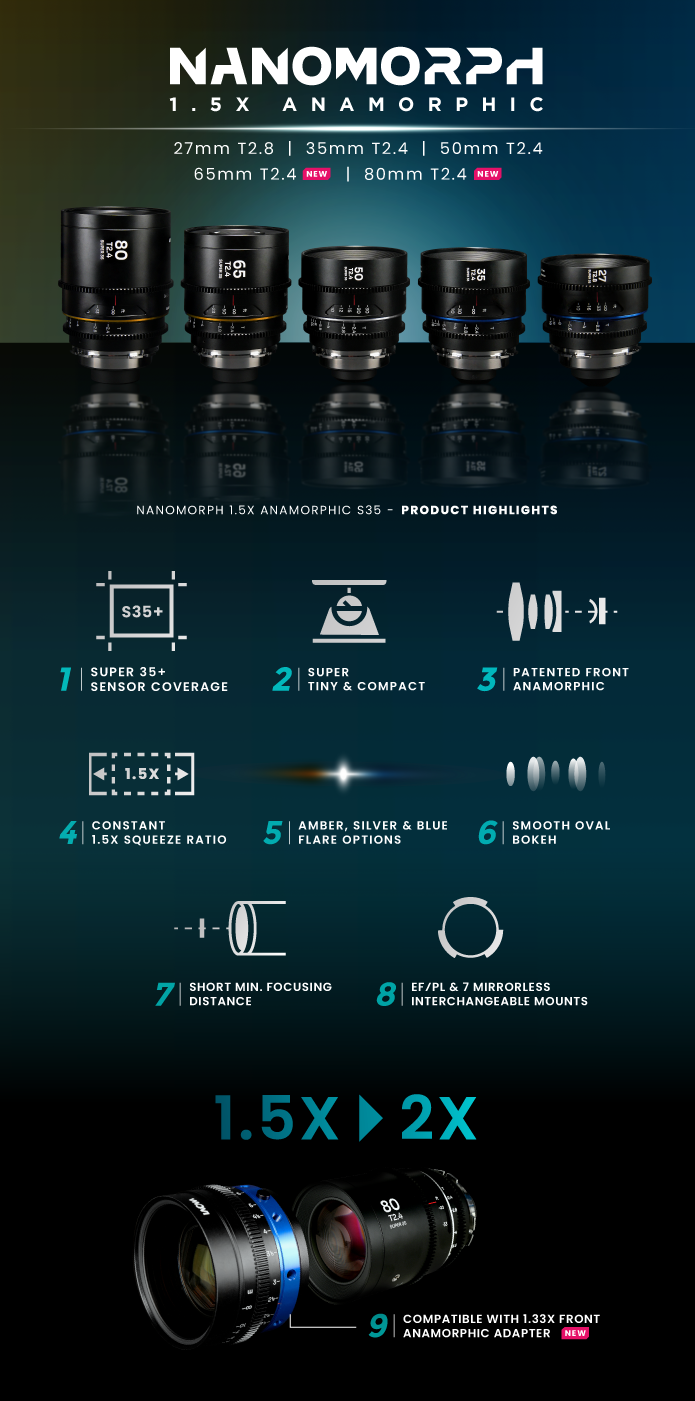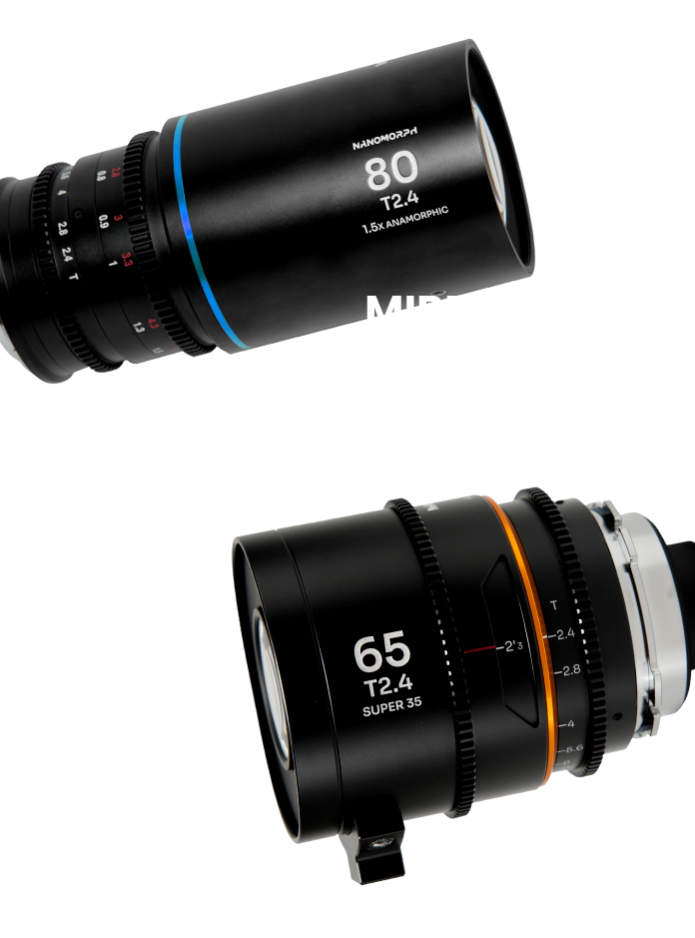 Enter the Anamorphic World with the INSANELY COMPACT Nanomorph!
Experience the captivating world of anamorphic cinematography with our affordable, compact, and versatile Nanomorph lenses.  You can now shoot Hollywood cinema-grade movies and embark on a specular cinematic journey.

©Kristoffer Davidson – 65mm T2.4 1.5X (Silver)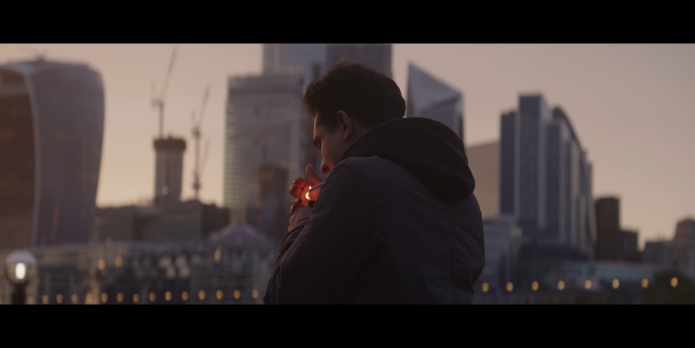 ©James Matthews  – 80mm T2.4 1.5X (Silver)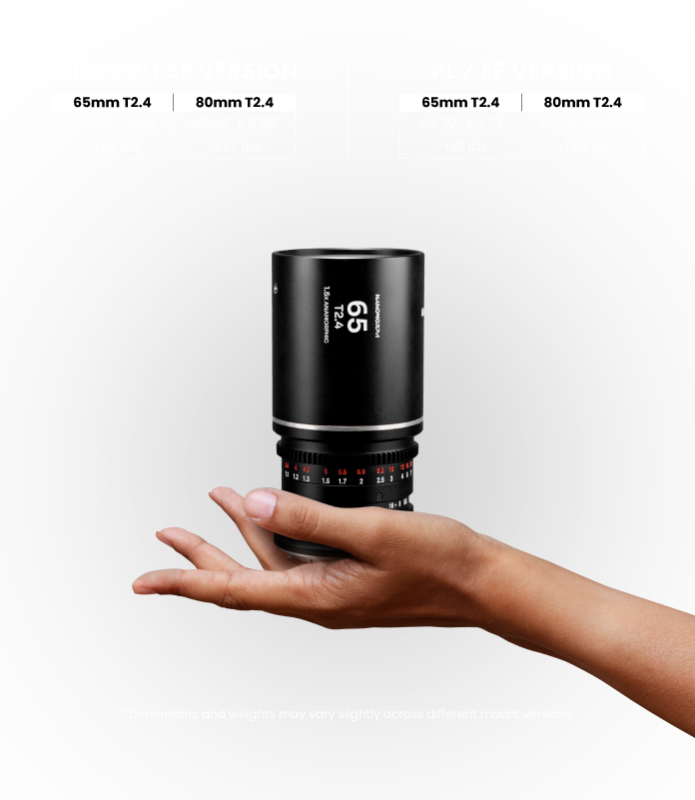 Patented Anamorphic Design
Revolutionary patented anamorphic design, meticulously crafted to deliver exceptional lens quality while prioritizing lightweight construction and maintaining a consistent squeeze. No anamorphic mumps are caused thanks to this unique anamorphic design, and the lenses are fully usable in professional shootings with consistent anamorphic characteristics.

©Eros D' Antona – 65mm T2.4 1.5X (Silver)
Super35+ Coverage
Suitable for cameras with Super35+ or Micro Four Thirds sensors, and it also enables Full Frame cameras to work with minimal vignetting.
©Victor Laforteza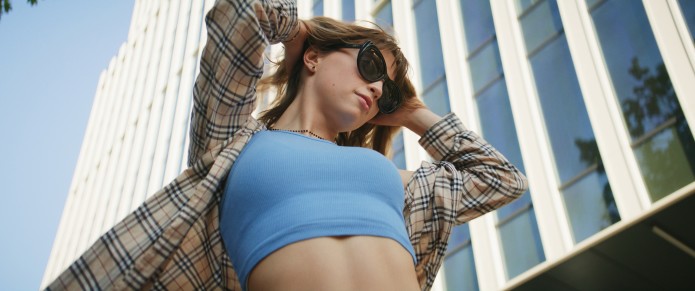 ©Laik Knows  – 65mm T2.4 1.5X (Silver)
Cinematic Flare Colors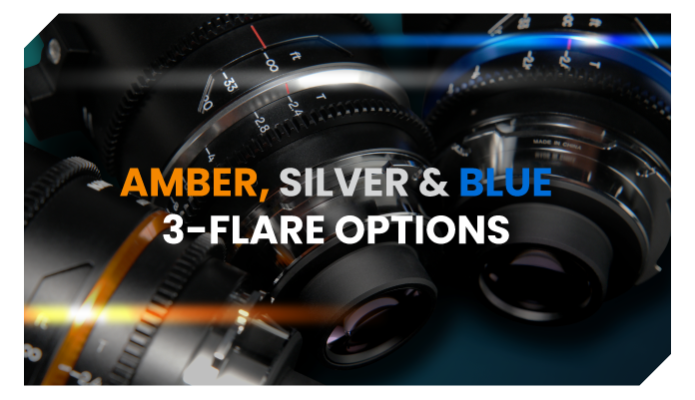 We are now offering 3 flare color options, elegant amber, classic sci-fi blue and neutral flare for DPs to adapt to different scenes in your movies.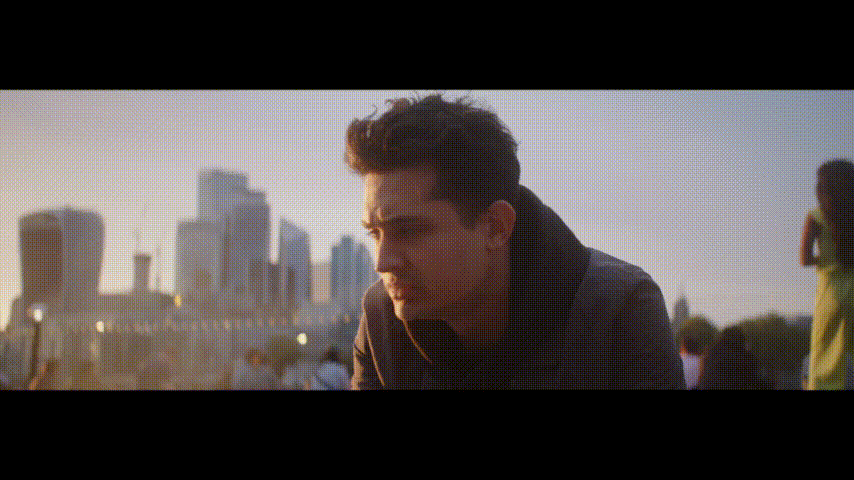 Silver flare offers the unique capability to adapt the color of flare in response to both the light source's color and intensity.
Flattering Oval Bokeh
Our Nanomorph 65mm & 80mm can beautifully render a stretched oval bokeh effect, adding a distinctive artistic touch to every movie you shoot with regards to a 1.5x squeeze ratio.
With a maximum aperture of T2.4 and due to their telephoto nature, the 65mm & 80mm effortlessly achieve dreamy depth of field and offer a seamless organic focus roll-off.

©Michal Palikot  – 65mm T2.4 1.5X (Silver)

©Mellow0807 – 80mm T2.4 1.5X (Blue)
Cinematic Widescreen Ratio
Our Nanomorph 65mm & 80mm lenses feature a consistent 1.5X squeeze ratio, making them the ideal companions for 16:9 sensors, which are widely prevalent in the market. In comparison to 1.33X anamorphic lenses available, our Nanomorph lenses provide a significantly more pronounced anamorphic and cinematic aesthetic.

It's important to note that opting for a 1.8X or 2X squeeze ratio would result in considerable lens size increase and wastage of image when paired with a 16:9 sensor.
Why Anamorphics and Not Spherical Lenses?
Because it is cinematic! Everything you shoot can now be cinematic with a golden aspect widescreen ratio of 2.4:1.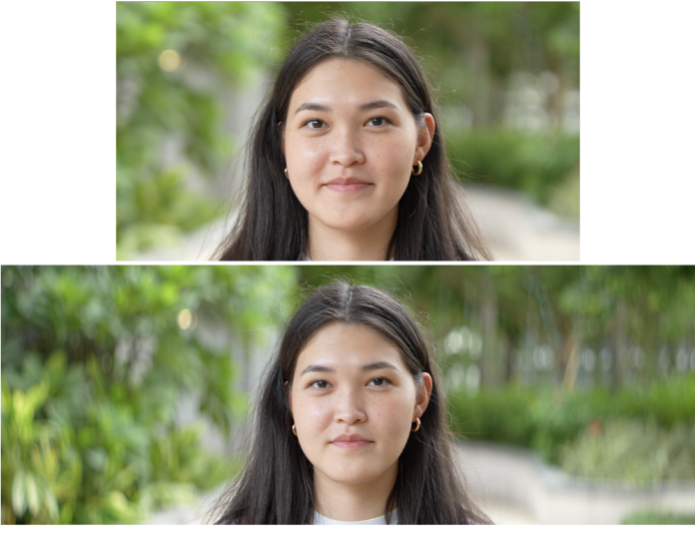 While spherical lenses can provide a more realistic texture to your movies, it is still undeniable that anamorphic lenses can make them more visually intriguing and engaging due to the distortion, oval bokeh and flare. The extra space of view also reveals additional details and information about the scene.
Short Focusing Distance
Short focusing distance of 2'3″/70cm on both the 65mm and 80mm lenses, enables you to effortlessly capture dramatic close-up shots and shoot in tight spaces without any limitations. Whether you're seeking stunning detail or working in confined quarters, these lenses deliver exceptional performance to meet your creative needs.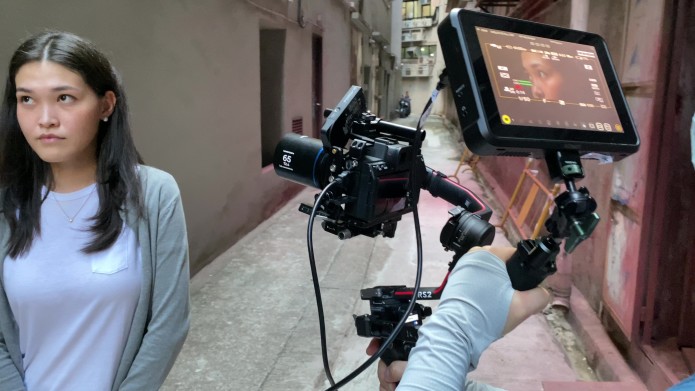 Telephoto Compression
When it comes to shooting close/distant objects, the 65mm and 80mm lenses excel by compressing the sense of depth within a scene. More distant objects are now brought closer and covering a larger percentage of the frame.

©Laik Knows  – 65mm T2.4 1.5X (Silver)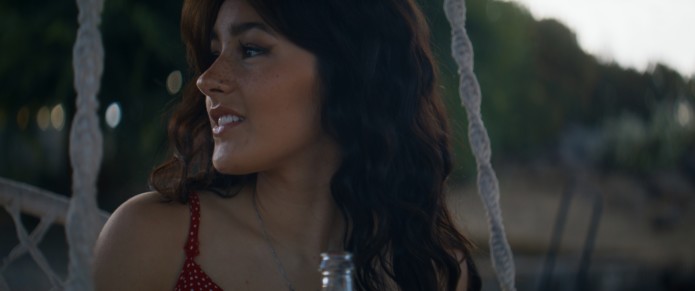 ©Somnang Vann  – 65mm T2.4 1.5X (Silver)
The 65mm and 80mm T2.4 Nanomorph are undoubtedly enhancing the versatility of the Nanomorph anamorphic series and providing cinematographers with the ability to capture captivating close-up shots. These telephoto focal lengths offer significant advantages for close-up photography, allowing for enhanced depth of field and stunning bokeh effects.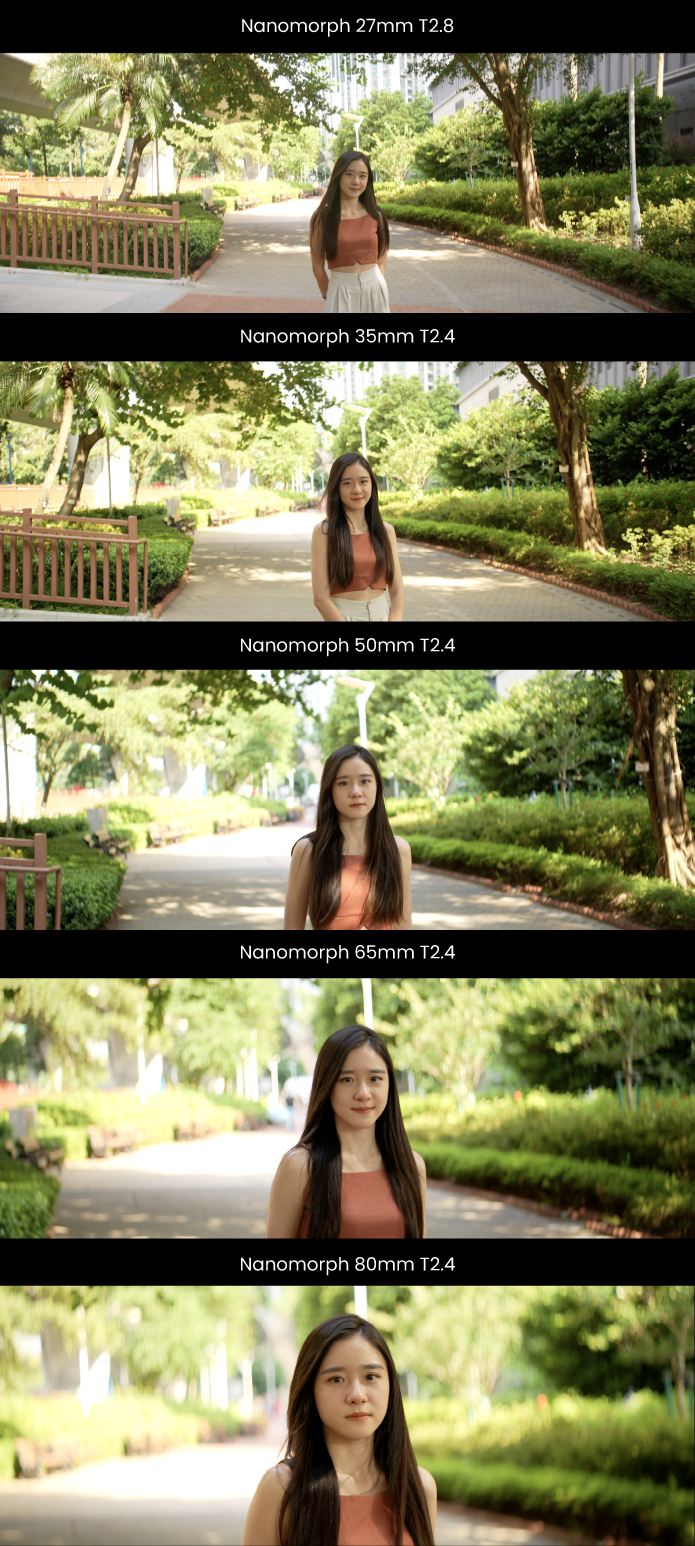 Various Mounts Available
For Mirrorless version, Canon RF, Sony E, M43, DJI DL, Nikon Z, L mount and Fuji X mount are also available and interchangeable.
For PL/EF version, both PL & EF mounts are included in the box and the mounts are interchangeable.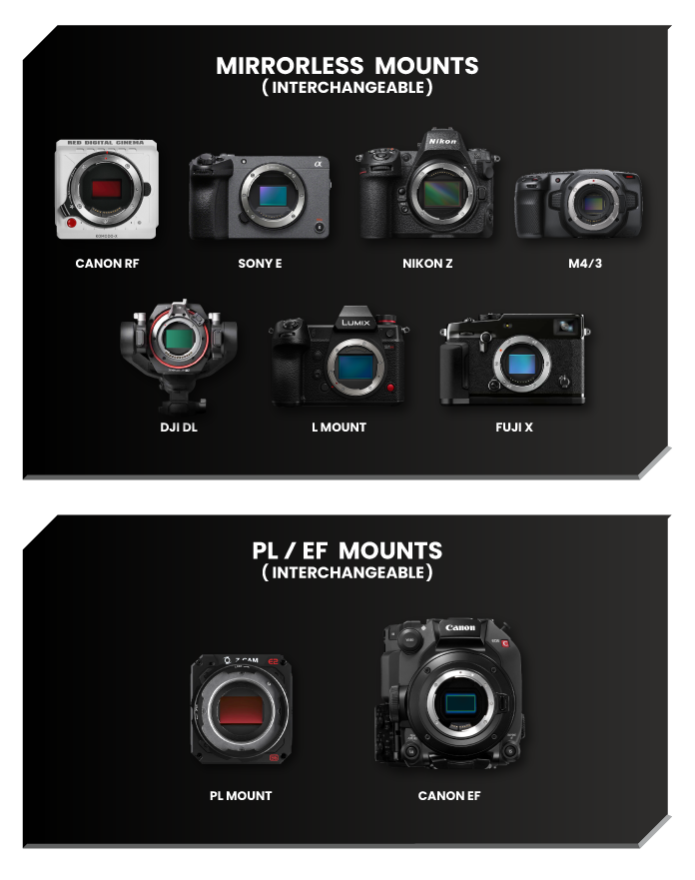 Professional Cine Housing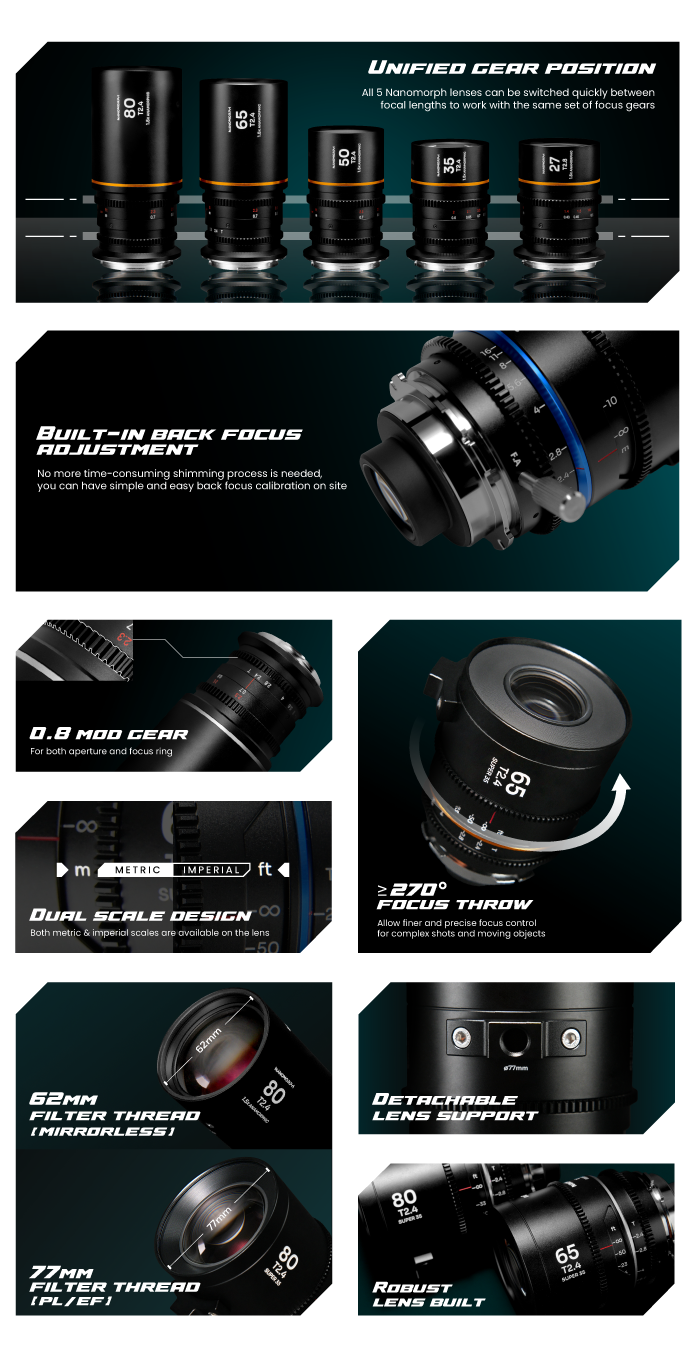 COMPLETE Series for Professional Cine Work
The Nanomorph Series is now a complete offering to meet all your shooting requirements. With five focal lengths at your disposal and covering wide to close-up shots, you gain the full capabilities for supporting any cinematic production.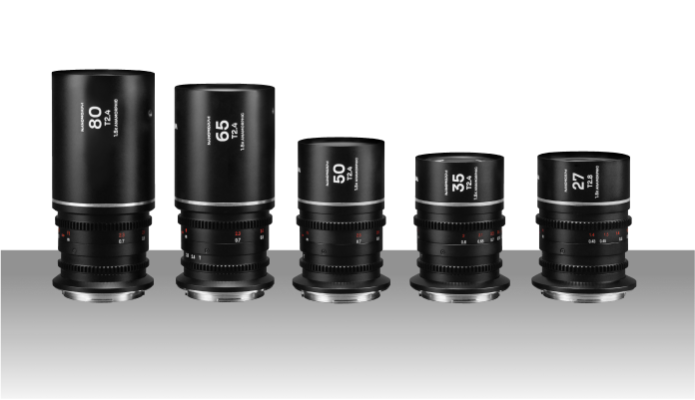 Best Affordable 2X Anamorphic Solution
Laowa is also introducing a 1.33X Front Anamorphic Adapter as a standalone perk or as an add-on! Priced at a mere US$699, the adapter is a must-get for the anamorphic shooters. Get it now and mount on our Nanomorph for a 2X anamorphic experience! (PERK Q3)→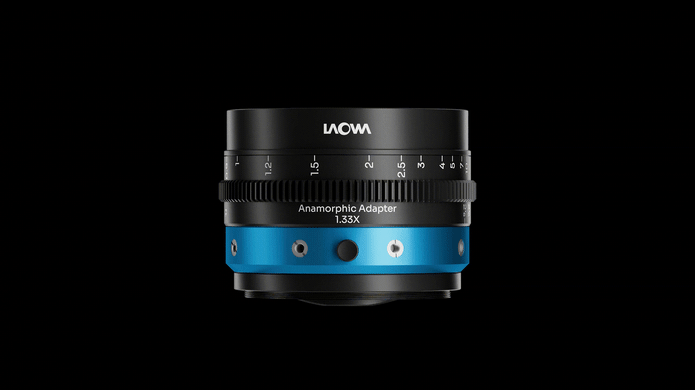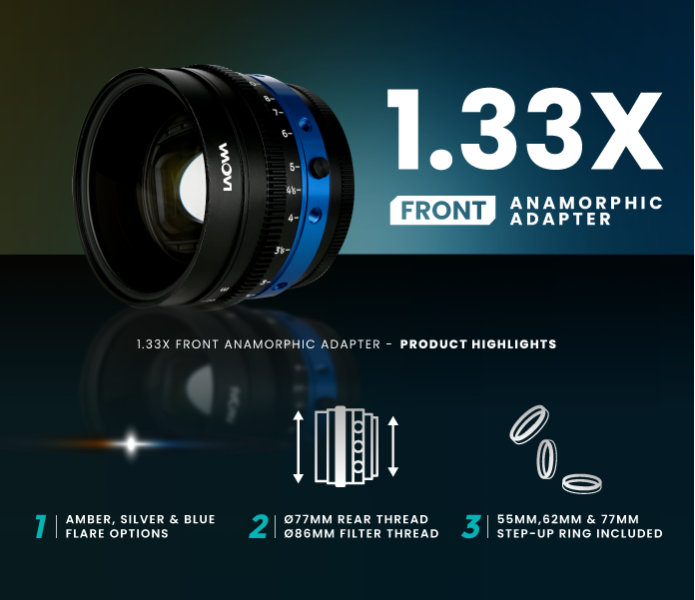 Minimal Loss of Aperture Stops & Image Quality
One of the challenges of using an anamorphic adapter is that it can result in a loss of aperture stops and image quality. This means that the image may not be as bright or sharp as it would be without the adapter.


©Brandon Li  – 80mm T2.4 1.5X (Silver)
To provide our filmmakers with the maximum performance of the adapter, we have created a special design to ensure the loss of aperture stops and image quality are minimal, allowing filmmakers to achieve the desired anamorphic look.

©Cam Mackey – 65mm T2.4 1.5X (Blue)
Button-controlled Rotational Mechanism
Enabling the rotation of the lens element internally to ensure correct image compression and horizontal flare alignment.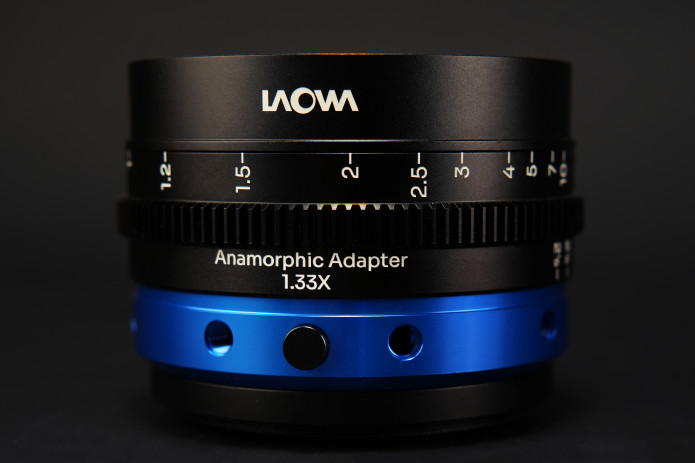 Compatible with Full-frame Lenses
©Cam Mackey – 65mm T2.4 1.5X (Blue)
The 1.33X Anamorphic Adapter is compatible with our Ranger Cine Zoom lenses and can be mounted seamlessly, working as an anamorphic zoom lens while providing functionality across a focal range of 48mm to 100mm.
Sample Footage
Review
Specification (1.33X Front Anamorphic Adapter)
| | |
| --- | --- |
| Name | Laowa 1.33X Front Anamorphic Adapter |
| Squeeze Ratio | 1.33X |
| Lens Structure | 5 elements in 5 groups |
| Focus Throw | 200° |
| Focus Indicator | Foot & Meter (Dual Scale) |
| | |
| --- | --- |
| Min. Focusing Distance | 2'4" / 73cm |
| In-focus Driving Mode | Manual (MF) |
| Front Diameter | Ø90mm |
| Filter Thread Diameter | Ø86mm |
| Max. Diameter | Ø96mm |
| Rear Diameter | Ø77mm (55mm /62mm /77mm step-up rings are included) |
| Dimensions | Ø3.78"*2.76" / Ø96mm*70mm |
| Weight | About 1.83lb/830g |
| Flare Colour | Amber/Blue/Silver |
What's included?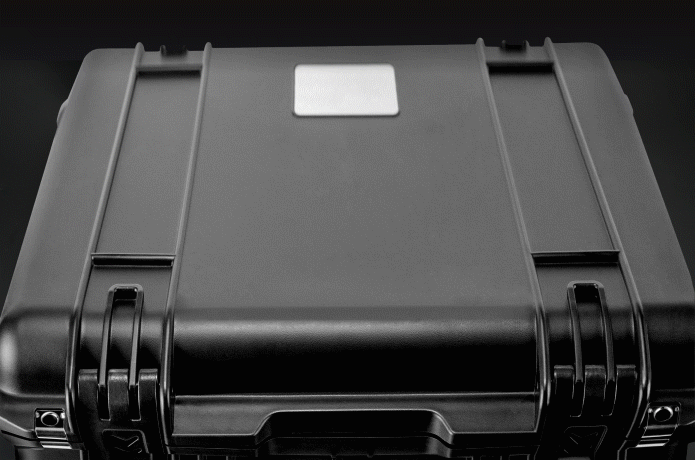 For both PL/EF & mirrorless version of the 5-Lens Nanomorph set, you will get the following items:
5-Lens Set (Nanomorph 27/35/50/65/80)
Warranty card X5
Certificate of Conformity X5
Product Manual X5
Product Brochure X1

PL/EF:

EF Interchangeable Bayonet Mount X5
Interchangeable Bayonet Rear Cover X5
M2 Mount Screws X30
Lens Bracket X1

Mirrorless:

0.9 Hex Tool X3
2.5mm Hex Tool X1
M3 Screws x4
Lens Bracket X2
3mm L Shape Hex Key X1
1.3mm L Shape Hex Key X1
Screwdriver handle X1
PH0 Bit Head X1
H1.5 Bit Head X1
M4X6 Screws X2
M2X9 Screws X6
Focus Handle X2
Shims
Perks Overview

Sample Footage
Specification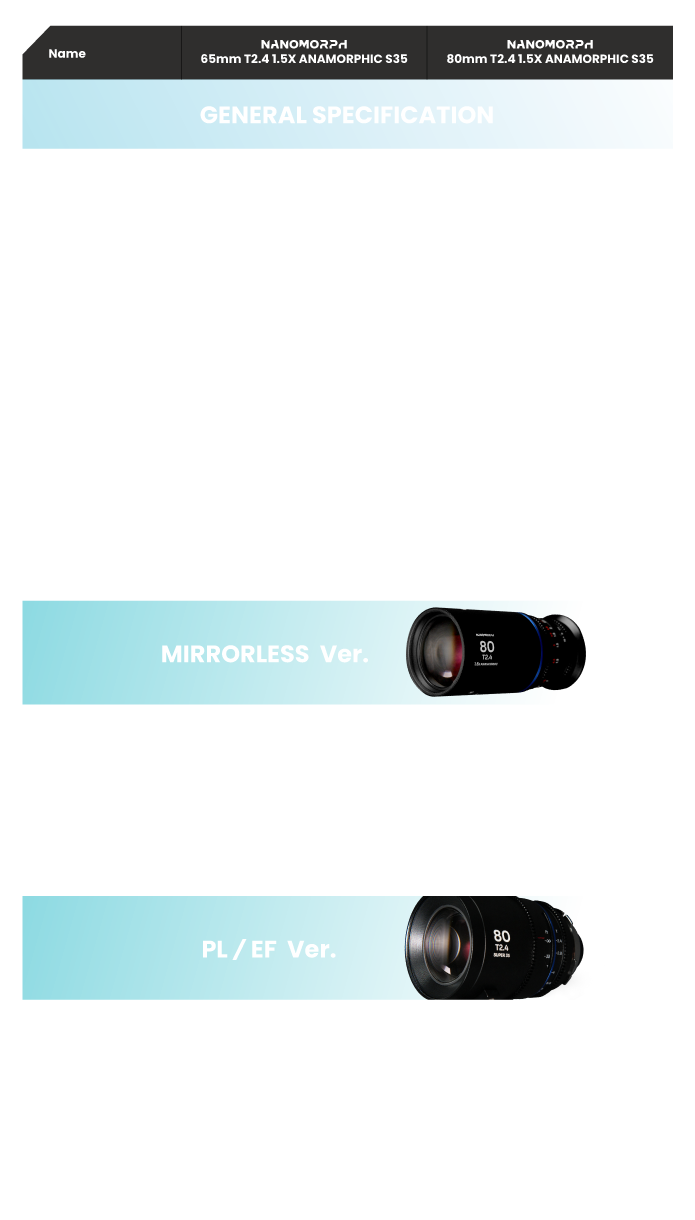 To learn more about previous focal lengths (27mm/35mm/50mm), please visit our website at laowacine.com

Development Journey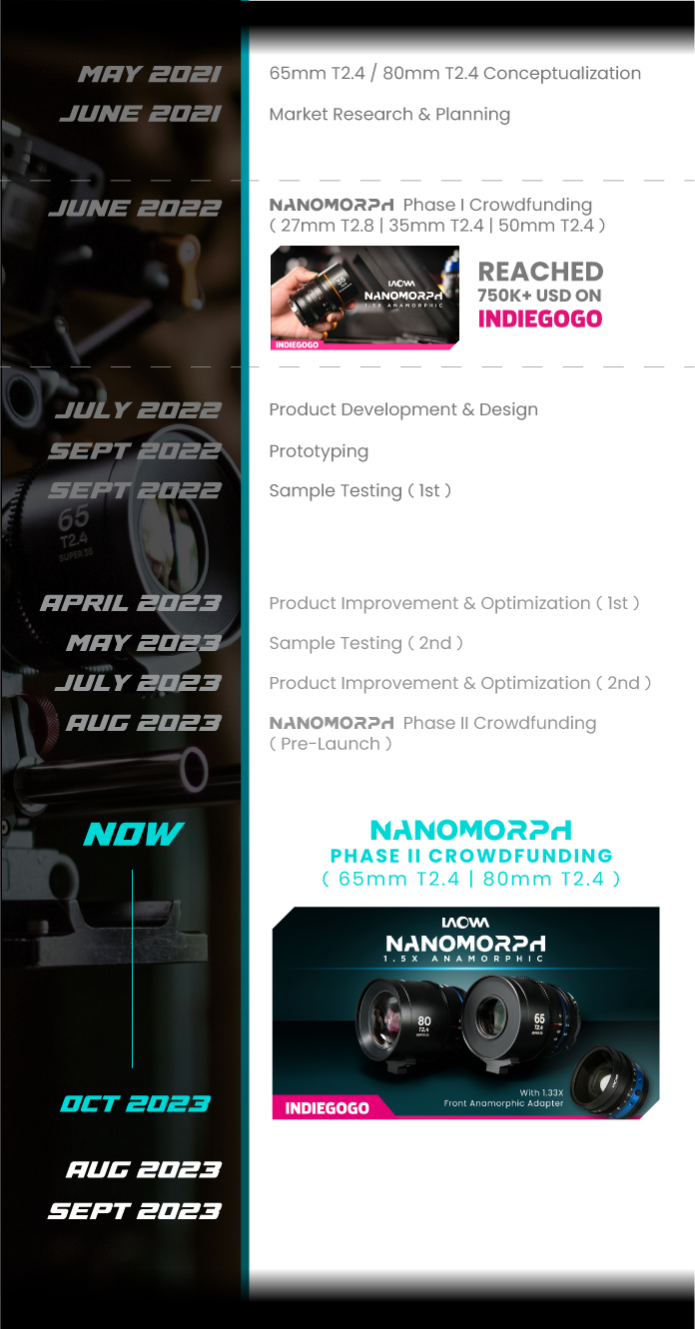 Risk & Challenges
Risk and innovation have always been at the heart of Laowa's mission. We strive to push the boundaries of what's possible in lens design, and our latest Nanomorph lenses are no exception.
Our team of experienced professionals has poured years of research and development into these lenses, using cutting-edge technology and innovative design to create a truly unique and high-quality product.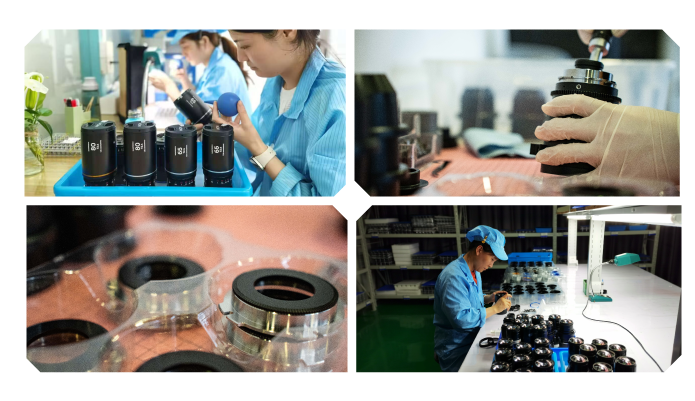 But as with any innovative product, there are always risks and challenges. Our goal is to deliver a lens that surpasses your expectations and provides a truly exceptional cinematography experience. We are committed to doing everything in our power to achieve that goal.
However, there is always the possibility of unforeseen challenges that could impact our ability to deliver on time. We may encounter unexpected manufacturing or shipping delays that require additional time and resources to overcome.
In these situations, we promise to keep you informed every step of the way. Our team is dedicated to providing you with the best possible experience, and we will work tirelessly to ensure that you receive your Nanomorph lens on time and with the highest level of quality.
We are excited to share our passion for cinematography with you, and we ask for your ongoing support as we continue to innovate and push the boundaries of what's possible with Laowa cine lenses.

About US
Laowa is an innovative camera lens brand that offers distinctive photo and cine optics. We strive to enhance our products and inspire a new generation of filmmakers and photographers.
Venus Optics produces photo and cine lenses with passion and innovation. The company designs and manufactures its lenses in Hefei, and operates sales and marketing offices in Hong Kong and the USA.