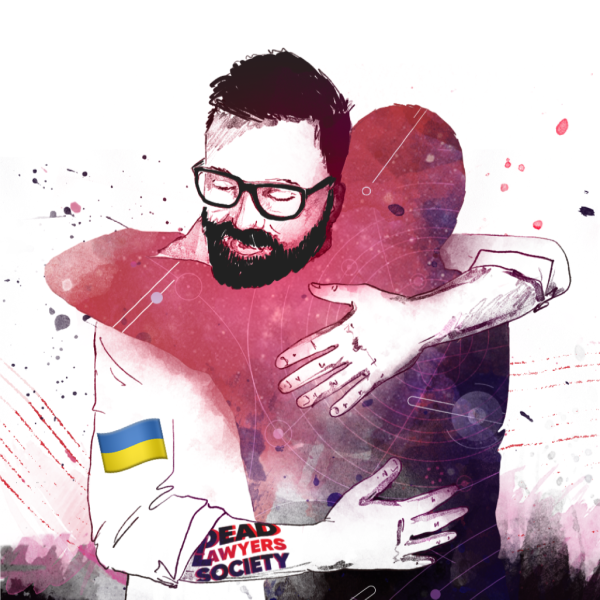 Lawyers to Lawyers
$7,736
raised out of
$5,000,000
Concept
Help the Ukrainian lawyers to stop the silly russian invasion
Story
We are the Dead Lawyers Society:
Yes, our naming refers to the Dead Poets Society movie.
We are a community of 8'000+ Ukrainian lawyers. 
We are a community that spreads and fights for its values.
During 5 last years of the peaceful time, we were a collective media writing texts, hosting events, and creating a new format of legal discussion about the insides and the insights of the legal business in Ukraine and worldwide.
After the russian invasion, many lawyers stopped their legal practice and joined the armed forces or started helping the army in other ways.
Our Values
FREEDOM – objectivity, independence, impartiality, and self-regulation.
IMPACT – recognition, and acceptance by the legal community, authority, determination of the criteria for market evaluation.
COMMUNITY – be part of a community and change, like-minded, safe environment, support, share, inspire and inspire.
DEVELOPMENT – to accelerate and encourage changes in the legal world, to determine the criteria for these changes.
QUALITY – exciting and expressive content, integrity, emphasis on high standards of journalism, transparency.
Lawyers at war – you are kidding?
No, we are not. Here are some links front-line hot stories from our colleagues:
What we are raising the donations for
Our community members never had any war practice, they became soldiers just a few weeks ago. 
So, they are not well equipped for this war. We are helping them with the following equipment:
Optics: binoculars, thermal imagers, drones, optical sights.
Medicines, and
Some other useful things like shoes, flashlights, sleeping bags, comsats, etc (on the war you never know what you will need, so we want to be flexible in this campaign).
We are not dealing with anything like weapons and any other stuff which requires licensing. 
As lawyers we exactly know how to deal with documentation so we guarantee clear and transparent reports.
The Impact
Yes, we know that this is not your war, it is our war. But, many of you have friends and colleagues in Ukraine. So, we thought that you may want to help them = help us all.
We are really sorry for this pathetic, but just imagine your city, your office, your home is tens times a day bombed. Your family got evacuated to a safer country. You sleep clothed.
But we will win this fight and will build an even better country with the rule of law.
Why You Can Trust Us
The Dead Lawyers Society is managed by Dima Gadomsky, partner at Axon Partners, Aspen Institute fellow, and the Ambassador for Ukraine of the European Legaltech Association.
Our board members are:
Before the russian invasion, our day-to-day activities were financed by the community itself (here is our Patreon) and by the following top-tier law firms: Vasil Kisil and Partners, Integrites, Asters, Axon Partners, Moris, and Engarde. They continue the donations, but they only cover the salaries of the newsroom.  
Other Ways You Can Help
If you cannot donate us, then you can also:
Share information about our media to help us on the information front.
Help lawyers who evacuated from Ukraine to find a temporary job in law firms or other companies.
Outsource some paid legal work to any Ukrainian law firm you know.
Commit to giving a loan to the Ukrainian law firm you know well if it will require financial aid to save the team.