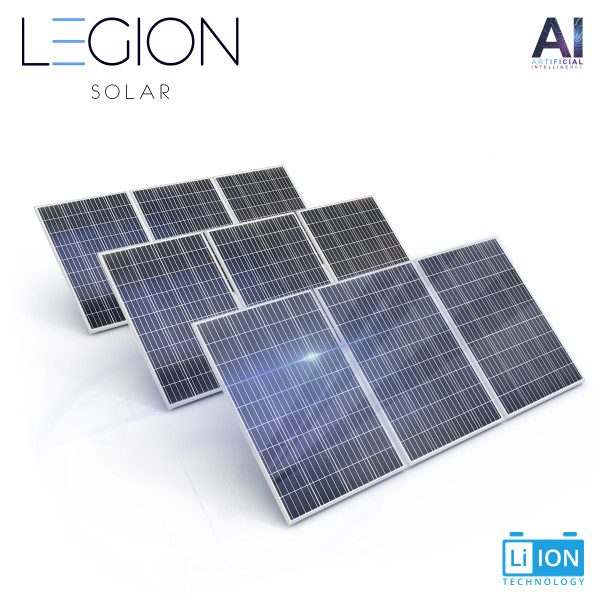 Legion Solar 5 – Permission Free Energy & Lithium
$64,385
raised out of
$20,000
Overview
https://youtube.com/watch?v=452777898
Concept
Plug and play solar with Artificial Intelligence, installs in minutes, 1/3 cost of traditional solar
Story

Legion Solar is a simple do-it-yourself solar system with battery storage and off grid power with artificial intelligence (AI).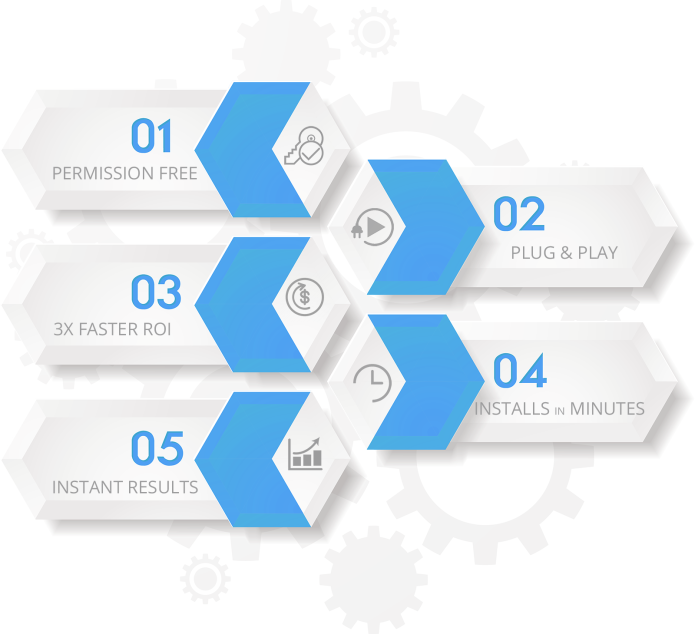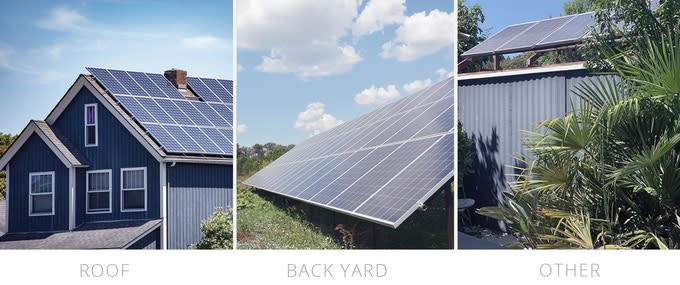 Solar energy is no longer an expensive complicated process. Install Legion Solar virtually anywhere.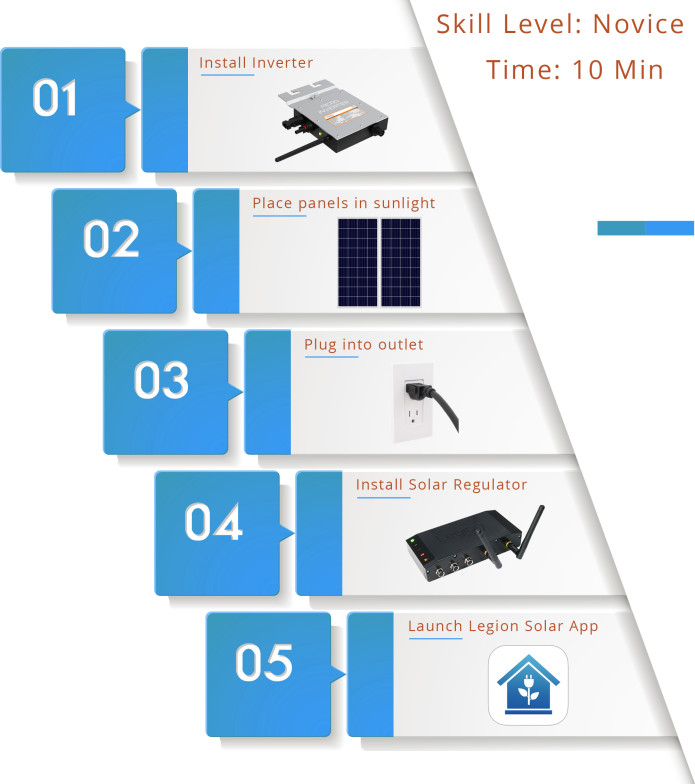 Legion Solar is designed for anybody with any skill level to setup. It's that simple!   

Legion Solar works with your existing rate program to simply drive your consumption down. The result is simply a lowered electric bill.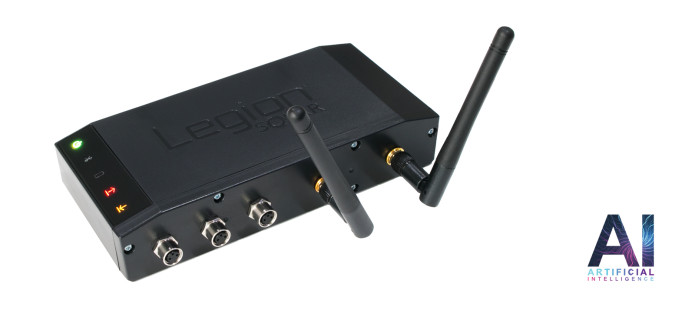 We created SolarRegulator™, an artificial intelligence computer to contain generated energy behind your meter where the utility company does not own. Energy production of each Micro-Inverter is controlled so that energy production is less than or equal to energy consumption allowing you to generate your own electricity unrestricted.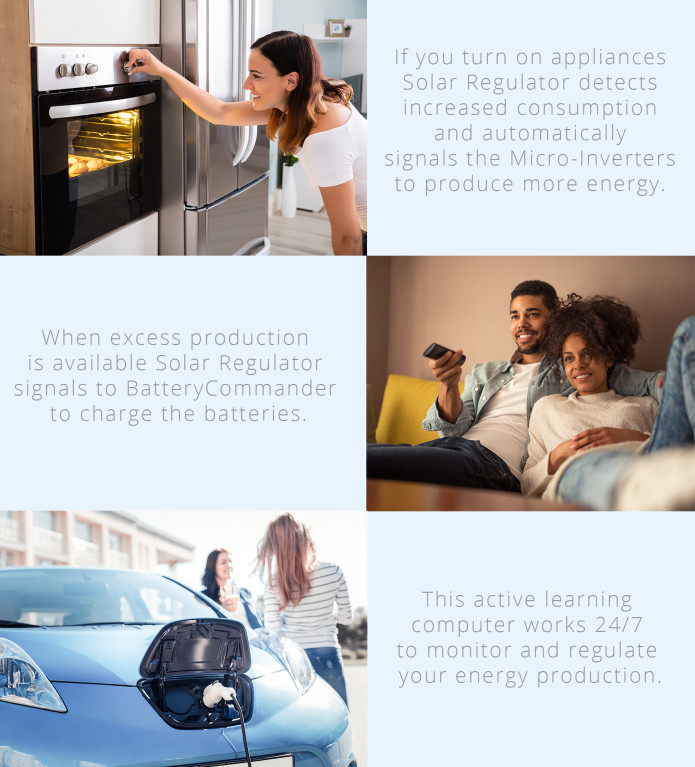 Utility company only sees less consumption from you, not a grid tied solar system. As a result, it is not necessary to seek interconnection permission pertaining to utility company approved grid-tied solar systems.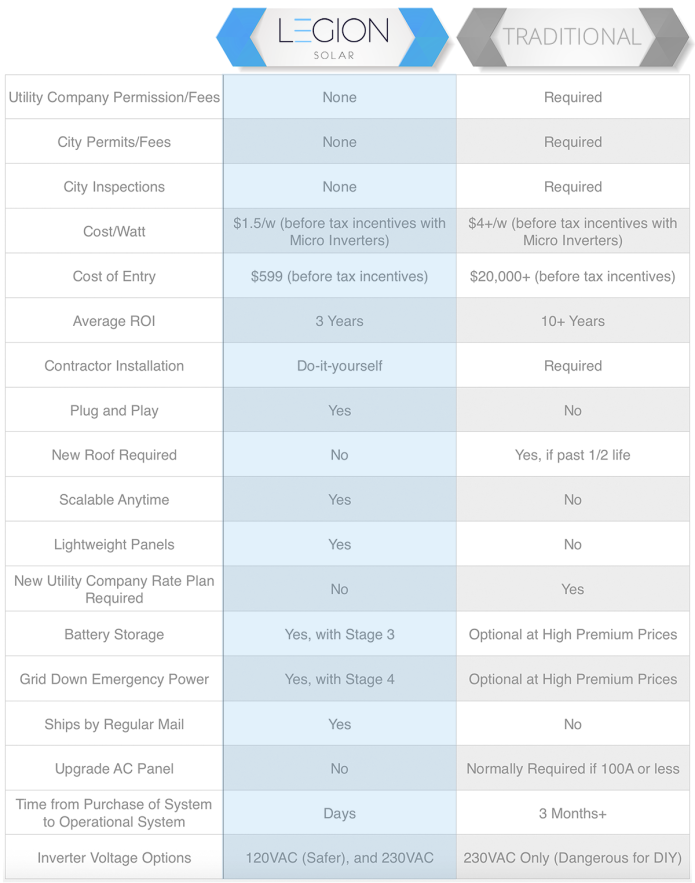 We took all the short comings of traditional solar systems and designed a game changing new solution to outperform.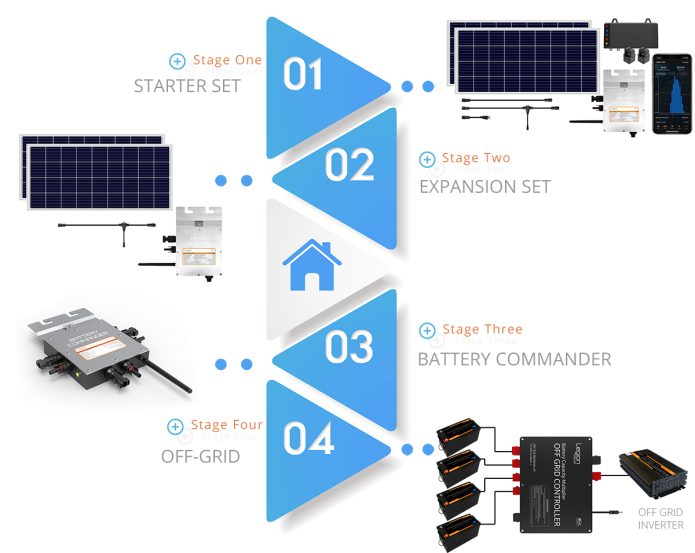 As you become familiar with Legion Solar, size up your system in stages. The larger the system, the more you'll offset and the more you'll save.
Stage 1 – Get familiar with Legion Solar and it's components with the Starter Set. Sets up in minutes and experience instant results.
Stage 2 – Scale your solar output with expansion sets to offset your daytime usage.
Stage 3 – Once your system is large enough to have excess energy to store during daylight, add expansion sets with BatteryCommander™ for night time consumption.
Stage 4 – Add Off Grid Controller™ and an Off Grid Inverter so that you have emergency power during grid power outages.

Bluetooth interface allows you to monitor your energy production and consumption, check system health, diagnostics and more via the LegionSolar App for Apple/Android. Try it for fee today. Search "Legion Solar" in iTunes or Google Play.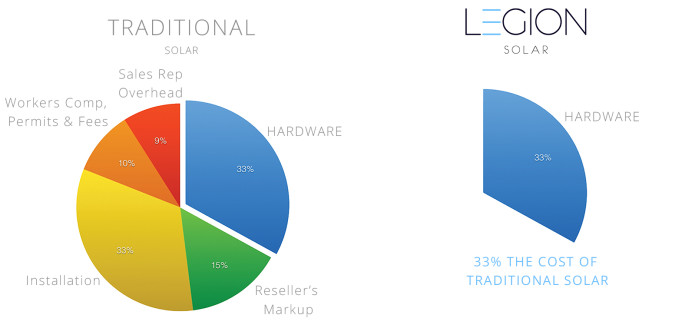 Traditional solar systems have built-in costs such as resellers markups, installation labor, permits, sales reps, and other fees. Legion Solar is energy delivered straight to your door without the unnecessary costs giving you up to 3x faster ROI.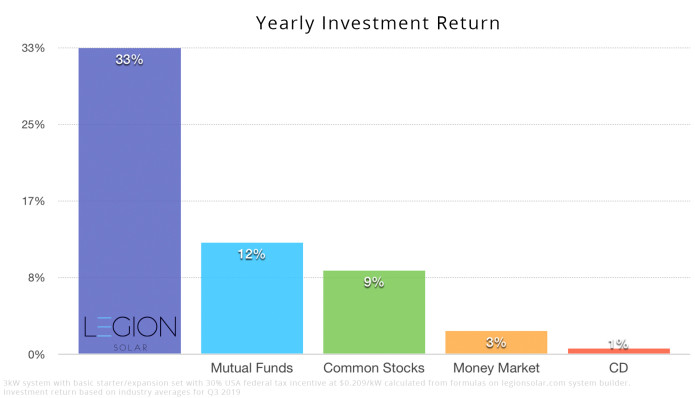 Legion Solar makes financial sense and outperforms nearly all other investments.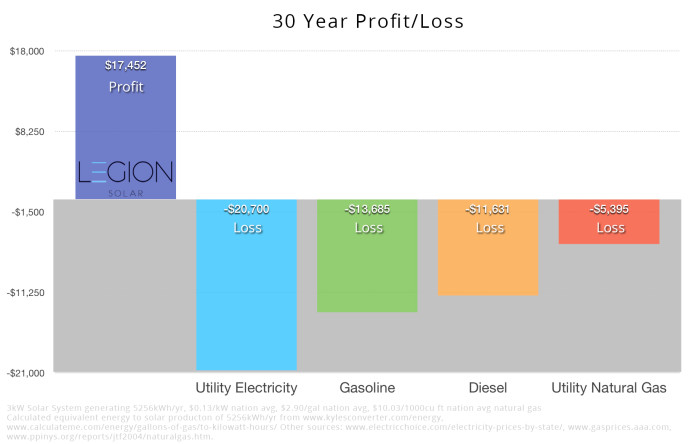 Legion Solar also outperforms nearly all other forms of energy in long term energy value. It makes clean energy PROFITABLE for you with ZERO emissions.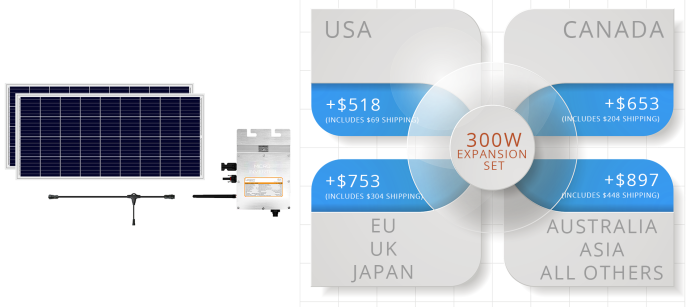 Basic Expansion Set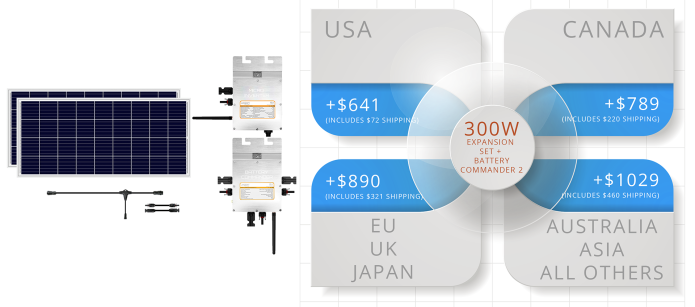 Deluxe Expansion Set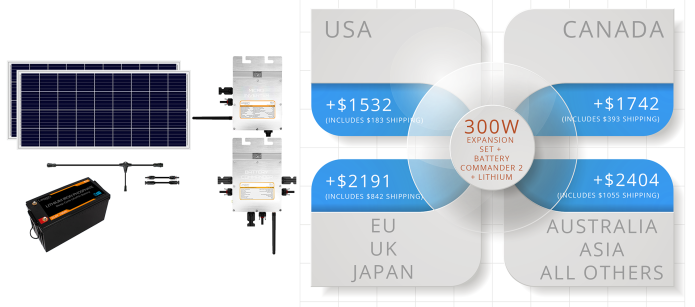 Deluxe Expansion Set + Lithium Battery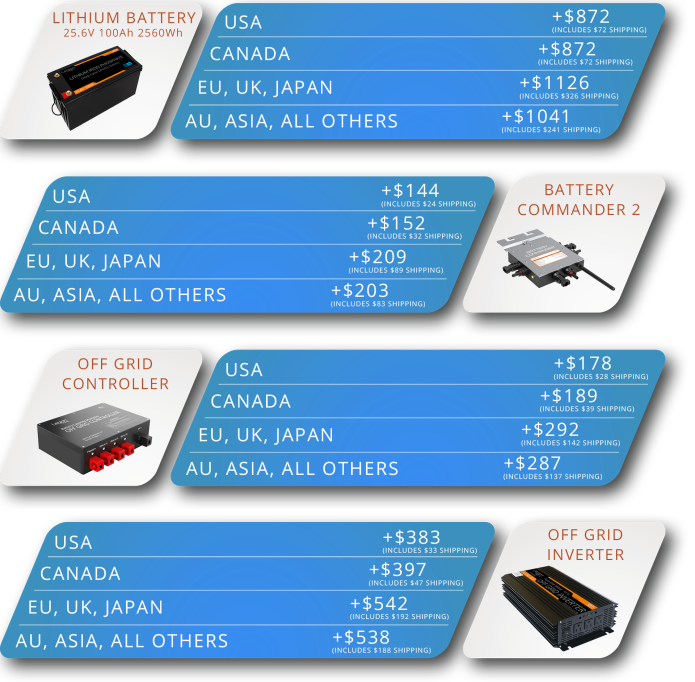 Additional Accessories
To include Add-On items, tap the pink "Back It" button that appears at the top of the page. Then add the above amount to your contribution. DO NOT select a perk and hit continue. For example, to add 4 expansion sets, multiply the above amount by 4 and add that to your pledge.

Backers and customers who currently own sets with Battery Commander 1, a FREE upgrade option is available to Battery Commander 2 with your pledge of the Deluxe Expansion Set or Deluxe Expansion Set with Lithium Battery up to the number of Battery Commander 1's that you currently own. For example, if you currently own 4 sets with Battery Commander 1 and you pledge for 5 Deluxe Expansion Sets, 4 Battery Commander 2 units will be included for FREE to upgrade your existing Battery Commander 1 to Battery Commander 2.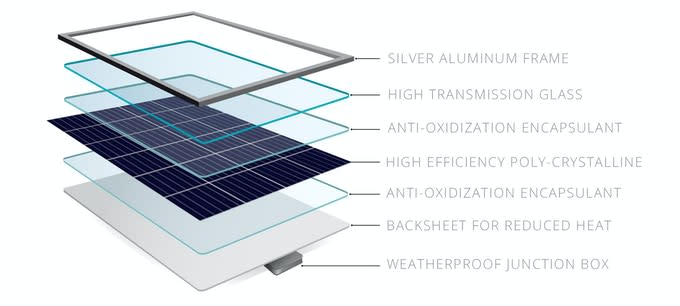 Legion Solar photovoltaic panels are 50% lighter and designed specifically for the Legion Solar Micro-Inverter to achieve an ideal system match for high efficiency DC to AC conversion. Rated for hurricane force winds, hail, and snow. High efficiency A Grade polycrystalline cells delivers unsurpassed price/watt performance with a 30 year service life.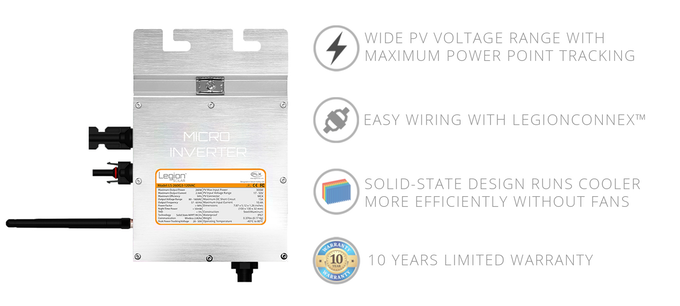 Legion Solar micro-inverters are designed to achieve ideal system match for high efficiency DC to AC conversion. Up to 32 micro-inverters can be connected in a daisy-chain. Our micro-inverters employ maximum power point tracking (MPPT) technology to achieve maximum power output in full sun and partial shade conditions. LegionConnex™ wiring simplifies connectivity ideally suited for the do-it-yourself installer.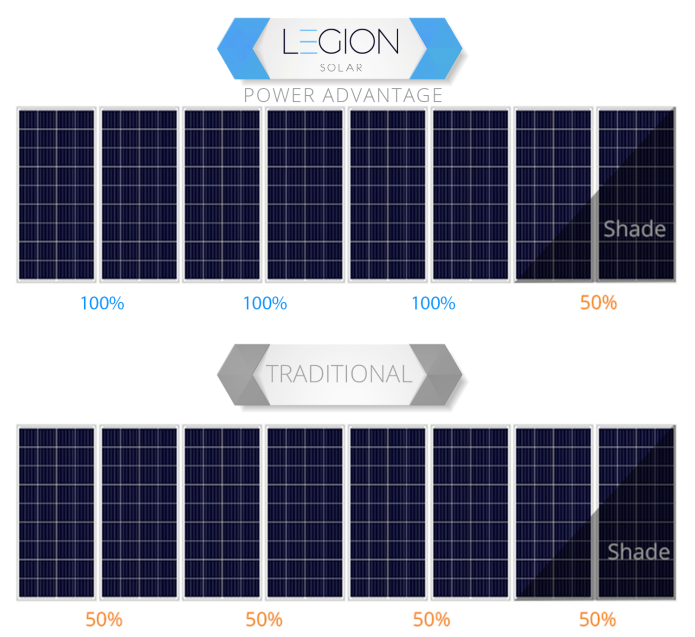 Micro-inverters outperform that of traditional central inverters due to no single point of failure. Each inverter cell works independently of each other to maximize energy production in partial cloud or shady conditions.

Legion Solar Lithium Iron Phosphate (LiFePO4) 25.6V 100Ah 2560Wh Deep Cycle batteries were carefully selected to be the ideal match for Battery Commander 2 in voltage, capacity, energy power density and weight optimized for do-it-yourself energy storage solutions.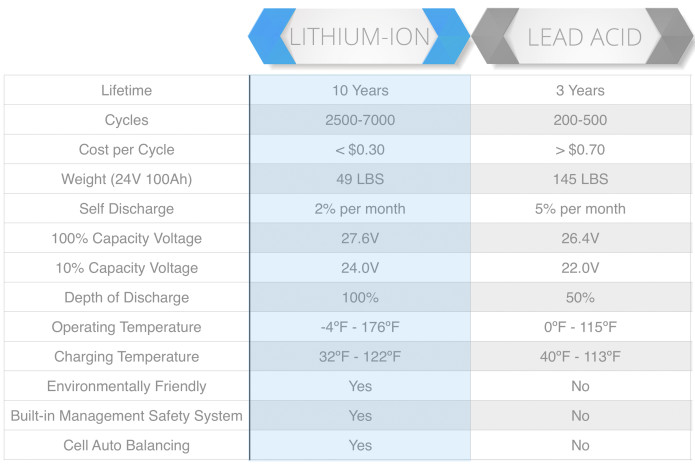 Lithium batteries are far superior to that of Lead Acid batteries in nearly every way.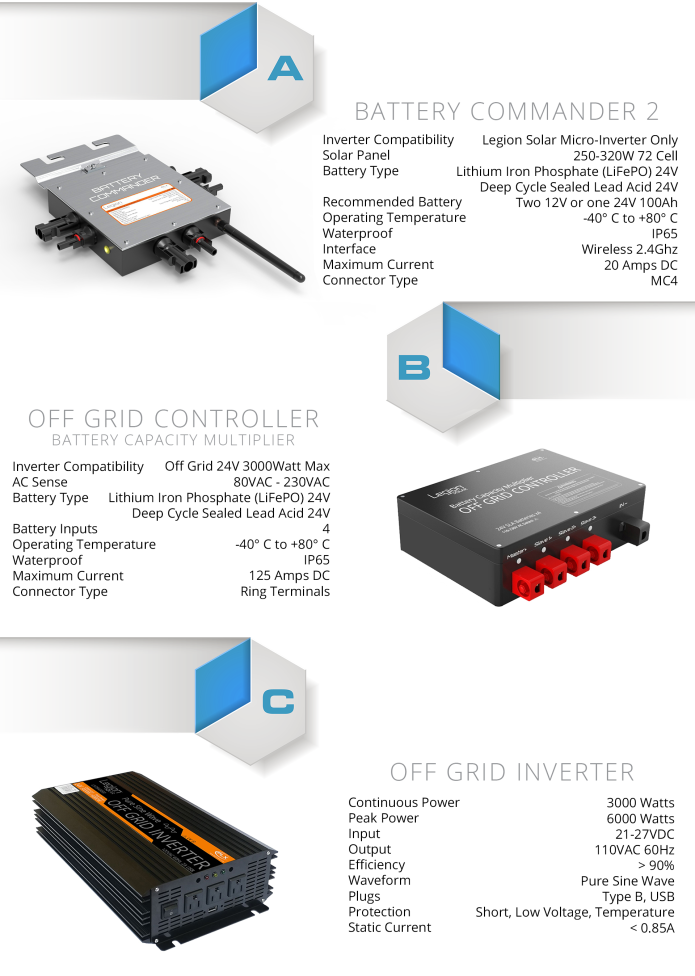 BatteryCommander 2 (New) connects in between the micro inverter and the solar panel. During daylight solar energy is used to supplement usage from your utility company and charge the batteries. At night, batteries supplement your usage enabling Legion Solar to completely offset all of your daytime and nighttime consumption. Compatible with Lithium Iron Phosphate (LiFePO4) and standard Sealed Lead Acid Batteries , two deep cycle 12V batteries or connected in series or one 24V battery with capacity range 60-120Ah is recommended for each BatteryCommander branch.
 OffGrid Controller is a combiner hub for your batteries to multiply usable capacity. It detects when grid power goes down and automatically turns on power to the backup inverter to supply power to an off grid branch circuit where you can power all of your basic necessities in any emergency. When power goes out, lights and appliances connected to this branch automatically turn on. When power comes back, the emergency branch circuit automatically turns off. Compatible with both Lithium and Lead Acid battery chemistries.
 Off Grid Inverter is used to supply grid compatible AC power from 24V batteries for use with appliances rated up to 3000 Watts. Have peace of mind for you and your family in any emergency.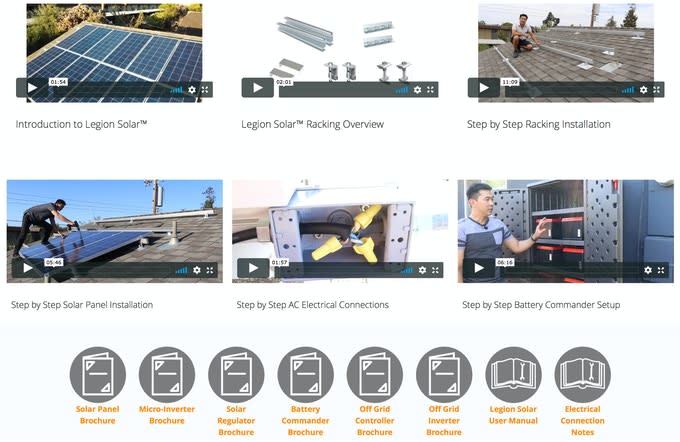 Tap to see manuals and more how to videos and demonstrations.

Battery Commander 1 has been upgraded to Battery Commander 2 now with support for Lithium Iron Phosphate (LiFePO4) 24V battery, and improved charging efficiency for Flooded/Sealed Lead Acid Batteries.
Solar Regulator 2.0 has been upgraded to Solar Regulator 3.0 now with hardware support for 3 phase systems for commercial buildings.
Solar Regulator's Artificial Intelligence (AI) 2.0 has been upgraded to AI 3.0 with improved power production algorithms and monitoring efficiency. Support and optimization for Lithium Iron Phosphate (LiFePO4) batteries and 3 phase utility power.
Legion Solar App will have more advanced diagnostics for troubleshooting, and system maintenance functions.
Legion Solar 5 is 100% compatible with Legion Solar 3 and 4 components. Legion Solar 3 and 4 owners will automatically get the benefits of AI 3.0 via automatic software updates.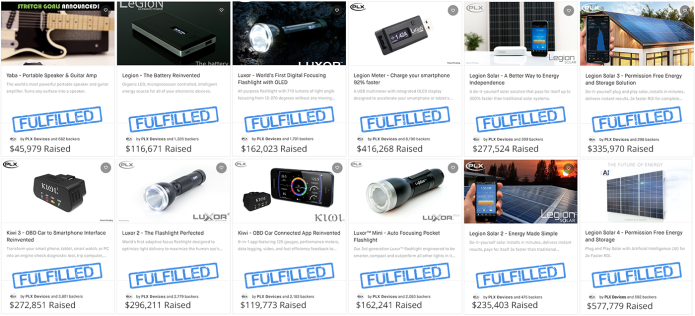 We have raised over $3.2 Million on crowd funding platforms and fulfilled rewards to 27,000+ backers since 2013. Innovation is our passion and we hope that you enjoyed our projects as much as we enjoyed creating them.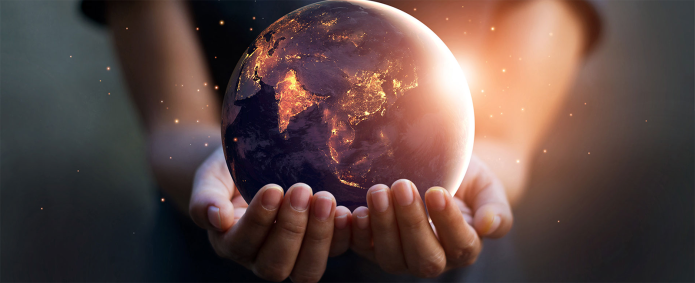 The prolific use of fossil fuels has resulted in the rise of our planet's carbon dioxide levels not seen in over 5 millions years (before the time of humans).
The technology for complete transition to clean energy is possible now. With your support we can take control and choose to offset our dependence of harmful fossil fuels. It's our responsibility to leave our planet in better condition for our future generations than we found it. Join the fight for clean energy and become a Legion Today!
Questions? Message us or Call +1-408-745-7591
M-F 8am-5pm PST
Schedule a call back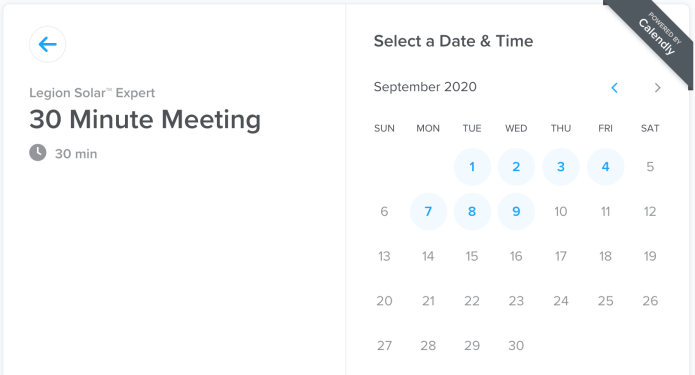 https://www.facebook.com/LegionSolar/
Due to continuous product improvements, the images may differ slightly from the actual product that you receive.
LegionSolar™, SolarHub™, SolarRegulator™, SolarBuilder™, BatteryCommander™, OffGridController™ are trademarks of PLX Devices Inc.
USA shipping rates only applies to USA mainland backers only. Hawaii, Alaska and Puerto Rico backers will be contacted at the time of fulfillment to cover the additional shipping charges.
For rural and/or delivery addresses that require special attention backers will be contacted prior to shipment with an opportunity to change the delivery address or cover additional shipping charges. 
Legoin Solar is shipped with insurance and tracking. Damaged goods must be reported within 5 business days of receipt of goods for Domestic shipments and within 48 hours for International shipments to qualify for insurance claims.
Legion Solar is Patent Pending.
"Bypass all regulations" pertains to regulations associated with grid tied utility approved solar systems.