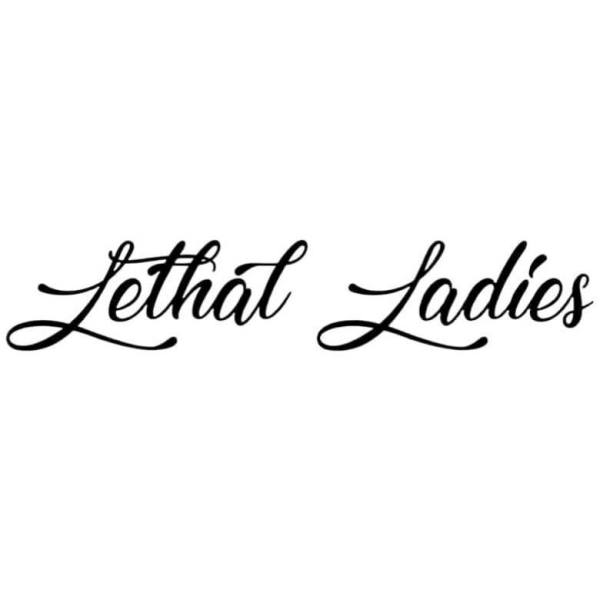 Lethal Ladies Cinematic Multiverse
$600
raised out of
$53,333
Overview
https://youtube.com/watch?v=713911814
Concept
A Cinematic Multiverse of character driven FilmNoir stories revolving around NeoNoir Femme Fatales.
Story
Hi my name is Noah and I'd like to tell you a story. 
When I was a kid I was diagnosed with multiple learning disabilities including Attention Deficit Disorder. Longer story shorter, My entire life has spent partly in my head, in different fantasy worlds, and for the most part distracting me from what ever I should have been working on. 
One of these worlds is a Cinematic Multi-Layered Universe called, Lethal Ladies. 
My last film, Relationship Killers takes place in this universe and my next two films also exists in this same universe. 
That's why I need your help. 
Short Summary
Lethal Ladies
a multi-format, multi-layered, multi-faceted Multi-Universe we are calling a Multi-Verse. 
What is it?
A character driven cinematic MultiVerse of Noir Characters and Noir Stories. 
What is this fundraiser for?
The first two Films we are going to distribute are a Social Suspense Thriller Noir called, "DECEIT" and a Sci-Fi/Magic Realism Noir called, "Scales".
We will be stack shooting all of these films in blocks so our next steps are to shoot the opening sequences of these first two Features. 
The opening sequences will be exhibited as Short Films Proof of Concepts.
Then we will execute the financing and production of the rest of each feature.
What are the first two films about?
Deceit-
Deceit is the story of a young man named Mack who suffers from Narscictic Personality Disorder which manifests itself in the form of Introverted Insecure Toxic Masculinity. I feel as though every time we see Toxic Masculinity it is rooted in the ALPHABRO BULLY type character, which is a form of NPD and Toxic Masculinity, however what we don't see is a equally dangerous and harmful Insecure / Introverted Narcissist who is verbal abusive and emotionally manipulative in a terroristically toxic manner. This film is my hate letter to Insecure Toxic Masculinity as we completely destroy the ego of a character who lets the false narrative in their fantasy addiction brain get the better of them. 
SCALES-
Scales is the story of wENDi, a woman who according to her species rules and the traditions of her family is required to bring home pray for her and her family to feed upon. wENDi unfortunately/fortunately has a moral compass, despite the life(s) she was dealt and creates this moral code where she only brings home rapists and sexual predators. It has always bothered me that every woman has the same fear most men do about going to prison whilst walking to their car at night. Having my own experience with this social issue, this film is a hate letter of mine to Sexual assault and harrasent. 
What We Need & What You Get
We need help raising awareness of Lethal Ladies as a whole and creating a great community around these fun and interesting characters.
We also need help raising the funding for these opening sequences. 
The Impact
As with most of my work I try and work in a much mentorship and opportunity for up and coming filmmakers to train on my sets. 
With that in Mind we are partnering with Evette Vargas of New Hollywood and The Writers Room 5050 to raise 10 scholarships for her Writing the TV Pilot Students/Mentees.  We will have a grouping of 10 perks you can purchase that will simultaneously help us raise funding for production and scholarship money for 10 students to do the 10 week lab.  
On Set we will have 15 Internship or Mentee Positions available for up and coming filmmakers to come train on a union set,
Risks & Challenges
Filmmaking is a incredibly risky and ardgerous endeavor. 
COVID-
We will abide by the strict guidelines for Covid Safe Filmmaking, which include testing, PPE, and zoning. Each day of filmmaking will be under the supervision of a certified Covid Compliance Officer.