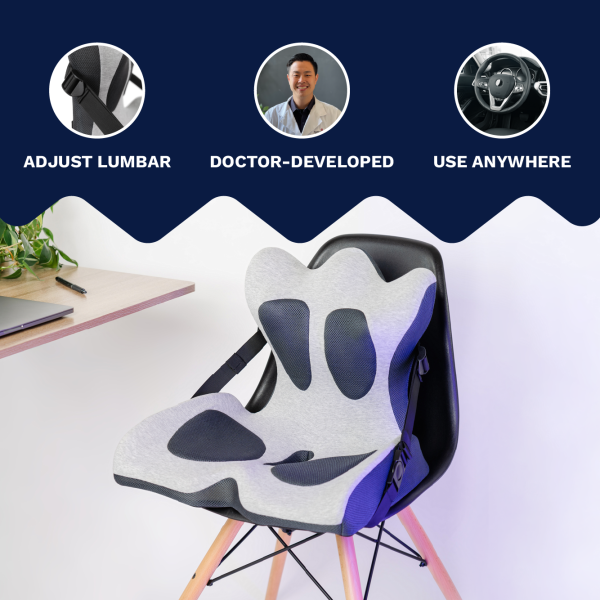 Lifted Lumbar
$1,143,671
raised out of
$10,000
Concept
Adjustable lumbar for ideal sitting posture, when you sit long hours. Happiness Guarantee ✅
Story
Backed by years of research by Dr. Aaron Fu, DPT and his hands-on clinical experience with thousands of screaming backs, necks and legs — Lifted Lumbar is a patent-pending, ultra comfortable seat cushion that gives your spine the support it needs, while promoting optimal blood circulation and giving you the ability to control lumbar support in any seat.
This isn't our first rodeo. Our last campaign had over 28,000 backers and we're now selling nationwide in stores. See some of the reviews from our last campaign!
Incredible comfort with ideal posture & pressure relief. Use it at the office, car, airplane, wheelchair, couch, and even on the bleachers.
We all have what's called a 'neutral position' of the spine, which is the medical term for 'perfect posture' resulting in the least amount of stress placed upon the spine
Premium office chairs and car seats usually have some kind of lumbar support, but it's frequently in a fixed position, especially on office chairs
Lifted Lumbar allows you to reduce the stresses upon the spine by adjusting your lumbar support to the neutral spine position
The 2 trigger point knobs seen at the top of the cushion help gently put pressure on your back to provide relief
The cushion overall gives a 'hugging' experience when you sit down, allowing for optimal blood flow of the legs and better posture in the lumbar region

Through Dr. Aaron Fu's physical therapy practice, he has worked with plenty of patients to alleviate pain caused by hours of sitting. Because he knows that many people don't have the option of sitting less, he set his mind to creating the perfect cushion to help people sit right.
Based on the principles of the neutral spine position, it is fully adjustable and made from premium Memory Foam, infused with bamboo charcoal for extra cooling.
Use it on your chair at work, in the car, on your couch at home, on your yoga mat for meditation, or when you travel by plane. Lifted Lumbar will help improve your posture, relieve your back pain and allow you to sit better, for longer.

Invented by NASA to keep test pilots comfy, memory foam molds to the contours of your back for better support than any old cushion.

Lifted Lumbar's four aerofoam zones provide extra comfort, covered with breathable mesh to keep you cool.

Premium materials only: Lifted Lumbar is infused with bamboo charcoal, which keeps you cool and kills germs, and comes complete with brawny buckles, fabulous fabrics, and heavy-duty straps.

Not content to just do one thing, Lifted Lumbar has dual functions, doubling up as a seat cushion and lumbar support pillow. While most seat cushions require you to buy a separate lumbar support pillow, Lifted Lumbar is both in one.
Our anti-slip silicone grip will keep you in the ultimate position to maintain optimal posture.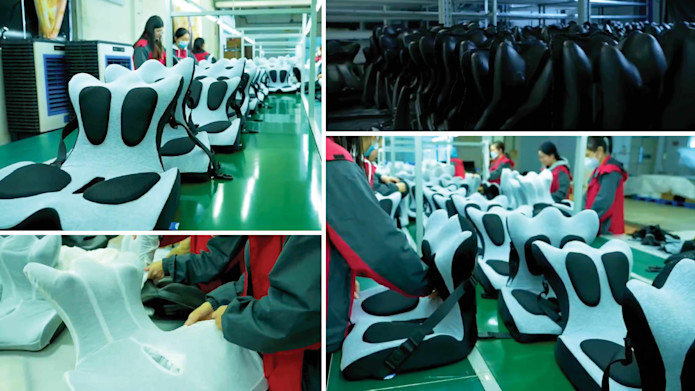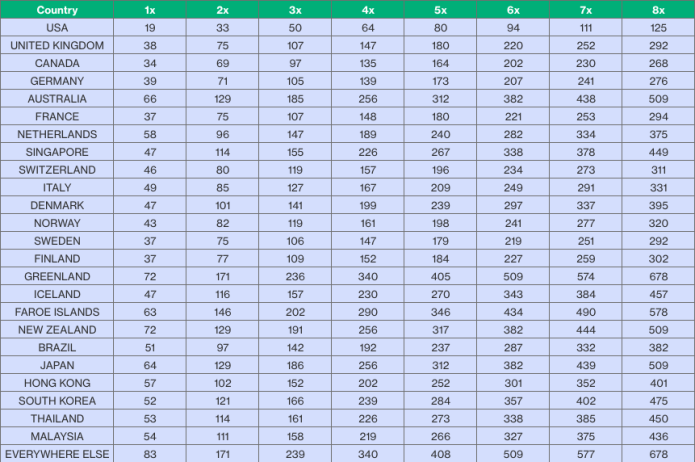 Above is a table that represents what our estimated shipping costs are for this campaign. Shipping costs are estimated and not final – they could become cheaper or more expensive, depending on fuel prices, world situations and what pricing at the time of fulfillment is available. Our goal is to make this process as transparent and accurate as possible, without any false promises or unexpected changes. After your purchase on Indiegogo, we will be sending you a survey which will securely process your address and shipping payment. Please note that VAT and Duties are not covered for non-USA orders, please check your customs office if you will get charged any additional fees. Also if you decide to purchase any add-ons of Trigger Point Rocker, they will have separate charges per unit similar to the prices on the shipping table above.
Please note: Non-continental USA (Alaska, Hawaii, Puerto Rico and the other U.S. territories) as well as PO boxes will very likely have higher shipping rates, shoot us a message if you expect your shipment to go there so we can check live rates for you.
Risks & Challenges
This isn't our first campaign and that's why we know to expect the unexpected. To set things off on the right foot, we've been in constant communication with our manufacturer and have built a great relationship with them with super clear and honest communications between us. We also have established a great relationship with our 3PL that will deliver your rewards. Since we've not only done a crowdfunding campaign before, but also consistent retail and ecommerce sales (thanks to all of you!), we feel confident in our ability to deliver your rewards, safely and on time.
Clear communication is what we stand for. So you can expect that along the entire way we will be clear, honest and prepared for anything. If there are any hiccups along the way, you'll be the first to know.
Always consult your physician before beginning any new exercise regimen. The information provided is not intended to prevent, diagnose or treat any medical condition or disease. If you experience any pain, dizziness, discomfort or difficulty with any of the exercises depicted or while otherwise using the Lifted Lumbar, please stop and consult your physician. Trigger Point Systems shall not be liable for any claims for injuries or damages resulting from or connected with the use of the Lifted Lumbar. Reach out to us anytime.