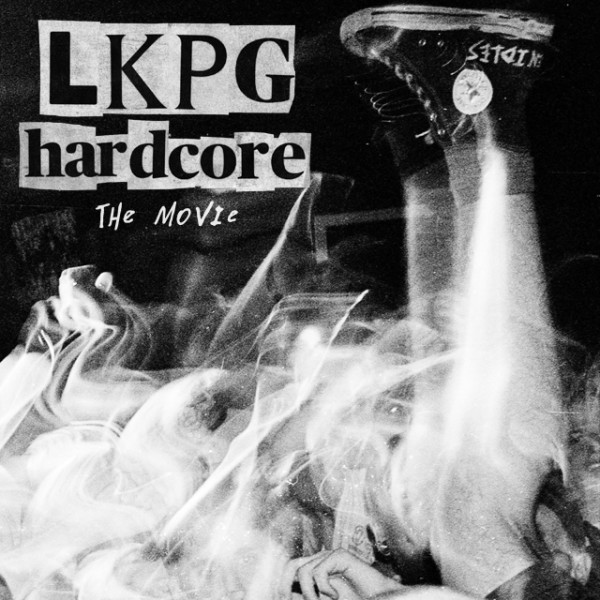 Linköping Hardcore – A Music Documentary
$25,000
raised out of
$100,000
Overview
https://youtube.com/watch?v=702981505
Concept
A documentary about the hardcore scene in Linköping, Sweden during it's peak in the 1990's.
Story
LINKÖPING HARDCORE – THE MOVIE
(Text in English below)
VAD?
Jag håller på att producera en dokumentärfilm om Linköpings hardcorescen med fokus på dess storhetstid under 90-talet.
Jag behöver dock din hjälp för att projektet ska bli verklighet! Som du säkert redan vet kostar det mycket att göra film, just därför vänder jag mig till dig här på Indiegogo. Jag skulle verkligen uppskatta om du som var en del av scenen i Linköping, gillade banden och musiken eller kanske bara uppskattar en riktigt bra musikdokumentär vill vara med och bidra.
Jag påbörjade arbetet med filmen i mars 2021 och redan efter några dagar hade projektet över 300 följare på Facebook. Under året som har gått har antalet följare växt och jag har fått ta del av mängder med bilder, affischer, demokassetter, skivor och VHS-band från folk över hela Sverige. Mycket av materialet har aldrig tidigare visats och kommer att göra filmen helt unik.
VARFÖR?
Ingen har tidigare gjort en film om musikscenen som satte Linköping på kartan både i Sverige och utomlands. Nittiotalet var en mycket kreativ tid och ungdomarna i staden och kringliggande orter skapade sin egen plats i den gamla fabrikslokalen Skylten. Band från hela världen kom till Linköping, ofta dåtidens största akter som bl.a. Fugazi, Madball och Sick of it all. Hardcorescenen skapade också flera duktiga musiker som senare kom att spela i några av Sveriges största band t.ex. Ghost och Viagra Boys.
VEM?
Jag heter Anders Carlborg och jobbar sedan sexton år tillbaka som frilansande TV och film-klippare. Under min karriär har jag arbetat med flera av de största TV-produktionerna i Sverige. 2012 fick jag priset för "årets bästa klipp" på TV-galan RIA och 2019 nominerades jag för samma pris. Vid sidan av mitt yrke har jag gjort flera dokumentärfilmer, musikvideor och kortfilmer. Hösten 2020 släppte podcastplattformen Podplay min dokumentärserie "Svenskar i strid" som behandlar svenska veteraners upplevelser under den så kallade Kongokrisen på 1960-talet.
Jag växte upp i Linköping och var en del av stadens hardcorescen under nittiotalet och spelade själv i bandet Backside som senare bytte namn till Madison. Efter det var jag med i metalbandet Damien och idag spelar jag i punkrocktrion Knifven.
VAD BEHÖVER JAG & VAD FÅR DU?
Jag behöver stöd för att bl.a. göra intervjuerna till filmen. Till detta behöver jag anlita en fotograf samt ljudtekniker. Teamet kommer att behöva resa runt i Sverige men även utomlands. Till efterbearbetningen behöver jag också stöd för tiden jag kommer att lägga i klippningen samt kostnaderna för att anlita en ljudläggare och colorist för att färdigställa filmen. Med din hjälp kommer detta att bli möjligt och tillsammans kan vi berätta historien om Linköpings hardcorescen!
När projektet är färdigt kommer du att ha varit en stor del i skapandet av en grym musikdokumentär och det kommer givetvis firas med en storlagen releasefest, det lovar jag! Beräknad release för filmen är under slutet av 2023.
RISKER OCH UTMANINGAR?
Det finns alltid en risk att jag inte får ihop tillräckligt med pengar för att genomföra projektet men jag är 100% inställd på att det ska bli en film, dock kommer varenda krona som doneras till projektet att spela en stor roll för att underlätta mitt arbete och ge mig möjligheten att göra en mycket bättre produktion. Jag letar också efter andra finansiärer och hoppas på att göra den listan av bidragsgivare lång.
 
En annan risk är så klart att jag gör en dålig film och det skulle jag inte vara först med i så fall, men där kan jag inte ge er mer garanti än min långa erfarenhet inom TV och film samt det fantastiska ämnet filmen ska handla om.
Om du har några frågor tveka inte att höra av dig!
Allt gott! /Anders
Facebook group: https://www.facebook.com/groups/296704118548117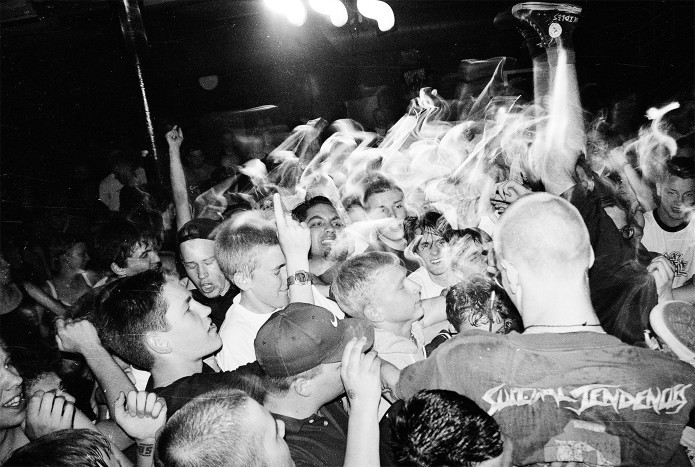 The crowd at Skylten in Linköping during a gig with Outlast in 1999.
English version:
LINKÖPING HARDCORE – THE MOVIE
(Text in Swedish above)
WHAT?
I 'm making a documentary about the hardcore scene in Linköping, Sweden with focus on it's peak during the 1990s.
However, I need your help to realize this project! As you probably allready know making a movie costs money and therefore I turn to you here on Indiegogo. I would appreciate if you who were a part of the scene, liked the music and the bands from the area or just enjoy a great music documentary wanted to join and contribute to the film.
I started working on this project in March of 2021 and after just a couple of days there was over 300 people following my work on Facebook. During the last year the following has grown and I have had the privilege to get hold of a lot of pictures, posters, demos, records and VHS tapes from people all over Sweden. A lot of this material has never been shown before and will make this movie very uniqe.
WHY?
No one has ever made a film about the scene that made the town of Linköping well know all over Sweden but also abroad. The 1990's was a very creative time and the youth of Linköping and the surrounding area created their own place in an old factory called Skylten (the Sign). Bands from all over the world came to visit and it was often some of the biggest bands of that time, Fugazi, Madball and Sick of it all to name a few. The scene also spawned a lot of great musicians and artists that came to play in some of the biggest bands in Sweden, for example Ghost and Viagra Boys.
WHO?
My name is Anders Carlborg and I have been working as a freelance editor for TV and film for over sixteen years. I have worked with several of the biggest TV-productions during my career. I was awared the prize for "best editing" on the Swedish TV-awards called RIA in 2012 and I was nominated for the same prize in 2019. Besides the work I do as an editor I have done several documentaries, music videos and short films. During the fall of 2020 the podcast company Podplay released my documentary "Svenskar i strid" (Swedes in battle) that tells the story of the Swedish UN veterans during their time in Congo in the 1960s.
I grew up in Linköping and was a part of the hardcore scene during the 1990s and played in a band called Backside that later was named Madison. After that I played in a metalband called Damien and today I'm a part of the punkrock trio Knifven.
WHAT I NEED & WHAT YOU GET?
I need funding to start and do the interviews for the movie. For this I need to hire a photographer and a sound engineer. The crew needs to travel around Sweden but also abroad. In the end I will also need additional funding for my work in the editing room and for hiring a soundmixer and colorist to do the finishing work of the film. With your help I will be able to take this project futher and we can tell the story of the Linköping hardcore scene together!
When this project is done you have played a big part in making an awesome movie happen and there will be a big release party, be sure of that! Estimated release of the film is late 2023.
RISKS AND CHALLENGES?
There is always a risk that I do not get enough money to carry out the project, but I am 100% commited to make a movie and every dollar that gets donated to the project will play a huge role in making my work easier and it will give me a possibility to make a better film. I want to include other financiers as well and I hope to make that list long.
Another risk is that I make a bad movie and in that case I wouldn't be the first one to do so. I can give you no other guarantee than my long experience in TV and film making and the fantastic subject that the movie will be about.
If you have any questions don't hesitate to get in touch!
 
All the best! /Anders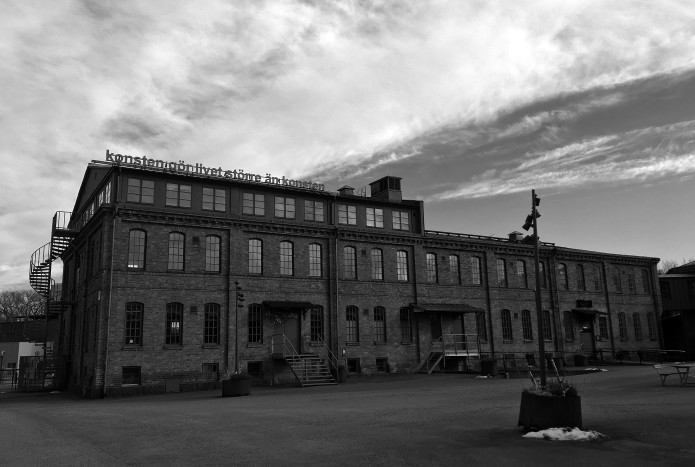 Skylten is still today a place for creativity and music in Linköping.