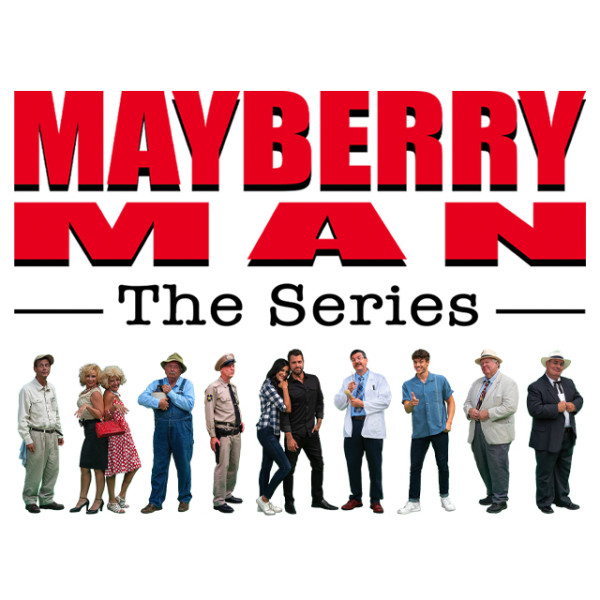 Mayberry Man – The Series
$8,720
raised out of
$200,000
Concept
A family-friendly comedy series inspired by The Andy Griffith Show and the Mayberry Man movie.
Story
Keep the Mayberry spirit alive with this original family-friendly comedy series inspired by The Andy Griffith Show and the Mayberry Man movie.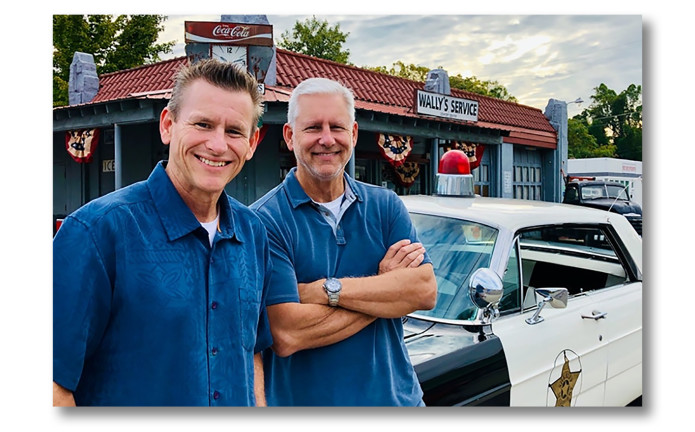 We are the Howell brothers. Cort on the left and Stark on the right. Our father, Hoke Howell, was a perennial character actor who appeared in countless TV shows over his forty-year career. Lost In Space, Gunsmoke, The Munsters, and The Brady Bunch, just to name a few. Most notably, he played Dud Wash on two episodes of The Andy Griffith Show.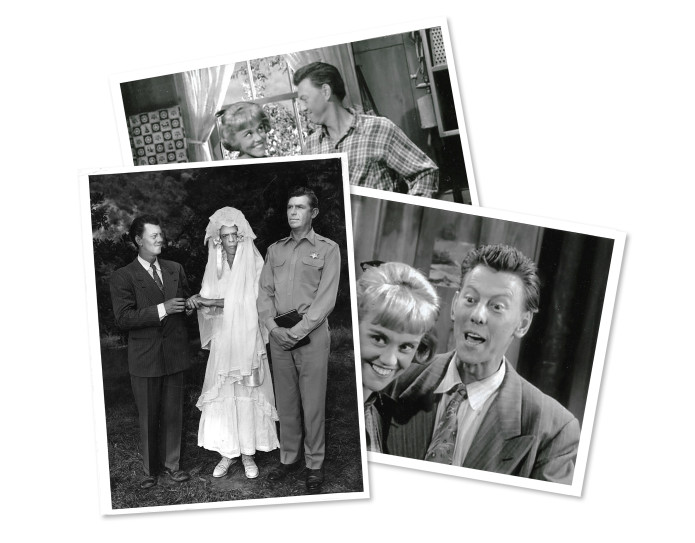 A fan of the show himself, Stark was inspired to write and direct a feature-length movie entitled "Mayberry Man" after attending a Mayberry festival in North Carolina.
With the desire to keep the project family-friendly and include actual fans in the movie, we opted to partner with the Mayberry community to raise the production budget rather than pitch it to Hollywood studios where we would lose creative control. And Mayberry fans came through, helping make Mayberry Man one of the most successful crowdfunding campaigns ever for a fan film.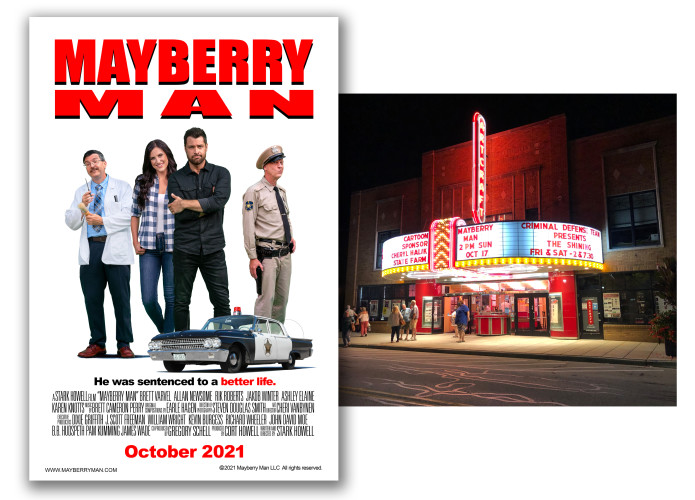 Response to the movie (released in theaters and on Amazon Prime) has been fantastic, so we think it's time to explore the next chapter in the Mayberry Man story.

Mayberry Man: The Series is a digital streaming series that picks up where the movie left off.
We'll find out what happens to Chris Stone and Kate, and whether the spark of a relationship we saw in the movie can grow into something more. And, whether a big-shot movie star can keep his newfound Mayberry Spirit when he returns to Hollywood.
We'll also get to know the citizens of Mayberry like Barney, Floyd, Gomer and the other tribute artists. What do they do when they aren't being tribute artists? Plus, see what happens to Shane, Chris Stone's quirky assistant, Mayberry's newest citizen.
Making a series, as opposed to a movie sequel, gives us a chance to spend more time getting to know these characters. It gives us a chance to tell more stories and have more fun.
But more importantly, Mayberry Man: The Series will take that original Mayberry Spirit embodied by Andy, Barney, Aunt Bee and Opie, from that sweeter, simpler time, and tell modern, family-friendly stories that entertain new generations of fans.
That's where you come in. With your help, we will create Season One with six, 30-minute episodes.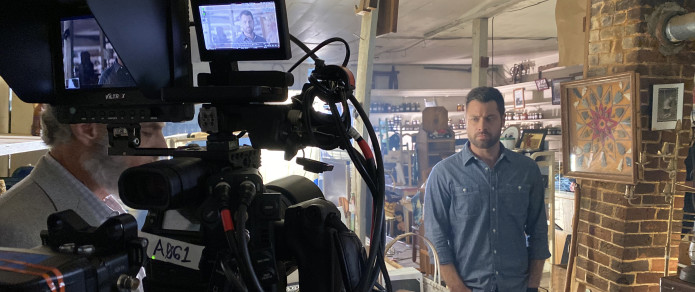 Once again we are saying "no" to Hollywood money and choosing to partner with you, the fans. We are dedicated to preserving the wholesome, family values of The Andy Griffith Show. And we're committed to having you participate in the creation of this very special show.
We've already started raising funds through private investors, but it will ultimately be up to you, the fans, to provide the balance of our production budget and determine the total number of episodes in Season One.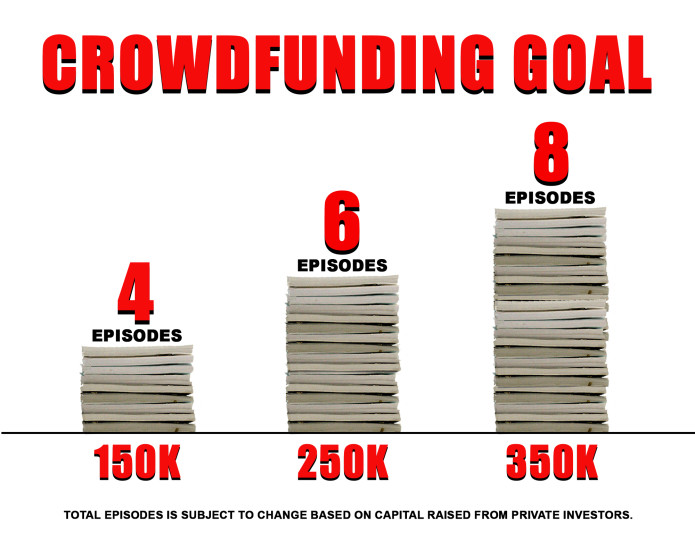 We have some amazing experiences and perks available to you when you back the project, like being an extra in the series, attend a red carpet premiere, have a speaking role in the show, be a producer, or even have your business featured in a scene as a product placement sponsor.
And no matter what perk you choose, you'll have behind-the-scenes access as we make a wonderful series that pays tribute to the television classic we all love, The Andy Griffith Show.
If you participated in the Mayberry Man movie, you already know how special this experience can be. Here's what some of our participants had to say…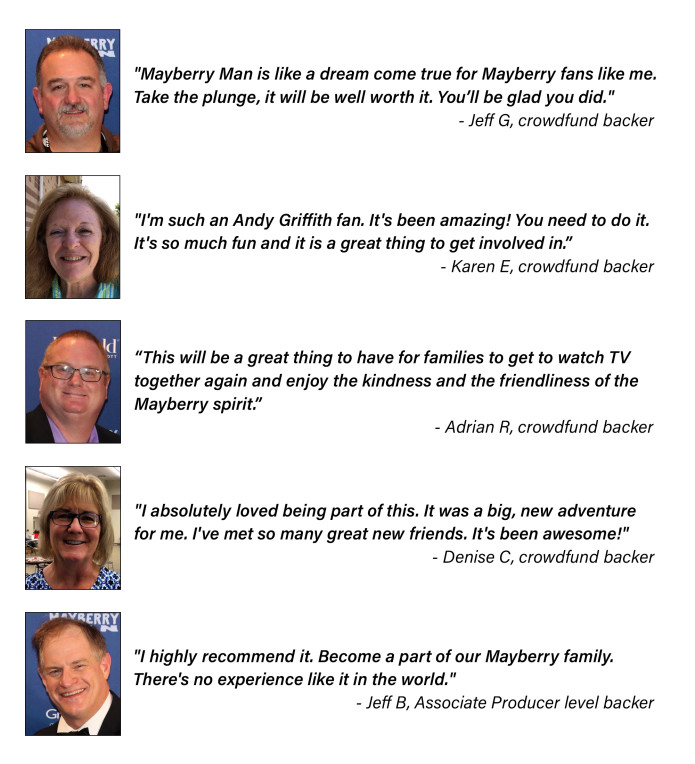 The Mayberry Man movie enjoyed a theatrical release with sell-out crowds. It's done well on Amazon Prime Video, with DVD sales, and we just recently signed a global distribution deal that will help it reach new audiences on new streaming platforms around the world.
Our distribution partners are excited about the prospect of Mayberry Man: The Series, so all we need to do is make it. We are excited to share this incredible experience with you as we create a brand new Mayberry series. We hope you'll join us!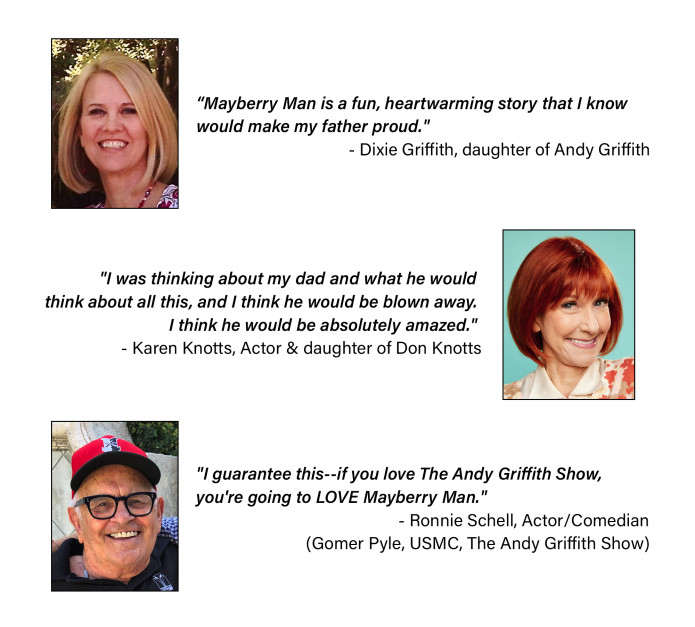 Select your perk now, or keep reading to learn more about the people on our production team and the cast…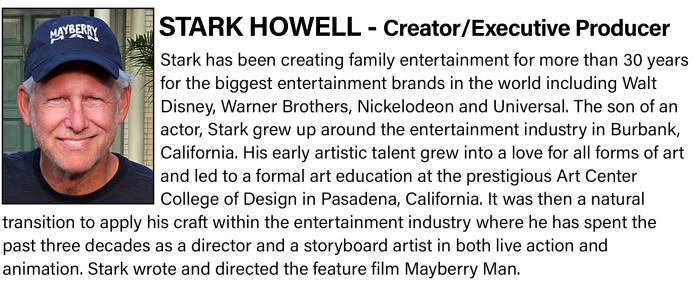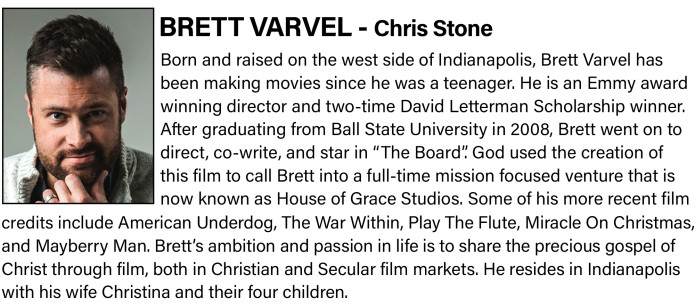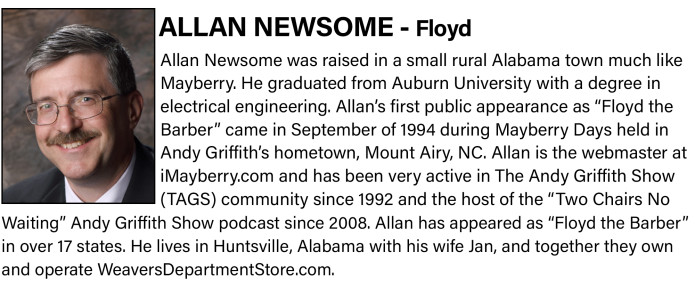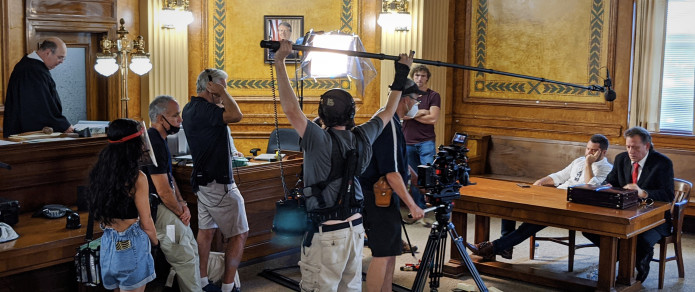 "Flexible" Goals
We are running a campaign with a "flexible" goal. That means we will collect every contribution regardless of whether we reach our goal. The reason we have this flexibility is because we are also raising funds from private investors. The combined funds will be used to determine our final production budget and the total number of episodes possible in Season One. If we do not reach our crowdfunding goal, we may produce fewer episodes. If we exceed our crowdfunding goal, we hope to make additional episodes.
Risks & Challenges
We have assembled a team of industry veterans to prepare ourselves for success, however unexpected challenges do arise (like a global pandemic when we produced the Mayberry Man movie!). We feel that we have demonstrated our ability to weather the storms and deliver a quality entertainment product. We hope to make Mayberry Man: The Series even better!
Other Ways You Can Help
We understand not everyone is in the position to help financially. We hope you will follow along and share our story with others because it's all about spreading that Mayberry Spirit!
We also have a referral contest if you'd like to qualify for additional perks and prizes. Be sure to be logged into your Indiegogo account and share the campaign using your unique referral link. Stay tuned as we announce weekly winners!
== Links ==
YouTube: https://www.youtube.com/mayberryman
Facebook Page: https://www.facebook.com/MayberryManMovie
Facebook Group: https://www.facebook.com/groups/mayberryandbeyond
Instagram: www.instagram.com/mayberrymanmovie
TikTok: https://www.tiktok.com/@mayberryman
Twitter: https://twitter.com/mayberrymanfilm
IMDb: https://www.imdb.com/title/tt11700754/
Video-On-Demand: http://4storyfilms.vhx.tv/
Amazon Prime: https://www.amazon.com/Mayberry-Man-Brett-Varve…